Vietnam is known as a tropical country with the average temperature above 20 Celsius degrees around a year, but North Vietnam is an exception with four distinct seasons. When it comes to Hanoi, the capital of Vietnam, you can easily feel the obvious difference of the weather in Hanoi by month, in terms of temperature, humidity and seasonal features. It is quite equitable to say that Hanoi weather by month is like a pretty girl with all the emotions when she is falling in love. And if you are planning to spend your year exploring Hanoi, don't miss our practical suggestions below.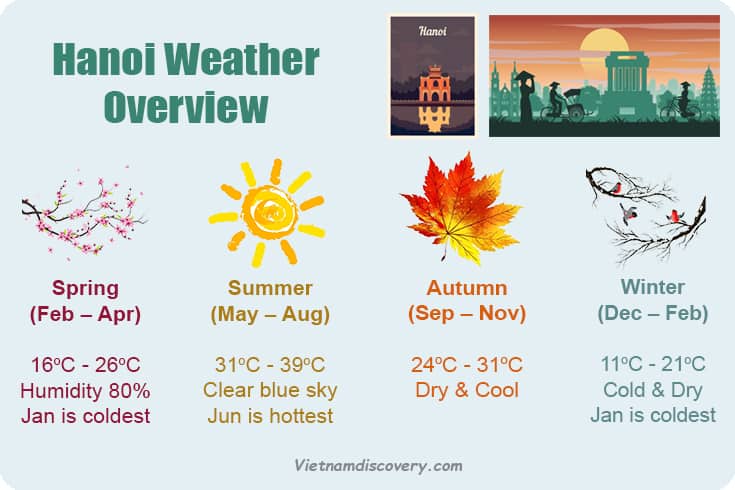 1. Hanoi Weather in January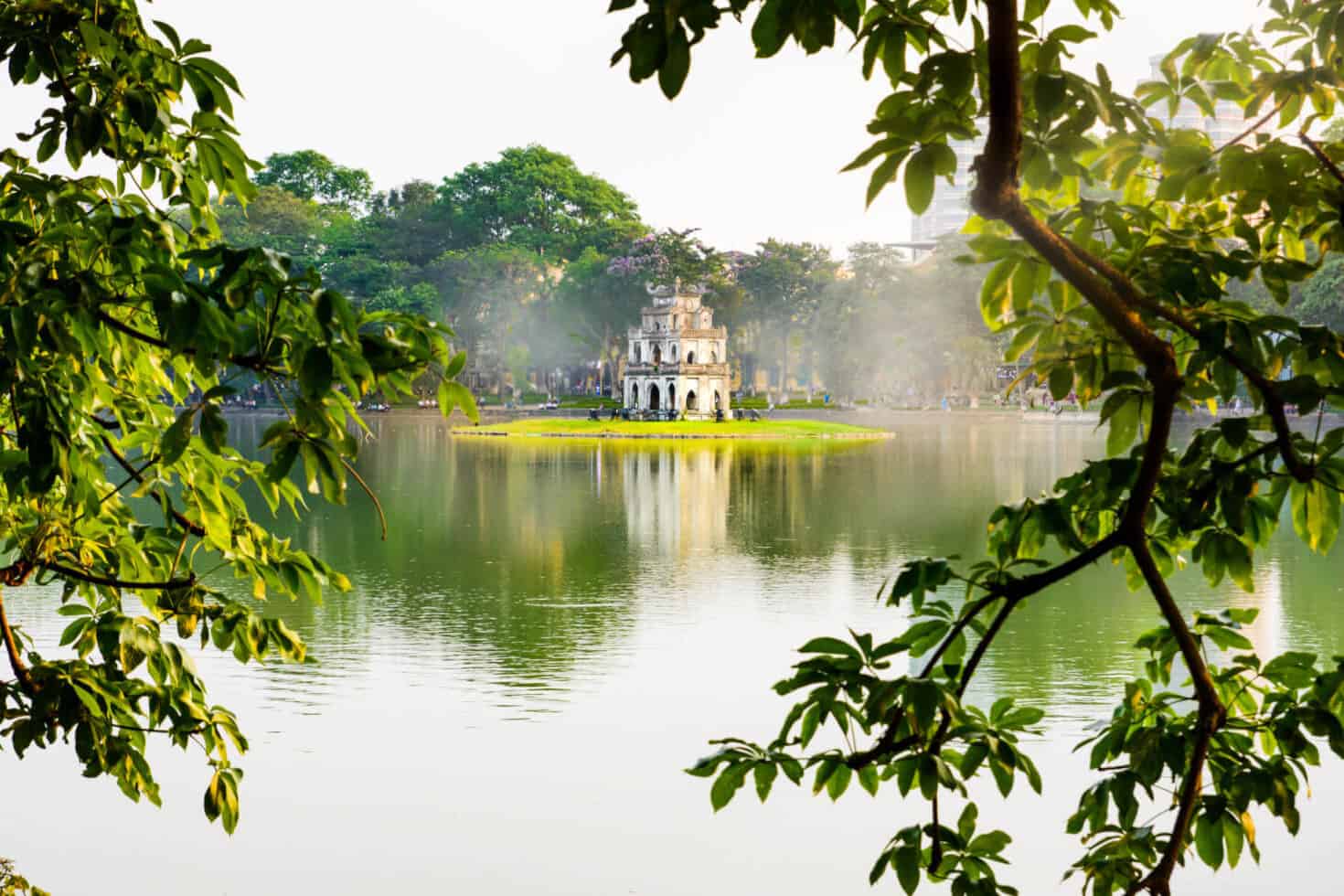 1.1. How is it?
There is no doubt that January is the coldest month of the year in Hanoi. The average temperature of this month ranges from 12 to 18 Celsius degrees, and even under 10 Celsius degrees. Sometimes, the temperature gap between day and night can be up to nearly 20 Celsius degrees, which prevents people from almost outdoor entertainment activities at night. A lot of international tourists have claimed that Hanoi in January is much more freezing than many European countries with humidity of approximately 70%.
Despite the cold weather, Hanoi in January is still attractive with busy streets and hot dishes that are extremely suitable to enjoy on a chilly evening. At the end of January, you will catch the sight of a shimmering Hanoi when it is decorated in celebration of Lunar New Year, the most important traditional holiday of Vietnamese.
Due to the fact that January is still a winter month in Hanoi, you should not be subjective but prepare coats and scarfs in order not to have a bad cold that may hold back your journey.
1.2. How to explore Hanoi in January?
Contemplating firework with friends and welcoming new year on New Year's Eve in Hoan Kiem Lake.
Visiting Bac Son Street in Ba Dinh District to see Hong Kong orchid flowers.
Enjoying Hanoi hot dishes: pho, noodles, hotpot, grilled dishes, hot cassava soup, spare-rib porridge and tang yuan (a kind of glutinous rice ball).
Exploring the atmosphere of the Old Quarter in Hoan Kiem District and drinking craft beers on Ta Hien Street on the weekend.
2. Hanoi Weather in February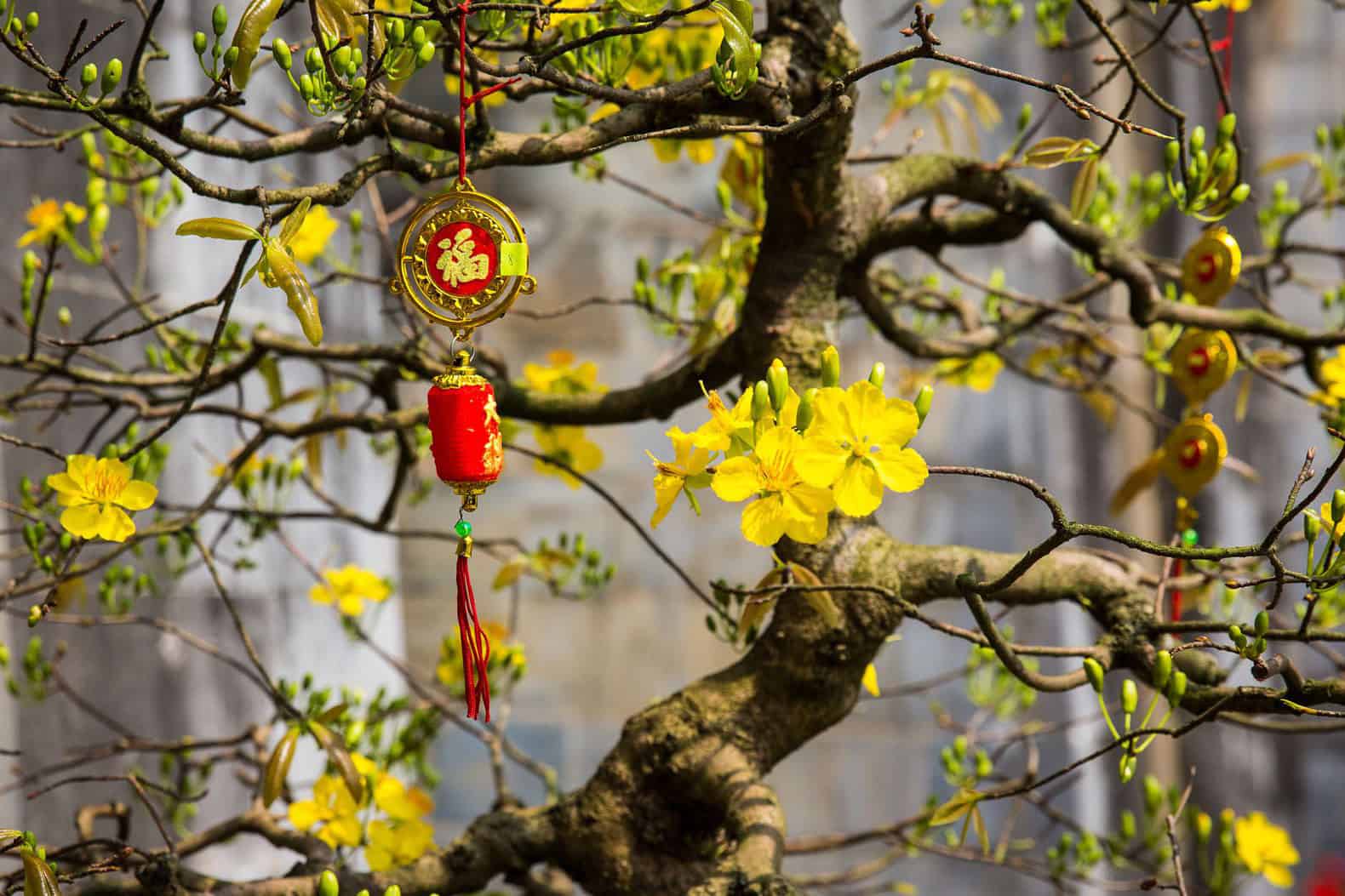 2.1. How is it?
February is for sure the most humid month in the spring of Hanoi. Although the temperature in February is a little bit warmer in comparison to January, from 14 to 21 Celsius degree, the weather at that time is quite inconvenient with drizzling rain and south-easterly wind that cause moist and mugginess inside many houses. Since it sometimes rains almost all day, the sky is covered with the gloomy grey clouds, and the streets in Hanoi are overcast in mist and fog.
However, the above situation occurs only about one week in February, and the rest of this month is the most favourable occasion for you to see the sights of the spring in Hanoi. February is an attractive month in Hanoi, since various kinds of colorful flowers bloom and adorn the stunning beauty of Hanoi's streets. February is also the festive month with thousands of festivals after the Tet holiday, which is possible for you to discover the specific culture of Vietnam.
Even though the weather in February is a bit warmer, you still need to bring coats and gloves for some chilling days. Don't forget to bring an umbrella in case it may rain unexpectedly.
2.2. How to explore Hanoi in February?
3. Hanoi Weather in March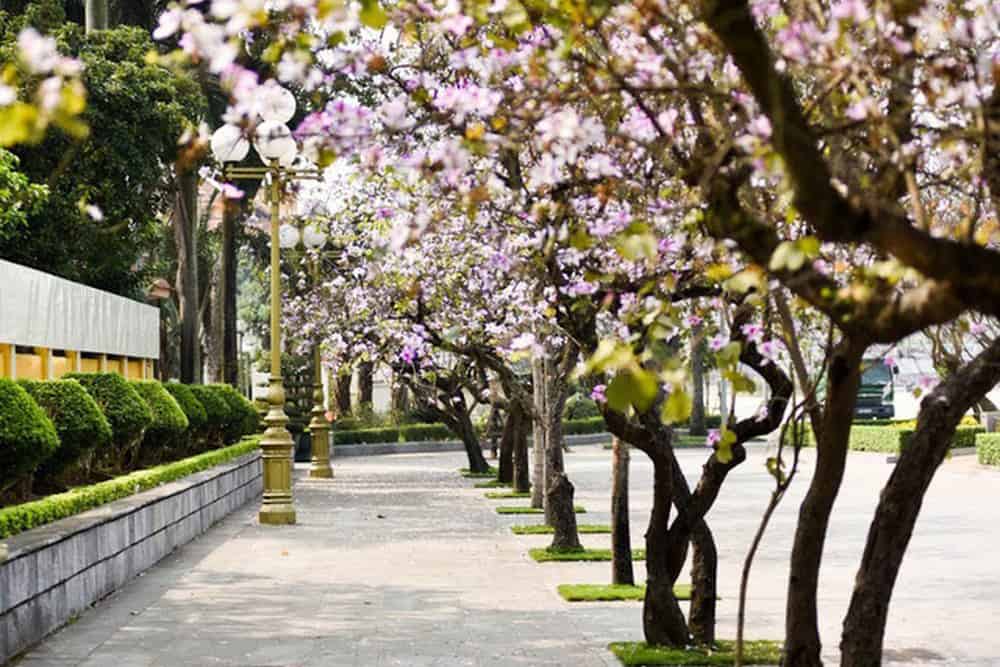 3.1. How is it?
Saying goodbye to the damp and freezing days, March of Hanoi welcomes you with nice weather. The temperature in March is not too low or too high, ranging from 17 to 24 Celsius degrees, and it is sunny and dry on most days in the beginning of March. At the end of this month, Hanoi may have the showery weather with heavy rain and lightning due to the season change between spring and summer. The weather in March is not too cold or too hot, which is quite satisfactory to go out.
Even though the festive month has gone, March in Hanoi has its own charming appearance, which is embellished by the white color of Thailand rosewood flowers or the red color of bombax flowers on the old tree lines along the streets. In addition, the weather is ideal enough for you to have a trip to a suburban area of Hanoi to experience the traditional spring festivals of the residents.
The weather change in March might lead to some kinds of flu and common cold; however, you need not to worry, just do regular exercises and prepare some pills on your package.
3.2. How to explore Hanoi in March?
Seeing Thailand rosewood flowers and enjoying the aroma of grapefruit flowers on Hanoi's streets.
Visiting Bat Trang Pottery Village and making a pottery product yourself.
Coming to Thay Pagoda to contemplate bombax flowers and participate in a local spring festival.
Joining the Dong Nhan Temple Festival to see lantern dance, human chess and water sports.
4. Hanoi Weather in April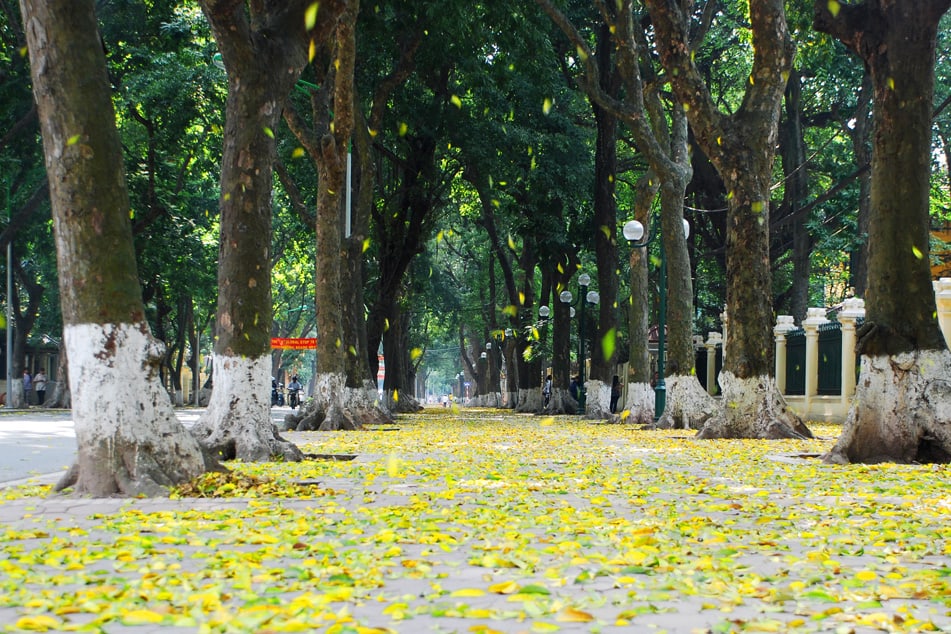 4.1. How is it?
April is the time when you can feel the upcoming summer with a lot of sun lights and heavy showers during the whole month. Thanks to the seasonal change from spring to summer, the weather of April is quite glorious with the average temperature ranging from 22 to 28 Celsius degrees. However, in April, there is still a cold snap called "Blackberry winter" or "nang Ban winter", which occurs in late spring with drizzling rain and south-eastern wind lasting for a couple of days.
April is also a perfect time for you to explore Hanoi. The flower season of this city has been continuing with the appearance of pure white lily flowers on the poetic streets in Hanoi. Lily flowers are the emblematic flowers of Hanoi in April, which refers to the elegance and exquisiteness of Hanoians – the residents of Hanoi. This month also comprises some special holidays of Vietnamese such as King Hung's Anniversary on the 10th day of lunar March and the Reunification Day on April 30th.
April is such a good chance for you to gain more knowledge about Vietnamese history through the exhibitions and events held in almost historical places in Hanoi. Don't forget to bring a hat or umbrella because it can be hot sometimes.
4.2. How to explore Hanoi in April?
Rambling to see white lily flowers on the peddlers along Phan Dinh Phung, Yen Phu, De La Thanh streets.
Visiting Hanoi Opera House to find out about the French architecture at the beginning of the 20th century.
Having a trip to the National Museum of History to learn more about Vietnamese history.
Enjoying typical cuisine of Hanoi with Banh mi, thang rice noodles (bun thang), Bun cha, Banh cuon, shrimp pastry and so on.
Eating glutinous rice balls (banh troi) on Cold Food Festival on the 3rd day of the lunar March.
5. Hanoi Weather in May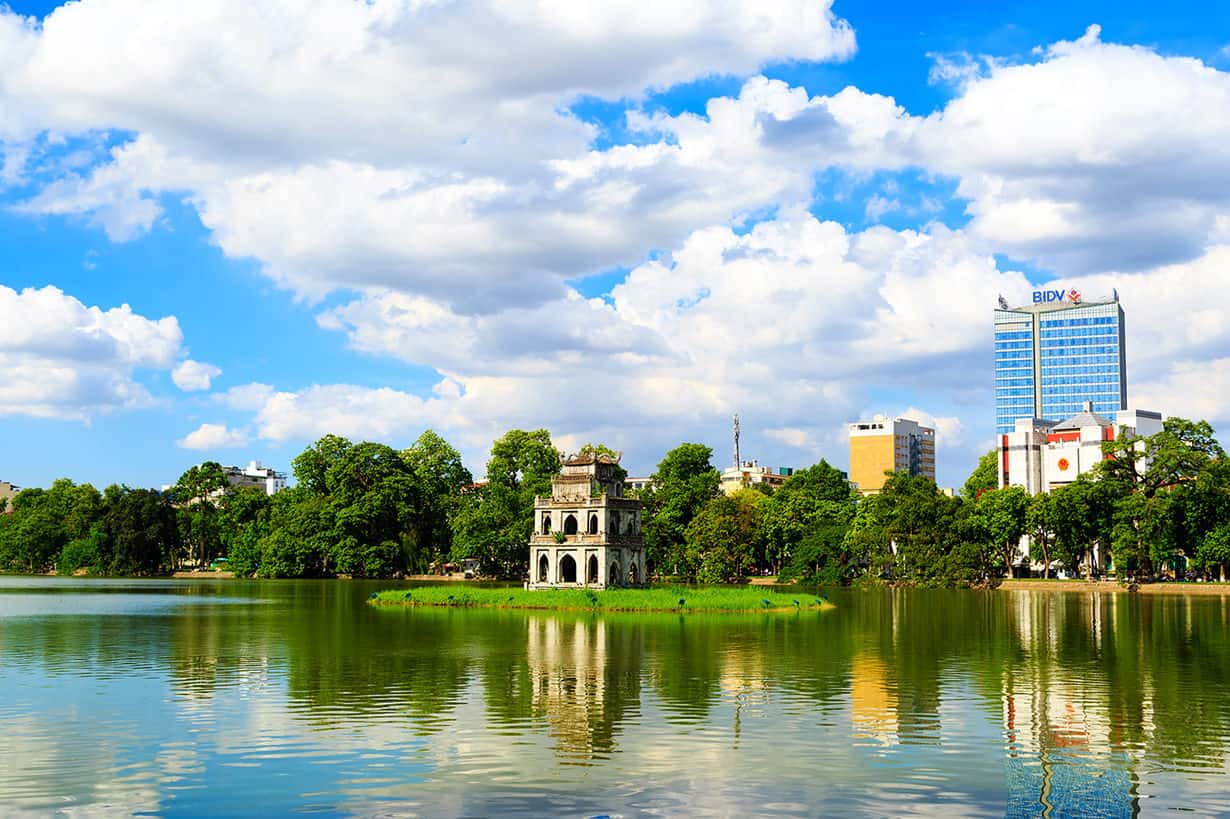 5.1. How is it?
The summer of Hanoi begins in April, so it is becoming hotter and hotter in May. The average temperature increases from day to day and varies between 26 and 32 Celsius degrees. In particular, on some days at the end of May, the temperature can soar to 40 Celsius degrees with the dampness, which prevents you from taking part in outdoor activities. The rainy season of Hanoi is starting in May with about 14 rainy days and many heavy downpours that might occur unexpectedly at any time.
Although the burning temperature prevents you from almost exterior activities during the daytime, you still can enjoy many kinds of entertainment to escape from the heat of summer in lots of water parks in Hanoi. Besides, after the rainy days, you can go for a walk under the shade of old trees in Hanoi and listen to the boisterous sound of mayflies, the typical insect in summer of Hanoi. When the night falls, it is a good idea to have a walk in Hoan Kiem Lake, enjoy a Trang Tien or Thuy Ta ice-cream, and make the most of your evening with a cup of beer.
In the hot weather of May, you ought to avoid going out at noon or early in the afternoon. In addition, don't forget to wear sunglasses and sunscreen in order to protect your eyes and skin from the harm of ultraviolet rays.
5.2. How to Explore Hanoi in May?
Making your day in a variety of entertainment activities at West Lake Water Park, Times City and Bao Son Paradise.
Wandering on Hanoi's streets and taking photos with red flamboyant, purple giant crape-myrtle flowers.
Experiencing Giong Festival on the 9th day of lunar April in Phu Dong Village (Gia Lam District).
Driving a bike to Long Bien Bridge to see the brilliant sunrise.
Enjoying some kinds of exclusive tropical and temperate fruits: chili, jackfruit, watermelon, mango, plum and peach.
6. Hanoi Weather in June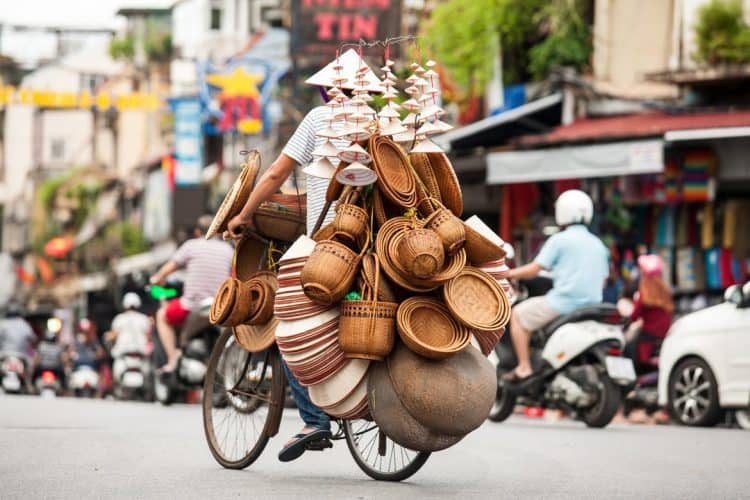 6.1. How is it?
June is supposed to be the hottest month in Hanoi, with the temperature of 26 to 28 Celsius degree at night and over 35 Celsius degree at daytime. Along with the heavy rains and the precipitation at the same level as May, Hanoi weather in June seems to be the most inconvenient one in the year. After the more-than-40-Celsius-degree days, extreme weather phenomenons such as hail, lightning and thunderstorms occur more often, especially in the late afternoon.
Surprisingly, in spite of the severe weather conditions, Hanoi attracts visitors most in June, according to the statistics of the government. Coming to Hanoi at that time, you cannot miss the immense lagoons of lotus in the plain villages around West Lake. Lotus with its graceful beauty is the symbol of Vietnamese people, with the character of loyalty, resilience, diligence and elegance. What could be more exciting than contemplating the beauty of lotus, and feeling the cool wind of West Lake on a hot summer day?
6.2. How to explore Hanoi in June?
Discovering the Double Fifth Festival of Vietnam with traditional dishes such as zongzi (banh tro), glutinous rice wine, lotus seed and black bean porridge.
Taking photos with lotus, having a cup of lotus tea and eating ice-cream in West Lake.
Driving around West Lake and seeing the magnificent view of sunset.
Checking under golden shower trees on Trich Sai, Vong Thi, Lac Long Quan streets around West Lake.
Shopping and having a meal in Dong Xuan Market at night.
7. Hanoi Weather in July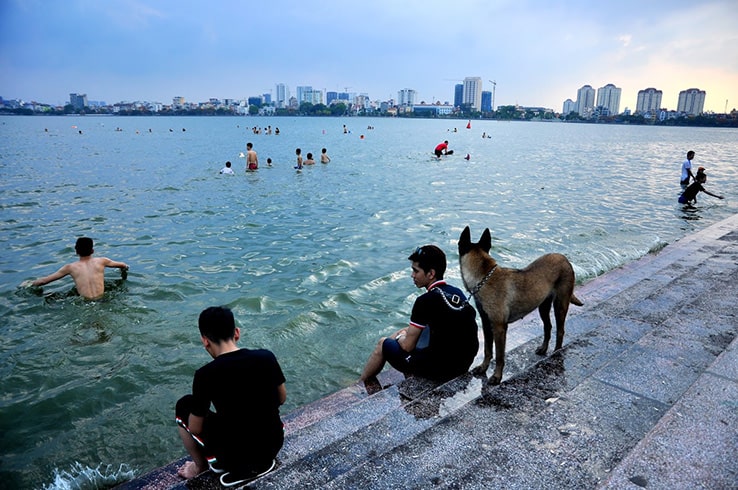 7.1. How is it?
Hanoi weather in July remains the same temperature and precipitation as June, with the overheat days dominating this city for the whole month. The rainfall in July seems to be a bit more than that one in June, and July also marks the beginning of the storm season in Hanoi with one or two storms. Thanks to the location far from the sea, the storm does not do serious harm to this city, but the heavy rain lasting for one week after the storm might interrupt your routine.
Camping in the suburbs is one of the most favourite activities of the young on fine days in July. Besides, though the baking hot day prevents you from most activities, you can go out at night to discover the lively nightlife of Hanoi at night markets, around Hoan Kiem Lake, in night bars and clubs. "Hanoi is most beautiful at night", just by wandering on Hanoi's streets, you can find a modern city with colorful life and recreational activities.
If you are planning to visit Hanoi in July, you should watch the weather forecast to avoid going on the stormy day, when you cannot do anything but only stay in your room and sleep!
7.2. How to explore Hanoi in July?
Enjoying bustling nightlife in bars and clubs in the center of Hanoi.
Discovering a miniature Vietnam in Vietnam National Village for Ethnic Culture and Tourism.
Escaping from the hot summer in Khoang Xanh – Suoi Tien Theme Park.
Camping overnight and taking part in team-building games in Ham Lon Lake.
Having a cup of sweetened dracontomelon fruit on a burning day.
8. Hanoi Weather in August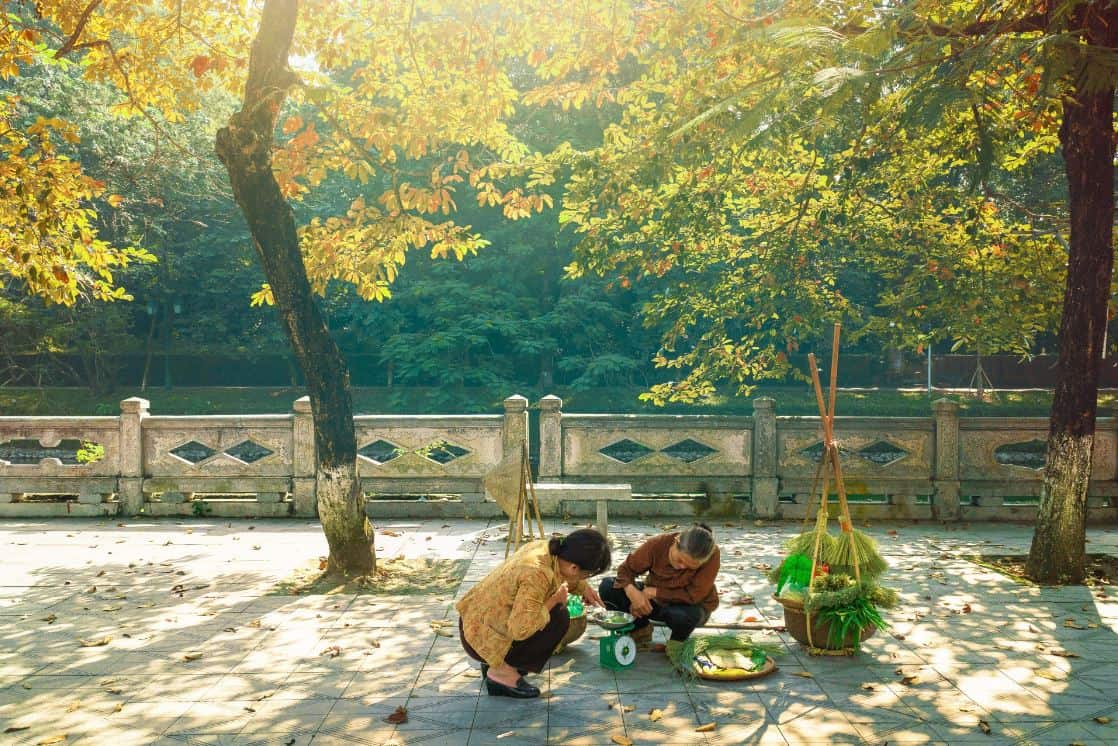 8.1. How is it?
August is a transition month; while the daytime temperature is still extremely high at 36 to 39 Celsius degrees, it is quite cool at night and early in the morning with the relaxing glimpse from the gentle winds. This is also the dampest month in Hanoi with nearly 20 rainy days. Particularly, in the seventh lunar month, there are sudden and brief showers, which were supposed to be the tear of the Cowherd and the Weaver Girl when they meet each other once a year on the 7th day of the 7th lunar month, according to the folktale.
You are advised not to go to Hanoi in August, but if you do, there are still many activities for you to discover Hanoi, especially on the traditional occasions such as Qixi Festival and the Ghost Festival. On Ghost Festival, almost all pagodas in Hanoi have activities to celebrate this occasion, especially the ceremonies for peace to parents. The Revolution Day on August 19th is also a chance for you to know more about the Vietnam War and the fight of Hanoians against colonialism and fascism in the 20th century.
Going to Hanoi in August, don't forget to bring an umbrella or raincoat because it is rainy most days of the month. Not only that, in some days, many streets of Hanoi might be flooded due to the heavy rain, and you should not go out at that time.
8.2. How to explore Hanoi in August?
Eating red bean porridge on the Qixi Festival (the 7th day of the 7th lunar month) for luck.
Going to pagodas in Hanoi to pray on the 15th day of the lunar July: Tran Quoc Pagoda, One Pillar Pagoda, Kim Lien Pagoda and Khai Nguyen Pagoda.
Praying and dropping flower garlands and colored lanterns into the river on the Filial Piety ceremony (the 15th day of the lunar July).
Visiting Van Phuc Silk Village and taking photos under hundreds of colorful umbrellas there.
Coming to the historical museum of Hanoi: Ho Chi Minh Museum, Vietnam Museum of Revolution and Vietnam Military History Museum.
9. Hanoi Weather in September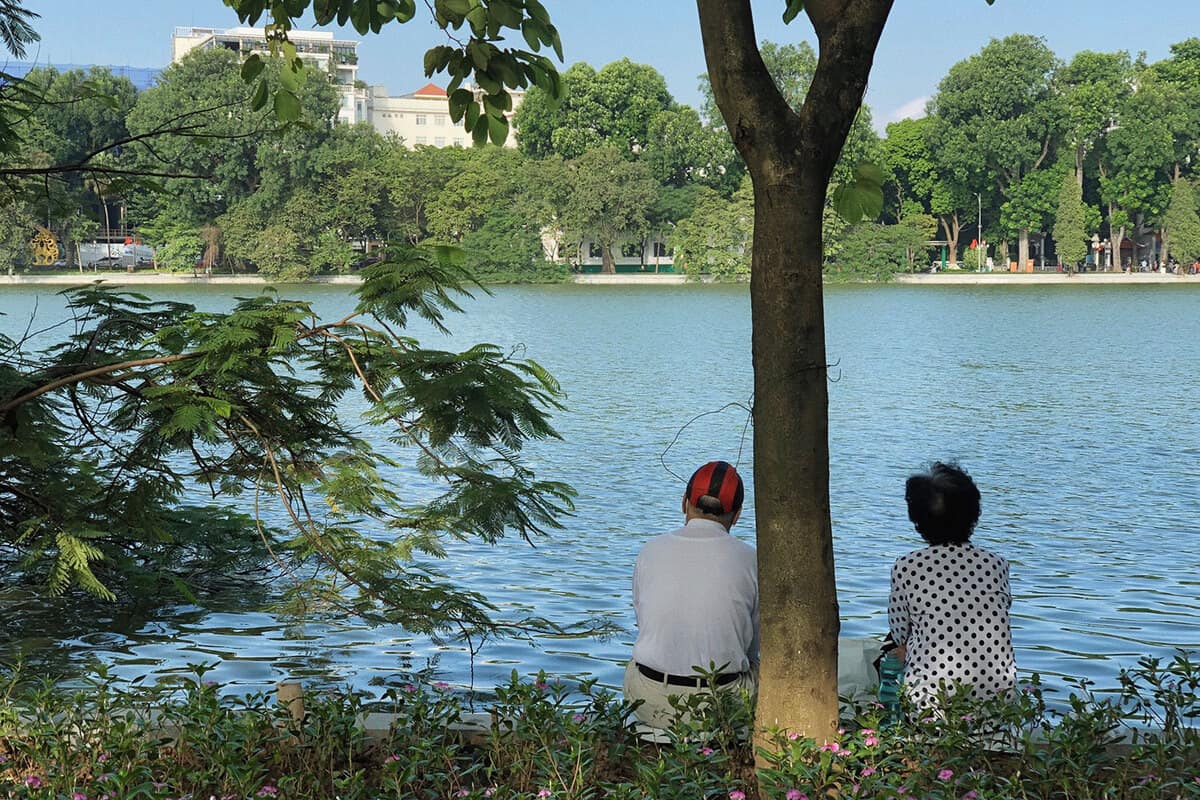 9.1. How is it?
September is the transition time from summer to autumn. Although the weather is still a little hot, it is much milder than in August and the previous summer months. The average temperature ranges from 25 to 33 Celsius degrees, and the humidity decreases because of the decline in the rainfall. Early in the morning and late in the afternoon, you can enjoy the cool wind, clear blue sky and soft sunlight, the characteristics of the fall in Hanoi.
Along with the mild weather, September is also a proper time for you to enjoy a Hanoi with all of its antique and modern beauty. On Vietnamese National Day, you had better visit Ho Chi Minh Mausoleum to contemplate the flag-saluting ceremony at 06.00, then go inside Ho Chi Minh Mausoleum in the solemn procession of visitors. Another special occasion in September is the Mid-Autumn Festival, when you can admire the traditional culture of Vietnam through art performance and mooncake.
9.2. How to explore Hanoi in September?
Visiting Ho Chi Minh Mausoleum on Vietnamese National Day on September 2nd .
Discovering Hang Ma Street, Van Ho Exhibition Center and Giang Vo Exhibition Center on Mid-Autumn Festival
Having a try on green rice flakes and green rice cakes of Vong Village, the specific dishes of Hanoi's autumn.
10. Hanoi Weather in October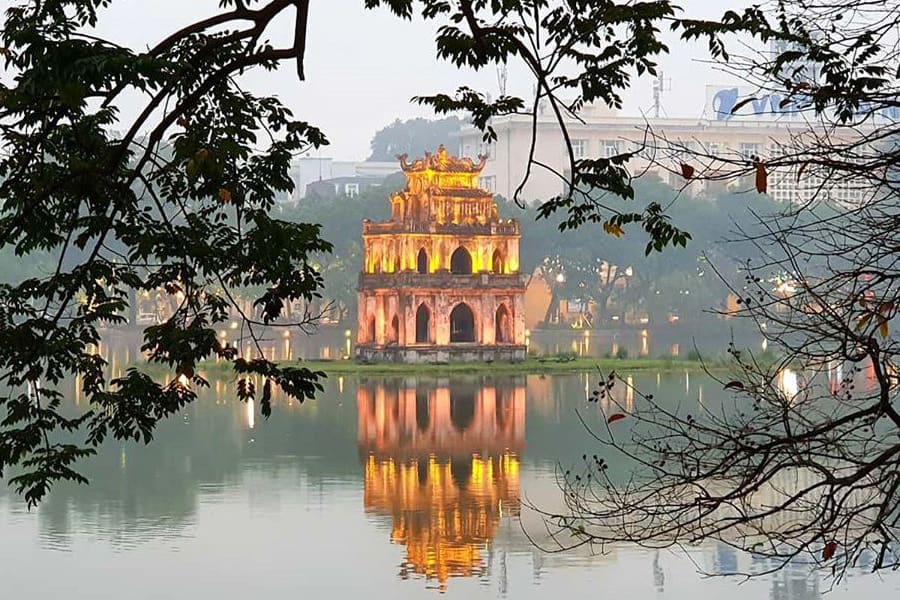 10.1. How is it?
No more burning heat like in the summer, October marks the start of the fall with cool breeze and mild sunshine. The temperature has witnessed a sharp decrease with 23 Celsius degree at night and 28 Celsius degree in daytime. There are still some rains, but they are not as heavy as the previous months. In October, all the streets of Hanoi are covered with the yellow and red colors of the fallen leaves, which makes this city a romantic and poetic look.
October 10th is the Capital Liberation Day, when you can see the decoration with banners, lights and national flags on the main streets of Hanoi. In addition, this is the best time to see the typical flowers of autumn in Hanoi as well as all around Vietnam such as Mexican sunflowers in the suburbans or milk wood pine flowers and yellow daisy in the city center.
Though the rainy season has gone, an umbrella is still necessary for your trip. You should also prepare some light coats in your luggage because it might be cold at the end of October.
10.2. How to explore Hanoi in October?
Discovering Vietnamese ancient architecture in the Imperial Citadel of Thang Long and Flag Tower of Hanoi.
Trekking to Ba Vi National Park to see Mexican sunflowers.
Enjoying the distinctive odour of alstonia flowers on Nguyen Du, Quan Thanh, Thuy Khue and Dao Tan streets.
Going to Vong Thi Pagoda to attend Vong Thi Festival, one of the rare festivals at that time in Hanoi.
11. Hanoi Weather in November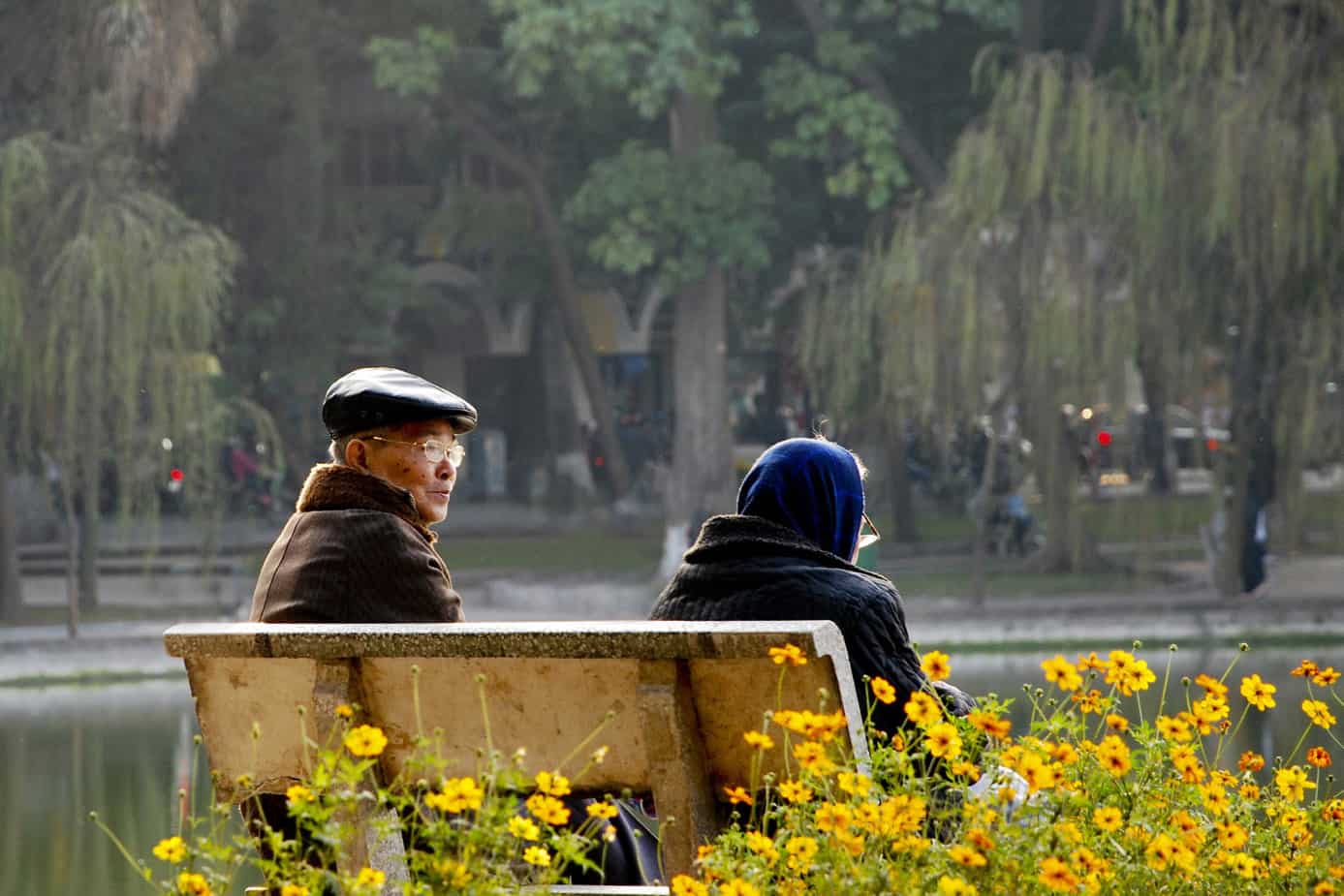 11.1. How is it?
November is considered as the last month of the fall, and also the first month of winter in Hanoi, with the frequent monsoon that helps to dry up the atmosphere. It is hard to see a beautiful sunny day in November, and the sky seems to be partially cloudy with a dull color all day. The average temperature in November keeps decreasing, with the highest temperature not higher than 24 Celsius degrees. There is little rain, but the rainy days are extremely cold.
November is an ideal time to go out to explore the beauty of Hanoi at the transforming time from autumn to winter. Although it is a cold winter, you can admire a variety of flowers in Hanoi, especially small daisies and sunflowers, which warms up the dreary winter day. Enjoying the cool breath of the early monsoon, walking on the streets covered with yellow leaves and enjoying a cup of coffee in the morning are the impressive things that you can do in November.
11.2. How to explore Hanoi in November?
Shooting photos with daisies in flower villages in Hanoi like Tay Tuu, Quang Ba, Nghi Tam, Tu Lien villages.
Going shopping at a lot of shopping malls in Hanoi such as VinCom Center, Aeon Mall, Trang Tien Plaza, Lotte Shopping Center or many clothing shops on Pho Hue Street.
Having a cup of Vietnamese coffee in some exclusive coffee shops such as Cong Coffee, Giang Coffee and Dinh Coffee.
Coming to Smiley Ville Film Studio in Dong Anh District to enjoy a small Europe inside Hanoi.
12. Hanoi Weather in December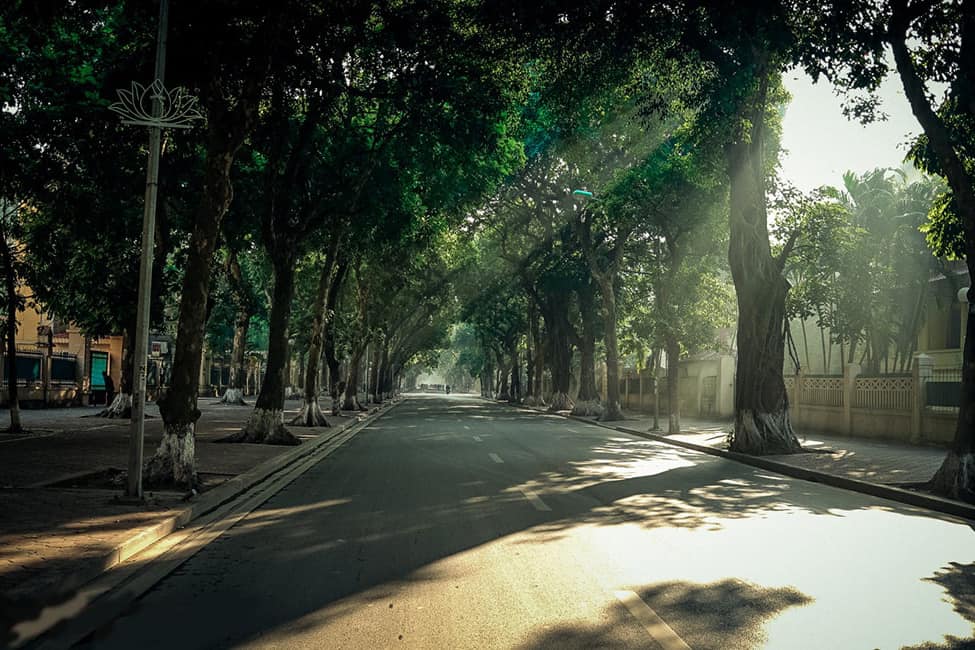 12.1 How is it?
In the last month of the year, December, the weather of Hanoi is quite similar to that one in November, but a little bit colder. The average temperature is from 14 to 22 Celsius degrees, and although there are some sunny days when you can see the sunshine, it is still frozen to the bone. The humidity is quite low, sometimes it is under 60%, which causes choppy skin.
In December, Hanoi does not have a lot of activities or festivals but Christmas. At that time, you can come to Hang Ma Street, where you are able to find plenty of items for Christmas decoration, or go to St. Joseph's Cathedral, the most well-known and ancient cathedral in Hanoi. The end of year is also a perfect occasion for you to go shopping due to the fact that various commodities are on sale.
At the end of December, it may be extremely chilly and frosty. If you decide to go to Hanoi this time, you should not forget some heavy coats, gloves, scarfs, and woolen hats. Going out too early in the morning or too late at night can do harm to your health.
12.2. How to explore Hanoi in December?
Going to St. Joseph's Cathedral at Christmas.
Coming to Long Bien Flower grassland and West Lake Flower Valley.
Visiting fields of rape flowers in the suburban area.
Discovering Vietnamese countryside in Duong Lam Ancient Village.
Hanoi, the heart of Vietnam, is always an attractive rendezvous for both domestic and international tourists thanks to its ancient, tranquil and peaceful beauty but no less vibrant and hectic. Over the time, for every month, every season, Hanoi leaves an unforgettable impression in the mind of every visitor. Hopefully, the above details about Hanoi weather by month will be helpful for you to bear in your mind a travel routine. We wish you the most intriguing and wonderful journey to Hanoi!