For Vietnamese people, Tet (a Vietnamese traditional Lunar New Year Festival) is the most wonderful and important festival in the country for family to gather together after a year of working.
This is also an ideal time for exploring Vietnam's beauty and Vietnamese culture and traditions. It does not matter what your nationality is, either Vietnamese or other nationalities, if you are going to visit Vietnam in this special occasion, you should know 10 do's and don'ts during Tet Holiday. This will help you avoid doing things that must be prohibited during this traditional festive season in this Southeast Asian country.
I. Don'ts During Tet in Vietnam
1. Avoid entering Vietnamese' house on the 1st day of Lunar New Year without invitation
Don't enter Vietnamese's house on the 1st day of Lunar New Year if you haven't been invited by the host first. Or else, if you aren't lucky to own a name attached with wealth, happiness, prosperity or longevity, you are advisable not to show up at their house. In case you had funerals in your family last year, you must pay attention to not visiting their house for the first 3 days on the Lunar New Year.
2. Avoid wearing black or white, go for red
According to the traditional Vietnamese's concept, black and white or dark clothes remind of funerals. These colors haven't been accepted on Lunar New Year Holidays. Red color is encouraged for this festival.
3. Avoid negative topics
Try to avoid negative topics including accidents, deaths or funerals on Tet holidays. Put on a smile for at least the first 3 days of the year, even if somebody slaps you in the face, and on the safe side, do as the Brits do – talking about the weather! Oops, but maybe not the black holes or floods!
4. Avoid demanding money during Tet
If you suddenly remember that someone has borrowed money from you, Tet is not a suitable time to require them to repay you. Traditionally, Vietnamese people believe that if they return or borrow money at the beginning of the year, they will have to borrow and repay money for the rest of the year. All you have to do is to keep calm and wait until the next 2-3 weeks!
5. Do not eat duck meat, squids, shrimps during Tet
Stop eating squids, duck meat or shrimps on Tet as people think that ink in the squids is black; duck is stupid and shrimps remind that you will move backwards like them.
6. Don't take water and fire away from Vietnamese houses
In Vietnamese customs, fire can be regarded to be the source of the family's warmth whereas water recalls the popular wish "Tien vo nhu nuoc" (translated meaning: Money rushes in like water), taking water out of somebody's house is similar to taking away their wealth. Hence, don't take things that are related to water or fire out of somebody's house.
7. Avoid working on the 5th of the New Year
The 5th of the New Year is said to be not good for departures since it is considered to be anniversary of the death. It is also advisable not to start working on that day.
8. Don't hurt or kills something
Last but not least, don't kill or hurt something else! If you like eating chicken meat, buy it ready prepared. You will remain always innocent and pure.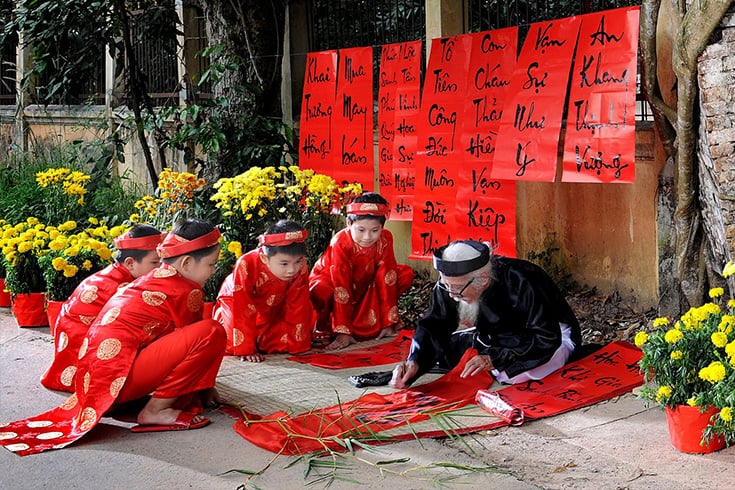 II. Do's During Tet in Vietnam
1. Give suitable gifts for Vietnamese during Tet
If you intend to present gift to someone on Vietnamese Tet Holiday, you are sure to avoid these followings gifts including: clock or watch, cats, medicine, writing ink and scissors or knives. Because all the above things remind of the unfortunate ones in the New Year; for examples, watches symbolize for the recipient's time going to pass, cats for poverty (since Mèo in Vietnamese language pronounced like "nghèo"), ink black for unlucky color, knives or scissors for incompatibility.
2. Be ready to live with dirt and dust during 3 first days of Tet holiday
Be ready to live with dust and dirt on three days of Lunar Tet as you aren't recommended to sweep your house or throw away the rubbish so as to prevent luck and benefits from going with it. It is highly suggested not to sweep the house on the first day of the New Year.