Hanoi-the capital of Vietnam, not only is it well-known for many delicious street foods but also a lot of age-old historical and cultural heritages. One of them is One Pillar Pagoda – a distinctive and unique architectural structure. It is considered a symbol of Hanoi city with a thousand years of civilization due to bearing the architectural splendor hallmark of the famous historical dynasty in Vietnam.
Location: Ong Ich Khiem Street, Ngoc Ha, Ba Dinh District, Hanoi.
Opening hours: 08:00 - 17:00 (every day) 
Entrance Fee: free
Dress code: Wear full-length clothes to express your respect and appropriate to native culture.
Map to the One Pillar Pagoda:
History of One Pillar Pagoda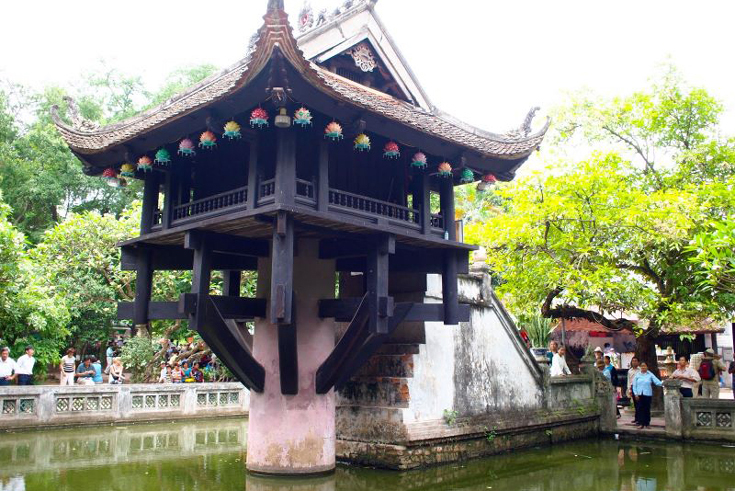 One Pillar Pagoda, as known as Dien Huu pagoda or Lien Hoa Dai, was built in 1049 by Ly Thai Tong (1028-1054), a king of Ly's dynasty. Its name means "long happiness and prosperity". In Vietnamese language, One Pillar Pagoda is called Nhat Tru Thap.
According to folk legend, the king was old but had no child. Each day, he used to go to pagodas to pray to Buddha for a son. One night, he dreamt that he saw Quan Am Bo Tat sitting on the lotus pond that lightened up gorgeous halos and gave him a baby. When he woke up, the king told his subjects about that. A few months later, the queen gave birth to a prince. The king was at the top of the world. He decided to construct a pagoda with only one pillar to resemble a giant lotus blossom to show deep gratitude to Quan Am Bo Tat.
In 1105, King Ly Nhan Tong renovated and expanded the pagoda with Linh Chieu Lake added.
In 1954, French colonialists set mine to destroy One Pillar Pagoda; there was only the pillar with some wooden beams remained in confusion.
In 1955, the municipal government restored and preserved the pagoda as it is now.
In 1962, One Pillar Pagoda Complex was recognized as National Historic Heritage and "The Pagoda with the Most Unique Architecture in Asia" by Asia Record Organization.
One Pillar Pagoda Architecture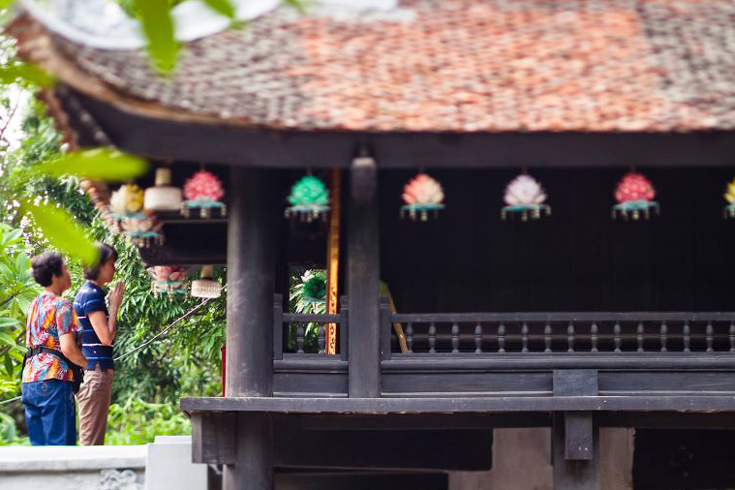 One Pillar pagoda architecture is a typical Hanoi attraction for cultural and spiritual symbols of Vietnam's capital.
It is not similar to any pagodas else in Vietnam. The structure of pagoda includes one pillar, Lien Hoa Dai, and a roof. The stone pillar is constituted from two small blocks that are piled skillfully with 1.2 meters in diameter and 4 meters in height (not including the part submerged inland).
Above the pillar, there are eight wooden beams that sound like eight petals. They are the system of wooden slats forming the solid structure firmly supporting the pagoda which looks like one and as steady as rock.
Lien Hoa Dai is a wooden square structure with each side of 3 meters. There are four curved roofs covered four dragon head-shape. Each of the roof 's diameter is 1.25m. The roof of the pagoda is covered by traditional red and mossy tiles, which show the meticulosity of handicraftsman.
It is placed in the central lotus pond with each side 20m and there are four short walls surrounded it. To go up to the pagoda floor, you must climb the stair which has thirteen side steps, two sides of the brick-tiled wall with stone stele introducing the history of the pagoda.
In the pagoda, the statue of Quan Am Bo Tat sits on a wooden and red-lacquered throne at the highest position. Some worshipping objects such as a couple of pot flower vases, thuribles, candles,…are decorated carefully which creates a grave religious space.
One Pillar Pagoda Highlights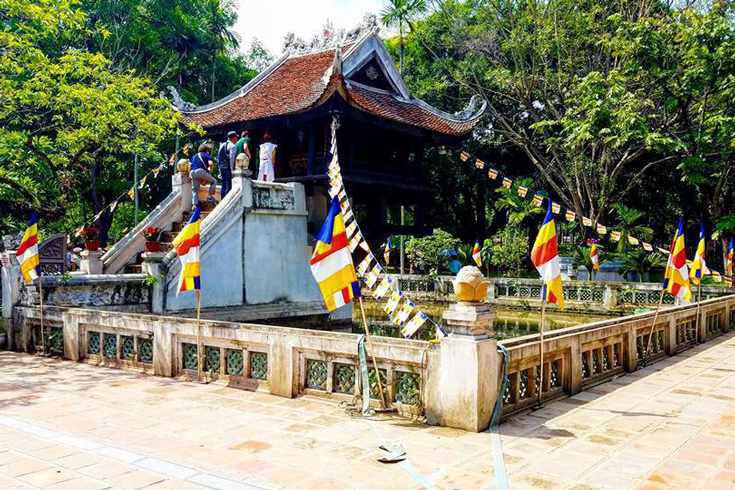 The pagoda is situated in the clusters of Ho Chi Minh relics that attract a large number of tourists annually. The special feature of One Pillar Pagoda's architecture is all pagoda laid on a pillar. It is a harmonious combination of spectacular ideas and architectural perfection. Besides that, it also contains philosophical meanings.
The round pillar represents the sky and Yang while the square pond represents the law and Yin, which demonstrates the law of circulation of the universe.
Seeing from a distance, One Pillar Pagoda looks like a lotus flower emerging from the water's surface. The lotus delicate beauty is a symbol of intelligence, elevated personality and simple virtue of Vietnamese people.
This familiar symbol of Hanoi appears in a lot of newspapers, books as well as educational programs. It has also appeared in the 5,000 Coin Vietnamese dong in the past.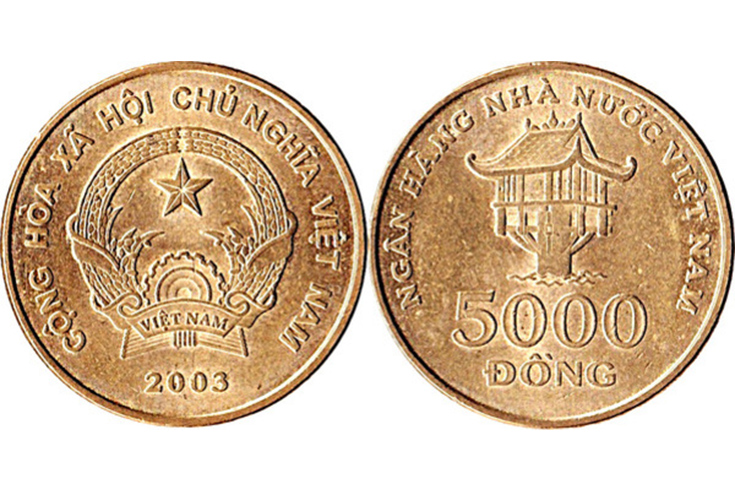 How to Get to One Pillar Pagoda
Hanoi has many types of transportation that you can choose to travel. You can go there by bus because the price is quite cheap and it is favorable. On the other hand, a taxi or motorbike is also a good choice due to the short time and convenience. If you're near the pagoda, you can walk there and explore the beautiful sights on the road.
Tips on Visiting One Pillar Pagoda
It's necessary for you to line up to burn incense and keep silence.
This pagoda is sacred, so it is suitable to pray to your family and friends for their health, happiness, and success in life.
Bring a bottle of water in case you're thirsty during the visit.
As time went by with changes in history, One Pillar Pagoda still retains the beauty and religious culture values of ancient Thang Long capital. It became the pride of Hanoi people as well as the Vietnam nation.
Owing to unique architecture and associated mystical legend and being nearby other famous sites like Ho Chi Minh's Mausoleum and Temple of Literature, the pagoda attracts many domestic and foreign tourists every year. If you feel so bored and tired about a noisy, busy and crowded life in Hanoi and want to go somewhere to relax, One Pillar Pagoda will be a great attraction to visit and balance your life.
If you have an opportunity to explore Hanoi as well as learn Vietnam culture, don't miss this wonderful place. Don't hesitate to comment below and share your emotions and truthful experience after visiting this site.