If you want to visit a tourist attraction in Hanoi different from others which allows you to witness an outstanding architecture, Saint Joseph's Cathedral will be the most suitable one for you.
St Joseph's Cathedral, or "The Big Church" familiarly called by the locals, is one of the first structures constructed by French colonists during their expansion in Indochina and still intact in Hanoi after two fierce wars.
In spite of fierce fights destroying almost parts of Hanoi, St Joseph's Cathedral is still in good condition. Today, it becomes a historical attraction in Hanoi which remains the image of the beauty of the old Hanoi and makes an impression on travelers by its ancient beauty inside the bustling capital.
Location: 40 Nha Chung street, Hang Trong ward, Hoan Kiem district, Hanoi
Opening hours:
For visiting outside: All time
For visiting inside: Travellers can only visit inside when there is ceremonial practice as the mass schedule below
Weekday: 5:30 am and 6:15 pm
Saturday: 6:00 pm
Sunday: 5:00 am, 7:00 am, 9:00 am, 11:00 am, 4:00 pm, 6:00 pm and 8:00 pm
A special ceremony is on 19th March every year.
Dress code: formal clothes; and casual clothes for comfort if you visit the outside only
Entrance fee: Free
History of St Joseph's Cathedral
1. The Construction
St Joseph's Cathedral is said to have been built on the site of the Bao Thien Pagoda near Hoan Kiem Lake. Bao Thien Pagoda was the biggest and most sacred one, the center of Buddhism in the history of Vietnam during the Ly-Tran Dynasty.
In the Le-Nguyen Dynasty, although Buddhism was not as popular as the previous dynasties, it was still the place happening Buddhist rituals praying for peace and prosperity of the country. Until the end of the Nguyen Dynasty, some parts of the pagoda were destroyed to become a market and after the French Colonist came to Hanoi, they demolished completely the pagoda to build the church.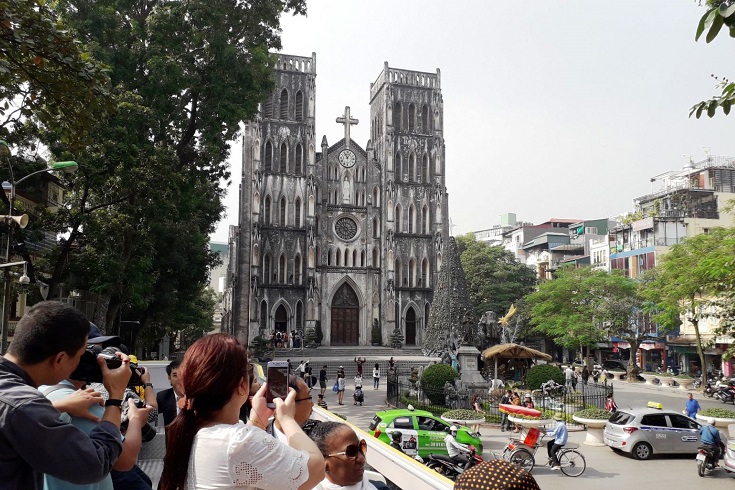 First, St Joseph's Cathedral was temporarily built of wood. The construction of St Joseph's Cathedral took place from 1884 to 1887, and during this time it was built of brick and plastered by concrete. The church was said to look like a small simulation of Notre Dame de Paris with multiple representative features of Gothic Revival architecture.
2. During the French Colonial Period
During the French Colonial period, Catholicism was propagated widely and St Joseph's Cathedral became the center of Catholicism in North Vietnam. There were daily, weekly ceremonies organizing in the church at that time. The church was a place not only welcoming thousands of Catholics in the north of Vietnam but also hiding and catering Vietnamese revolution soldiers.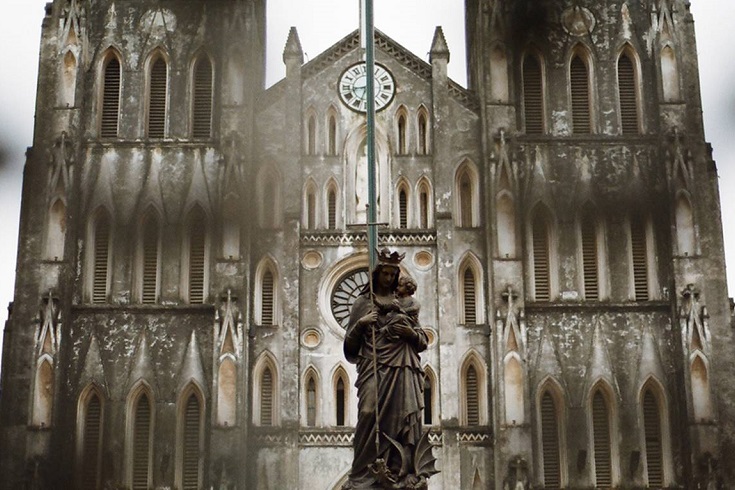 3. After the French Colonial Period
After the retreat of French Colonists from the North of Vietnam in 1954, the cathedral was closed and under the control of the Democratic Republic of Vietnam Government. Not until Christmas in 1990, was it opened again for the Catholics to celebrate.
Did you know: Saint Joseph's Cathedral is the oldest church in Hanoi, established in 1886 by the French.
Architecture and Structure
1. Exterior
The church brings an ancient and peaceful beauty inside bustling Hanoi. It has a length of 64,5 meters, a width of 20,5 meters. The facade consists of two square bell towers with a height of 31,5 meters and a big clock, which looks like in the Notre Dame de Paris. On the top is a stone cross. In front of the church, there is a statue of Mother Maria made of copper and around are decorated with iron fences, flowers, and trees. The exterior walls of the church were made of brick and plastered. After a long time, the fierce fights and the time left historical marks on them.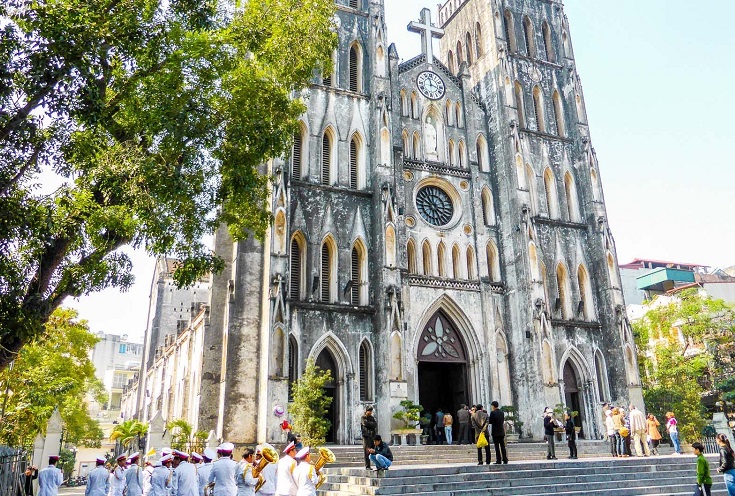 2. Interior
St Joseph's Cathedral is a typical structure of Gothic architecture in Vietnam, which became very popular in Europe from the middle of the eighteenth century. St Joseph's Cathedral was designed with colorful tall glass windows and high domes, around are pictures about Jesus Christ.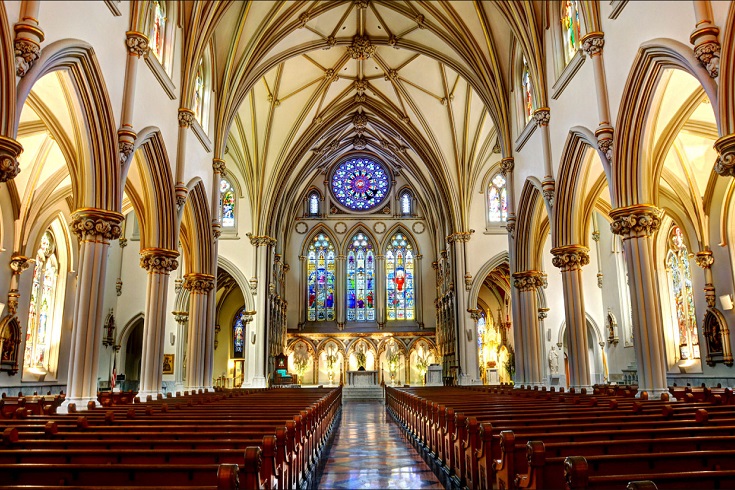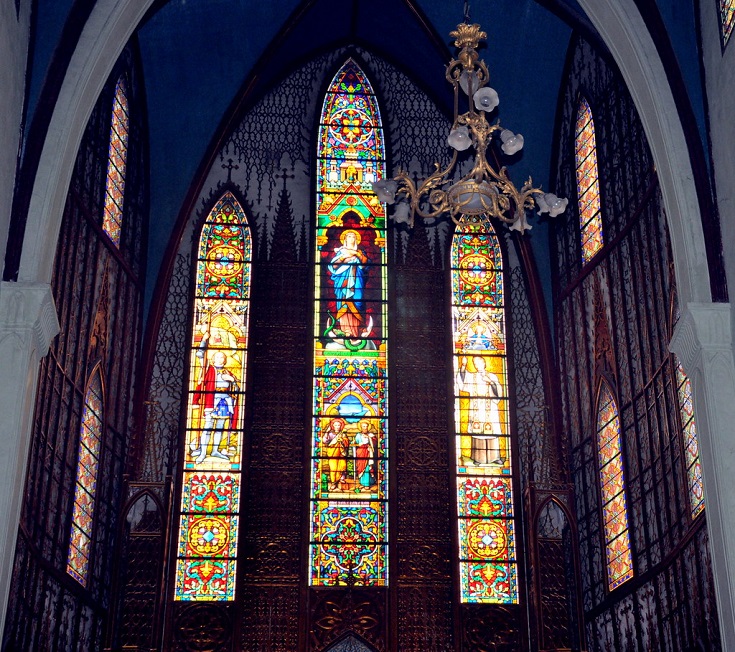 In the main court, a 2 meter-in-height St Joseph's terracotta statue is put on the center. Below are long brown wooden rows of seats lining up to the door for the Catholics in ceremonies.
What to See and Do in St Joseph's Cathedral
1. Participating in a Ceremony
If you are not Catholics and curious to know how a Catholics ceremony happens? Come to St Joseph's Cathedral on the weekend and you will have an exciting experience. All ceremonies in this church on the weekend are big and formal, the priest will read and explain the bible, organize baptisms, ablutions for Catholics.
2. Christmas at St Joseph's Cathedral
At Christmas, the church is decorated sparklingly and becomes a place attracting many not-being Catholics and young people in Hanoi. There are also a lot of entertainment activities held at the church and they are suitable for family, friends or dating couples to take part in.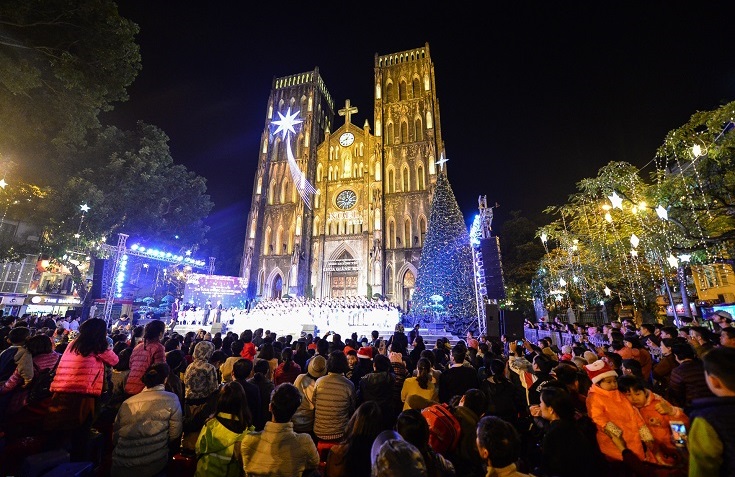 3. Checking in St Joseph's Cathedral
St Joseph's Cathedral with its European beauty becomes a wonderful place of taking photos in Hanoi, in general, and the Old Quarter area, in particular. Nowadays, there are couples choosing the church to take wedding photos and students choosing it to take yearbook photos.
4. Lemon Tea – a Specialty in St Joseph's Cathedral
It is a pity to miss lemon tea when you have an opportunity to visit St. Joseph's Cathedral. Just a cup of tea, sitting on the pavement, under the cool green tree canopy, you can gather and chat with friends, enjoy some street foods and see the beauty of the church.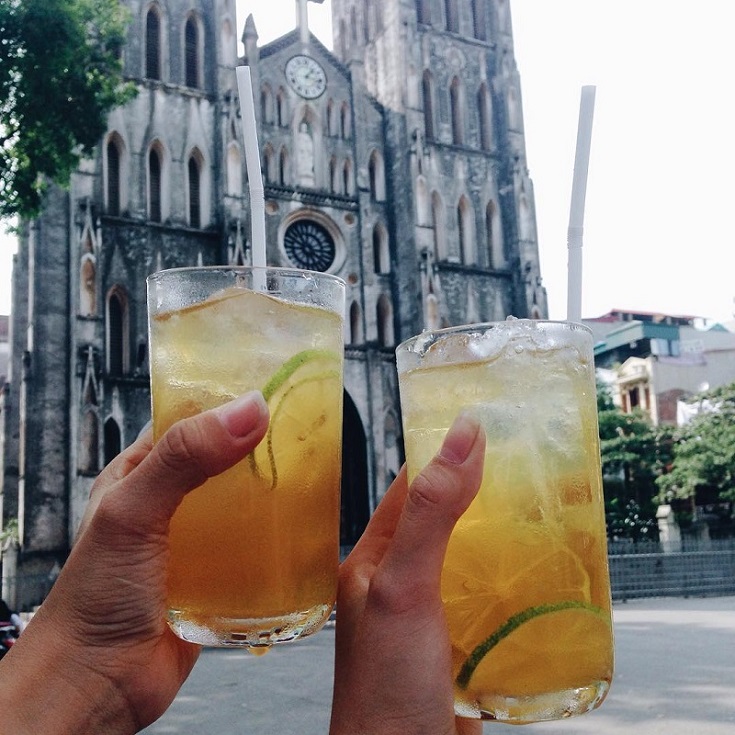 How to Get to St. Joseph's Cathedral
The cathedral is in the center of Hanoi, at the intersection of three streets: Nha Chung Street, Ly Quoc Su Street, Nha Xa Street, so it is easy to get there. You can go to St Joseph's Cathedral by bus, by motorbike or on foot.
If you go by bus, there are some buses going across there such as bus number 9, number 14, number 34, number 33, and so on. The cathedral is near Hoan Kiem Lake, only 5 – 10 minutes' walk from the statue of King Ly Thai To.
Tips on Visiting St. Joseph's Cathedral
A camera or smartphone is necessary if you want to take some pictures there.
If you visit in summer, remember sunscreen, sunglasses, a hat or umbrella (because in summer in Hanoi, there are often sudden rains in the afternoon or at night), and anti-bugs spray.
Around the cathedral, there are many Western-style restaurants, Vietnamese traditional restaurant, and street food so you needn't bring food.
It is better to visit the cathedral on special occasions such as at Christmas, at the weekend or at some special ceremonies of Catholicism.
For visiting inside: No food and drink is allowed.
Don't make noise while visiting inside.