Vietnam is not only famous for its charming coastal line but also the home of numerous stunning and beautiful waterfalls. From north to south, wherever you go, there is always at least one place to see. It is hard to deny a visit to see waterfalls with their pristine natural beauty. If you've never come to see one of these waterfalls before, you will regret. If you have limited time, then a wide selection of waterfalls may puzzle you. Read on to know what top 10 best waterfalls in Vietnam are!
1. Ban Gioc Waterfall, Cao Bang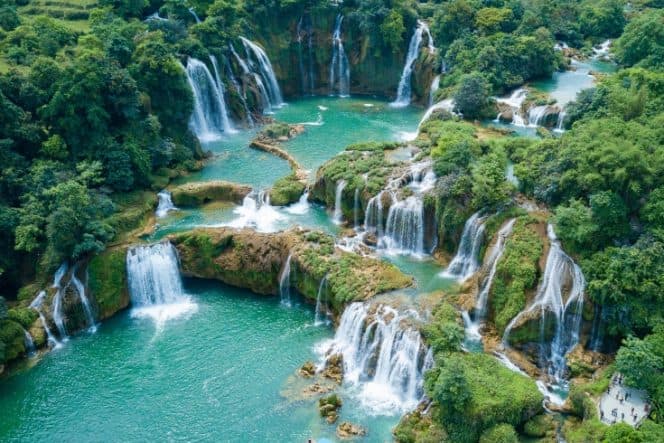 Ban Gioc is one of Vietnam's best known beautiful waterfalls. Situated in the northeast area of Vietnam, the waterfall is fed by Quay Son River and has a collection of stunning cascades. These splendid falls mark the border between Vietnam and China. Therefore, they have two sides: one in Vietnam, called Ban Gioc and the other in China, called Detian. 
Highlights:
Ban Gioc is the largest waterfall in Vietnam with 30m height and 300m width. Walking along a gravel path that threads through rice fields and passing the wooden bridges above gurgling creeks, a stunning sight of cascades appears in front of you. 
Visitors may be impressed by three magnificent levels divided by rocks and trees, the natural scene of sharp and tooth-like limestone mountains, and clean and transparent jade-blue water under majestic white falls. 
Another hypnotic sight in Ban Gioc waterfall is the obscurity of drifting clouds vapored from water spray of the cascades. 
To reach the base of the falls for better view, visitors have to pay 50,000 vnd ($2) for bamboo rafts punting them there.
It is so wonderful to know that the place is still an off-the-beaten path with no mass tourism and keeps untouched by humans. MSN listed Ban Gioc waterfall in 15 most charming cascades in the world. If you are keen on a picnic and dipping yourself in the water in a tranquil pastoral landscape, come and visit Ban Gioc.
Best time to visit: You can visit the waterfall at any time of year but September and October are the best time to visit with beautiful landscape of rice fields and less rain.
Address: Ban Gioc Waterfall, TL 211, Dam Thuy, Trung Khanh, Cao Bang province, Vietnam.
Entrance fee: 45,000 vnd - paid at the kiosk near Ban Gioc waterfall. 
Note: Remember to show your passport when purchasing the ticket.
2. Mu Waterfall, Hoa Binh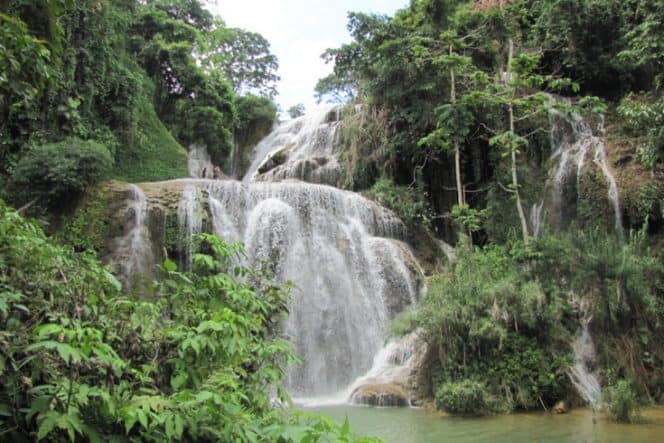 The second waterfall in the north of Vietnam that you should not miss is Mu waterfall. Just only 140km (approximately 87 miles) from Hanoi, you can see a stunning waterfalls among wild ruins and fig-scented woodlands.
Although you haven't seen the falls, you can still hear the sound of water from afar. Climbing down some stone steps, Mu waterfalls appears like a beautiful and graceful woman with white water foam descending over a series of rock steps.
Highlights: 
Located at an altitude of over 1,000m in the first stretch of the majestic Truong Son range, the waterfalls are charmed with blue water and huge cool down rocks into floors. At the foot of the waterfall, there is a natural lake which is ideal for swimmers. The segment of the waterfall's foot is 100m high due to water flows after years.
You may be glazed by the murky forest canopy along the waterfalls from downstream to upstream. Though the road to Mu waterfalls is quite small and difficult to travel because of hard rocks, the scene of Mu waterfall won't disappoint you.
Best time to visit: There are two seasons in this place: dry and clear seasons. It is best to visit Mu Waterfall from May to September; however, most foreigners prefer to go to Mu waterfall in the dry season (October to April).
Address: Mu Waterfall, Mu village, Tu Do, Lac Son, Hoa Binh province, Vietnam.
Entrance fee: Free
Tip: It is not only a great location for relaxation and enjoying nature but also an interesting place to learn about friendly Muong Ethnic.
3. Tac Tinh Waterfall, Lai Chau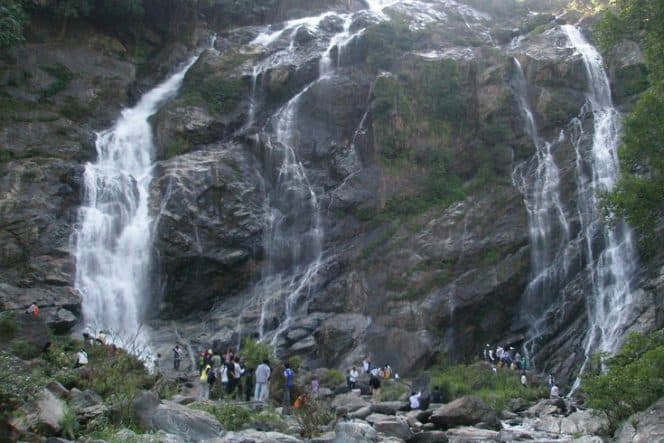 Located in Tam Duong - Lai Chau, Tac Tinh appears as a tranquil place to relax. Also known as Love waterfall, Tac Tinh is regarded as one of the most attractive spots in the northwest of Vietnam. The waterfall resides amid the huge majestic mountains in a small green valley where Dao ethnic lives. When being here, the pristine and pure beauty of Tac Tinh waterfall makes visitors feel like being lost in a bygone era.
Highlights:
Originated from Hoang Lien Son range, Tac Tinh waterfall is 130m high, pours down straight and creates a 100-square-meter lake at the foot. The water at the lake continues to spill out and forms a small stream with clear water flowing into the valley. It is the main source of water for agricultural production and life of the locals there.
Visitors should climb up to have the best view of the waterfall. On sunny days, visitors may have a chance to see a beautiful rainbow above the lake. The cliffs here are very smooth due to the water flow after years.
Much more than that, the glamor of Tac Tinh waterfall lies in a love story behind it. That was a story about a couple who used to spend their happy time at the foot of the waterfall. Lo Lan is a girl whose beauty is likened to a beautiful orchid flower. She fell in love with a guy in her Dao village but their love is forbidden and encountered many difficulties and obstacles. Eventually, to protect their love and loyal vows between two people, she and her boyfriend jumped down the waterfall to commit a suicide. In memory of the couple, locals here named the place Love Waterfall with the best wishes for them.
Best time to visit: It is not easy to choose which season to visit Tac Tinh waterfall because its beauty is diverse in every season of the year. Dry season (October to April) is the time when the waterfall looks like a graceful woman with gentle falls and blue crystal water. On the contrary, Tac Tinh is as a strong man with powerful cataract and stream gurgling all day during the rainy season (May to September). Thus, depending on your time and preference, choose the most suitable time to visit the waterfall.
Address: Tac Tinh Waterfall, Tam Duong Town, Tam Duong District, Lai Chau province, Vietnam.
4. May Waterfall, Thanh Hoa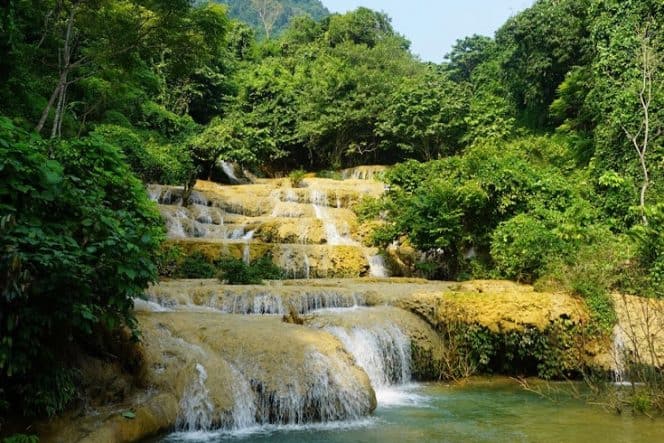 One of the most amazing waterfalls in Vietnam is May waterfall in Thanh Hoa province. The waterfall is formed by nine individual falls. 
According to a legend, nine fairies left their footsteps after they came back to heaven. That is why the waterfall is also called "Nine steps of Love".
Highlights:
May, which means "cloud", is considered as a true gem with its unique beauty. Coming to May waterfall, visitors are dizzy with its amazingly beautiful scene. You have a chance to witness a sea of cascading clouds that consists of nine glorious levels of water. It takes approximately one hour to climb up the top of this waterfall but it is worth a reward. Beautiful white falls, murmuring water, clear and blue lake are just in your eyes. Enjoy the nature!
The most wonderful thing is that May waterfall is not a well-known destination for foreigners and still remains untouched. It deserves to spend three hour-drive from Hanoi to get to the place. Despite the poor quality of the route, many visitors come here to admire the natural beauty of May waterfall. 
Best time to visit: From August onward is the most ideal time to visit this magnificent waterfall.
Address: May Waterfall, Thach Lam, Thach Thanh District, Thanh Hoa province, Vietnam
5. Yang Bay Waterfall, Khanh Hoa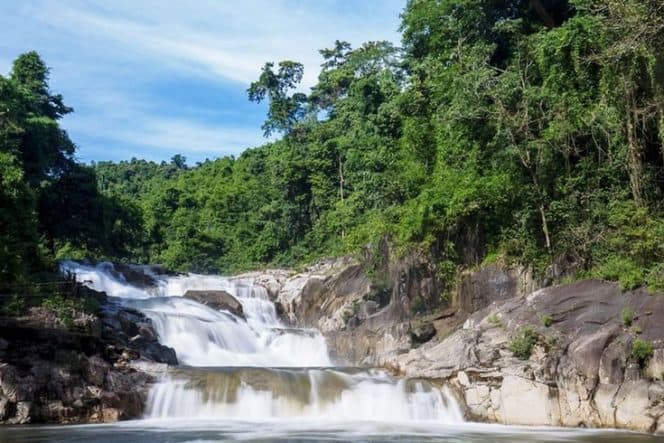 If you are going on a vacation in Khanh Hoa province, do not just enjoy the beach in Nha Trang city, spend some time to visit Yang Bay waterfall. About 45 km from Nha Trang city, Yang Bay waterfall lies in a large valley with 570 ha in area and on the height of 100m above the sea level.
Highlights: 
The location has three waterfalls including Yang Bay, Yang Khang, and Hocho. However, Yang Bay is the main waterfall with two parts: Yang Bay 1 and Yang Bay 2 with total height of 80m and length of 2000m. Yang Bay 1 has two small lakes and one large lake.
From afar, tourists can see the white foam water flowing down into a green lake. The grandiose falls are surrounded by dense primeval forests. This wonderful waterfall is a tourist attraction. Although being turned into an ecotourism area, Yang Bay still keeps it pristine nature.
Tucked away in the place, tourists do not only view Yang Bay waterfall but also enjoy a beautiful romantic sight of thick jungles, innumerable tropical insects, colored-multi butterflies, wooden bridge, orchids, cherry blossoms and horticultural canopy. There are many small boats to transfer tourists for sightseeing in 100m wide lake. Coming to Yang Bay waterfall, you should not fail to enjoy the nearby small caves which were used as a shelter for revolutionary soldiers during the war.
According to ethnic people, Yang Bay is also called Thac Troi which means "the waterfall from the sky". Many large stones at the place are flat like the chess boards. Therefore, it has been speculated that the emperor and fairies once went down to roam and opened the first spring here.
Lying in mountain ranges, the climate here is cool around the year. Thus, this is really a wonderful place for nature lovers to enjoy fresh air and charming scenery.
Best time to visit: October and April (preferable weekdays to avoid crowd and noise). 
Entrance fee: from 120,000 vnd to 300,000 vnd depending on the package you choose.
Address: Yang Bay Waterfall, Khanh Phu, Khanh Vinh District, Khanh Hoa province, Vietnam.
6. Suoi Tranh Waterfall, Kien Giang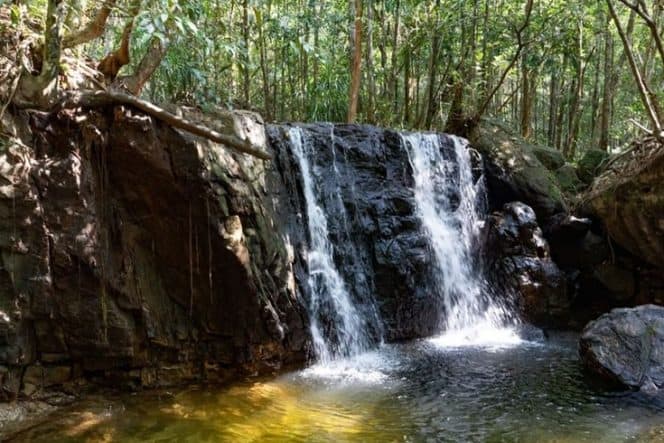 Is Suoi Tranh waterfall worth a visit? The answer is YES. Phu Quoc Island is widely called "Emerald Island" because of its numerous streams and waterfalls. When you are in Phu Quoc Island, do not forget to spend some time to discover the nature including Suoi Tranh waterfall. Suoi Tranh waterfall is located at Suoi Tranh Eco Park which lies between Duong Dong town and Long Beach. Just walk about 20 minutes from the park's entrance, the beautiful gentle falls will appear in front of you.
Highlights: 
Suoi Tranh waterfall is 15 km long and 4m high in total with lots of falls, big rocks and small ponds. The place is the ravines' confluence from Ham Ninh Mountain which forms a breath-taking picturesque scene hidden in the greeny lush. Suoi Tranh is the waterfall that is comprised of a series of smaller falls and streams. 
Although the waterfalls are surrounded by Suoi Tranh Eco Park, they are in harmony with the nature and remain pristine scene without the interference of humans. One of the most attractive things in Suoi Tranh waterfall is the tranquil atmosphere here. Visitors will be fascinated with amazing sunlight. In the summer, an utter assault on the senses of visitors is that the sun shines through the trees' canopies. And this makes you feel like you are living in a fairyland with sparkling reflection on the water of the sunshine.   
Suoi Tranh waterfalls are also a regular spot to enjoy activities such as camping and picnicking in the downstream, enjoying flows and swimming in the upstream, hiking to see surrounding fauna and flora, and discovering the nearby cave system, namely Bat cave.
Suoi Tranh waterfall is an ideal location for those who are in love with wild green nature and peaceful atmosphere. What is more relaxing than spending your time in a quiet place with many trees, hearing the birds singing, and watching the streams murmuring over the ragged stone slits. Come and visit, the waterfall won't disappoint you.
Best time to visit: from May to September. 
Entrance fee: 
 Admission fee: 10,000 vnd / adult and 5,000 vnd / child 
Parking fee: 10,000 vnd / car and 2,000 vnd / motorbike.
Address: Suoi Tranh Waterfall, Suoi May, Duong May, Phu Quoc, Kien Giang province, Vietnam.
7. Pongour Waterfall, Lam Dong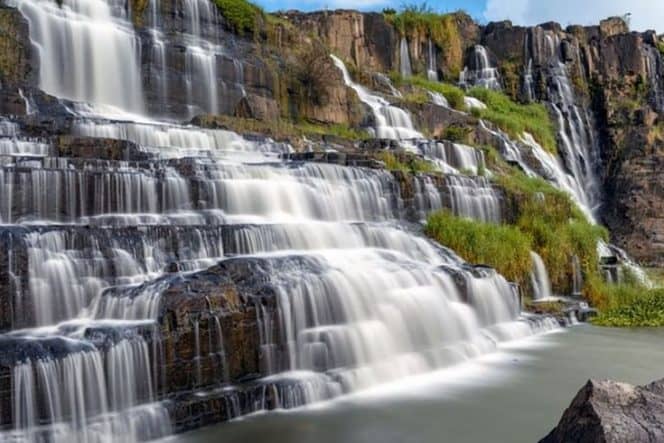 In the list of Vietnamese most beautiful waterfalls, it is flawed, not to mention Pongour waterfall. It is seen as one of the most attractive spots in Lam Dong province. The location of Pongour waterfalls is in a deserted area. Travelling 45 km to the south west of Da Lat, you will see a spectacular natural beautiful waterfall known as Pongour.
Highlights: 
Pongour is the waterfall that has exotic beauty with the huge rocky chasm, wide and terraced falls, intense heat, screaming cicadas and lush foliage. The waterfall consists of a series of natural rocky ledges that you can climb to walk under and behind the falls. The water gushes over the terraced rocks with a width of 100 meters and a height of 40 meters to the pool at the bottom. A bridge over the streams can help visitors to see the cascades from the other side. It has been said that the falls are the symbol of human and nature's attachment. 
According to a legend, many years ago, a beautiful woman, namely Kanai, was the leader of Kho tribe which is the location of three communes including Phu Hoi, Tan Hoi and Tan Thanh nowadays. Kanai was very good at conquering dangerous animals, especially the four big rhinoceros. The woman could make these animals obey her commands to fight against enemies and turn waste land to rich soil for cultivating. Unfortunately, Kanai died on the full-moon day of the first month in one spring. The four rhinoceros were so sad that they kept sitting by Kanai without eating anything till death. Then, one morning, local people found the place where they died was a beautiful waterfall. It was rumored that Kanai's hair was the water and rhinoceros horns was fossil stones. All of them were arranged in order to form a splendid landscape as what we see today.       
The good thing is that Pongour is less touristy than other waterfalls in Lam Dong province. As a result, there is relatively little rubbish around the place. The location has not been decorated with gaudy animal statues, swan boats or cable car. So visitors can enjoy the natural scene of the waterfalls. Best time to visit is between October and April of the year.   
Best time to visit: The place is a favorite spot for a picnic in the afternoon, so if you want to avoid crowd, try to come at any other time of the day.
Entrance fee: 10,000 VND 
Address: Pongour Waterfall, Tan Nghia, Ninh Gia, Duc Trong District, Lam Dong province, Vietnam.
8. Dambri Waterfall, Lam Dong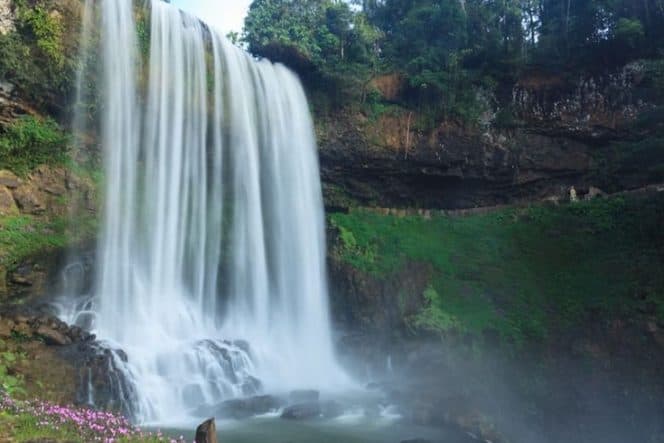 Like Ban Gioc waterfall in Cao Bang province, Dambri waterfall was also included in the list of 15 most charming cascades in the world by MSN. Located in the northwest of Bao Loc city, Dambri is regarded as the highest waterfall in Lam Dong province with 70m in height and 30m in width.
Highlights:
Despite being turned into a famous tourist attraction, Dambri waterfall still offers a dramatic and majestic sight with its natural beauty. Before reaching the falls in Dambri resort, visitors have to walk a long distance under the blue sky and white clouds. 
There are three ways to conquer the waterfall. The first way is climbing 138 stairs, the second way is taking the elevator and the third way is the most thrilling with the use of roller coasters. What is most enjoyable is relaxing in a tranquil nature, hearing the sound of pouring water and watching it spilling over a rocky escarpment and falling down into a large pool before gurgling down the valley with a series of terraced cascades.
Dambri waterfall looks the most beautifully in sunny days. During these days, you can see more clearly the surrounding mist that is created by pouring water. If you are lucky, you can even see the rainbow. The green of dense forest, white foam of water, and colorful rainbow will create a picturesque and breathtaking sight of the waterfall. It looks like you are getting lost in a fairy jungle. Furthermore, nature has also endowed this place with primeval forest full of tomentose plants and giant tropical trees. Thus, this is a wonderful place for those who want to explore nature. Especially, there is a fossil plant cave under the third floor of the waterfall. In order not to slip, be careful of the moss when you walk.
The name "Dambri" is inextricably linked with a legendary love story that happened long ago. A beautiful girl, namely Bri fell in love with Kdam – brave boy but they could not get married to each other because of the difference and conflicts between the two tribes where they live. Kdam was so sad because he could not marry his girl, then he left his village and went to a forest. Shortly afterwards, Bri also left her home and started her journey to look for her boyfriend. Unfortunately, although Bri spent months passing through many forests and streams, she could not find him. She came back to the forest near her village with the hope that Kdam would come back to see her. However, there was no news from Kdam. He never came back. Bri kept waiting and crying a lot until she died. Her body was turned into rock and her endless tears kept pouring down strongly over the rocks. The place formed a waterfall and was named Dambri (the combination of the names of two people) to memorize them. Dambri also means "waiting" in K'Ho language. The people from the two hill tribes were deeply touched by their truthful love and felt regretful. They reconciled with each other and allow their children to get married whoever they want.
Many visitors flock to the Central Highlands region year after year is to witness the impressive scene of gorgeous and magnificent waterfall called Dambri. If you are in love with waterfalls, come and enjoy your time at Dambri waterfall. 
Best time to visit: Any time of the year, but remember to come on weekdays instead of weekends to avoid crowds and enjoy the nature and fresh air to the fullest.
Entrance fee: 50,000 VND / person. It is quite expensive in comparison with other waterfalls but it is worth a journey.
Address: Dambri Waterfall, Hamlet 14, Ly Thai To, Dambri, Da MBri, Bao Loc City, Lam Dong province, Vietnam.
9. Dray Nur Waterfall, Dak Lak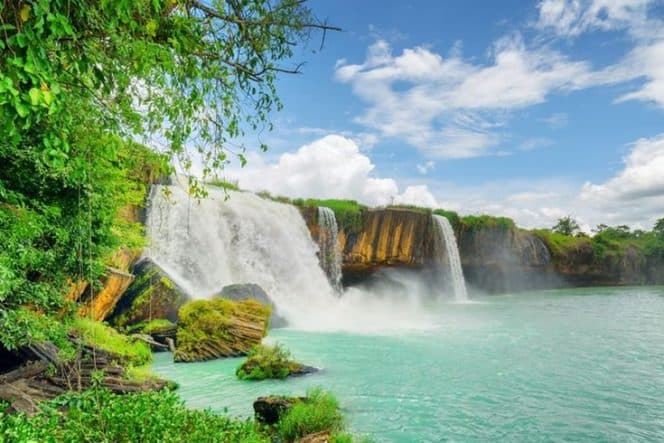 Lying at the heart of Central Highlands, Dak Lak province is the home where the natural beauty is revered and preserved. Dak Lak is not only famous for its ethnic minority groups, coffee industry, mountains, national parks but also stunning waterfalls. One of the most popular natural attractions in the province is Dray Nur waterfall. 
Highlights:
Located in Kuop village, Dray Nur waterfall is about 25 kilometers to the south of Buon Ma Thuot city. Of the three waterfalls on the Serepok River, Dray Nur is the largest one with the length of 250m and the height of 30m. Dray Nur is also the most beautiful among three waterfalls including Dray Sap, Dray Nur and Gia Long.
From afar, visitors stumble upon an incredibly breathtaking waterfall with a spectacular panorama. What impresses visitors the most is the avalanche of dazzling white water pouring down from high cliffs into a green lake at the bottom. The water is very pure and flows fiercely in the rainy season. Hence, swimming is not allowed here because of danger.
Dray Nur waterfall is also associated with a romantic mysterious story. A beautiful Ede girl were sitting with her boyfriend on a big rock. Suddenly, the boy was driven away by a monster appearing in a column of water. When he came back, he found out that his girlfriend had been taken away by the monster. It has been said that the rocky bank near the waterfall is the location where the couple sat and the waterfall is the column of water where the monster appeared. According to the local Ede, the waterfall pouring down all day is like the sound of whispering to tell the story.
The nearby waterfall – Dray Sap and Dray Nur are also known as Husband and Wife waterfalls. They symbolize the love between Krong No (Male River) and Krong Ana (Female River). Dray Nur in local language means "Female". That is why it is called Wife waterfall. Both natural beauty and mysterious legend behind it make this mighty waterfall a must-see natural attraction in the Central Highlands of Vietnam. The road to get to Dray Nur is quite uneven and rough. However, the harder the road is, the more rewarding you will get.
Entrance fee: 30,000 to 40,000 VND / person.
Best time to visit: from October to April. 
Address: Dray Nur Waterfall, Ea Na, KRong Ana District, Daklak province, Vietnam
Tip: Best time for photo shooting is from 5am to 7am when the sunlight is not too bright. The location is often crowded with picnic groups during weekends. Do not come here during that time if you want to seek tranquility.
10. Thuy Tien Waterfall, Dak Lak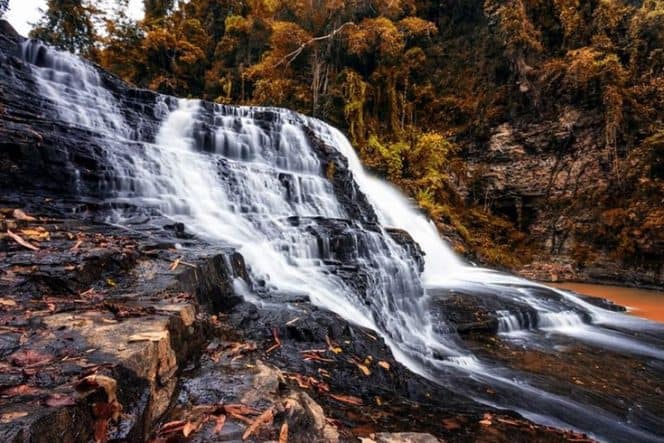 Another stunning waterfall in Dak Lak province is Thuy Tien. Lying in a wild forest and rocky landscape, Thuy Tien waterfall is 56 km to the northeast of Buon Ma Thuot City. The road to Thuy Tien waterfall is quite beautiful with bent pass roads, coffee fields and green rubber. Somewhere down the slope, there comes a small green valley, a clear stream and a lonely bridge. The calm and tranquility of the highland are symbolized by coolness and the dimming mountain's peak in the mist. Hearing the sound of murmuring water means that you're close to the falls. Walking more than 100 steps, you will be surprised at the charming beauty of Thuy Tien waterfall.
Highlights: 
Thuy Tien waterfall is also called three-level waterfall because it has three layers of falls. The first layer is a low slope with steps. Its narrow spring gently flows through green leaves like the flower trellis. In this place, visitors can also see the tree roots along the two sides hanging down like the swinging hammocks. 
There are rocky tiers at the second layer. The waterfall at this level is spreading wide with various small and shallow lakes. This becomes an ideal place for visitors to soak their body. The falls here produce a lot of white spume like the white flowers blossom under the golden sunshine. 
The third layer is an impressive location where the water falling down vertically into a deep lake at the base of the waterfall. From a distance, travelers can see the water gracefully spilling down onto rocky terraces creating a stunning panoramic view. In this place, many stones with different shapes and sizes are heaped up and create a spectacular scene. Coming to the waterfall, visitors have a chance to contemplate a fanciful and lively picture of the mountainous area in the Central Highlands of Vietnam.
Like a fairy in the middle of deep jungle, Thuy Tien waterfall is renowned for its tranquil nature. It is a wonderful place for a peaceful and heavenly vacation. The waterfall has not been spoiled too much, so visitors can immerse themselves in a wild majestic forest with the sound and birds and springs, pure water, fresh air, beautiful, charming and poetic landscape. If you are in love with impressive natural sights, pay a visit to Thuy Tien waterfall. It is worth the trip out of the harsh and stifling heat of the city.
Best time to visit: dry season from November to April.
Entrance fee: 25,000 VND / adult and 10,000 VND / child.
Address: Thuy Tien Waterfall, Ea Puk, Ea Kar, Dak Lak province, Vietnam
If you have ever heard someone's advice on not exploring the waterfalls of Vietnam, that is a truly wrong perception. Would you like to chase the best waterfalls in Vietnam? There is a wide range of impressive waterfalls with incredible charming landscapes among our top 10 best waterfalls in Vietnam that can make you dizzy. Grab your bag, jump into a visit, the journey is totally worth it.