As a result of all the ups and downs in its history, Vietnam is deeply affected with French, American and Chinese cultures, in all its aspects including language, cuisine and architecture. Hanoi people nowadays are so creative and open-minded to absorb the essence of influences from around the world into their traditional special cuisine, thereby, making each and every meal an adventure. Among thousands of restaurants in the city center, these 6 best French restaurants in Hanoi are well-known for their extraordinary dishes and stellar ambiance.
1. French Grill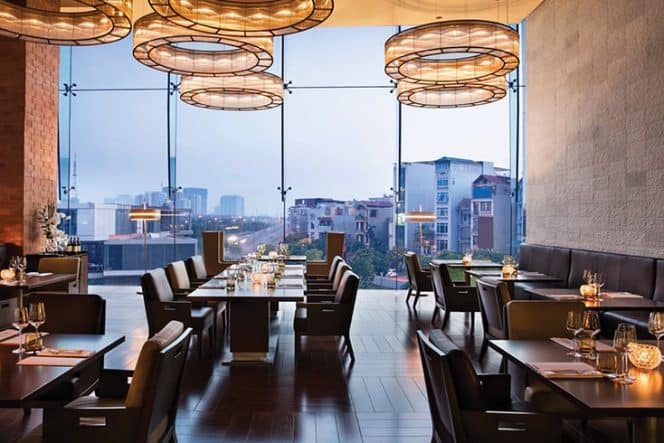 When time is of the essence, a culinary getaway is the best option to recharge your energy and warm up your love. Nothing other than an authentic Paris vibe featured with a candle-lit table, melodious classical music, glittering chandeliers and lively setting in a semi- private or private dining room. Making sure to bring up the most delightful and varied French specialties, French Grill serves a number of great dishes such as Seared  Foie Gras, Classic Caviar and Premium Steak, which definitely blows your mind at first sight because of how they are crafted to perfection in the largest open kitchen in Hanoi. A wide range of fine wines is set to pair well with the food and ready to cheer up for a romantic love.
There are 2 things that you would enjoy French Grill more. Firstly, besides its centered delicacies which are grilled stuff and seafood, it also offers Asian and Vegan/ Vegetarian Friendly options. Secondly, a special massage treatment is offered for couples every Friday and Sunday, it is a great chance to have your tension released and aching body parts cared.
Location: No 8, Do Duc Duc Street, Me Tri, Nam Tu Liem District, Hanoi
Opening hours: 6:00 p.m - 10:30 p.m
Tel: 090 329 0998
2. Rice Bistro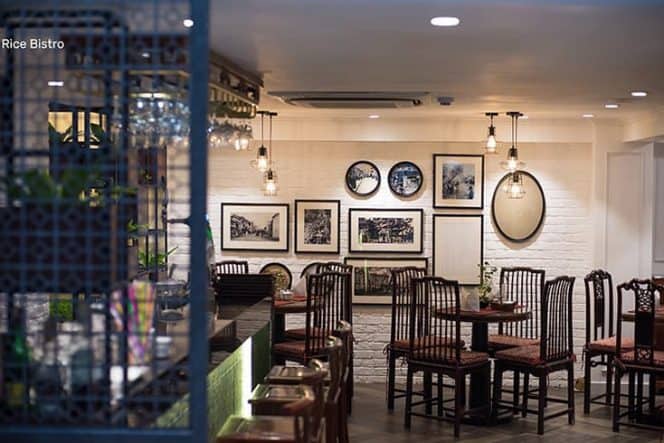 As its name defines, this restaurant epitomizes a splendid combination of exclusive Vietnamese traditional cuisine brought to a sophisticated flavorful level and French flair. Their chefs go the best Farmers Market every day and choose fresh vegetables, herbs, meat and other ingredients. All customers who have visited Rice Bistro stated that they were extremely impressed by the cleanliness of the eatery, the professionalism of service and the diversity of menu.
The original Rice Bistro started in 1994 in the Old Quarter, Hanoi. The chefs have years of experience in cooking Vietnamese and French style food. The most highly recommended are spring rolls, beef on the hot rocks with lemongrass and fish. Moreover, all the dishes are table-served by English speaking waiters and waitress, at an incredibly cheap price ranging from $25 to $50. What a charming and excellent hangout for visitors in Hanoi!
Location: No. 32 Hang Manh Street, Hoan Kiem District, Hanoi
Opening hours: 11:00 a.m - 10:00 p.m
Tel: 024 3928 8912
3. Colette's 32 Wine Bar & Bistro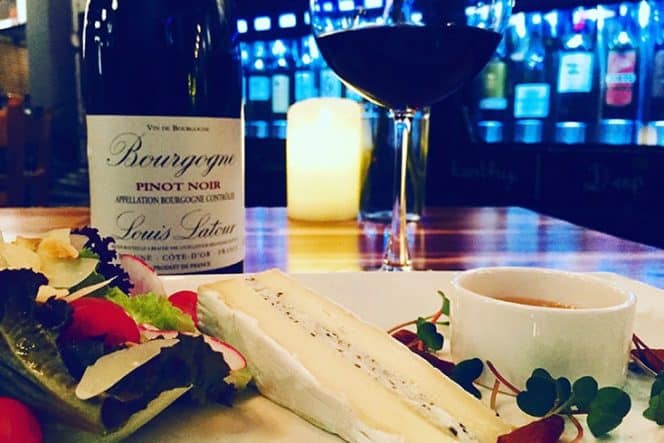 Colette's 32 Wine Bar & Bistro is such a wonderful and ideally luxurious site to celebrate or just have some great wine romantically. The wine list, which is updated every three months, boasts 32 kinds available by-the-glass from all around the world, from value to premium. Besides, the bistro offers a 3-course set lunch from Monday to Friday. You will fall in love with well executed dishes including French classics and signature dishes such as cheese fondue, raclette, seared foie gras, beef tartare, tuna tartare, scallop ceviche, grilled beef Rossini and truffle mushroom risotto. And after all, why not finish off with a chocolate fondant with mint ice cream and a creme brûlée?
In spite of a small space, you will feel extremely cheerful and satisfied because of the modern design, decent wines and mouth-watering French original food, which all get you the most relaxing time with your partner.
Location: No. 57 Bui Thi Xuan Street, Hai Ba Trung District,  Hanoi
Opening hours: Sunday 4:30 p.m - 11:00 p.m | Mon – Sat: 11:00 a.m - 11:00 p.m
Tel: 091 924 22 06

4. Amato Tapas Bar & Restaurant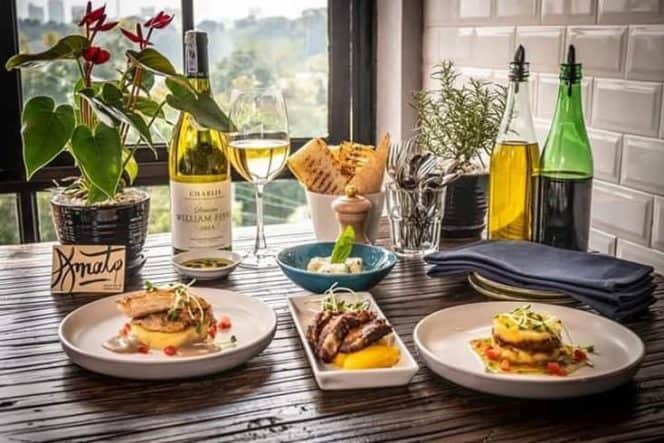 Opened in 2015 by two expats from France and Scotland, AMATO Bar & Restaurant Hanoi is a three-storey establishment within walking distance of Hanoi Opera House. Class and culture seems to embrace everything associated with this esteemed restaurant because it features whitewashed bare-brick walls, wooden flooring, and ancient-looking furniture, as well as colonial-era windows overlooking the streets which all bring about a blast from the past. Diners can find themselves in the best place to chit-chat with friends and lost in the catering section of creative well-decorated dishes and alcoholic beverages.
The menu changes every two weeks, with delicacies such as scallop carpaccio topped with mango tomato salsa, grilled barramundi fillet (served on potato pea mash with braised fennel and wasabi beurre blanc), and Crème brûlée. Needless to say, tapas are among the must-try ones for dinner, in addition to conventional croquettes, Iberian pork cheek, pate, grilled calamari, shrimp ceviche, and devilled eggs. To whet your appetite, nothing is more suitable than a glass of  sparkling wine, beers, and premium cocktails from Spain, France and Australia.
Location: 3rd floor, No.29 Cau Go Street, Hoan Kiem District, Hanoi
Opening hours: 11:00 a.m - 11:00 p.m
Tel: 0777 367 470
5. Xofa Cafe & Bistro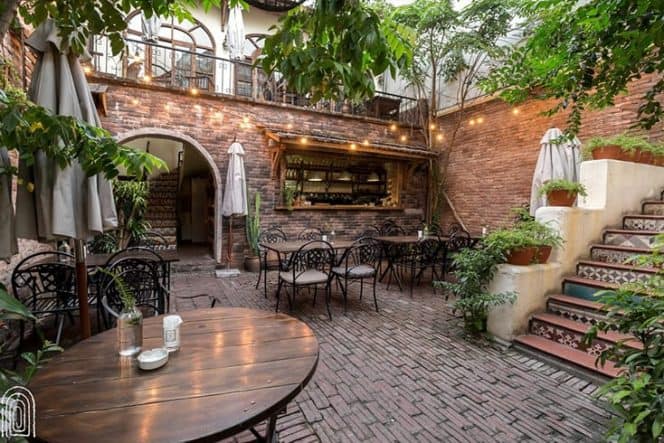 Xofa, which comes from the English word "Sofa", defines comfort, is one of the best French restaurants in Hanoi. Housed in a colonial style mansion, Xofa offers the most relaxing open-air place filled with the feeling of freedom among green trees. The front facing structure is attractive and  cozy with parquet flooring instantly reminiscent of 20th century France. The encircling rustic patio and airy courtyard are elegantly lit for gratifying autumn evenings with a few beers. Anyone who is looking for a place to chill out or work, especially for night owls, must stay here and see Hanoi at night once in their trip.
The comfort and satisfaction not only comes from the ambiance which shows off by squishy couches, blissful soundtrack and top-notch service, what customers love about Xofa is also a vast selection of delectable food and divine drinks that are reasonably priced compared with other cafe-restaurants in the same vein. The choices range from Italian, French, Mexican, American diligently-cooked ones to tasty Vietnamese traditional ones and vegan options with the well-known highlights here are coconut coffee and chips.
Location: No.14 Tong Duy Tan Street, Hoan Kiem District, Hanoi
Opening hours: 24/7
Tel: 024 3717 1555
6. La Badiane Restaurant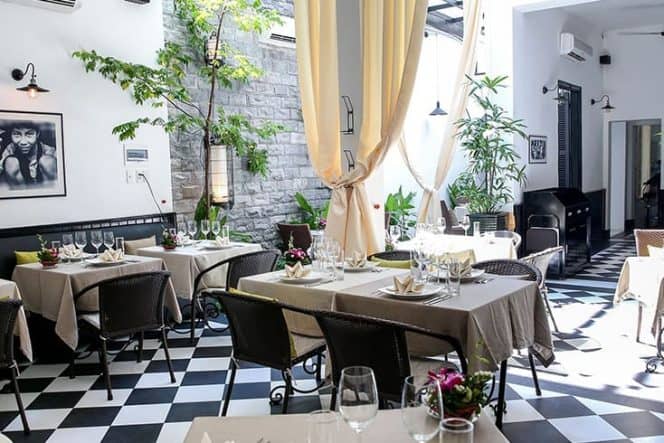 This chic award-winning French restaurant is located in a restored, whitewashed French villa arrayed around a breezy lush courtyard. The ground floor is more of a sophisticated-set spot while the upper with two graceful dining rooms, where you can enjoy a private meal with your loved ones.
La Badiane translates as 'star anise' – but Asian and Mediterranean flavours also feature in this star restaurant. The menu gives you an endless selection of gourmet food from all over the world made by professional gastronomists. The highlights are French signature ones including sea-bass tagliatelle with smoked paprika, foie gras (served with figs and blackcurrant liquor, stewed apple in spices and roasted almonds), prawn bisque with wasabi tomato bruschetta, goat cheese rolled in Parma ham, pesto and balsamic sauce, and duck French rillettes, served with candied onions in cumin. Three-course lunches of outstanding quality cost just VND 385,000 ($17) and a lavish dinner treat is VND1,490,000 ($70).
Address: No.10 Nam Ngu Street, Hoan Kiem District, Hanoi
Opening hours: Lunch: 11:30a.m – 2:30 p.m | Dinner: 6p.m- 10p.m
Tel: 024 3942 4509
If you are a fan of French-like romance and diligence, you should consider at least one of those 6 French restaurants in Hanoi suggested above. Not only have they been chosen by thousands of international travelers and expats in Vietnam, but it absolutely brings in a sense of Paris, based on the sumptuous food, great wine and classical French-inclined architecture.
Tell us more about your experience once you've checked in and feel welcome to share with others about it.