In Hanoi, there are so many famous flash boutiques and shopping centers, thanks to the rapid development of the city. Shopping here can help you feel relaxed, satisfy your needs and becomes a useful way to know more about the city. Besides modern shopping places, Hanoi is well-known for its flea, street and night markets as well. 
Traditional markets (including indoor and outdoor) are developed all around the city, featured with local vendors selling Vietnam unique items. If you are going to visit this city for the first time, make sure you read the following guide of top best local markets in Hanoi (including street night markets) carefully to prepare your best for shopping in Hanoi.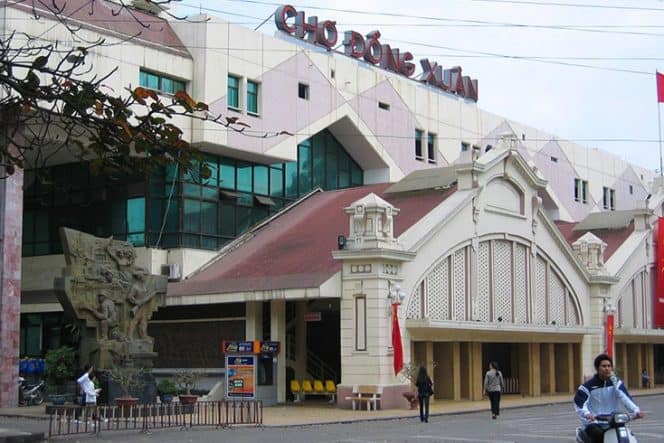 Hanoi shopping is often associated with Dong Xuan Market, aka Springfield Market. This is particularly true for tourists. Established in 1889 by the French, this market is a symbol and the largest covered market in the capital where the sellers and buyers can trade anything, from household furniture to foodstuffs.
Highlights: As the largest indoor market in Hanoi, this place is a four-story Soviet-style building on the north edge of Old Quarter. From 2004, Dong Xuan Market has a pedestrian street in front of the market every weekend night. This gives both local and foreign buyers a chance to understand more about nightlife in Hanoi.
In the market, you can buy seafood, meat, and vegetables on the first floor. The back section has pets and flowers. The upper floors have souvenirs, clothes, handicrafts, etc. In the dining area, the street vendors sell coffee, local Vietnamese food, and drinks. Many shops surrounding the market sell Dong Ho, Bat Trang drawings, laces and sand paintings. 
In the market, do not miss a chance to taste unique food such as noodles, grilled bamboo-stuck meat, rib and cartilage gruel, beef jerky, and green papaya salad, and sweet soup ("Che").
How to get there: You can walk to Hang Ngang Street and keep going straight. The market will appear after four blocks. Another way, you can get to the market from Hoan Kiem Lake. This distance is quite long, which is about 400 meters walking from the lake.
This day market is open from 6 a.m to 7 p.m, and the night one starts from 7 p.m until 10 p.m.
Location: Dong Xuan Street, Hoan Kiem District, Hanoi
Opening Hours: 06:00 - 22:00 every day
2. Hang Da Market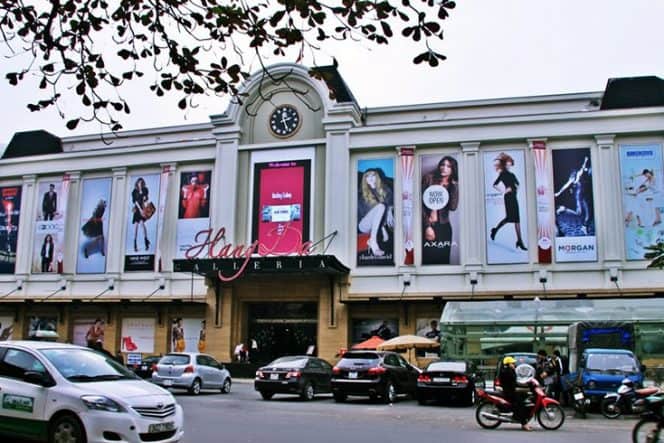 Located in the center of Hanoi's biggest district, Hang Da Market is one of the largest and most famous markets in  Hanoi for both locals and tourists alike. Built from 1937, this market is also a historical witness of many significant events of this capital city of Vietnam. 
In history, the name of the market is started from main product: leather, and hence it was called Hang Da Market (Hang Da means leather market) until now. In the past, this is an old market with less than 300 vendors. Nowadays, it has become a big shopping mall providing everything from food, drinks to jewelry and furniture household equipment.
The indoor market has three separate floors. The basement sells mainly food like fresh meat, fish, vegetables, etc. Packing products are also available in this place. The first floor is so large with beverage and confectionery while the second floor sells quality products like brand clothes or quality accessories. 
Highlights: The highlights of this market come mainly from its unique items: traditional Vietnamese dress (Ao Dai) and well-known breach clothes. With complex embroidery and weaving made from real silk, Ao Dai in Hang Da market will never make you feel disappointed. 
In the surrounding area, street vendors mainly sell second-hand clothes, paper products for students and street food for locals and tourists.
The market is open from 5 a.m to 9 p.m daily. Thanks to its location on the western edge of the Old Quarter, Hang Da market is close to many famous places such as Ba Dinh Square, Ho Chi Minh Mausoleum, Saint Joseph's Cathedral, Vietnam Women's Museum. Besides, because the market is also situated in the crossroads of Ha Trung, Duong Thanh, and Hang Dieu street, you can also get to the market through these streets.
Location: 1 Hang Da Street, Hoan Kiem District, Hanoi
Opening Hours: 05:00 - 21:00 every day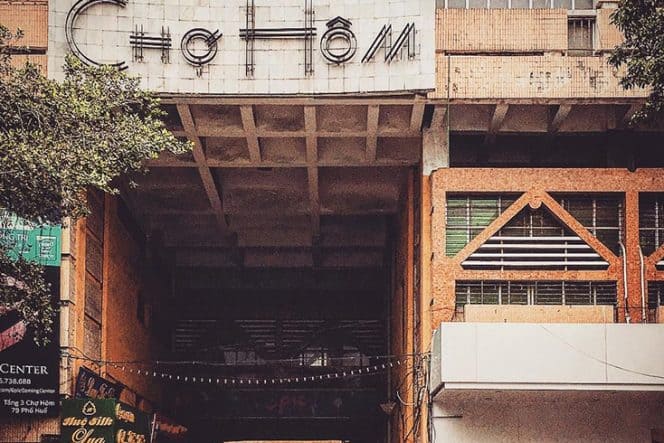 Hom Market, also known as Doc Hang Gao in the 19th century, is a market offering mainly poultry in Hang Bai Street. When Hang Bai is extended, the market was moved to Duc Vien pagoda. 
In 1921, the French built Hue Street and the market was extended again. Today, Hom Market is a favorite market of locals as well as tourists, offering a variety of goods from every region of Vietnam.
The market is divided into three floors serving different purposes. On the first floor, you can buy most of the goods, ranging from fresh vegetables to clothes. The second one mainly sells fabrics and the third floor has a terrace and gymnastics rooms.
Highlights: The special goods in the place are fresh food and fabrics, of which the former is on best-reserved conditions and the later are from Ninh Hiep wholesale market and Guangzhou wholesale market in China. In all types of fabrics, silk is the most famous and best-selling item. If you plan on buying Vietnamese silk to bring home as souvenirs, the market is among the best places to buy silk in Hanoi.
How to get there: To get to this market, you must head up Pho Hue towards Hoan Kiem Lake. Located on the corner of Pho Hue and Tran Xuan Soan Street, it is a huge building on the right side of the junction.
Location: 293 Tran Nhan Tong, Hai Ba Trung District, Hanoi
Opening Hours: 06:00 -17:00 every day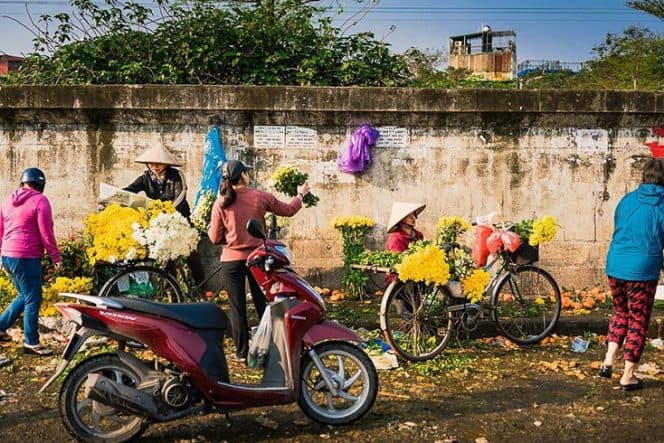 Quang Ba Flower Market is the biggest flower market in Hanoi which gathers fresh flowers from many places in Vietnam. Opened at 2 am, you can find almost all types of flowers, namely carnations, roses, chrysanthemums, gerberas,... If you are willing to wake up early in the morning and want to know more about nightlife in Hanoi, the market is a place you cannot miss.
In the market, there are two main corridors. The right has a big undercover shed where covered shops are housed. The left has about six street food stalls. All flower shops are make-shift ones and use light bulbs to light the nearby area. The back of the market has a car park for vendors, traders, and visitors.
Highlights: What makes this one outstanding from other markets in Hanoi is its main product - fresh flowers. As Hanoi's main marketplace for fresh-cut flowers, Quang Ba Flower Market is both a wholesale and retail market so the price here is quite reasonable. For example, you only pay VND 30,000 for a bunch of about 50 roses. 
The opening hours of the market are variable. One from 2 AM to 4 AM for wholesalers and from 4 AM to midnight for retailers. The market is very lively before Tet Nguyen Dan (Vietnamese New Year) and other holidays in Vietnam.
Located in Tay Ho District, it is about 7 km north of Old Quarter, with the main gate is on Au Co Street. 
Location: 236 Au Co, Quang An, Tay Ho District, Ha Noi
Opening hours: 2 AM to 4 AM and from 4 AM to midnight
5. Long Bien Wholesale Market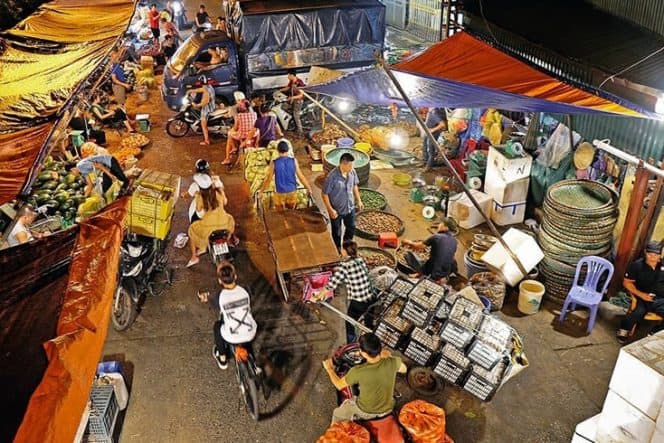 Long Bien wholesale market is the largest wholesale market and the second biggest market ( after Dong Xuan Market) in Hanoi and the north of Vietnam as a whole. Having been opened for over 20 years, this market supplies all products from vegetables, meat to eggs, etc.
Main areas of Long Bien wholesale market are: Aquatic products, cattle, and poultry area; Vegetables, fruits area; Fast food area; Toilet; Park for motorbikes and bicycles; and Market management.
Since this is a wholesale market, you can buy anything here, from clothes to furniture equipment. Especially, fresh vegetables and seafood from many northern provinces are gathered here to transport to smaller markets in many places. 
Opening from 10 pm and lasting until 6 am, the peak hours of this market are from 2 am to 4 am. During this time, you will have a chance to experience the hustle and bustle of a Vietnamese big market. In the eyes of foreign tourists, Long Bien market is an attractive destination thanks to its vibrant colors, lively lights, and hustling trading scene.
Because the market is at the foot of Long Bien Bridge and near the Old Quarter, you can find the market by asking the locals these two famous places. The people are so friendly, so you can find the market easily.
Location: 189 Hong Ha, Ba Dinh District, Ha Noi
Opening hours: 10 pm - 6 am daily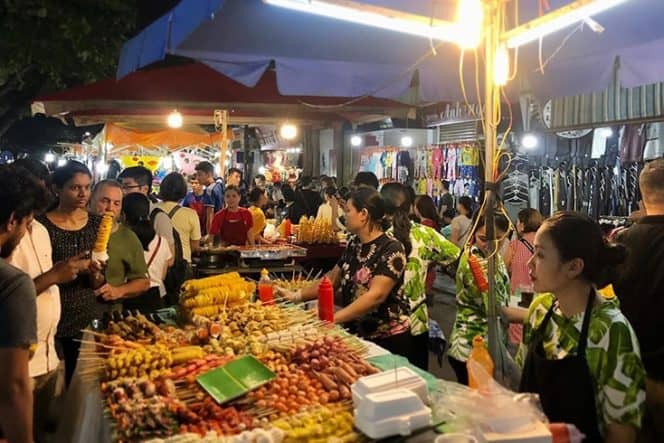 Found in Hanoi Old Quarter, Hanoi Weekend Night Market is a busy, bustling gathering place of stalls and street buyers, tourists and locals. 
The night market is opened every Friday, Saturday, and Sunday night from 8 p.m. It is about 3 km in length, and starts at the Dong Kinh Nghia Thuc Square and ends at the gate of Dong Xuan market. Because its entrance fee is free, and the roads are blocked off to transportation; therefore, the market is free of commotion, and visitors are warmly welcomed.
When it comes to what to buy in the market? There are plenty of stalls delivering so many products, including handicrafts, ceramics, porcelain, fashionable clothing, etc. Souvenirs for foreigners are among best-sellers here with price ranging from 100,000 VND to 200,000 VND. If you are looking for suitable souvenirs for friends and family, this place cannot be forgotten. For many visitors, the handicrafts sold here are the most best-selling souvenirs in the market. Visiting here, you should not miss grabbing some traveling items, like backpacks, coats, and more because the quality is quite good while the price is so affordable. In reality, it is one of the cheapest places to find items for your trip. 
Not only should you buy stuff there, but also eat some famous local food, with prices starting at VND 15,000. Some iconic Hanoi dishes include Bun Thang, La Vong grilled fish, Pho, Banh mi (Vietnamese sandwich), and Bun cha. 
This place is even more lively on Saturday nights thanks to live performances and works of art. In the market, Vietnamese performers play Vietnamese opera, traditional and modern music performances, which are always appreciated by locals and tourists. Sometimes, international artists also join these activities. So, do not miss these performances!
To get to the market, simply walk around Hoan Kiem Lake on weekend nights, it is easy to notice a crowded night market. That is Hanoi Weekend Night Market.

Location: Hang Dao Street, Old Quarter, Hanoi.
Opening Hours: 8 pm - 11 pm from Friday to Sunday
Shopping experiences in the capital of Vietnam cannot be completed without visiting traditional markets in Hanoi. It can be so easy and hard at the same time when shopping there if you don't know useful information about these markets. So, don't forget to grab all earlier guidelines before starting your shopping journey in Hanoi!