Boasting the finest mix of a fascinating, troubled history and thriving metropolis vibes, Hanoi is definitely among the most attractive cities in Asia. You can spend weeks or months in this city without fully discovering its charms, as even locals find hidden gems every now and then. But if you're short on time and can only afford 2 days in Hanoi, this is the ultimate guide for you, including the itinerary on how to spend 48 hours in Hanoi, including things to see and do, what to eat and where to stay.
I. What to Do for 2 Days in Hanoi?
A. First day in Hanoi:
If you only have two days to stay, you will no doubt wander in the very heart of Hanoi, which is Hoan Kiem Lake and its surroundings.
1. MORNING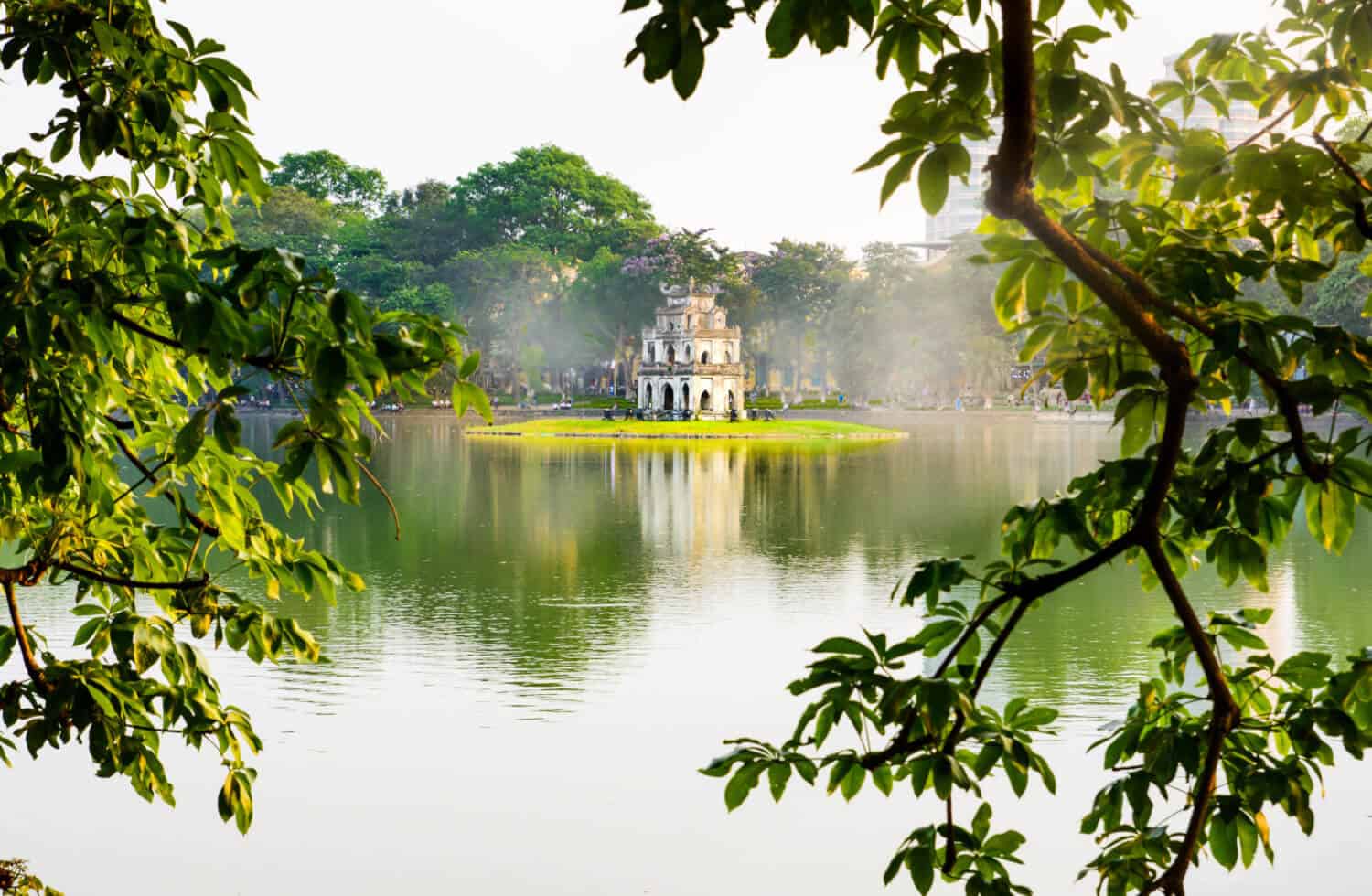 Attraction: Hoan Kiem Lake
Entrance fee: 0 VND
Visiting time: 1-2 hours
What to see and do?
If you're a morning person, you'll love this place. The city wakes up at 5am and starts its vibrant morning exercises round Hoan Kiem Lake. Reaching the lake at dawn and you'll be astounded by the crowds already in place: seniors practicing Tai Chi, males running and females dancing.
Legend has it that King Le Loi – the founder of the Hau Le Dynasty – was given a holy sword by Long Quan, a deity that governs all water bodies. It was an act of God to support the revolution against the Chinese Ming Dynasty's invasion. He returned the sword to the turtle, which claimed to be Long Quan's ambassador, then named the lake "Hoan Kiem", meaning the lake of the returned sword.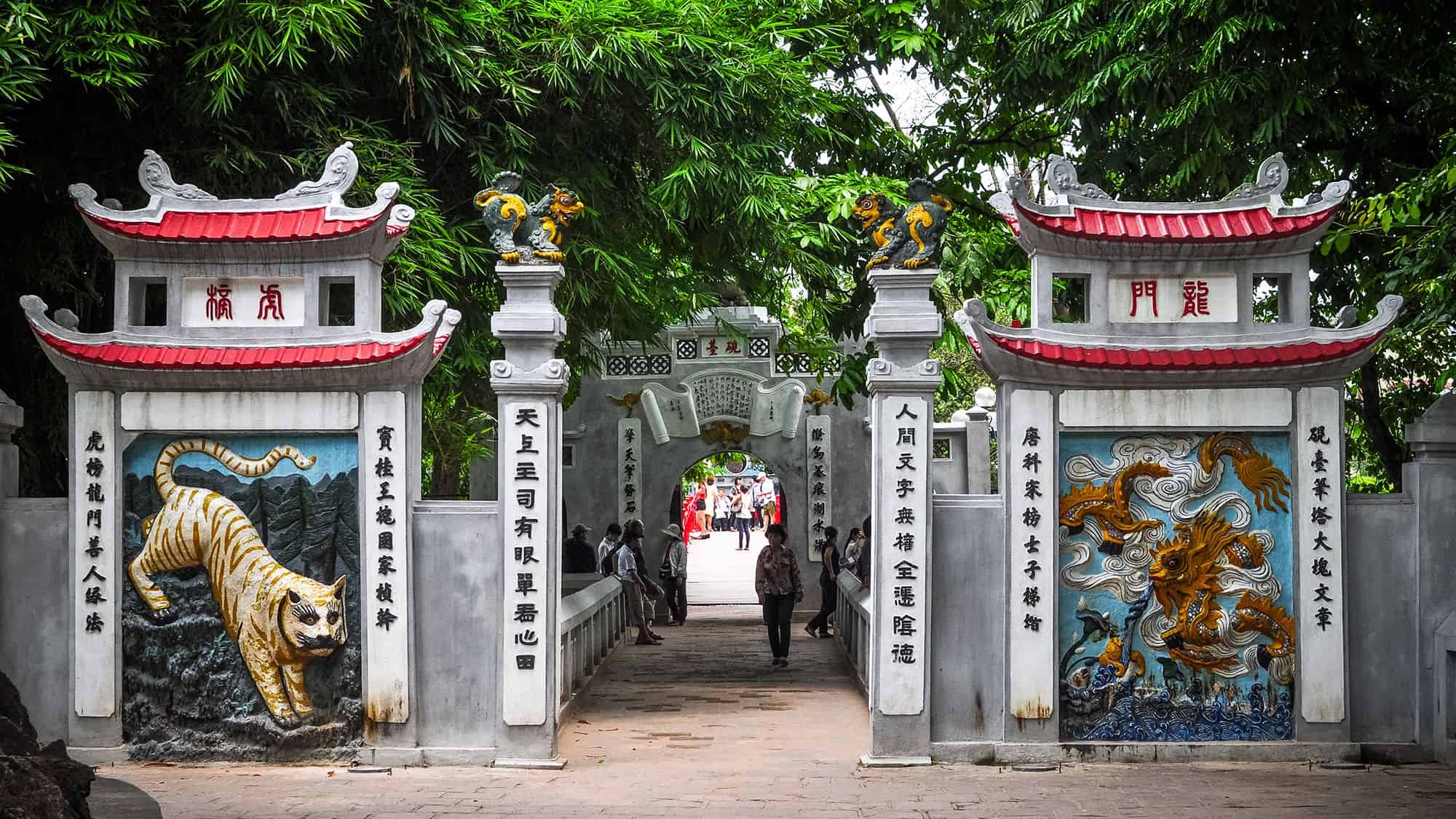 Attraction: Ngoc Son Temple – the Temple of Jade Mountain
Entrance fee: 20,000 VND
Visiting time: 1 hour
What to see and do?
Ngoc Son Temple is located on a small island at the center of Hoan Kiem Lake, connected from the bank by a fiery red bridge. The temple dates back from the 19th century and used as a worship place for Van Xuong De Quan, the deity that governs education and bureaucracy, and Tran Hung Dao, the famous general in the fight against Mongols. Ngoc Son Temple is among the most beautiful architecture in town, with a huge bronze statue inside and a stunning view over the lake outside. 
2. AFTERNOON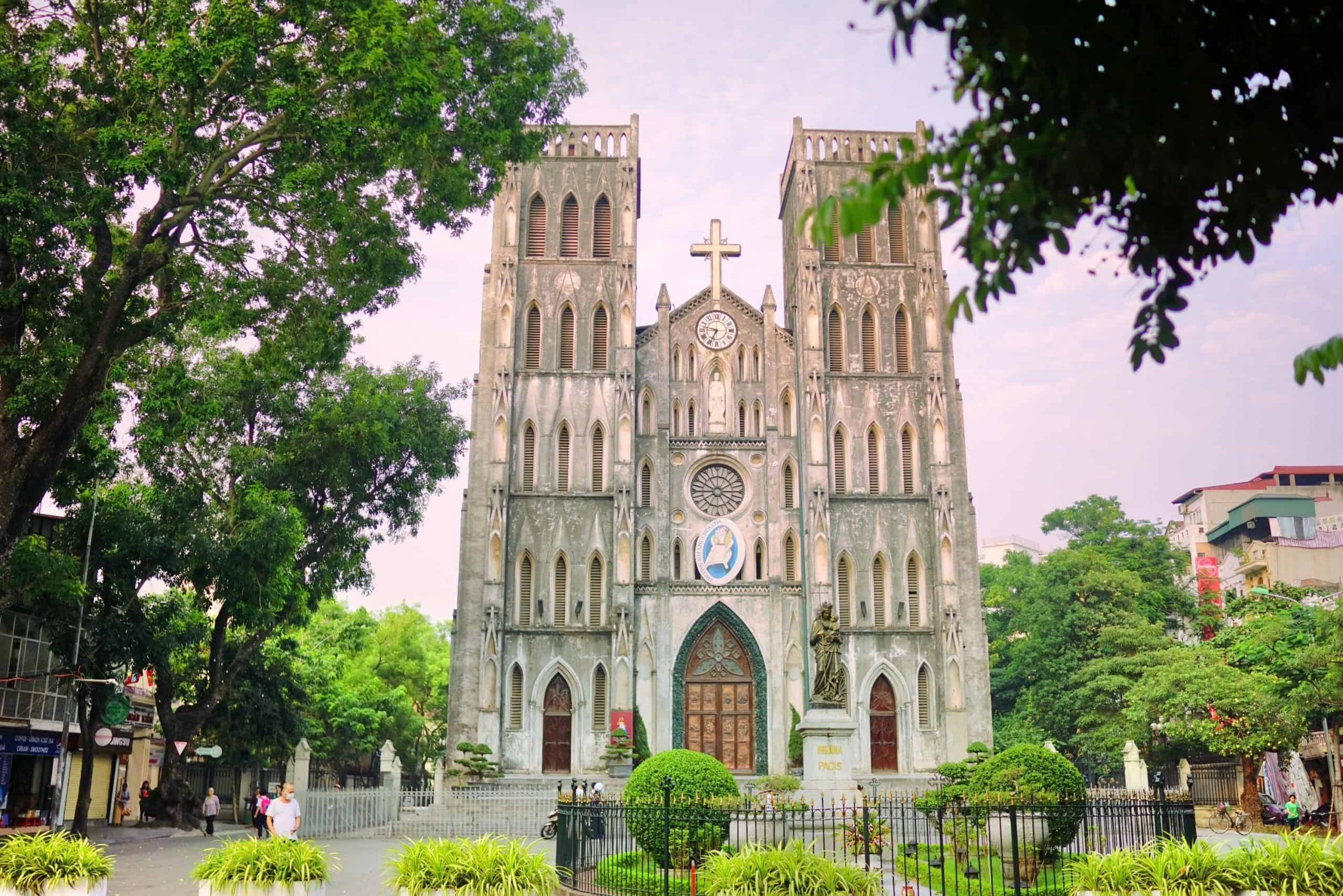 Attraction: Saint Joseph Cathedral
Entrance fee: 0 VND
Visiting time: 1 hour
What to see and do?
Saint Joseph Cathedral was built on the site of a pagoda from the Ly Dynasty. Featuring a Gothic-revival exterior, the Cathedral stands out as a simulation of the Notre Dame de Paris counterpart. The exterior walls are made of granite stone slabs, which have become worn down in the recent years. The cathedral holds masses several times a day and is open for tourists all day.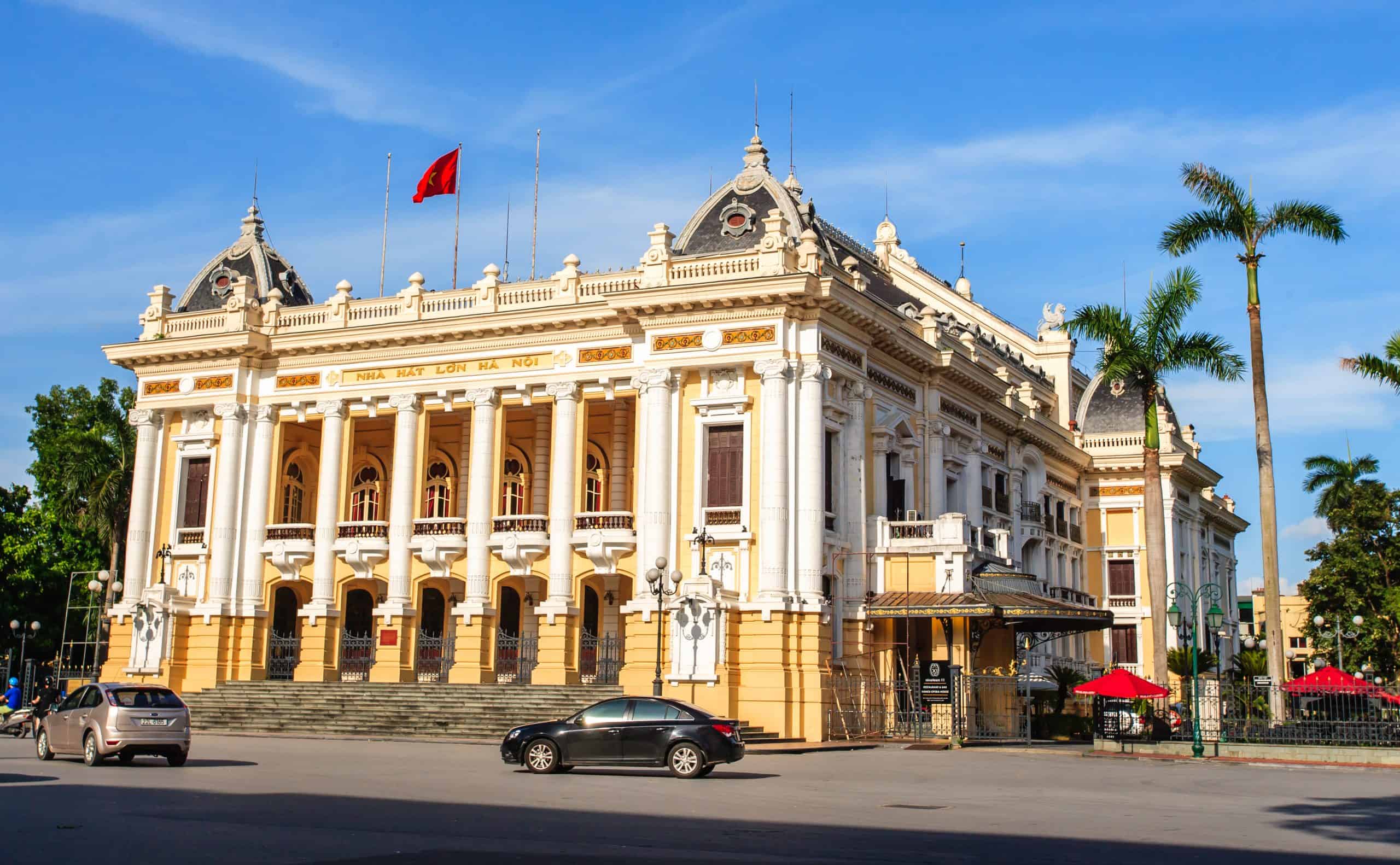 Attraction: Hanoi Opera House
Entrance fee: 400,000 VND
Visiting time: 1 hour
What to see and do?
Hanoi Opera House is within walking distance. Built by the French colony, the Opera House boasts a mixture of different architectural styles with a Neoclassical dominance. Hosting nearly 600 seats, Hanoi Opera House opens for musical performances, small-size meetings and conferences. The large square surrounding the Opera House is called the August Revolution Square to honor the event taking place in August 1945 here, when hundreds of people gathered for a meeting against invaders.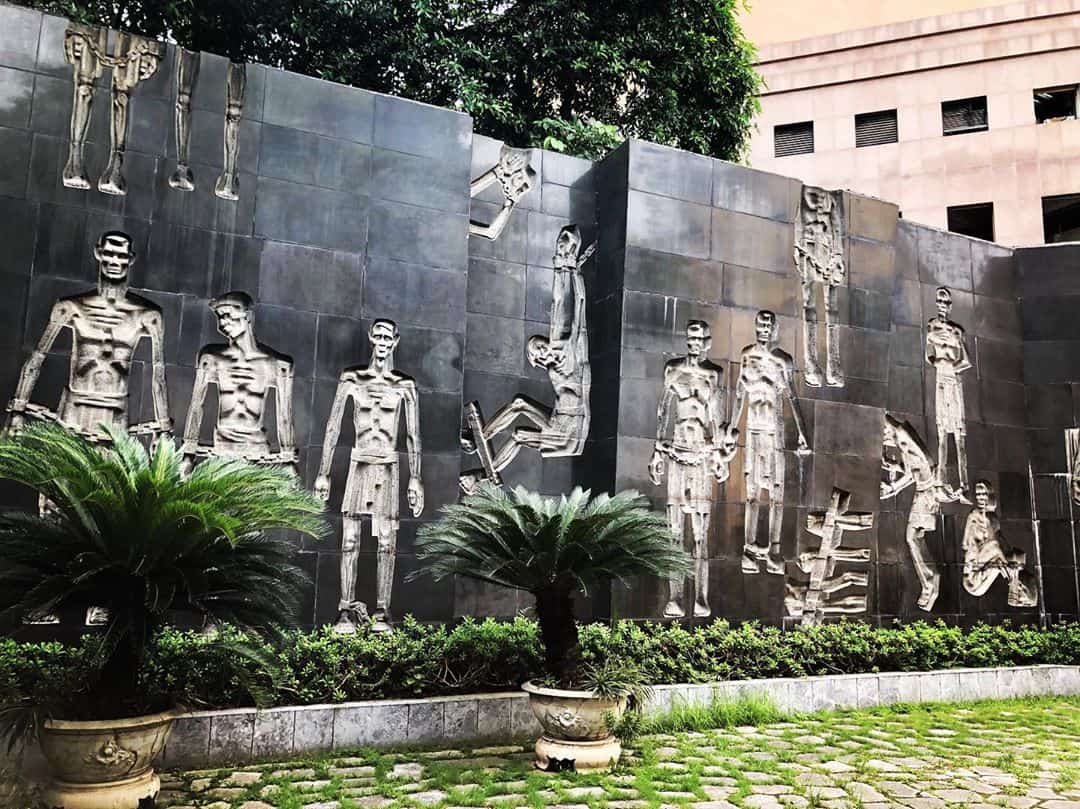 Attraction: Hoa Lo Prison
Entrance fee: 30,000 VND
Visiting time: 1-2 hours
What to see and do?
Hoa Lo Prison, also called Maison Centrale or "Hanoi Hilton" is a prison set up by the French to keep Vietnamese political prisoners. The prison was later used by the US army during the Vietnam war. The prison is a testament to the crimes in both Indochina wars and also serves as a local tourist attraction now.
Tip: The place is not very kid-friendly; think twice before you take your kids there.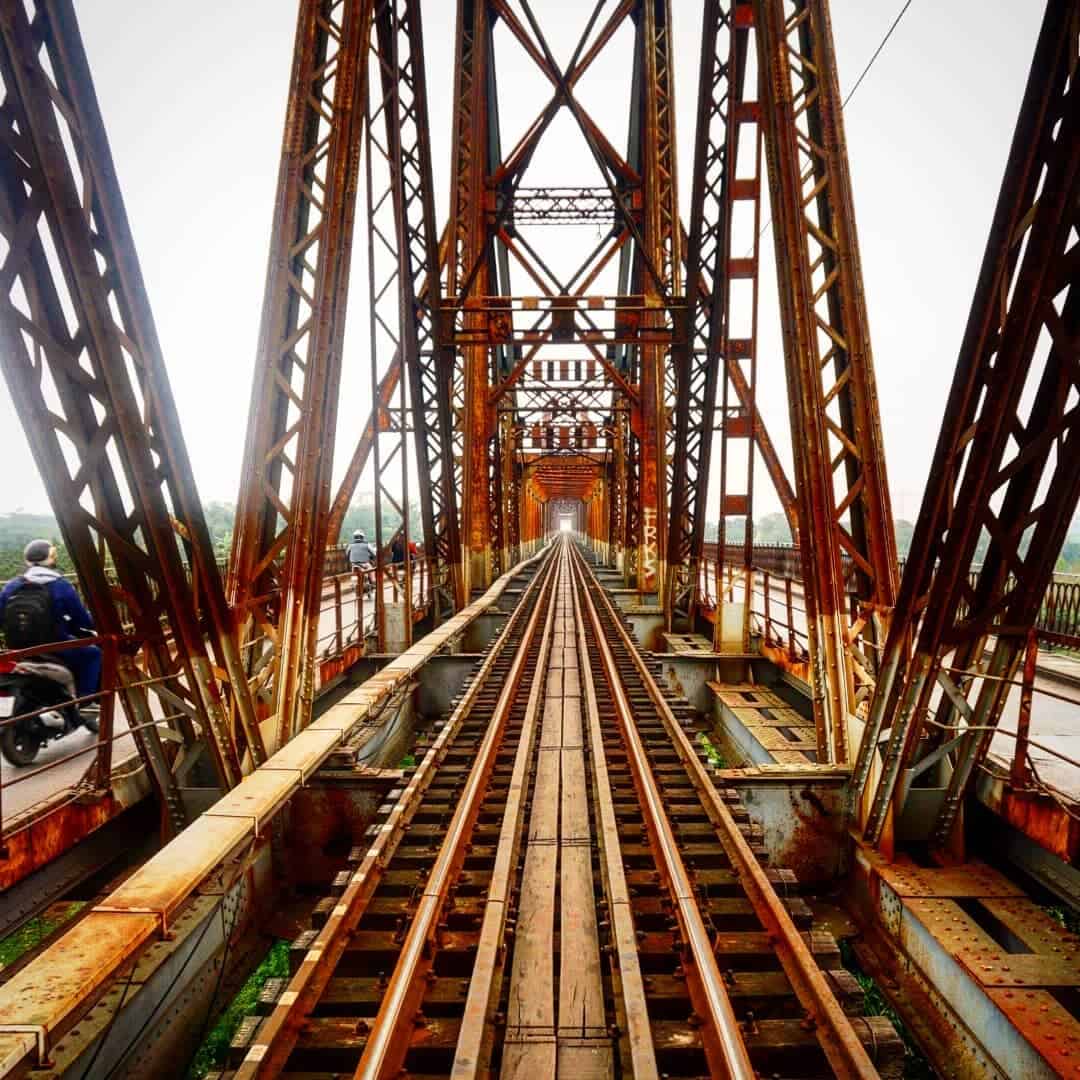 Attraction: Long Bien Bridge
Entrance fee: 0 VND
Visiting time: 1 hour
What to see and do?
Check out Long Bien Bridge when the sun comes down to witness the magnificent sunset on the Red River. Among the French heritages, Long Bien Bridge is most favored for its stunning photo-taking angles and the calm beauty during sunset. Surviving the two horrible wars, Long Bien means more to locals than just a bridge. The bridge itself is as strong as Hanoians, who stood strong through any bombing and air raids.
Tip: Nightlife on Long Bien Bridge is fun too, especially in winter, when you will lose yourself to the attraction of grilled corn and sweet potatoes sold here.
3. EVENING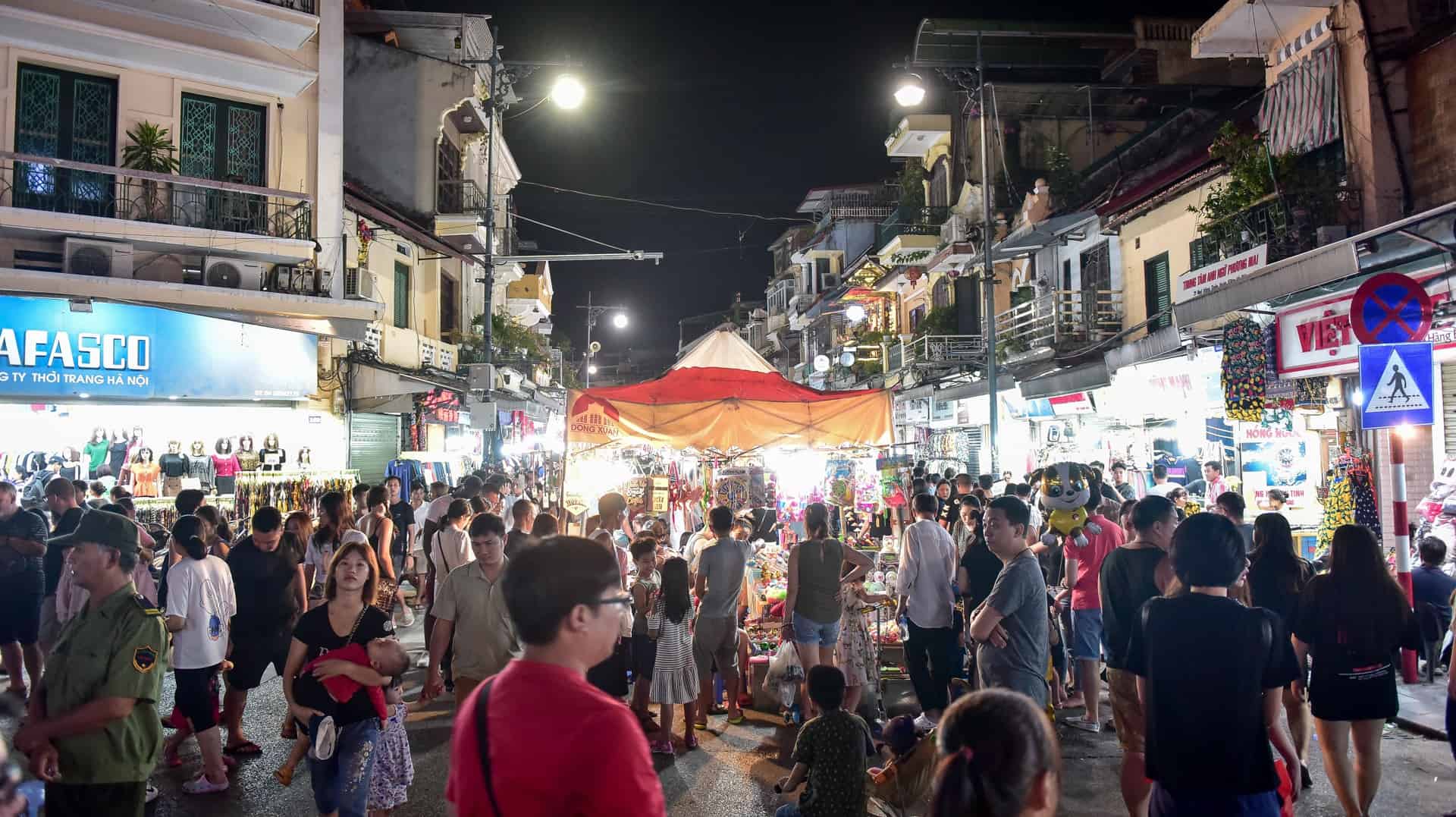 Activity: Shopping at weekend night market
Entrance fee: 0 VND
Visiting time: 2 hours
What to see and do?
The weekend night market is hosted inside the Hanoi Old Quarter, from Hang Dao Street to Dong Xuan Market's gate. By shopping, we don't mean simply look around and buy what you need. It's a great opportunity to immerse yourself in the Hanoian culture, communicate with locals and listen to their stories. You will either pick up here and there some history of this city, or go over a great variety of handmade souvenirs and brocades. Food is a must-try, including dried beef salad, rib porridge and pickled chicken feet. Live performances, both traditional and contemporary ones, are all around at your service.
B. Second day in Hanoi:
For the second day, we will go really deep in the troubled history of this 1000-year-old city.
1. MORNING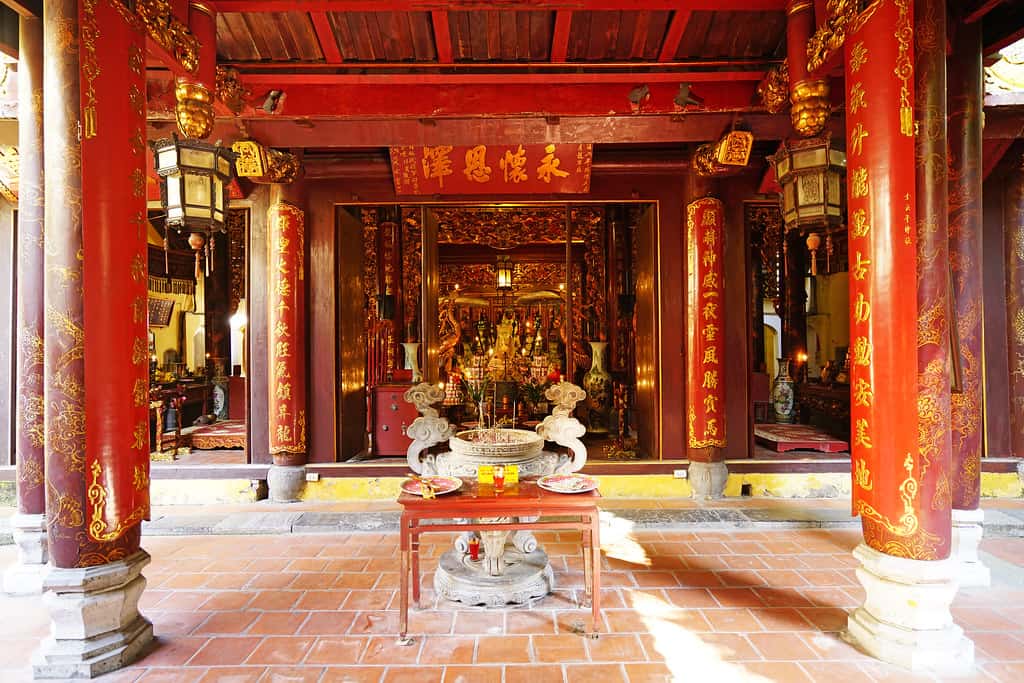 Attraction: Bach Ma Temple
Entrance fee: 0 VND
Visiting time: 1 hour
What to see and do?
Bach Ma Temple is known as one of the Four Sacred Temples that guard the ancient city of Hanoi. Dating back to the 9th century, the Temple was said to be built by a Chinese wizard who encountered Saint Long Do – the god that governed the city. During the beginning of the 11st century, when King Ly Thai To had difficulties building the walls surrounding the city, Saint Long Do came to the rescue, in the form of a white horse. The king renamed the temple "Bach Ma", meaning the white horse and made him one of the four gods of Hanoi.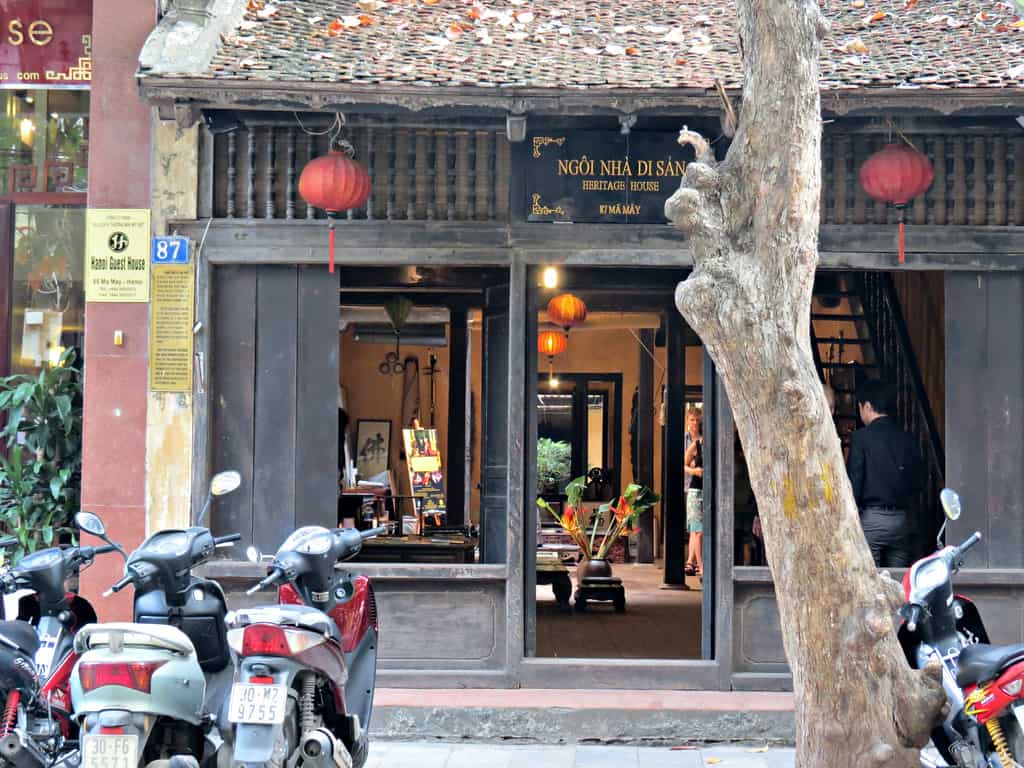 Attraction: Ma May Heritage House
Entrance fee: 10,000 VND
Visiting time: 1 hour
What to see and do?
Ma May Heritage House is another attraction you can't miss in Hanoi. Built during the French occupation, the house serves two purposes: business and accommodation. It was originally owned by a rice trader, who later passed it to a Chinese medicine dealer. The house is built with the notable architecture of Hanoi's "tunnel houses", which boasts a narrow facade and develops much further in the back. If you wish to see how a wealthy business family lived during the 19th century in Vietnam, come to Ma May.
2. AFTERNOON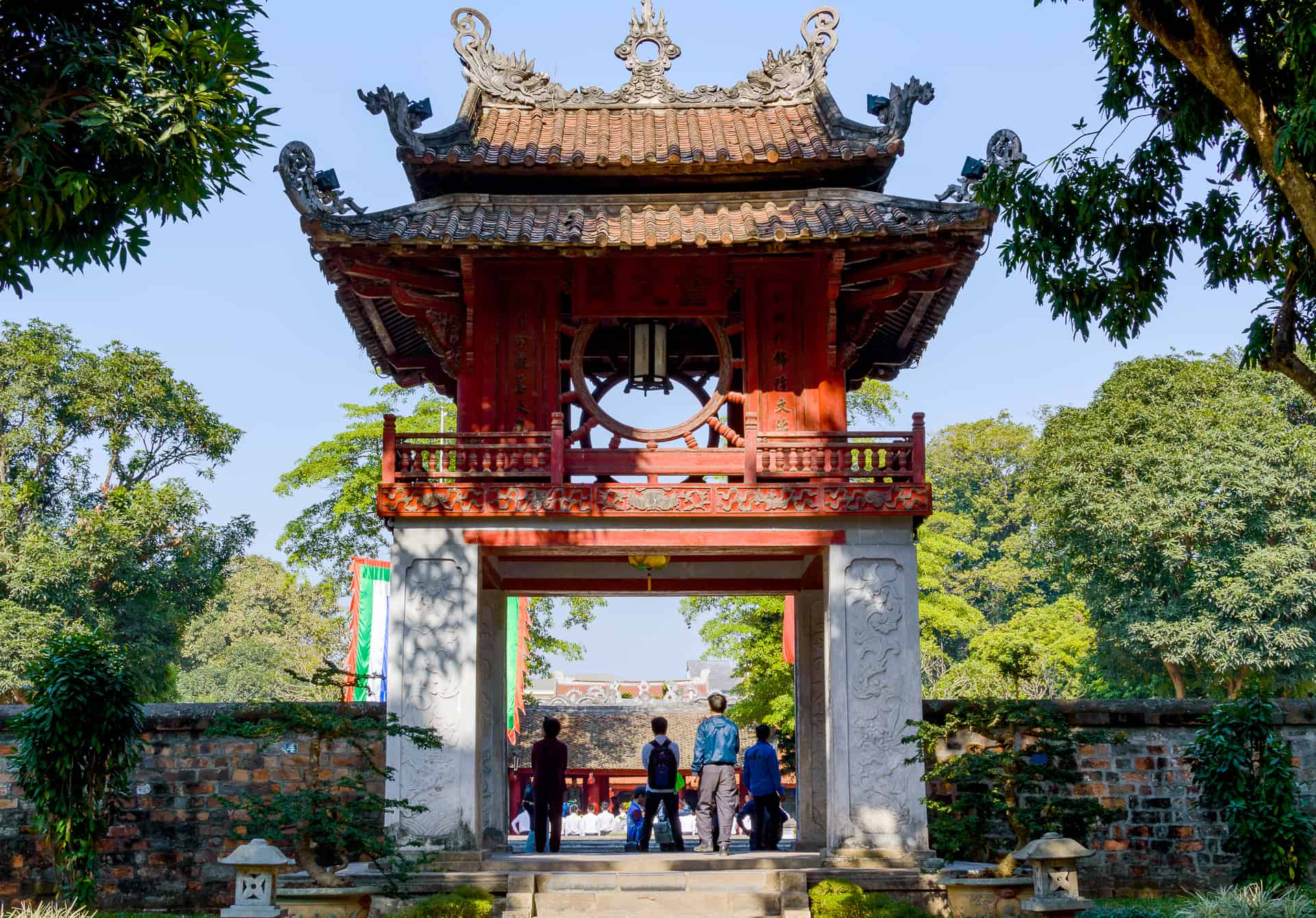 Attraction: Temple of Literature (Van Mieu – Quoc Tu Giam)
Entrance fee: 30,000 VND
Visiting time: 2 hours
What to see and do?
The Temple of Literature is among the most culturally significant attractions in Hanoi. Built under the reign of King Ly Thanh Tong, the temple was merely a worship place of Confucian and his disciples. Under the reign of the next emperor, King Ly Nhan Tong, whose ruling time is the longest in Vietnamese history, Van Mieu was amended to function as the first university in the country. As an outstanding symbol of education and bureaucracy, the Temple manifests the adaptation of Confucious ideologies even 10 centuries ago.
3. EVENING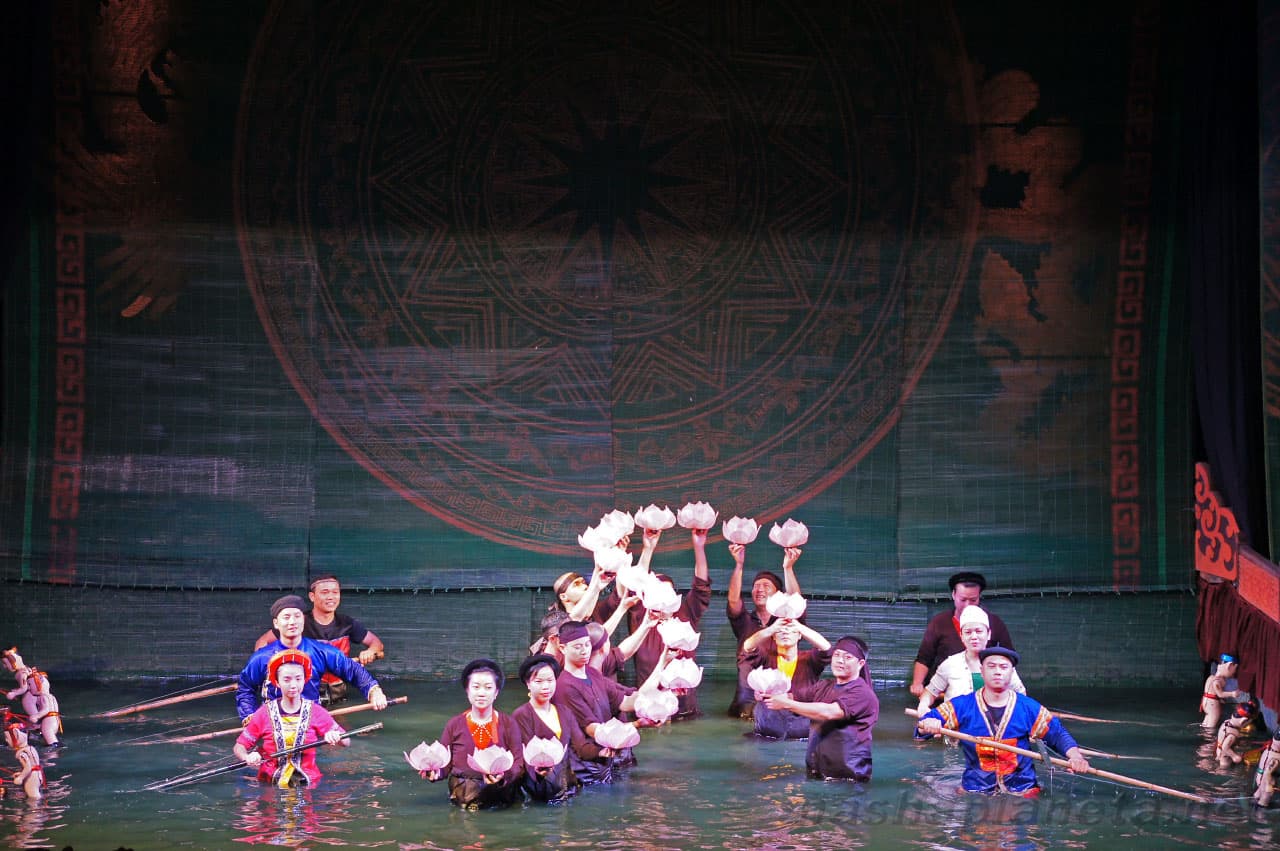 Attraction: Thang Long water puppet theater
Entrance fee: from 60,000 VND
Visiting time: 1 hour
What to see and do?
Water puppet is a traditional form of art you will find nowhere else in the world. Puppet shows are performed over a body of water, with artists hiding themselves behind curtains and controlling the puppets with ropes and sticks. You will enjoy watching puppets "dancing magically" over water, while a traditional instrument orchestra plays in the background. Telling stories of the rustic life, as well as historical legends, the performances are playful and lively. Though the show is narrated entirely in Vietnamese, you won't need to understand to "get the joke".
Tip: Kids absolutely love it! Watch out for some splash if you sit in the front row in Thang Long water puppet theatre.
II. What to Eat for 2 Days in Hanoi?
Hanoi is definitely the ultimate haven for foodies, where the local, small mom-and-pop stalls taste just as good as the fancy, high-end restaurants. Listed below are the select dishes that made Vietnamese food world-renowned: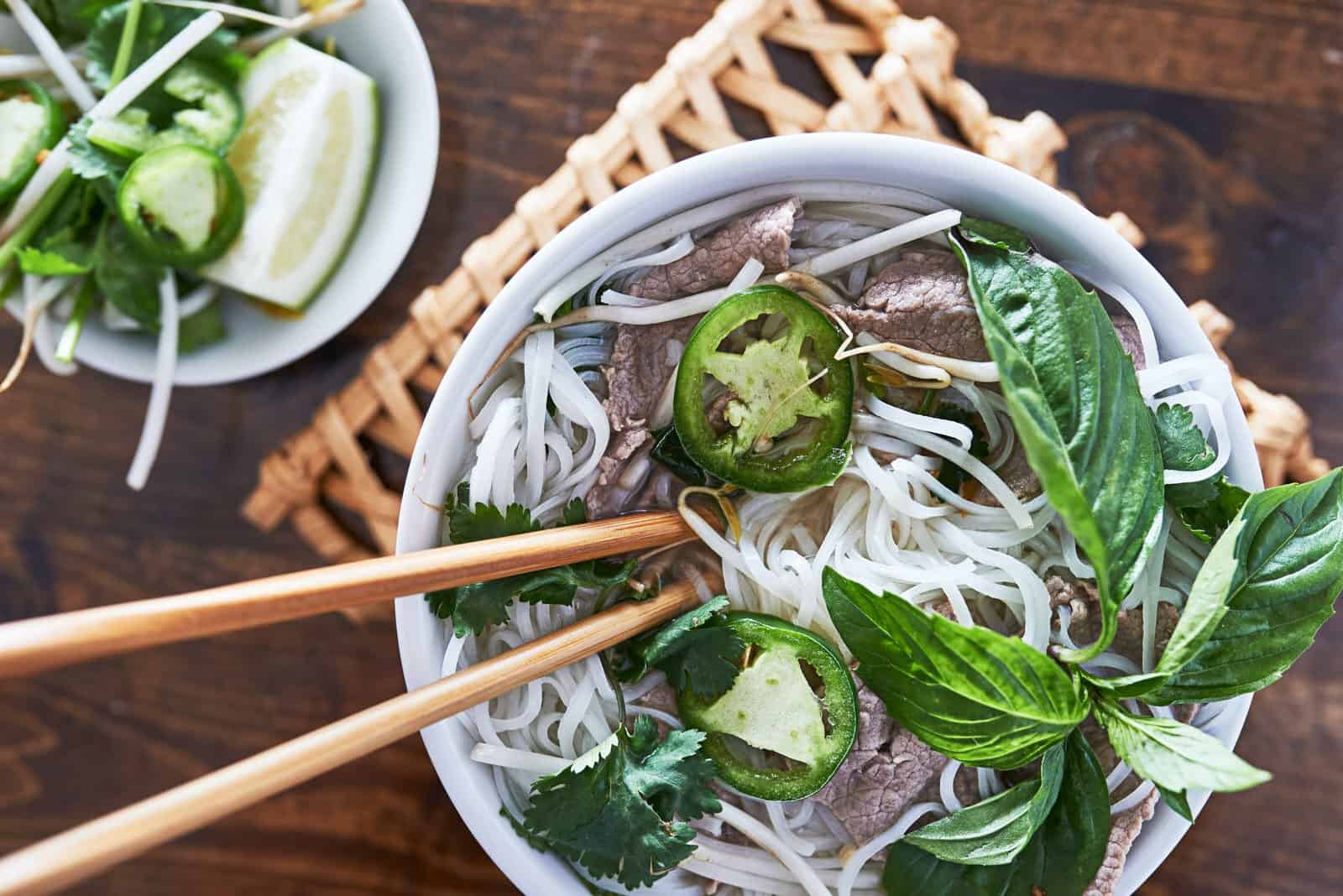 1. Pho (Vietnamese Rice Noodle)
Found on virtually any sidewalk in the world, this local noodle soup has even made "pho" a legitimate word. Pho is best enjoyed in Hanoi, where the art of making it has been taken to a whole new level. A combination of a heavy broth, thin slices of beef and an assortment of herbs makes the most refreshing, mouth-watering bowl of pho. An average bowl of pho will cost 40,000 VND – 50,000 VND or slightly higher, if you have it downtown.
2. Bun Cha (Kebab Rice Noodles)
Second to Pho in terms of popularity, Bun Cha is still loved by foreigners, especially Western ones. Restaurants selling Bun Cha are so easily noticed; just look for the places with the tempting smell of grilled pork. The grilled pork is served with a handful of Bun (rice noodles), a sweet-and-sour clear sauce and fresh herbs. If you fancy the taste of barbecues, you will surely love this too.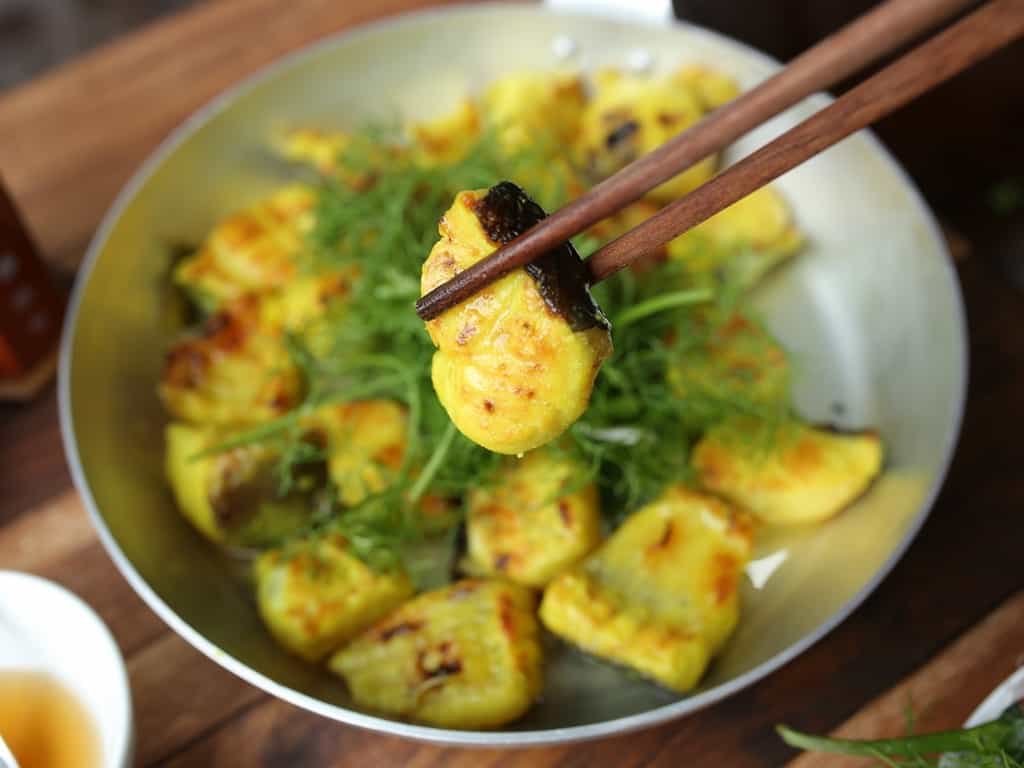 3. Cha ca La Vong (La Vong Grilled Fish)
There's even a street named after this dish, Cha Ca Street. Uniquely seasoned slices of fish are served with Bun, a special sauce and herbs. Cha Ca La Vong dish is cooked and served right in front of you, making it the most "hot and tasty". However, the price can be tripled, even quadrupled for those having it on Cha Ca Street. Quality is guaranteed though.
4. Banh mi (Vietnamese Sandwich)
This dish also made it to the Oxford dictionary as a valid word. Also dubbed as "Vietnamese sandwich", the highlight of this dish is its fillings. Grilled pork, liver paste, slices of carrots served with herbs and sauces is all it takes to make a good banh mi. Crunchy, savoury, juicy, try and pick an adjective yourself to describe this flavorful cuisine of Vietnam.
5. Bia Hoi (Fresh Beer)
This popular drink can be found anywhere in the country, with a surprisingly cheap price in exchange for a large glass. The drink is much more well-known for the socializing vibe it brings, rather than for its taste. Over a "bia hoi", you can chat about anything and everything. The best bia hoi to have in town is in Ta Hien street or Bia Hoi Corner, where locals and tourists flock to chill over this refreshing drink every weekend night.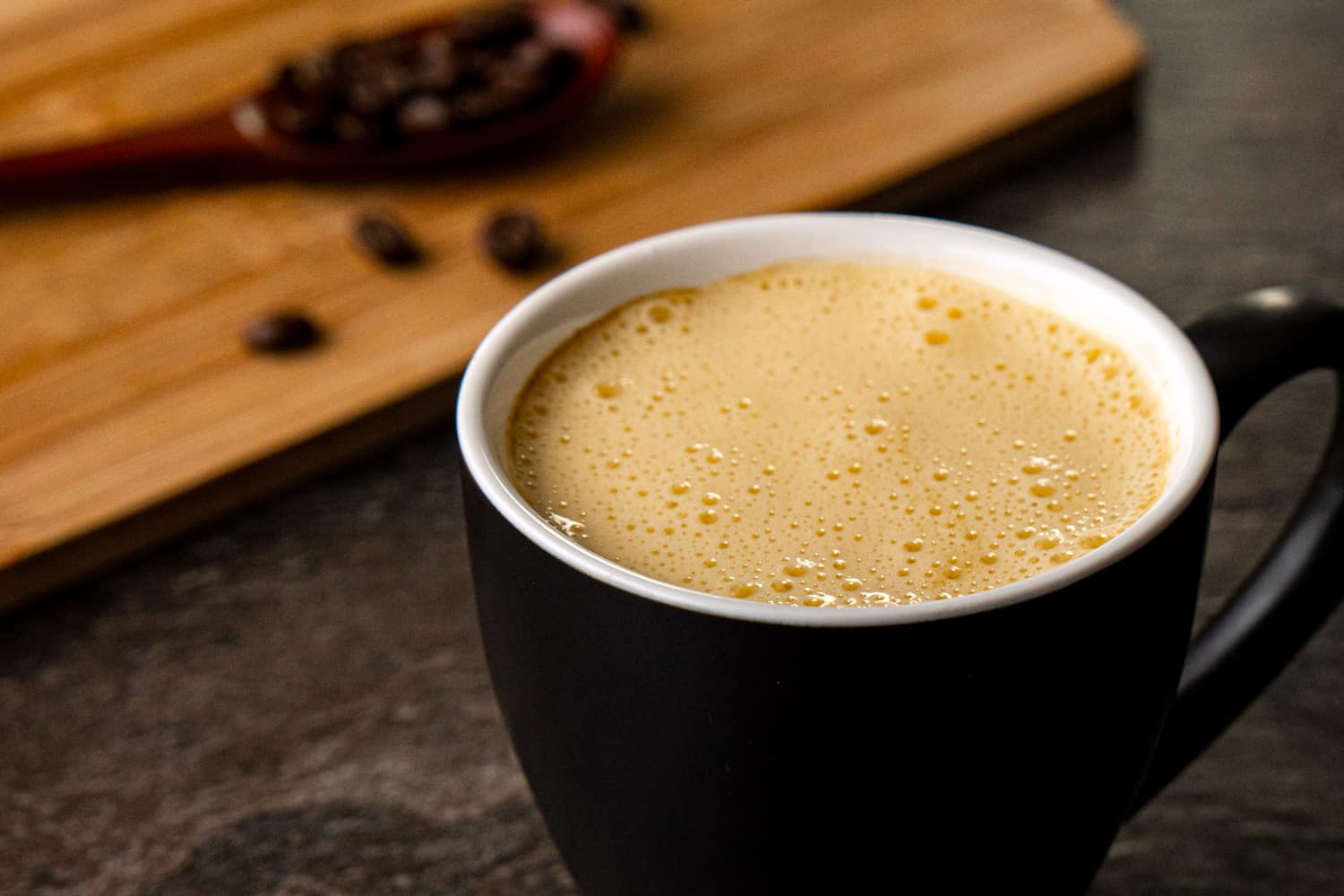 6. Egg coffee
For a more introverted approach, try egg coffee for a change. Egg coffee is best enjoyed in Cafe Giang, a coffee shop founded by a former bartender in Metropole Hanoi. Egg yolk is whipped so hard it becomes a creamy topping over brown, thick coffee, creating a perfect balance between sweetness and bitterness. The drink is best served when it's hot.
II. Where to Stay for 2 Nights in Hanoi?
Accommodation in Hanoi comes in all sizes and budgets. With any budget level, you can find yourself a place to rest for 2 nights. The most popular areas to spend your nights are Hanoi Old Quarter, Ba Dinh District and Tay Ho District.
Hanoi Old Quarter is the top recommended due to the close proximity to most attractions in town. The area is crowded and lively, with prices varying from 8 USD per night to 400 USD per night. Hosting both the most expensive and cheapest hotels in Hanoi, the Old Quarter suits everyone, though first-time visitors and backpackers will most enjoy it.
Home to the most important government buildings, Ba Dinh District is much quieter than the bustling Old Quarter. Prices are slightly more affordable, even in the 5-star hotels. The area is recommended for those looking to have a tranquil, relaxing experience, while still having close access to the attractions, especially historical ones.
Tay Ho District is the district that hosts the most part of Ho Tay, also known as West Lake. Aside from the great view of the lake, Tay Ho has so much more to offer: the food, the parks, the nightlife. It's best for foodies, families and those who enjoy nightlife activities. Prices are slightly higher than in Ba Dinh District, especially the hotels offering lake views.
III. Tips on Staying 2 Days in Hanoi
Hanoi can be somewhat intimidating for first-time travellers, due to its crazy traffic and sweating weather. It's best to know what to expect and to be well prepared for it.
Don't panic while crossing the roads. Road crossing is an art in this country, whose difficulty level will decrease as the time goes by. Know where you're going, look straight forward, be firm and confident, and the traffic will magically manage to go around you, rather than hitting you. Hold your kid's hand tightly, though.
Tet Festival is the national closedown festival. As the Lunar New Year comes, most shops, restaurants and government agencies will close for 3 days at least. You'd better stock snacks and water before it begins.
November to February will be the time for winter. It can be chilling sometimes; make sure you bring along jackets and sweaters. On the contrary, the summer months from May to August can be exceptionally hot and humid. As August is often the wettest month in the year, a raincoat will come in handy.
Buy a local SIM card if you wish to be in touch all the time. USD can be used in a small number of shops and restaurants. For the majority, only Vietnamese Dong – VND – is accepted.
After 2 days in Hanoi, you can head to Ho Chi Minh City, another bustling metropolitan far in the South, or check out the UNESCO-listed Halong Bay only 160 kilometers away. Both are infamous tourist magnets and you won't be disappointed. Danang in the Central or Sapa in the Northwest are sound options too.
Known for its rich cultural heritage, the 1000-year-old Hanoi is definitely among the most fascinating cities in Asia. Appearing intimidating at first, the city will capture your heart with its mouth-watering cuisines, stunning French architecture and super sweet locals. If you have only 2 days in this vibrant city, make sure they are well spent.