In recent years, Hanoi Walking Streets has been opened as a place for people, especially the young generation, to come and exchange. Gradually, it has become the most popular place for entertainment purposes, for both local and international tourists.
Location: Around Hoan Kiem Lake
Opening hours: Friday's night - Sunday's night every weekend
Entrance Fee: Free
I. Facts of Hanoi Walking Streets
1. Where does it cross?
Hanoi Walking Streets is operated throughout 26 streets, making it an enormous place for all people to come and join the fun activities. The list below includes all the streets and roads included in Hanoi Walking Streets' map.
| | |
| --- | --- |
| 1. Hang Ngang | 14. Nguyen Xi |
| 2. Hang Đao | 15. Trang Tien |
| 3. Hang Duong to Dong Xuan market | 16. Hang Khay |
| 4. Hang Buom | 17. Le Thai To |
| 5. Ma May | 18. Lo Su |
| 6. Hang Giay | 19. Hang Dau |
| 7. Luong Ngoc Quyen | 20. Dong Kinh Nghia Thục |
| 8. Ta Hien | 21. Tran Nguyen Han |
| 9. Dao Duy Tu | 22. Luong Van Can |
| 10. Dinh Tien Hoang | 23. Bao Khanh |
| 11. Le Lai | 24. Trang Thi |
| 12. Le Thach | 25. Hang Trong |
| 13. Dinh Le | 26. Ho Hoan Kiem |
2. How does it look?
Even for locals, the old streets look quite messed up and you can easily get lost. Therefore, this map that we provide will give you an overview of the structure of the Walking Streets. However, you can also use Google Maps so make sure you have Data/4G with you when you visit this place. Normally, it's most crowded around Hoan Kiem Lake area, and around the bars area (Ta Hien, Ma May).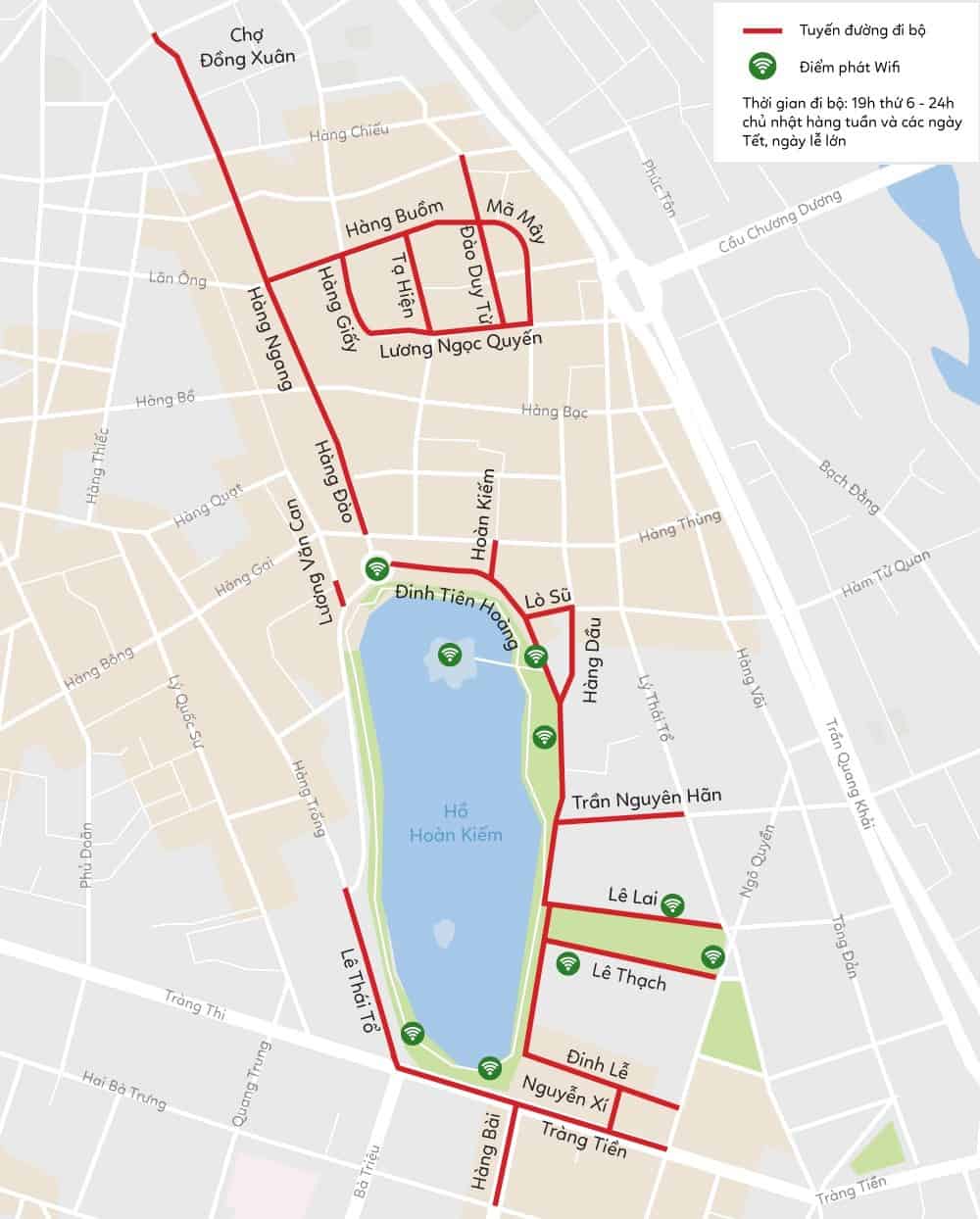 II. Cultural Activities in Hanoi Walking Streets
As an entertaining place for all the generations, there are a lot of cultural and fun activities organized within Hanoi Walking Streets. These include folk games, concerts, new year countdowns, pavement musical performances, dancing contests,…
1. Folk games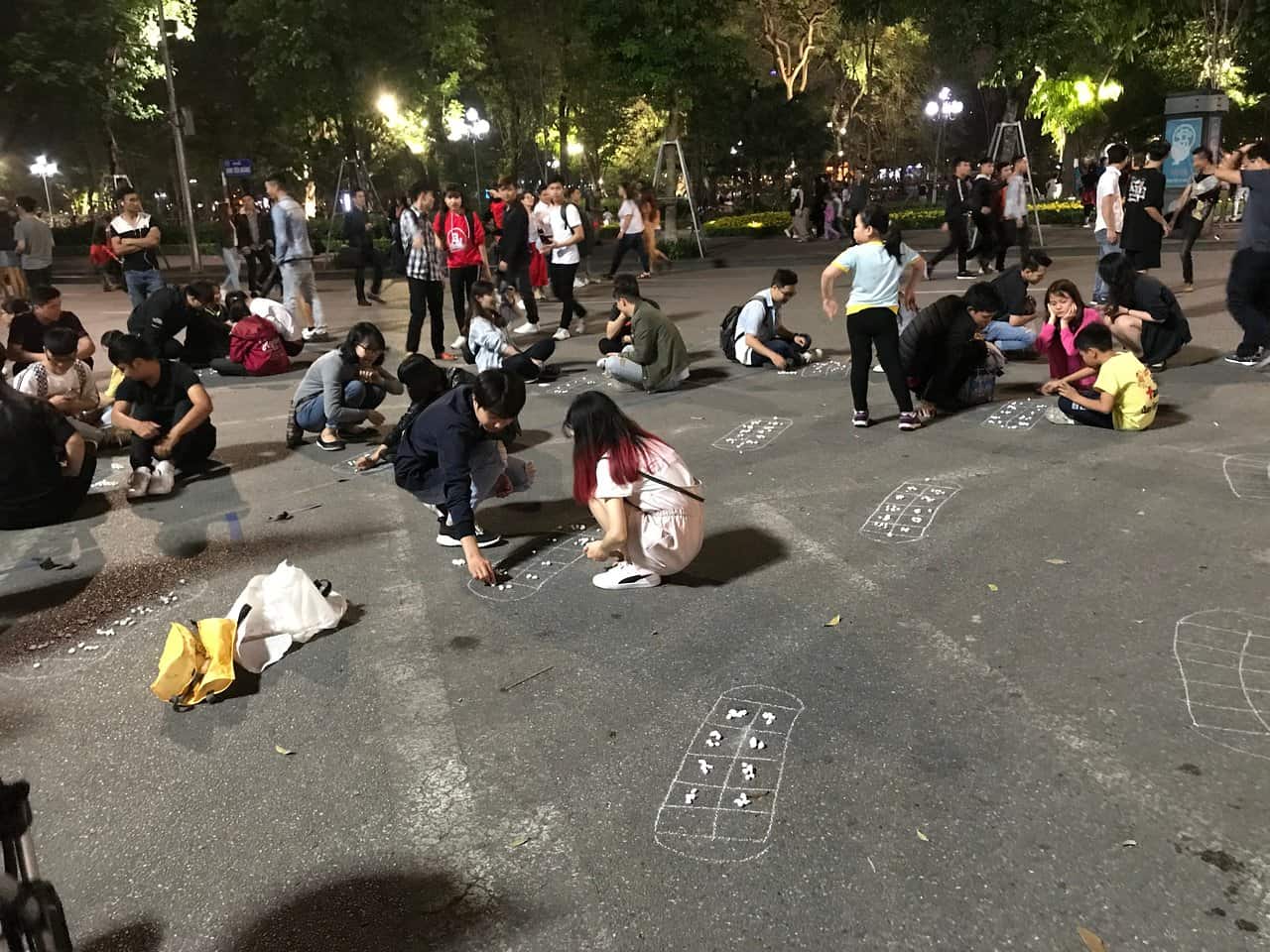 An interesting activity organized in Hanoi Walking Streets is Vietnamese Folk game. These games often take place in Saturday's evening and Sunday, when most children are there. A few popular games are: rope-skipping, tug-of-war, mandarin square capturing, shuttlecock kicking,… You can just join the crowd if you want to play, and the locals will be very friendly explaining the rules if you don't know yet. There are many types of game that are suitable for both children and adults, so you can take your kids there without worrying. These folk games will give you an interesting and unforgettable experience, as well as a chance to connect with people and bring you back to your childhood life.
2. Musical and Dancing Performances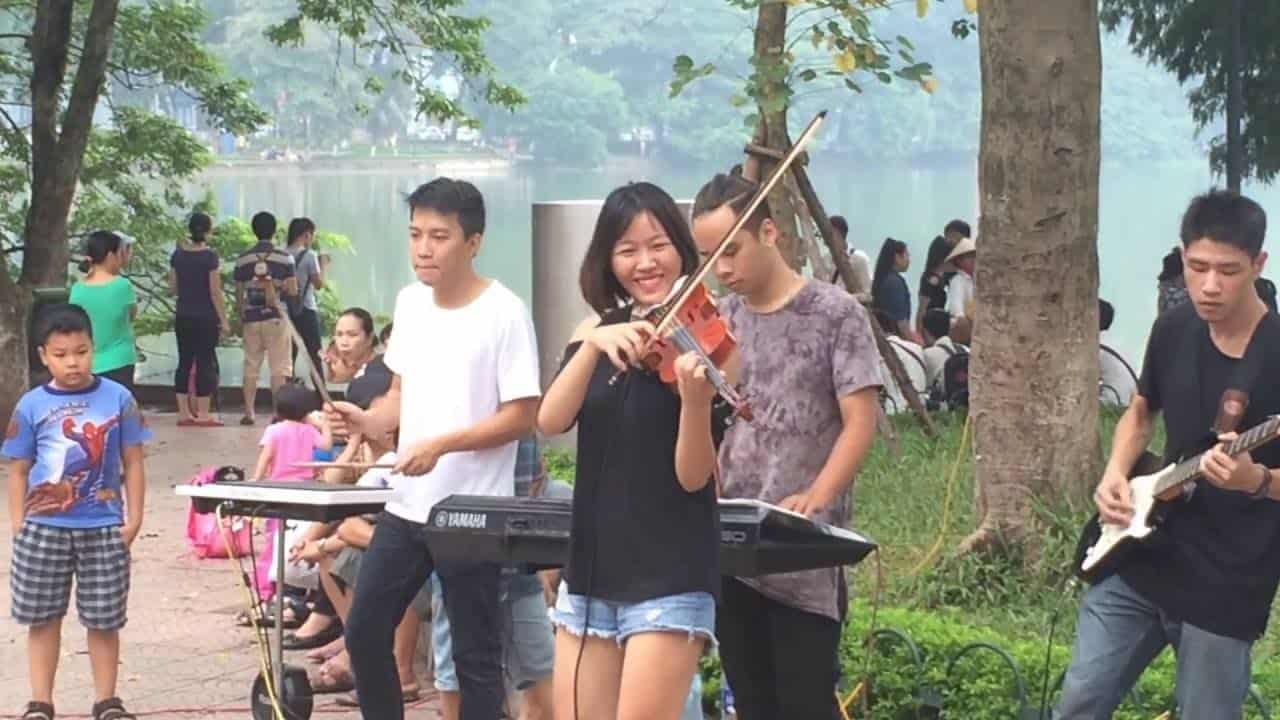 Since the beginning, there have been many groups of artists performing along the street. They are various in styles, ranging from Latin songs to folk music, orchestral music, light music, V-POP, K-POP and US-UK songs. You can give them some incentives to encourage them and thank them for bringing joy to the street.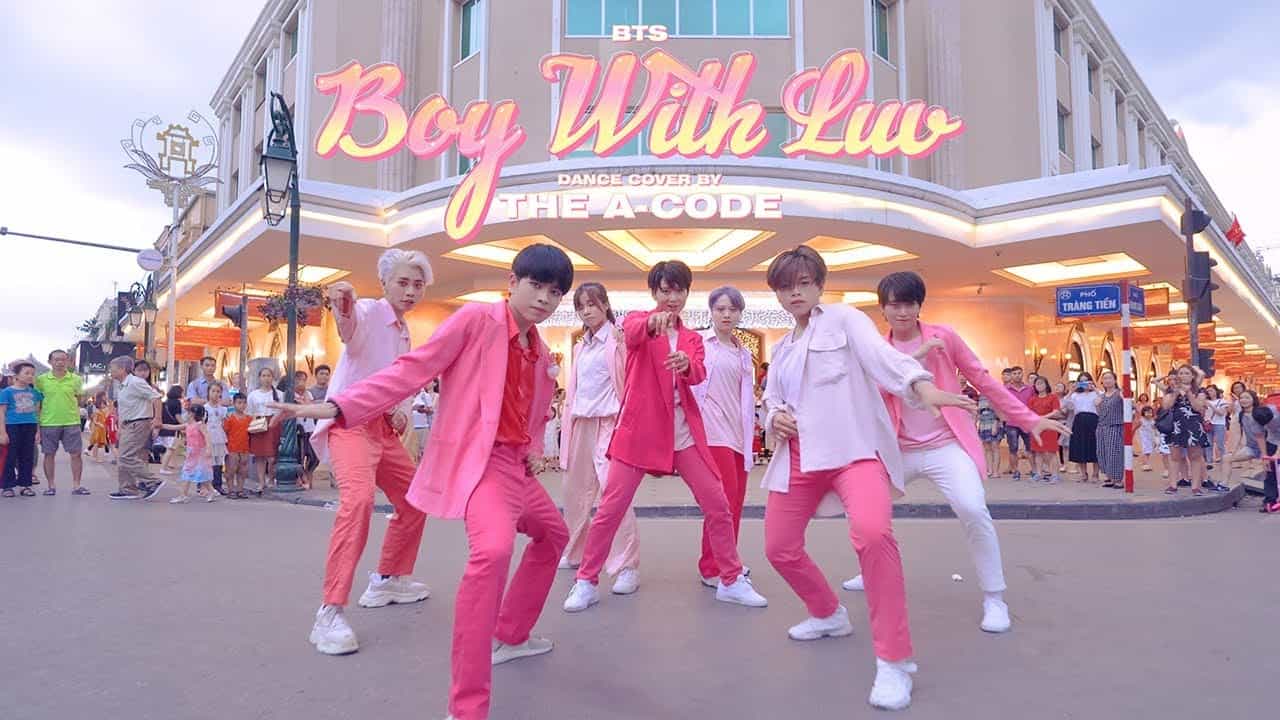 Moreover, as the "K-POP ịn Public" trend is becoming popular among the young generation, you will also see many dancing groups that cover K-POP songs if you go to the walking street, preferably on Saturday and Sunday. You will be amazed by the skills that these dancing groups have, although most of them are very young, only from 17-23 years old.
3. New Year Countdown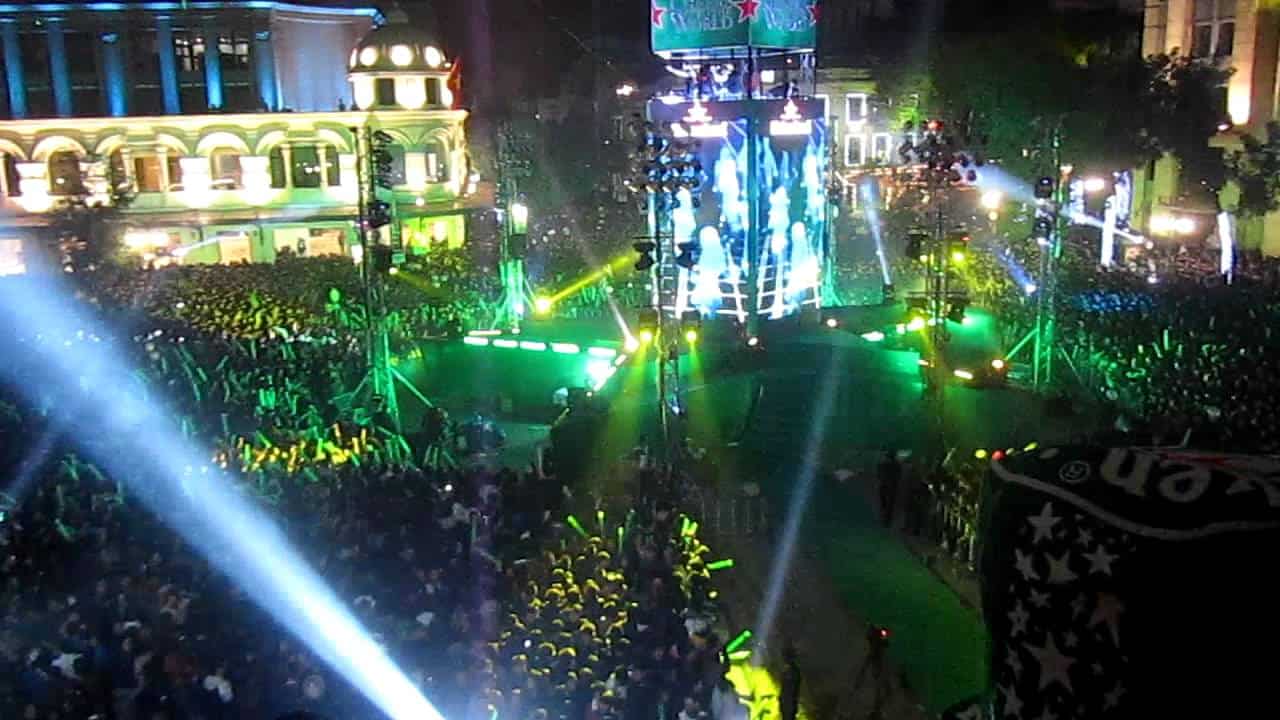 Every year on 00:00 January 1st, there will be an event in which everyone from everywhere will gather and countdown to a new year. Before midnight, usually there is a concert held by Heineken right in the walking street with many famous artists performing. After that, there would be a countdown board on the screen of the stage, counting back about 1 hour to the new year. On this day, the walking street is extremely crowded that it's hard to move around. Although the event is very much fun, there were many cases in which people fainted because of the huge crowd, so if you are not used to it, it's not a good idea to try to wriggle in there.
4. Portrait Drawing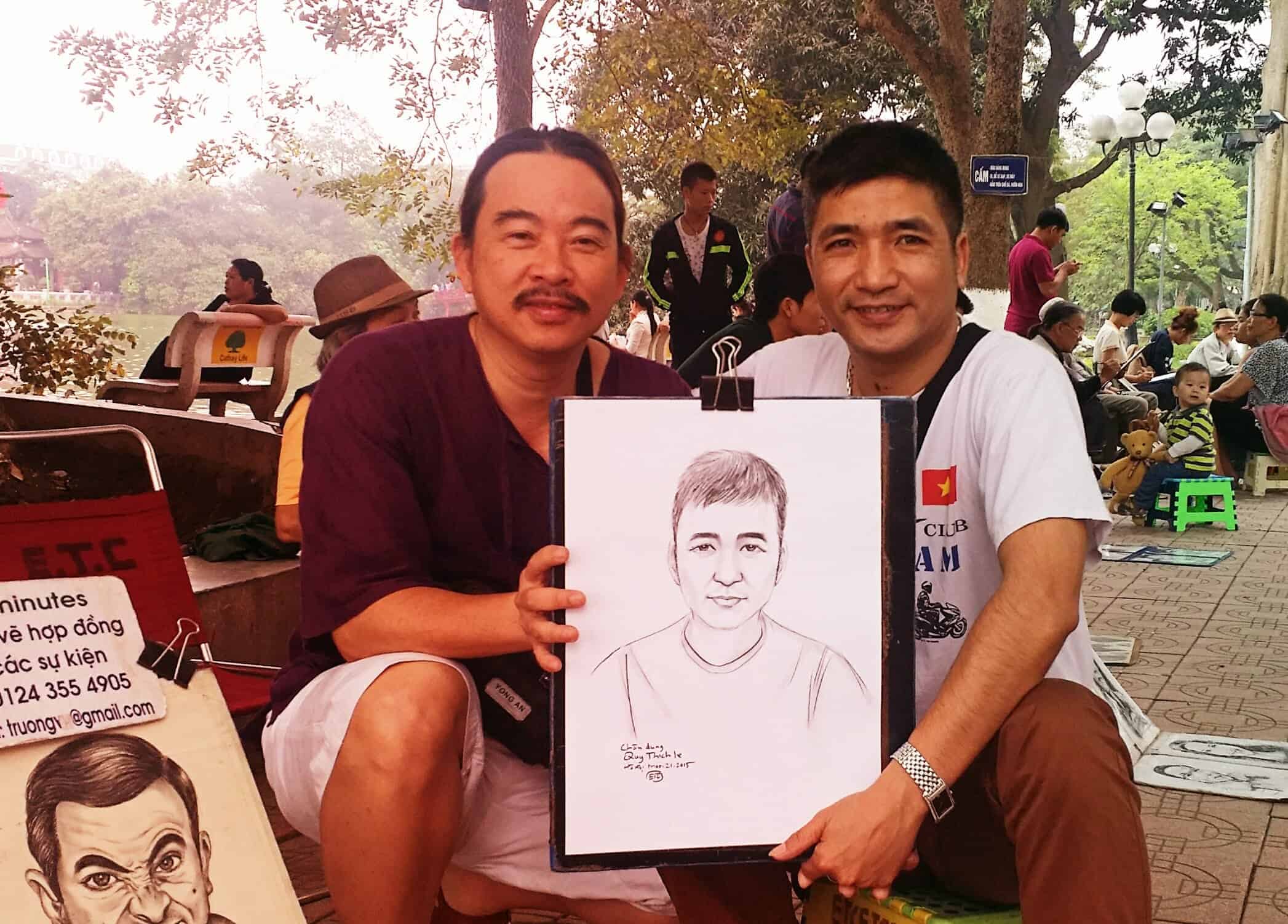 Along with these activities, you can also find a lot of portrait drawing artists around Hoan Kiem Lake. It would only take about half an hour and around $5-$7 to have your own portrait. Moreover, you will also have the chance to listen to many interesting stories coming from the artist's diverse experience.
III. What to Eat in Hanoi Walking Streets?
Having a lot of fun on the streets? It's time to charge up some energy! Vietnamese street food has become a legend, and Hanoi walking streets – the heart of the city – is surely a paradise of local food. Below, you will see a list of must-try local dishes when you visit Hanoi walking streets:
1. Trang Tien Ice Cream
Fresh ice-cream that is only $0.5 each, and you can find many tastes like vanilla, chocolate, green bean, coconut milk,… It's located near the intersection of Ngo Quyen Street and Trang Tien Street, ask anyone on the street and they will definitely point you to the place!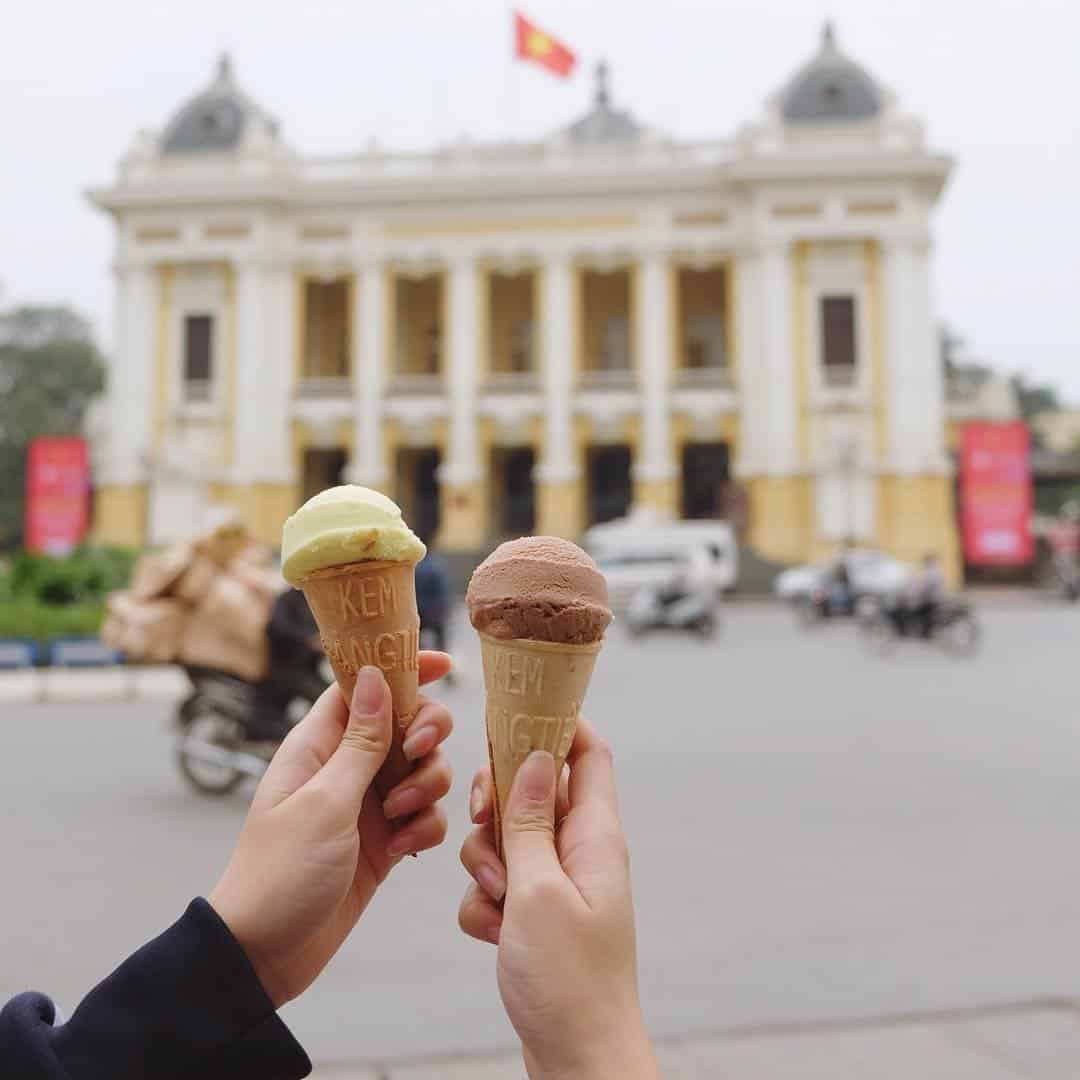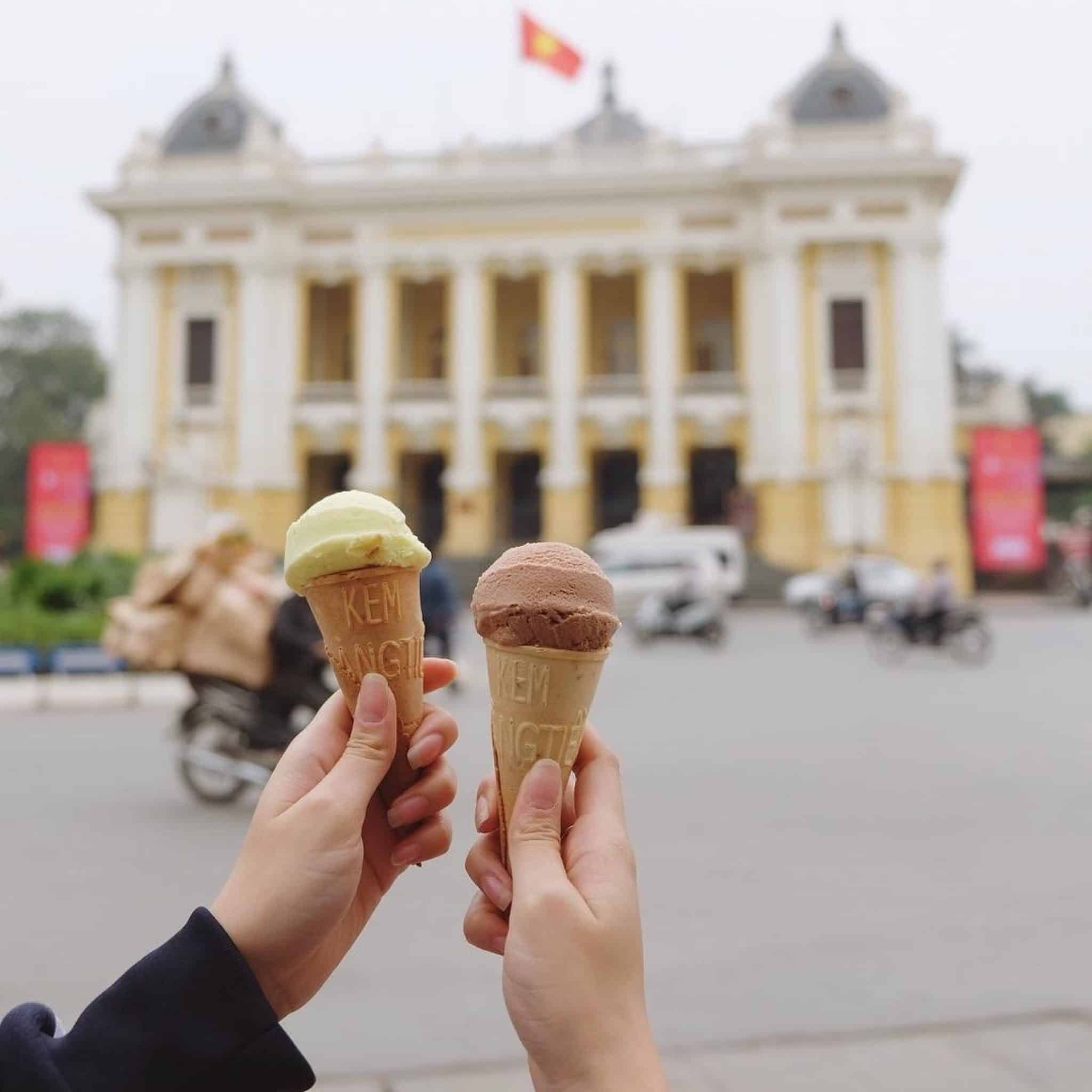 Address: 35 Trang Tien, Hoan Kiem, Hanoi
Opening hours: 7:30AM – 11PM
2. Dried-beef Salad
A very interesting dish that you can find nowhere else but Hanoi walking streets. This dish contains dried-beef topped up with herbs and sauce, that brings a sweet and salty taste. You can find this Dried-beef salad in the corner near Lotteria right by the side of Hoan Kiem Lake called "Long Vi Dung".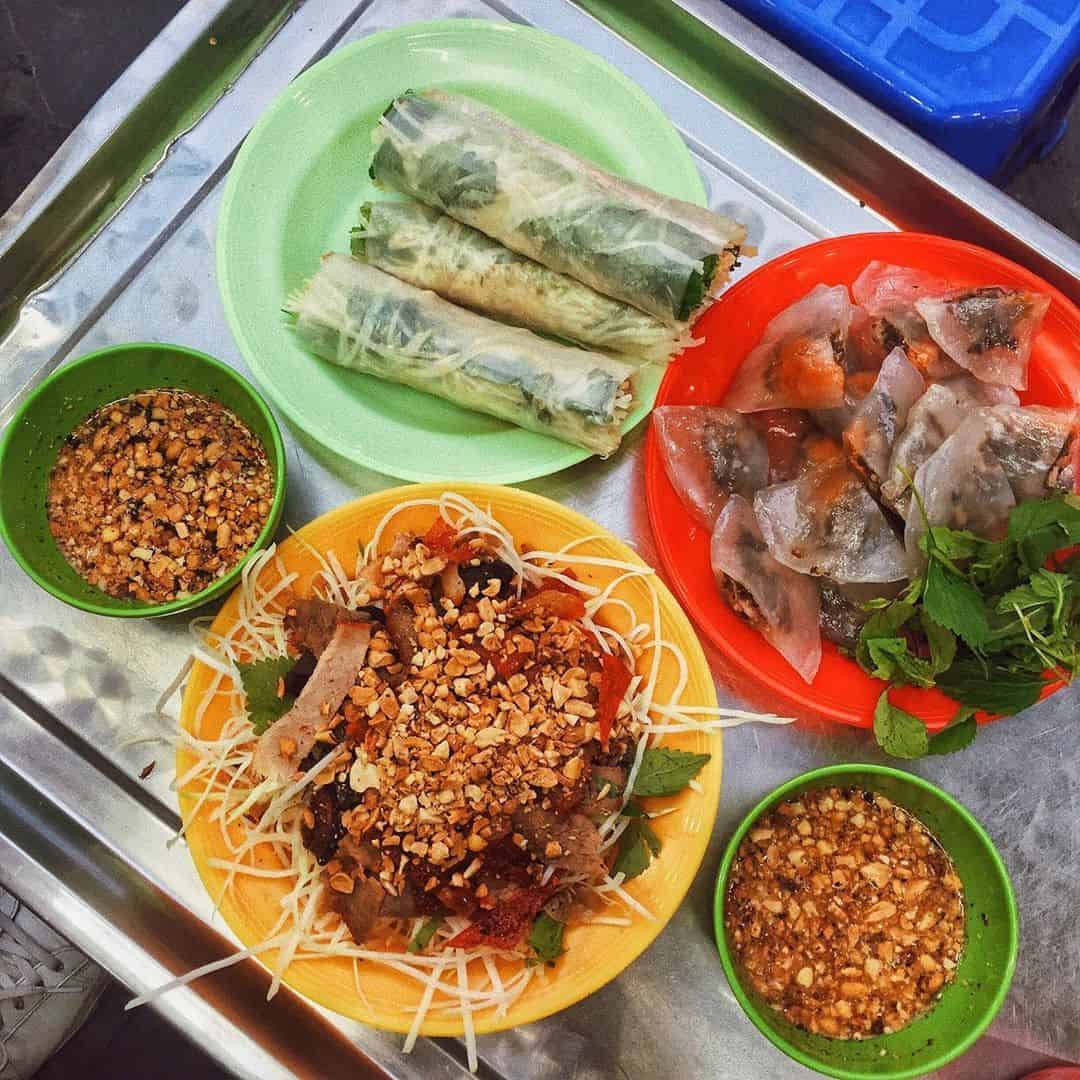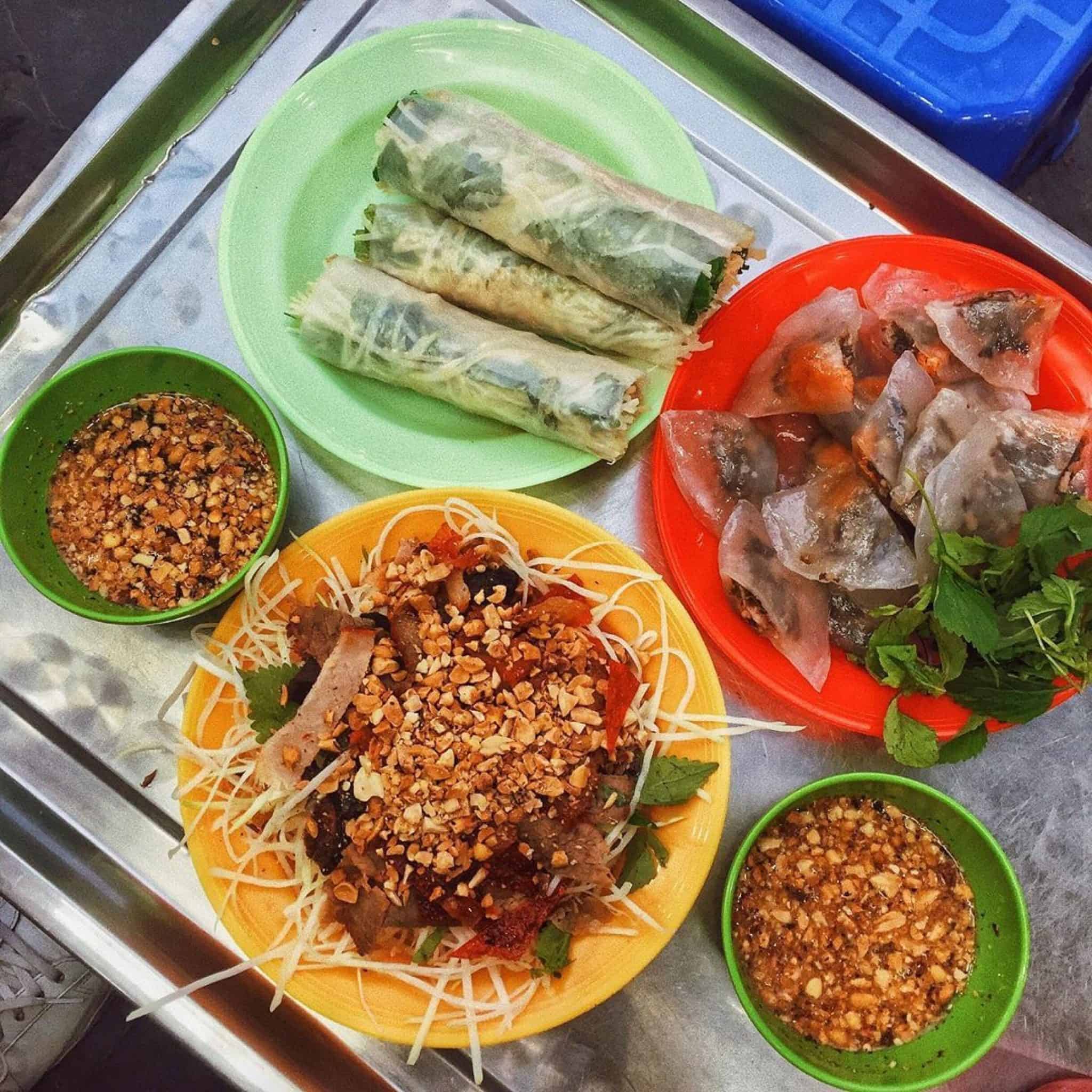 Address: 23 Ho Hoan Kiem, Hang Bac, Hoan Kiem, Hanoi
Opening hours: 8AM – 10:30PM
3. Pho Thin (Phở)
There's nothing much to say about Pho anymore – it's absolutely a signature dish of Vietnam. Pho Thin is one of the best Pho restaurants, and it also has a few more stores in foreign countries already. However, the restaurant is quite small and is always crowded and hot with the steam of Pho water, so you may want to try in on weekdays when there are fewer people going to the walking streets.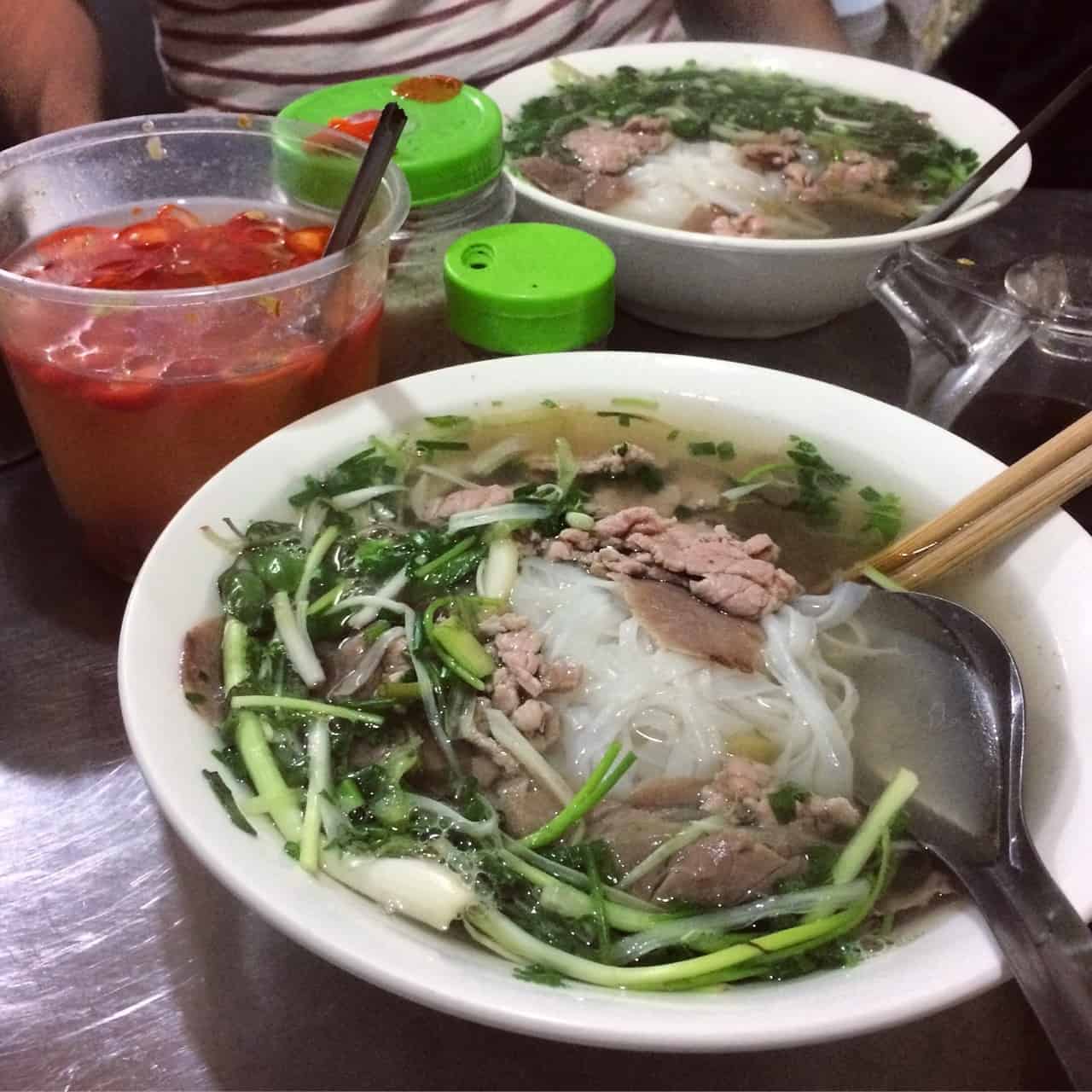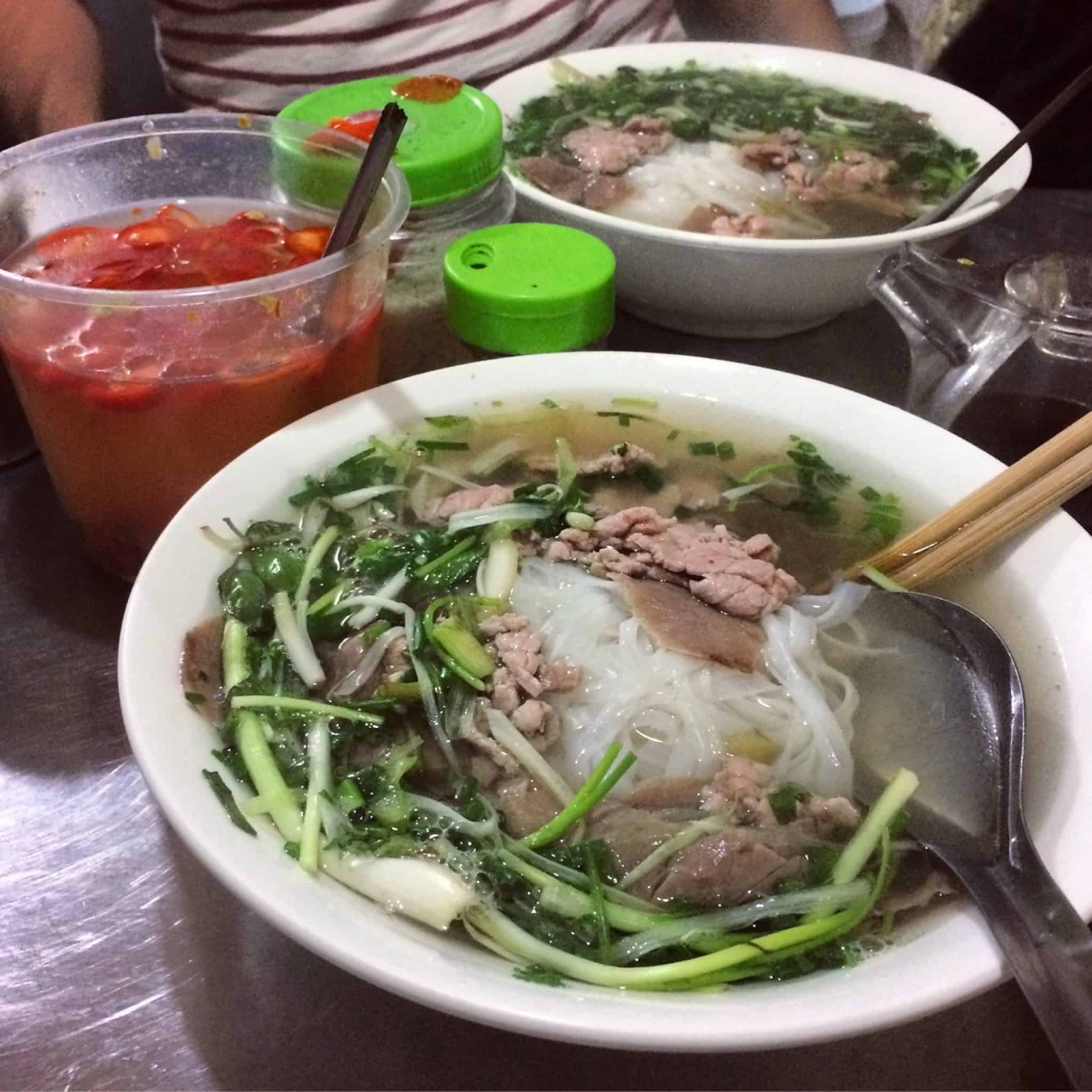 Address: 61 Dinh Tien Hoang, Ly Thai To, Hoan Kiem, Hanoi
Opening hours: 6:30AM–1PM, 5–10:30PM
And there are still many more street vendors along the road. Moreover, if you want to have a full dinner, there are many restaurants and fast-food restaurants around like McDonald, KCF, Lotteria,…
Besides that, there are many vending machines available on the streets. Therefore, if you're tired or thirsty, you can buy water and drinks from these machines, which are only 10.000 VND – 30.000VND ($0.5 – $1) per bottle.
IV. Extra Tips
Hanoi walking streets only opens on Friday's night, Saturday and Sunday! Don't forget the date because otherwise there would be no fun activities to join like mentioned above.
You should take a taxi or bus to the streets then walk around so that you don't have to find parking space – which takes lots of time.
However, if you still need to park, then there are still some parking points available such as 15 Hai Ba Trung Street, Ly Thai To, Ngo Quyen, Quang Trung, Le Phung Hieu,… For a motorbike it would be 10.000VND/each and for a car it's 50.000VND/each.
We hope that you will have an enjoyable and unforgettable experience at Hanoi walking streets – the pride of our country!