The renowned Dong Xuan Market in downtown Hanoi has long been a favorite, a busy trade center that attracted buyers from many other places …
Hanoi, the capital city of Vietnam, is famous not only for a dynamic and bustling environment but also for the precious cultural values, which can be easily found in every street of the Old Quarter, every typical dish of Hanoi cuisine, and every traditional market you come across. When it comes to shopping in Hanoi, the first and foremost location that should be mentioned is Dong Xuan Market, the largest wholesale market in Hanoi.
Dong Xuan Market has long been a tourist attraction in Hanoi, thanks to its prime location in the heart of this city as well as the impressive architecture and history. Coming to Dong Xuan Market, you can find a wide range of commodities from fabric, clothing, local handicrafts, souvenirs and street foods. Read on to explore all the specific things about Dong Xuan Market.
Location: 15 Cau Dong Street, Dong Xuan Ward, Hoan Kiem District, Hanoi
Opening hours: 06.00 – 18.00 daily
I. History of Dong Xuan Market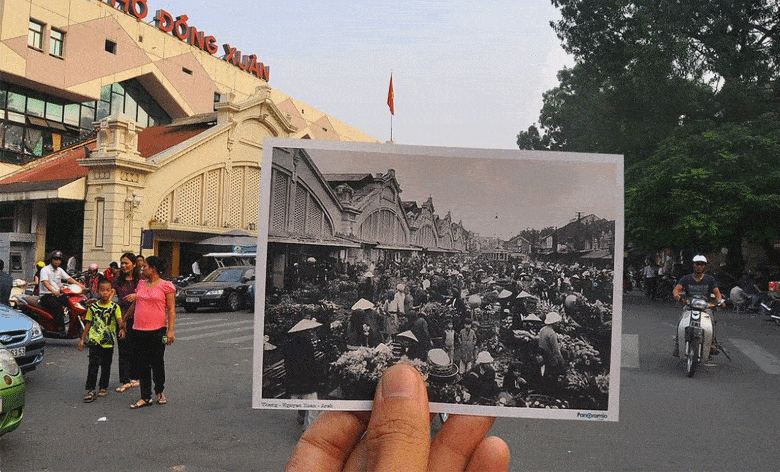 According to the historical documents, before 1888, there was a market in the south of To Lich River from Hang Ca to Ngo Gach Street. In 1889, when a part of To Lich River and Thai Cuc Lake were filled, the authority re-planned the market and all the kiosks had to move to an empty area in Dong Xuan Ward, forming Dong Xuan Market. In 1889, the construction of Dong Xuan Market was started with five vault-like roofs and steel frames; each frame is 19 meter high and 52 metters, covering a total area of 6500 square meters.
Once the market was completed, there was only a market every two days, but later on, due to the needs of developing economy and commerce, Dong Xuan Market opened everyday from morning to evening. There were various commodities traded there such as agricultural products, foodstuffs, vegetables, fruits, fabric and machinery from France, China, India.
What is more fascinating about this market is its historical significance which you still can experience if you visit this destination. When the nationwide war broke out in 1946, Dong Xuan Market witnessed the fierce battles of Vietnamese resistance fighters against the French soldiers, especially the combat of deciding-to-die soldiers (Quyết Tử Quân) to prevent the French attack on the Inter-resistance Zone 1 in February 1947.
In 1990, Dong Xuan Market was rebuilt, two blocks were broken down, and three others were renovated with three floors. However, in 1994, Dong Xuan Market was completely destroyed by fire; almost all the stalls there were burnt down. This has been the largest market fire in Hanoi so far. In 1995, Dong Xuan Market was rebuilt with the total area of three floors of nearly 14,000 square meters with about 2000 stores.
For more than 100 years, Dong Xuan Market has associated with many important milestones throughout the history of Hanoi, contained all the material and sentimental value of Hanoi and become one of the inseparable symbols of Hanoi.
II. Dong Xuan Day Market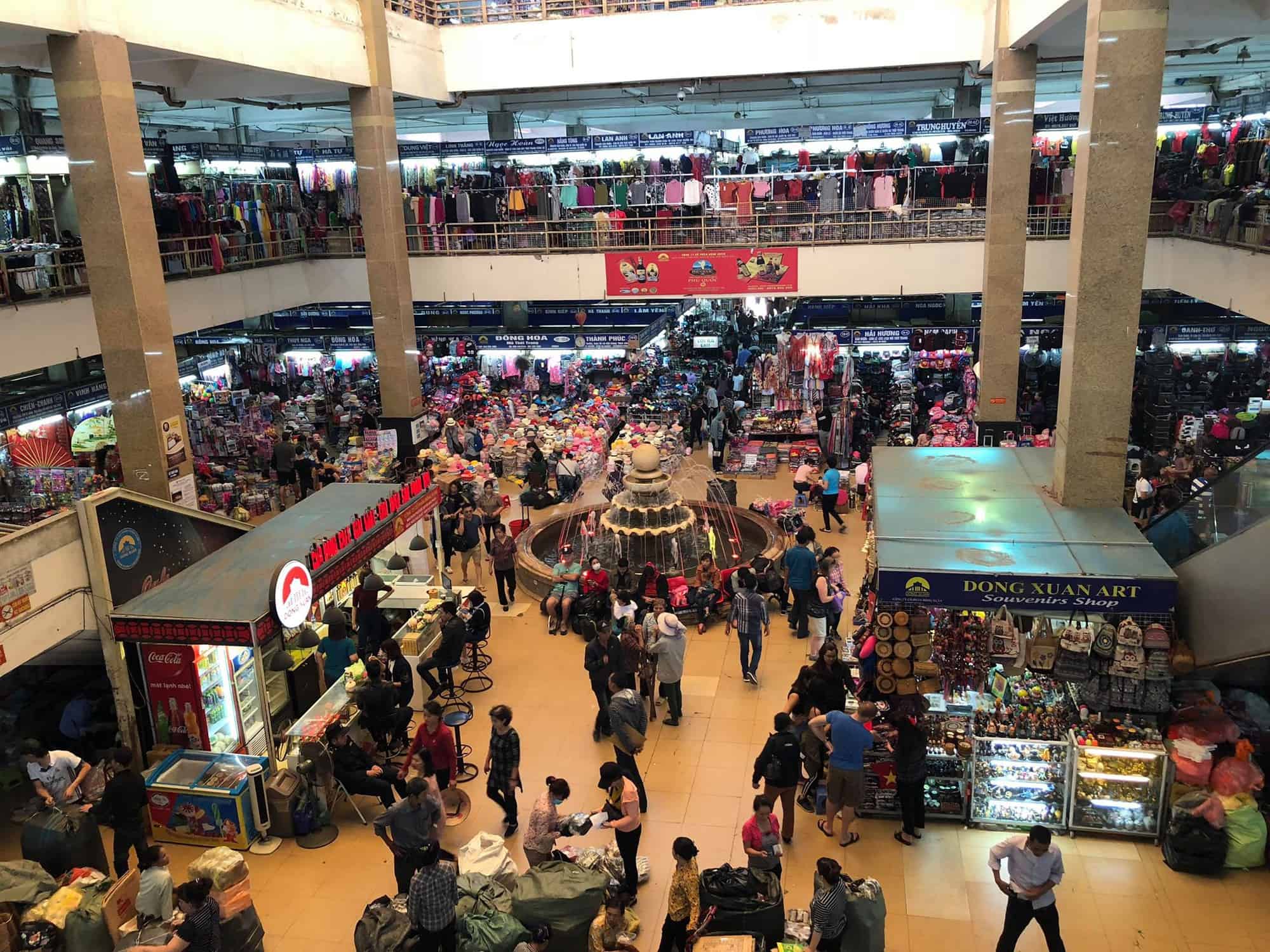 As mentioned above, Dong Xuan Market is a wholesale one, where you can find a number of commodities ranging from appearances and prices. Like other traditional markets in Vietnam, Dong Xuan Market has an abundance of kiosks selling essential goods spread over three storeys. Each floor of Dong Xuan Day Market has extinct types of goods, which is quite convenient for you to find your favourite things. Let's discover what is sold on each floor!
1. 1st floor
Entering Dong Xuan Market, you can immediately see a fountain in the central position of the 1st floor. This is the place where you can sit down to have a break after going shopping. On the ground floor of Dong Xuan Market, like other trading places, there are plentiful kinds of foodstuffs such as meat, seafood, vegetables and processed foods. The back parts of this floor sells pets like dogs, cats, goldfish and also fresh flowers. Not only that, household appliances and electric equipment are for sale there.
2. 2nd floor
Continuing to go up to the second floor, you will get to the area where fashion products are sold with T-shirts, hats, dresses, skirts, fabrics in many colors and styles, most of which are the latest ones in the market. Besides, accessories are available on the second floor with handbags, shoes, necklaces, bracelets, earrings, watches and so on. If you are finding some souvenirs like ceramic teapots, conical hats and decorations, the second floor is just for you. The price of most commodities here is quite reasonable, so you can shop without worrying about your tight budget.
3. 3rd floor
The third floor is exactly the place for parents, especially mothers with kids. On the highest floor of Dong Xuan Market, there are various clothes for newborn babies, pregnant women and children, which are all very colorful and good-looking. In addition, there are other types of products for children such as toys, stuffed animals, lego blocks and puzzle games. Most of the toys originate from China, so the prices are quite cheap. It is a good idea for you to bring your children some souvenirs from Vietnam, they must be extremely excited!
III. Dong Xuan Night Market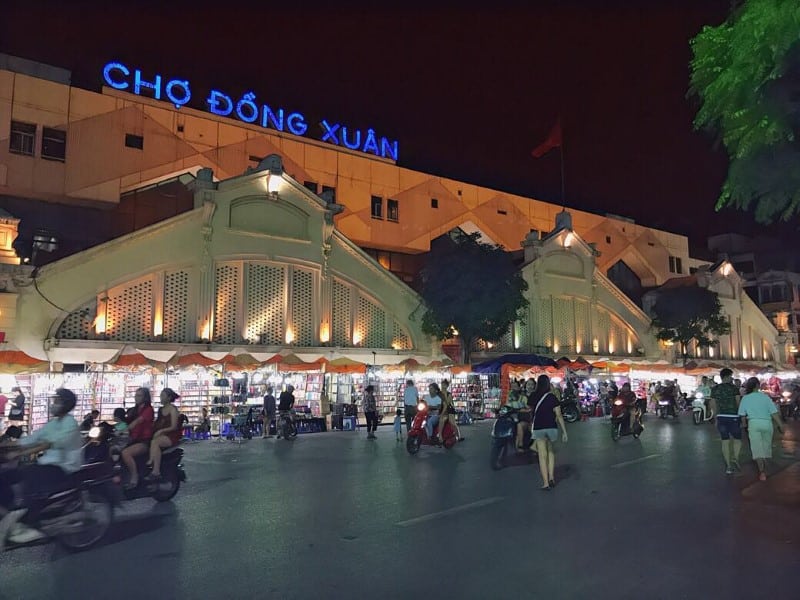 Held from 6pm till midnight on Friday, Saturday and Sunday, Dong Xuan Night Market is not only a place for purchasing goods in general but also an integral destination for cultural exchanges. Spreading over some main streets in the Old Quarter, Dong Xuan Night Market provides you with numerous products in nearly 4000 kiosks, ranging from fabric, clothes, souvenirs, handicrafts to foods and beverages, all of which reflect the typical culture and also the spirit of Hanoi.
The most popular products sold at Dong Xuan Market are clothes, shoes and up-to-date fashion commodities that serve the demand of the young locals and tourists, two main groups of consumers visiting this night market. Wandering around the crowded streets, you can freely choose a variety of souvenirs of Hanoi such as ceramics, pottery, wooden toys, ivory combs, T-shirt printed Vietnamese attractions, postcards and so on. Not only that, you can have a chance to enjoy mouth-watering Vietnamese specialties such as Pho, banh mi, rib porridge and sweet soup.
1. Opening Hours and Neighborhood:
Opening hours: 6pm until midnigh – from Friday to Sunday
Dong Xuan Night Market takes place from 6pm until midnight on the last three days of the week. The location of this night market is not within Dong Xuan Market but from Hang Dao Street to the gate of the day market, so it is also called Hanoi Old Quarter Night Market.
Located within the Old Quarter, the surrounding area of Dong Xuan Night Market is also an ideal destination for you to explore. In a walking distance, you can get to Ta Hien Street to drink a cup of beer, enjoy the cultural shows at Thang Long Water Puppet Theater or wander around Hoan Kiem Lake and Long Bien Bridge to feel the bustling life of Hanoians.
2. Tips to Note:
Unlike at Dong Xuan Day Market, at the night market, you need not to bargain because the prices there are quite reasonable and pocket-friendly.
If you get to Dong Xuan Night Market by motorbike, besides finding a parking area, you should not take in alcohol drinks or you will be fined by the police.
In addition to trading at this market, you can experience the cultural traits in the nearby areas, especially in Hanoi Old Quarter and Pedestrian Park at weekends.
Don't forget to keep an eye on your wallet and mobile phone, since there might be some pickpockets there.
3. How to Get to Dong Xuan Night Market?
From the north bank of the Hoan Kiem lake, take Hang Dao Street. Along the way, it changes name to Hang Ngang Street and then Hang Duong Street. Eventually it becomes Dong Xuan Street. You will see Dong Xuan Market on the right side of the road. The distance is about 400 meters.
The location of Dong Xuan Market is right in the city center, it is convenient for you to get there by car, bus, motorbike and even on walk. Beside Dong Xuan Day Market opening till 6pm, you can visit Dong Xuan Night Market from 6pm until midnight.
By taxi: Taking a taxi is supposed to be the easiest and most convenient to get to Dong Xuan Night Market, especially if you plan to stay at Dong Xuan Market late until midnight.
By motorbike: Riding a motorbike to admire the busy streets of Hanoi for sure is an intriguing experience. However, you should use Google Map to make sure that you will not get lost or go on one-direct streets. Besides, you will have to find a parking lot in the nearby area because the Old Quarter of Hanoi on weekends is blocked off to vehicles.
By bus: Buses No. 09A, 14 and 36 will take you to the nearby areas of Dong Xuan Market, then you will have to walk to get there.
IV. What to Eat in Dong Xuan Market?
Visiting Dong Xuan Market, you would be definitely overwhelmed by the diversity of street foods there. If you are finding a place to discover the typical cuisine of Hanoi, Dong Xuan Market for sure is the best choice for you. In this market, you can choose plenty of delicious dishes, from Vietnamese style to famous street foods of other countries in the world. The reasonable prices and the diversity of food there make Dong Xuan market a food paradise in the Old Quarter of Hanoi, which is a familiar place for chit chatting of people from all ages.
Listing all the must-to-eat dishes in Dong Xuan Market is such a difficult task for you, so why don't you try these following suggestions?
1. Noodle with grilled bamboo-stuck meat (Bún chả que tre)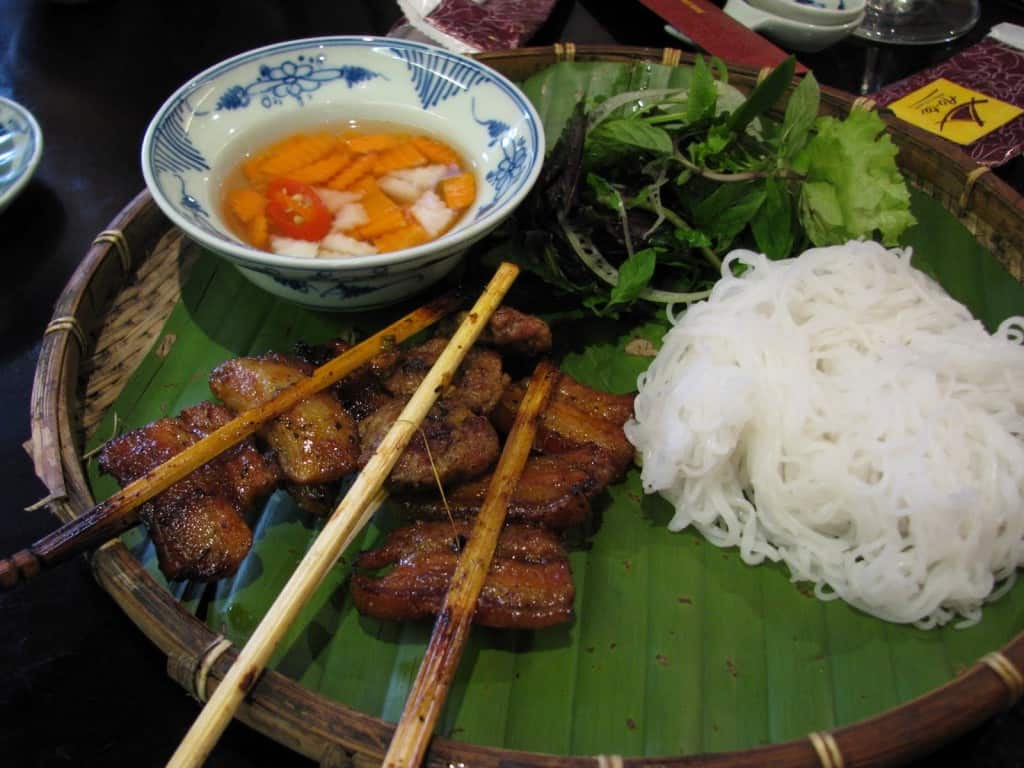 Noodles with grilled bamboo-stuck meat is the first dish in Dong Xuan Market that is worth a try. Pork is cut into slices, added onion, lemongrass, black pepper and some other spices, stuck in a bamboo stick and grilled on charcoal fire. Grilled meat is served with rice noodles, pickled vegetables such as lettuce, cucumber and coriander then dipped into sweet and sour fish sauce. Having a plate of noodles with grilled bamboo-stuck meat will cost you about 25,000 VND, absolutely cheap for a delicious meal.
2. Rib and cartilage gruel (Cháo sườn sụn)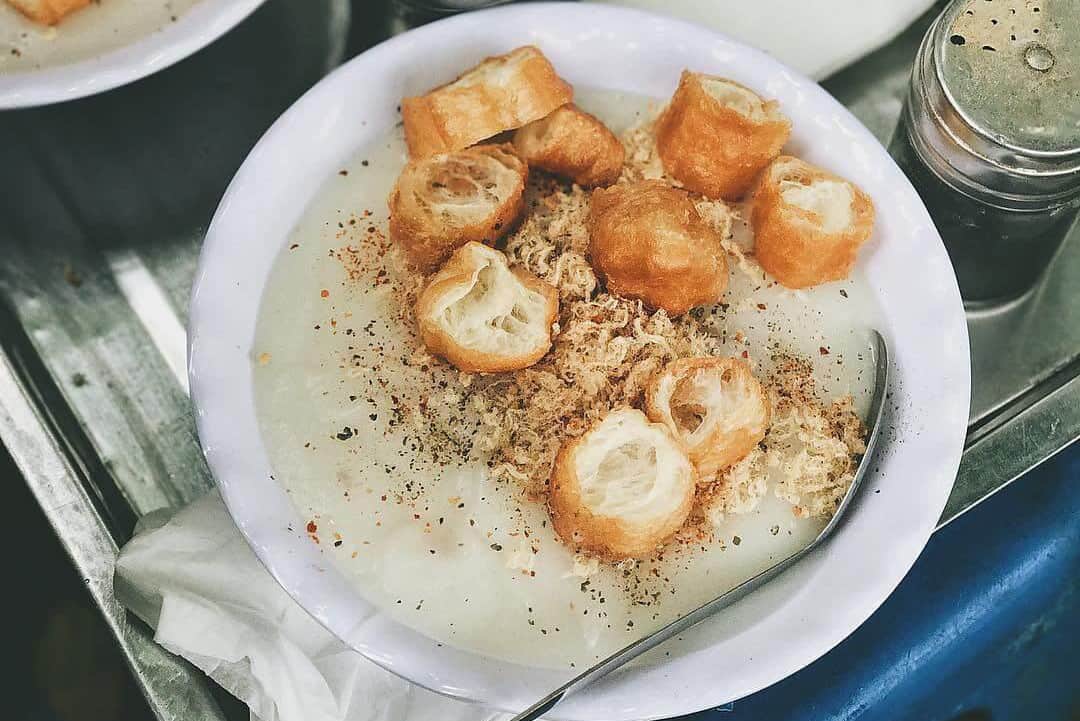 Rib and cartilage gruel satisfies the most fastidious diners by the combination of rib and rice in the porridge, which is both crunchy and well-stewed. In other places, rib and cartilage gruel is made from whole rice grain, but in Dong Xuan Market, it is made from grinded rice, which helps the texture to be more smooth and flavourful. Rib porridge is often served with finger-shaped dried bread. This dish will immediately leave a long-lasting impression on you from the first try. Only with 30,000 VND, you can enjoy a full bowl of rib and cartilage gruel in Dong Xuan Market.
3. Beef jerky and green papaya salad (Gỏi xoài khô bò)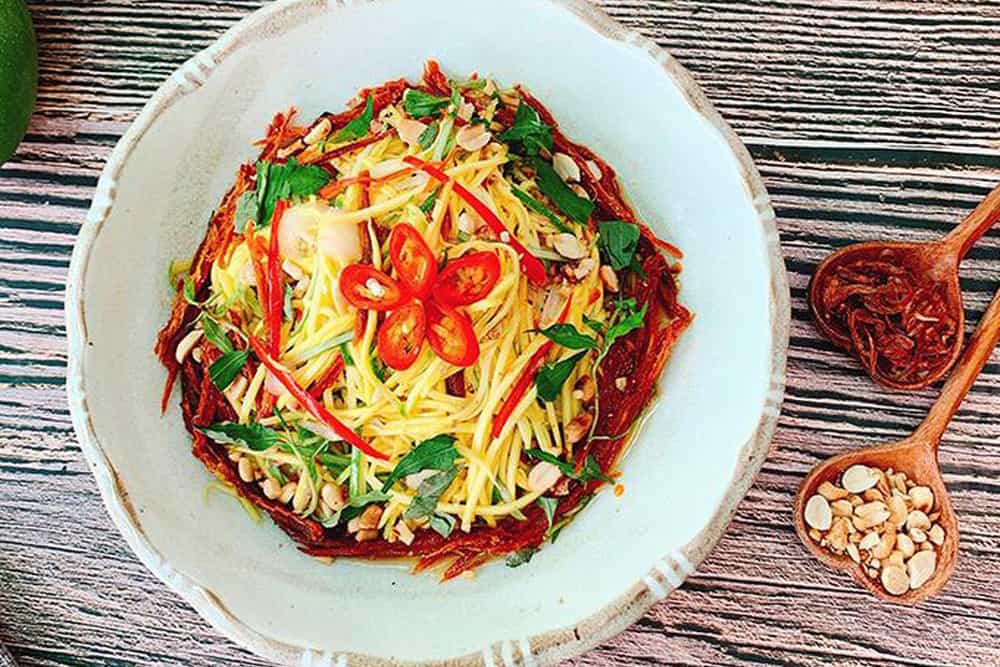 Beef jerky and green papaya salad is a kind of snack popular in Dong Xuan Market. This dish is made of dried and spicy beef, mixed with fine-cut green papaya, roast gizzard, peanuts, coriander and mint leaves. The most important ingredient of this dish is the unique sauce, which is made from fish sauce, sugar, lemon juice and chilli according to a certain recipe, adding an unforgettable taste in every visitor. A plate of beef jerky and green papaya salad is around 35,000 VND, which is quite suitable for an evening wandering around the Old Quarter.
It is such a flaw if you come to Hanoi without shopping and experiencing the local culture in Dong Xuan Market. Not only a well-known trading center in Hanoi, Dong Xuan Market also holds the sentimental values for the capital with more than 1000 years of history. And what are you waiting for? Let's visit Dong Xuan Market and don't forget to share with us your wonderful experiences.