Ba Vi National Park is an isolated soil-limestone mountainous area situated about 50 km west from Hanoi. The mountain is located in the outskirts of Hanoi (used to be Ha Tay province in the past), and shared the border with 2 districts of Hoa Binh Province. It has three peaks: the highest is Emperor Peak at 1,296m, followed by Tan Vien at 1,226m and Ngoc Hoa at 1,120m.
Location: Ba Vi, Hanoi
Opening hours: 6am to 7pm
Map to Ba Vi National Park:
Highlights of Ba Vi National Park
Ba Vi is one of famous mountainous ecological tourism centers in Vietnam thanks to its natural beauty and special geographic and climate. Staying here, tourists can explore the site via a number of activities, such as trekking, bird watching…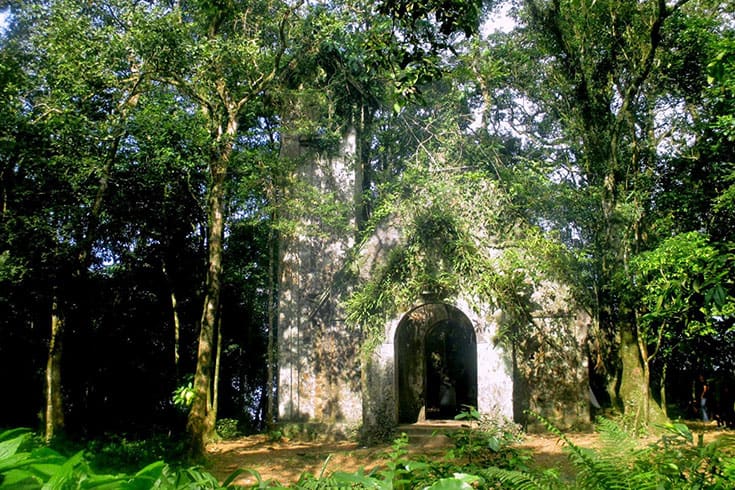 One ever said that containing such a fascinating complex of numerous lakes, (both natural and artificial) plays an important role in forming various famous relaxing tourism spots in Ba Vi like Khoang Xanh, Suoi Mo stream and Thac Da waterfall.
Apart from natural beauty, Ba Vi is also said to be the home for hundreds of relics dating back a century or more to the French colonial era with a former military training range and a church between 600m and 800m above sea level. Hence, these days, tourists flock to the site not only for dipping themselves into a fresh and green ecological area, but its historical & cultural side also.
With a relatively favorable climate, good infrastructure and close proximity to Hanoi, Ba Vi is considered as one of four famous ecological destinations beside Da Lat, Sapa and Tam Dao. It promises to bring you unforgettable experiences with friends and family!
What To Do in Ba Vi National Park?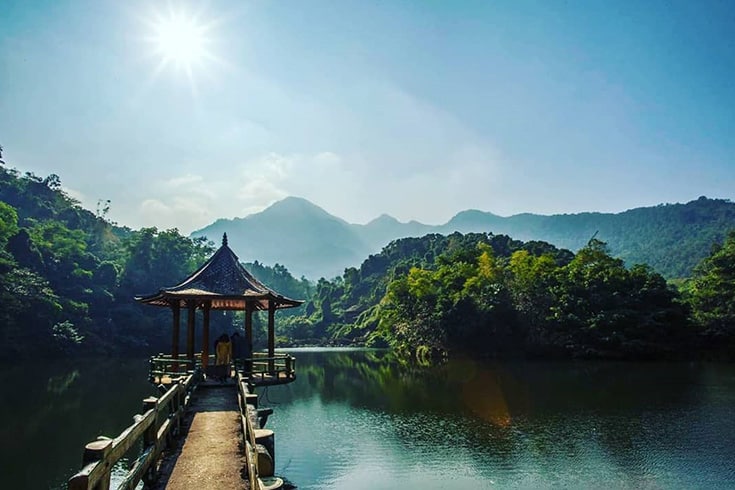 Traveling another 16km from the National Highway, you will come to Hai stream to take some boats around before stopping on islet to see medical plants and birds nest. Then, going east Ba Vi Mountains, you can visit Ao Vua fall. Looking from above, the fall makes a three-story cascade, the last flows into a small lake with emerald-green water.
Now, are you ready for climbing to strongly relax your mind and body and forget all the troubles? Looking from the foot, the mountain rises steeply out of a plain that rarely exceeds 30m in elevation. On the way up the hill, visitors stop for a while to contemplate the surrounding lyrical and inspirational landscape.
Off in the distance, shadows of mountains disappear into the clouds, streams wound their way through the valleys and paddy fields spread out toward the horizon. The mountainous topography makes the climate at Ba Vi varies with altitude.
Above 500 m, fog enshrouds the top of the mountain almost everyday. The higher you reach, the more romantic of a vista you can feel as the mist gets clear to reveal sunshine within a few minutes.
Back at the foot of the mountain, now the time for exploring what Ba Vi National Park is proud of, that is the diversified fauna and flora. With an area of more than 12,023 ha, the park is home to more than 800 rare and exotic plants, 280 of which have medicinal applications.
It also boasts 44 species of mammal, 15 species of reptile, 9 species of amphibians and more than 100 bird species. This roughly explains why Ba Vi National Park is called "Capital Hanoi's lung" by most Hanoians.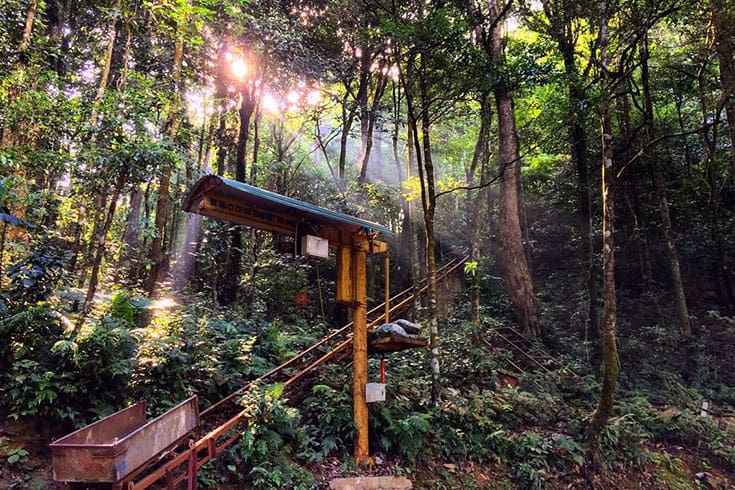 Best Time To Visit Ba Vi National Park
Actually, you can visit Ba Vi at anytime of the year. In May, June, July and November, there is a flower season when a variety of colorful flowers will bloom in the vivid nature. Between April and October, the weather is cool with lots of fresh air. There will be some mist which creates a tranquil atmosphere. And you can see a different view of Hanoi from afar. In winter, the mountains are covered with fog. If you are lucky, you can see a little snow from here.
How To Get To Ba Vi National Park?
There is no difficulty in finding a kind of transportation to get to Ba Vi National Park from Hanoi. You can choose bus, taxi or motorbike.
It only takes you only one hour and a half to travel to Ba Vi by motorbike. There are two ways to go. First, head to Thang Long Highway, and after going for about 30 km to the end of this highway, turn right. You will see Route 21 right after that. Follow this route until you reach a hairpin turn that leads to Khoang Xanh. Now, you will need to ask the locals for the way to Ba Vi.
The remaining route is much easier and safer to go. Go along Route 32 from Cau Giay Street until you reach an intersection near Son Tay bus stop. Turn left and head to Tan Linh fork in nearly 13km. Turn left one more time to Route 5 and you will be in the area of Ba Vi. Again, ask the local people in case you do not know where to go next.
Ba Vi is not so far from the centre of Hanoi capital, so there are also some buses available for you to go. You can take one of two routes. Catch bus 214 from Yen Nghia bus station or bus 74 from My Dinh bus station. When the bus stops at Xuan Khanh, get off and walk around 5km before reaching Ba Vi.
It is a little bit expensive to get to Ba Vi National Park by taxi. The price is about 200,000 VND from the Old Quarter. You will miss some of the best experiences when choosing this means of transportation. But you will not need to worry about the routes leading to the place because the taxi driver can help you with that.
Where To Eat?
People often prepare food before taking a day-trip to a space like Ba Vi. However, in case you forget to bring food along, you can still try many delicious cuisine in some restaurants here. They serve typical dishes of Ba Vi as well as other regions in Vietnam. Normally, tourists will eat bamboo-tube rice, fishy rice, barbecued goat, Banh mi (Vietnamse bread), Pho (rice noodle soup) or Bun cha (grilled meat with rice vermicelli), which are very suitable for a camping or picnic day.
Where To Stay
Here are some of the best options for you to choose.
Location: Van Hoa, Ba Vi district, Hanoi
Tel: 024 3943 8205
Melia Ba Vi Mountain Retreat
Location: Cote 600m Ba Vi National Park, Ba Vi district, Hanoi
Tel: 024 3200 9999
Location: Ky Son village, Xuan Son Commune, Son Tay, Hanoi
Tel: 091 322 03 33
Tips on Visiting Ba Vi National Park
Avoid rainy days as the road to the mountains is very slippery, which is unsafe your travellers.
Stay away from small waterfall, muddy water or still water because they are the places where there are lots of creepy creatures such as leeches inside. If you don't want to take risks, don't forget to put on insect repellent.
Carry a map when entering the mountain's base so you can discover this attraction much easily.
Milk in Ba Vi is very famous in Vietnam. So once getting to this area, you should buy some on the way back to Hanoi to taste the special flavors.
If you have never been to Ba Vi National Park, why don't you make a plan and go to this beautiful place right now?