Hanoi is over 1000 years old. Over these years, the city underwent ups and downs in its history, so the richness of history here is overwhelming: ancient architectural structures, temples, pagodas, etc. So great is it that you will be fun-filled to explore the capital of Vietnam all day.
Want to explore natural and historical attractions in Hanoi, which are famous for its both modern and ancient beauty? Put our guide into your pocket to know the best thing to do in Hanoi, including about what to see and where to visit in the capital of Vietnam!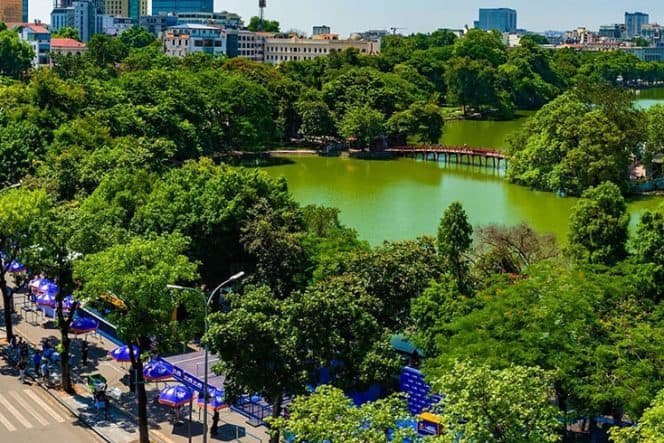 Hoan Kiem Lake, the heart of the capital, is one of the most popular historical attractions in Hanoi for tourists. Owing to being located in the center of Hanoi, near almost other renowned destinations such as Ngoc Son Temple, The Huc Bridge, Turtle Tower, Hanoi Opera House, etc., Hoan Kiem Lake becomes so famous that whenever you mention Hanoi, tourists will associate immediately with its image.
Not only does Hoan Kiem Lake have cultural value but it also has a historical one. There is a well-known legend relating to the origin of the name of this lake. A long time ago, this lake was called Luc Thuy lake because its color water was green in all seasons. The name "Hoan Kiem Lake" or "Ho Guom" just appeared from the beginning of the 15th century and attached with the legend that Ly Thai To, the first king of the Hau Le dynasty, returned the magical sword to the Golden Turtle on this lake.
Walking around the lake, one of the best things to do in Hanoi, tourists can take a view of the contrasting beauty of an old Hanoi with classical architecture features on ancient structures around here, a new Hanoi with the fast lifestyle and a lot of luxury modern restaurants and hotels built in Western-style. Besides, since 2017, every weekend, there is walking street opening around the lake attracting tourists with a lot of outdoor activities and Vietnamese street food.
Location: Hoan Kiem District, Hanoi
Opening hours: 19:00 AM, Friday - 24:00 AM, Sunday
2. Hoa Lo Prison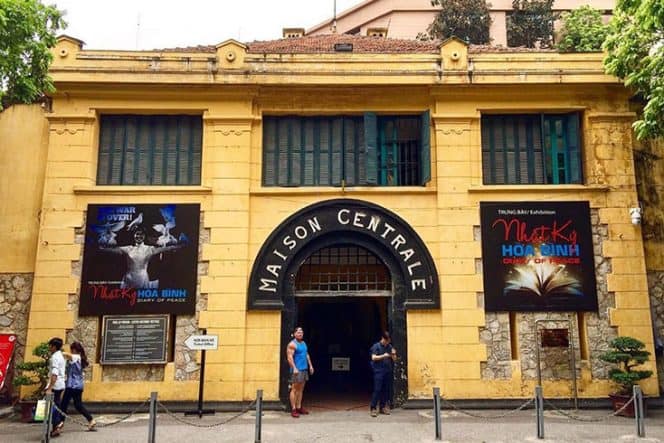 Hoa Lo Prison is among the most famous historicalattractions in Hanoi, where tourists cannot miss if they are history lovers. Hoa Lo Prison or Mai Son Centrale is a clear proof of the war crime French colonialism caused to the Vietnamese.
At the end of the 19th century, in 1896, the French colonialists built Hoa Lo Prison in Phu Khanh village, Hanoi. It was one of the largest and most modern prisons of the French colonialist in Indo-Chinese, used to detain and torture Vietnamese patriotic soldiers. After the war, it is opened again to use as a well-known historical museum.
Paying a visit to Hoa Lo Prison, tourists will see many statues recreating the hard life in political prisons, the small wet and dirty cells detaining a lot of prisoners, the machines and hundred cruel methods to torturing. At that time, Hoa Lo Prison was also renowned for its harshest punishment, called "the hell of the earth" or the most inhumane prison in Indo-Chinese.
Location: 1 Hoa Lo, Tran Hung Dao, Hoan Kiem, Hanoi
Opening hours: Everyday from 8:00 AM – 5:00 PM
Ticket Price: 30.000VND/Adult (Discount 50% for student with the car)
Phone: 024 3934 2253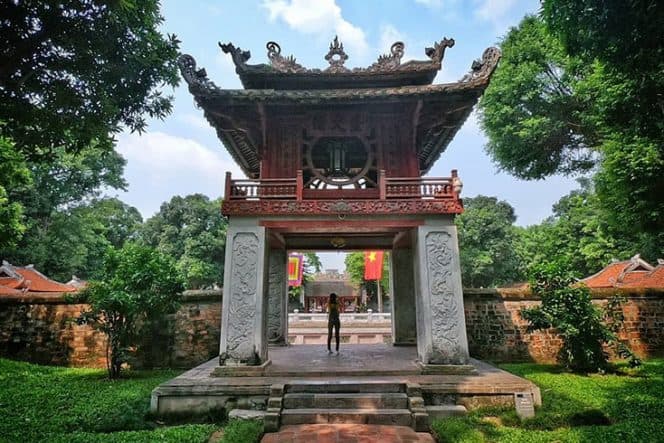 Going to the so-called first university of Hanoi is among the best things to do in Hanoi. Temple of Literature is a cultural and educational heritage of Vietnam and often cited as one of the most attractive historical Hanoi attractionsfor both the foreign and the Vietnamese.
It is a combination of two architectural complexes: Van Mieu, a confucian temple, the worship place of Khong Tu, Manh Tu and Chu Van An, and Quoc Tu Giam, the first university in Vietnam. Temple of Literature is surrounded by stone walls and there are a lot of old trees on campus; therefore, it is always peaceful although today it is located on one of the most crowded streets.
Originally, King Ly Thanh Tong only built Van Mieu for the purpose of worshipping; besides, it was also used as the royal school at that time. In 1076, Van Mieu was enlarged with the construction of Quoc Tu Giam by King Ly Nhan Tong, the son of King Ly Thanh Tong in order to teach the royal. Until 1253, Quoc Tu Giam changed Quoc Tu Giam into the National Academy even for children of civilians who had excellent learning ability.
Paying a visit to the Temple of Literature, tourists will see the buildings preserved extremely well, a superb instance of traditional Vietnamese architecture, stone turtles on which the names of the doctors in the Ly and Tran dynasty. This is really an educational and rewarding thing to do in Hanoi.
Location: 58 Quoc Tu Giam, Van Mieu, Dong Da, Hanoi
Opening hours:
Summer (15/4 – 15/10): 07:30 AM – 18:00 AM
Winter: 08:00 AM – 17:00 AM
Ticket Price: 30.000VND/Adult (Discount 50% for the disabled, students from the age of 15 and free for children under 15 years old and the especially disabled)
Phone: 024 3747 2566
4. Long Bien Bridge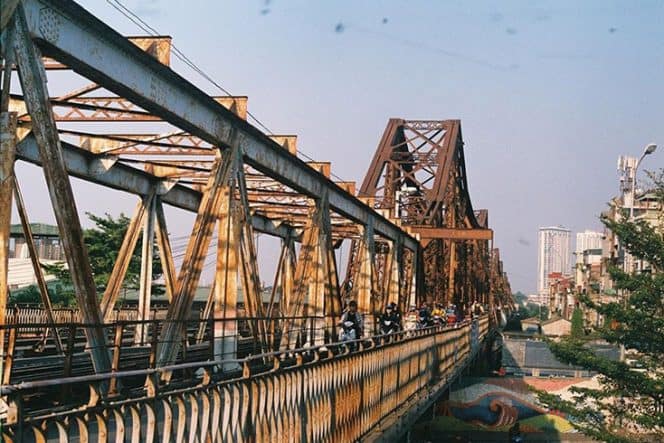 For people living in Hanoi, Long Bien Bridge is a historical witness of a resilient Hanoi in years of war. Nowadays, it has become a destination in Hanoi that is very popular among foreign tourists.
Long Bien Bridge is an iron bridge across the Red River connecting the suburb of Hanoi with the center of the city. It was constructed from 1899 to 1902 by French colonists and designed by a famous French engineer Gustave Eiffel, the father of the Eiffel Tower in Paris. At that time, it is the most modern bridge in Indo-Chinese, the pride of French architecture. After two fierce wars in Vietnam, especially relentless American bombing in 1972, Long Bien Bridge was not damaged, still the artery of Hanoi during the war.
Nowadays, there are some other bridges built across the Red River, so there is not a lot of traffic on the bridge and tourists can walk along it to go sightseeing. From Long Bien Bridge, tourists can take a view of the picturesque sceneries, large green fruit field, small houses near the bank of the Red River.
After a long time, although Long Bien Bridge is broken somehow, its beauty is still intact in the eyes of Vietnamese people and foreigners. It is worth spending an afternoon on paying a visit to this attraction.
Location: Ngoc Thuy, Long Bien, Hanoi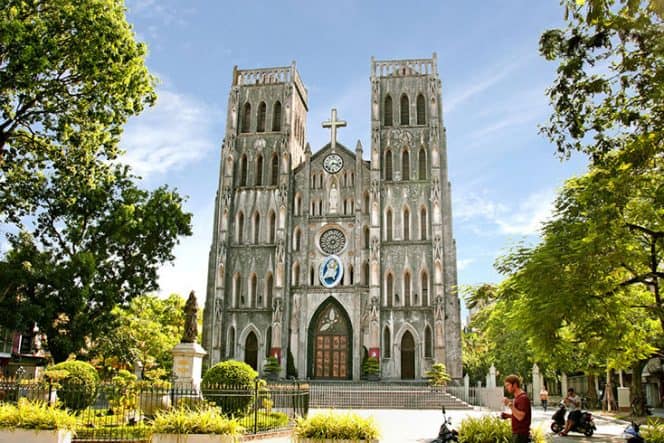 St Joseph Cathedral, or "The Big Church" familiarly called by the locals, is one of the few famous structures constructed by French colonists and still intact in Hanoi after two fierce wars.
The construction of this structure took place from 1884 to 1887 on the site of Bao Thien pagoda near Hoan Kiem Lake, the most ancient magnificent and massive one, the center of Buddhism in the history of Vietnam. St Joseph Cathedral was a small simulation of Notre Dame de Paris with multiple representative features of Gothic Revival architecture.
During the French colonial period, St Joseph Cathedral became the center of Christianity in North Vietnam. After the retreat of French colonists from the North of Vietnam in 1954, the cathedral was closed and not until Christmas in 1990, was it opened again for the Catholics to celebrate.
In spite of fierce fights destroying almost parts of Hanoi, St Joseph Cathedral is still in good condition. Today, it becomes a historicalattraction in Hanoi which always makes an impression on travelers by its ancient beauty inside the bustling capital. 
Location:  40 Nha Chung, Hang Trong ward, Hoan Kiem district, Hanoi
Opening hours:
For visiting outside: All time
For visiting inside: Travellers can only visit inside when there is ceremonial practice as the below schedule
Weekday: 5:30 am and 6:15 pm
Saturday: 6:00 pm
Sunday: 5:00 am, 7:00 am, 9:00 am, 11:00 am, 4:00 pm, 6:00 pm and 8:00 pm
A special ceremony is on 19th March every year.
Phone: 024 3828 5967
Entrance fee: free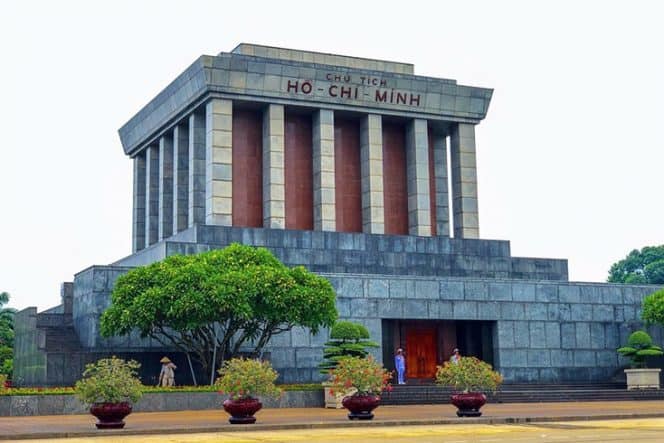 Ho Chi Minh's Mausoleum is considered the heart of the capital, expressing the sincere gratitude and love of Vietnamese people to President Ho Chi Minh. It is the last resting place of Uncle Ho, the mighty hero, the loved old father of the Vietnamese, who led the national liberation struggle movement in Vietnam to defeat French colonists and American empire in the twentieth century.
Uncle Ho passed away on September 2nd, 1969 in Hanoi, but it was not until September 2nd, 1973 that the construction of this mausoleum proceeded. It took about two years to complete this structure. Ho Chi Minh's Mausoleum was inaugurated on August 29th, 1975, and since then, it has become a well-known historical tourist site in Hanoi not only for the Vietnamese but also for the foreign.
Vietnamese architects at that time took inspiration from Lenin's Mausoleum in Moscow to design Ho Chi Minh's Mausoleum. It was built on Ba Dinh square, where Uncle Ho had read the Declaration of Independence on September 2nd, 1945, giving birth to the Democratic Republic of Vietnam in the presence of the Vietnamese, many international journalists, international friends, and French colonists.
Nowadays, tourists can pay a visit to Ho Chi Minh's Mausoleum at any time in a year. When coming here, pay attention to your address, avoid wearing too short clothes and under three-year-old children are not allowed to enter here.
Location:
19 Ngoc Ha Street, Ba Dinh District, Ha Noi
Opening hours:
In summer (from 01/04 to 31/10): Tuesday and Thursday: from 07:30 am to 10:30 am; Saturday, Sunday and Holiday: from 07:30 am to 11:00 am.
In winter (from 01/11 to 31/03): Tuesday and Thursday: from 08:00 am to 11:00 am; Saturday, Sunday and Holiday: from 08:00 am to 11:30 am.
Entrance fee:
Free
Phone:
04 38455168, 0437345484 
Note:
If May 19th, September 2rd and the first day of the
Lunar New Year
coincide with the closing days, it will still be opened to hold the ceremony.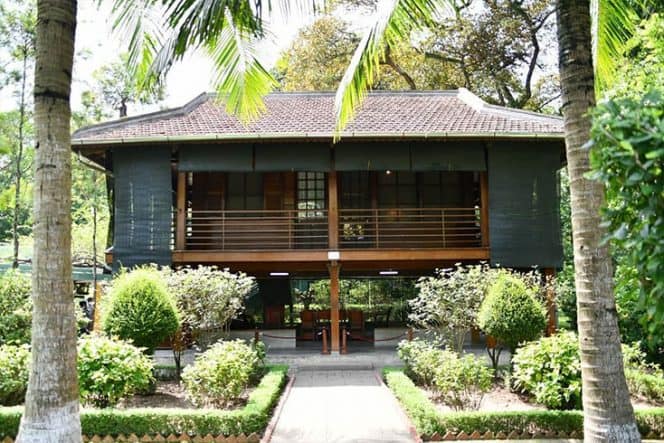 Ho Chi Minh's Stilt House is one of the most attractive spots in the Presidential Palace complex where Uncle Ho spent 11 last years of his life living and working (from 1958 to 1969). 
The wooden stilt house is sited in a corner of the garden of the President Palace, in front of a carp pond and near Ho Chi Minh's Mausoleum. Uncle Ho took inspiration from the architecture of the Viet Bac ethnic minority's house after his visit to Thai Nguyen province to design this structure. It was constructed from April 1958 and completed in May in the same year. 
There are only two small rooms in the stilt house. Both are modest, which express the beautiful simple lifestyle of Ho Chi Minh President. One is the workroom which is furnished with a typewriter, books, some newspapers at that time, and an electric fan, the other is a bedroom containing a bed, an antique phone, an electric clock, and a radio. Surrounding the house are typical fruit trees representing regions of Vietnam and outside is a hibiscus fence recalling the image of the homeland of Uncle Ho.
To access the stilt house, visitors will have to enter from the Presidential Palace entrance on Hung Vuong Street and walk along the stone path to reach the house. It is a worth-visiting place in the President Palace complex, so you should try to pay a visit to this attraction once.
Location: No.1, Bach Thao Alley, Ngoc Ha ward, Ba Dinh District, Hanoi
Opening hours: 08:00 - 11:30 am on Monday, Wednesday, and Friday; and 02:00 - 04:00 pm Tuesday, Thursday, Saturday, and Sunday
Phone: 08 044 287 - 08 043 226 - 08 043 315  
Ticket: 25.000VND
8. Old East Gate (O Quan Chuong)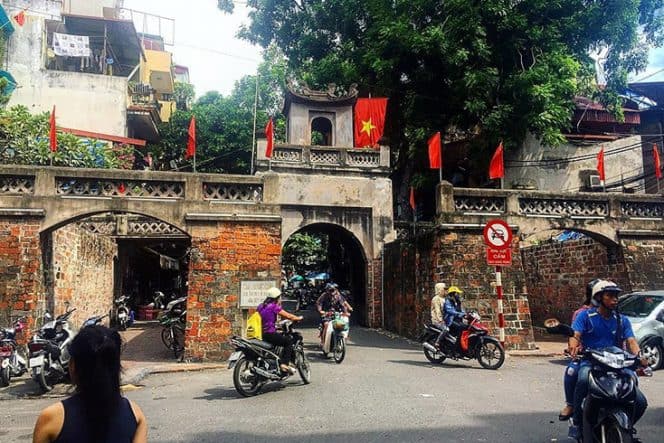 Old East Gate - O Quan Chuong is a special historical tourist site, the only remaining gate of Thang Long citadel, one of the few remaining vestiges of the feudal period in Hanoi after the fierce fights. 
Thang Long citadel or Hanoi capital now was a crowded center of culture and politics in Vietnam in the feudal period. Surrounding Thang Long was lays of high walls and four gates corresponding to four directions (east, west, south, and north) including O Cau Giay, O Cho Dua, O Cau Dien, and O Quan Chuong to protect civilians and the royal living inside. Old East Gate - O Quan Chuong was located in the east of Thang Long citadel, and it is the only gate that was not destroyed by the French colonist when Hanoi was under the control of them because of the strong protest of the civilian at that time. 
Nowadays, Old East Gate is sited on the intersection in the heart of the old town, as a living proof for the resilient fighting spirit of Hanoi. This gate was built of big bricks from the reign of King Le Thanh Tong (1740 - 1786) and after a long time, this gate has been degraded by the fights and the time. Therefore, in 2009, the community of Hanoi made a decision to restore Old East Gate. 
Although today it doesn't retain the ancient features anymore, it is always considered as a representative symbol of the old capital by its beauty not only in architecture but also in significant historical meaning it brings.
Location: Hoan Kiem District, Hanoi
Opening hours: all day long
Entrance fee: Free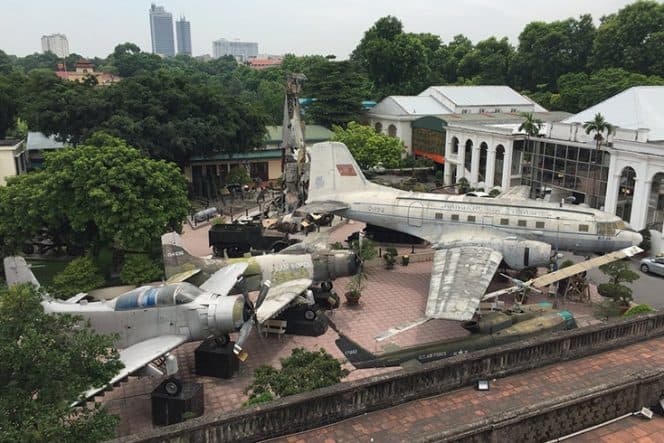 Vietnam military history museum is one of six national museums and the first one in the military museum system founded on 17th July 1956, 11 years after the resistance against the French colonials succeeded. 
The museum now is saving and displaying about 150.000 artifacts containing military cultural-historical value and reflecting the scene of resistances against invaders throughout the length of Vietnam's history. Especially, paying a visit to the museum, tourists can take a view of four national treasures, including MiG-21 aircraft no.4324, MiG-21 aircraft no.5121, Ho Chi Minh Campaign Determination Map, T-54B Tank no.843. 
First, MiG-21 no.5121 aircraft is a special artifact relating to the campaign "Dien Bien Phu in the air", in which Vietnam's army shot down a Boeing B-52 Stratofortress, the pride of the American empire in amazement of the American empire and the whole world at that time. Second, MiG-21 no.4324 aircraft is a victory symbol of Vietnam's Air Force shooting down fourteen aircraft of the American empire in Hanoi. 
Next, in the Ho Chi Minh Campaign, T-54B Tank no.843 led to break defending lines of the enemy, knocked down the auxiliary gate of the Independence Palace, marked the national sacred moment when the national resistance against the American empire ended. The last is the Ho Chi Minh Campaign Determination Map, an artifact demonstrating the heroic time of the nation, marking the complete win of Ho Chi Minh Campaign, the last campaign in the 1975 General Offensive and Rebellion to unite the north and the south of Vietnam.
Location:  28A Dien Bien Phu Street, Ba Dinh Ward, Hanoi
Opening time: Morning from 8:00 to 11:30 am and afternoon from 13:00 to 16:30 am on Tuesday, Wednesday, Thursday, Saturday and Sunday
Phone: 024 6235 1367  
Entrance fee: 
For domestic guests: 
The adult over 15 years old: 20.000 VND/person
The old, student, children under 16 years old: 10.000 VND/person
The children under 6 years old: free ticket
For international visitors: 40.000 VND
Filming ticket:
Camera: 30.000VND/ a camera
Camcorder under 1 hour: 300.000 VND/a machine
Camcorder from 1 hour to 2 hours: 400.000 VND/a machine
Camcorder from 2 hours to 3 hours: 500.000 VND/a machine
10. Vietnam National Museum of History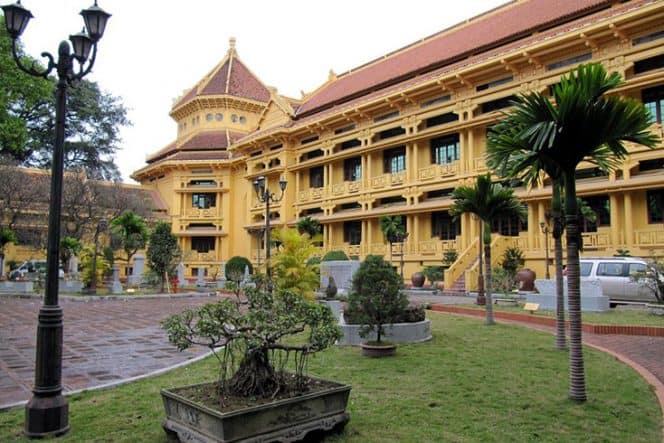 Vietnam National Museum of History is the most worth-visiting museums in Hanoi not only for the foreign but also for the Vietnamese who love and want to learn more about the national history. It was established by merging two old museums in the past, now it is sited in the center area of the city, near some tourist attractions such as Hoan Kiem Lake, St Joseph Cathedral, Long Bien Bridge.
The reason making it more popular than any other ones is the variety of the artifacts in all periods in Vietnam history which are showed off centrally there. They will give tourists a broad overview of Vietnam history in 4000 years from primitive times to the twentieth century. 
This museum combines two buildings and an outdoor exhibition area. The building located at no.1 Trang Tien street now is exhibiting artifacts from primitive times to the Nguyen dynasty (1945) such as Dong Son bronze drum, ceramics in Ly and Tran dynasty while the other at no. 216 Tran Quang Khai street is exhibiting artifacts from the nineteenth century to the present.

Location: 216 Tran Quang Khai Street, Trang Tien Ward, Hoan Kiem District, Hanoi or 1 Trang Tien Street, Hoan Kiem District, Hanoi
Opening hours: all days in the week except for the first Monday of the month
Morning: from 08:00 to 12:00
Afternoon: from 13:30 to 17:00
Note: for the schedule of opening time at the Lunar New Year holiday, the museum management will announce separately.
Phone: 024 3825 2853
Entrance fee: 
Adult: 40.000 VND/person
Student at universities, colleges, vocational schools, technical schools: 20.000 VND/person
Student: 10.000 VND/person
Child under 6 years old: Free
Note: The price above includes two exhibition areas in the Vietnam National Museum of History.
Other fees:
Camera: 15.000 VND/a camera
Camcorder: 30.000 VND/ a machine