Vietnam is one of the easiest countries to get around and also one of the most popular destinations in Southeast Asia.
So what is the best way to travel around Vietnam? The method of getting around Vietnam depends hugely on how long you are going to stay in Vietnam. As a tourist, you have many options of transportation to choose from in Vietnam, including by plane, by train, by bus, by car, by motorbike or cyclo, by taxis and by boat.
Here is the breakdown of the best ways for getting around Vietnam no matter how long you stay or how much you spend on your itinerary in the country.
Transportation Types for Getting Around Vietnam
1. By Plane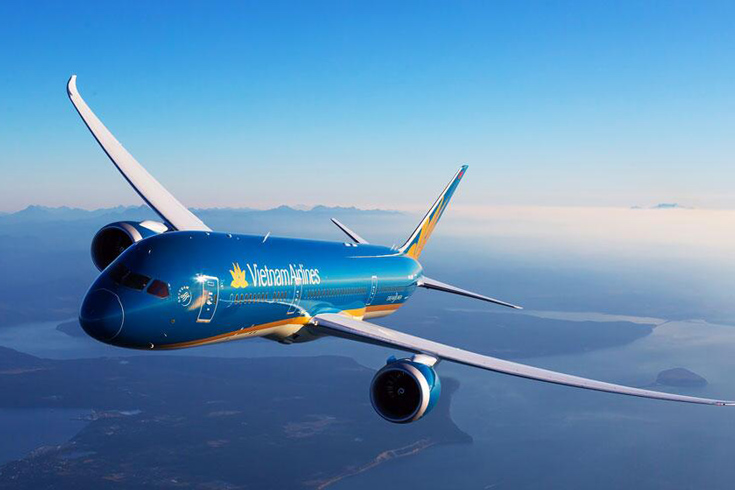 Flying or traveling by plane is obviously the most expensive but fastest way for everyone to get around Vietnam.
With this means of transport, you can get almost anywhere in the country in about two hours, making flying to and around Vietnam a great choice for travelers with rush traveling time.
In Vietnam, Vietnam Airlines is the largest (and costliest as well) domestic carrier, but there are also a lot of budget airlines and flight suppliers, namely VietJet Air, Jetstar, Bamboo Airways and VASCO.
Vietnam is also home to over 20 airports, with 08 international airports situated in Hanoi, Ho Chi Minh City (Saigon), Da Nang, Nha Trang, Hai Phong, Phu Quoc Island, Can Tho and Da Lat. By far, the majority of international flights arrive in Hanoi and Ho Chi Minh City, with everyday arrivals through Asian hub cities. Hong Kong, Seoul, Bangkok, Singapore, Guangzhou, Siem Reap, and Phnom Penh operate the most frequent flights.
If you book early, you could save on ticket fares since the budget carriers often offer about 30-50% off tickets if they have sales. Airfares are dependent on the time you book and the dates you want to fly. There is no difference between Vietnamese people and foreigners in terms of airfares.
Yet, bear in mind that the baggage fees and policies vary by airlines. Budget airlines usually charge extra for baggage fees or preferred seating.
2. By Train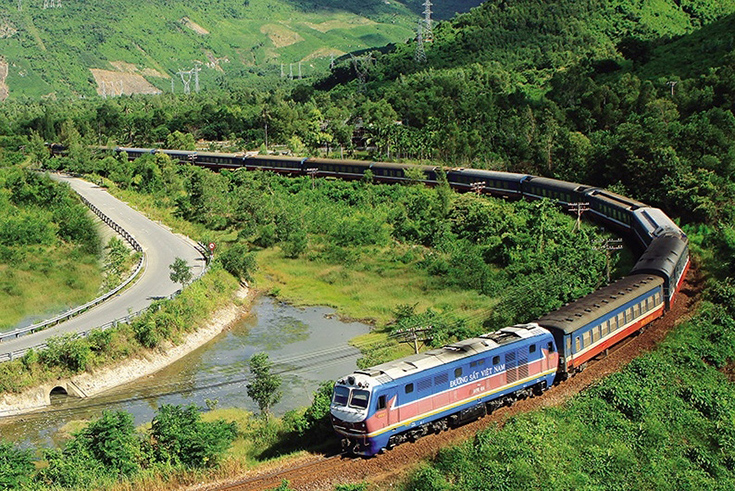 Vietnam is one of the few countries in Southeast Asia equipped with a reasonable rail network. Though the cost for getting around Vietnam by trains is higher than that of buses, the comfort it brings is really worth a try. Most importantly, the Viet tourism office advises that trains are safer than buses.
The most popular way to get from the capital Hanoi to Ho Chi Minh City is the train named "Reunification Express" which takes over 30 hours for the entire trip.
Rail fares are fixed, though there are different prices for different classes.
Vietnamese trains supply several classes, and train tickets in Vietnam are divided into 4 separate classes, which become progressively more expensive:
Though there are a few options, you should choose the highest level within your affordability because the hard seat carriages of lower class could be grim. On the train, there are both hard-berth and soft-berth compartments for passengers to stay overnight, with six and four berths, correspondingly.
If you are a train buff, be aware of holiday periods or peak season and book the berths on night trains as soon as possible. The advantage of night trains is that you do not have to spend daytime traveling, and it saves you the costs of accommodation.
There are many shorter routes of trains throughout the country and travelers could use these routes to get to China from Lao Cai.
3. By Bus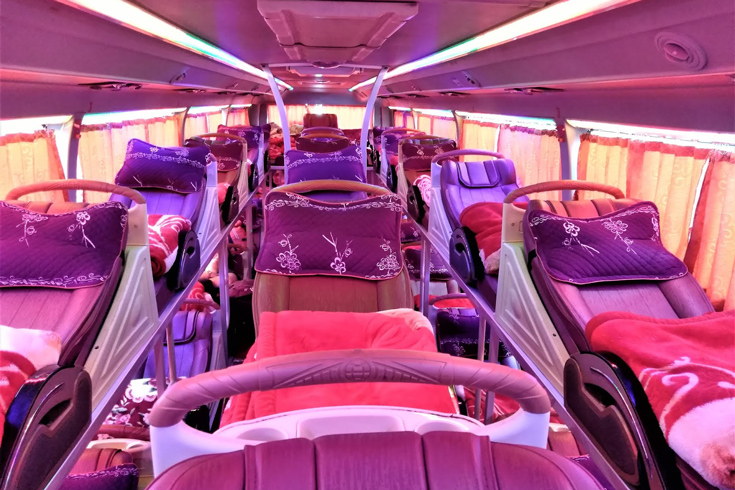 If your trip in Vietnam lasts for long days and you do not mind about comfort, getting around Vietnam by bus is the right choice, especially for independent travelers. Nearly every city of Vietnam can be reached by bus, but be warned that some rickety roads in Vietnam may not be for you. For instance, a 276km trip from the Mekong Delta to Ho Chi Minh by bus will take approximately 8 hours.
Using the bus to travel around Vietnam's big cities is a great option. It requires you to do research in advance and learn primary language related to traveling by bus to better plan your trip. Keep in mind that some Western fatties may feel uncomfortable on Vietnam buses which are designed specifically for Vietnamese.
If you take a day bus, be noted that they usually stop multiple times along the route to pick passengers up and drop them off. Don't expect to move quickly or efficiently. Make sure that you tell them exactly your destination since there are often no signs when you pull into bus stations.
Among types of buses, sleeper buses are one of the most popular ways for tourists to get around Vietnam. The open tour buses are often best suited for long distances and seem preferable to the system of national coaches/buses since they are air-conditioned and operate on scheduled timetables with a specific limited number of passengers. National coaches, in contrast, are the opposite.
To use this mode of transportation to get around the country, you should research private bus companies prior to buying a ticker. Also, you should be careful with your personal belongings and avoid falling asleep while listening to music (or anything else), chances are, they will not be there in the next morning. Keep everything locked up while being on the bus.
4. By Boat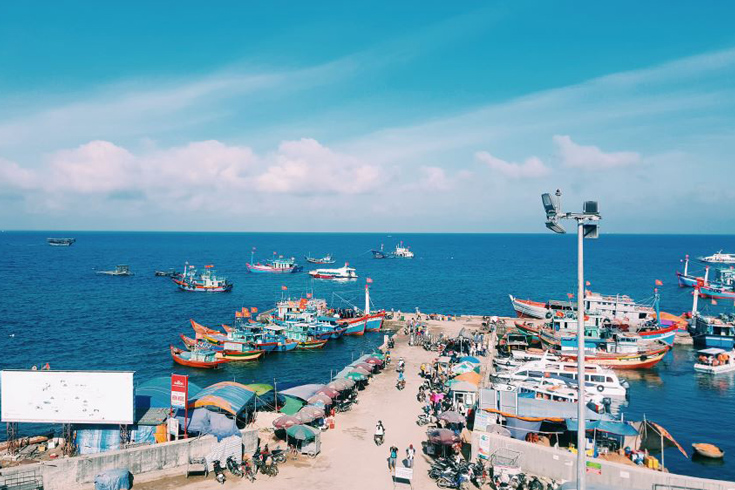 Vietnam has a lot of partly navigable rivers; nevertheless, the most crucial so far is the Mekong and its tributaries.
Boat trips departing from Phnom Penh to Chau Doc, which is worth a try due to its exciting experience, are suitable for travelers visiting both Vietnam and Cambodia. Of course, if you love something more luxurious, you can travel in luxury down the Mekong River on the river cruise private tour company too.
Such type of transport is also possible on the sea. Cruising the Halong Bay's islands is highly recommended for all travelers to northern Vietnam because tourists will have a chance to see magnificent karst island formations. In the south, boat trips to Phu Quoc islands and the islands off Nha Trang are also recommended.
To have the best experience a boat trip in Vietnam, you had better research your boat choice carefully, or select a professional travel company. Note that most boat trips are seasonal and expressly subject to acceptable weather conditions.
5. By Car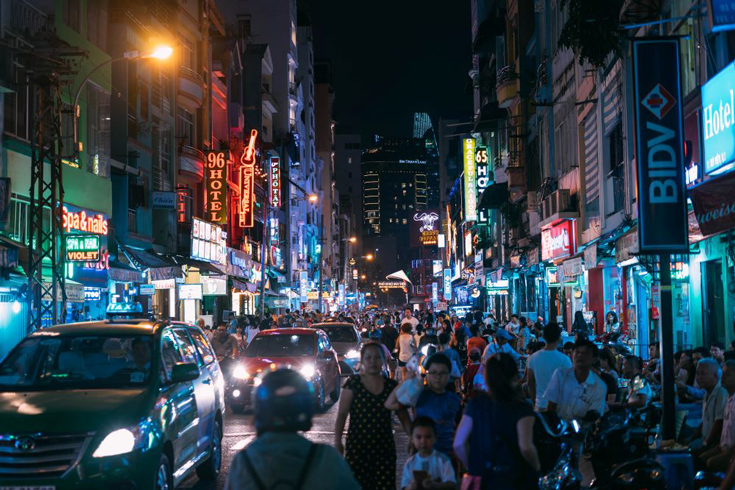 Being able to set your wheels on the road during your trip is really exciting and gives you enormous flexibility to visit even remote areas and stop whenever and wherever you want. Thinking of traveling around Vietnam by car? Be noted that international driving licenses do not work in Vietnam, so renting a car to get around in Vietnam is not an option for foreign tourists.
Car rental agencies do not offer the service of car rental for foreigners to drive themselves in Vietnam, but you can hire a car and a driver via most tour companies or hotels. But, make sure that the driver knows some English so as to communicate with you and remember to get some basic information about the driver's experience and the car's age and make in order to avoid any potential surprises.
Before setting off your car rental contract, be clear about the conditions, where you go, and itinerary schedule.
6. By Motorbike or Cyclo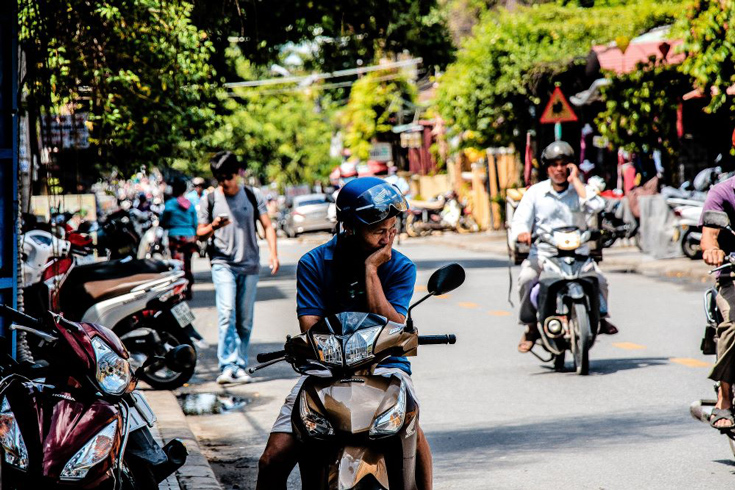 What is the most popular form of transportation in Vietnam? It is motorbike or scooter.
If you are backpacking to Vietnam alone, then motorbike is an ideal means of transportation offering the most interesting and real traveling experience in Vietnam.
Motorbikes could be hired from anywhere in Vietnam, including hotels, cafes, and travel agencies. This transportation mode is suitable for the courageous only since traffic in Vietnam is somehow chaotic and hectic, though it is the most popular mean of Vietnamese.
If you rent a motorbike or motorcycle, check out the bike carefully prior to taking off and remember that Vietnam requires wearing a helmet. Gas stations are found throughout the country, and gasoline is somewhat cheap regarding a given distance that you could drive on a tank.
If you are not ready to roar off the road by yourself, another option is to find "xe om" (motorbike taxis) or Grab bikers or any similar types of "Technological xe om" (in Vietnamese slang). Motorbike taxis are what they sound.
As a passenger, you need to hop onto a motorbike or scooter behind the local driver and let him get you to go. But, set a price prior to getting on and don't be afraid to haggle down.
In other more peaceful cities like Hue, you can enjoy a cyclo trip with slow riding, but if you only want to move between two destinations, look for a "xe om".
Cyclos (bicycle rickshaws) are a simple transportation mode available in many towns in Vietnam, in spite of the fact that they have been banned in some more congested cities. With a cyclo, you should negotiate fiercely to settle on the price for your specific destination prior to getting on it. 
7. By Taxis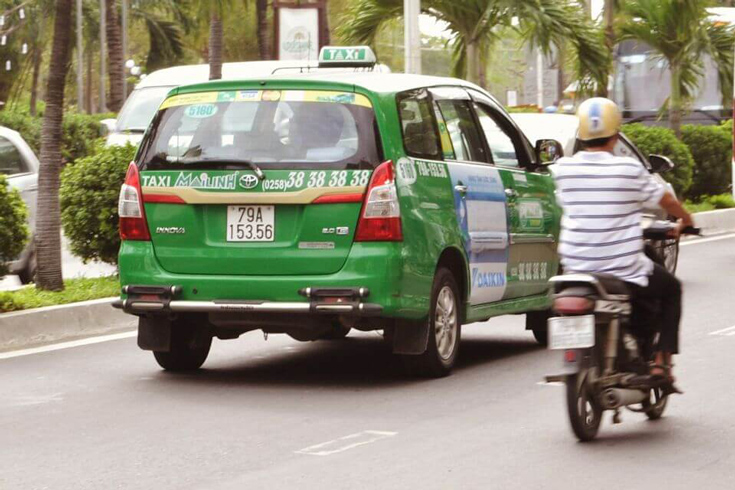 Taxis are a reasonable means of transportation in Vietnam, and you can find it at most major sites. Chances are, if hotels or other businesses call a taxi for you, it will be a little bit more expensive than its original price since the businesses get a kickback. Therefore, if you are traveling on a budget, you should try to flag one on your own.
Taxis with meters are cheap by international standards and an almost safe way to travel around at night. The average tariffs are from 12,000 to 15,000 VND per kilometer. You should only go with recommended or reputable taxi companies. There are some nationwide taxi companies with good reputations, which are Mai Linh, Vinasun, etc.
Some app-based taxis (served with both motorbike and car) including Grab, GoViet, and Be are available in some big Vietnamese cities including Hanoi, Saigon, Danang.
How Long Does It Take to Get Around Vietnam?
If you are trying to figure out how long it may take you to get from A to B in Vietnam, then check our distance and time chart now so you can get more detailed information about getting around Vietnam:
| | | | | |
| --- | --- | --- | --- | --- |
| Route | Distance (km/miles) | Air (hrs) | Bus (hrs) | Rail (hrs) |
| Hanoi – Ho Chi Minh City | 1730 | 2:10 | 33-37 | 35 |
| Hanoi – Sapa | 355 | N/A | 6 | N/A |
| Hanoi – Ha Long | 160 | N/A | 4 | 7 |
| Hanoi – Da Nang | 770 | 1:20 | 14-17 | 16-19 |
| Hanoi – Nha Trang | 1300 | 1:50 | 30 | 30-35 |
| Hanoi – Hue | 669 | 1:10 | 12 | 13 |
| Hanoi – Ninh Binh | 94 | N/A | 1: 27 | 1 |
| Hanoi – Phu Quoc Island | 2087 | 2:05 | N/A | N/A |
| Hanoi – Da Lat | 1418 | 1:50 | 29 | N/A |
| Ho Chi Minh City – Da Nang | 958 | 1:20 | 20 | 17 |
| Ho Chi Minh City – Nha Trang | 430 | 1:05 | 8 | 9 |
| Ho Chi Minh City – Da Lat | 307 | 0:50 | 6 | N/A |
| Ho Chi Minh City – Can Tho | 160 | 2:15 | 4 | N/A |
| Ho Chi Minh City – Phu Quoc Island | 450 | 1 | N/A | N/A |
| Ho Chi Minh City – Ba Ria – Vung Tau | 90 | N/A | 1 | N/A |
| Hue – Da Nang | 100 | 4 | 2:30 | 2:30 |
| Da Nang – Nha Trang | 500 | 1:05 | 11-14 | 10 |
Extra Notes on Getting Around Vietnam
Due to possible taxi issues, especially if you are exhausted after a tiring and long flight, you may want to book an airport pick-up via either a tour company or your hotel.
Be careful of road conditions and hazards: Actually, road safety is not a strong point of Vietnam. The network of intercity roads of two-lane highways is rather dangerous. In Vietnam, head-on or high-speed collisions are rather familiar sight on main roads.
Crossing the street is probably the biggest hurdle to overcome for most first-time travelers to Vietnam. But the tip is to avoid bolting across but strolling across to let local motorcyclists have time to maneuver around you.
Getting around in the countryside of Vietnam is somehow easier than in big cities.
To sum up, trains are considered the best way to get around Vietnam cheaply and comfortably; open tour buses are great for those places which are not serviced by trains and planes are ideal for those who are short on time. That is it – the best way to get around Vietnam.