Hanoi is one of the best places in Vietnam to make the most of being outdoors all day. This city hosts a number of different types of activities for tourists to decompress themselves, from visiting well-known sites to playing at modern entertainment hubs. So, if your holiday in Vietnam is ahead, check out our list on Vietnamdiscovery.com to find the most interesting outdoor activities in Hanoi to prepare to enjoy.
1. Have A Stroll at Hoan Kiem Lake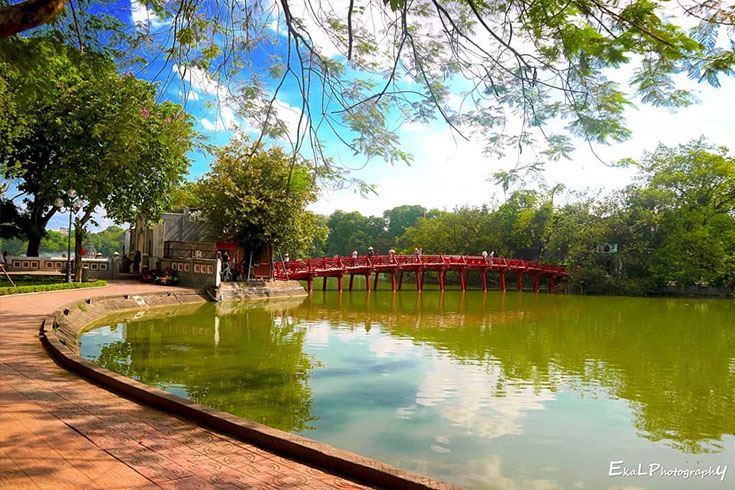 One of the most typical places in Hanoi is Hoan Kiem Lake, which is located in the center of the city. This lake is called the heart of Hanoi and it is related to a legend of a magic sword that helped King Le Loi and his troops to defeat the enemy out of the country.
Hoan Kiem Lake is an ideal attraction to throw a walk. It has cool air, beautiful sightseeing and some historical temples and pagodas around, which is very suitable for a photographer to do his job. In addition, walking along Hoan Kiem Lake, tourists can have a chance to see many live performances by young people as well as join many traditional activities in Vietnam.
2. Ride A Boat in West Lake
Believe or not, West Lake is the biggest one in the capital of Vietnam. This benefits the lake to be able to organize so many different outdoor activities. If you like boating and want to gain memorable experiences with your family, hire a pedalo boat to enjoy Hanoi's views from the lake. This kind of entertainment is quite new in West Lake but it is totally fun and safe for everyone, even the children to enjoy.
The slight wind along with the cool air of the West Lake can make you feel relaxed after a long day. You can bring water and some snacks along but remember to throw trash in the right places in order to save the environment.
3. Visit Temple of Literature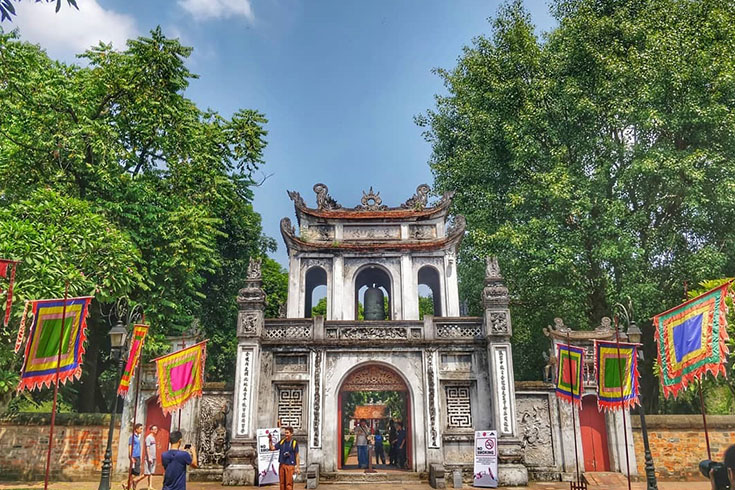 Temple of Literature is known as the first university of Vietnam. In the past, only the talented doctors were able to enter this university to study but now the temple remains a tourist attraction where people can witness all the fine arts representing education in Vietnam in previous years.
The first courtyard of the Temple of Literature contains a gate leading to the second one. Here, a Khue Van pavilion was constructed as a symbol of present-day Hanoi. In the third courtyard,people will see Thien Quang well and over 80 doctors' steles with names of those successful at the royal exams on the right side. In the fourth and fifth courtyard, people honor Confucius, scholars and sages.
4. Visit Bat Trang Pottery Village
If you have ever heard about Bat Trang Pottery Village, you may know that is a traditional village where people produce ceramics to make different things in the house such as bowl, plate or even some pretty decorations. You can ask the local people if you can try to make these products on your own, normally they will guide you from the simplest steps.
If you like your products, you can bring them home. But before that, you need to ask the artists here to burn the products for you and when the burn process is finished, you will decorate your accomplishments following your imagination. Bat Trang Pottery Village attracts both domestic and international tourists coming to experience making ceramics themselves. Thus, do not miss a trip to this village when you are in Hanoi.
5. Visit Perfume Pagoda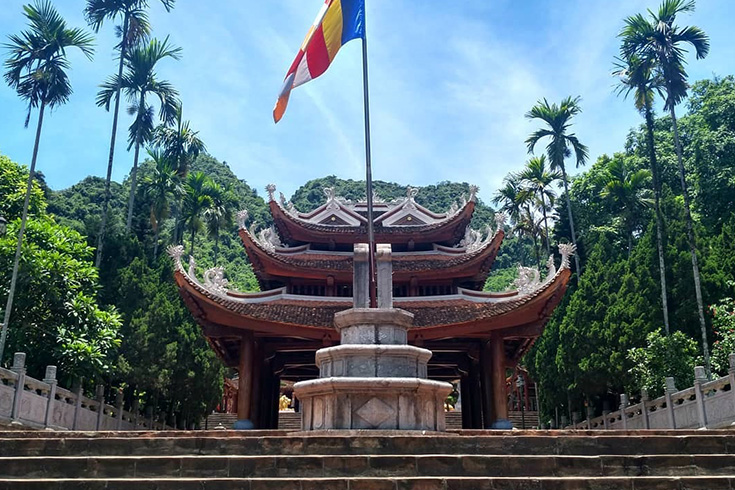 Perfume pagoda is famous for being a religious site and a beautiful sight-seeing spot not only in Hanoi but also in Vietnam. Drive 60 km southwest from Hanoi, you can reach the complex of shrines and pagodas in Perfume Pagoda. There is an annual festival in Perfume pagoda, which happens from the middle of January to the middle of March. 
During the 3-month festival, the pagoda is full with people from different provinces in the country. Therefore, if you want to avoid the crowd, do not come to visit perfume pagoda at this time.
6. See Animals at Thu Le Zoo
If you love animals and you want to see different types of them in different countries to compare with each other, you can go to visit Thu Le Zoo on Kim Ma street. This zoo contains a variety of animals such as crocodiles, tigers, elephants, rhinos, birds, monkeys and so on. There are also a lot of green trees inside the zoo so tourists can take a seat under the shadow to relax when they feel tired of watching the animals.
7. Visit One-Pillar Pagoda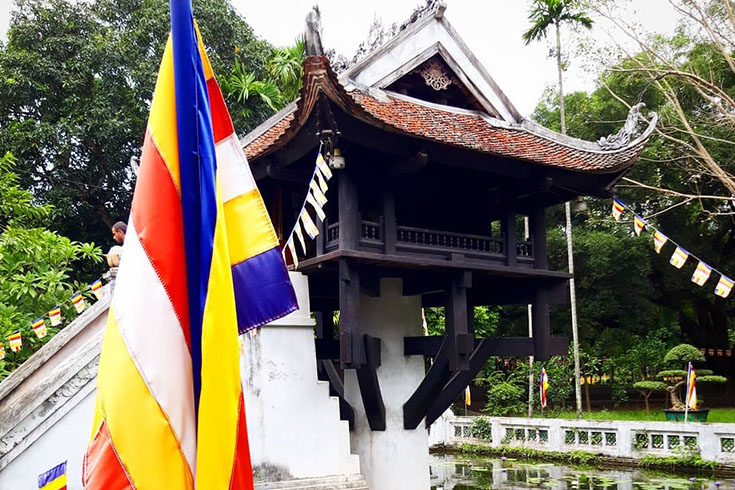 Another unique attraction in the capital of Vietnam is the One Pillar pagoda. This pagoda was constructed in the 11th century under the Ly dynasty. At that time, King Ly Thanh Tong dreamed of the Buddha sitting on a lotus and handing him a baby son. After that, he got married and had a son like in his dream. Then, in gratitude for this event, the King decided to build a temple in the middle of the lotus pond.
Visiting this temple, tourists will know more about Vietnamese architecture, culture, rituals, and beliefs.
Opening hours: 8 am to 5 pm
Location: Ong Ich Khiem Street, Ba Dinh District
8. Play Golf
If you love playing golf, Hanoi is truly an ideal place for you with golf clubs offering players of all levels. Thus, even if you are a beginner or a professional, you can enjoy. Some golf clubs are modern with high-quality equipment and stunning mountainous site such as Country Club, King's Island Golf Resort or Hanoi Golf Club.
These clubs are situated in spacious places and are designed very attractively. Apart from golf services, they also provide accommodation, spas, swimming pools and restaurants to treat every customer. Therefore, golfers can have the best relaxed moments when playing golf here.
9. Go Shopping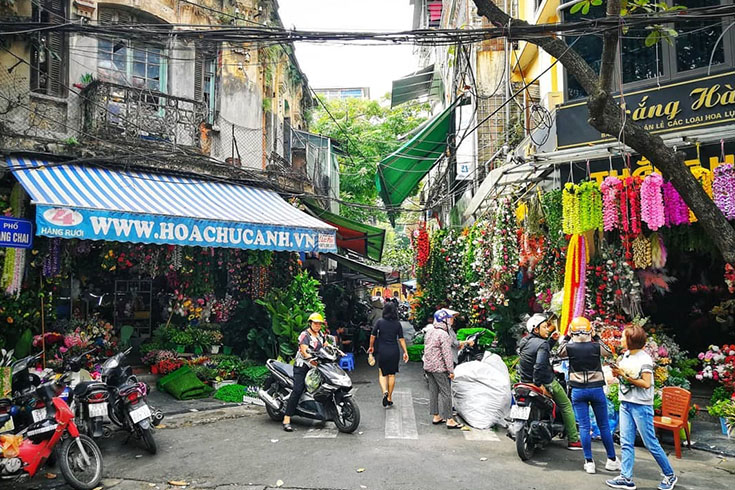 If you come to Hanoi, Vietnam, the must-not-skip thing to do is to shop at the outdoor markets on foot. Hanoi has a lot of day and night markets to cater to tourists. Here, people sell a wide range of different things such as food, clothes, and souvenirs. In the Old Quarter, you will discover that the streets are named after the products they sell, which you can't find in other parts of the country.
If you want to buy silver bracelets or necklaces, you can visit Hang Bac Street ( Silver Street) and if you want to buy clothes, pay a visit to Hang Gai Street (Silk Street). It is not too hard to find these streets around the Old Quarter, you can ask the locals and they will show you the way to your expected place. Or else, prepare yourself a map in case you get lost in these streets.
The most popular souvenirs that tourists often buy when you come to Vietnam are Áo Dài (Long Dress – Traditional Vietnamese Dress) and Nón Lá (Palm-leaf conical hat). You can easily find those products in the Old Quarter and the price for them is not very high, so you can totally buy for your friends and family.
10. Have A Massage
Having a massage after a long day walking and playing outside is truly a treat for visitors. Almost all the 4 or 5-star provide this kind of services to its customers. You can choose whatever therapies you want from Vietnamese, Thai or Swedish massages to the facial mask, oil treatment or body wraps.
If you don't want to experience at your hotel, you can find other spas around Hanoi like Anam-QT Spa Hanoi or Bellissima Salon and Spa. The services here are great with diverse treatments while the locations are not difficult to find.
11. Take A Cyclo Tour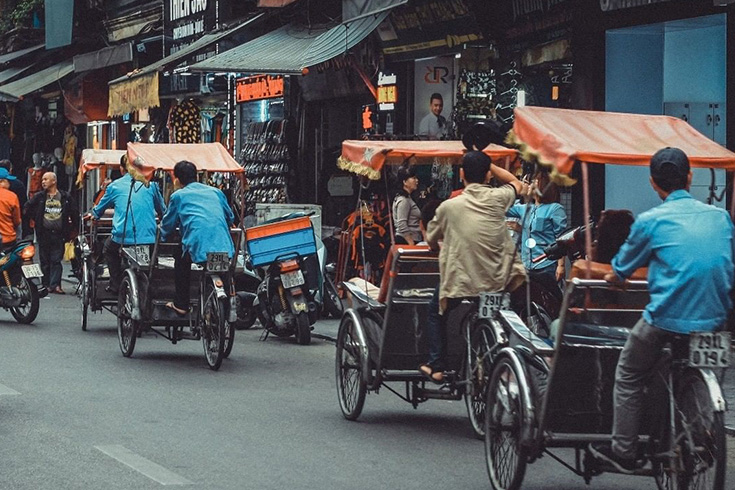 One of the most typical of Hanoi is the cyclo, which is hardly found in other parts of Vietnam. The busy city still offers tourists a pleasant tour with a cyclo slowly going through every corner of the streets. You can see everything that happened on the roads and take some pictures if you want.
12. Swim at West Lake Water Park
Hanoi's West Lake Water Park is open for both adults and children who love to swim as well as play watersports activities. The water park has 12 slides and tubes, a hydrotherapy pool, a wave machine, and a diving pool. While adults can enjoy roller-coaster, children can swim and play with each other in the lazy river.
The most amazing activity to do in this water park is the sliding lanes. If you go alone, you can try the high-speed lanes, if you go in couples, try the black thrilling lanes and if you are such a brave person, do not skip the 14,5-meter-carpet sliding lanes.
Location: 614 Lac Long Quan Street
Opening hours: 9 am to 9 pm
13. Ride A Bike
If you are not getting used to driving a motorbike along the streets in Hanoi, you can choose an easier transportation like bicycles to join the traffic. Unlike other kinds of transportation, riding a bicycle brings you an opportunity to go to some rural areas around Hanoi where you can see many paddle fields, gorgeous flower and vegetable gardens as well as ancient temples and pagodas constructed in the 12th century.
14. Try Trang Tien Ice-cream
One of the most popular foods tourists should try is Trang Tien ice-cream. This ice-cream has special flavors that can satisfy different group ages of people. That is the reason why all the shops selling Trang Tien ice-cream in Hanoi are always full with people.
There are many flavor options for you to choose such as vanilla, green tea, and chocolate. The price for 1 cone of ice-cream is also very cheap, so you can buy as much as you want without worrying about the money.
15. Visit Ta Hien Street to Try Some Beer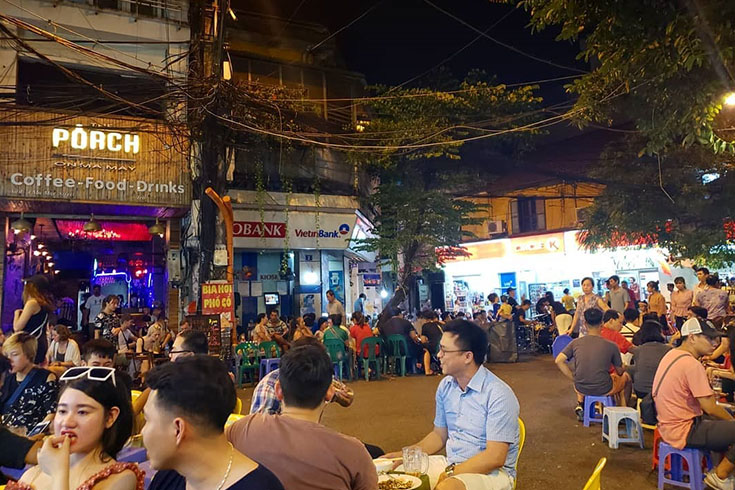 Ta Hien street as well as Bia Hoi Corner is known as the street that tourists, especially foreign ones come first once they set foot on Hanoi, Vietnam. Here, visitors will have a chance to experience the Vietnamese beer culture. People will sit on the pavement, chatting, eating and drinking beer happily with each other. There will be someone singing along to make the atmosphere more energetic.
Hanoi has everything to offer tourists, both daytime and nighttime. Therefore, if you want to experience this city the most, try all the listed activities above.