If you have chance to visit Hanoi one day, remember to enjoy its egg coffee. Why so? You may hear a lot about egg coffee, and this kind of coffee may be found in other parts of Vietnam, and even in some parts around the world, but Hanoi is the place where it was born.
Origin of Egg Coffee
Egg coffee was born in late 1940s when condensed milk was not as abundant as today. It was originally made by Mr. Nguyen Giang who used to be a bartender at the 5-star Sofitel Legend Metropole hotel under French domination.
Preparation and Servings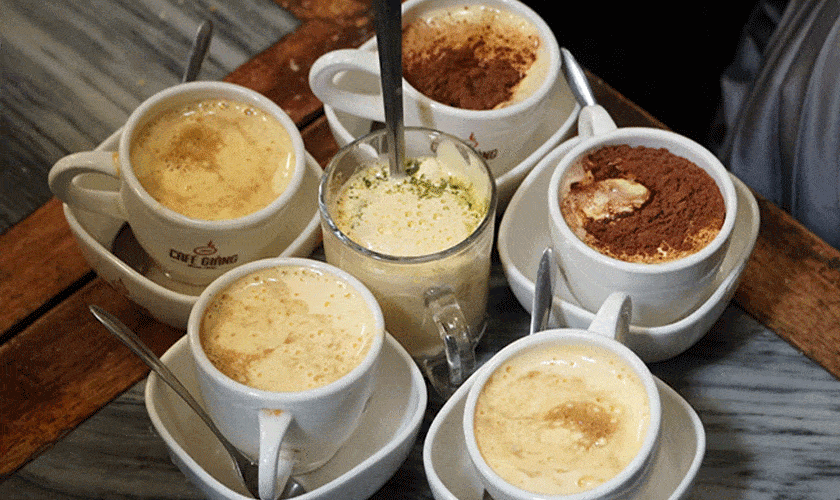 An egg coffee is traditionally prepared with egg yolks, sugar, condensed milk and Robusta coffee. The drink is made by beating egg yolks with sugar and coffee, then extracting the coffee into the half of the cup, followed by a similar amount of egg cream, which is prepared by heating and beating the yolks. The cup is served inside a bowl of hot water to retain its temperature. The marriage of the egg's rich taste and aromatic coffee wafting through the air makes up specific flavor.
To drink egg coffee, people should slowly stir bobbed froth of whipped egg with the coffee below. Sweet and tasty of egg and milk are in harmony with bitterness of coffee and leaves behind the mesmerizing scent.
Where to Find the Best Place for a Cup of Egg Coffee?
1. Giang Café (39 Nguyen Huu Huan)
This is the first place where egg coffee was born. Giang Café is humbly hidden on a small lane on Nguyen Huu Huan Street in the city's old quarter. It may be difficult to find for visitors, but it is well worth the effort. It continues to be hugely popular among Hanoi's coffee addicts with its special ca phe trung, or egg coffee.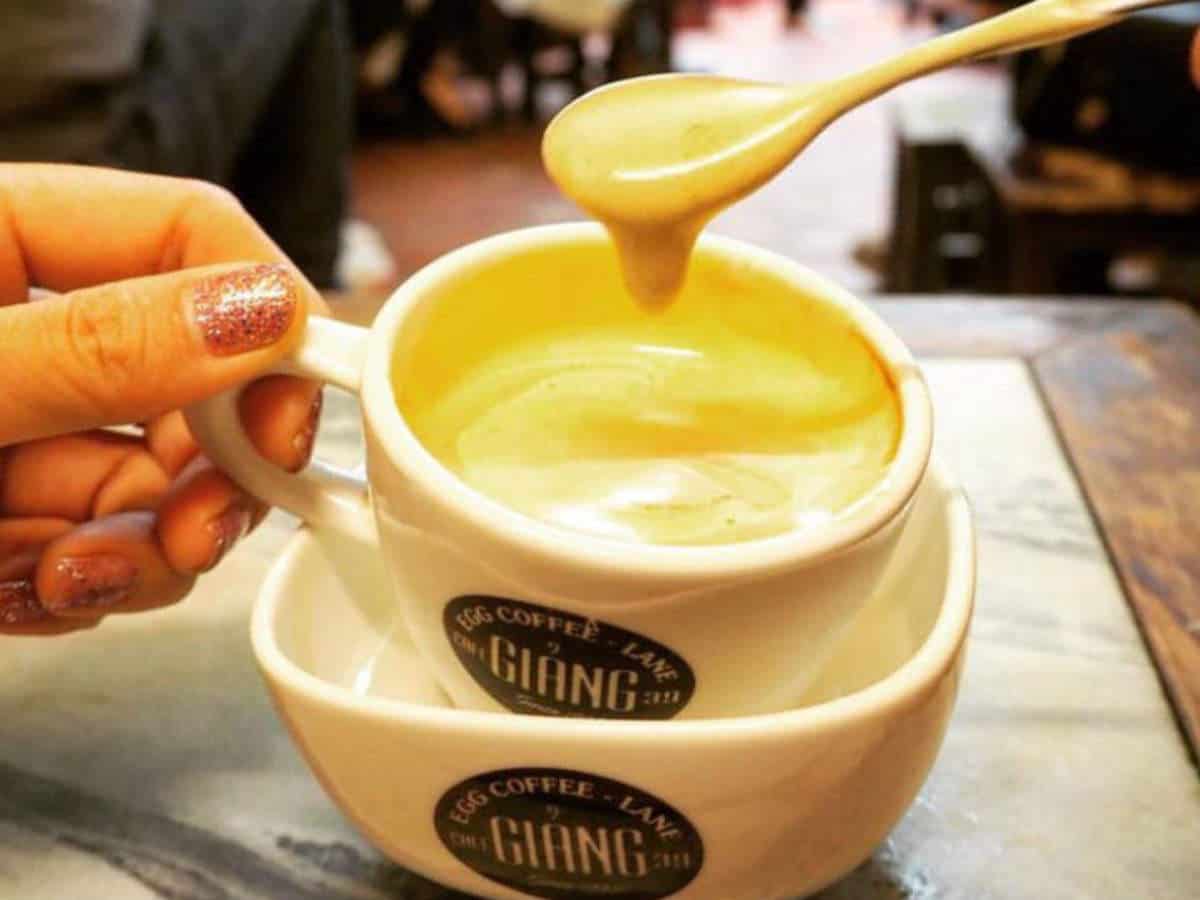 The restaurant serves a variety of drinks but the best one is still egg coffee. They have two types of egg-coffee: hot egg coffee and iced egg coffee. Giang Café's coffee is very well prepared, so there is no fishy smell. The taste of the coffee is sweet and greasy. The shiny golden egg layer blends with the black brown coffee layer to create a beautiful coffee cup.
The restaurant has a cozy space that makes guests feel comfortable. Fast service, friendly shop owner. However, the shop has no parking space, so it is quite inconvenient. However, you can go there by bus, and if you really love coffee, don't miss Giang Cafe.
Address: Alley 39 Nguyen Huu Huan, Hoan Kiem District, Hanoi
Phone: 091 700 22 99
Opening hours 07:00 – 22:30
Website: http://cafegiang.vn/
Price: ~15,000 VND – 33,000 VND
Fanpage: https://www.facebook.com/cafegiang.vn/
2. Dinh Café (13 Đinh Tiên Hoàng)
Packed in a small space but offering a look over Hoan Kiem Lake, this is also a favorite place for egg coffee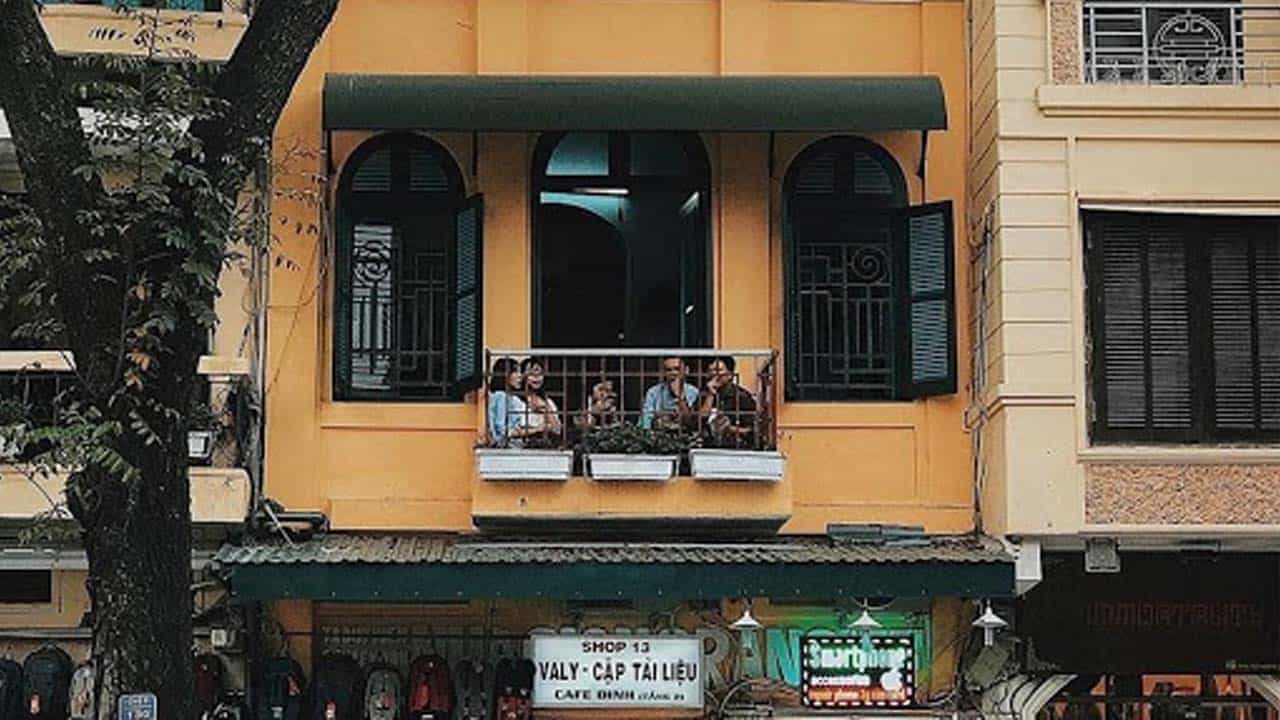 Dinh Café's menu is monotonous, with only a few drinks. On the list of most prominent beverages are egg coffee and egg cocoa. The slightly bitter coffee taste combined with the greasy taste of the egg is strangely delicious.The shop's egg cocoa is also very tasty, but a bit sweet.
Another plus point for Dinh Café is that the restaurant has a balcony, overlooking the balcony from Hoan Kiem Lake. It's romantic when you sit and sip a cup of coffee in the afternoon, watching the surrounding scenery.
Address: 2nd Floor, 13 Dinh Tien Hoang, Hang Bac Ward, Hoan Kiem District, Hanoi
Phone: 0359 026 626
Opening hours: 07:00 – 22:30
Price: ~20,000 VND
Tips: Hanoi has so many things to offer regarding food and drink in addition to egg coffee. However, before packing your things to Vietnam, remember to check your Vietnam visa to make sure your entry will not be refused.