When taking a trip to Hanoi, the more-than-1000-year-old capital of Vietnam, it is a pity if tourists do not pay a visit to a variety of historical places which have preserved all the values and traditions of this city. Each destination boasts an interesting and meaningful story. Of all the monuments, Old East Gate (O Quan Chuong) is worth your visit not only due to its significance but also for its attachment to the daily life of Hanoians.
Location: O Quan Chuong (Quan Chuong City Gate), Dong Xuan Ward, Hoan Kiem District, Hanoi
Opening time: 24/24 daily
Entrance fee: free
Historical Landmark
I. History and Values of Old East Gate
The ancient Thang Long Citadel was a bustling city, which used to be the capital of Vietnam through many different dynasties. As a center of culture, a system of rampants, temples and mausoleums was founded, spreading in a large area.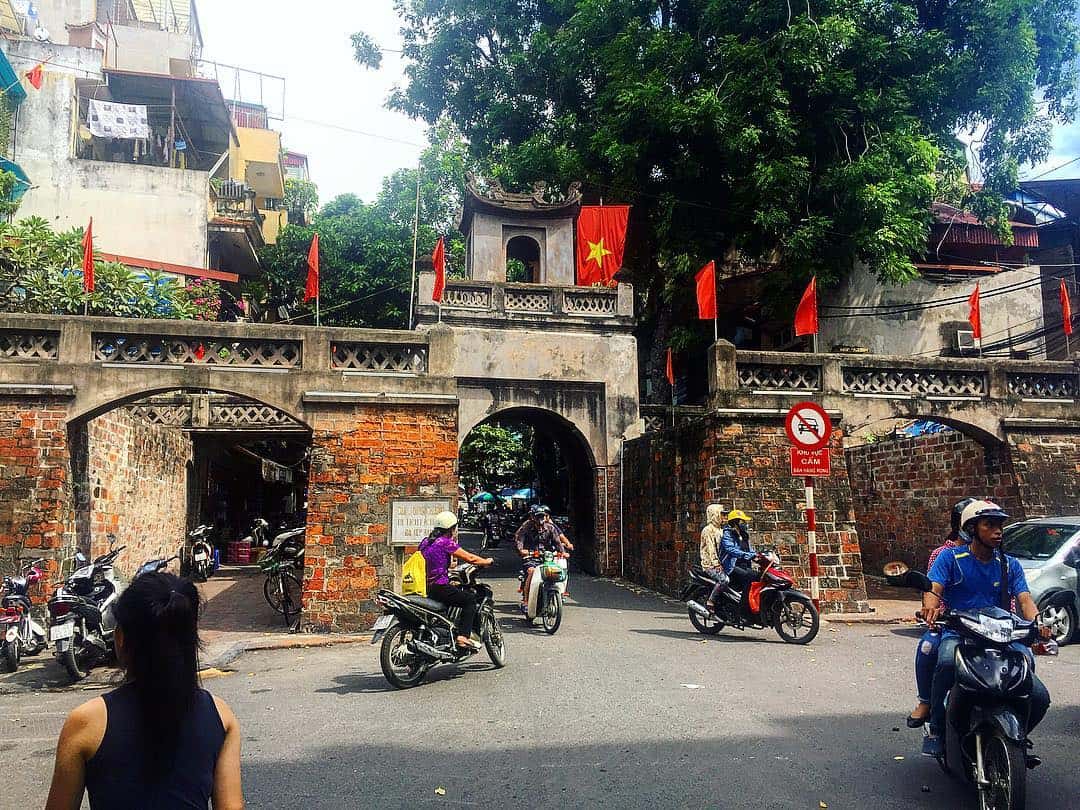 According to some historical documents, through the medieval period, Thang Long Citadel had 21 gates in total to protect the royal family and people living inside the city, and five most famous gates were Cau Giay, Cau Den, Dong Mac, Cho Dua and Quan Chuong Gate. Due to the destruction of time and war, the vestiges of these constructions almost disappeared. There are only a few works left, one of which is Old East Gate.
Old East Gate, also known as O Quan Chuong, was built in the reign of King Le Hien Tong (1749). The gate was located in the east of Thang Long Citadel, only 80 meters from the wharf of the old Red River, which was quite convenient for traveling and trading between Thang Long Citadel and other regions. However, the appearance of Old East Gate that we can see nowadays is the result of the restoration in 1817.
The former name of Old East Gate was Dong Ha Gate – the gate to the east of a river. In November, 1873, the French army attacked Hanoi from Dong Ha Gate. A military leader of the Nguyen Dynasty and 100 soldiers fought to the last person and laid down their life to save Hanoi at this gate. Since this event, the gate has been named after the military leader to commemorate their heroic sacrifice. (Quan Chuong means military leader).
After conquering Hanoi the French colonialism destroyed almost all the gates and dykes to expand the city. However, thanks to the intense struggle of people there, Old East Gate escaped from the same fate as other construction and has remained intact up to present.
II. Highlights and Architecture of Old East Gate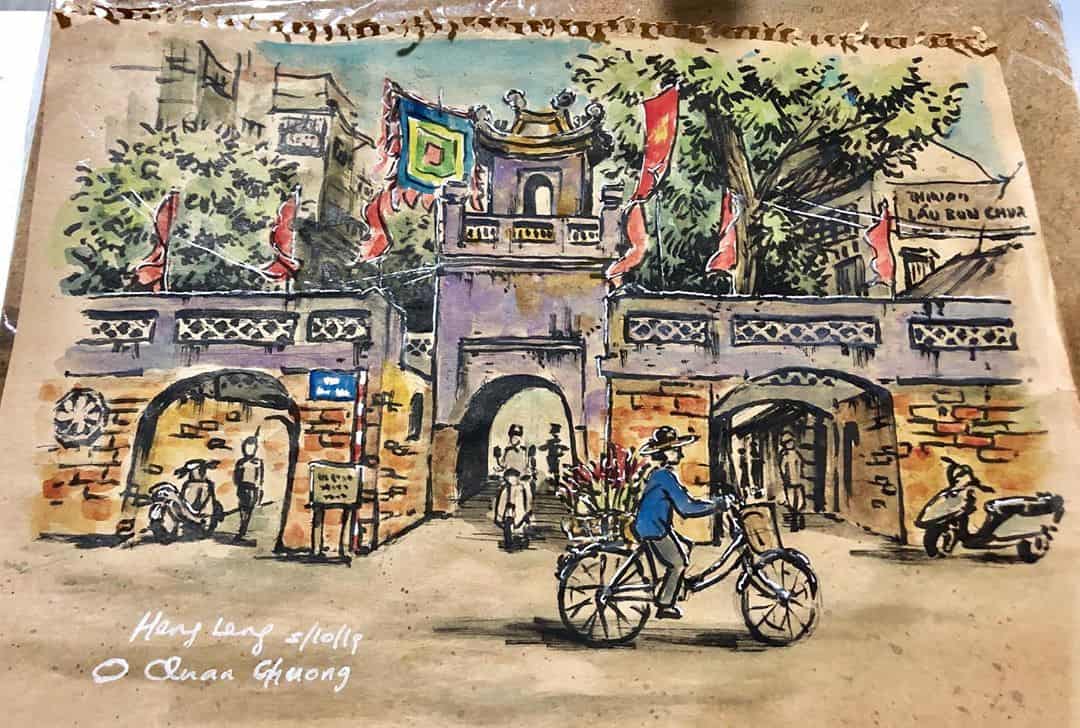 1. Location
Old East Gate is to the east of Hanoi Old Quarter, which is at the intersection of Hang Chieu, Dao Duy Tu, Thanh Ha and O Quan Chuong Street. It is only about 1.5 kilometers to the north of Hoan Kiem Lake and 0.5 kilometers to the south of Long Bien Bridge. From Old East Gate, tourists can go on a visit to attractive destinations of Hanoi Old Quarter, discover the delicious specialties and wander to feel the hustle and bustle in the daily life of the locals.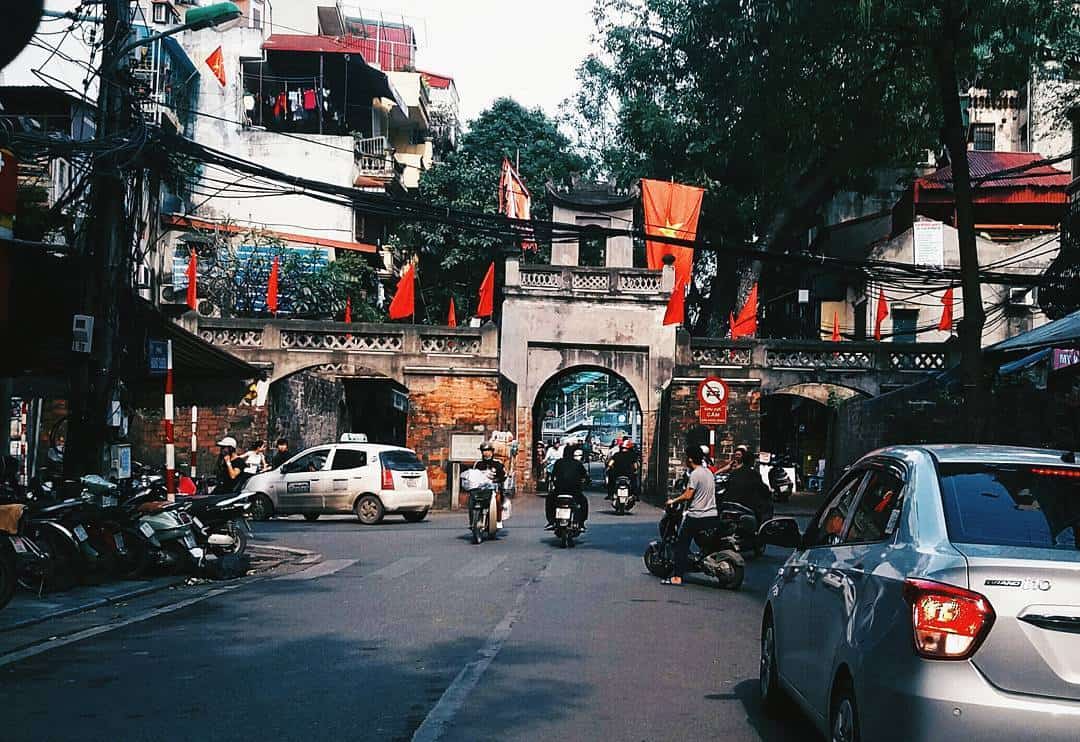 2. Architecture
As the only remaining gate in Hanoi, O Quan Chuong still preserves almost all its architecture and structure. The typical architecture of the Nguyen Dynasty was applied in this construction with a two-floor gate built with wooden-hammer brick and stone. The main material to build up the gate is brick, which is the same type as the one used in walls of Quoc Tu Giam.
The first floor of Old East Gate has three doors, one bigger main door and two smaller side doors. The main door in the center is 3 meters high and 3 meter wide, while the two side doors are 1.65 meters in width and 2.5 meters height. All the doors have a design of vault style, which is quite special because most previous constructions were designed in flat style.
The second floor of Old East Gate is a pavilion with a curved rooftop. This floor was used as an observation place for the guards, and now it is the place to fly the flag on special occasions.
Above the main entrance of Old East Gate is its former name "Dong Ha Mon" written in Chinese characters. In addition, on the left of the main door is a stone stele inscribing a ban by the Governor Hoang Dieu in 1881, which prohibited the guards from harassing the funeral of the local people.
Old East Gate leads the way to crowded streets of Hanoi Old Quarter, and maintains traditional values in the heart of a modern city.
III. How to Get to Old East Gate?
1. By Car
Due to the narrow streets in Hanoi Old Quarter, you are not advised to go to O Quang Chuong by car. Besides, it is not easy to find a parking place there and going by car will prevent you from feeling the beauty of Hanoi's streets.
2. By Bus
Public transportation in the center of Hanoi is quite convenient, which takes tourists to worth-visiting destinations in Hanoi. A variety of buses that you can choose including buses number 01, 03A, 10B, 11, 14, 17, 18, 22A, 23, 34, 47A and 98. Moreover, some buses will even help you to reach Hoan Kiem Lake, Thang Long Imperial Citadel, Ho Chi Minh's Mausoleum, West Lake and so on.
3. By Motorbike
Motorbike is the most ideal vehicle for visitors to reach well-known places of Hanoi, including Old East Gate. You can hire a motorbike in your hotel, or book a Grab bike to reach Old East Gate. From this gate, by walking, you will have a chance to come to other attractive places and have a meal with local foods.
IV. Extra Tips
Old East Gate is to the east of the Old Quarter, the center of Hanoi, so it is quite easy and convenient for tourists to discover an ancient Hanoi in the neighboring areas.
Some places of interest that you can visit near Old East Gate are Dong Xuan Market, Long Bien Bridge and Bach Ma Temple. If you intend to go shopping in Dong Xuan Market, don't hesitate to bargain.
Don't forget to enjoy the delicious cuisine of Hanoi with Beef Noodle (Pho Bo), shellfish soup and vermicelli (Bun Oc) and Banh Cuon and pork rib porridge (chao suon).
Nightlife in the Hanoi Old Quarter is one thing you should not miss when visiting Hanoi. There are a lot of night bars and clubs in the surrounding area of Old East Gate, which draw a picture of a sparkling and lively Hanoi.
Nearby Old East Gate has long been famous for cheap-price hotels and hostels, so you will have a wide range of choices for accomodation to stay in Hanoi.
If you travel to Hanoi for the first time and want to wander around to discover the Old East Gate, don't forget to prepare a map in case you get lost.
Hanoi Old East Gate is an historical construction that retains the ancient features in the capital of Vietnam. The gate reminds Vietnamese people about the tradition and resilient spirit of the previous generations, as well as become the symbol of the ancient capital. Not only does the gate embellish the antique beauty of Hanoi Old Quarter but it also preserves values of a thousand-year-of-civilization Hanoi.