Vietnam boasts more than 3200 kilometers of coastlines, so you are sure to find a beach that suits you most. There are so many beaches in central Vietnam so how can you find the best beaches among them? Let this guide do the hard work for you with a list of 13 most beautiful beaches in central Vietnam.
1. Lang Co Bay (Hue)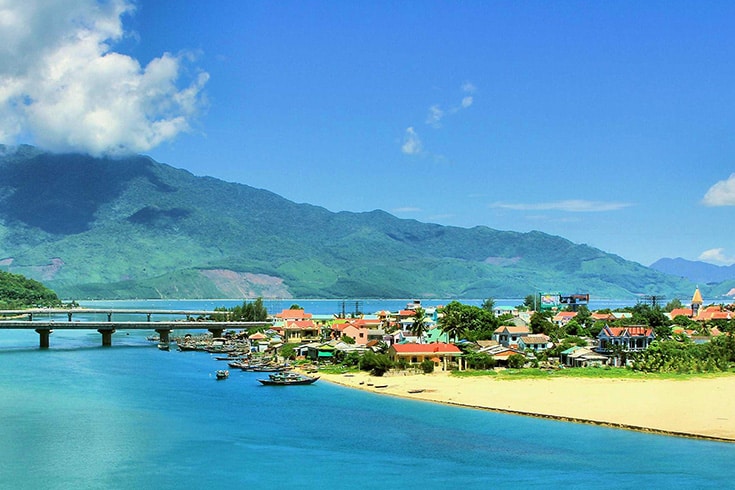 Why is it special?
Lang Co bay is located in a romantic city called Hue. Just 24 km from Bach Ma National Park, it is an attractive stretch of white sand with 8 km length. The bay is a perfect spot for many types of beach tourism such as swimming, scuba diving, sunbathing,… 
You can also find attractive luxury resorts along the beach. Besides, it is well known for colorful coral reefs, lobsters, and the diversity of seafoods. From the bay, it is convenient to visit other places such as Hai Van pass, Bach Ma Mountain, and Lap An Lake.
Best time to visit: December to March
What to do:
Admire the view from Bach Ma National Park
Sunbath and enjoy the pristine and gentle sea with white sand and blue sea surface
Take a sea cruise to discover the romantic beauty of Hue city
Visit the fishing villages to get to know daily life of fishermen
2. My Khe Beach (Danang)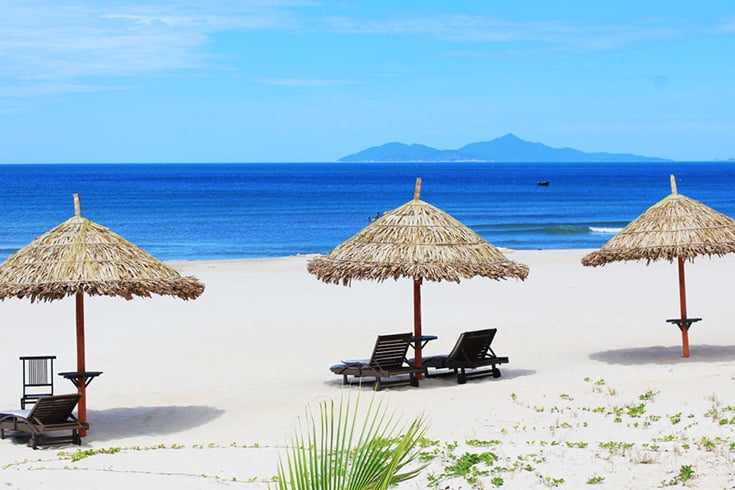 Why is it special?
Once you visit Danang, don't forget to visit My Khe beach. It is a well known beach that lasts up to 10 km from the Son Tra Peninsula to the Marble Mountains. Just 5 km from Da Nang city and more than 20 km from Hoi An ancient town, it attracts a huge number of local and foreign visitors. It is famous for clear and warm water all year round, blue sky, and smooth sand beach surrounded by coconut trees. The beach is so crowded in the summer with visitors coming to enjoy their holiday and relax.
Best time to visit: May to October
What to do:
Enjoy the magnificent sunrise view from the beach
Taste local seafood at very reasonable prices
Take some photos of the beautiful beach
Go night squid fishing under instruction of local fishermen
3. Non Nuoc Beach (Danang)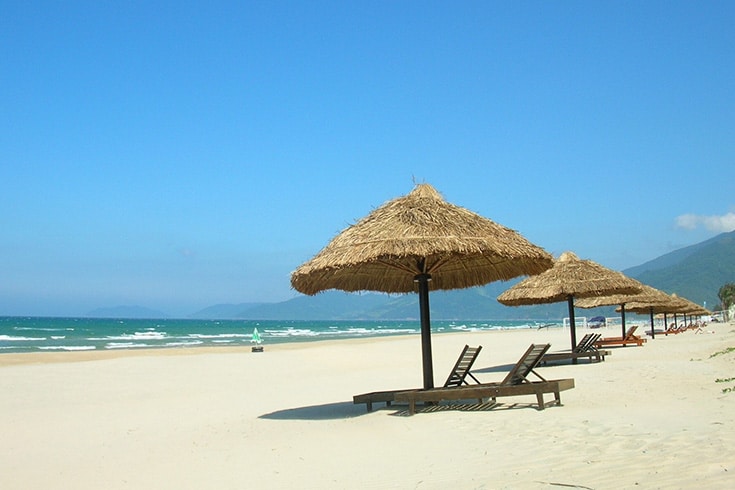 Why is it special?
Another beach in Danang to add to your list is Non Nuoc which is regarded as one of the most beautiful beaches in the world. With a gentle slope, mild waves and unpolluted water, it is an ideal place to spend your vacation. Here you can try a lot of interesting activities and enjoy the best local seafood.
Best time to visit: April to September
What to do:
Participate in water sports, especially surfing
Rent a tent and go for camping with your best friends
Rest on the beach and listen to melodious sounds of the waves
4. Cua Dai Beach (Hoi An)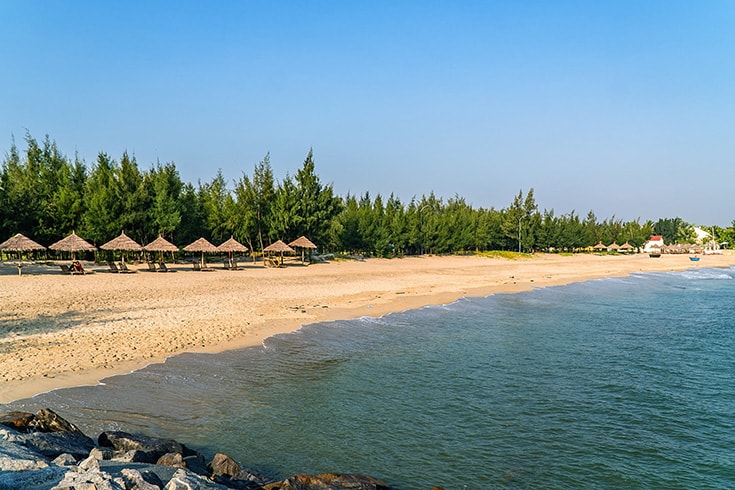 Why is it special?
Want to get an escape from Hoi An ancient town, let's head to Cua Dai Beach, one of the five Vietnamese UNESCO World Heritage Sites. Stretching 3 kilometer of fine sand, it is truly a paradise on earth to cool off with sloping soft sands. A various stream of souvenirs, fresh juice, and good food, all are waiting for you on this beach.
Best time to visit: April to August
What to do:
Sit under the shade of willow trees to enjoy the beach and see Cham Island in the distance.
Choose a deckchair and buy a drink. We highly recommend trying coconut juice.
Buy some souvenirs for your friends and family
5. Cu Lao Cham Beach (Hoi An)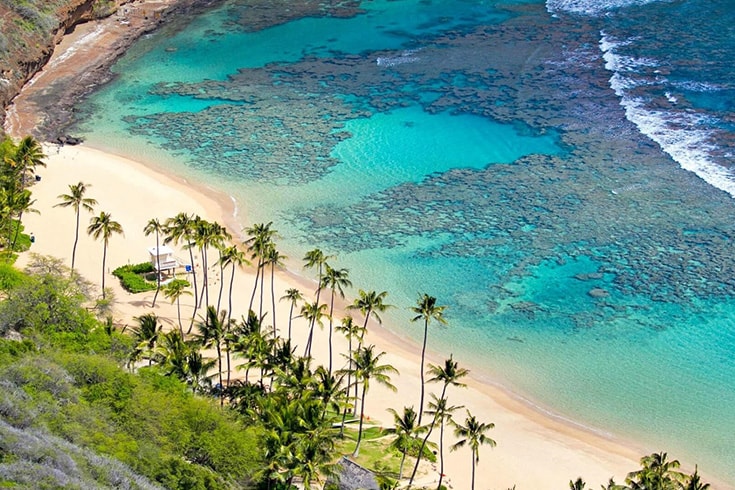 Why is it special?
Located in Tan Hiep village, Cu Lao Cham is known as one of the most beautiful beaches in Vietnam. Coming here, you have a chance to enjoy the tranquility, pure beauty of nature and immerse in nature. Possessing many interesting destinations, it promises to be a great spot for spending your vacation. Besides, the island where the beach is located is a great source to learn about the history, local festivals, traditional customs, and the way to make marine products.
Best time to visit: October to February
What to do:
Explore the island on a boat
Go diving and watching beautiful corals
Visit Cu Lao Cham Island Marine Museum to have a better understanding about the life under the sea
Have a dinner at a local house, enjoying the best local dishes
6. Bai Xep Beach (Phu Yen)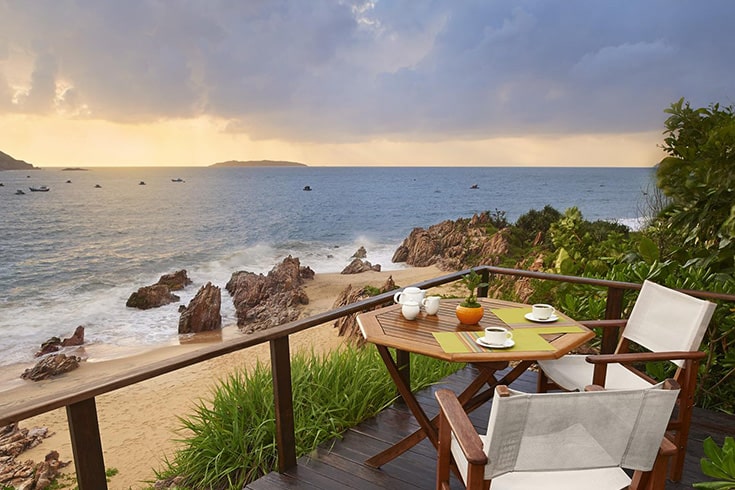 Why is it special?
Bai Xep is located on a stretch of beautiful white sand, about 10 kms from Quy Nhon city. The place is a perfect spot for escaping from the hustle and bustle of daily life.
Most tourists go to the beach because it is a remote fishing village near Quy Nhon. Though the beach is small, it looks pretty with crystal clear water.
Best time to visit: May to September
What to do:
Join a cooking class to know the way of making real and authentic Vietnamese dishes
Try an island boat trip, then head to an island which is about 30 minutes away
Learn the fishing techniques in a fishing village and try to catch some fish.
7. Eo Gio Beach (Quy Nhon)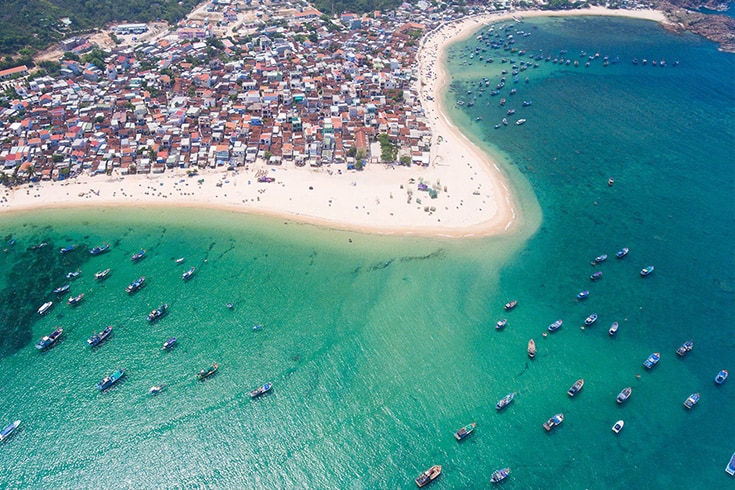 Why is it special?
The place got its name from its geographic location. It has imposing high cliffs and great mountains nearby which create the shape of a bowl. The beach has an unspoiled and majestic beauty, surrounded by rocky mountains. It attracts a huge number of tourists to conquer, discover, and feel its peaceful atmosphere.
Best time to visit: March to September
What to do
Climb the rocky steps to the top of the mountains
See the spectacular view of the beach and the vast sky
Feel the wind blowing to your face, listen to the sound of the waves, and smell the typical taste of the sea
8. Ky Co Beach (Quy Nhon)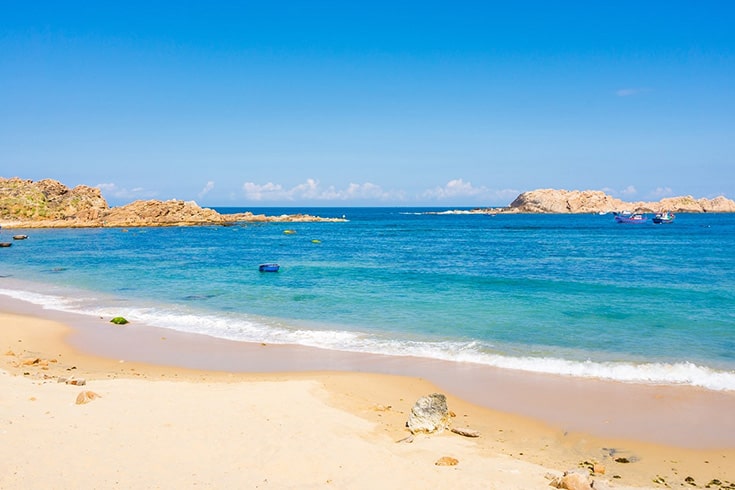 Why is it special?
Just 30 minutes drive from Quy Nhon city, you will find Ky Co beach in Nhon Ly Commune. The white color of the sand, the emerald color of the sea water, and the blue color of the sky, all create a colorful natural painting. Unlike some other beaches in Vietnam, Ky Co beach is clean and doesn't have too much waste since there are beach staff who collect garbage. For sea and island lovers, this is a must-visit place for a quick relaxation.
Best time to visit: January to August
What to do:
Go snorkeling to watch beautiful coral reef under the sea
Visit beautiful caves that appear when the tide goes down
Try the perfect jump into the sea in Ong Dia rock
Enjoy fresh seafood dishes prepared by local villagers
9. Binh Ba Beach (Nha Trang Beaches)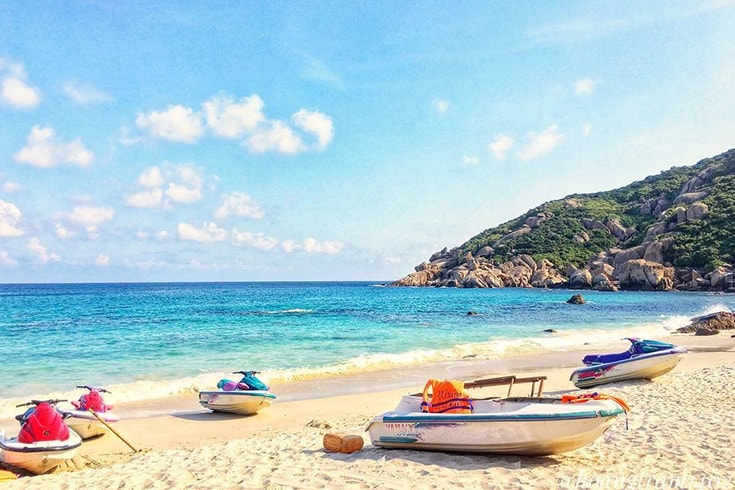 Why is it special?
Binh Ba beach is about 15 km from Cam Ranh Bay and 60 km from Nha Trang city. It is located on the "Lobster island" where you should not miss during your trip to Nha Trang. Boasting its wild scenery, smooth white sand, and sunshine, it attracts many visitors to explore its beauty. Also, the accommodation fee is very cheap, just VND 70.000 to VND 100.000 for a room in a local house.
Best time to visit: March to September
What to do:
Visit other beaches nearby such as Nom Beach, Chuong beach, and Nha Cu Beach
Go swimming and snorkeling for coral viewing
Hire a ship to enjoy the beautiful beaches
Enjoy the food while watching the sea
10. Long Beach (Nha Trang Beaches)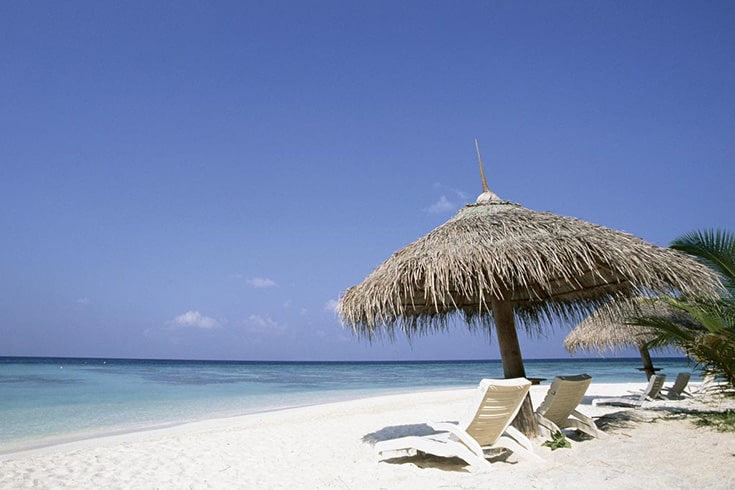 Why is it special?
Stretching about 6 km, Long Beach is home to many luxurious hotels and restaurants. The long stretch of clean sand and the calm turquoise water are attractiveness of the beach. There are some umbrellas set up on the shore so you can relax there. The beach is a perfect place for recreation and relaxation during your Vietnam trip.
Best time to visit: between June and August
What to do:
Take part in adventurous entertainment activities such as windsurfing, parasailing, canoeing, and flyboarding,…
Watch the magnificent sunset
Soak in the water and build up beautiful castles
Enjoy a coconut drink while listening to the soft sound of the sea
11. My Khe Beach (Quang Ngai)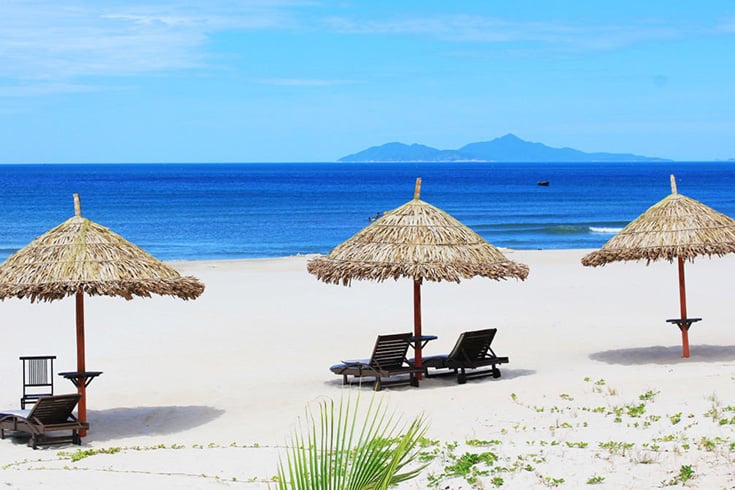 Why is it special?
Similar to My Khe beach in Danang, it is a mainland coastal beach. However, the main difference is that this one is devoid of the traffic sounds. Stretching 7 km of white sandy beach, it is just 15 km from Quang Ngai city. Because tourism is not developed here, you can enjoy its untouched and pristine beauty.
Best time to visit:
What to do
Visit Tinh Khe village where the beach is located to get to know local life
Visit the beautiful Kinh River stretching all the way to Sa Ky Port
Enjoy the beach scenery when the sun rises
12. Ly Son Beach (Quang Ngai)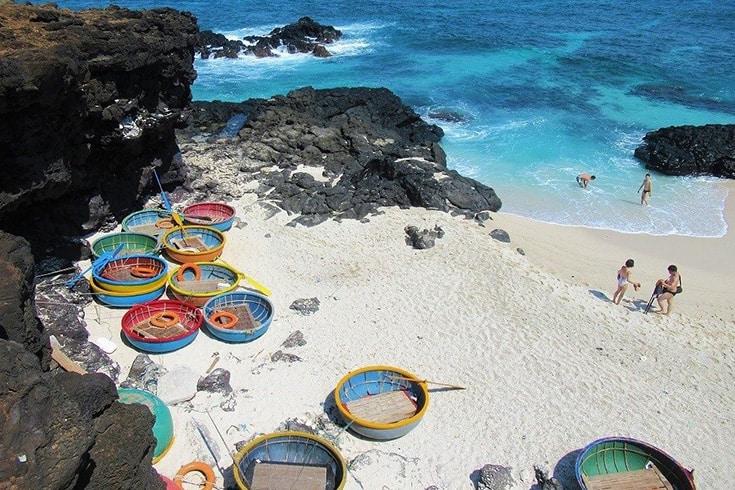 Why is it special?
Ly Son is a lovely beach which is 24 km from the mainland. Located on Ly Son island, it impresses the visitors by its natural beauty that you may not find anywhere else. Especially, as a new tourist destination, you cannot expect luxury here but the opportunity of relaxing and reinvigorating after your trip.
Best time to visit: June to September
What to do:
Enjoy and take some photos of the great view of the sandy beach and the crystal blue sea
Go camping and having a BBQ on the beach
Buy onions and garlics which are specialties of Ly Son island
13. An Bang Beach (Quang Nam)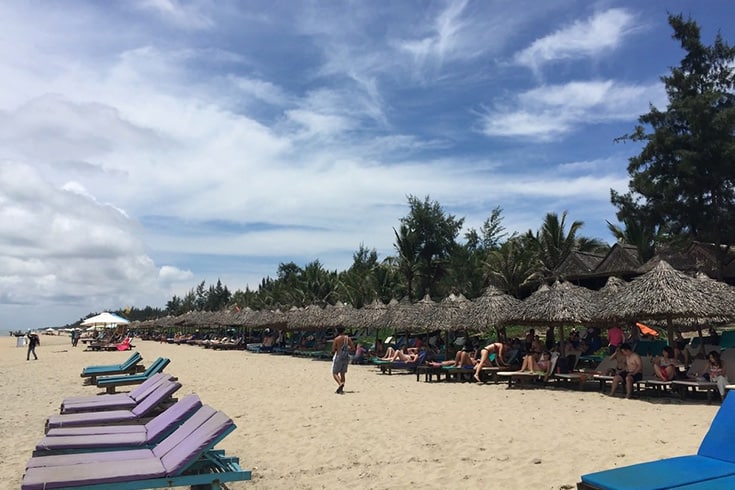 Why is it special?
An Bang beach is just 5 km from Hoi An ancient town. It is formerly a bathing beach for fishermen who live nearby. So, it is very pristine and quiet and most visitors to An Bang beach are foreigners. Here you can find most of homestays which are designed and decorated according to the style of the Vietnamese traditional villages. With most wooden furniture, you can feel the local atmosphere clearly.
Best time to visit: from May to July
What to do
Try jet-skiing to enjoy the beauty of Quang Nam from above (price: VND 500.000)
Lie on the beach to forget all the worries of daily life
Sit on the benches and read books, enjoy the peaceful atmosphere
Now did you choose one in this list for your summer getaway? Let's go and enjoy the best beaches in central Vietnam.