Every trip would not be complete without discovering the cuisine's uniqueness in the land you set your foot on. Hoi An, an ancient town rich in culture and tradition, is a promising destination for food lovers all around the world. But do you know where to find the best food in this town? Let's check the below list for 14 out of best restaurants in Hoi An.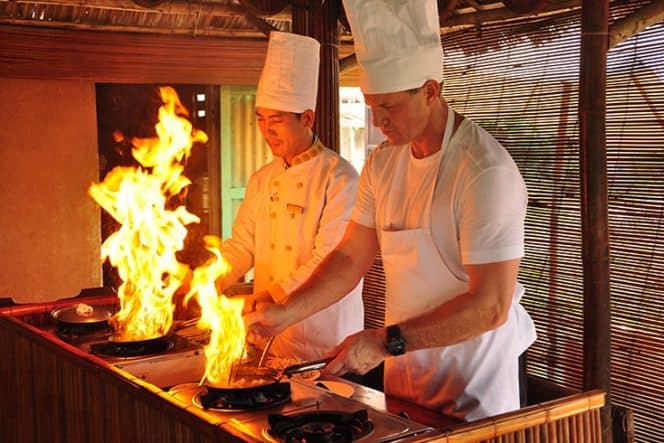 Tra Que Garden is worth on the top list for its convenient location, nature friendly design, locally sourced produce, and friendly staff. Located in the middle of Tra Que Vegetable Village, the restaurants serve the freshest and organic meals made from the local sourced vegetables. When having your meal, you can enjoy surrounding lush vegetable gardens and see how the farmers make their produce.
Address: Hai Ba Trung street, Cam Ha ward, Hoi An 
Opening hours: 9:00 am - 04:00 pm
Type: Cooking Class & Restaurant
2. MIX Greek Restaurant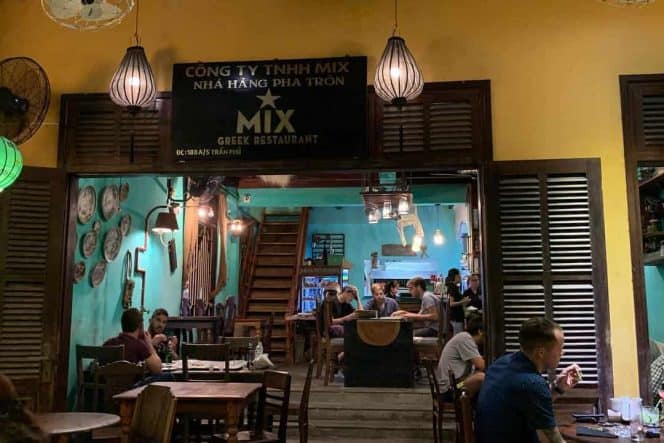 Located in the heart of the ancient town and near the Japanese Bridge, MIX restaurant is for those who are a big fan of Greek food. It offers so many difficult-to-find-in-Hoi An items such as crumby and sharp feta, and tangy Greek yogurt. It also serves plenty of vegetarian dishes and mouth watering share plates. Another interesting thing you only can find in MIX restaurant is that it is decorated with many curios hanging on the walls and ceilings, so the kids can play while you enjoy the meal. And, if you are a little tired, there are some board games to play here as well. The price costs around VND 150.000/ person.
Address: 70 Le Loi street, Minh An ward, Hoi An
Opening hours: 11:00 am - 10:00 pm
Type: Greek Restaurant
3. Phi Banh Mi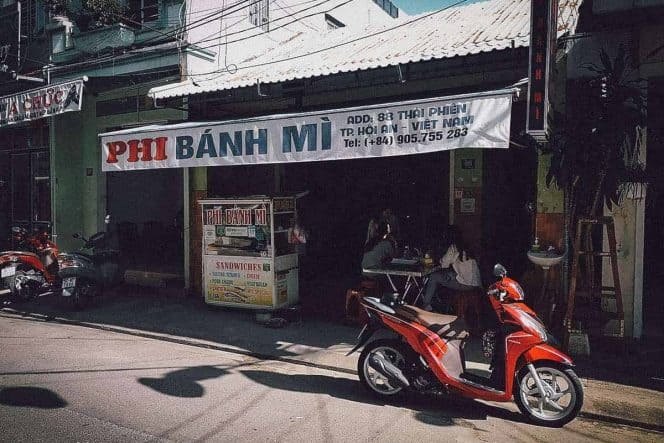 Opened for 7 years, Phi Banh Mi is a familiar name to the local foodaholic. Just in a short time from opening, it has gained its popularity with locals and foreign travelers and received its Certificate of Excellence Award on TripAdvisor with up to 2.500 reviews. Here, you can try the Vietnamese traditional banh mi with slices of braised pork belly, pate, sausage, cucumber and some herbs. The English menu gives you some options of banh mi and there are 2 kinds of vegetarian banh mi also including cheese banh mi and seared tofu banh mi.
Address: 88 Thai Phien street, Minh An ward, Hoi An
Opening hours: 8:00 am - 8:00 pm
Type: Vietnamese Sandwich
4. Wakaku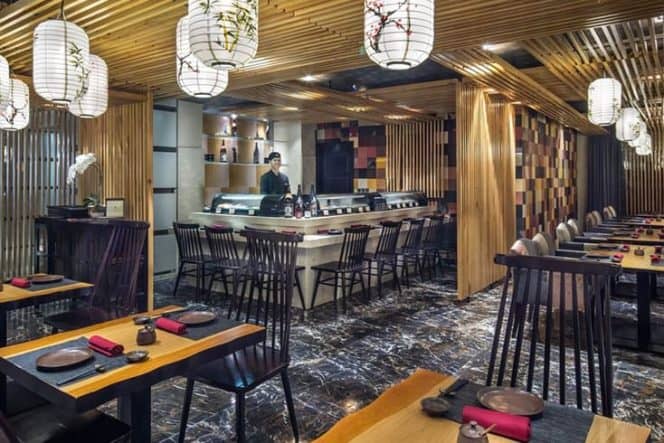 As you may know, Hoi An ancient town's cuisine has had some external influence since it was Vietnamese trading port. You can find this influence clearly in Wakaku, a high-end Japanese restaurant. Though it is decorated with lanterns and bamboo, those lanterns are in Japanese design and the bamboo creates a modern Japanese aesthetic. Its menu offers an excellent wide selection of fresh sushi. In Wakaku, you can get a new sashimi experience with both cooked and fresh options. When visiting this restaurant, you should not miss a robust range of rotobayaki, skewers of traditionally grilled meat, fish, or vegetables.
Address: 39 Dao Duy Tu street, Cam Pho ward, Hoi An
Opening hours: 6:00 pm - 10:00 pm
Type: Japanese Restaurant
5. Thirty Seven Woodfired Grill and Bar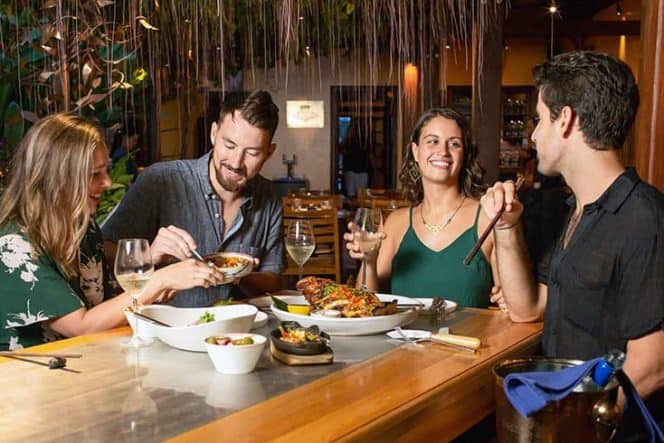 For large groups and couples, Thirty Seven Woodfired Grill and Bar is a perfect option with a wide selection of main dishes, wines and cocktails. The restaurant is famous for its riverfront seating, offering a seamless view. The courtyard looks amazing with inigenous plants and sculptures. To name some must-try dishes in the restaurant, it would be butcher cut steak and gourmet sharing plates which are suitable for a couple or a group.
Address: 37 Phan Boi Chau street, Cam Chau ward, Hoi An
Opening hours: 4:00 pm - 11:00 pm
6. Nu Eatery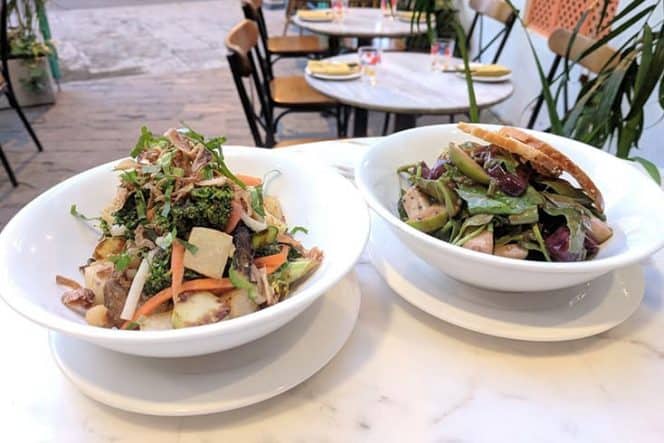 If you are looking for a restaurant with a wide range of both delicious local and international dishes,  Nu Eatery is the place to go. Its signature food includes famous Vietnamese spring rolls, banh mi served with brioche buns, pumpkin with coconut milk soup, and pork belly steamed buns. Besides, don't forget to try its fresh smoothies and uniquely flavored ice cream. You can find this restaurant just near the Japanese Covered Bridge. It is a cosy two-storey restaurant with wooden furnishings, quaint decor, and you can overlook the ancient town on its open terrace.
Address: 10 Nguyen Thi Minh Khai street, Minh An ward, Hoi An
Opening hours: 12:00 am - 9:00 pm
Type: Vietnamese Restaurant
7. Hoa Hien Restaurant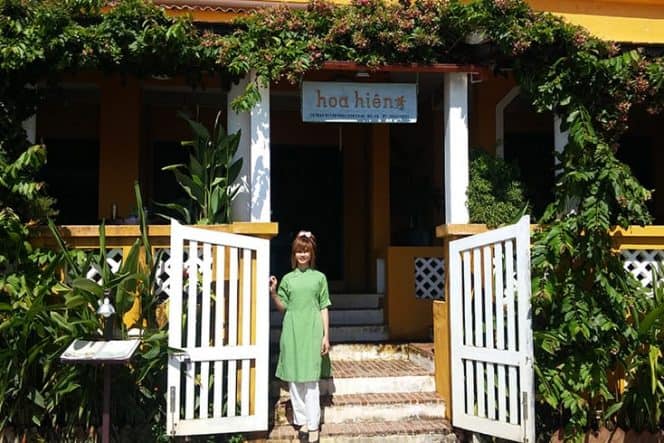 Hoa Hien Restaurant is the next place to be listed, which takes just some minutes walking from Hoi An central market. It provides customers with both tranquil views to the river and outstanding food. The signature dish of the restaurant is Com Am Phu (or Hell Rice) which includes grilled meat, fried eggs, and vegetables put on a large plate. Besides, Hoa Hien Restaurant also serves typical Quang Nam dishes such as Cao Lau and Mi Quang. The reasonable price is a plus point for the restaurant.
Address: 35 Tran Quang Khai street, Cam Chau ward, Hoi An 
Opening hours: 9:00 am - 9:30 pm
Type: Speciality Food Restaurant
8. Quan Chay Ba Dam Vegetarian Restaurant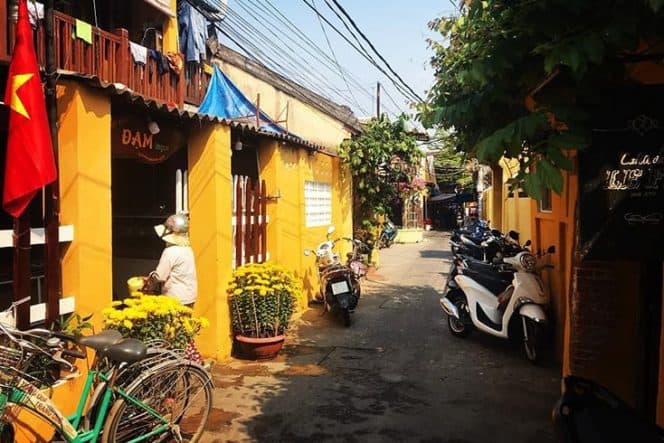 Quan Chay Ba Dam is a family-run and vegan eateries in Hoi An. In this restaurant, you can create your own plate with different vegetables, soy-meat, noodle soup or rice. The price is extremely reasonable, only VND 20.000 to 30.000 for a plate. Though it would be a little challenging to find this vegetarian restaurant in a small alley of Phan Chu Trinh street, it surely gives you much more local vibe.
Address: 71/20 Phan Chu Trinh street, Minh An ward, Hoi An
Opening hours: 7:00 am - 8:00 pm
Type: Vegetarian Restaurant
9. Song Thu Restaurant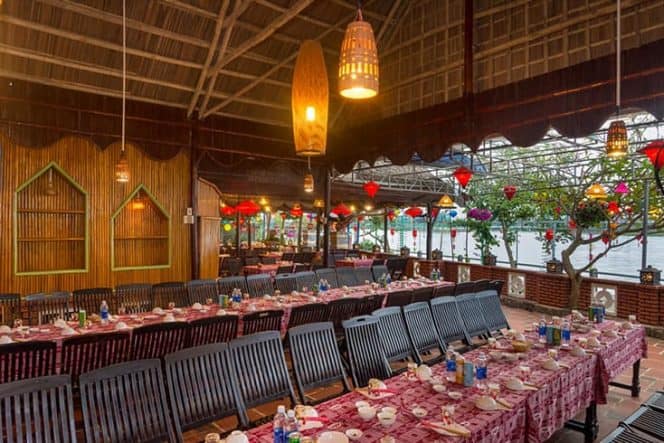 With a cool setting beside Thu Bon river, Song Thu restaurant is an ideal place for your weekends and holidays. Opened since 2004, it has got its reputation for providing customers with a variety of seafood and vegetables. You have a chance to find many kinds of seafood here such as crayfish, prawns, and lobsters. With experienced chefs and high-quality services, it attracts a lot of diners to enjoy the best seafood dishes in Hoi An.
Address: 55 Tran Quang Khai street, Cam Chau ward, Hoi An
Opening hours: 8:00 am - 10:00 pm
Type: Seafood Restaurant
10. Art Space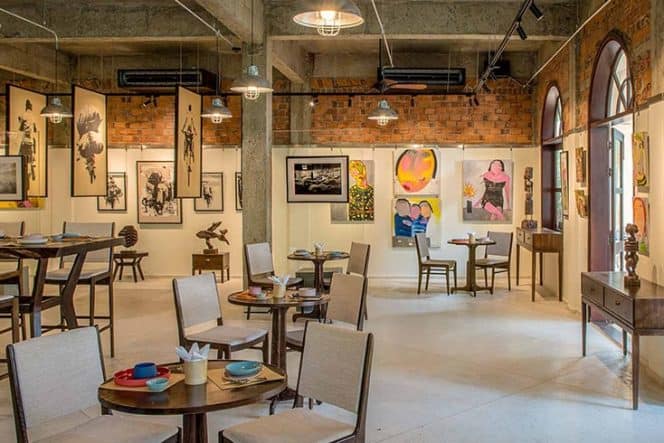 As the first art and dining concept, Art Space wants to take customers on a journey to the future of dining. The restaurant has an airy and light space, giving you a luxury experience. The outdoor area looks cozy with a wood-fired stone oven. Its innovative menu gives you a wide selection of modern western cuisine and caught seafood. They commit to serve high quality meals with organic options. Above all, their pizza is the most outstanding dish that you should not miss. We highly recommend you to try the Frutti di mare pizza.
Address: 1 Pham Hong Thai street, Cam Chau ward, Hoi An
Opening hours: 07:00 am - 10:30 pm
Type: Pizza Restaurant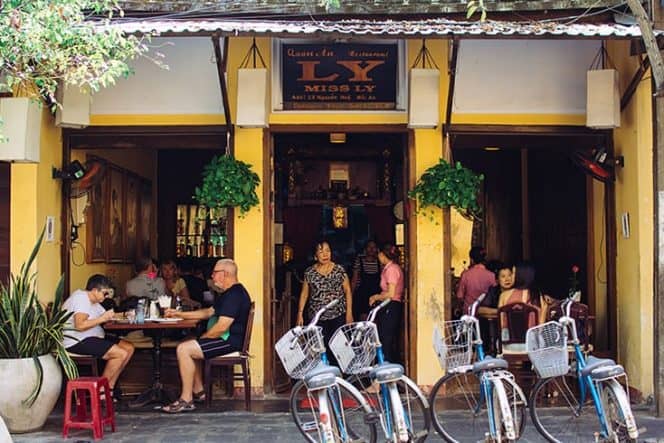 Miss Ly Cafeteria can be found right in the old quarter area. With the favorable location, it attracts plenty of customers everyday. The restaurant has a simple setting with wooden furnishing, warm lighting and vintage paintings to bring a cozy feeling. Their staff can speak English quite well and are always willing to help. You may get confused by the menu with many dishes, so we suggest you try 3 local dishes here, including grilled pork, cao lau, and white rose dumplings.
Address: 22 Nguyen Hue street, Cam Chau ward, Hoi An
Opening hours: 11:00 am - 9:00 pm
Type: Vietnamese Restaurant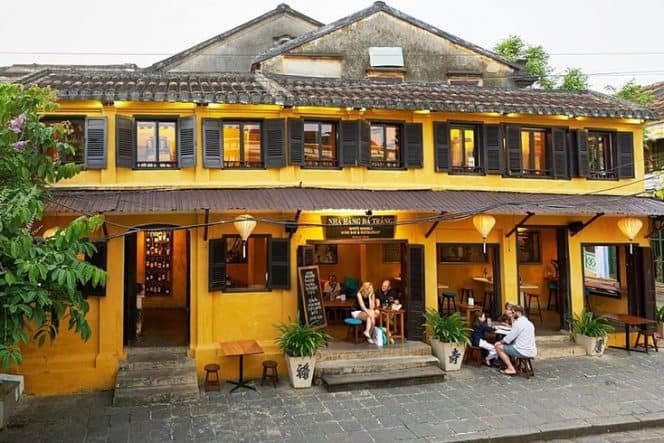 A popular spot to Hoi An people, White Marble Wine Bar is a perfect choice for those who are searching for quiet evenings with their loved ones. The restaurant is a good mixture of old and new with white tables and stools, colorful pillows, vintage photographs, and wooden shelves. Its menu is filled with both authentic Vietnamese and international dishes. While enjoying your meal, you can listen to jazz, acoustic and classic pop tunes.
Address: 98 Le Loi street, Hoi An
Opening hours: 11:00 am - 11:00 pm
Type: Vietnamese Restaurant & Bar

13. Mai Fish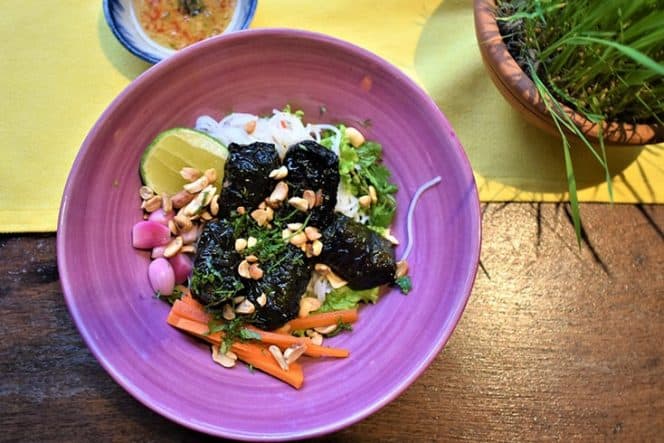 Owned by an American Vietnamese chef, Mr Duc, the restaurant is one of his 3 restaurants. It is quite successful in keeping many ancient recipes and serving the best food at a reasonable price. At Mai Fish, Mr Duc created a more traditional eatery with the most favorite local food like banh mi and Cao Lau. You can find this restaurant with a traditional look on the western side of the Japanese Bridge.
Address: 45 Nguyen Thi Minh Khai street, Minh An ward, Hoi An
Opening hours: 8:30 am - 11:00 pm
Type: Vietnamese Restaurant
14. Mango Mango Restaurant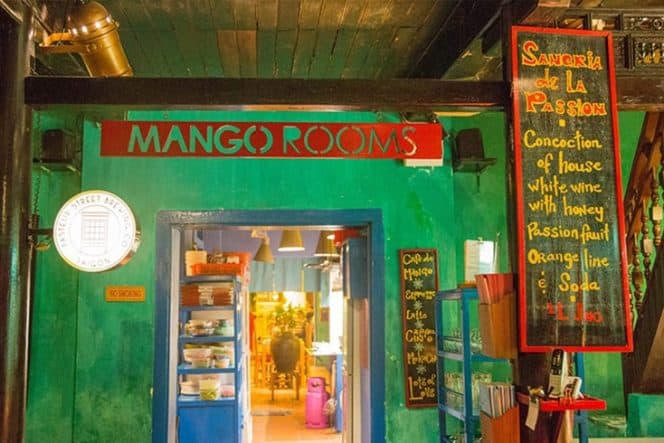 Mango Mango is another restaurant that Mr Duc opened after his success in Mango Rooms. The smart riverside eatery is located just near the famous Japanese Covered Bridge. As a colorful and cool place to have a meal, its menu is so value and includes inventive modern Vietnamese dishes with quirky names like Rocking Rolls, Peekin' Duckling, and Lord of the Squid Rings. It is highly recommended to try the Flying Phoenix (duck with passionfruit and chocolate) to see the owner's sense of adventure. And, don't forget to start your meal with the Passion in Love drink.
Address: 45 Nguyen Phuc Chu street, Minh An ward, Hoi An
Opening hours: 8:30 am - 11:00 pm
Type: American & Vietnamese Restaurant
When it comes to the ample amount of eating options in Hoi An, the above list of the best restaurants is just the tip of the iceberg. So, don't hesitate to discover all the town to get to know the unique cuisine of this wonderful land. You are sure to have a tasty adventure on your stay in Hoi An.