Ho Chi Minh City occupies tourists' heart due to not only the image of a vibrant and charming city, converging all the conveniences of a modern metropolis, but also many attractions that we can spend time on exploring and enjoying with fun.
In order to help you know more about this city, please enjoy our list of Top 10 best things to do in Ho Chi Minh City (also famous tourist attractions in Saigon) below.
1. War Remnants Museum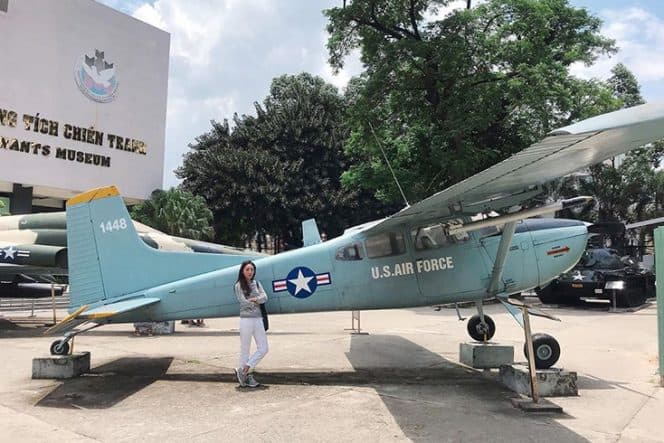 The first tourist site to visit in Ho Chi Minh City is War Remnants Museum, one of the most popular museums in Vietnam housing memory related to the Vietnam War and the First Indochina War in Vietnam. 
Established by the Vietnamese government, this museum has opened from September 4th, 1975 as the Exhibition House for the US and Puppet Crimes. In 1990, this has changed to the Exhibition House for Crimes of War and Aggression. In 1995, when President Bill Clinton visited Vietnam, this finally changed to War Remnants Museum till today.
Highlights:
This museum has more than 20,000 documents, exhibits, and films, in which more than 1,500 documents, artifacts, and films have been applied to introduce in public.
In this museum, visitors can have a chance to see so much military equipment of the US and Vietnam military in so many rooms from the Legend AK 47, UH-1  helicopter to M48 tank, T-54 tank. 
Especially, tourists can see "tiger case", a place where South Vietnamese soldiers kept their political prisoners. Besides, they can look at many photographs in the Vietnam War, including black-white ones. 
This place is like the evidence of the crime and the consequences of war that the US and its allies have caused to Vietnam. Visiting this museum is worth of rewarding things to do in Ho Chi Minh City. 
Location: 28 Vo Van Tan street, District 3, Ho Chi Minh City, Vietnam
Opening hours: 7:30 –18:00 every day
Website: http://www.baotangchungtichchientranh.vn/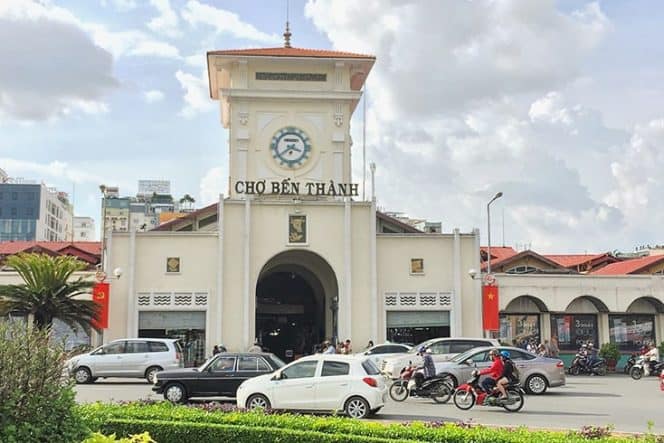 Ben Thanh Market is a symbol and one of the largest markets in Ho Chi Minh City. For a tourist, this market is a perfect place for searching many items from handicrafts, textiles to local cuisine. 
Established in the 17th century, this place was created by vendors near Sai Gon River. In 1870, the fire destroyed the total market and the French rebuilt it. In 1912, New Ben Thanh Market was established and it still existed today. 
Highlights:
What can be found here? Well, first of all, it is real Vietnamese food. In the market, you can eat various kinds of dishes like Banh cuon, Banh xeo, Hu tieu, etc. Beer is also a cheap-price item (only from 2-5 $).
Besides, local clothes and handicrafts are also famous. You can buy everything from clothes, bags to shoes, sweets, etc. Handicrafts created by excellent carpenters are best-selling. 
Especially, since Ben Thanh market is an ancient tourist attraction in Ho Chi Minh City, so all services are quite regulated and there is no tourist solicitation phenomenon. I can ensure that do not buy anything in Ben Thanh Market is a miserable experience for you!
Location: Le Loi Street,  District 1, Ho Chi Minh, Vietnam
Opening hours: 6:00 –24:00 every day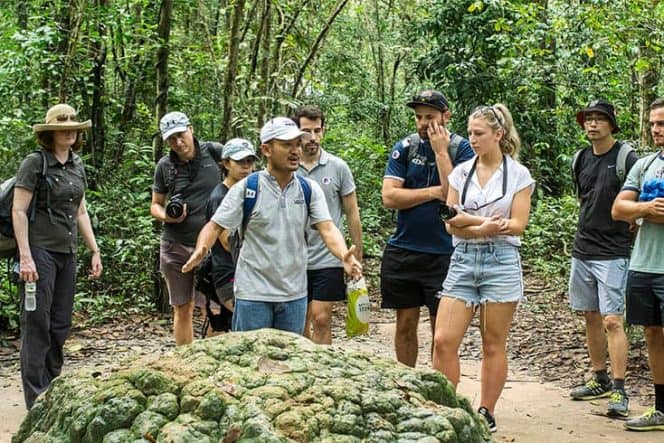 This 75-mile tunnel is a real "witness" of massive war in Vietnam. It tells tourists about the strong will of Vietnamese people and soldiers when competing with the giant US in nearly 20 years.
In 1948 during the war against the French, Viet Minh soldiers built the tunnels to help them evade French soldiers near the area and have the ability to communicate with the villagers. This is also a place for the people sheltering from foreign invaders. In the Vietnam War, this was extended over approximately 250 km and considered as an important base for Viet Cong to win American soldiers.
Highlights: 
In Cu Chi,  there are two different tunnel display sites, namely Ben Dinh and Ben Duoc. To experience a unique thing to do in Ho Chi Minh City, visitors can crawl around in the tunnels in safe conditions. 
Besides, Cu Chi also has a shooting range for tourists to enjoy the strange feelings. The price for a bullet ranges from $1.1 (CARBIN) to $1.8 (AK 47 and M60).
To get to Cu Chi, you have many choices to choose from, including motorbike, car, bus or speedboat!
Location:  45 km northwest of Ho Chi Minh City
Opening hours: 07:00 - 17:00 every day, including Sunday!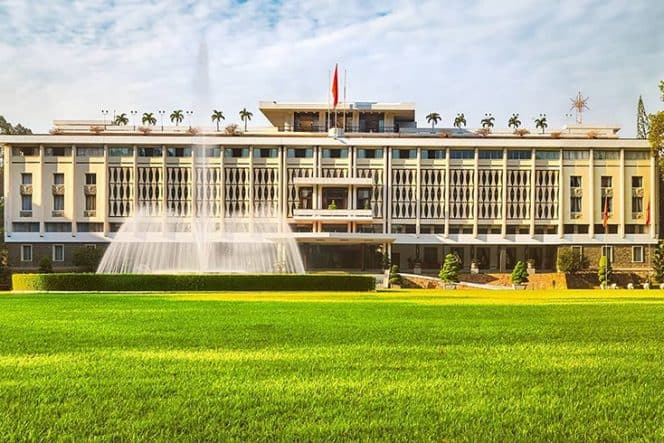 Independence Palace, formerly Reunification Palace, is a famous site when it comes to attractions as well as things to do in Ho Chi Minh City, Vietnam. This place is the home and workplace for the President of South Vietnam from 1954 to 1975. It also was the place that remarked the end of the Vietnam War on April 30th, 1975.
In history, on 23 February 1868, Pierre-Paul de La Grandière, Governor of Cochinchina of France Empire, built a new palace for working. The building process continued until 1873. The designer of palace is Ngo Viet Thu - the first Vietnamese architect winning the First Grand Prize of Rome. After finishing, the palace was named Norodom Palace in the name of the king of Cambodia, King Norodom (1834–1904). 
In World War II, this is an important headquarters of Japanese officials.  On 7 September 1954, Norodom Palace had become the main office of the State of Vietnam. In 1955, Ngo Dinh Diem became president of the Republic of Vietnam and renamed the palace into Independence Palace.  On 30 April 1975, a tank of the North Vietnamese bulldozed over the main gate, ending the Vietnam War. In November 1975, this was renamed Reunification Palace.
Highlights:
Reunification Palace has five levels. The first floor has the Conference Hall, the Cabinet Room and the State of Banqueting Hall. 
The Second floor has the Ambassador Chamber, the President Reception Room, the President Office, National Security Council Chamber, and Vice-Presidential Reception Room. 
On the third floor, there is a card-playing room, a library, and a cinema while the fourth houses a casino. Reunification Palace rooftop terrace is fitted with a heliport. Under the place, there is a basement like a hideout for President including Command Central with so much communication equipment.
This destination, through so many historical events, is like a real "witness" in the Vietnam War and Indochina War. When visiting Ho Chi Minh City, don't miss this place to learn and know more about a part of the history of this city.
Location: 135 Nam Ky Khoi Nghia Street, District 1, Ho Chi Minh City
Opening hours: 08:00 - 11:00 & 13:00 - 16:00 every day
5. Ho Chi Minh City Museum of Fine Arts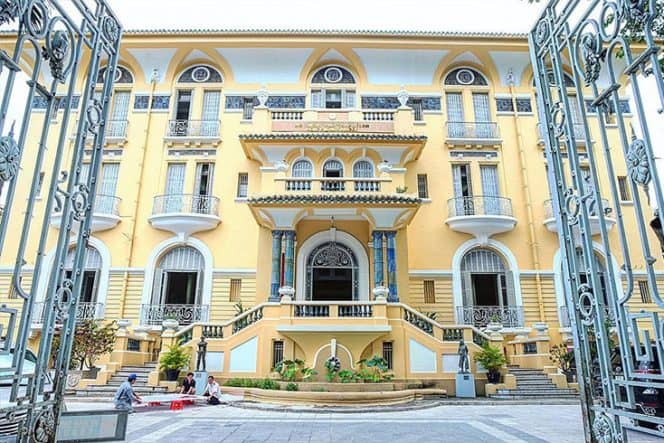 The next site to add to your itinerary is Ho Chi Minh City Museum of Fine Arts, a major art museum in the city.
Many years ago, in the 20th century, this place belonged to Hui Bon Hoa, a famous and rich tradesman in Sai Gon at that time. This was designed and constructed by a French architect Rivera in 1929 as a villa for the Hua family. After 1975, the new government took over this place to Vietnam Exhibition Center and Ho Chi Minh City People's Committee to manage in 1987 and changed it to a public museum until now. 
Highlights:
The museum is about 3514 square meters with over 20,000 works of art from many places in Vietnam. It has three floors with a basement. The first floor has a gallery of artworks for domestic and international arts display. The second floor has both paintings and sculptures of Vietnamese and non-Vietnamese artists while the third floor holds a collection of arts from 7th century to early 20th-century. 
Nowadays, this place has become one of the best destinations for a tourist when visiting Saigon. You should pay a visit to this site to see various works of fine arts and many valuable and attractive pictures in this museum.

Location: 97A - Pho Duc Chinh Street, District 1, Ho Chi Minh City
Opening hours: 9:00 - 18:00 (Tuesday-Sunday, closed on Monday)
Website: www.baotangmythuattphcm.vn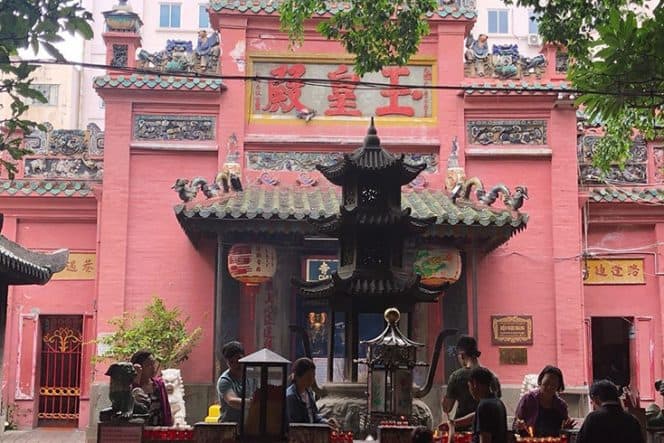 Jade Emperor Pagoda or Jade Emperor Temple is a Taoist and Buddhist pagoda. This is one of the most beautiful and atmospheric temples in Saigon. Built in 1892 by a community of Chinese immigrants with their leaders Liu Ming, this pagoda is a representation of Mahayanist branch of Buddhism in Vietnam and it is the only place where the Jade Emperor is worshipped in Vietnam. 
From 1984, it was renamed into the new Chinese name Phuoc Hai Tu (Sea of Blessing Temple). It is also more and more famous when U.S. President Barack Obama visited this place during his state trip to Vietnam on 22 May 2016.
Highlights: 
The structure of the temple can be divided into two separate parts: courtyard and inside the temple. Passing through the main door to the temple, you will arrive at the courtyard divided into three parts.
In the first half of the courtyard, there is a small turret with a statue of Dharmapala, a Buddhist philosopher. After this first part is a small pond with many turtles and benches. The last part of the courtyard, so-called incinerator, is a chimney-shaped structure where worshippers can burn papers of which the smoke is believed to be able to reach their ancestors in heaven.
Inside the temple, there are many artworks with a set of about 300 ancient statues, including 100 made from wooden cardboard, presenting a meeting of genies with the Jade Emperor in the pagoda. The pagoda's worshipping area consists of three parts, the main chamber, and the other two departments. The main chamber worships Jade Emperor, the Buddha, and genies. The largest statue in the pagoda is the Jade Emperor in a meeting with genies.
For tourists with troubles in real life, they can go here to pray and see beautiful scenes that can help them feel more balanced and relaxed. 
Location: 73 Mai Thi Luu, District 3, Ho Chi Minh City
Opening hours: 08:00 – 17:00 every day
Entrance fee: No entrance fee but visitors can make donations.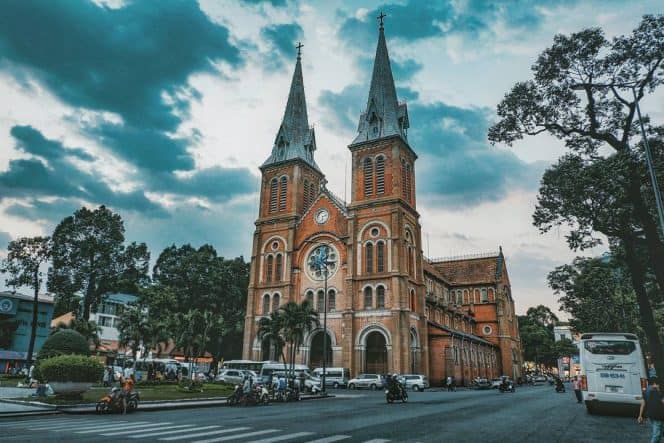 Saigon Notre Dame Cathedral, aka Saigon Notre-Dame Cathedral Basilica or Cathedral Basilica of Our Lady of The Immaculate Conception, is one of the few remaining strongholds of Catholicism in Vietnam and also considered the most attractive tourist attraction in Ho Chi Minh City. 
Built from 1863 to 1880 by the French architects, the cathedral is  60m high. Initially, it was called Saigon Church. The name Notre-Dame Cathedral was named after Bishop of the Church held a ceremony to install the statue of Peaceful Notre Dame in 1959. In 1962, Vatican anointed it as Saigon Chief Cathedral. Since then, this cathedral is called Saigon Notre-Dame Cathedral Basilica.
Highlights:
Its design shows the influence of France and Christianity. At the time it was built, all the materials were directly imported from France. The two bell towers, each with a height of 60.5m and 6 bronze bells have just been added in 1895. The appearance of these bell towers increases the value of the cathedral's unique architecture. 
When you visit the cathedral, don't forget to spend time walking around to enjoy its fresh atmosphere as well as special architecture.
This is an interesting place to visit when you are in Saigon because you can not only marvel at its gorgeous architecture but also see a lot of worshippers. However, remember that it is like any holy places around the world. That's why you should dress appropriately and avoid disturbing the worshippers when visiting the cathedral.
Location: No.1 Cong Xa Paris Street, Ben Nghe, District 1, Ho Chi Minh City
Opening hours: 08:00 – 17:00  every day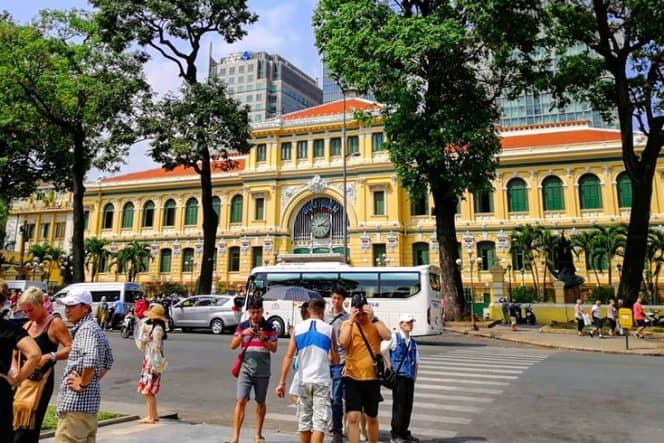 Ho Chi Minh City Post Office or Saigon Central Post Office is the main post office and one of the most attractive tourist attractions in Ho Chi Minh City. The building was built around 1886 – 1891 by a French architect Alfred Foulhoux. The structure in the post office is reserved perfectly. Today, it has been the busiest post office in Vietnam.
Highlights:
Inside the post office, the structure of this place is a mixture of Gothic, Renaissance and French style. Walking inside, the building is big with a lot of space. The ceiling was designed with an arc shape with two rows of steel pillars. All the pillars in the front hall of the building are intricately decorated. This makes the building look more stable and larger. 
Post Office has all kinds of traditional postal services like mailing, selling postcards, or stamps. Foreign money exchange is also available. Inside the post office, you can buy souvenirs or write letters on wooden tables.
Don't forget Mr. Duong Van Ngo – an old man sitting at the end of a long wooden table. Mr. Ngo has been working here since he was 17, as a polyglot public letter writer and a translator. When he retires, he often helps people write letters in English and French. He says that he loves the job and also suggests you going to other attractions in Ho Chi Minh City to visit.
Through many historical events, this post office still stands and plays an important role in the history of the city. If you want to know more about the unique structure of French colonies and the history of Saigon, this place should not be ignored!
Location: No. 2 Cong Xa Paris, Ben Nghe, District 1, Ho Chi Minh City 
Opening hours: 07:00 – 19:00 every day
9. Saigon Opera House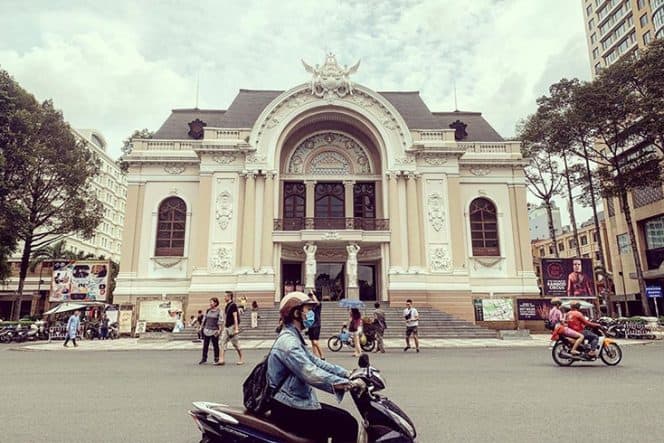 Certified as a national relic in 2012, Municipal Theatre of Ho Chi Minh City, also known as Saigon Municipal Opera House, stays on top of the must-visit Ho Chi Minh City attractions. 
Saigon Opera House was built in 1898 by the French architect – Eugene Ferret in the Belle Epoque style.  After 1956, this was used as home to part of the government of South Vietnam. After 1975, it was again used as a theatre, and restored in 1995. 
Inside the building, it has a main seating floor with two levels of seating above which can accommodate up to 1,800 people. 
In order to celebrate the 300th birthday of Saigon, the government invited some famous architects and artists to restore the house in 1998. 
Highlights:
Today, the building has so many modern devices like electric appliances, lighting, sound systems, and safety equipment. 
The Opera House is surrounded by new plazas and hotels, which allow you to combine a trip to the Opera House with a shopping tour.
Location:  7 Lam Son Square, District 1, Ho Chi Minh City.
Opening hours:  8:00 a.m. to 5:30 p.m daily
10. Bitexco Financial Tower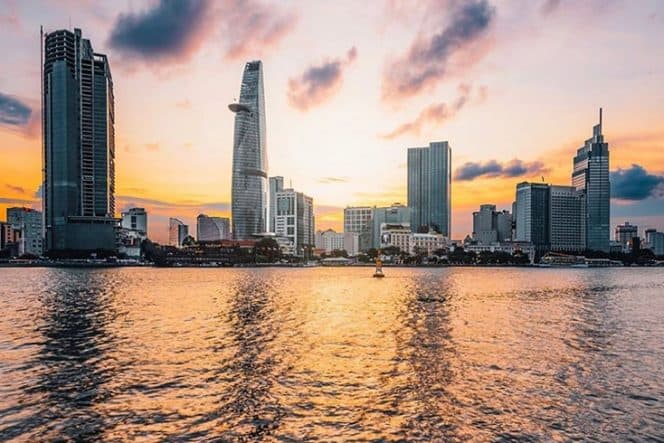 Bitexco Financial Tower, a new modern symbol of Ho Chi Minh City, is a skyscraper where Bitexco Group houses the Ho Chi Minh City office. With 68 floors and three basements, it has a height of 262.5 meters.
The tower is owned by Bitexco Group, a Vietnamese multi-industry corporation and is designed by Carlos Zapata, Design Principal and Founder of Carlos Zapata Studio, with French company AREP as the architect of record. The inspiration for the shape of the skyscraper is from Vietnam's national flower, the Lotus.
Highlights: 
Sky Deck in Bitexco Tower has a 360-degree view across the city and the Saigon River. Visitors can have a panorama of District 1 from this by a binocular. Great views are enjoyed from the 50th and 51st-floor restaurants, particularly at night. There are also local art exhibitions where you can buy souvenirs for your relatives.
Location: 36 Ho Tung Mau Street, District 1, Ho Chi Minh City
Opening hours: 09:30-21:30 every day 
Entrance fee: $10/person in Skydeck.