Mui Ne is a famous beach town along the South China Sea in southern Vietnam. With a beautiful long stretch of sand, it becomes a top destination for a wonderful weekend getaway. Numerous beach activities will make you have no dull moments in this coastal town. We have combined the most interesting things to do in Mui Ne into the list below. Let's check it out.
I. 8 Best Things To Do in Mui Ne
Most people just spend their time on the beaches or sand dunes, but Mui Ne offers many more things to do than you expect.
1. Visit Mui Ne Fishing Village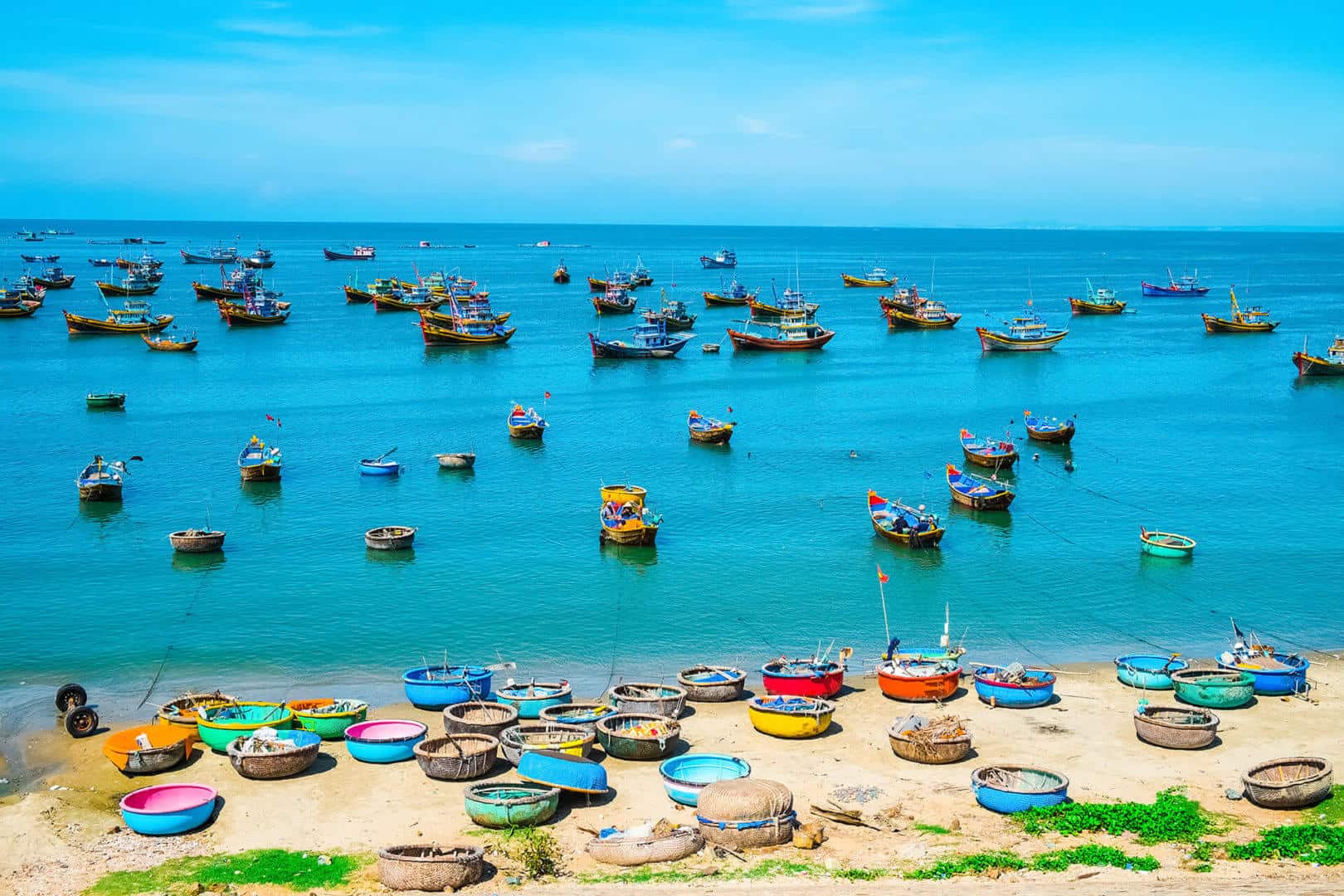 Your trip to Mui Ne would never be complete without visiting Mui Ne fishing village. There are many other attractions but the fishing village is for sure the best place to witness local life and enjoy fresh seafood. Located at the northern end of the bay, it has a splendid view of a palm-lined coastline and standouts with colorful fishing boats in different sizes moored on the calm water.
The best time to visit is always early morning. It's when hard-working fishermen have just returned from the sea with a heavy haul of fishes, scrabs, scallops, stingrays, etc. The busy atmosphere in the fishing harbour becomes a memorable scene. Along the beach, you will find many open-air restaurants as well as food carts where you can taste traditional Vietnamese dishes and delicious seafood at an affordable price.
2. Go kitesurfing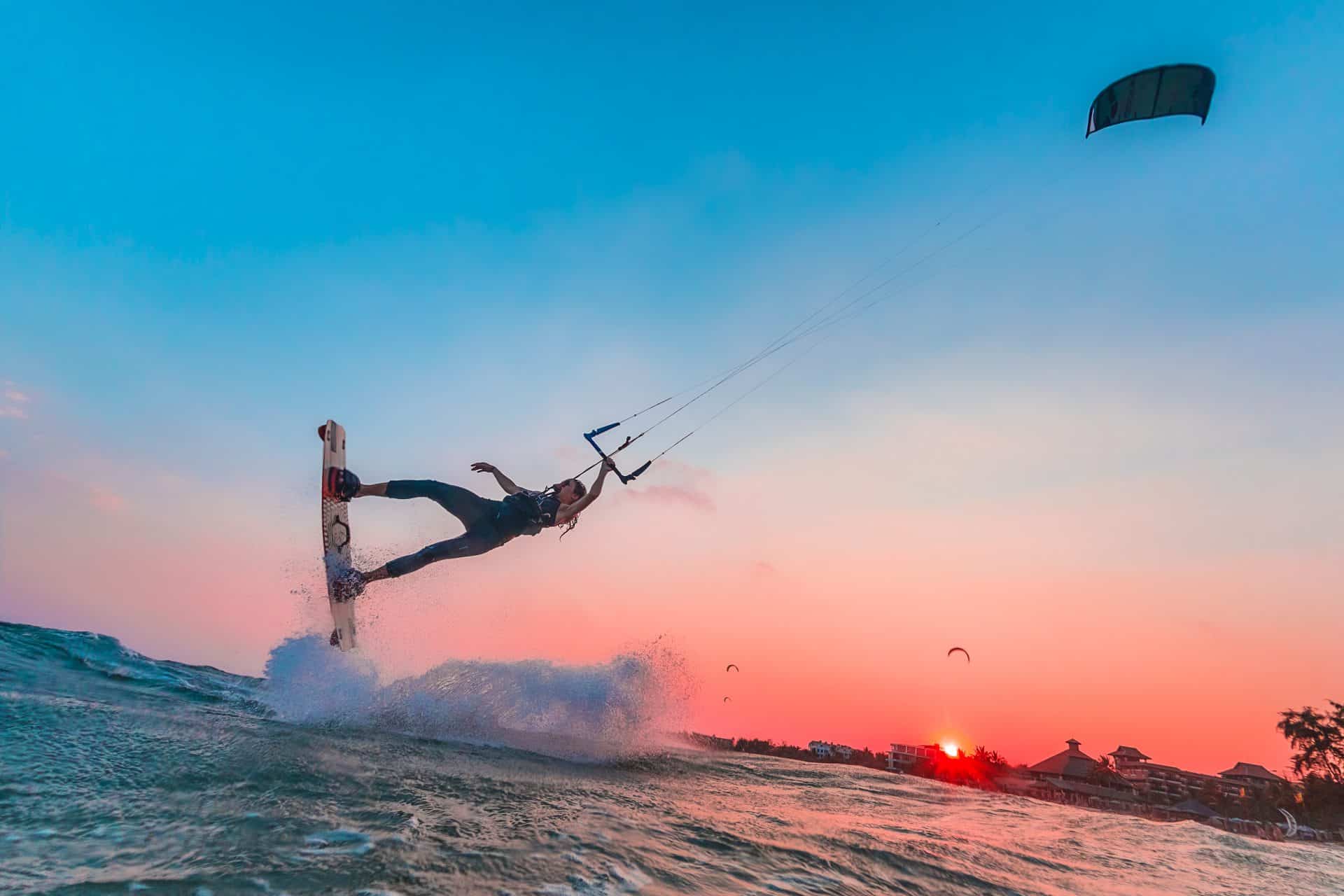 Recently, kitesurfing has become one of the most popular activities for locals and visitors to Mui Ne. Rock-free waters and tropical monsoon climate creates a favorable condition for this activity. Along the 15 kilometer beach, you can find many kitesurfing schools where you can rent equipment and learn how to enjoy this water sport. Coming here in summer, you will see many people enjoying kitesurfing on the main beach.
Besides, there are also many different areas with favorable conditions for kitesurfing. For example, advanced surfers can attempt at The Cemetery located at Hon Rom island with the strongest winds. Or just 10 km from Mui Ne, you will find an unspoiled spot suitable for both beginner and intermediate levels. 
3. Explore Champa Culture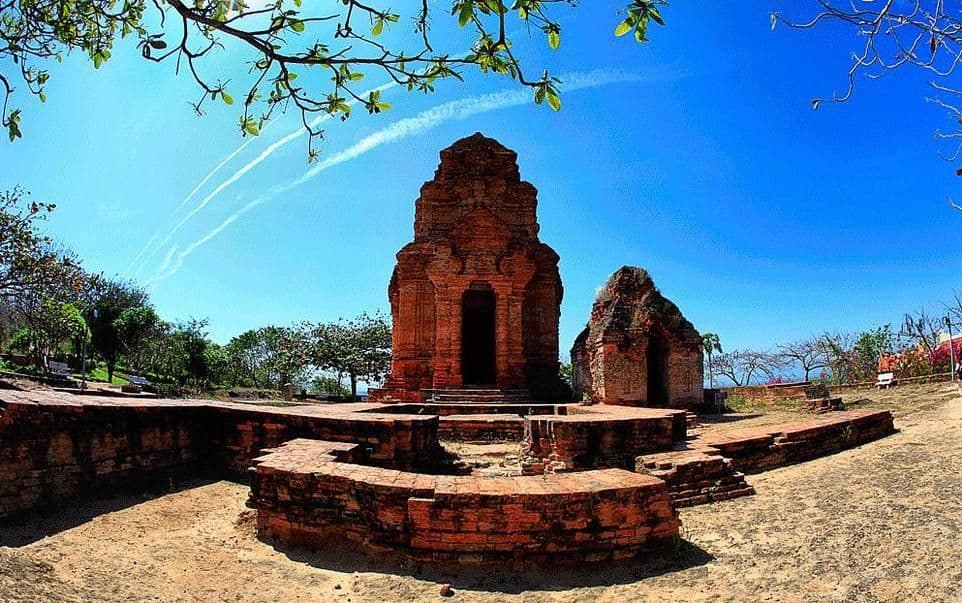 Apart from Kinh people, a significant part of Mui Ne's population is the Cham. Therefore, it is an incredible "kingdom" of Champa culture with some ancient Champa architectures. Among them, there would be a miss without mentioning Po Shanu Cham Towers. Located on the top of Ong Hoang hill, it comprises 3 ancient worship towers which were built during the 8th century. It is known as one of the most important cultural structures of the ancient Champa kingdom.
This is the best place in Mui Ne where you can explore and get a better understanding of Champa culture, especially on special occasions like the Damp Building Festival or Abstinence Ceremony when the ethnic Cham people gather here. Standing on this tower, you can see the expansive views of Mui Ne and the distant beaches. You can easily access Po Shanu Cham Towers by a 15-minute drive from the town. Paying a small fee of VND 10.000, you can freely visit and discover this special tower of the Cham.
4. Visit the Red and White Sand Dunes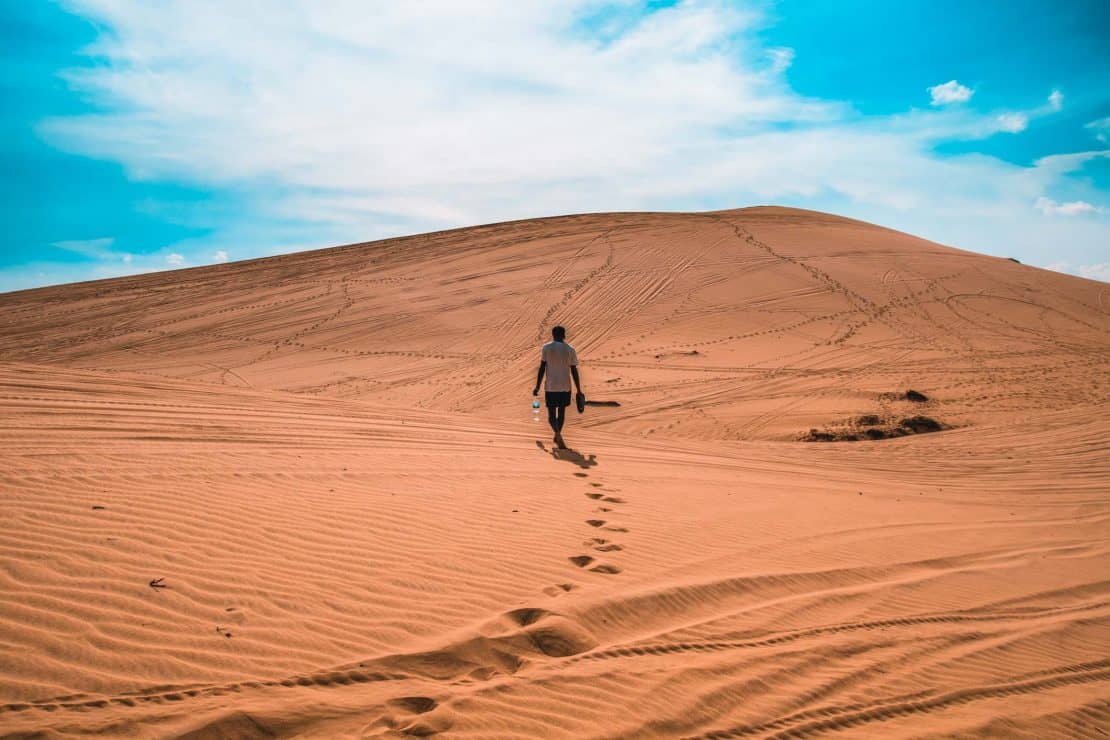 There are sand dunes in Vietnam. It is unbelievable, isn't it? You can find many different sand dunes scattered throughout the whole region. But the Red and White sand dunes are the 2 most impressive ones which are quite large and steep. Along the beach, these sand dunes are like a natural barrier against the destructive forces and coastal storms as well as beach erosion.
The White sand dunes are a vast expanse of white sand while the red dunes with striking color are also pretty but less impressive. Coming here, visitors can rent plastic sheds and enjoy the chance to fling down the sand dunes. Or, another interesting thing to do in these sand dunes is kite flying as well as enjoying the beautiful and peaceful sunset here. Generally, these places can be considered great picnic spots in Mui Ne.
5. Unwind at Mui Ne Beaches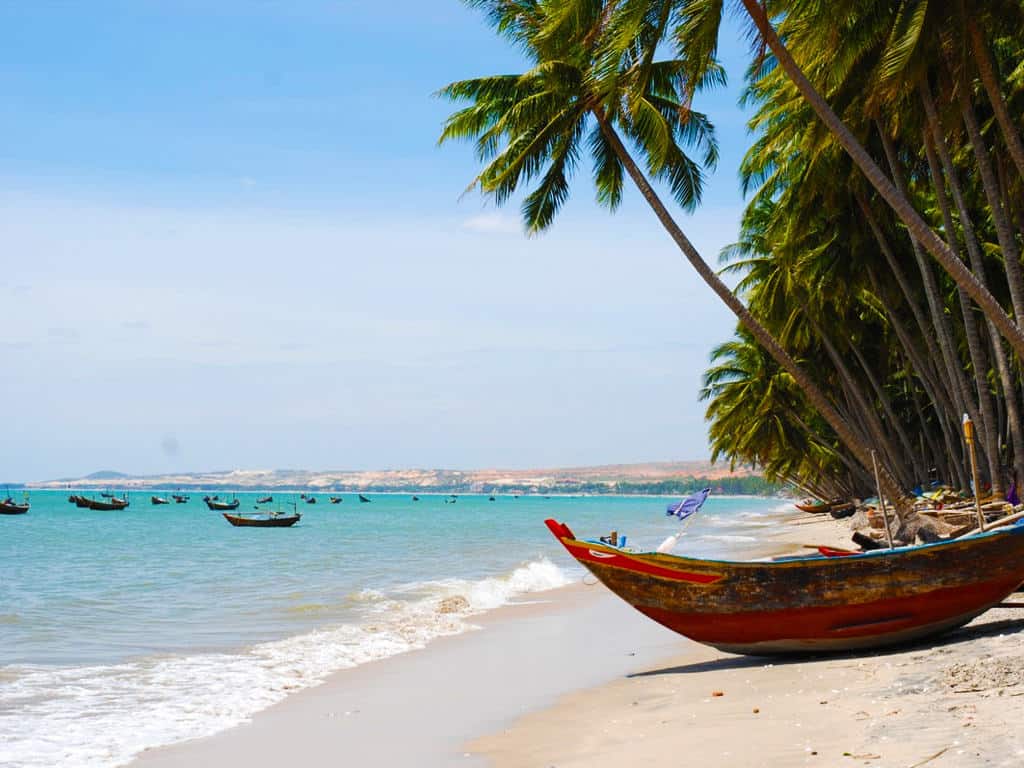 Mui Ne beach is one of worth-visiting beaches in southern Vietnam that you may don't want to miss. Having its name in the list of top 10 most beautiful beaches in Asia Pacific, it is an endless inspiration for many local and international artists. Palm lined streets, long beaches, strong waves have made it an ideal place to relax and get away from the hustle and bustle of daily life.
On summer days, swimming and sunbathing are the most popular activities. In addition, you also have a chance to enjoy various other activities like snorkelling, boat sailing, surfing, scuba diving, etc. With cool winds all year round, the beautiful coastline can be visited at any time of the year. The restaurants along the beach always welcome you with a series of delicious seafood . There is no reason to miss these beaches in your trip to Vietnam.
6. Refresh Yourself at Fairy Spring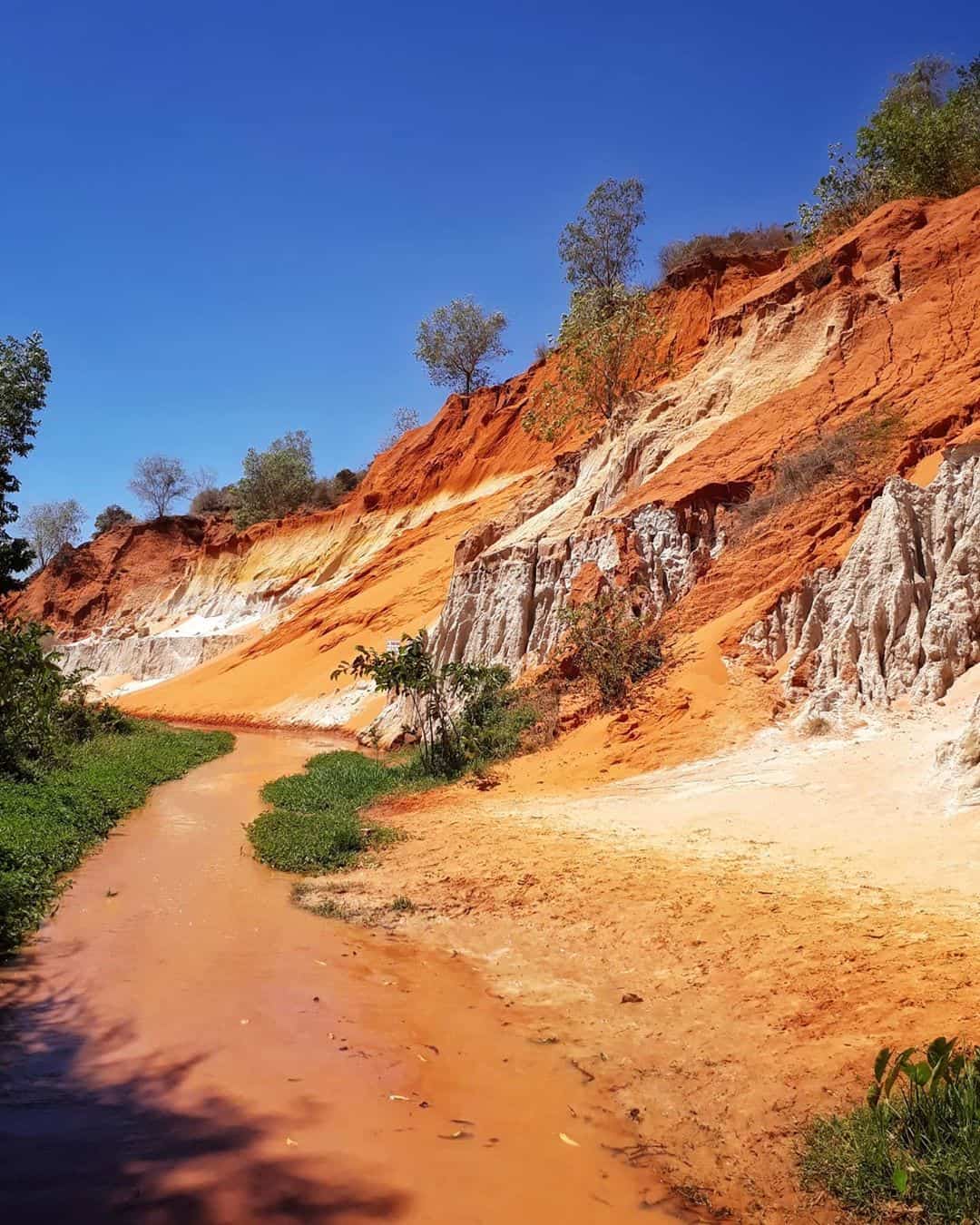 Many visitors choose Mui Ne not only to enjoy the sea view but also to discover a very wild stream called Fairy Stream. Located 18 km from Phan Thiet city, it is a well known as a photography hotspot with its dramatic landscape of whites, reds, pinks, and oranges. Here, you are encouraged to take off your shoes and try wading through the water to the end of the stream.
If you are an adventurous traveler, you can climb to the top of the rock formations. From here, it is easy to see the breathtaking views of intricate stalagmites and red-hued waters. It doesn't cost any money to enter the Fairy Stream and it just takes 1 hour to go along the stream. If you are hungry, there are some food stalls along the way and several bars and restaurants upstream. As it is close to Po Shanu Cham Towers, you can combine these 2 places in your itinerary.
7. Climbing Ta Cu Mountain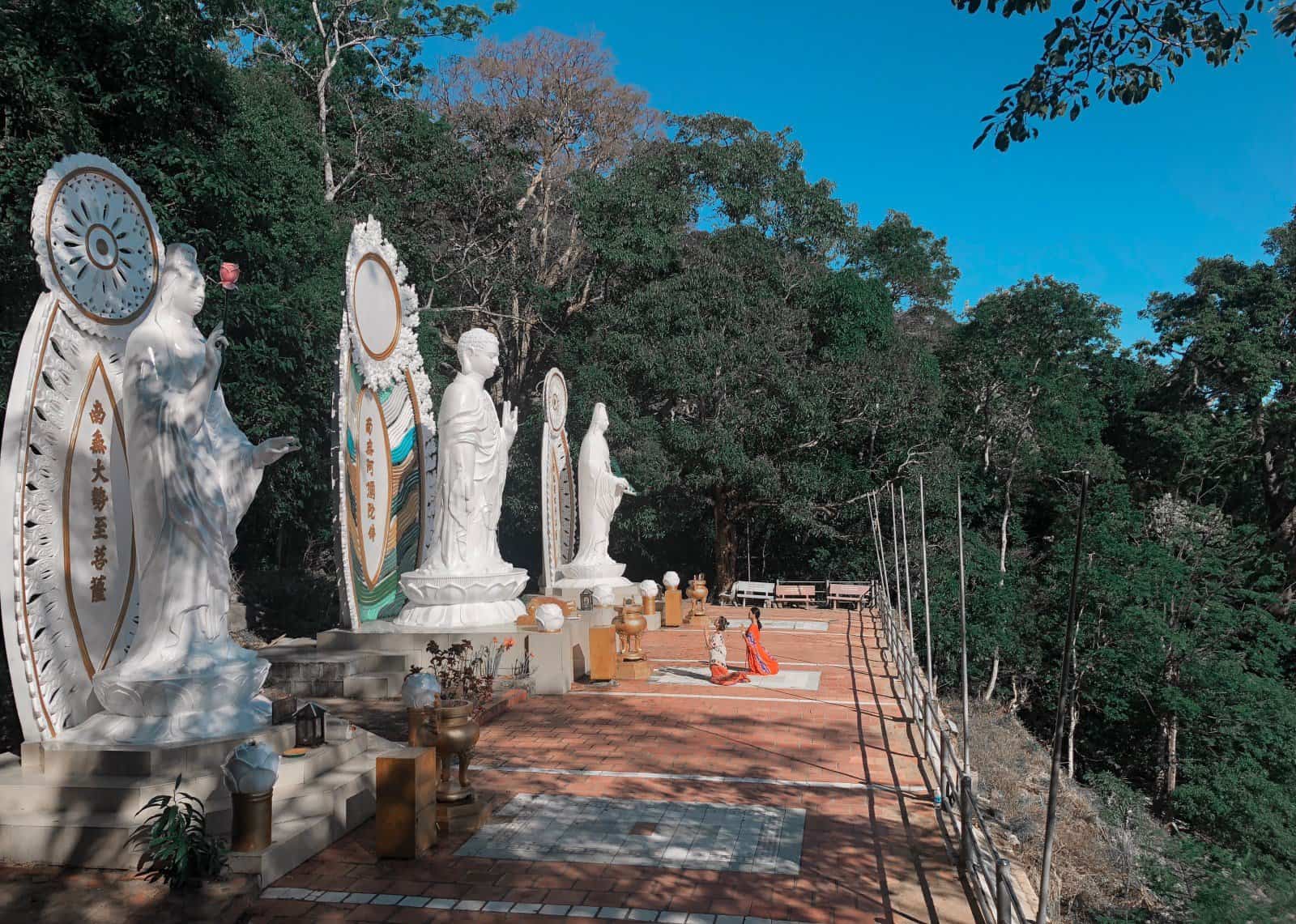 After some lazy days with beaches and sand dunes, you may need some exercise. And, there is nothing better than climbing Ta Cu mountain. Located in Thuan Nam Town, it is famous for beautiful scenery, lush trees, and colorful flowers. The mountain covering an area of 250.000 square meters is home to many different types of flora and fauna. To reach the top of the mountain, you need to climb over 1000 stair steps.
It may take 1 day for this trekking, so make sure that you have good health and are willing to sleep in the mountains. It is worth your time as you will go through several attractions on your way, including Long Doan pagoda and Linh Son Truong Tho pagoda with impressive statues. Besides, you also have a chance to admire fragrant flowers blooming all over the forest and get to know many rare species of animals living in the mountain like Gekko rock lizard, Truong An silver langur, and black leg douc.
8. Enjoying Best Seafood in Vietnam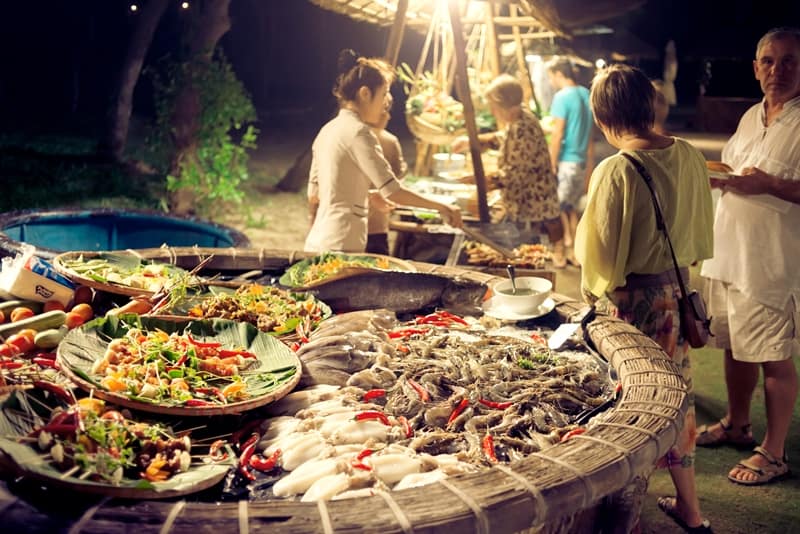 When it comes to Mui Ne, most locals think of unique landscapes and beautiful beaches. But, it offers more to enjoy. Fresh seafood is another star of the show. Close to the beach, fishes are caught and served while they are still fresh. We highly recommend to enjoy the food in food stalls along the streets. Sitting on a plastic chair under a tin roof, you will try amazing seafood dishes. Sellers mainly focus on the quality of the food, not a fancy environment. And, it is amazing the price for seafood, especially snails, is quite cheap here. Mui Ne is truly a paradise for seafood lovers.
II. Extra Tips
Don't miss out on the following tips if you want to have a better experience in the beautiful Mui Ne coastal town.
Don't forget to bring a good camera to capture your memorable moments in this beautiful land.
You can pick up really good accommodation at incredibly cheap prices. But remember to book in advance to get the most suitable one.
April to August, the dry season, is the best time to visit Mui Ne.
Mui Ne is hot and windy throughout the year, so don't forget to bring sunscreen and a hat.
There is also an early train from Ho Chi Minh city to Mui Ne in 4 hours. We recommend booking your tickets in advance.
When coming to southern Vietnam, don't forget to visit Mui Ne beach town for beautiful moments. Numerous amazing things to do in Mui Ne are waiting for you. If you have any questions related to your trip to Mui Ne, don't hesitate to contact us. We are always here to make your trip better.