Ho Chi Minh City, also known as Saigon, has always been one of the most modern and lively cities in Vietnam. While many think that hanging out in Ho Chi Minh City will cost a fortune of money, the truth is the opposite. There are many ways for you to have fun in Ho Chi Minh City without spending a penny, but still have the excitement and joy that you want. Why bother wasting money when you can gain happiness for free in Saigon – the heart and soul of Southern Vietnam? Check our list of fun, cheap and free things to do in Ho Chi Minh City (Saigon), Vietnam!
1. Take Photos at Saigon Notre-Dame Basilica
The Notre-Dame Basilica is undoubtedly one of the most famous tourist destinations of Ho Chi Minh City. The building was formed during the war between Vietnam and France and first started to be built in 1863. In 1865, due to severe damages, France decided to rebuild the church in another destination in 1877. Therefore, the current Notre-Dame has the unique architecture of France, which makes it even more attractive in the eyes of international tourists.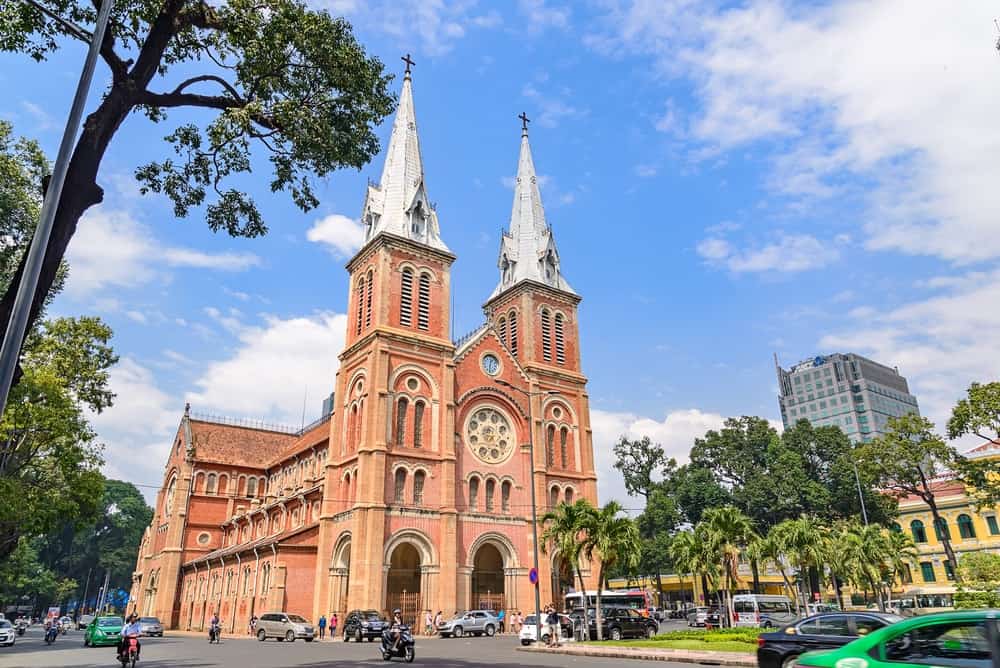 Located in District 1, which is the center of Ho Chi Minh City, it will be easy for you to spot the place from afar. The Notre-Dame Basilica has an impressive height of 21 meters and a perimeter of 91 x 35.5 meters, with absolutely no fences surrounding the building.
Follow the French culture, the Notre-Dame Basilica has an eye-catching appearance inside out, showing both the furniture and the structures on the walls. With striking red-orange color, the Notre-Dame Basilica quickly enters the memory of tourists from both domestic and international. It is no wonder that in recent years, the Notre-Dame Basilica has become one of the most famous tourist destinations in Ho Chi Minh City.
Around the Notre-Dame Basilica, there are wide roads with lovely green trees, creating an enjoyable environment to go for a walk and take astonishing pictures. The interesting thing about it is that you can take as many photos as you want without spending a penny. Aside from admiring the impressive architecture that you can hardly find in other places, those pictures will become your great memories in Ho Chi Minh City, Vietnam.
>> Check out: 16 Dos & Don'ts When Traveling in Vietnam
2. Contemplate the Famous Architecture Saigon Central Post Office
Along with the Notre-Dame Basilica, the Central Post Office of Saigon, located in Saigon center, is also another structure built on the French architecture, one of famous historical places in Ho Chi Minh city.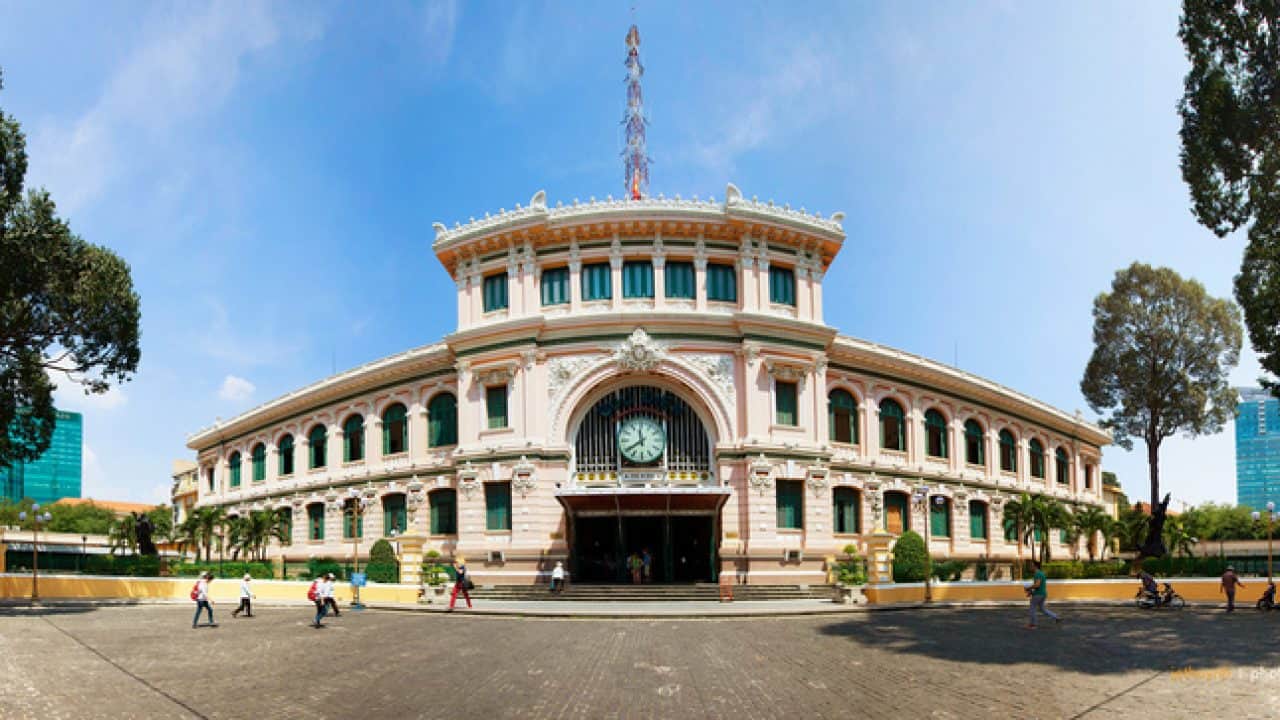 Its architecture is the perfect combination of the Western and Eastern style. Notably, the place is located right in front of the Notre-Dame Basilica, so visitors can conveniently explore both areas on t he same day.
From the outside, the Central Post Office is outstanding with a brilliant yellow wall. The details and decorations are distributed proportionally on both sides of the building, with the center is a giant clock right on top of the entrance. On both sides of the Central Post Office, there are rectangular patterns which list the names of the famous inventors in the field of the telegraph and electricity industries . You will be able to find many popular names there.
Inside the post office is the arch-formed ceiling that makes the building a lot more spacious. The long arch is supported by two rows of iron pillars on both sides. The brilliant shade of yellow features the ancient and peaceful style of decoration somehow make the Post Office even more attractive.
The best thing is that you can visit the place for free. You can freely go in and out at any time you want, take as many pictures as you wish. The impressive architecture is the element that creates the fame of the Central Post Office, and you absolutely cannot miss this place when you have a chance to come to Saigon.
3. Feel the Saigonese's Life at Parks
Saigon has always been famous for its bustling and lively atmosphere, but somewhere in this lovely city, there is peace, friendliness and simplicity. And there is no better place to enjoy all of that in the public parks – which are absolutely beautiful and completely free of charge.
3.1. Tao Dan Park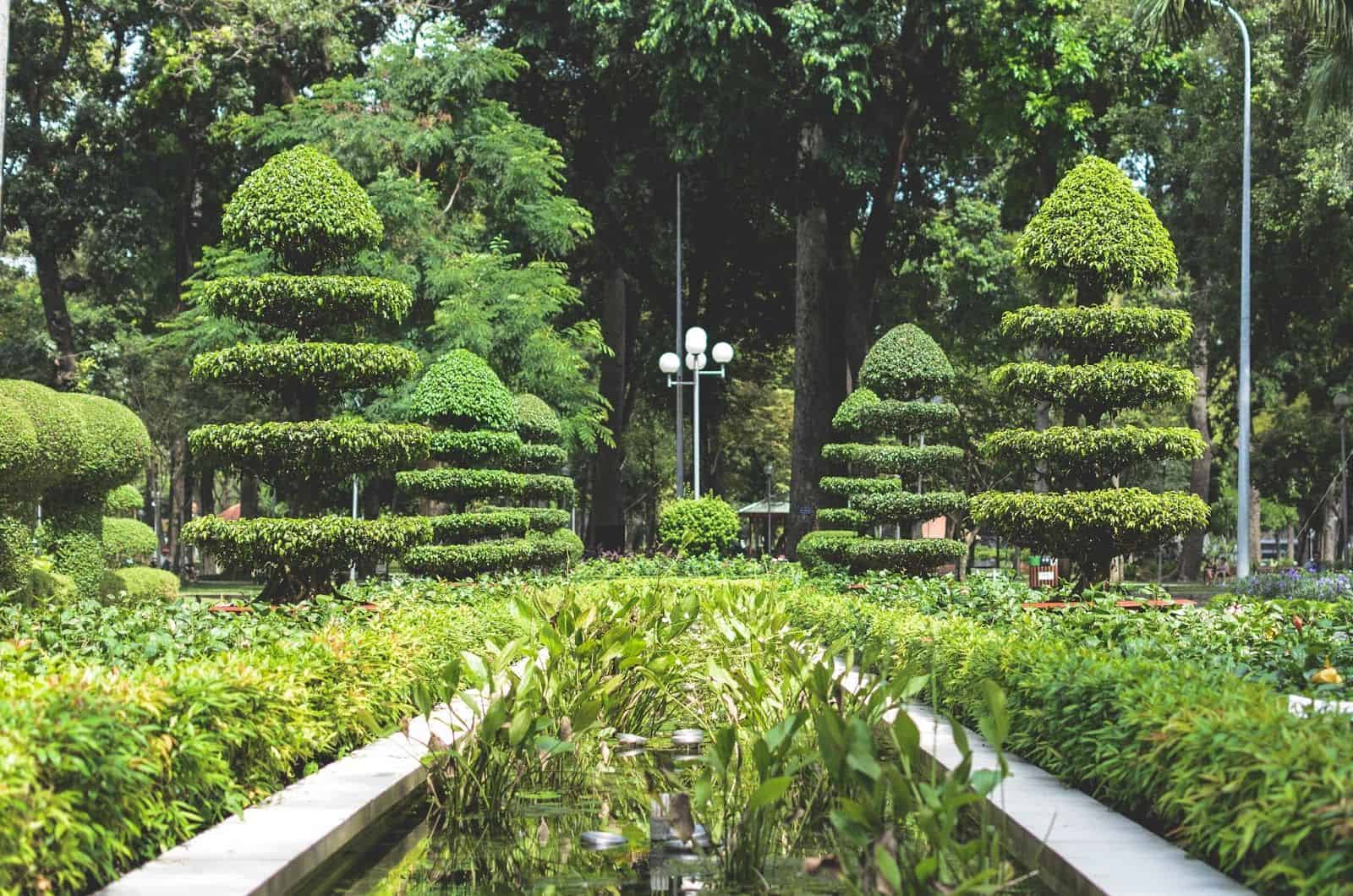 In such a hectic city like Saigon, you will be impressed with how many peaceful public parks the place has. One of the most famous ones to be named is Tao Dan Park, located at 55C Nguyen Thi Minh Khai Street, District 1. Tao Dan Park has such a massive space with green trees and a peaceful atmosphere. If you want to see how the Saigonese truly spend their day, stop by Tao Dan Park for once, and you will figure it out.
As a cute place in Ho Chi Minh, there are tons of things you can do instead of just sitting around. You can arrange a small picnic with your friends and family, exercise for a bit, drink coffee and take some beautiful pictures. It is a great place to catch up with your friends as well since it is very peaceful, you can talk freely all you want.
3.2. Le Van Tam Park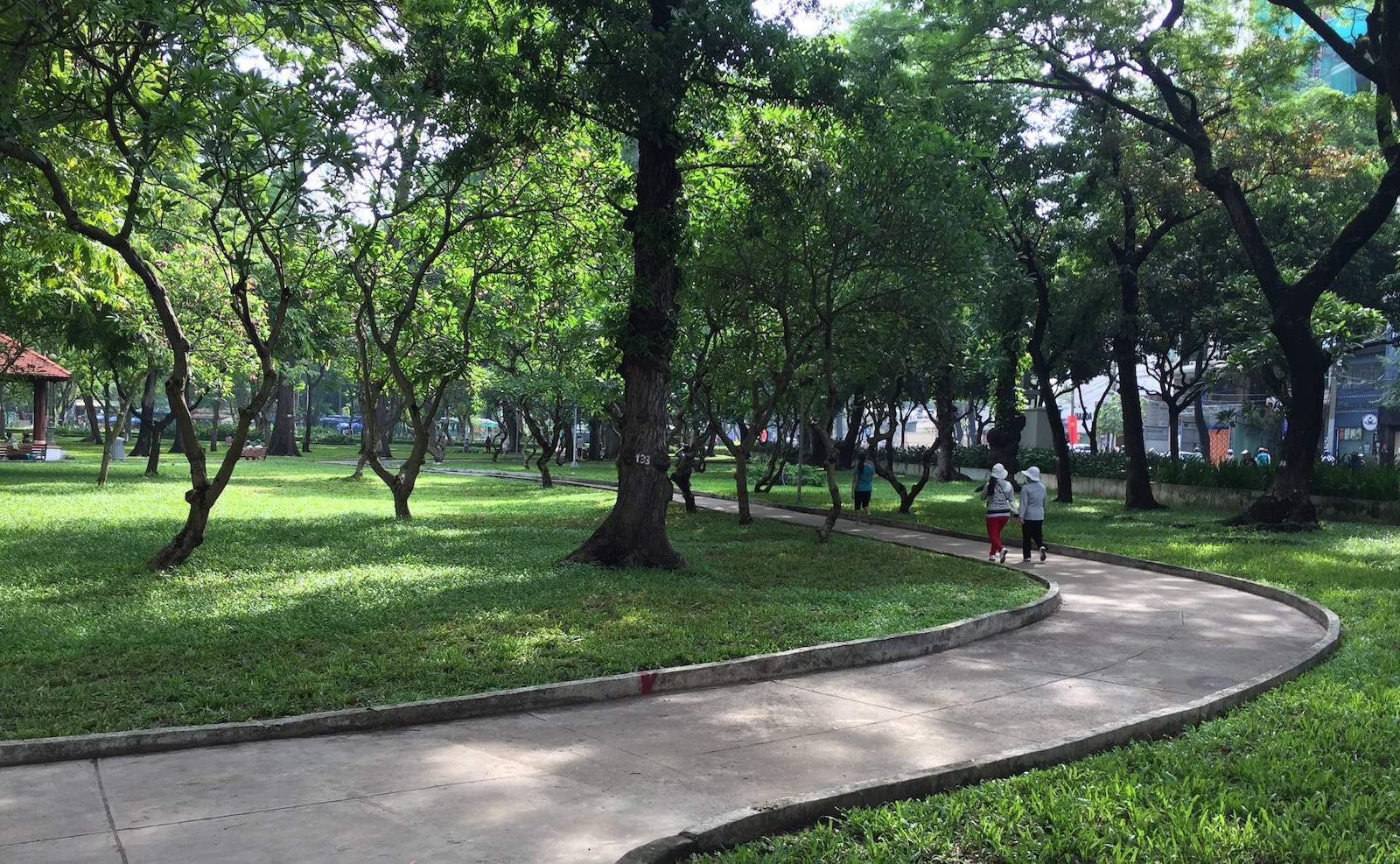 In District 1, Le Van Tam Park is another park that you can stop by. Located at Hai Ba Trung Street, Da Kao, it is not hard to find the park. Just like Tao Dan Park, here is where local people spend their leisure time, either exercising or catching up with each other. There are a lot of coffee shops with affordable prices and delicious drinks as well, so you can sit down, buy a cup of Vietnamese coffee and enjoy the poetic view in front of your eyes.
Besides those two famous parks mentioned above, there are many other public parks for you to sit back, relax and enjoy the scenery, some of them are 30/4 Park, Thao Cam Vien, Koi Fish Rin Rin Park…
4. Visit Pagodas and Temples in Saigon
Besides the peaceful parks, Saigon also has numerous ancient and impressive pagodas as well as temples. Each of them represents the diverse culture, customs and religions of Vietnam. Of course, there is no entrance fee so tourists can visit them whenever they want.
4.1. Jade Emperor Pagoda
Let's take the Jade Emperor Pagoda as an example. Located at District 1, Ho Chi Minh City, this is a sacred temple with a peaceful and quiet atmosphere. The pagoda is located at number 73, Mai Thi Luu Street, which is really near the city center.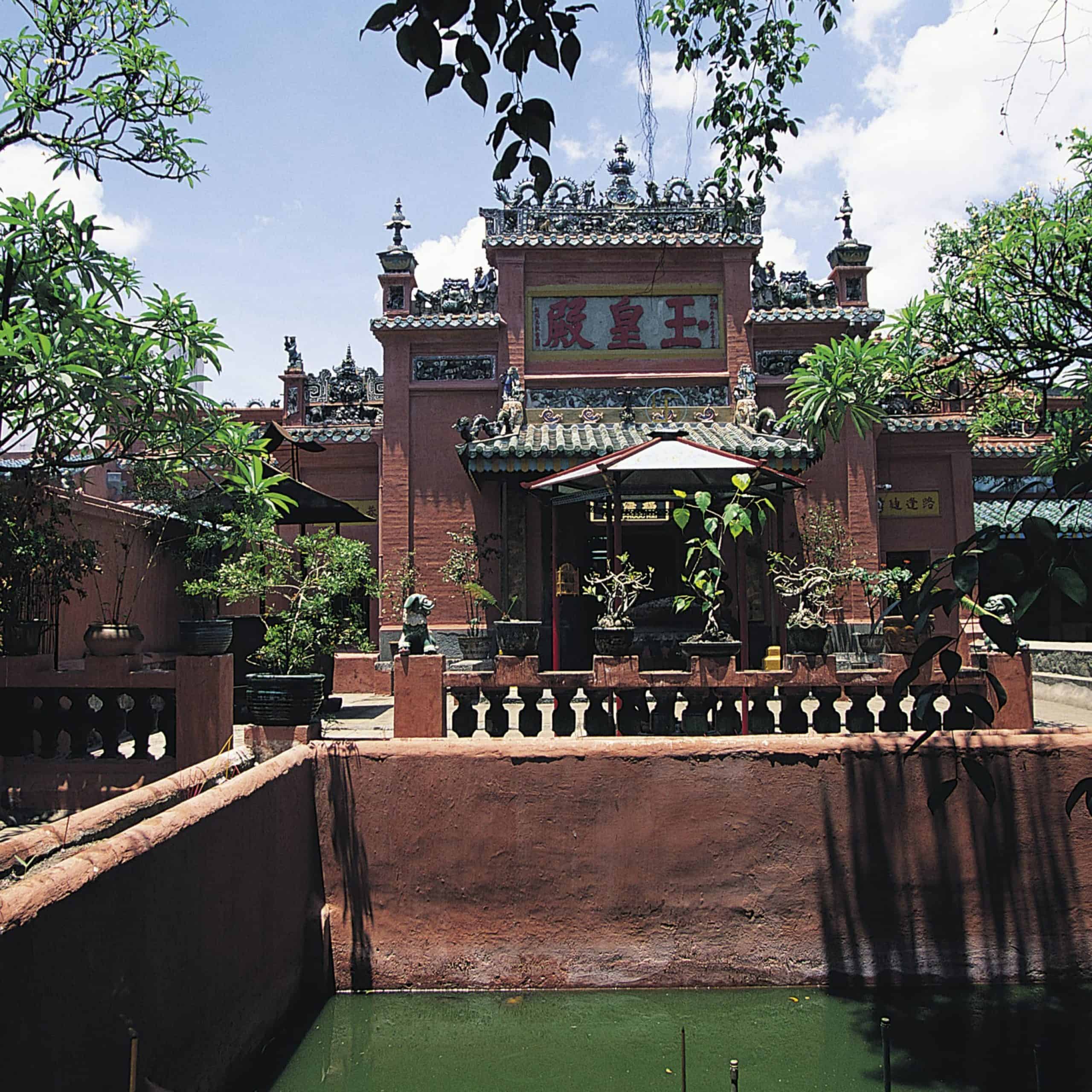 The temple was initially used for worshipping the Jade Emperor Shrine, built by a man from Guangdong, China named Luu Minh in the early 20th century. Jade Emperor Pagoda is an ancient temple, built-in Chinese style with bright decorations.
Coming to the Jade Emperor Pagoda, tourists cannot only witness the unique architecture but also pray for good things to happen in their life. You can wish to have a child, wish for love, health and wealth. The pagoda is especially crowded during the Tet holiday, since many people come here to pray for a happy new year ahead.
4.1. Thien Hau Pagoda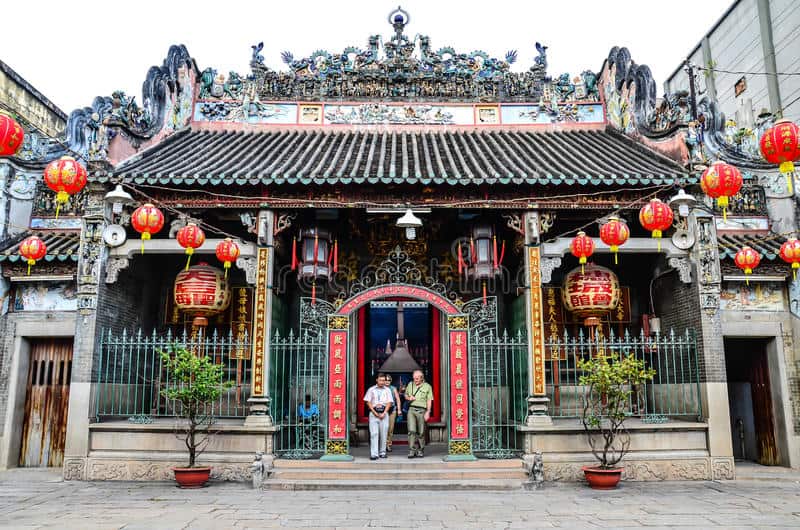 The 200-year-old Thien Hau Pagoda is another famous religious and sacred place in Saigon that costs nothing to visit. Located at number 710 Nguyen Trai Street, District 5, Thien Hau Pagoda is also a temple built by the Chinese. Every Tet holiday, Saigon people often come to burn incense to pray for a happy and peaceful new year. Although it has been existing for 258 years, the temple still retains the characteristics of Chinese architecture, including many sculptures, artifacts, historical and artistic values. Thousands of tourists from all over the world have stopped by the place.
Besides these two pagodas, Ho Chi Minh City has a lot of other temples that you should visit. Notably, all of them are free and you can go wherever you want to. This is one of the most exciting free activities to do in Saigon, which can give you the chance to learn so much more about the culture, customs, and religion of Vietnam.
5. Watch Free Concerts for All Interested Visitors in Saigon Opera House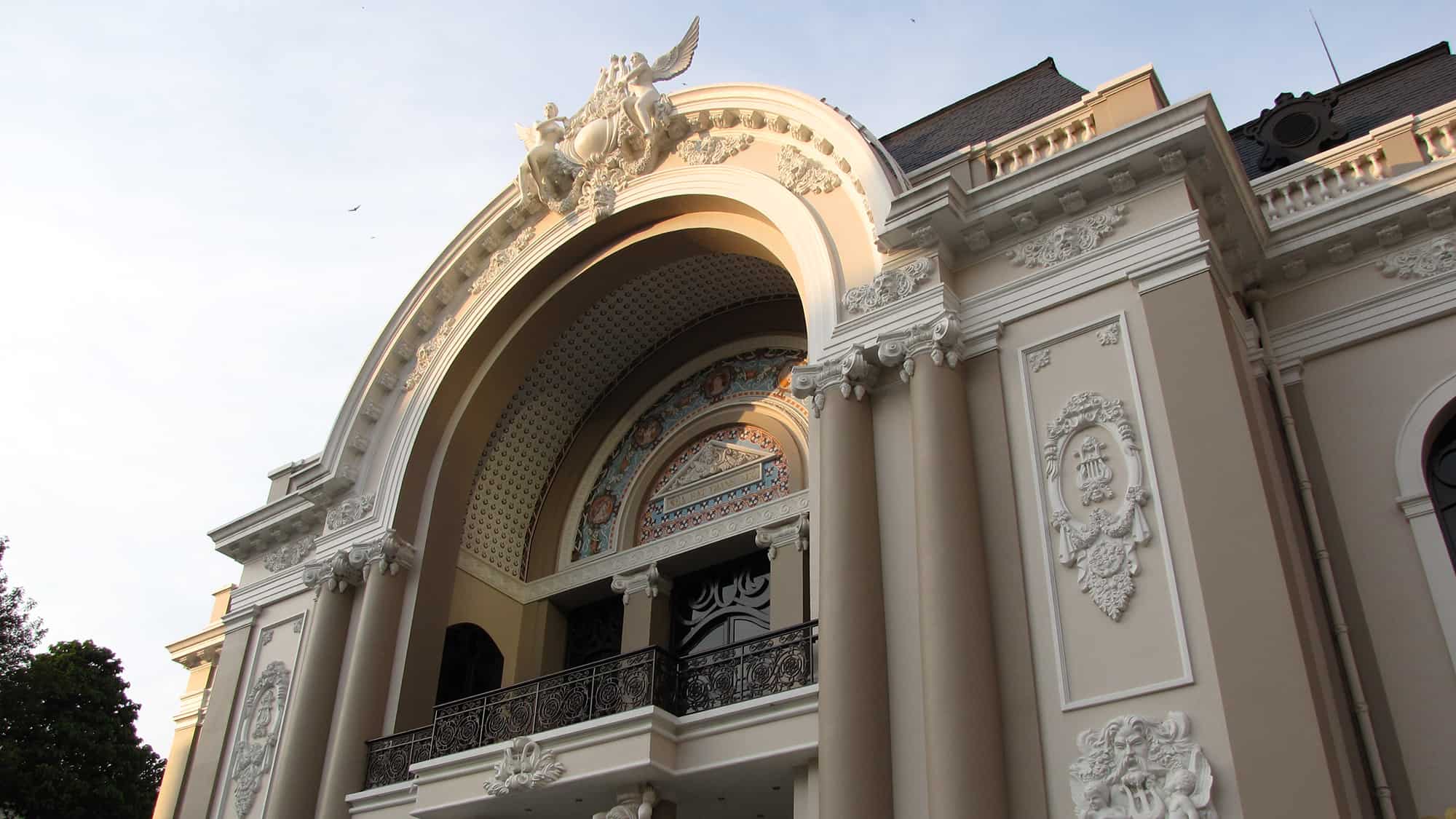 Since 2009, every 08:00 AM on Sunday morning, there will be groups or bands performing right in front of the Saigon Opera House, which is located at number 07 Cong Truong Lam Son Street, Ben Nghe Ward, District 1 of Ho Chi Minh City. Coming to the place on Sunday, visitors can watch various performances such as flamenco dancing, acting, circus, singing, etc. And all of them are completely free.
Lots of local people often stop by the Opera House to see the show, which can help them relax, forget the tiredness and stress and focusing on being happy. This has become a familiar routine for people in Saigon, and you can be a part of it as well. Don't hesitate to stop by and enjoy the mesmerizing melody as well as enjoy the happy vibe that the show brings.
6. Have a Night out at Pham Ngu Lao and Bui Vien Street
Mentioning Ho Chi Minh City, you absolutely cannot ignore the bustling and lively nightlife. It is one of the most famous features of Ho Chi Minh City. And the most popular places to spend the exciting nightlife in Ho Chi Minh City are Pham Ngu Lao and Bui Vien Street.
There is a huge amount of hotels, motels, restaurants, cafes, travel centers and many more for visitors and foreign people to enjoy at affordable prices. When the sun starts to set, this place becomes a bustling space for relaxation, entertainment, where many tourists come to eat and drink and immerse themselves into the night of the never-ending happiness.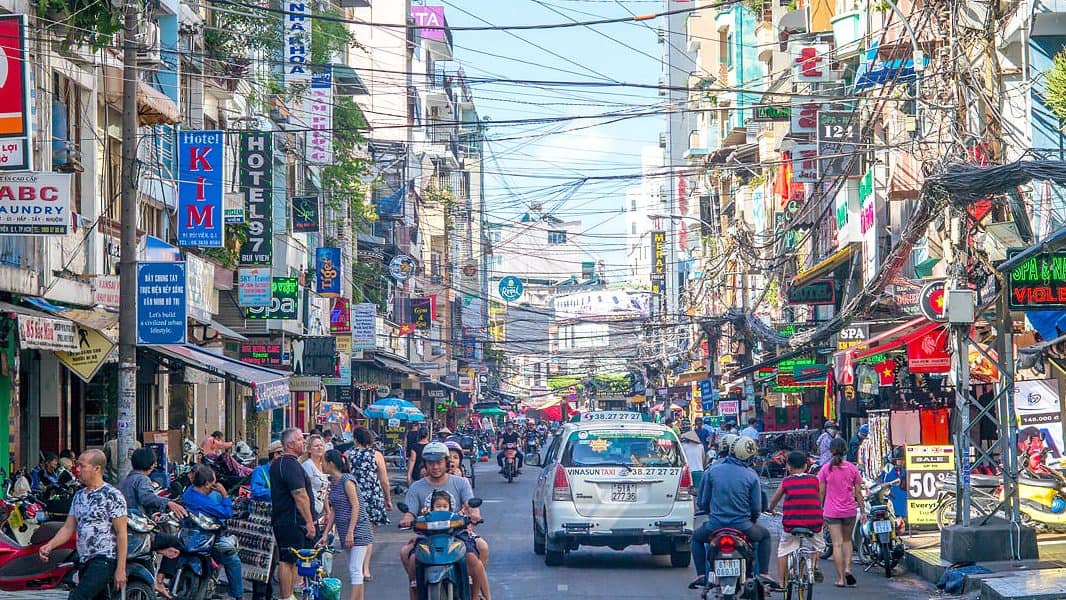 Most international tourists have confirmed that they enjoy strolling along Pham Ngu Lao Street while drinking at a small coffee shop or a bar as well as enjoying the delicious street food. Even more interesting, one end of the road is connected to the traditional market, with various items to serve the daily life of the city residents, where you can buy some as souvenirs for your loved ones at home.
About Bui Vien street, every weekend the place often prohibits all vehicles from entering from 07:00 PM to 02:00 AM in the morning. This is a 500m-long road connecting De Tham street and Do Quang Dau street, so it can serve tourists with entertainment activities as well as selling food, street music and dancing performances, etc.
>> For more information: Banking and Currency in Vietnam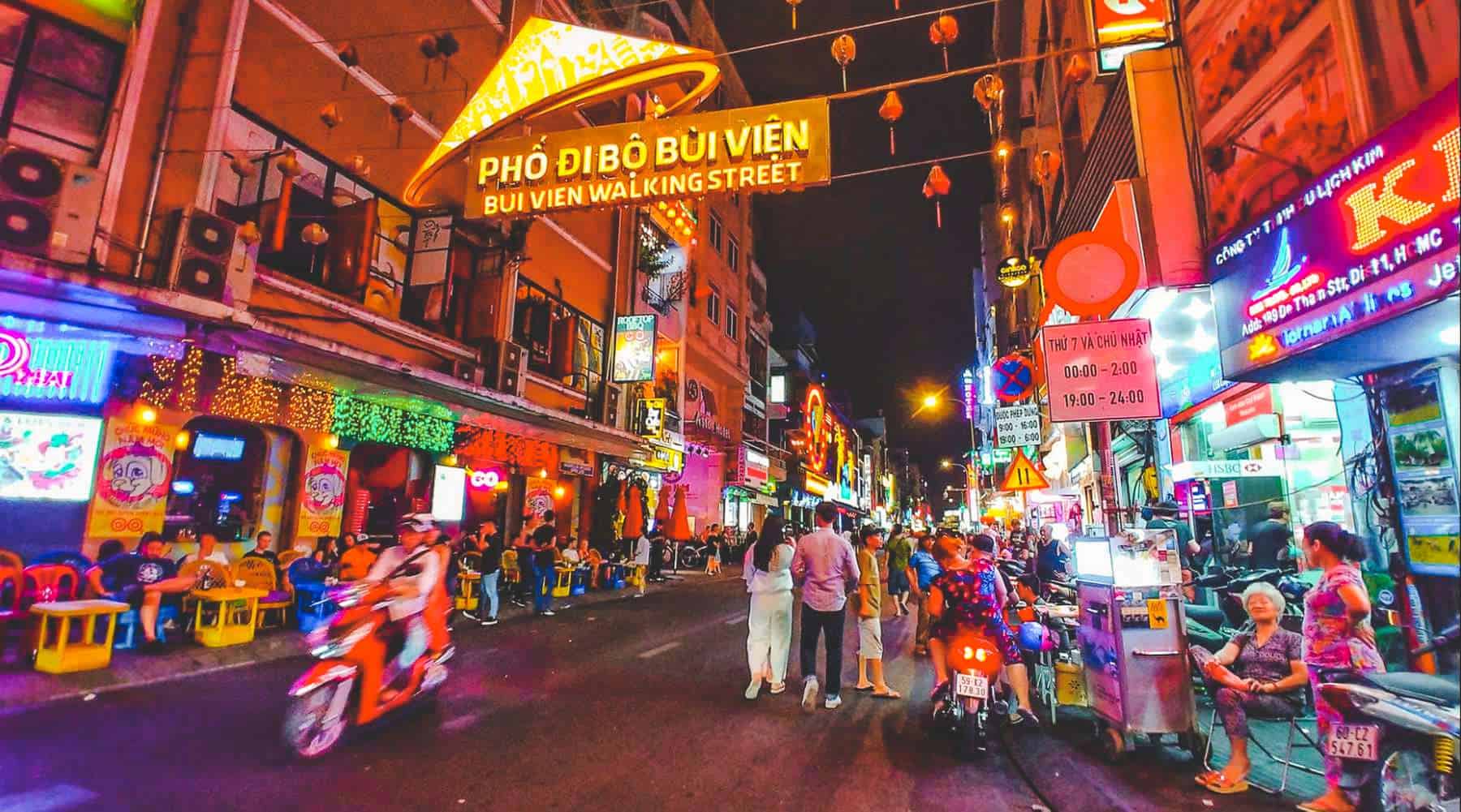 Bui Vien street is also packed with many famous restaurants and bars in Saigon with a range of prices, creating diverse and rich cuisine. Looking for a late-night snack or a late dinner? Then Bui Vien street is the perfect destination for you.
7. Window Shopping at Saigon Markets
Ho Chi Minh City has tons of markets with diverse types of products, from dishes, package food to clothes, fabric, household types of equipment, to bags and accessories. All of them are sold at affordable prices and beautiful colors and styles.
If you are on a budget, just walking in these markets and taking a look at the products is good enough. You will have a clearer view of how Vietnamese people live and use materials. The markets don't charge your entrance fee so you can come and go at any time you want.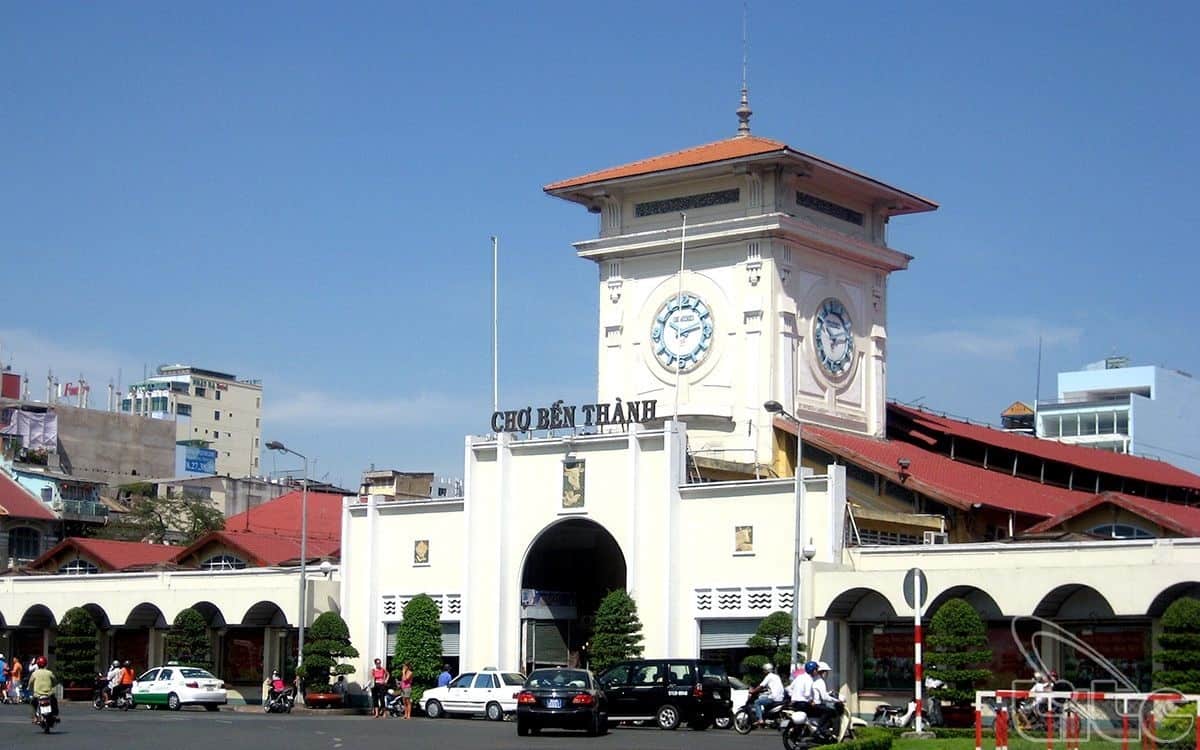 Seeing how people in Ho Chi Minh City stop by, choosing their products and pay for them is also quite a sight. You will see why they call Ho Chi Minh City a bustling and lively place because the lifestyle here doesn't seem to slow down. People walk around, talking and chatting with such impressive energy. You will understand more about the customs of the Vietnamese people, especially in the South, as well.
There are some famous markets that you really should stop by to get to know more about Saigon, such as the Ben Thanh Market – a symbol of Ho Chi Minh City (located in Le Loi Street, Ben Thanh Ward, District 1), Binh Tay Market (57A Thap Muoi Street, Ward 2, District 6) and Saigon Square (81 Nam Ky Khoi Nghia Street, Ben Nghe Ward, District 1).
8. Feel Relaxed at Nguyen Hue Walking Street
The Nguyen Hue Walking Street has always been a popular destination not only for tourists but also for the locals in Ho Chi Minh City. Nguyen Hue Walking Street has always been one of the busiest and most interesting places to hang out in Ho Chi Minh City because of the airy space and the huge amount of restaurants and cafes.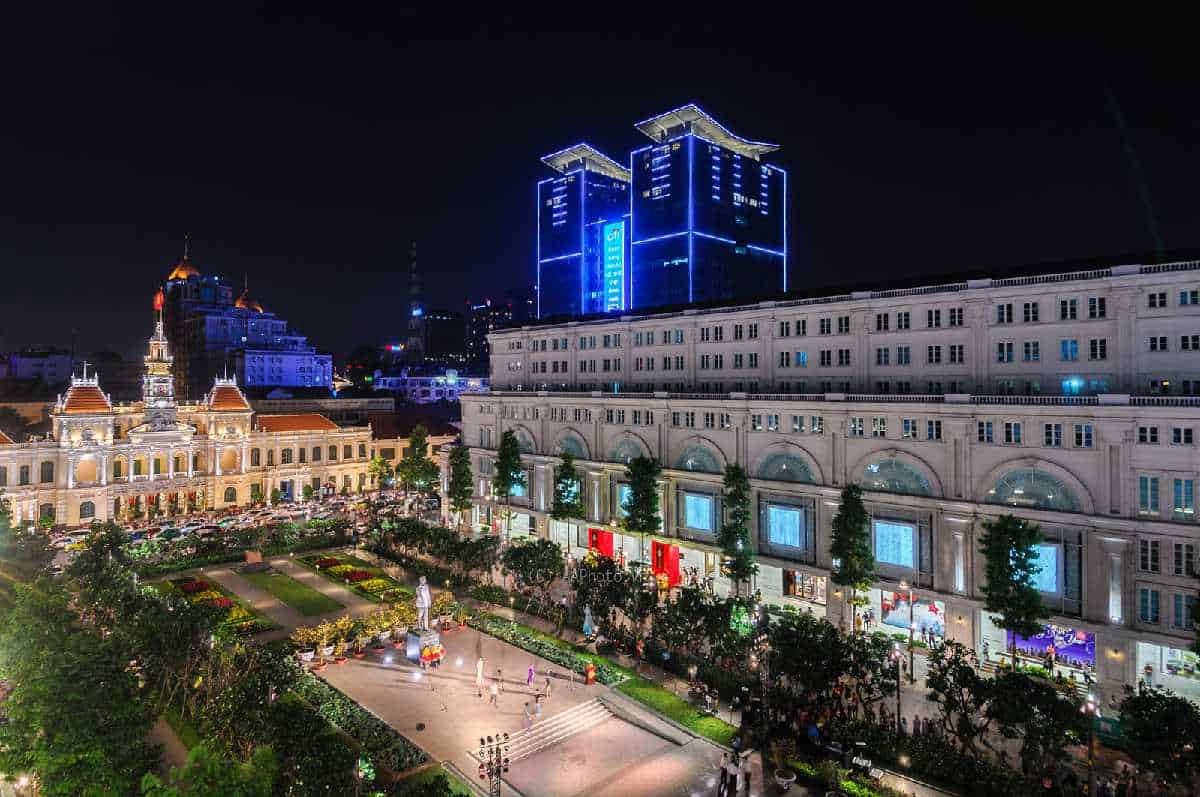 Of course, the street is free. You don't have to pay for anything when you walk in the street unless you want to have some food or drinks. The street is open for visitors and locals to stop by at any time they want, on every day of the week.
The Nguyen Hue Walking Street is sometimes compared to a beautiful road in Hollywood, with absolutely no electric wires and garbage. The road is paved with granite tiles and two huge fountains, decorated with a mesmerizing system of trees and flowers. In the evening, the street lights, as well as the light from signs of restaurants and cafes, shimmer to create a lovely scene. If you are a photographer, this will inspire you to create some interesting pictures.
People often walk, exercise, catch up with friends or simply have fun. Coming to Nguyen Hue street, you can feel relaxed and forget all the stress from daily life. Sit back and enjoy the emotions, the slow movements around and you will soon find yourself solace.
9. Stroll through Nguyen Van Binh Book Street
The Nguyen Van Binh book street is located next to Notre Dame Cathedral and the City Post Office in District 1. The place has long become a highlight destination for book lovers. It's also the first complex book route of Vietnam with open space, where visitors can feel free to visit and enjoy the reading culture of Saigon people.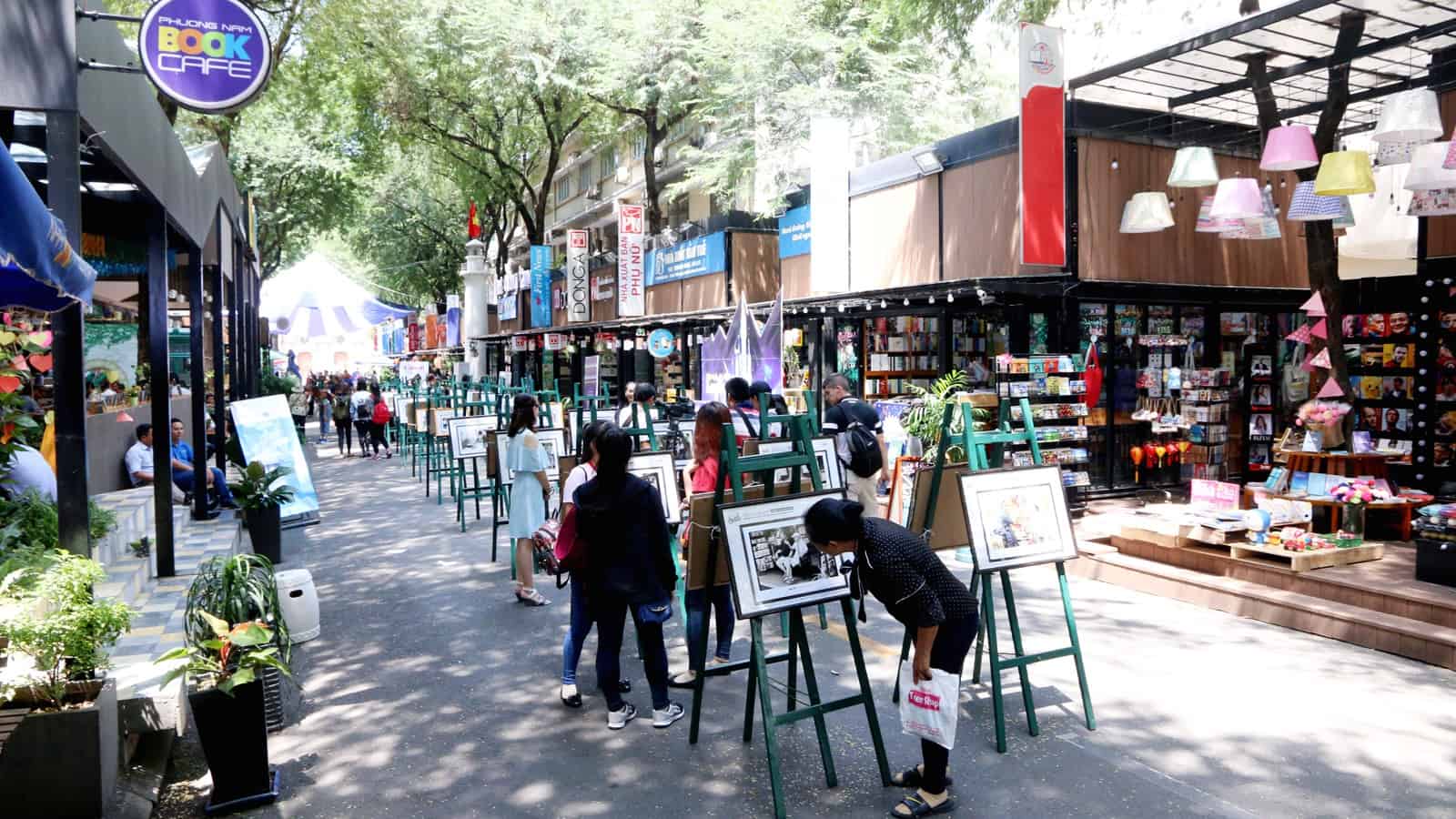 The street is more than 100 meters long, built with a certain number of bookstores, each has a unique style. There are different types of books such as politics, society, science technology, languages, etc. Many authors often hold conferencesh here to introduce their new books and interact with their audiences.
Coming to Nguyen Van Binh street, visitors can feel free to wander around, take a look at the colorful books and magazines, researching the reading culture of Saigon people or buying new books and stationeries.
Besides the unique bookstores, Nguyen Van Binh street also has a book coffee area which is next to the Central Post Office. Tourists can also take a look and buy some newspapers, magazines, stationery as well. There is also an area for book lovers to exchange old books too.
For those who don't want to buy anything, you can head straight to the playground, or visit the exhibition area where different books, newspapers or pictures are displayed. The exhibition creates a space that represents the contributions to the development of reading culture in locals' lives as well as the place where books and people connects together.
For photographers, don't miss the chance to take impressive and vintage pictures in the dedicated-decorated walls and roads of Nguyen Van Binh street. Or you can just stroll around, take in the peaceful atmosphere and enjoy the slow and calm pace of the people and their books.
10. See Saigon at Night at Thu Thiem Tunnels
Thu Thiem is the name of the tunnel crossing the Saigon River. It was built to connect the areas, especially District 1 and District 2. Currently, the tunnel has become an important traffic gateway of Ho Chi Minh city.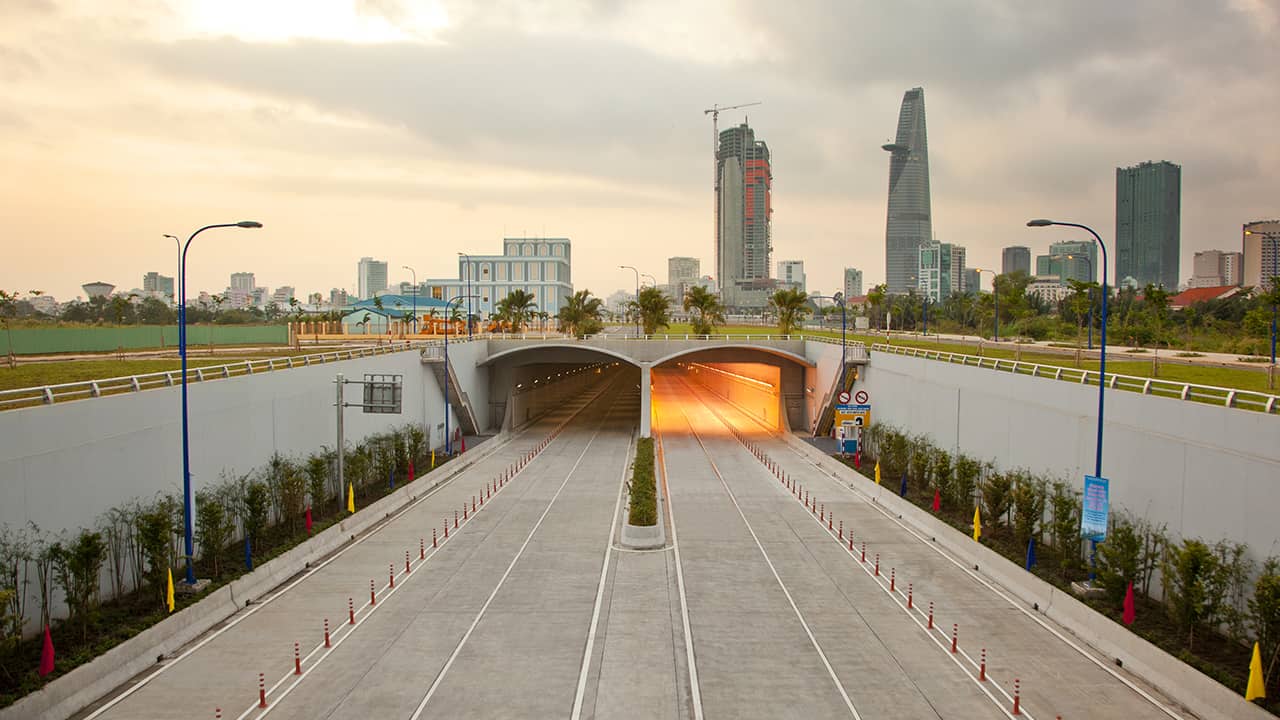 Ever since it was finished, the Thu Thiem Tunnels has become a popular play spot with people in Saigon. The scenery here is stunning and magnificent, attracting curious visitors to stop by.
The tunnel's entrance is located close to Chuong Duong wharf, connected to Vo Van Kiet alley, the other side is connected to the East-West Boulevard in District 2. Because of its convenient transport location, this place is always bustling with people. Therefore, it is an ideal destination for people to wander and explore the bustling life of Ho Chi Minh City.
On a hot and stuffy day, Thu Thiem Tunnels will be a great destination to refresh yourself as well as finding a peaceful space to admire the magnificent night views of the city center. From Thu Thiem Tunnel Park, you can look across to the other side of the river, see the movements of the city and the shimmering lights of the skyscrapers in the night.
The Thu Thiem Tunnels is also one of the most popular spots to take astonishing photos. When the night falls and the whole area lights up, you can take the most impressive and shining pictures of your life. If you want to have even better photos, try to come to Thu Thiem Tunnels during the dawn or the sunset too.
11. Join a Free Walking Tour
Want to explore Ho Chi Minh City most professionally with a well-experienced tour guide? Then a free walking tour will be perfect for you. Provided by many travel companies, this weekend walking tour is free for both domestic and international visitors, to help everyone have a chance to explore some famous tourist attractions in the center of Ho Chi Minh City.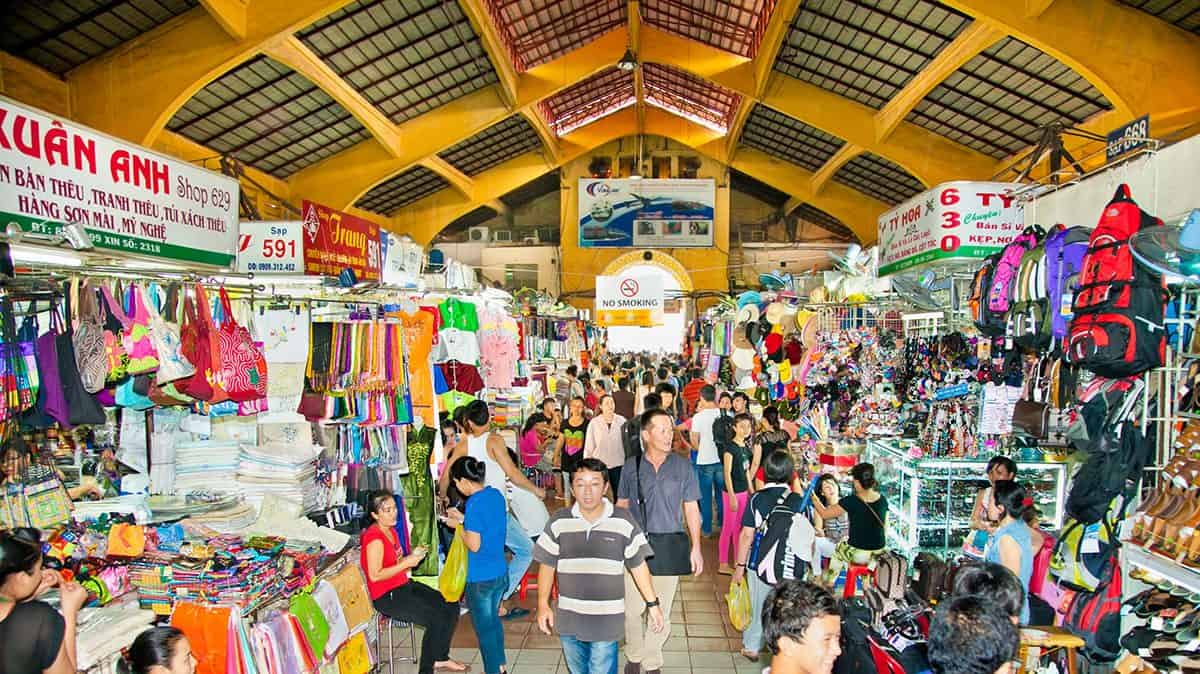 To join this tour, visitors will gather in front of the City Central Post Office or the War Remnants Museum to depart. The tour guide will lead the guests to walk to the sights and listen to the introduction in English.
The Saturday will lead you to the Central Post Office, the Notre Dame Cathedral, the Dong Khoi Street, the Opera House, the People's Committee of Ho Chi Minh City and the Ben Thanh Market.
While the Sunday tour will start from War Remnants Museum, the Reunification Hall, Ho Chi Minh Museum, Ben Thanh Market, Indian Pagoda, the underground food court in September 23rd Park and Bui Vien street.
All tours start from 04:00 PM and last for approximately 4 to 5 hours. Without paying for anything, you will have the chance to visit the most outstanding places in Ho Chi Minh City with a hospitable guide at your side.
In Ho Chi Minh City, there are lots of fun, cheap and free things to do in Saigon. They will not only help you explore and understand more about our Ho Chi Minh City, but also bring you tons of happiness and fond memories in Vietnam. Ho Chi Minh is an exciting city with numerous wonders to explore, where you should visit at least once in your life. Don't miss the chance to have a lovable time here in Saigon, Vietnam!