Disclaimer: The information you are reading is compiled from official sources. However, the entry requirements are subject to change at any time. Please continuously monitor and update the situation from the Vietnamese government agency, Embassy, Consulate to confirm any changes before departure.
The Covid-19 pandemic has come and changed the lives of people around the world in ways we never thought possible. But thanks to the Covid-19 vaccination, we have been gradually controlling the situation. The question is: am I allowed to travel to Vietnam, when can we travel to Vietnam in 2022? The article below will answer the question for you specifically.
I. Am I Allowed to Travel to Vietnam in 2022?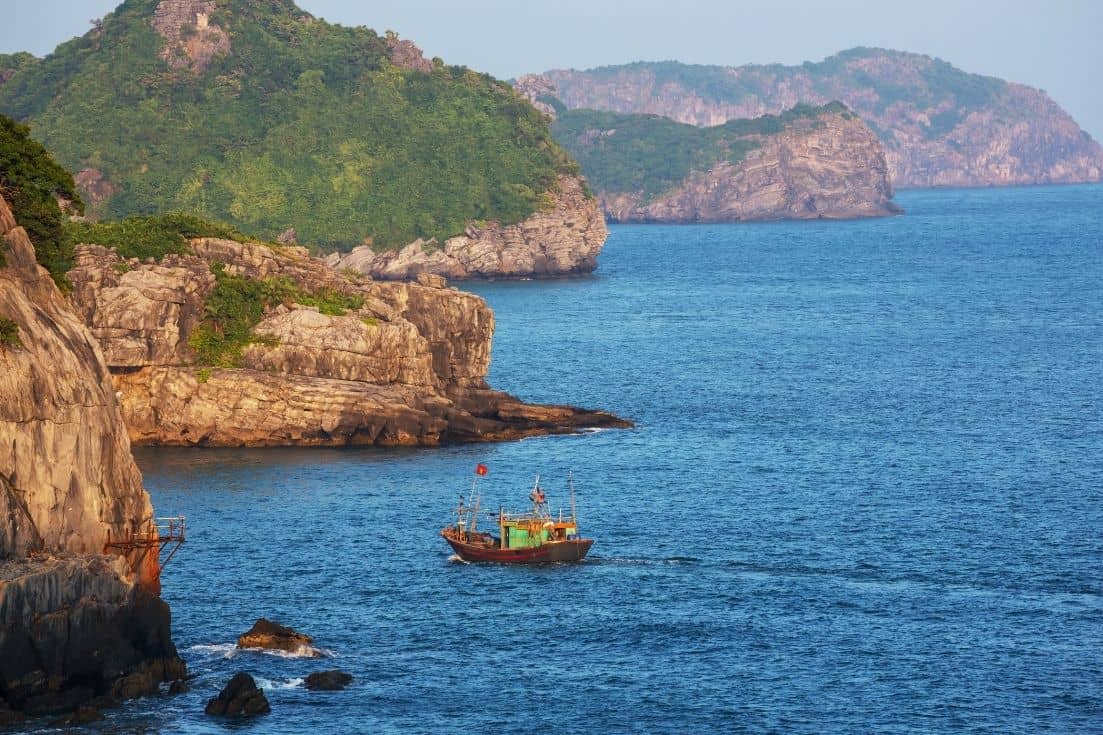 1. Visa Requirements for Travelers to Vietnam
Since March 2020 until further notice, Vietnam has temporarily suspended usual visa waivers, visa issuance for all foreigners.
Only Vietnamese nationals, diplomats on official business, experts, foreign investors, and certain high-skilled workers are allowed to enter Vietnam at this time. These will be processed case by case. These applications have to be led by Vietnamese employers who are required to work directly through provincial government offices. These requirements and procedures are also different from province to province. The quarantine costs, both in governmental quarantine centres and designated hotels, must be paid by the ones who arrive and their employers.
2. Entering Vietnam
Foreigners entering Vietnam for less than 14 days for business purposes are exempt from concentrated isolation, but must comply with epidemic prevention and control regulations including staying in an isolated place to ensure isolation.
3. Vietnam International Flights Update
From January 1, 2022, Vietnam approved the resumption of international commercial flights to and from Vietnam with 9 destinations, including San Francisco or Los Angeles, Bangkok, Singapore, Phnompenh, Beijing, Phnom Penh, Guangzhou, Tokyo, and Taipei. However, so far, only 5 international routes have been officially resumed, including the US, Taiwan, Japan, Singapore, and Cambodia. A number of airline websites allow booking online from Vietnam, but check carefully in advance to see if these flights are warranted to fly or not and if they are passenger flights or not. In fact, commercial flights and transit arrangements are still prone to delays, changes and cancellations with very little notice.
4. Negative Covid Test Result & Quarantine
Fully vaccinated passengers entering Vietnam: will have to be isolated for 3 days at a designated facility, and conduct PCR tests on day 1 and day 3. If the result is positive, you will be quarantined consistent with the rules of Government. If negative, you continue to monitor health until the end of 14 days from the date of entry while enjoying your destination.
Passengers without proof of full vaccination entering Vietnam: will need to execute self-isolation for 7 days at a designated facility and conduct PCR tests on day 1 and day 7. If the result is positive, you will be quarantined consistent with the rules of Government. If negative, you continue to monitor health until the end of 14 days from the date of entry.
Those entering the country under 18 years of age, people aged 65 or older, pregnant women, and people having underlying medical conditions (but not being monitored or treated at medical facilities) are isolated with their parents/personal care givers.
Those allowed to enter Vietnam for tourism purposes will have to show a certificate of full vaccination (vaccine passport) or a certificate of recovery from Covid-19 issued by a competent authority. The last vaccine dose must be administered no less than 14 days before departure to Vietnam and no later than 12 months from the date of entry.
5. Land Borders
Borders with China, Cambodia and Laos are currently closed. Foreigners have not yet been allowed to enter Vietnam by land, except for returning Vietnamese nationals, foreigners who obtain Vietnam entry permits from the Immigration Department and visa-exemption holders (including: overseas Vietnameses (no matter Vietnam passport is still available or not) and their spouses/children and spouses/children of Vietnameses). Import and export of goods are processing as usual.
6. Transit in Vietnam
Currently, transit in Vietnam is still not allowed.
7. Data Collection
Foreigners coming to Vietnam must provide information about their recent travel history.
8. Vaccine Passport/Certificate
You will need a vaccine certificate and/or recovery documentation in order to enter Vietnam. Vietnam has temporarily recognized Covid-19 vaccine passports or certificates from 78 countries (in accordance with the Consular Department). See full list of countries. Please check back for updates.
9. Covid Tracking
All arrivals must present a negative PCR test result executed within 72 hours prior to entry, submit a health declaration form and install two applications PC-COVID app and IGOVN (an App by the Ministry of Public Security). All Vietnameses are required to have these apps as well.
Two PCR tests will be taken on days 1 and 3 of arrival. Travellers need to undergo medical surveillance for at least 14 days from the arriving day.
10. Restrictions & Open Tourist Attractions and Activities in Vietnam
Most movie theatres, bars and nightclubs and karaoke parlours in Hanoi and Ho Chi Minh City are still not permitted to re-open.
Large gatherings like religious events and festivals have been restricted until further notice.
Other business models must ensure operating conditions with epidemic prevention regulations include restaurants, domestic travel agencies, public transport, hotels, monuments, attractions and government agencies.
All citizens and travelers must comply with social distancing regulations, wear masks in public, and maintain personal hygiene.
11. Returning Home
Regulations allowing citizens to enter from abroad vary from country to country. Therefore, these follow the instructions and procedures published by the country you are returning to. Keep updating the information of the competent authorities so as not to miss any changes.
The rules of entering Vietnam are constantly changing now due to the impact of Covid-19's new variants. We are in effort to keep this blog up to date when things change (last update 7/1/2022).
II. When Will Vietnam Open Borders for Tourism 2022?
Can I travel to Vietnam now?
Like many Southeast Asian countries, Vietnam is also eager to rivive its tourism economy. As planned, Vietnam opens for tourists who are fully vaccinated according to a 3-phase plan. 
The 1st phase starts from November 2021, mainly for tourists from Europe, Australia, the Middle East and the US to specific locations such as Da Nang, Phu Quoc, Hoi An, Nha Trang, and others.
The 2nd phase starts from January 2022 with additional more popular locations like Halong Bay. More countries will also be added to the approved list over the next few months. These moves are similar to the steps taken by Thailand through the Sandbox programs. 
The 3rd phase, full reopening, is expected in June or July 2022.
We will update this article as soon as we know more detailed information about Vietnam reopening in 2022.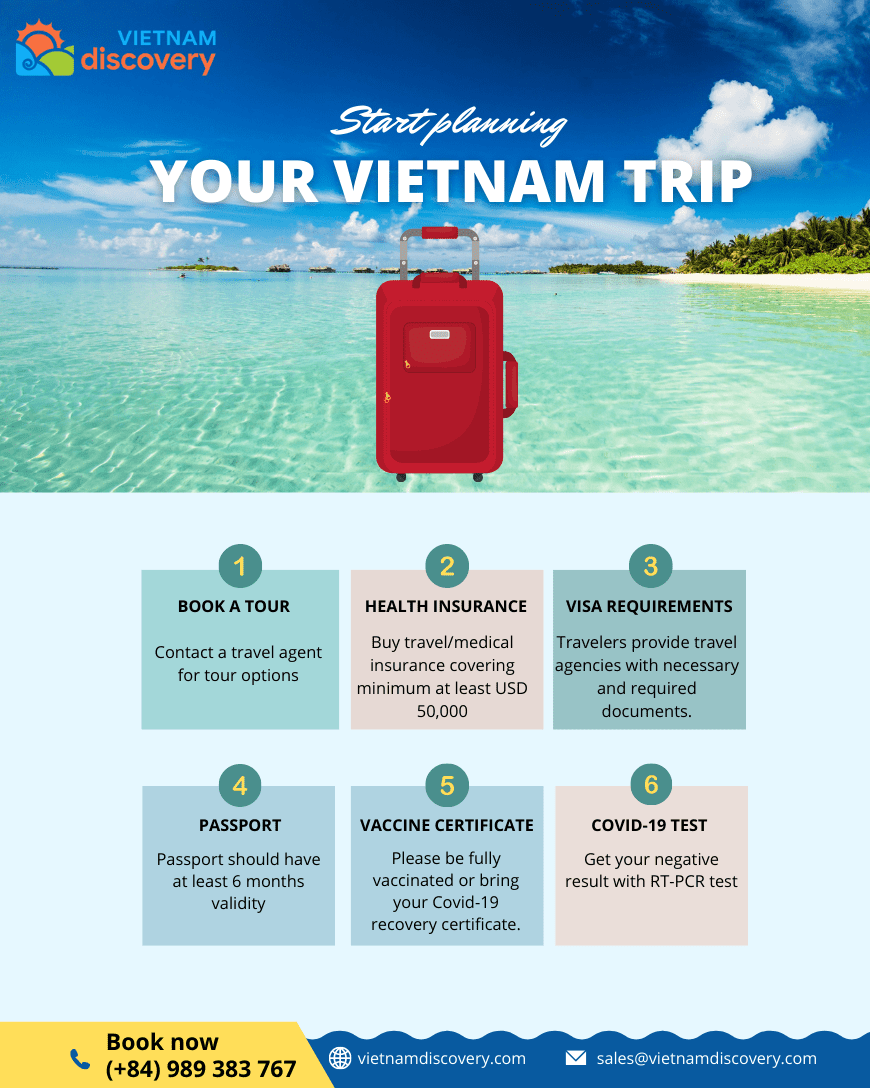 III. Plan Your Vietnam Trip
Want to register a tour package in Vietnam?Make 2022 the year of travel and become the first one to get back to somewhere exotic, tropical, culture and new!
Follow these instructions to start planning your Vietnam trip today:
1. Book a Tour Package
Choose and sign up for a package tour program with licensed travel agents.
The tour program must provide the following information:

Flight information
Accommodation
Services in the tour
Itinerary
It is important to work with that travel agent about visa, security, medical procedures, and paperwork during the trip.
2. Insurance Requirement
Buy travel/medical insurance which covers COVID-19 treatment with the minimum cover amount of at least USD 50,000. The cost is about USD 40.
3. Visa Application
The visa application is executed through travel agencies.
Travelers provide travel agencies with necessary and required documents.
Travel agencies process this application as per regulations. Visa issuance will be executed in diplomatic missions of Vietnam overseas, or at the border gate, depending on the requests of the travel agencies.
Visiting relatives not staying in the five destinations approved requires a written registration with the organizing travel agency. Accordingly, the travel agency will notify local authorities of the destination to coordinate health monitoring and reporting.
4. Passport Validation
Passport valid for at least 6 months.
5. Vaccine Passport/Certificate
Your vaccination certificate must be recognized by the Vietnamese competent authority. The most recent injection must be given at least 14 days in advance and up to 12 months before entry. Or you must provide proof of recovery from Covid-19 within 6 months prior to entry. Children under 12 years of age are not required certification but must be accompanied by a parent or guardian with a valid certificate.
6. Pre-Test Prior to Departure
If you show symptoms, your travel agency will consult you not to go to Vietnam
RT – PCR / RT – LAMP test must be conducted within 72 hours prior to boarding. Every passenger, including children above 2 years of age, should prepare to show negative test results to the airline or immigration authorities if requested.
Children under the age of 2 are not required to present a result of Covid-19 test, yet have to travel with a parent or guardian who has a negative result.
IV. Procedure While Joining in a Tour Package
Day 0-1

The travel agency arranges transportation to take you to the hotel.
Here, you need to perform a Covid-19 self-test under the supervision of medical staff at the hotel or hotel staff who have been trained in test safety measures.
Test results are saved by the accomodation's staff following the regulations.

Day 1-7

All activities in the tour will be accredited by the local government.
During the process, if you have symptoms such as cough, fever, sore throat, shortness of breath, body aches, fatigue, chills, loss of taste or hearing or are positive to Covid-19, you must notify the hotel's medical staff. Follow the 5K principle of the Ministry of Health of Vietnam throughout the journey.
The hotel rooms have test kits available. Visitors should self-test periodically every 2-3 days and monitor the results.
Visitors returning home after participating in the Vietnam tour package for less than 7 days need to follow the specific instructions of that country's government.

Day 7+

Tourists participating in the tour package over 7 days need to self-test on the 7th day of the journey under the supervision of medical staff at the hotel. If the results are negative, tourists can continue to visit other destinations if the local authorities accept foreign tourists.
If you want to visit relatives in locations not in the 5 destinations above, you must make a written registration with the travel agent organizing the tour. They will notify the local authorities of that location to coordinate processing health measures during your trip.
Travelers can leave Vietnam on commercial flights or licensed charter flights.
Visitors must comply with the epidemic prevention measures of each local government.
V. What Flights Can I Take to Vietnam Now?
Flight schedules are gradually returning to normal towards 8 specific countries, including United States, Japan, Cambodia, Singapore, South Korea, Laos, Thailand, Taiwan,… These flights are operated by 4 Vietnamese Airlines including Vietnam Airlines, Vietjet Air, Bamboo Airways, Pacific Airlines and 7 internnational airlines including Thai Vietjet (Thailand), Singapore Airlines (Singapore), Turkish Airlines (Turkey), Starlux Airlines and China Airlines (taiwan), Emirates (UAE), Asiana Airlines (South Korea).
Talk to our travel consultants for more details on flights, including which airlines are offering the best routes to Vietnam and most flexible terms.
VI. When is the Best Time of The Year to Travel to Vietnam?
The great thing about traveling to Vietnam is that this country has rather amazing weather year-round. Due to the long and narrow shape, Vietnam has three main regions, including north, central, and south. Each one experiences different season features and weather events. Since Vietnam climate varies throughout the whole country at different times of the year, there are always things to explore in Vietnam for tourists at any time of the year. At times, there can be white snow in mountainous far north yet sunshine and wind at the beaches in the south.
To understand more about "When is the best time of the year to travel to Vietnam?", visit this Vietnam weather guide.
Though we cannot travel to Vietnam just yet due to travel restrictions; however, these will surely be eased soon and tourism will come back with a surge in demand. Now is the time to start planning your trip in Vietnam.