The "Li Xi" custom seems to be popular on Tet Holiday in hope of bringing better things in the future. Thus, this kind of giving money has become indispensable in Vietnamese people's life whenever the Lunar New Year Festival comes.
Who Gives Li Xi?
Normally on this festival, the elderly compliment their kids for a year older by giving them "lucky money" covered by very nice and small red paper envelops (Vietnamese red envelopes) because the color of red is believed to symbolize luck and good fortune. The "lucky money" inside is traditionally new brand and low face value. However, it bears wishes for growth and successful study.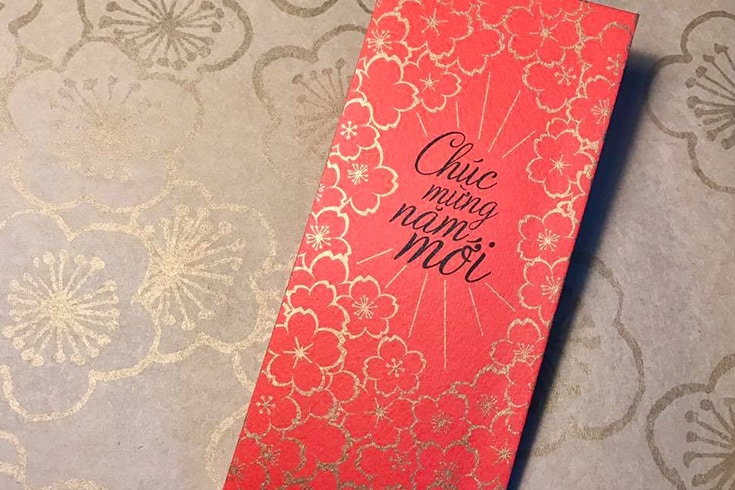 In Hanoi Capital, Hang Ma Street, one of the 36 old streets in Hanoi Old Quarter, is a place to sell things to keep children's money, which are mainly created in various shapes of pigs, rats and buffalo and made of clay or metal. Nevertheless, the Chinese zodiac animal that is the "best-seller" is the ones representing the Lunar Calendar for that year.
After preparing for children a "store for saving money, parents will then teach them spend the present money they have in meaningful ways including buying books for study, contributing to school aids or helping other friends who are in difficulties.
Up to now, the living conditions of Vietnamese people have had much improvement. Thus, although the "Li Xi" – lucky money giving custom sometimes tends to be commercialized, it is still believed to preserve its means of bringing joy and luck for all people.
If foreigners have chance to travel to Vietnam right on Vietnamese Lunar New Year Festival – Tet Holiday, remember to bring some red envelops with lucky money to "Li Xi" for kids of your friends when you are invited to come to their house on the days of Tet Festival.