Ninh Binh of Vietnam has long been famous for its tourist destinations with the combination of historical constructions and natural scenery. Coming to Ninh Binh, besides Trang An Complex with Bai Dinh Pagoda and Tam Coc – Bich Dong, there is a new place of interest that visitors should not miss. Tuyet Tinh Coc in Ninh Binh is a part of Hoa Lu Citadel, which is not only an imposing natural landscape but also a cultural site with long-lasting values.


Location: Hoa Lu Citadel Complex, Truong Yen Commune, Hoa Lu District, Ninh Binh
Opening hours: 07.00 AM - 06.00 PM
Entrance fee: 20,000 VND
Suitable for: traveling in group, family, couple
I. Highlights of Tuyet Tinh Coc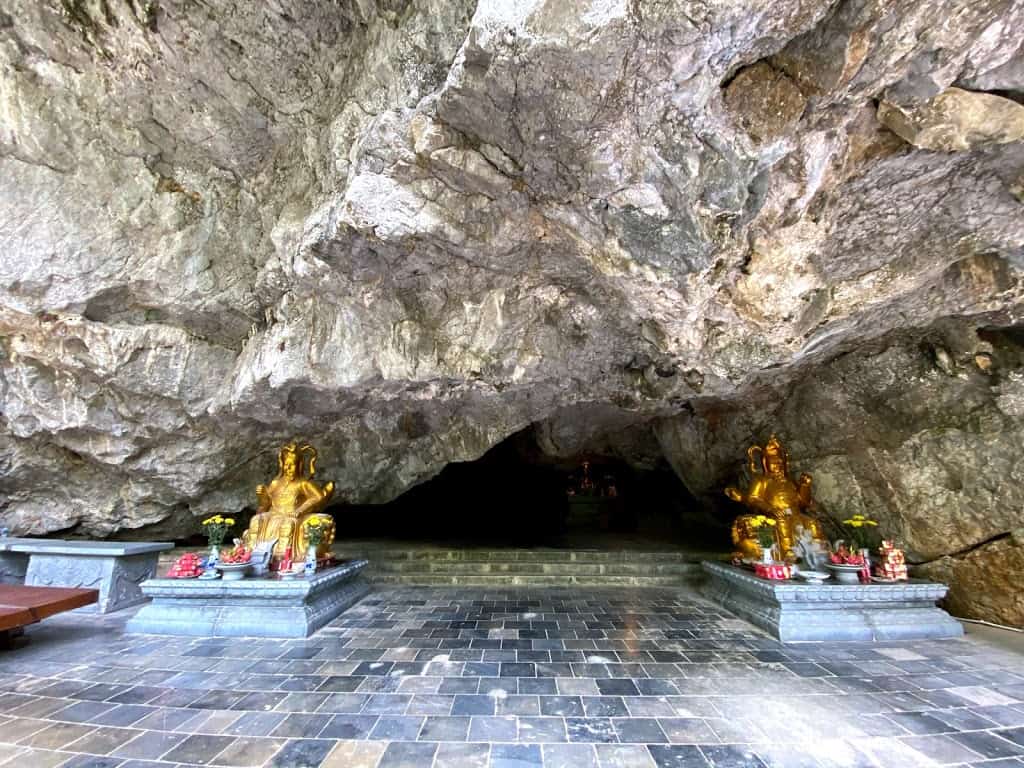 1. History of Tuyet Tinh Coc
Tuyet Tinh Coc in Ninh Binh is also called Am Tien Cave. More than 1000 years ago, this area was the place to punish the crime under the reign of King Dinh Tien Hoang. At that time, Hoa Lu Ninh Binh was the capital of Dai Co Viet (the former name of Vietnam). A valley that was full of obstacles right on the side of Hoa Lu was chosen and reformed into an execution ground.
Under the reign of King Le Dai Hanh, this area was used as a prison to detain the prisoners of war from the Song Dynasty from China, who invaded Dai Co Viet in 981 and was defeated by our army. Am Tien Pagoda was the place Queen Duong Van Nga, the wife of both King Dinh Tien Hoang and Le Dai Hanh, lived the last years of her life. Later, under the Ly Dynasty, Minh Khong Monk restored the pagoda and expanded the ground of the pagoda.
The area of Tuyet Tinh Coc was attached to the love story of Princess Phu Dung (the daughter of King Dinh Tien Hoang) and her husband. Since 2011, this landscape has become more popular, especially among the young, as a magnificent site for taking photos.
2. Location
Tuyet Tinh Coc is located in a locked area to the east of Hoa Lu Citadel; the surrounding is imposing mountains. Before the tunnel was built to make it easier to enter An Tiem Cave, this area had not been popular, and even the locals hardly knew about it. Thanks to the investment in tourism in Ninh Binh Province in general and in Hoa Lu in particular, Tuyet Tinh Coc has become more and more famous among tourists coming to this landscape.
Tuyet Tinh Coc is a complex of lakes, mountains and temples. This area is a small valley with a large lake in the low-lying area. The lake is enclosed by imposing mountain ranges, making Tuyet Tinh Coc an ink-wash painting. The stunning beauty from a fairy tale attracts many tourists to explore this site. The area is called "Tuyet Tinh Coc" since it is the place where people can forget all the exhaustion and hustle of the outside world and find themselves in nature.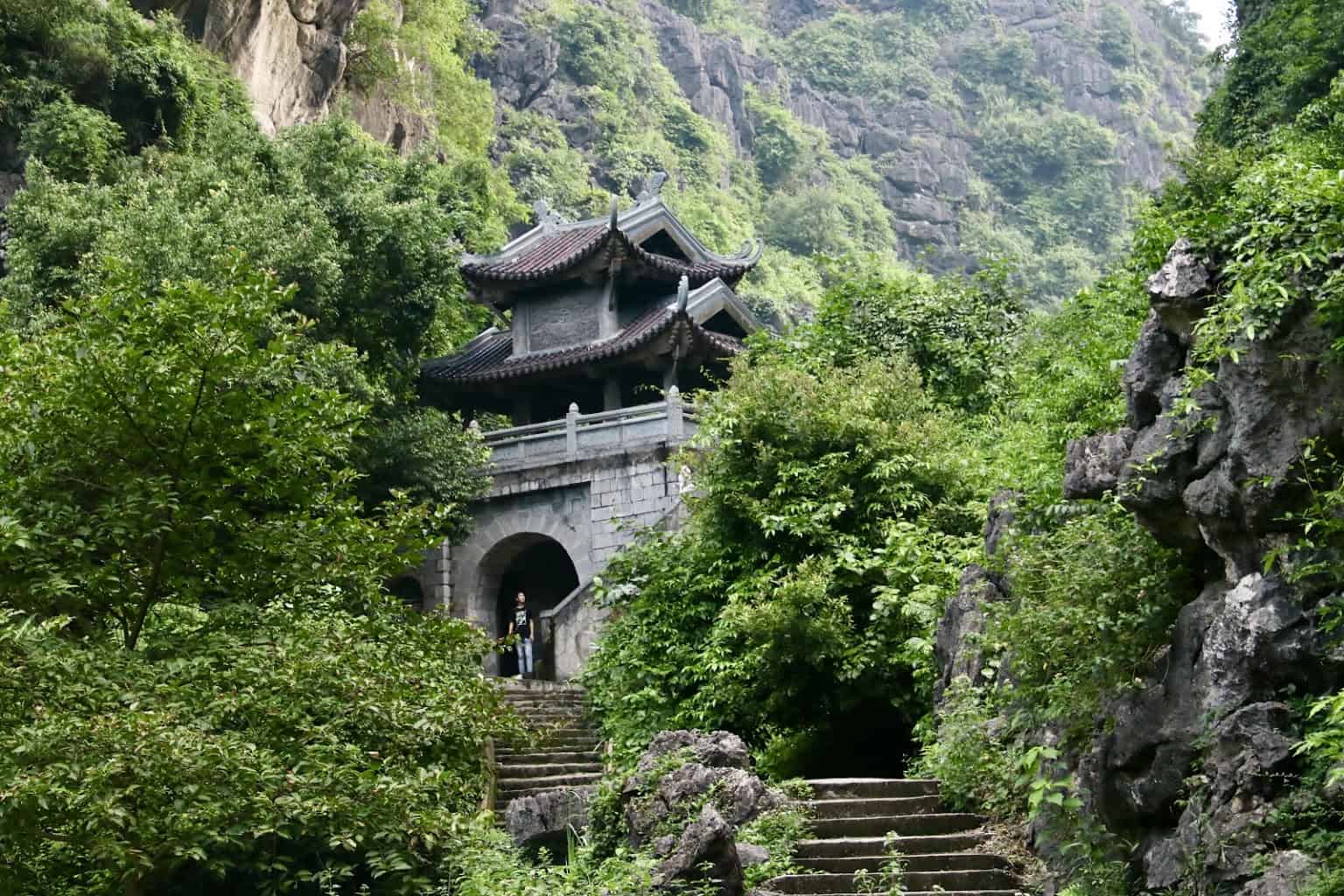 3. Beauty of Tuyet Tinh Coc
No one can deny the charming appearance of Tuyet Tinh Coc in Ninh Binh. Tuyet Tinh Coc is the harmonious combination of grandiose limestone mountains, tranquil lake and a plentiful plant system. Ao Giai Lake is the highlight of the whole site. The crystal-clear water of the lake reflects the contemplation of the surrounding mountains, leaving a feeling as if this area has not been touched by the hand of humans.
The atmosphere of Tuyet Tinh Coc is peaceful enough for tourists to enjoy all the wonderful appearance of this place. Tourists can breathe the fresh air, smell the aroma of nature and hear the sound of life. All the senses of visitors will be woken up so that they can feel the whole beauty of Tuyet Tinh Coc. Tuyet Tinh Coc is supposed to be a landscape that can only be imagined in fairy tales, but it exists in Ninh Binh, Vietnam.
II. Best Time to Visit Tuyet Tinh Coc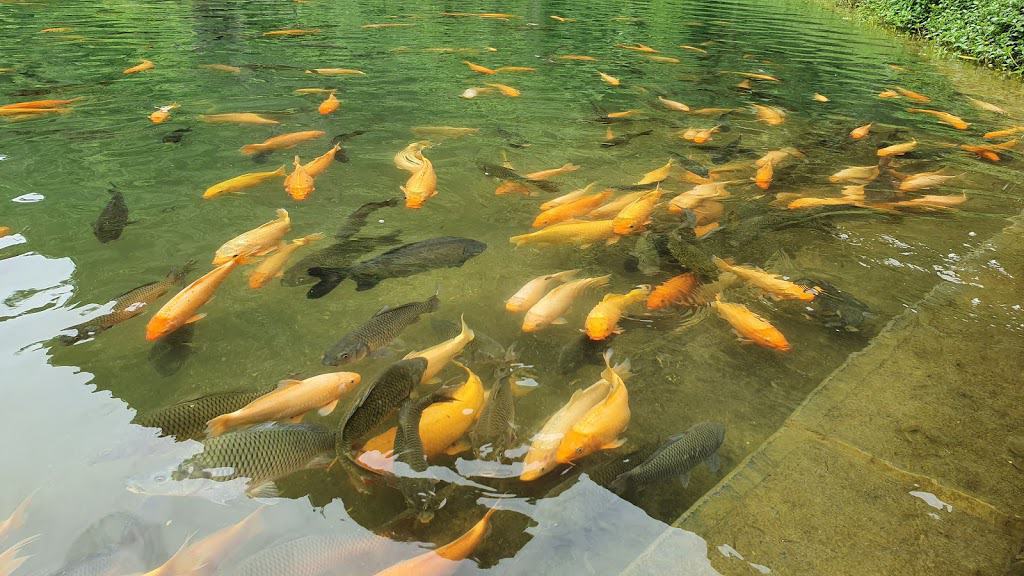 Ninh Binh in each season of the year has its own beauty. The climate in Ninh Binh is featured by the typical climate of North Vietnam with four seasons within a year. Depending on your preference and schedule, you can prepare to visit Tuyet Tinh Coc at any time.
Though summer in North Vietnam is relatively hot, the temperature in Tuyet Tinh Coc is a bit lower thanks to the natural conditions. In winter, the weather is quite cold and the sky is often gray, it is still ideal to take photos with the concept like in a fairyland.
Spring and autumn are supposed to be the best time to visit Ninh Binh in general and Tuyet Tinh Coc in particular. At that time, the temperature is not too high or two low, there is not much rain at these times, so an out-door journey on a sunny day is the best choice. Besides, spring and autumn are festival seasons in Ninh Binh, when tourists can experience the unique culture of this land.
III. What to See and Do at Tuyet Tinh Coc?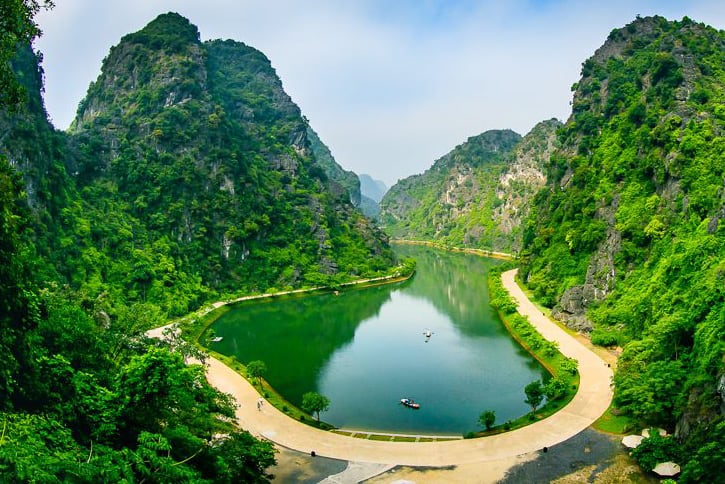 1. Walking around Ao Giai Lake
It can be said that Ao Giai Lake is the heart and soul of Tuyet Tinh Coc. The lake is in the green color all year round, and in summer, its surface is covered by the appealing beauty of lotus flowers. Whenever mentioning Tuyet Tinh Coc in Ninh Binh, tourists will immediately imagine a lake that is like a mirror reflecting the mountainous scenery.
There are some ways for tourists to enjoy the atmosphere of Tuyet Tinh Coc, and the most popular one is having a walk around the lake. Tourists should remember to prepare a camera to capture the gorgeous photos with the scenes on the bank of Ao Giai Lake. Besides, boats and wagons are always available if visitors want to contemplate the attractiveness of Tuyet Tinh Coc from a different view.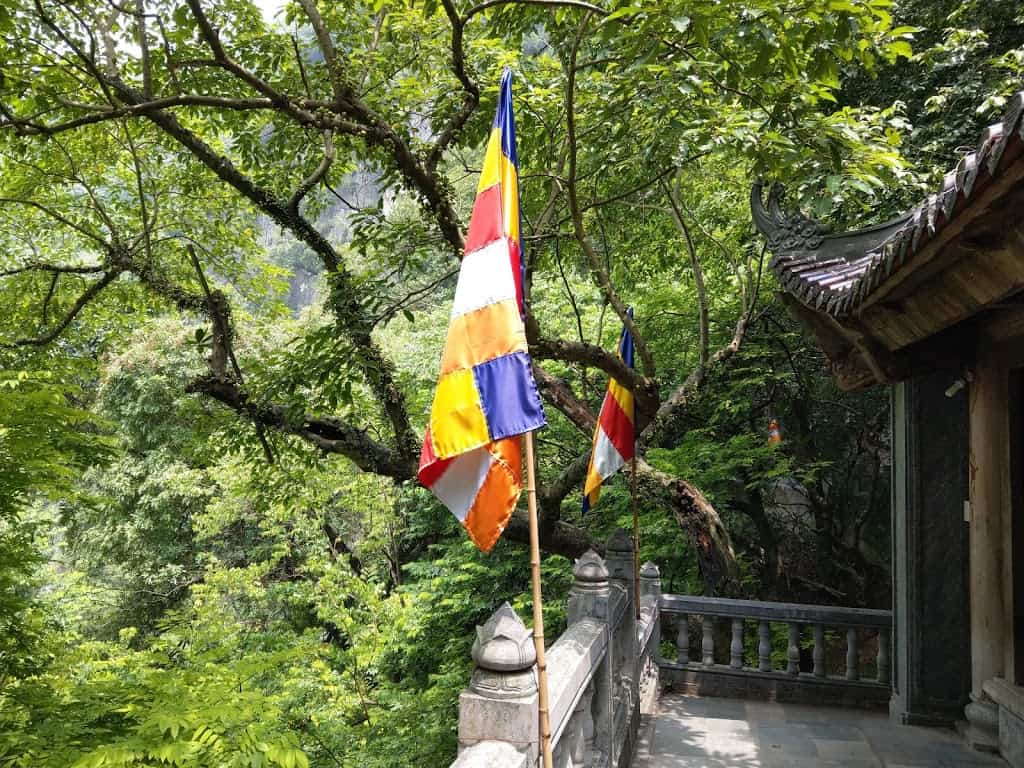 2. Visiting Am Tien Cave and Pagoda
Am Tien Pagoda is a cave pagoda, which is located inside a small cave on the side of Ao Giai Lake. The pagoda accompanied the story of Queen Duong Van Nga, the wife of both King Dinh Tien Hoang and Le Dai Hanh. In the last years of her life, she moved there and entered the convent. On the wall of Am Tien Pagoda, there is still a poem in Chinese characters summarizing the life and merits of this queen.
Under the Ly Dynasty, Minh Khong Monk reformed this pagoda, widened the area and added more altars to worship Buddha inside the cave. Nowadays, the center of Am Tien Pagoda is the altar of Minh Khong Monk, the surrounding are the memorial tablet of Queen Duong Van Nga, Princess Phu Dung and her husband as well as Truong Ma Ni, the mandarin who first reclaimed and constructed this area.
To get to Am Tien Pagoda, tourists need to follow a path on the left of Ao Giai Lake. The more-than-200-step stair leads to Am Tien Lake halfway up the mountain. The path leading to Am Tien Pagoda is covered by the green shadow of old trees, so tourists can feel the fresh and cool air, even on the hottest summer days. Inside Am Tien Cave, the stalactites in many shapes and sizes will amaze visitors. Am Tien Cave is also called Dragon Cave due to the dragon-mouth shape of this cave.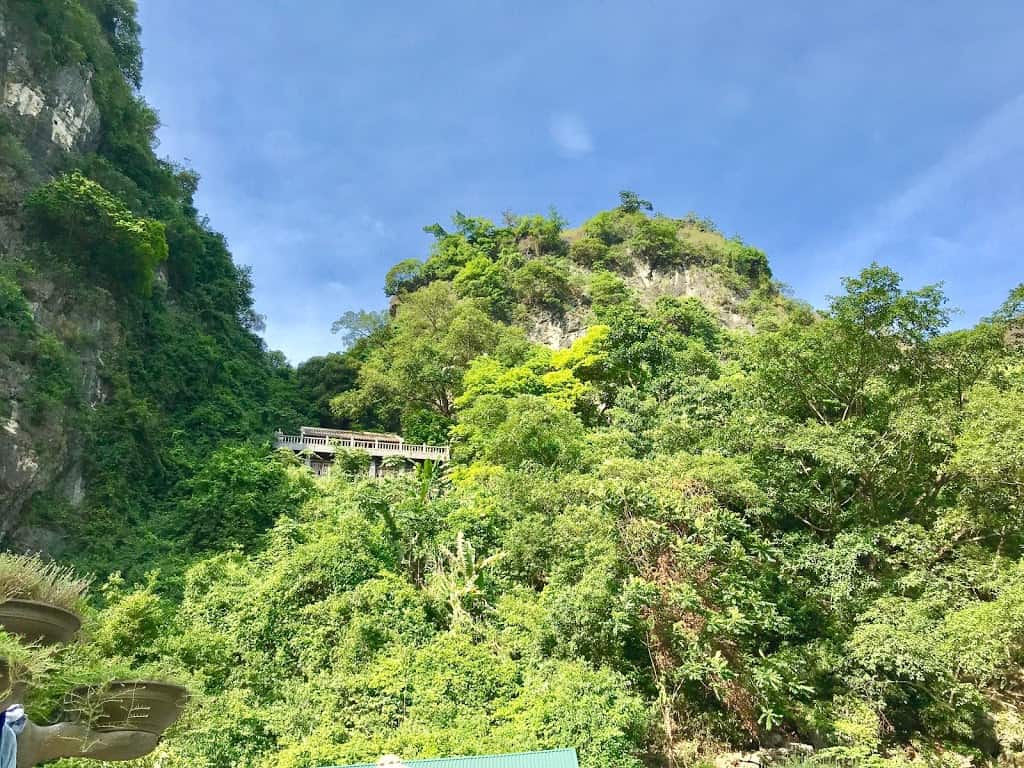 3. Enjoying the view from the wall gate
Contemplating the beauty of Tuyet Tinh Coc from above is such an interesting experience that tourists should not ignore. A staircase leads tourists from the foot of the mountain to the gate perched on the mountain slope. The wall gate was built between two mountains, all around are imposing mountains, so this place is like a hermitage of the fairies.
Despite being newly built, the wall gate is covered by the mossy color, leaving an ancient appearance on the wall, which is well-matched to the scenery of Tuyet Tinh Coc. The door of the gate is in arch shape, and its roof is in double-roof style. Leaning on the banister of the gate and looking down Ao Giai Lake below, tourists can catch all the impressive scenery of Tuyet Tinh Coc. The green color of the lake and mountains mixes in harmony with the blue sky to draw a picture of nature and life in this landscape.
III. How to Get to Tuyet Tinh Coc
Tuyet Tinh Coc is located in Ninh Binh Province, which is about 90 kilometers from Hanoi. To get to Tuyet Tinh Coc, tourists can choose to go by coach, by car or motorbike. Thanks to being a tourist attraction in Ninh Binh, the transport system to Ninh Binh is quite convenient so you can depart at any time of the day.
From Hanoi, you follow Phap Van – Cau Gie Highway, and after a 50-kilometer way, you will reach Liem Tuyen. There you follow provincial highway 494 and Highway 1A to Truong Yen Commune to get to Tuyet Tinh Coc. It takes you about 2 hours to go by car or by coach, and 3 hours to go by motorbike. For those who love trekking, going by motorbike is the best choice.
V. Extra Tips
If you want to travel by motorbike to Tuyet Tinh Coc, remember to bring a map to find the right way. In addition, you need to follow the traffic rules to ensure your safety.
May, June, September and October are the best time to visit Tuyet Tinh Coc. You had better start your journey on a sunny day to enjoy your trip with the most convenience.
Prepare an umbrella or hat and bring some water in case the weather could be hot.
If you do not know how to arrange your trip, joining a tour with a tour guide is recommended.
If you travel in a family with children, remember to pay attention to them.
Tuyet Tinh Coc is to the east of King Dinh Tien Hoang Temple, so besides this destination, you can visit many other attractions in Hoa Lu Citadel.
Don't throw your rubbish there. Protect the environment in the ground of Tuyet Tinh Coc.
Although Tuyet Tinh Coc in Ninh Binh is well-known for a short time, it has captured the attention of many domestic and international tourists coming to Ninh Binh. The natural and cultural values have been preserved in this landscape so that tourists can experience all the traits of Tuyet Tinh Coc as well as Hoa Lu Citadel. What are you looking for? Take your luggage and start a trip to Tuyet Tinh Coc to enjoy your vacation!