Situated at the center of Ho Chi Minh City, Saigon Notre Dame Cathedral, aka Saigon Notre Dame Cathedral Basilica or Cathedral Basilica of Our Lady of The Immaculate Conception, is a symbol and one of the most famous Saigon attractions in the financial hub of Vietnam. As one of the most famous attractions in Ho Chi Minh City, this long-age cathedral attracts not only Catholics believers but also tourists and the locals of other religions because of its sacred atmosphere and magnificent structure beauty.
Location: No. 1 Cong Truong Cong xa Paris St, District 1, Ho Chi Minh City
Opening hours: 8 AM to 11 AM and 2 PM to 4 PM daily. 
Weekday Mass: 5.30 AM and 5.30 PM. 
Every Sunday: 5.30 AM; 6.45 AM; 8 AM; 9.30 AM; 4.00 PM; 5.30 PM; 6.30 PM. 
Every Sunday, 9.30 AM Mass is in English.
Entrance fee: free - except for parking tickets outside the cathedral.
History of Saigon Notre Dame Cathedral
The history of this cathedral starts from the conquest of French in the late 19th century. The French government at that time wanted to have a big church to serve a community and religious services for French colonialists. The first church on Ngo Duc Ke Street was too small, so French Admiral Bonard decided to build a larger church. The construction was started on March 28th, 1863. After two years, the building was completed and called " Saigon Church".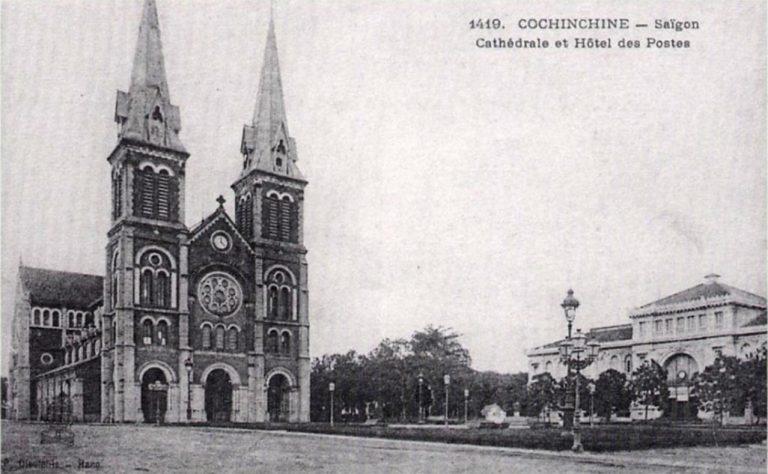 In 1895, the French built two bell towers to the cathedral, each 57.6 high. There are smaller six bronze bells around the towers. The crosses were equipped on the top of each tower. Each of them is 3.5 m high, 2 m wide and 600 kg in weight. At this time, the height of the building, from root to top is 60.5 meters.
The French also constituted a bronze statue of Pigneau de Behaine (also called Bishop of Adran) leading Prince Canh, the eldest son of Emperor Gia Long. This statue was in front of the church. In 1945, the statue was destroyed but the base of the statue remained.
In 1959, Bishop Joseph Pham Van Thien ordered a statue of Our Lady of Peace in Rome. On 6 February 1959, he held a ceremony to install the statue on an empty base. The next morning, Cardinal Agagianian from Rome solemnly chaired the ceremony for the statue; thus, the cathedral was called Notre-Dame Cathedral.
In 1960, Pope John XXIII erected Roman Catholic dioceses in Vietnam and the cathedral was named Saigon Chief Cathedral. In 1962, he anointed the Saigon Chief Cathedral and conferred the status of a basilica. From this time, this cathedral was called Saigon Notre-Dame Cathedral Basilica.
Renovation of Notre Dame Cathedral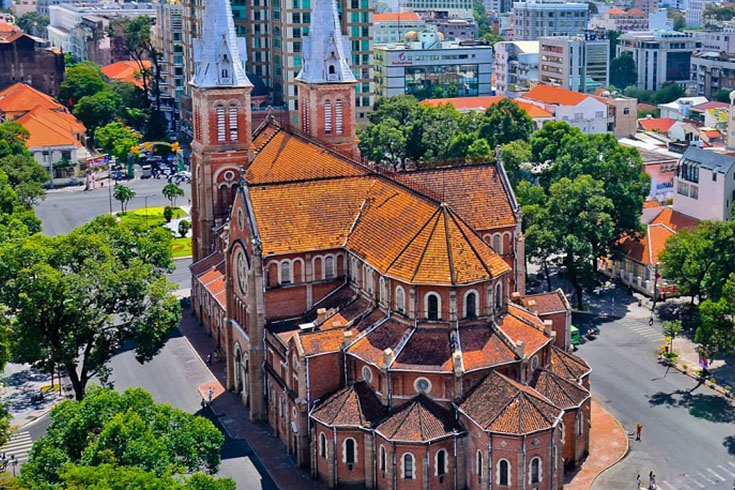 Until now, this church has undergone three renovations. The first restoration was the construction of the bell towers' pointed roofs in 1895. The second time in 1903, the front of the church was embellished, the flower garden and Ba Da Loc monument were built. The third time was the installation of the Our Lady of Peace statue in 1959.
Currently, Sai Gon Notre Dame Basilica is undergoing a huge renovation project starting in August 2017 and expecting to finish in June 2020. At this time, the cathedral is closed but remains for Vietnamese Catholics every Sunday. Particularly, there is a mass at 9:30 am on every Sunday, in both Vietnamese and English. For tourists, they are still welcomed to visit the Basilica's surrounding grounds or go walking in the square in front of the church.
Highlights of Notre Dame Cathedral
1. Material and Architecture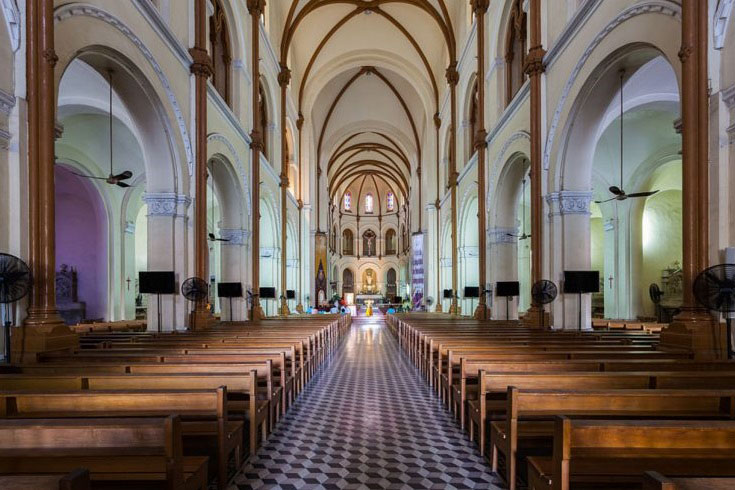 Notre-Dame Cathedral has been affected by the neo-Romanesque architectural style. Romanesque Revival (or Neo-Romanesque) is a style of building employed beginning in the mid-19th century inspired by the 11th- and 12th-century Romanesque architecture. The buildings of this style tended to feature more simplified arches and windows than their historic counterparts.
During the construction process, all construction materials from cement, steel to screws were brought from France. The exterior of the construction was made of bricks made in Marseille. It is bare, no plastering, no moss dust, and remains pink bright color. The entire cathedral has 56 stained-glass windows manufactured by Lorin of Chartres Province (France).
2. Design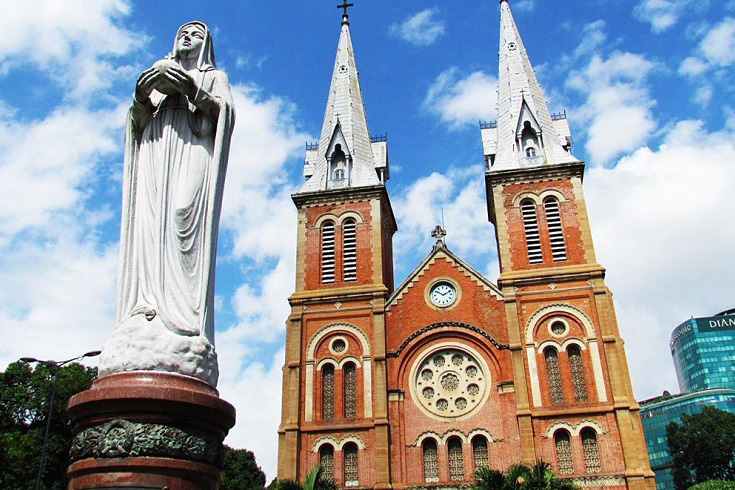 The total length of the cathedral is 93m. The width of the widest place is 35 m. The height of the cathedral dome is 21 m. The church's capacity can reach up to 1,200 people.
The foundation of the cathedral is specially designed to bare 10 times the weight of the entire architecture of the church above. And a very special thing is that the church did not have a fence or a wall like the churches around Saigon – Gia Dinh at that time.
The interior of the cathedral has two rectangular main rows, six on each side representing 12 apostles. The altar of the Sacred Palace is made of monolithic marble with six angels carved into the stone, the pedestal is divided into three cells, each of which is a sculpture depicting relics.
The walls are decorated with 56 glass doors depicting Bible characters or events, 31 round rose pictures, 25 multi-colored cow eye windows combined with beautiful images. All lines, edges, patterns follow the Roman and Gothic forms which are dignified and elegant. However, of these 56 glass doors, only four of them are intact, while other stained glass windows were remodeled in 1949 to replace the original stained glass doors of the church were destroyed in World War II.
The interior of the cathedral at night is electrically lighted (without candles) right after it was opened. During the day, with the perfect light-blending design, the interior of the cathedral creates a soft light, a sense of security and holiness.
The church has a pipe organ, one of the two oldest pianos in Vietnam until today. This instrument is hand-made by foreign experts and is designed to sound enough for the whole church to listen. Currently, this organ has completely damaged due to being eaten by termites.
3. Bell towers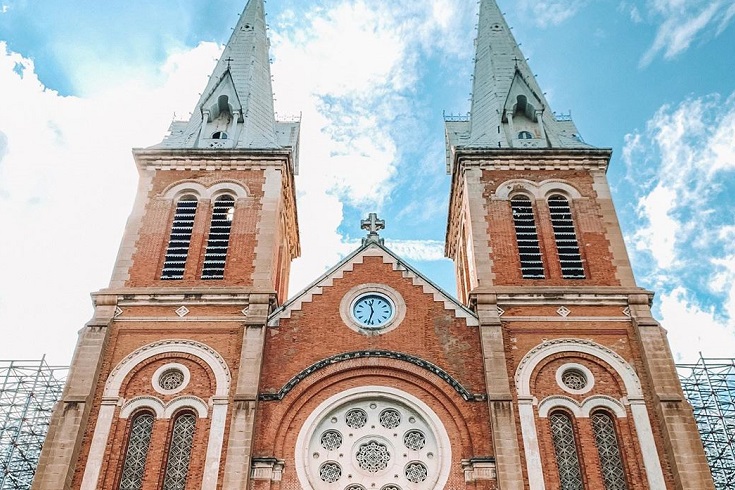 Initially, the two bell towers were 36.6 m high, had no roof and only had a narrow staircase about 40 cm. The interiors are dark and the floor is poorly lined with small pieces of wood. In 1895, the cathedral built two more rooftops to cover the 21-meter-high bell tower, designed by architect Gardes, a total of 57 meters high bell tower. All six bells are hanging on the two bell towers. This bell was made in France and brought to Saigon in 1879.
The bells are electrically controlled from the below. On weekdays, the cathedral only rings at 5 am and at 4:15 pm. On holidays and Sundays, the church usually gives three rings. It was on Christmas Eve only to ring all six bells. You can even hear the bells from 10km away.
4. The clock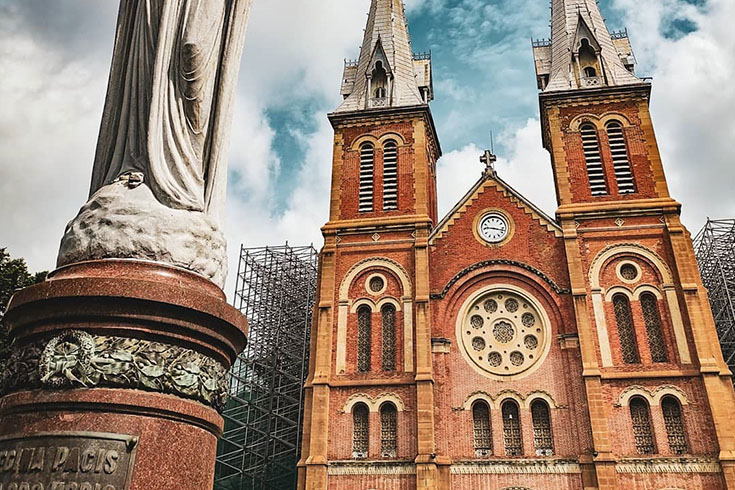 There is a big clock between the two bell towers. It was manufactured in 1887 and has 1 ton in weight. It's so old but works correctly. In front of the church is a small square with four paths creating a cross.
5. The square in front of the church
Paris Commune Square is a small square located in District 1, Ho Chi Minh City, Vietnam, limited by Notre Dame Cathedral and Nguyen Du Street. This is also the starting point of the famous Dong Khoi Street.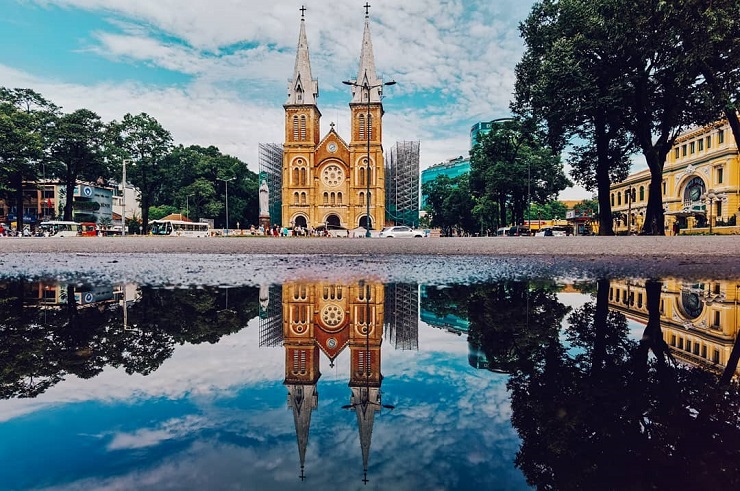 At the center of the square is a statue of Our Lady of Peace (or Queen of Peace). The statue was made by the sculptor G. Ciocchetti in 1959. The statue is 4.6 m high, 8 tons in weight, made by Italian white granite. It is carved to see from far away so it is not polished. The statue is in an upright position, and she is holding the globe, on the globe with a cross attached while Our Lady's eyes are staring at the sky as if she were praying for Vietnam and for the world to be peaceful.
At the foot of the stone pedestal, a cavity was carved into the foot of the statue, including a silver box, containing prayers for peace in Vietnam and the world. The prayers were written in different materials such as gold, silver, tin, aluminum, paper, leather and copper, and were sent from many parts of Vietnam, including from the Northern provinces.
What to Do around the Cathedral
1. Walking around Nguyen Van Binh Book Street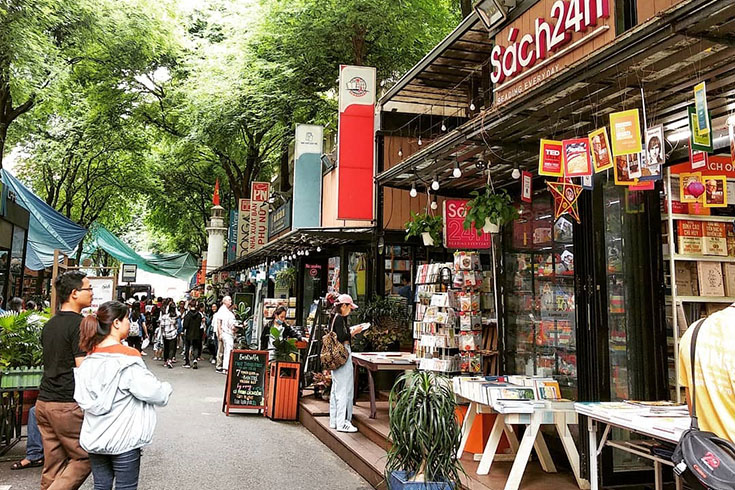 Just walk around 150 meters from Saigon Notre-Dame Basilica, you can reach this famous book street. This street is opened in 2016 and has become a "heaven" for book lovers. This street is about 100 meters long with so many kiosks 4 meters in width placed side by side. The books here are very variable of all kinds, from fiction, non-fiction, travel, comedy, etc. The books are quite cheap for readers and there are many comfortable seats for anyone looking for a place to read. You can see the scenes full of readers.
2. Visit War Remnants Museum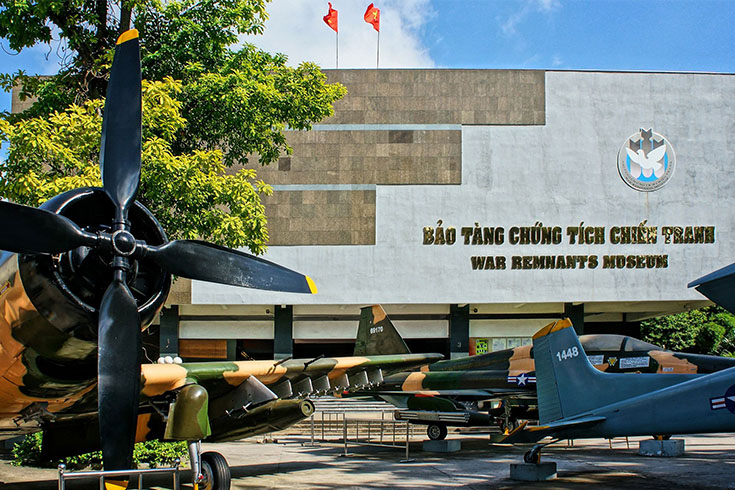 From Notre-Dame Cathedral Saigon, it takes about 10 minutes to visit this famous landmark. Established in 1975, this museum exhibits many photos in Vietnam War (1954 – 1975) of both sides: the US and North Vietnam. You can observe "tiger cages" which are used to keep the political prisoners. Visiting this museum is a useful way to know more about Vietnam's history and the brutality of war.
Location: 28 Vo Van Tan, District 3, Ho Chi Minh City.
Opening hours: 7.30 am to 5 pm every day.
3. Visit Independence Palace
Just 400 meters from Notre-Dame Cathedral is Independence Palace. Independence Palace, formerly Reunification Palace, is a famous site in Ho Chi Minh City. This place is the home and workplace for the President of South Vietnam from 1954 to 1975. It also was the place that remarked the end of the Vietnam War on April 30th, 1975.
Reunification Palace has five levels with different functions for the president and his officials.
This destination, through so many historical events, is like a real "witness" in the Vietnam War. When visiting the church, don't miss this place to learn and know more about the history of this city.
Location: 135 Nam Ky Khoi Nghia Street, District 1, Ho Chi Minh City
Opening hours: 08:00 – 11:00 & 13:00 – 16:00 every day.
4. Visit Ho Chi Minh City Museum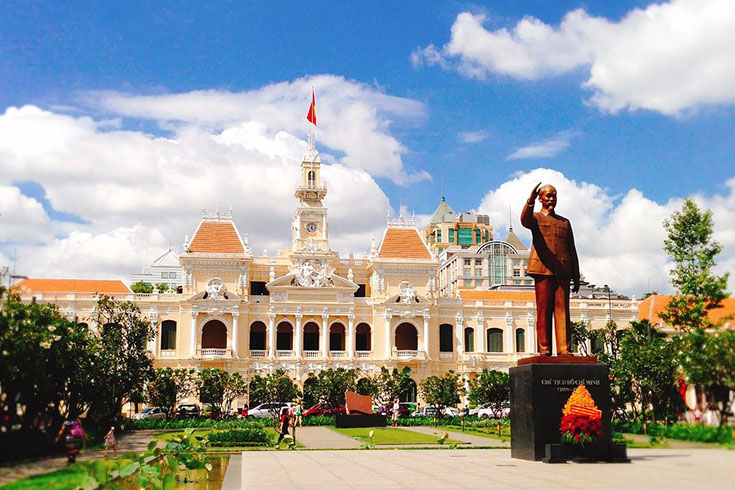 About 600 meters from Notre-Dame Cathedral is the Ho Chi Minh City Museum. Built in 1885, it is a grand and impressive building. In the museum, there are many photos, images, pictures from all kinds of materials and styles of art.
Under the museum is a network of bunkers and corridors that connects to the Reunification Palace.
You can find multiple pieces of military equipment, including the jet of a South Vietnamese pilot to bomb the Palace.
Location: 65 Ly Tu Trong, Ben Nghe, District 1, Ho Chi Minh City
Opening hours: 7:30 am – 5 pm every day.
5. Visit Saigon Central Post Office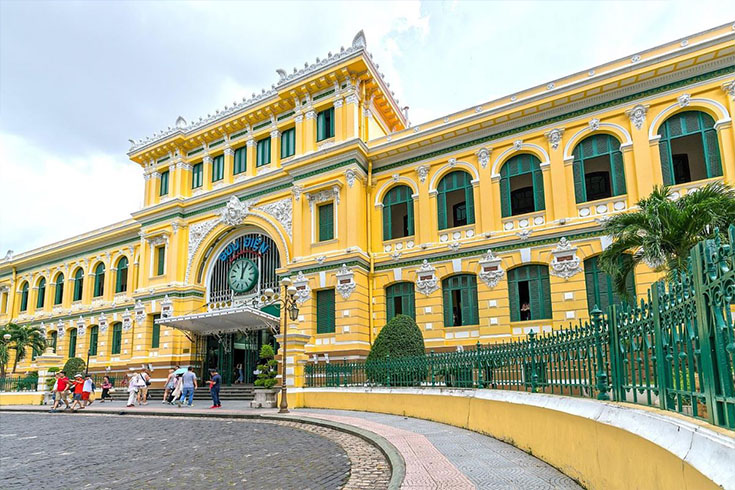 About 100 meters from Notre-Dame Cathedral is the Saigon Central Post Office. Ho Chi Minh City Post Office or Saigon Central Post Office is the main post office and one of the most attractive tourist attractions in Ho Chi Minh City. Today, it has been the busiest post office in Vietnam.
The post office has all kinds of traditional postal services like mailing, selling postcards, or stamps. Foreign money exchange is also available. Inside the post office, you can buy souvenirs or write letters on wooden tables.
Don't forget Mr. Duong Van Ngo – an old man sitting at the end of a long wooden table. Mr. Ngo has been working here since he was 17, as a polyglot public letter writer and a translator. When he retires, he often helps people write letters in English and French.
Location: No. 2 Cong Xa Paris, Ben Nghe, District 1, Ho Chi Minh City
Opening hours: 07:00 – 19:00 every day.
Best Time to visit
The best time to visit is dry months from December to April when the weather is not hot or cold.
This time is perfect to enjoy the sunset and sundown, between 3 pm to 6 pm and. Notre Dame Basilica is opened every day at the mass time.
How to Get There
If you want to visit Saigon Notre Dame Cathedral, you can go there by car, taxi or bus. It will take 20 minutes from the center of Ho Chi Minh city via Cong Hoa Street. You can go there by bus. If you are taking a bus, bus number 04, 120, 18, 30, 31, 36, 93 can help you.
Things to Note
Enjoying ground coffee (cà phê bệt)
You can do this at the corners of the trees, the lawn in the square around the church.
Over 700 gentle, friendly pigeons will be ready to "dance" on your hands to have a little piece of bread or rice.
Delicious and cheap street food is always ready to serve you at any time of the day.
From Notre Dame Cathedral, you can also choose a cyclo and start your journey to explore the city.
Saigon Notre Dame Cathedral is a real architectural and cultural masterpiece, not only promote the appearance of locals and tourists but also develops the connection and harmony of East-West culture.
Over the hundred years, this masterpiece always makes the visitors feel magnificent, solemn, close and amazed. For the locals, this always exists in their hearts as a sacred place. For its long-lasting history, Notre-Dame Cathedral is always considered as a stop for the people who seek for old beauties and calmness as well as one of the most famous attractions in Ho Chi Minh City.