Whenever you think of a supermarket to shop for premium and high quality foods and drinks in Ho Chi Minh City, we will definitely suggest you go to Annam Gourmet Market where you are offered a wonderful shopping experience in a modern and vibrant atmosphere. With the commitment "Great Food Good Times", throughout 16 years of development, Annam Gourmet Market has become a trust-worthy shopping address for those who are concerned about the healthy products for their family.
Locations:
1. Hai Ba Trung: 16-18 Hai Ba Trung Street, Ben Nghe Ward, District 1, Ho Chi Minh City
2. Saigon Center: Basement 2, Log 11/12, Saigon Center Building, 65 Le Loi Street, Ben Nghe Ward, District 1, Ho Chi Minh City
3. Thao Dien: 41A Thao Dien Street, Thao Dien Ward, District 2, Ho Chi Minh City
4. Estella: 88 Song Hanh, An Phu Ward, District 2, Ho Chi Minh City
5. Phu My Hung: Riverpark Premier, 64-70 Nguyen Duc Canh Street, Tan Phong Ward, District 7, Ho Chi Minh City
Opening hour: 7.30 – 21.30 daily. At Saigon Center: 09.30 – 21.30 daily
Website: annam-gourmet.com
I. Highlights of Annam Gourmet Market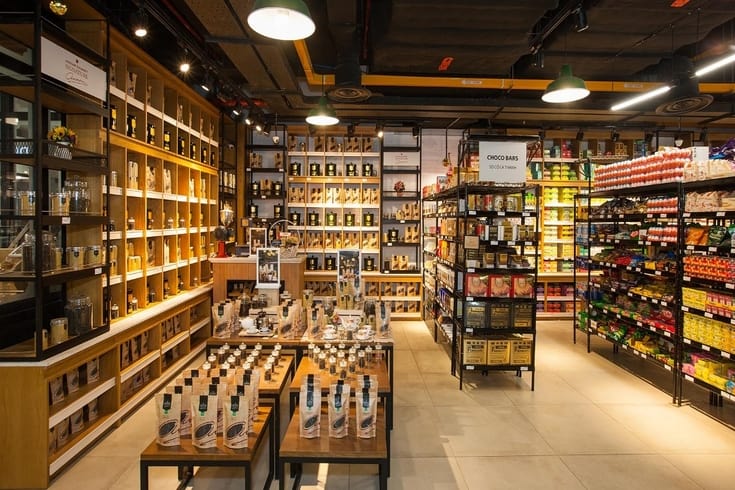 Annam Gourmet Market is a high-class supermarket food chain specialized in healthy food and beverage products which are carefully recruited from all over the world. It is a brainchild of a Vietnamese-French couple, Ha and Eric, who are passionate about high-end products and gourmet cuisine. With the dream of bringing fine food and beverage from all over the world to Vietnamese market, where this aspect was still not very diverse while the demand of consumers is becoming higher and higher, they struck upon an idea to open an European food store in Ho Chi Minh City.
From the very first days, thanks to the help of many friends and supporters, Ha and Eric has frequently increased the range of products at Annam Gourmet Market, adding some kinds of food missed in Vietnam and favorite ones in the world like olive oil of Italy, salty salmon of Spain or marmite of the UK. Over the years, the small store turns into a specific chain of markets which stocks more than 10,000 products for all exceptional flavor and quality.
Beginning with the very first stall in District 1 of Ho Chi Minh City, up to present, Annam Gourmet Market has had a total of 6 stores in Vietnam, including five in Ho Chi Minh City and one in Hanoi. In this chain of high-quality products, you will find a variety of commodities including international cheese, savory groceries, premium sweet, bakery, delicatessen, vegetables, fruits, cosmetics, home care and imported beverages and wine.
The most interesting thing when shopping at Annam Gourmet Market is the available unique high-quality products driven by fervency and the virtue that makes Annam Gourmet Market outstanding from the other ones.
II. Shopping at Annam Gourmet Market: Products to Shop
1. Beverage
If you are finding an address for a bottle of wine or champagne for your family's parties, there is nowhere better than Annam Gourmet Market. This is the place where you can find the products of the celebrated brands in the world such as Allan Scott, Marchesi Antinori, Bollinger, Louis Roederrer, Nicolas Feuillatte and many other brands. Besides, Annam Gourmet Market offers other kinds of imported drinks from Europe like mineral, cider, tea and coffee.
2. Food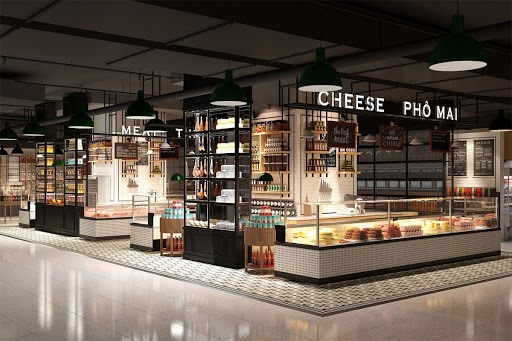 Annam Gourmet Market provides you with organic products of food such as Italian milk, French honey, some kinds of snacks, oat cakes, waffles, whole grain, chocolate and other dairy products. In addition, you can have a wide range of organic and vegetarian food imported from foreign countries or produced in Da Lat, a famous land in Vietnam for fresh agricultural products. Not only that, Annam Gourmet Market has some gluten-free products of Ma Vie Sans Gluten, a renowned French brand, which are continually diversified.
Many kinds of high-quality meat and fish are off-the-rack in Annam Gourmet Market such as Australian-imported beef, New York steaks, or Kobe beef from Japan. This is the most convenient place to choose some types of very delicious fish like tuna and salmon from Nha Trang, Vietnam or Norway. These kinds of food not only come from trust-worthy suppliers but also contain high nutrition, ensuring a healthy meal for you and your family.
3. Annam Gourmet Signature
Annam Gourmet Signature (AGS) is an exclusive store brand of Annam Gourmet Market, a highlight of this supermarket chain. The products of Annam Gourmet Signature start first in the bakery. Everyday, Annam Gourmet Signature bakes and delivers over 100 kinds of products and pastries including bread, pies, macarons and croissants to all the branches of Annam Gourmet Market in Ho Chi Minh City. Apart from being new and fresh, these products are also made with the recipe of Sakal Phoeung, a well-known French chef.
In addition to the special bakery, Annam Gourmet Signature offers a variety of dried products like tea, coffee bean, dried fruits like apple, kiwi and mango, nuts (peanuts, pistachios and macadamia nuts). The incredible quality of those products for sure will satisfy any fastidious gourmets.
III. Annam Café Gourmet
Annam Gourmet Market is not just a food supermarket in general but it has a café and restaurant for you to grab a bite after going shopping. At Annam Gourmet Market, as the dedication "Great Food Good Times", all the dishes are of great quality without any preservatives or food enhancer.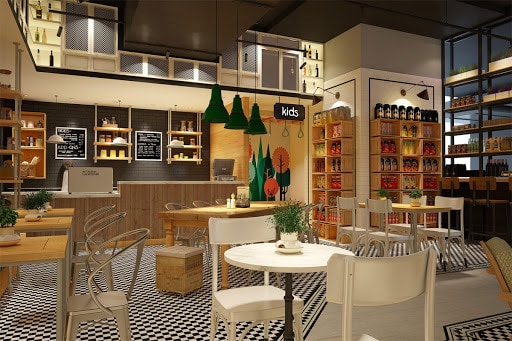 With a menu designed and developed by passionate food lovers and cooks, Annam Café Gourmet offers you the most wonderful experiences with tasty food and refreshing drinks from all over the world around the table. At Annam Café Gourmet, you will be served with the latest food trends of the culinary world, which will take you to an unforgettable gourmet journey.
You can sit down for a cup of coffee or wine with friends, savor a mouth-watering meal or enjoy the extensive Deli-Gourmet buffet that is available all day. From delicious chargrilled steaks, healthy salads and stacked hamburgers, to French-inspired plates and cheese dishes, the food at Annam Café Gourmet seems to blow a new wind to your food journey. All the restaurants of Annam Gourmet Market are about high-quality ingredients, great flavors and marvelous value.
IV. Gourmet Clubs
If you are a food lover in Hanoi or Ho Chi Minh City and want to cook healthy meals at home, you can take part in Annam Gourmet Club, a place for you to learn and discuss the food recipe, share and gain more knowledge about healthy food products. Moreover, as a member of Gourmet Club, you can take a lot of benefits when purchasing food at Annam Gourmet Market.
The culinary events of Annam Gourmet Market surely make you amazed thanks to the good customer service. The activities include food tastings, wine tastings, special dinners and product demonstrations. If you are a foodie living in Ho Chi Minh City, these events are a great opportunity for you to meet like-minded people for food-sharing, socializing, or even just pure food enjoyment.
V. How to Get to Annam Gourmet Market?
In Ho Chi Minh City, there are 5 stores of Annam Gourmet Market, two of which are in District 1, two in District 2 and one in District 7. All of these stores are in the bustling areas of Ho Chi Minh City, which is not very difficult for you to find the way.
The two branches of Annam Gourmet Market in District 1 are near many places of interest in Ho Chi Minh City such as Nguyen Hue Pedestrian Zone, Ben Thanh Market, Ho Chi Minh City Museum of Fine Arts. Three other ones are also located in the crowded residential areas in order to serve the demand of local residents.
VI. Some More Tips
Although the prices of the products at Annam Gourmet Market are not cheap, the quality of them will get your money's worth.
Of five branches of Annam Gourmet Market in Ho Chi Minh City, however, there are only three Annam Café Gourmet, which are at Hai Ba Trung, Saigon Center and Phu My Hung establishment.
For more information about the menu, events, products and recipes and healthy tips of Annam Gourmet Market, you can visit their website at annam-gourmet.com.
Food can be the key for many exciting experiences and unforgettable memories. Throughout the establishment and development, Annam Gourmet Market is sustaining its pivotal position for the gourmet as well as those who pay attention to the health of their family. Annam Gourmet Market is worth your visit once when shopping in Ho Chi Minh City.