If you are a curious visitors who are planning on a remarkable vacation in Ho Chi Minh City, you will surely have to look through all of the most attractive tourist destinations, to fit them in your schedule. Among them, Tao Dan Park might be an ideal place to visit if you are interested in exploring nature or having a picnic with your loved ones. Do check out some information about this amazing place and you will be interested.
Location: 55C, Nguyen Thi Minh Khai Street, District 1, Ho Chi Minh City. 
Opening Hours: from 05:00 AM to 10:00 PM every day
History Of Tao Dan Park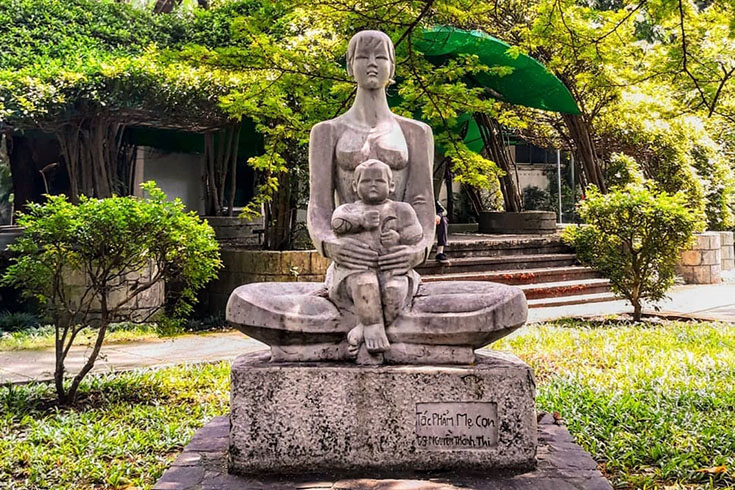 Tao Dan Park has a long history, beginning ever since the 1860s when the French started invading Vietnam. The Tao Dan Park is located right behind the Reunification Palace and was repaired at the same time when the Palace was rebuilt by the French. In 1869, the French separated the Tao Dan land from the garden of the Reunification Palace and built Miss Cawell Street between them (also known as Huyen Tran Princess nowadays).
After being repaired, the garden was officially named Jardin de la Ville. For the Vietnamese at the time, it was either called Ong Thuong garden or Bo Ro garden. There were many explanations for the name Bo Ro, but most people understood it as a transliteration from the French word "beaux jeux" in "jardin des beaux jeux", meaning "garden of elegant games". When it was officially done, a guy named Mr. Moreau was handed the power of managing the garden. He was also the first one to take charge of the Bo Ro area.
Throughout the time from 1896 to 1926, they built more structures inside the garden, such as a soccer field, the pool, the tennis field, etc. It might be considered as one of the most modern soccer fields in the area at that time. Until 1954, when the French officially withdrew their forces from Vietnam, the Reunification Palace and the Bo Ro garden was back in the control of the Vietnamese, the garden was named Tao Dan Park.
During the 1970s, with a huge amount of trees, the Tao Dan Park could be considered as the lungs of Ho Chi Minh City, providing fresh air and a clean atmosphere. Sometimes they even held exhibitions and events here. Tao Dan Park was also the place where military scouting, Vietnamese scouting and a lot of other activities were organized. Among them, the most significant event was the Dong Tam fair, which funded the Hospitable of People. The park has been existing from then until now, becoming an attractive tourist destination of Ho Chi Minh City.
Highlights Of Tao Dan Park
Tao Dan Park is so special because it has a huge number of trees, creating such a clean and refreshing environment. But aside from the green sceneries, there are a lot of other incredible things in Tao Dan Park that visitors must at least see once in their life.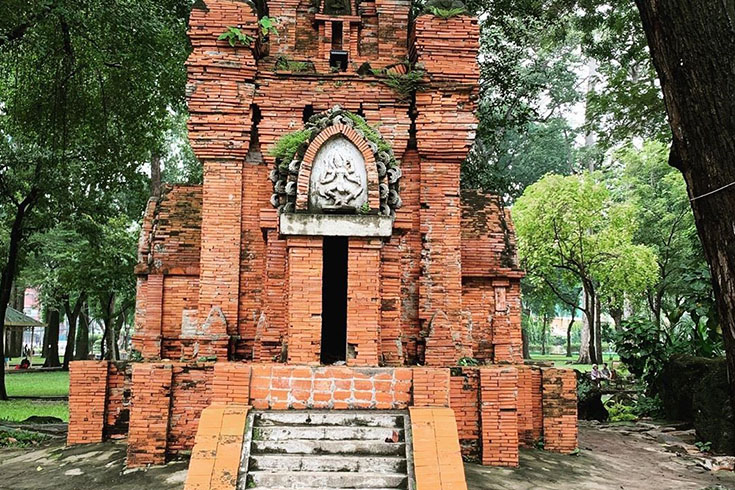 1. Historical Structures
During history, there had been a number of structures being built inside the Tao Dan Park. Nowadays, the ancient temple built to honor the Hung Kings and a small Cham tower are the two most famous ones. Both of these structures represent the history of Vietnam, also perfect places to take amazing pictures. Foreign visitors always be impressed with the delicate and eye-catching architecture of these relics.
Aside from that, the Tao Dan Park even has a Lam tomb built in 1895, which also represents the heroic history of Vietnam. This is one of the monuments of the compound tomb that has the largest acreage and most beautiful architecture in Ho Chi Minh City. In the far east of the parks, visitors can be a delight to admire the different statues being displayed there.
2. Astonishing Nature
It's not randomly that the Tao Dan Park is named "the lungs of Ho Chi Minh City". The place has more than 10 hectares of green and tall trees, which incredibly help to make fresh air and to manage the city's temperature. Most paths inside Tao Dan Park are covered by the thick branches, saving it from the burning sun rays. That is why local people often come here to relax, exercise, catch up with their friends and enjoy their normal, simple life.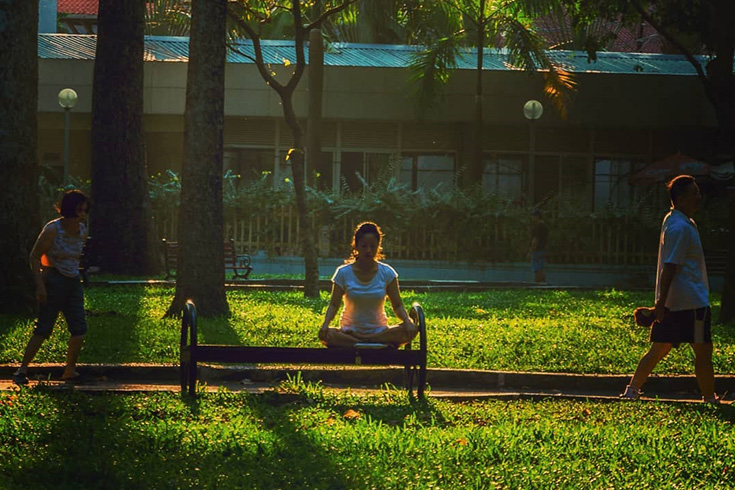 3. The Children's Playground
In 1975, there was a time the Tao Dan Park was also called "Tao Dan Culture Park", and the children's playground was built. Until now, the playground had been repaired once, creating a safe and active place for little kids to hang out and play. The playground has a total of eight entertainments, including seesaw, slide, swings, small Ferris wheel, etc.
The current children's playground has an area of about 300 meters square, located on the side of Truong Dinh street. On weekends, this place is crowded with small children who come to have fun.
4. Tao Dan Spring Flower Festival
During every New Year, the colorful and stunning spring flower festival is held in Tao Dan Park. On this occasion, various unique and eye-catching works of art made from flowers are displayed for visitors to admire and take astonishing pictures. The delicate, colorful and stunning flowers, the creativity of the masterpieces plus the bustling and happy atmosphere of the holiday create such charming scenery in Tao Dan Park, gaining great attention from the public.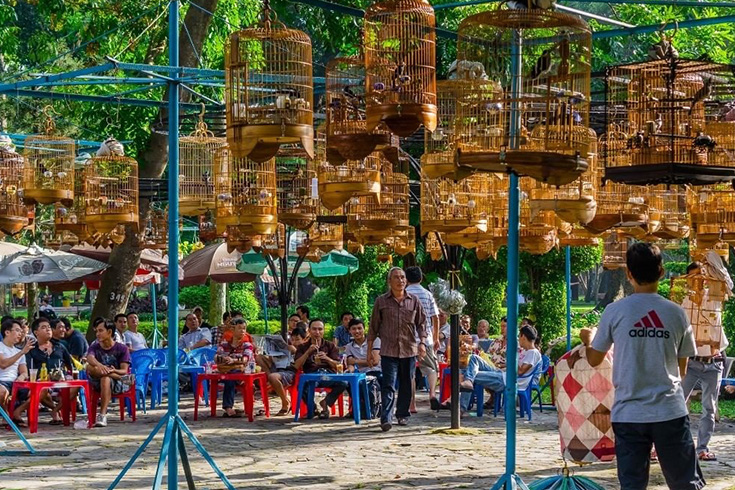 What To Do In Tao Dan Park
1. Exercise in the Morning
With the cool weather and refreshing environment, Tao Dan Park is the perfect place to work out and improve physical health. Visitors can practice various exercises here, from gentle exercises such as jogging, yoga, tai chi; to sports such as badminton, running and meditating. You will find lots of other local people doing the same thing, creating a friendly and warm exercising atmosphere.
Sometimes in Tao Dan Park, there are common dancing activities for both men and women as well. Visitors are free to join them and experience the simple customs of the Vietnamese. There is no better way to start a day in Ho Chi Minh City than going to Tao Dan Park and move your muscles a little bit.
1. Having a Picnic
The Tao Dan Park has a large acreage, with green and clean grass fields being cut and taken care of almost every day. There are a lot of people who have chosen Tao Dan Park to hold a small, cozy and warm picnic for their loved ones.
All you need is a big towel and some snacks such as sandwiches, boiled eggs, salads, fruit juice, fruits, etc. Pick a random grass carpet, spread your towel out, sit down and enjoy the delicious food with your partners.
2. Watch Material Arts
Sometimes in Tao Dan Park, there are people performing impressive martial arts. If you are lucky enough, you will have the chance to witness such strong and memorable performances of it, either solo or pair practices.
3. Visit Ancient Structures
In the past, some historical relics had been built in Tao Dan Park, such as the temple of Hung Kings, Cham tower, Lam tomb… All of those relics hold a story of Vietnamese history, as well as have stunning ancient architecture. Those will be the ideal place to shoot some excellent photos and learn some more knowledge about the heroic past of Vietnam.
4. Drinking Vietnamese Coffee
Inside Tao Dan Park, there are small coffee stores that sell not only coffee but also other juices and snacks such as sugarcane juice, orange juice, etc. Visitors can experience sitting in one of those stores, ordering a cup of Vietnamese coffee and munch on it while enjoying the peaceful nature of Tao Dan Park. Vietnamese coffee has a very different taste from the Western ones, which will give foreign travelers an unforgettable memory.
Who Should Visit Tao Dan Park?
The Tao Dan Park is the ideal destination for all people of different ages, from old people to small, young children. Either you are coming with your family, friends or significant other, this is still the perfect place to hang out.
While old people can exercise to improve their health, relaxing in a peaceful and quiet atmosphere, young ones can play at the playground and have fun. For teenagers, Tao Dan Park is a great place to catch up with each other or take numerous wonderful photos together. Families can have a memorable time organizing a picnic, or just simply walk around the park, enjoying a cup of coffee and each other's companies.
Even if you want to stop by alone, Tao Dan Park also has a quiet and calm area for you to relax.
How to Get to Tao Dan Park?
There are many ways to get to Tao Dan Park. If visitors want to use public transportation to save money, they can catch bus number 12 or 07. Those buses have the route through Tao Dan Park.
From Ben Thanh Market to Tao Dan Park only takes a 10-minute walk, so visitors can get there on foot or hire a bike as well. Aside from that, visitors can use a taxi to get to Tao Dan Park as well.
Best Time to Visit Tao Dan Park
Tao Dan Park is opened every day of the week, but the best time to visit Tao Dan Park is in the early morning, ideally before the dawn. That is when the weather is the most refreshing and cool, the streets are quiet, making it a perfect time to exercise and enjoy the peaceful beauty of the place.
Local people in Ho Chi Minh City often take a walk around the park, practice tai chi or yoga, playing sports or simply have their breakfast and relax under the rising sun.
In the early morning, there are birds singing in Tao Dan Park, creating a melodic and peaceful atmosphere. The bird lovers in Ho Chi Minh City often gather there, showing each other their birds and exchanging tips as well as information about bird feeding. Plus the comfortable weather, the early morning is truly the perfect time to visit Tao Dan Park.
Throughout the day, Tao Dan Park is always busy with tourists and locals. Visitors also can come to Tao Dan Park in the evening, when the sun is going down. That's when the park is covered in the glowing red of the sunlight, which is also beautiful and stunning beyond words.
Tips on Visiting Tao Dan Park
Visitors shouldn't stay in Tao Dan Park in the late evening. There have been records of criminals and accidents occur in the park during the night, due to the rising crime rate in the area. The best time to leave Tao Dan Park is around 08:00 PM every day, no later.
In order to protect the environment as well as preserving the natural beauty of Tao Dan Park, visitors must not litter. Please throw your garbage in the trash can, or throw it at other legal places.
When visiting Tao Dan Park, it's best to wear shoes and comfy clothes so you can freely walk around the park, admiring every corner and participate in the exercise acidities of the local people without feeling tired or uncomfortable.
There are small stalls selling water and snacks inside Tao Dan Park, but you should bring your own water bottle to save money.
Don't be hesitant to start a conversation with the local people in Tao Dan Park. Despite the language barrier, the people in Ho Chi Minh City are extremely friendly and hospitable, and always ready to help you during your journey.
Tao Dan Park in Ho Chi Minh City is an absolutely ideal place to sit back, take a sip of the delicious coffee and enjoy the simple and cozy life of local people. Between the outstanding and magnificent tourist destinations in Ho Chi Minh City, Tao Dan Park will be a memorable highlight of your Vietnam tour.