Ho Chi Minh City, aka Sai Gon, during French colonial times, used to be famous for its street vegetation and abundant greenery. Nowadays, it is also partly well-known for its concrete and air pollution: an active city it may be, but a green one it's not. Or is it?
Actually, it can't be said that Ho Chi Minh City is not a green city since there are still many parks and open spaces here, where people can have a peaceful place to relax and breathe in a fresh atmosphere. If you are searching for a place to spend a free day, retreat from the hustle and bustle of Saigon, Le Thi Rieng Park, one of the largest parks in the city, will fit your needs.
Location: Ward 15, District 10, Ho Chi Minh City.
Opening hours: 5 am to 10 pm daily.
Who is it for: everyone of all ages, both locals and tourists.
Map to the Le Thi Rieng Park:
History Of Le Thi Rieng Park
Le Thi Rieng Park, also known as White Rabbit Park or White Rabbit Entertainment Park, is a big park in District 10, Ho Chi Minh City, Vietnam. Before 1975, this area was a cemetery. The park is named after Le Thi Rieng, a soldier of the National Liberation Front of South Vietnam in the Vietnam War because she was buried here.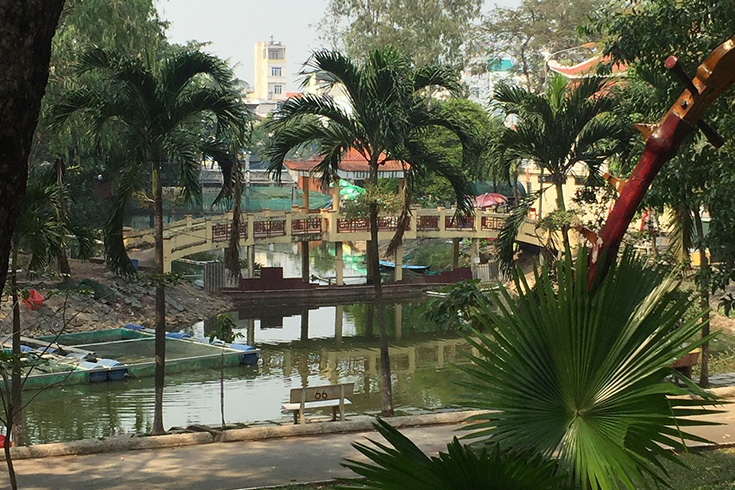 During the Republic of Vietnam (1954 – 1975), this area was a 30-hectare cemetery, called Chi Hoa Cemetery (formerly known as Do Thanh cemetery). Chi Hoa Prison is nearby the area, and Phu Tho National Technical Center is further away.
After the great loss of lives in the Tet Offensive event in 1968, Sai Gon government at that time dug many holes in the cemetery to bury the masses of thousands of corpses. Resulting from this incident, superstitious rumors have appeared. After that, Saigon Long Hoa Buddhist Association built temples and a statue of Ksitigarbha Bodhisattva in the cemetery. The statue has a width of 0.75 m, a base of 3 m high, be made of black Italian stone weighing nearly 10 tons. This statue was made by famous sculptor Mai Lan.
In 1983, in an attempt to revamp the urban face, the city government cleared Chi Hoa cemetery to build a park. On August 23, 1986, the Ksitigarbha statue was unloaded and relocated to Guan Yin monastery in Bien Hoa City, Dong Nai Province.
Highlights of Le Thi Rieng Park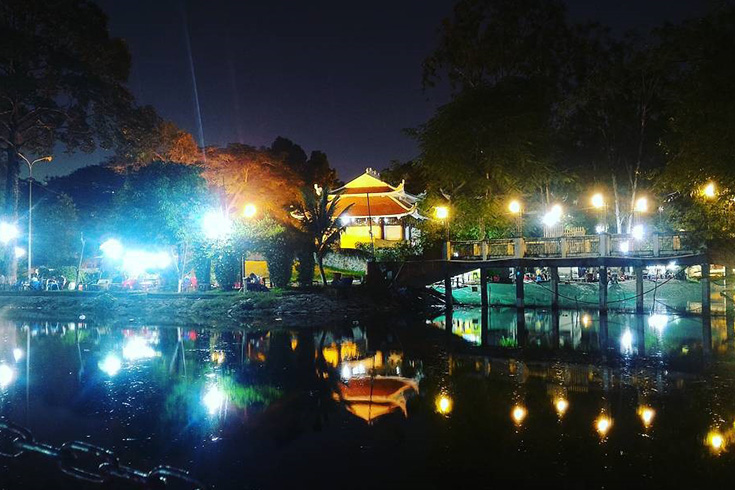 The first highlight of Le Thi Rieng Park is the tomb of Le Thi Rieng, a member of the Committee for National Liberation Front of South Vietnam, settled there. Besides, near the entrance of the park, there is a traditional house, a memorial stele for Tet Mau Than event that Le Thi Rieng also took part in this.
Second, while other parks have even and flat terrain, Le Thi Rieng park is different from many scrolling hills, which are suitable for playing skate, skateboard, etc.
Finally, there is a children's play area (called the White Rabbit Area) in the park where you can play any kind of games such as fly-away, roller coaster, UFO, etc. This area opens from 8 am to 10 pm (Monday – Friday) and 8 am – 11 pm (weekends).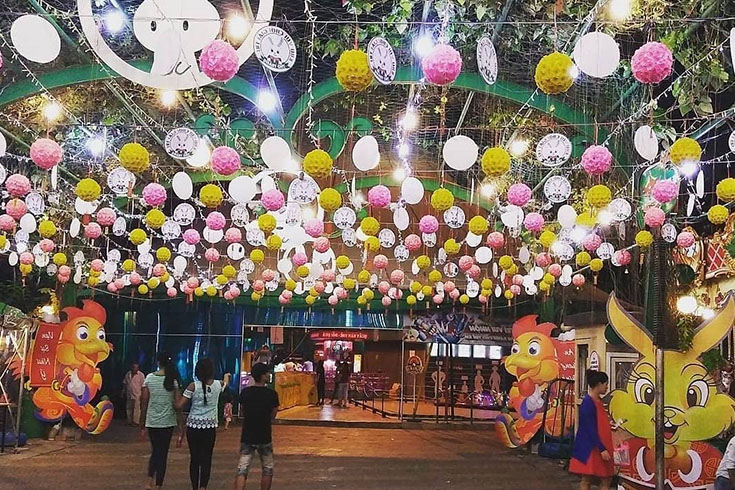 For the old and the elders, this park is a perfect place for doing morning and afternoon exercises. They can dance, walk, perform martial arts, etc.
For the adults, the place can help them enjoy a refreshing break from the city streets.
For teenagers, the park is an ideal place for playing sports, relieving stress, gathering with friends, etc.
For children, White Rabbit Area in the park is the best place for them to have suitable indoor and outdoor games.
For foreigners, the place is so suitable for you to discover more about the beauty of the city, relieve the stress, enjoy the fresh atmosphere and famous street food.
What to Do in Le Thi Rieng Park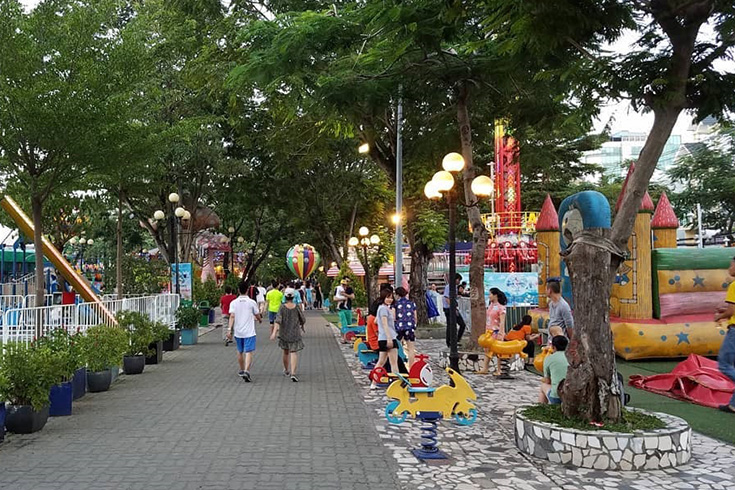 1. Doing Exercises
The park is so large and has a fresh atmosphere, that's an ideal place for doing morning or afternoon exercises for everyone. You can see the scene of people of all ages coming here for going walking, playing sports, etc. at any time in the day.
2. Visiting Amusement and Entertaining Area
If you have children, the park is also a suitable place for you because of its amusement and entertaining area. Your children can play see-saw, swing, slide, merry-go-round, etc.
On special occasions like Tet, Halloween, Mid-Autumn Festival, this place is decorated beautifully and lively. So, this is a perfect place for taking photos with your friends.
In the park, there is a large pond with a lot of beverage and food stalls around it in the park, so you can go fishing or buying your favorite dishes, sitting in the chairs and enjoying the atmosphere here.
How to Get There
Take bus no 30, 13, 65 from the center city to get there.
Or you can walk since it is not far from Dam Sen Water Park and takes just 15 minutes to get there.
From Tan Son Nhat Airport: Take a taxi or "Xe om". About 5km.
From Sai Gon Train Station: Take a taxi or "xe om". About 2km.
Best Time to Visit the Park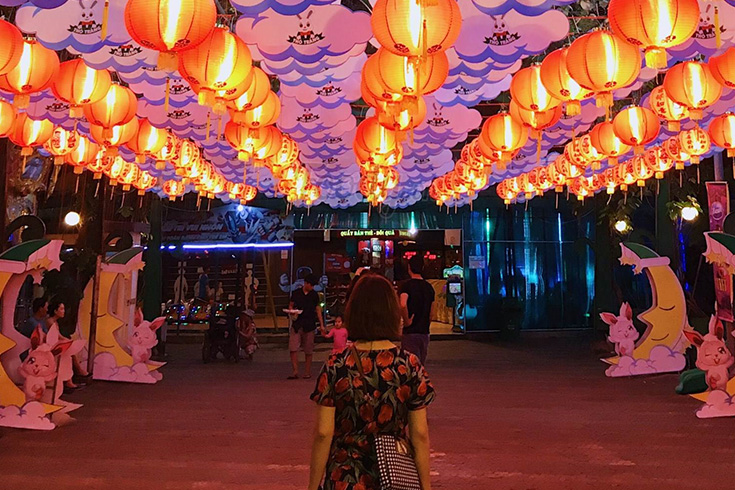 No matter whenever you visit, Le Thi Rieng Park is still beautiful. However, if you want to enjoy the place without interruption because of the bad weather, the best time for you to visit is the dry months from December to March. During these months, the temperature is quite high but is cool down in the early morning or late afternoon.
In a day, you should visit the park in the early morning or late afternoon, you can have a great opportunity to meet the locals participating in the daily physical activities.
On special occasions like Tet, Halloween, Mid-Autumn Festival, this park is decorated beautifully, so visiting the place and taking photos with your friends at this time is a "not-bad" idea.
Tips on Visiting Le Thi Rieng Park
Spacious place, lots of games to play. There are many zones, offering many different spatial experiences.
Do not bring your pets, especially dogs.
Finding a parking place in the holidays is very hard. So, going to the nearby bookstore to avoid waiting is a wise choice.
If you come to the White Rabbit area to play patin, do not bring your expensive personal items because there is no storage service at this place.