As the most crowded market of Ho Chi Minh City, An Dong market has earned lots of love and affections from the elderly who once had a strong attachment to Saigon. This well-established market has made major contributions to the circulation of merchandise and services in the central area of Saigon for over 56 years.
There is no exaggeration to say that An Dong market is considered as one of the most ideal ones if tourists are ardent followers of fashion because it is widely acclaimed to frequently keep up with the latest fashion trends, thereby enabling access to recently updated items of clothing such as shoes, clothes and fabrics. Apart from the buying and selling stuff, there are hotels and banks available for visitors to rest, exchange money to facilitate sightseeing and shopping in Ho Chi Minh City nearby An Dong market.
Address: An Dong Construction Site, Ward 9, District 5, Ho Chi Minh City 
Opening hours: daily, from 6:00 to 18:00
Tel: 028 3833 5133
I. History of An Dong Market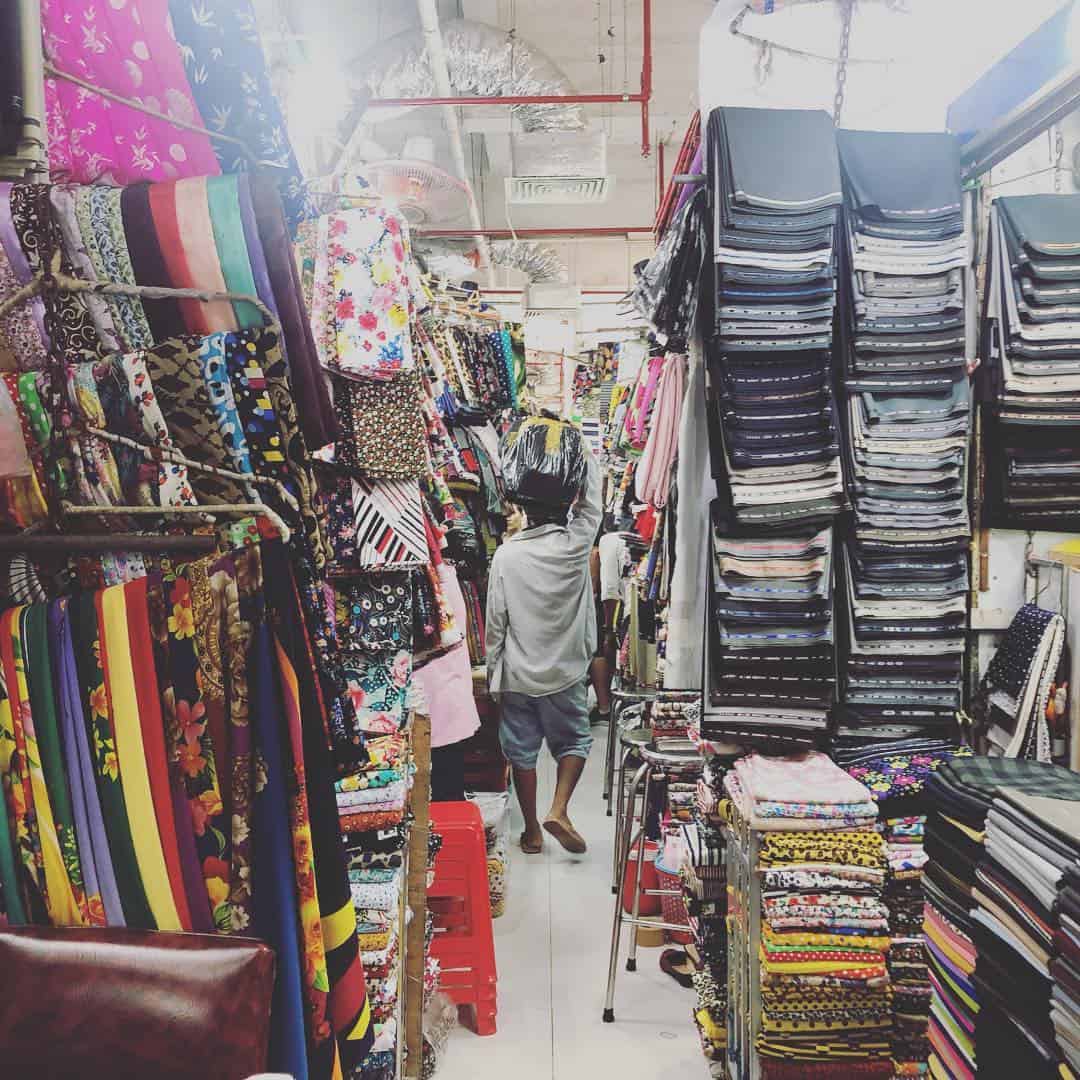 An Dong Market was formed in late 1951, but was officially established and built in 1954 by The Republic Government of Vietnam at that time. This market was built after Vietnamese's great migration from the North to the South, helping people at that time have places to do business and make ends meet.
II. Architecture & Layouts of An Dong Market
An Dong market was constructed in 1951 and reconstructed in 1991 by the Vietnamese Chinese community so the architecture is quite vintage and nostalgic. It resembles the architecture of buildings in Hong Kong in the 80-90s.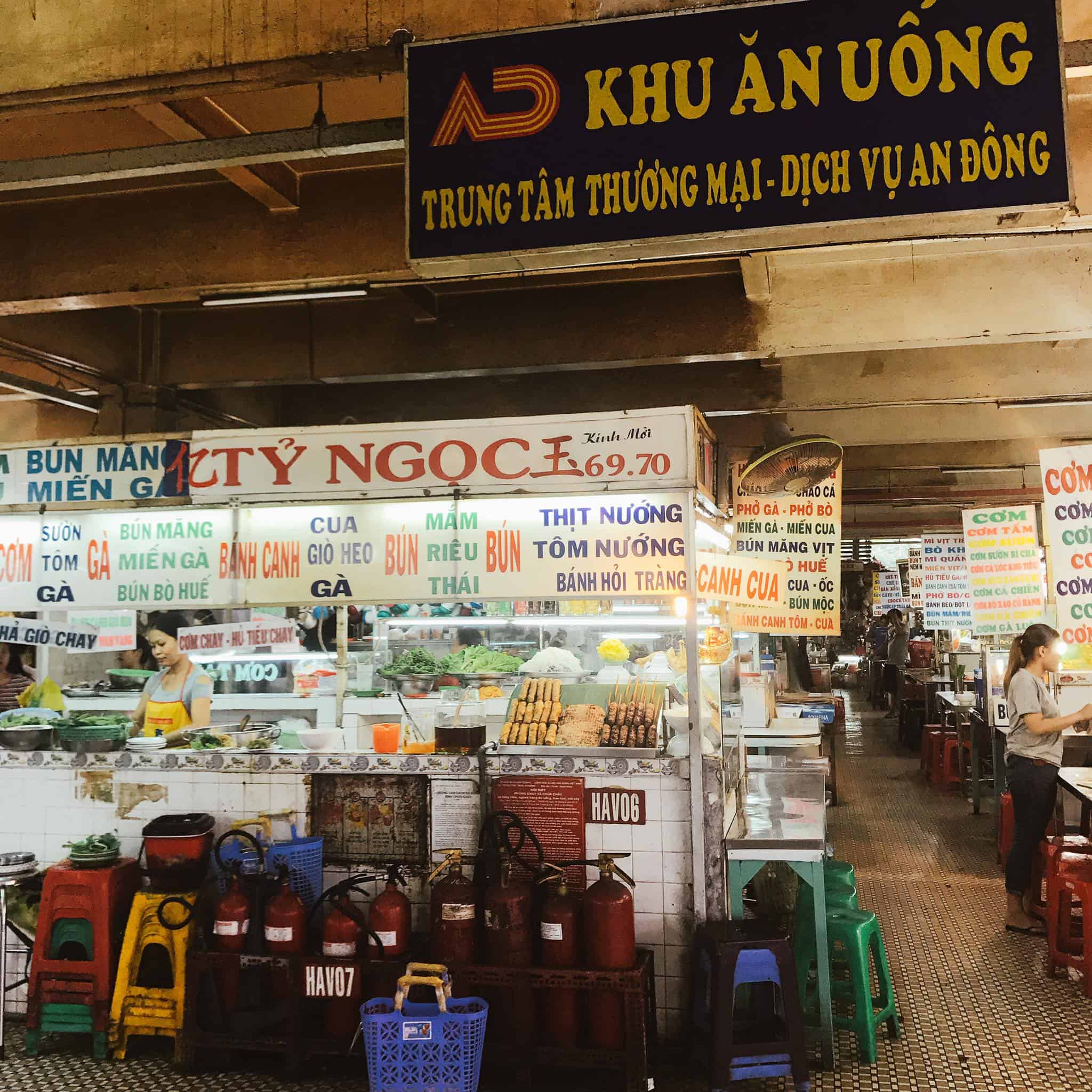 Unlike other markets in Vietnam, including Ben Thanh market, that have all their stalls scattering on the grounds, An Dong market is an in-house market, which means that every stall and shop is located inside a building, of which the white walls have turned grey due to direct exposure to sunlight and other weather factors.
The building comes in a rectangular shape, on the sides of it is a grid facade made from concrete. There are exactly 306 cells on the front facade, which help conditioning the air inside, moderating the weather's effect on the building, and adding to the look of it. It is undeniable that the facade really set the architecture of the An Dong market aside from that of any other market.
Another symbol of the market is the brick-red framed Gimiko clock attached to the front facade, which assists passersby in getting a better sense of time.
An Dong market has one basement and three floors with a total area of 25000 square meters and people move around the market by both stairs and escalators. The basement is for eating utensils and plastic products, preserved foods, jewelry shops, and food stalls. On the other floors, they sell artificial flowers, clothes, and accessories, fabric, souvenirs, decoration items. Most of the places there are equipped with air conditioners to ensure good ventilation so it is always cool and refreshing there.
An Dong market has large parking lots for trucks, motorbikes, lorries, cars, taxis, vans, and buses, facilitating the activities of both buyers and vendors coming to the market.
Going shopping in An Dong market, you won't have to worry about running out of cash or having to bring too many cash bills with you since there are a lot of ATMs where you can withdraw money from. Most jewelry stores there also provide currency exchange services.
III. What to Buy in An Dong Market?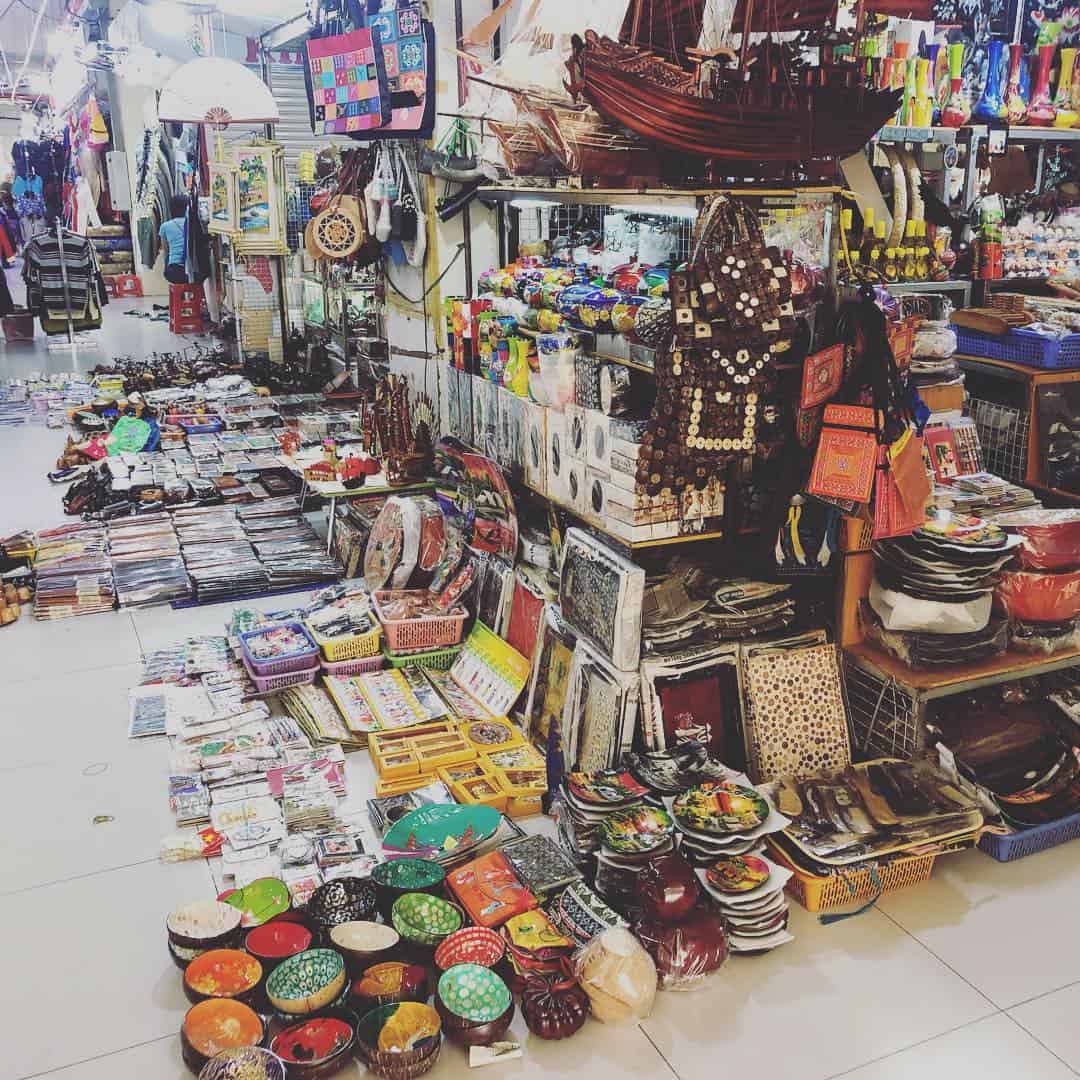 An Dong Market serves as not only the largest wholesale fashion market in Ho Chi Minh City but also a venue supplying fashion items for agents, retail stores of Southern provinces such as clothing fabrics, shoes, fashion accessories. Therefore, the source of business in An Dong market is relatively plentiful and diversified, especially clothes. Goods here are sourced from many different places including Guangzhou (China) products, domestic textiles, Japanese products and Thai products with different prices and quality. This is a relatively spacious, modern and convenient market for customers to select desirable goods.
In addition to fashion items, the market also has designated areas for food, confectionery, fruit, fresh flowers, traditional crafts or household appliances. This market is believed to have a much cheaper charge than other renowned ones in Ho Chi Minh City, and the high chances are that you can bargain for lower prices and easily pick up some bargains. Next to the An Dong market is An Dong Plaza offering a wide range of luxurious goods.
Traditional crafts, namely woodwork, lacquerware, and knitwear which represent Vietnamese intangible values, are most favoured in An Dong Market. These popular products may help tourists widen knowledge about and develop affections for Vietnamese cultures. As regards more sparkling goods, you may come across stores displaying jewellery made with precious stones, but as far as I am concerned, confirming their authenticity is supposedly a very hard riddle to solve. Therefore, if you are not dead certain, just play it safe.
If you want to buy souvenirs that can evoke your happy memories in Ho Chi Minh City or gifts for family, choices are diverse here. Small handicrafts and packaged specialities are the locals' and visitors' favourites, and to be frank, I am no exception.
IV. What to Eat in An Dong Market?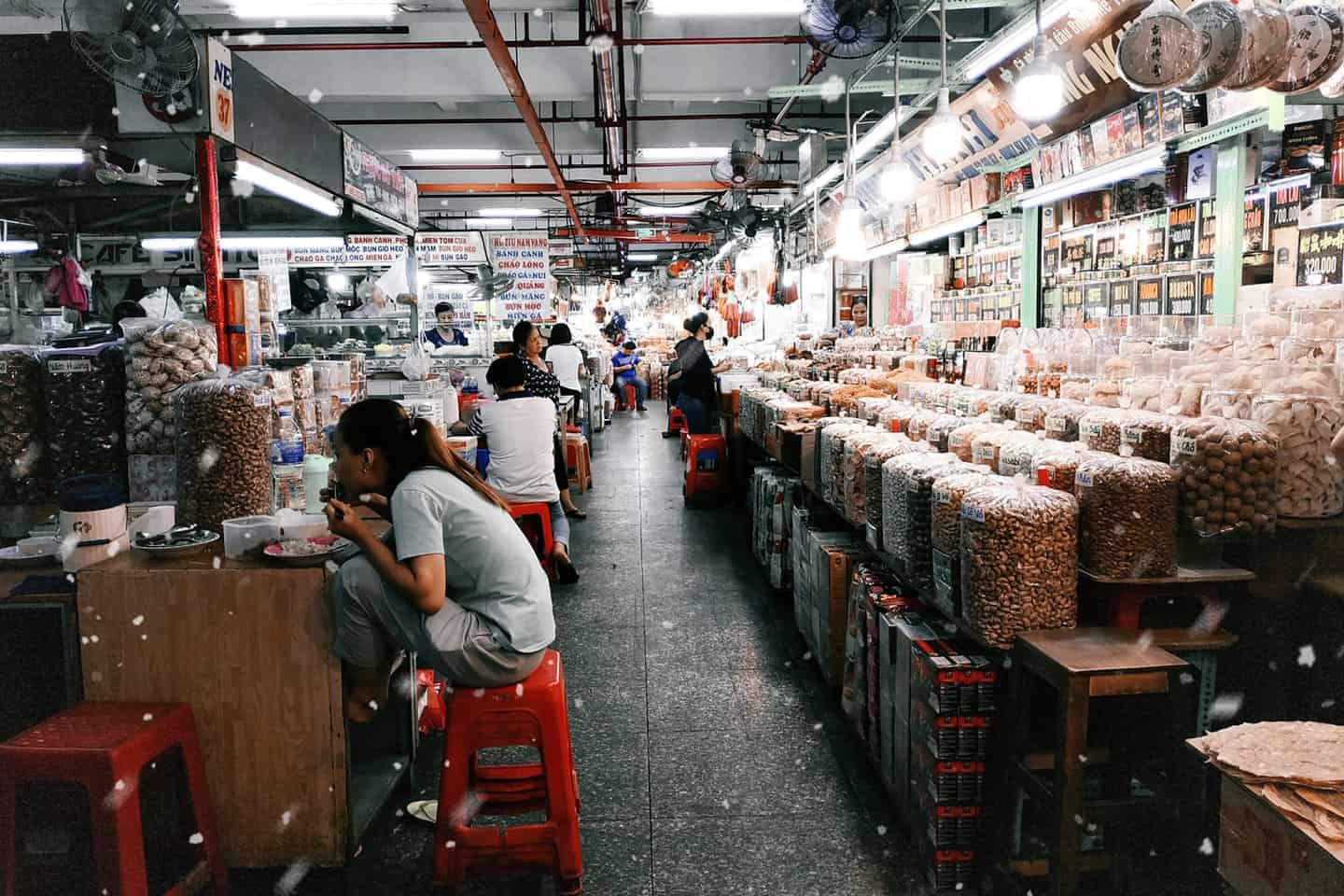 An Dong Market spares its ground floor for stall owners to sell reasonably priced light refreshments, sweetened dried fruits, snacks and bulk foods. As for more filling dishes, a wide selection of choices featuring characteristics of Ho Chi Minh City – a harmonious combination of northern, central and southern cuisines, namely Pho, Banh Xeo (Vietnamese Pancake), Spring rolls and Mi Quang are provided to suit customers' diverse taste.
In addition, An Dong market is located between District 1 and District 5 along the An Duong Vuong street, which offers every convenience to visit other places in the city center. Nothing is better than blending with the vibrant city atmosphere at night as you walk around and explore the food at this An Dong market area.
1. Street food
The most popular snacks include sugar-coated haws on sticks, grilled quail eggs, rice paper mix (Banh trang tron) and grilled rice paper (Vietnamese pizza). In An Dong market, many roving vendors and food stalls on the pavement provide customers with lots of street foods. Without doubt, street foods play no small part in Vietnamese cuisine, and they are prevailing in Vietnam, especially university students, so let's try out some and have a taste of Vietnamese cooking.
2. Che (Vietnamese sweet soup)
Che – a flavourful traditional Vietnamese sweet dessert has served as my favourite food since childhood. It has various varieties and recipes tailored to the popular taste of each region, but despite variations, according to the most common recipe, Che is made with beans, pieces of fruits, jelly, grains, syrup and ice. Che is not typical in Western countries, so it is worth trying in order to boost your experiences in Saigon.
3. Pho
Speaking of Vietnamese cuisine, I guess the first thing springs to mind must be Pho, a must-try dish for every tourist. It is both a staple dish suited to any time of the day and an ultimate comfort food for Vietnamese residents. The amalgamation of traditional ingredients: Phở noodle, broth, beef or chicken and a variety of herbs signifies our cuisines. Despite a number of variations, its main ingredients and flavor profile remains, and Pho still retains a distinctively Vietnamese flavor. From my perspective, Pho is a manifestation of our national history and cultures, so it is more than just a mere sustenance but an expression of Vietnamese identity.
4. Banh Xeo (Vietnamese pancake)
Banh Xeo is favoured widely in Vietnamese people's snack time. The way it is made varies greatly from regions to regions, but some ingredients are indispensable such as rice flour, herbs, shrimps, minced meat and dipping sauce. I highly recommend this food because it is easy to eat due to its similarity to pancakes and Banh Xeo also has its uniqueness which may whet your appetite at the thought of it after your first try.
5. Goi cuon (Vietnamese cold spring rolls)
Vietnamese cold spring rolls traditionally is a harmonious combination of shrimps, many vegetables, vermicelli, pork and other ingredients, which are then wrapped with rice paper. In spite of its origin in China, this mouthwatering food when introduced to Vietnam has been subject to modification to cater for locals' tastes. Goi cuon earns quite a name for itself as one of the most popular appetizers in Vietnam.
V. Nearby Attractions to An Dong Market
Visiting An Dong market, tourists can not only shop inside the market but also visit many places around it.
1. An Duong Vuong Street
An Dong market is located on An Duong Vuong street, a famous street among Saigon youngsters for having a variety of small restaurants. You can opt for a taste of Vietnamese, especially Saigonese cuisine, or trying some Chinese dishes since the area actually has a lot of Chinese and Vietnamese Chinese residents. Famous dishes include Hainanese chicken rice, Taiwanese shaved ice, and broken rice.
► Recommended restaurants :
An Duong Vuong broken rice: 500-502, An Duong Vuong, Ward 4, D. 5, HCM City
Hong Phat Restaurant: 310, An Duong Vuong, Ward 4, D. 5, HCM City
Thien Phuoc restaurant: 329 – 331 An Duong Vuong, Ward 3, D. 5, HCM City (Specialty on Dim Sum and seafood)
Ga Vang restaurant: 167 An Duong Vuong, Ward 8, D. 5, HCM City
An Duong Vuong street is also famous for having a lot of jewelry shops. It is a unique part of the Vietnamese culture, where people love to keep some pure gold as their assets. Even though you don't have any intention of buying jewelry, you should still visit these shops to experience the local's walk of life.
► You may want to visit these jewelry shops:
My Di Jewelry shop: 102R, An Duong Vuong, Ward 9, D. 5, HCM City
Oanh Jewelry shop: 4-6, An Duong Vuong, Ward 9, D. 5, HCM City
Ngoc Trang Jewelry shop: 52-54, An Duong Vuong, Ward 9, D. 5, HCM City
Another highlight point of An Dong market surrounding is that the streets are lined with trees, which may sound normal but it is actually a quite unique view to be found in such populated cities as Ho Chi Minh city. The trees provide passengers with shade and fresh air and help create an atmosphere that resembles the good old Saigon.
2. An Dong Plaza
An Dong Plaza is a big shopping center with Hong Kong architecture, the plaza is famous for having many Chinese restaurants and saunas, steam baths, massage places.
An Dong plaza consists of one basement and 22 floors. The commercial area includes the ground floor, mezzanine, and from the first floor to the third floor, used for wholesale and retail business of all kinds of goods.
Restaurant-service area (from 4th floor to 7th floor) has a total area of 10,546m2 with activities such as beauty salon, babysitting area, fast food restaurant, Chinese restaurant, coffee bar … (floors 4-5); entertainment, karaoke (Technical floor); banquet hall, VIP room (6th floor); Sauna, steam bath, massage (7th floor)
Address: 18 An Duong Vuong, Ward 9, District 5, Ho Chi Minh City
Opening hour: 9:00 – 22:00
3. The Garden Mall
Going a little farther from An Dong market, you can visit The Garden Mall, another famous gathering place of Saigon youngsters, which is famous for its Hoianese architecture. The mall is decorated with colorful lanterns and has an exhibition of books, artworks, and traditional handicraft products.
Address: 407 Hong Bang, Ward 9, District. 5, Ho Chi Minh City
Opening hour: 8:00 – 22:00
Capacity: up to 5000 people
VI. Nearby Hotels to An Dong Market
It's always convenient to stay near the place you plan to visit. Here are some highly recommended hotels located near An Dong market
Tan Thu Do 2 Hotel: 97A Nguyen Duy Duong, Ward 9, District. 5, Ho Chi Minh City
Bonita Boutique Hotel: 88B Hung Vuong, Ward 9, District 5, Ho Chi Minh City
Valentine Hotel: 93/1 Nguyen Chi Thanh, Ward 9, District 5, Ho Chi Minh City
ZAZZ Urban Ho Chi Minh Hotel: 28 Su Van Hanh, Ward 9, District 5, Ho Chi Minh City
VII. How to Get to An Dong Market?
If you are staying in Ho Chi Minh city and want to try a Vietnamese typical life, then travelling by public buses will definitely be the best choice. Though it will take you around half an hour, this choice is economical and also provides you opportunity to enjoy Vietnamaese's urban scenery along the way
Recommended Buses:06, 139, 56
Ticket price range: around 5 000 VND (~$0.2)
Another way for visitors wanting to enjoy Sai Gon's scenery on the way going. This choice is convenient as well as comfortable for tourists as it will save time and also offer you a relaxing seat along the way. However, the fee needed will be much noticeable compared to other methods
► Recommended taxi brands:
Taxi 12 – Phone: 028.38.30.40.50
Taxi 27-7 – Phone: 028.39.900.900
A Taxi – Phone: 028.38.380.380
Taxi Airport – Phone: 028.38.42.42.42; 028.38.44.6666
Taxi Ben Thanh – Phone: 028.38.422.422; 028.38.260.260
Taxi Binh Phat – Phone: 028.38.75.27.20
A suitable means of transport for anyone who both love Sai Gon's street and want to save time. If you have not hired a motorbike or simply "dare not" travel by motorbike in Vietnam, then you had better call a "xe om", a kind of taxi but it offers you a go by motorbike instead of by car. You can order a go by "xe om" from anywhere on the street or simply by downloading Be/ Gojek/ Grab apps from App Store/ CH Play and book a motorbike.
VIII. Tips on Visiting An Dong Market
As a first-time visitor, especially foreign tourists, you should not pay for merchandise straight away. Instead, try to resist the temptation and go checking prices of the same products in different stores to find the cheapest source or at least get the right prices. The same goes for food, always ask about the price before opting to eat when wishing to treat yourself to street foods.
It is sensible to ask salesmen about the selling policy before you purchase goods because in some stores, a refund cannot be claimed and goods purchased can be neither exchanged nor returned. To rule out possibilities of return, you should meticulously check the origin of your clothes, fabric quality and selling price carefully before packaging and settling.
The next tip really needs taking into consideration, that is to always beware of pickpockets, to be on the alert all the time and please do not leave your belongings unattended. Social unrest in Ho Chi Minh City has yet to be settled, and security has also been a matter of concern for the public. Many foreigners were reported to be victims, most of whom did not get well-prepared and well-informed of the situation. Do not let your guard down any moments on the road, and wearing your handbag across your body is a wise choice to minimize potential risks of stealing. Moreover, it is best to leave luxurious items at your hotels to avoid being targeted by robbers.
There are also some points worth considering for wholesalers when buying merchandise in bulk. It is highly recommended to do a survey of wholesale prices because if you are still newbies who are green and clueless about the price of each product, in all likelihood, you may run the risk of being overcharged with an approximate amount of retail prices.
By rule of thumb, purchasing wholesale clothes at An Dong market demands careful scrutiny of the quantity and quality of products to avoid defect goods, inventory and second-rate goods since there is only a slim chance of being able to return items and get new ones in exchange.
Mastering all of the above information, you are now ready to discover An Dong Market, and maybe, try to purchase something here.