Most people think of the most modern and crowded city in Vietnam when it comes to Ho Chi Minh City. However, the city itself also has a great deal of historical values relating to the war against the French and American army to offer both locals and tourists. If you want to get to know more about Vietnamese history, visiting Cu Chi Tunnels is a great activity, and also one of the most rewarding things to do in Ho Chi Minh. It is 100% worth your short trip from the center of Ho Chi Minh City.
Location: TL15, Phu Hiep, Cu Chi District, Ho Chi Minh City
Opening hours: 8 am – 5 pm every day
Entrance fee: VND 110.000/ person (Ben Dinh), VND 90.000 (Ben Duoc)
Best time to visit: December to May
History of Cu Chi Tunnels
Located about 60 kilometers to the northeast of Ho Chi Minh City, it is an extensive labyrinth of underground tunnels that stretch all the way to the Cambodian border. The Cu Chi Tunnels network was built within 25 years from 1948 during the war against the French. It served as a means of communication between villages and helped the Vietnamese to evade scouting French soldiers.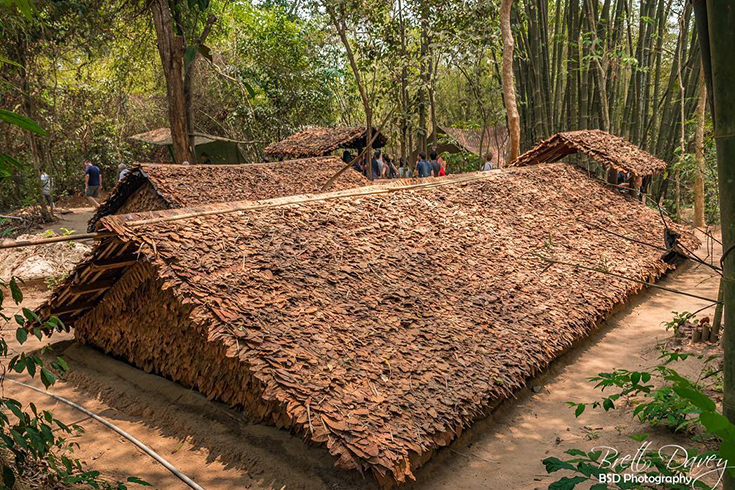 The tunnel network was extended over an area of 250 kilometers during the Vietnam War. Therefore, it became one of the important parts of Viet Cong fighting troops' strategy and also the home for thousands of soldiers.
Currently, about 120 km of the tunnels are preserved and work as a captivating attraction in Ho Chi Minh City.
Highlights of Cu Chi Tunnels
Visiting the Cu Chi Tunnels, you have a chance to witness its unique architecture and structure as well as understand why it plays an important role in Vietnam's history.
Believe it or not, there were hospitals, schools, theatres, kitchens, all built into this extraordinary tunnel network. The entrances to these tunnels were covered with a secret wooden door and camouflage leaves above. Its size is so small that only the Vietnamese could fit in.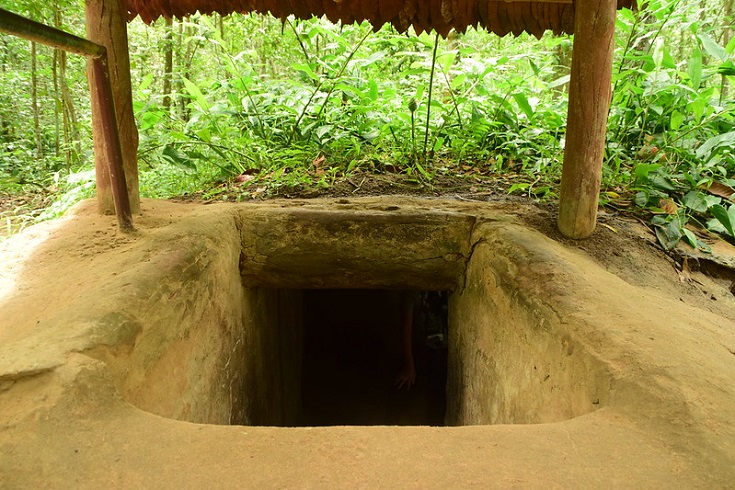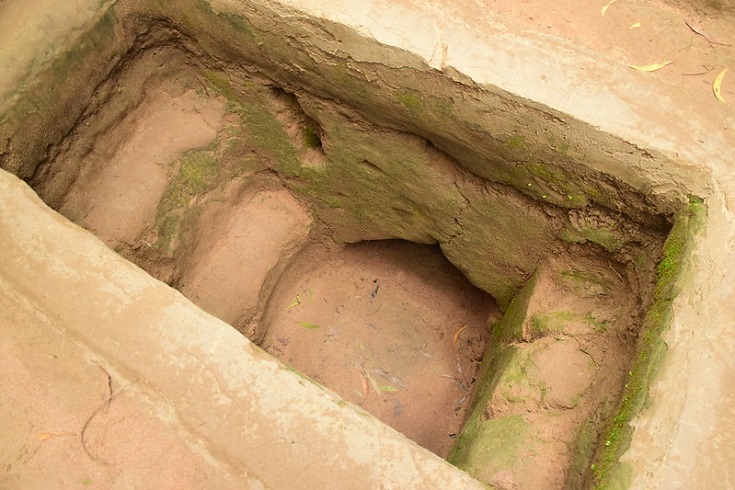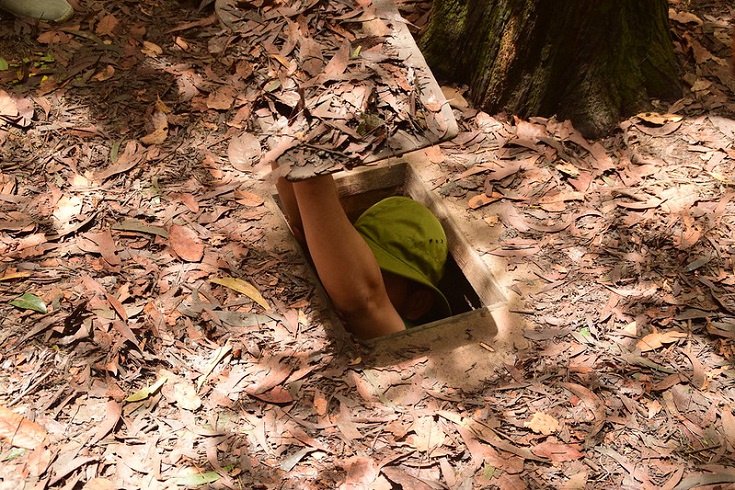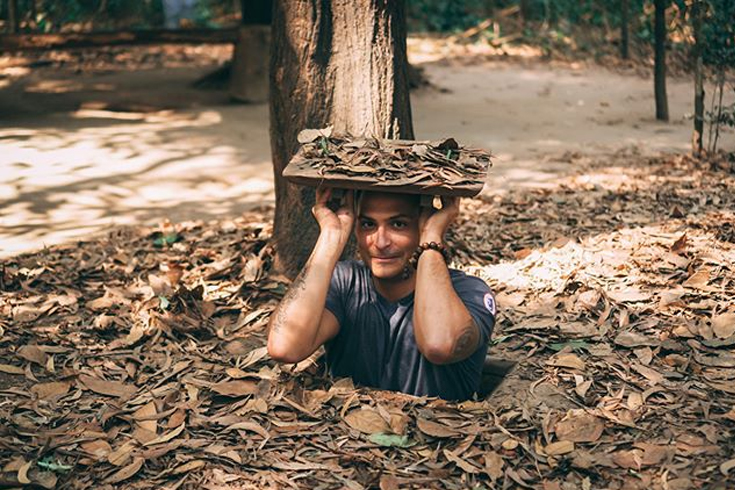 Although the US army had put a lot of effort, they failed to bring down the system completely. The reason is that these tunnels were built isolatedly and had different escapes out to the Saigon River, counterfeit bunkers and booby traps.
In the tunnel system, there are some special closed-door buttons set up in different places to prevent the enemy and toxic gas. The soldiers also carved unrevealed ventilation vents onto the ground and camouflaged them extremely discreetly. Also, there are many skillful deadly and dangerous traps that were arranged to keep safe for those insides.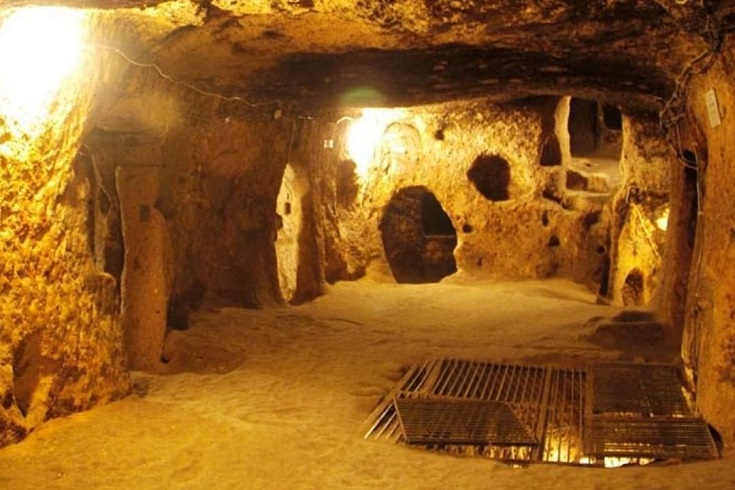 For a long time, the Cu Chi Tunnels remains multi-tiered architecture with 3 separate levels: the first floor (about 3 meters underneath the ground), the next one (about 6 meters), and the bottom which is deeper (more than 12 meters). For safety reasons, visitors can only visit the first level and some more meters of these tunnels which have been widened.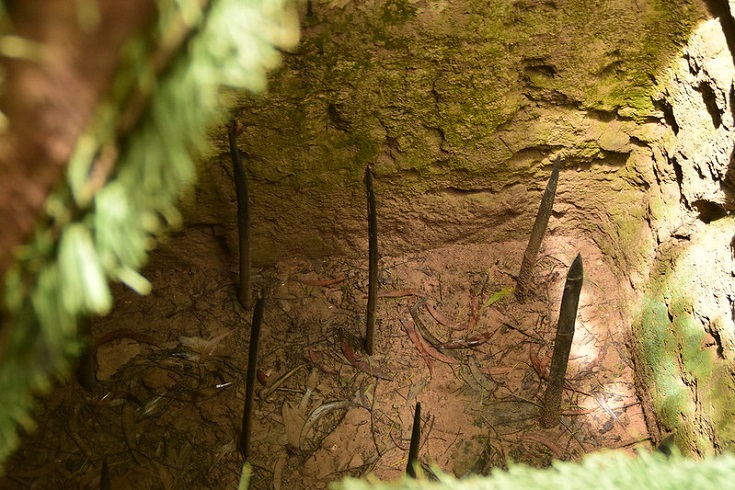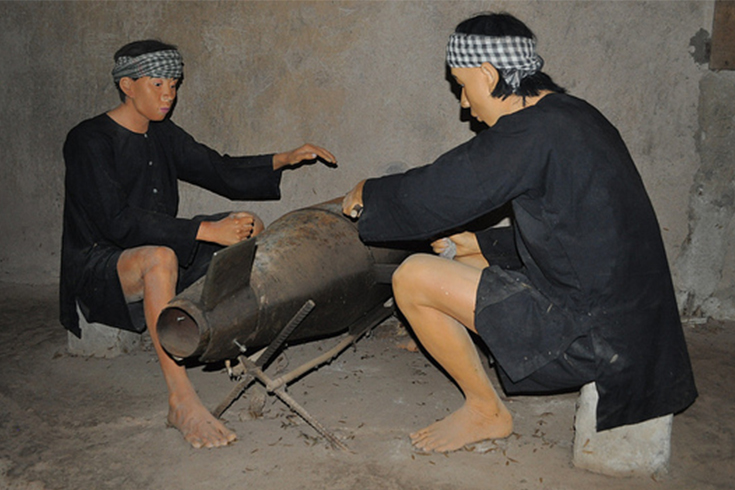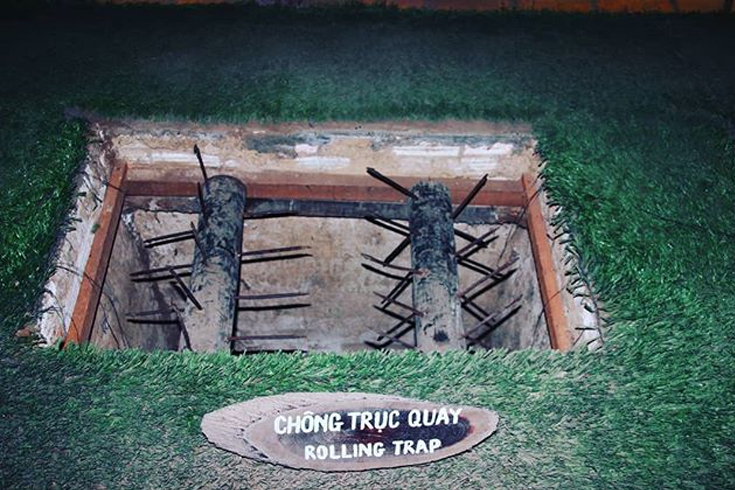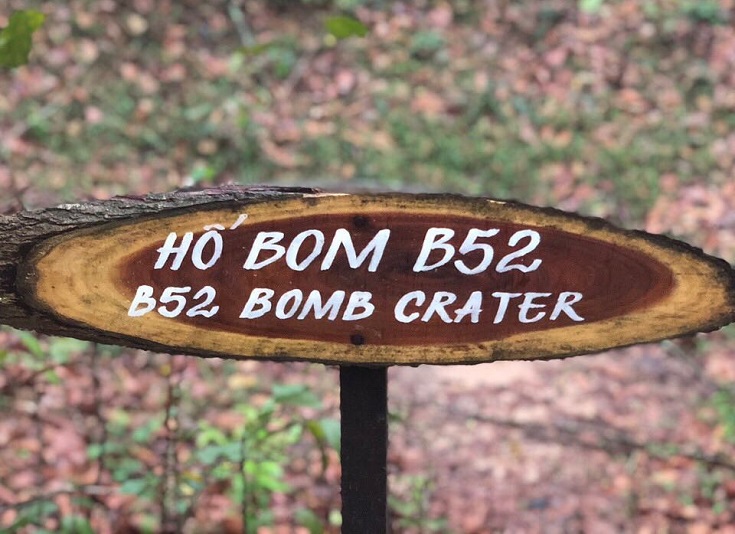 It is said that if the Cu Chi Tunnels fell, then the Vietnamese would have failed in the war. But if the tunnels stood, they would win. It means that this tunnel network played a huge role in the victory of the Vietnam army in the war owing to their independence.
Visiting the Cu Chi Tunnels, you have an opportunity to experience the real life in the tunnel. Try to taste the dishes that were previously used in the Vietnam army, such as sesame and boiled cassava, or go a little down to the dark and boundless tunnels to see the struggles, resilience, and hardships of Vietnamese soldiers in the war.
What to See in Cu Chi Tunnels?
Nowadays, visitors can only visit 2 sets of the Cu Chi Tunnels that open to the public: Ben Dinh Tunnels and Ben Duoc Tunnels.
1. Ben Dinh Tunnels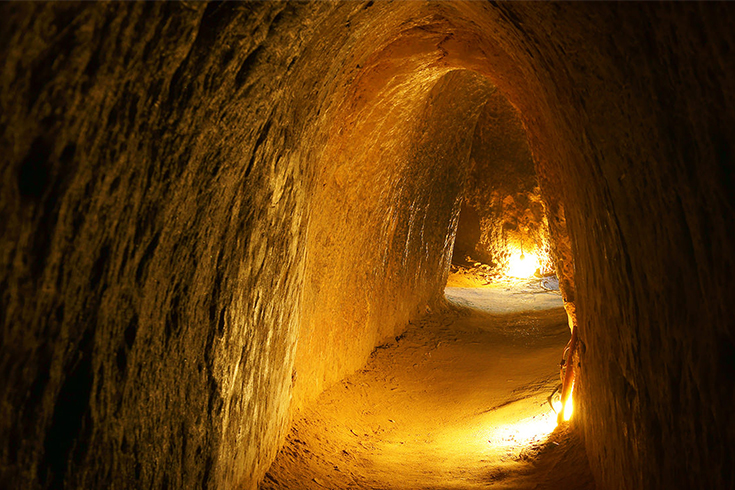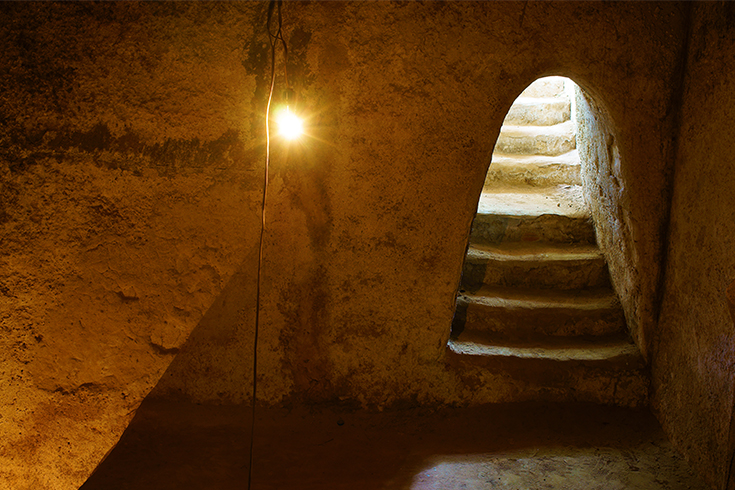 Located next to the Saigon River, Ben Dinh section is a perfect location for Cu Chi Commissioners to lead the people during the war. And also, they could easily escape to the river if the location was found. This one was used for a long time from 1968 to 1975.
It may take you almost 1 hour to take a tour around this section. There are 4 tunnels with examples of underground sleeping quarters, command posts, and medical posts. The ticket is VND 90.000 (about USD 4). In Ben Dinh section, you also have a chance to buy shoot weapons and bullets.
2. Ben Duoc Tunnels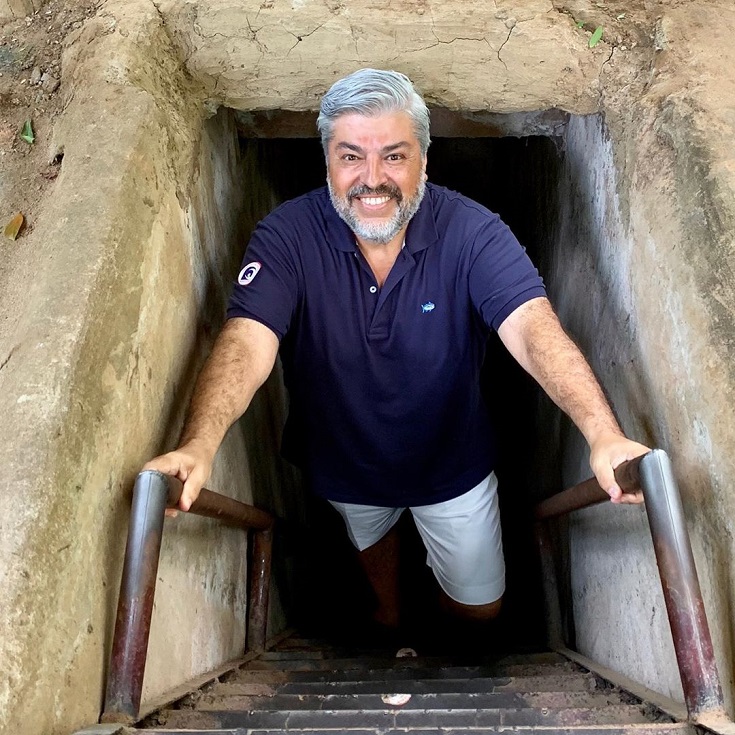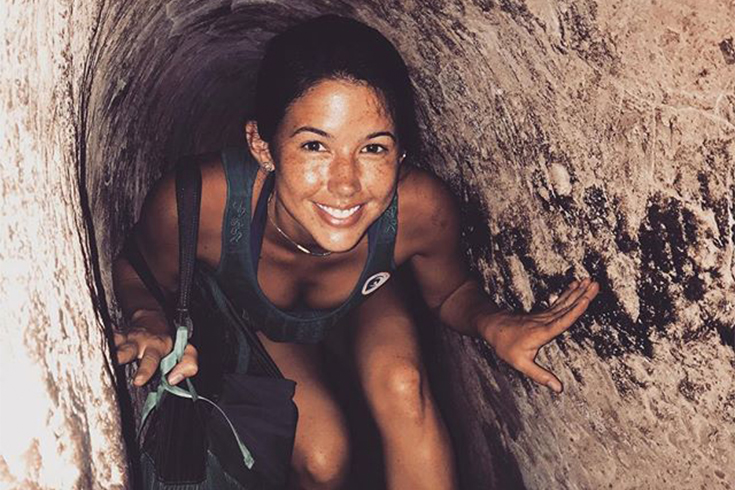 Covering an area of 100 hectares, Ben Duoc Tunnels are five times bigger than Ben Dinh Tunnels (17 hectares). Therefore, the traveling distance is also longer. However, you can get the most practical experience of the war in the southern part of Vietnam at Ben Duoc. You can see how tough a life in these cramped tunnels can be, and try to challenge yourself to overcome the odds. While Ben Dinh provides you with a wide range of recreational activities, Ben Duoc will offer you numerous intriguing historical sites such as Ben Duoc Memorial temple and Hoang Cam kitchen.
What to Do in Cu Chi Tunnels?
As a tourist attraction, Cu Chi Tunnels also have some more interesting activities for you to entertain after discovering Ben Dinh and Ben Duoc sections.
1. Experience Shooting Guns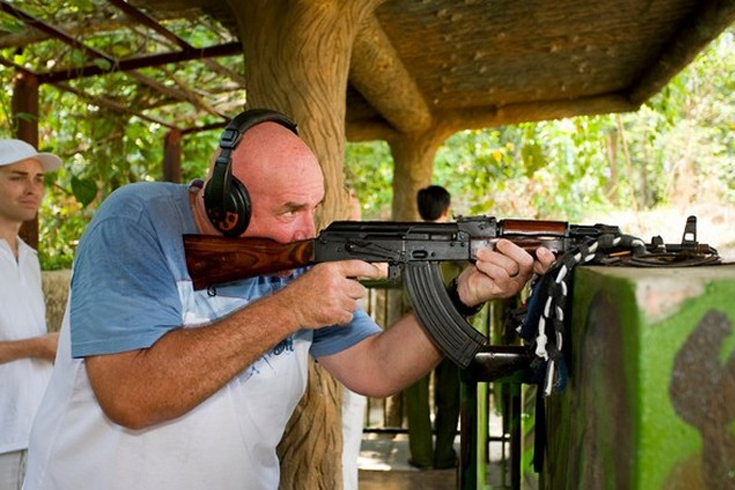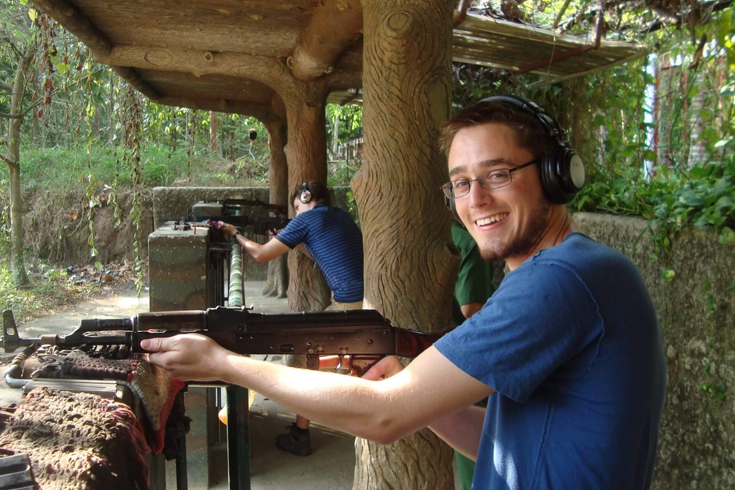 It is a military sport that attracts a lot of visitors to participate in when traveling to Cu Chi Tunnels. Here, you can choose the appropriate guns for yourself. Most of the guns had been used during the war and you can use them to try shooting with the animal-shaped target under the staff's instructions.
2. Swimming in Cu Chi Park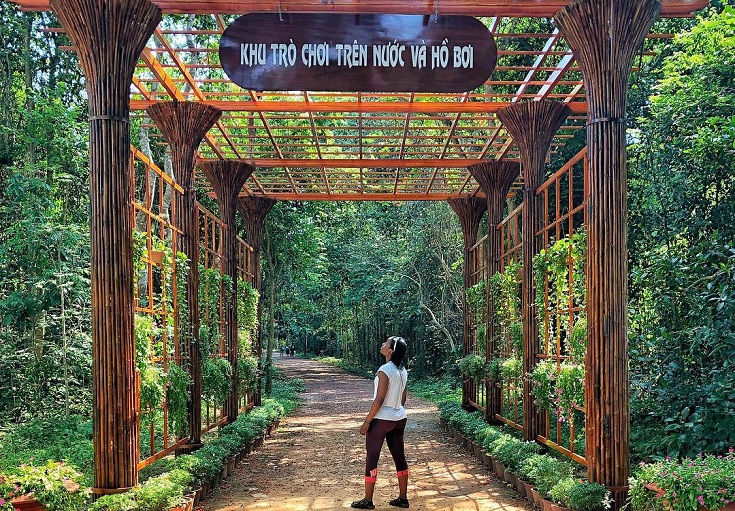 Cu Chi park has a swimming pool built in a separate architectural style. There are 500 meters square for adults and 150 meters squares for children. The facilities are quite good with dressing room, bathroom, restroom, etc.
3. Playing Paintball Guns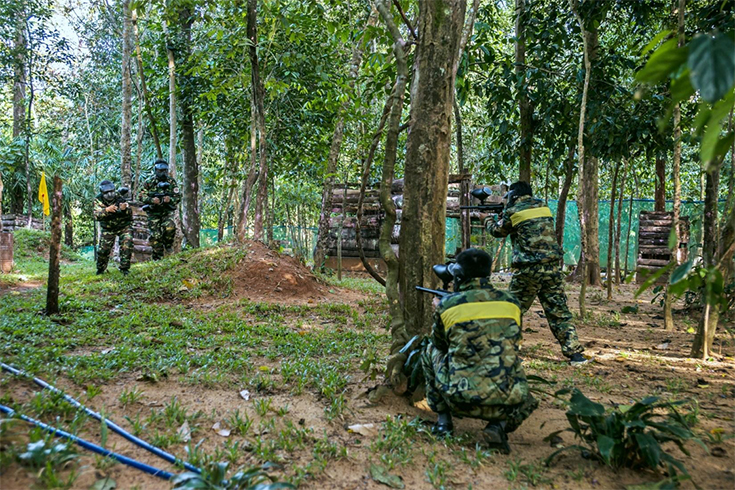 Paintball shooting is a game that combines both military and sporty factors. In Cu Chi, you can try this game in the natural forest. Each soldier will be fully equipped with uniforms, masks, armor, and weapons. This game helps a lot in improving your judging, team collaboration skills, and knowledge.
4. Pedaling and Kayaking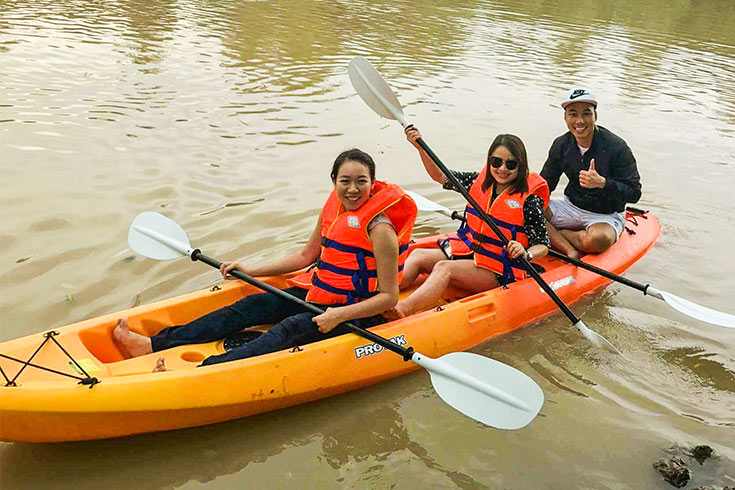 For those who want a relaxing and chilling time, kayaking in the South China Sea simulation lake in Cu Chi is a perfect activity. Visitors can use a swan-shaped boat to admire the panoramic view of the lake also.
5. Having a Picnic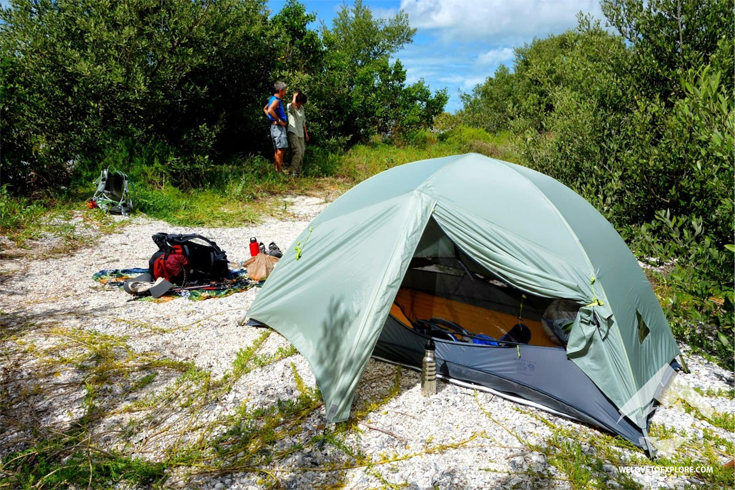 There are many spacious areas with green trees and refreshing air in Cu Chi Tunnels. So, you can consider having a small picnic with your family and friends here. The place will help you get away from bustling city life and relax.
Ways to Explore Cu Chi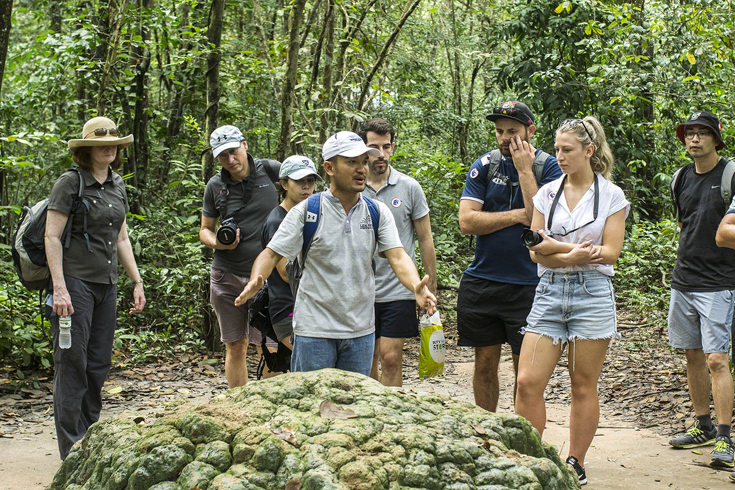 You can choose whether to explore Cu Chi on your own or use a tunnel tour by boat. To explore it on your own, you can go to Cu Chi Tunnels by bus, motorbike or car, then buy a ticket at the entrance. With an admission ticket, the Cu Chi Tunnels supply free guides for visitors. Following the guide will help you to save money and get to know more about the Tunnels exactly.
The tunnel tour by bus is easily booked online or your hotel in HCM City. You will have a chance to discover the landscapes along the river banks, explore the maze of tunnels with storage facilities, weapons factories, kitchens, and countless trap doors and enjoy the most popular food during the war. The fee is around USD 50/ adult.
How to Get to Cu Chi Tunnels
There are many ways to get to Cu Chi Tunnels, you can choose one of the below means of transportation.
1. By Bus
A bus is the cheapest way to go to Cu Chi. First, you catch bus No 13 from 23-9 Park (near Pham Ngu Lao street) to Cu Chi Bus Station, then change to bus No 79 which heads to Ben Duoc. It will take you 2 and a half hours and more than USD 1 if going by bus.
2. By Taxi
Taxi is the most convenient but also the most expensive one. For 140 km to Cu Chi, you may have to pay USD 60. You can book a taxi online with Grab application or on any streets.
3. By Motorbike/car
You can use your own motorbike or car, or rent one in Ho Chi Minh City. The traveling distance is 140 km, so it is possible to go by personal motorbike or car. It only takes 1 and a half hours to go from the center of Ho Chi Minh City to Ben Dinh section.
4. By Boat
A speedboat will take you from Tan Cang pier through Saigon River to Cu Chi in 1 and a half hours. It's better to take the morning boat at 7:30 am every day.
Tips and Tricks
Prepare some food and drink before you go
Bring insect repellent and dress properly because there are many mosquitos there
You need to pay for most of the games in Cu Chi Tunnels
During the holidays, the entrance fee is higher than normal days but it offers more activities for visitors
The tunnels are quite narrow and easy to get lost. It's better to follow the staff's instructions.
If you bring a lot of luggage, you should put it outside.
Is Cu Chi worth visiting? Yes. It is an iconic representation of the Vietnam War. If you are not visiting it yet, let's book a tour to discover it now. And let us know about your experience there.