As a natural world heritage, Halong Bay is among the leading destinations for an ideal vacation. Tourists come to Halong to admire the unspoiled beauty of the seascape and to enjoy the authentic experiences. It is said that if you take a journey to Halong Bay without swimming in the emerald sea there, you have missed a chance to fully enjoy the wonderful beauty of Halong. Swimming in Halong Bay is one of the most exciting and thrilling activities no one should ignore when visiting Halong Bay.
I. Overview about Swimming in Halong Bay
The heaven is just right in front of your doorstep therefore it seems so hard to ignore emerald water plus white sandy beaches that you really want to dip yourself right away in the cool water of Halong Bay!
Halong Bay is voted to be one of the best places to swim in Vietnam with numerous romantic beaches. Consequently, the bay is not only an ideal destination for sunbathing with bright sunlight, but also a picturesque beach with unruffled tides and azure water. It would be even much more amusing if you have a chance to swim far away from the beach because the water there is much clearer; however, to make sure everything is alright, go swimming in groups with a profession and just enjoy your journey
Azure water, sparkle sandy beaches and blue sky! Such a wonderful paradise for swimming and sunbathing here in HaLong Bay as there are a variety of tourists who enjoy the cool feeling under the seawater or comfortably lay down under the sunlight.
II. Top Destinations for Swimming in Halong Bay
1. Tuan Chau Beach
Tuan Chau is one of the most well-known islands in Halong Bay. This island owns two beaches, both are impressive tourist attractions in Halong Bay. The pristine beauty of Tuan Chai Beach is adorned by the shadow of coconut trees and the image of offshore island in the horizon. Let the white sandy beach and gentle waves there pamper your body and allow the winds to blow all your worriedness.
What could be better than immersing in the emerald water of Tuan Chau Beach in a nice afternoon, lying on the smooth sand and sipping the cool coconut water? Also on the beach, you can tick off some other thrilling activities such as wind-surfing, diving, parachuting, snorkeling and kayaking. As a bright pearl in Halong Bay, Tuan Chau is the stopover you should not ignore in your journey.
2. Ti Top Island
The next destination in the list of top beaches for swimming in Halong Bay is Ti Top Island. The tides embrace the sandy beach, creating the crescent-moon-shape coast. While inland beaches are always crowded with tourists, especially in the tourism seasons, the beach of the offshore Ti Top Island wins your heart with its tranquil atmosphere and picturesque scenery. Boasting crystal water, mild waves and smooth sand, the beach of Ti Top Island is an ideal place for you to swim.
Escaping from the bustle and hustle of daily life, you will encounter a dreamlike Ti Top Island with an unspoilt beach nestling under the foot of an imposing mountain. Besides swimming, you can take part in a lot of exciting activities such as mountain-hiking, sightseeing and kayaking. It is such a wonderful site!
3. Soi Sim Island
With an area of 8.7 hectares, Soi Sim Island is a small stopover but no less attractive in Halong Bay. This island is covered by the green primeval forests, which is the habitat of various plants and animals. In addition to its ecosystem values, Soi Sim Island is also a familiar stopping point of many tourists and cruises discovering Halong Bay. And swimming in Soi Sim Island is such an intriguing experience.
Since this island is a less-traveled destination compared to other attractions in Halong Bay, it can preserve the pristine appearance with untouched beach and fresh atmosphere. The swimming area of Soi Sim Island is not very large, but it is enough for you to find yourself in the nature of Halong. After swimming, get to the top of the hill there, you will catch the spectacular overview of Halong Bay from above, which is such a memorable experience.
4. Quan Lan Island
Located in Bai Tu Long Bay, the neighbor of Halong Bay, Quan Lan is a pretty island with captivating natural scenery and long-lasting culture. Covering an area of more than 10 square kilometers, Quan Lan Island is like a bulwark preventing the peaceful life of the local residents living there. Owning two beautiful sandy beaches Minh Chau and Son Hao, Quan Lan Island should be included in your list of swimming spots in Halong Bay.
Coming to the beaches of Quan Lan Island, you might feel like getting closer to nature. Immersing your body in the cool water, lying on the sandy beaches to get the warm sunlight and listening to the splashing sound of the sea will give you relaxing moments in your trip. In addition, it is a good idea to have a picnic on the beach, enjoy some fresh seafood and shoot gorgeous photos with your friends on Quan Lan Island.
5. Ngoc Vung Island
As a point in the ancient system of trading ports in Van Don, Ngoc Vung Island is a precious pearl shining among the breathtaking seascapes of Halong Bay. From above, the beach of Ngoc Vung Island is like a white velvet shawl that a girl left on the sea coast. No one can deny the wild but charming beauty of the beach on Ngoc Vung Island, especially in the sparkling sunset.
The beach on Ngoc Vung Island stretches for more than two kilometers, embracing the foot of the green mountain. Along the beach are smooth sand, clear blue sea and tranquil tides, which combine together to draw a picture of the impressive sea. Swimming in the emerald water or walking on the long sandy beach with your barefoot will give you some peaceful moments to enjoy life on your journey.
6. Co To Island
With an area of nearly 47 square kilometers, Co To Island is one of the largest ones in the Gulf of Tonkin. In addition to the cultural and traditional values of the local residents, Co To Island is featured by numerous unique sandy beaches, which are ideal destinations for you to swim. Gentle winds, pure water and smooth sandy beaches are the best conditions for you to join swimming and sunbathing on Co To Island.
Co To Island has three main beaches, which are Tinh Yeu, Hong Van and Van Chai Beaches. Van Chai Beach is preferred by a lot of tourists thanks to its cleanliness and calm sea. Along the beaches of Co To Island, there are creative bungalows for tourists to stay in and enjoy the vacation on this paradise island. Co To Island is not only a destination for swimming, it is a place where you can enjoy an off-the-beaten-path trip in Halong.
7. Ba Trai Dao Islets and Beach
Compared to the destinations mentioned above, Ba Trai Dao Islets and Beach has the smallest beach. However, this does not prevent this unique island from becoming one of the most favorable destinations of cruises in Halong Bay. With impressive green mountains, imposing cliffs, calm sea and gentle winds, Ba Trai Dao Islets and Beach is worth a position in the top list of ideal places to swim in Halong Bay.
Located in an air-tight area, Ba Trai Dao Islets and Beach has favorable conditions for tourists to enjoy sea-related activities. Swimming, sunbathing, kayaking, and diving are all experiences you should try when reaching this area. One thing you ought to notice is that the beach of Ba Trai Dao Islets is submerged under the sea level most of the time, and it is only available for two or three hours a day. So don't miss the precious moments to enjoy swimming in Ba Trai Dao Islets and Beach.
III. What is Special about Swimming in Halong Bay?
The spectacular Halong Bay attracts tourists not only because of its magnificent limestone islands but also the emerald clear water. This world heritage site owns a variety of beautiful beaches, many of which are top pretty beaches in Vietnam. Therefore, Halong Bay is worth a position in the list of the most ideal places to swim and sunbathe.
Thanks to the favorable position in an air-tight area, the sea surface of Halong Bay is quite calm and clean. Except for two months of stormy season, Halong Bay sea is hardly rough and muddy. Along the sea shore of Halong are gorgeous panoramic views with green limestone islands and eye-catching sailboats, which creates such a peaceful scenery.
Besides swimming and sunbathing on the smooth white sand beaches, you might enjoy immersing your body in the middle of Halong Bay and experiencing the feeling of jumping from the cruises into the cool water. Freshen your mind and let the gentle waves wash away all your sadness. Swimming in Halong Bay is one of the most exciting and thrilling activities you can have in the journey to Halong Bay.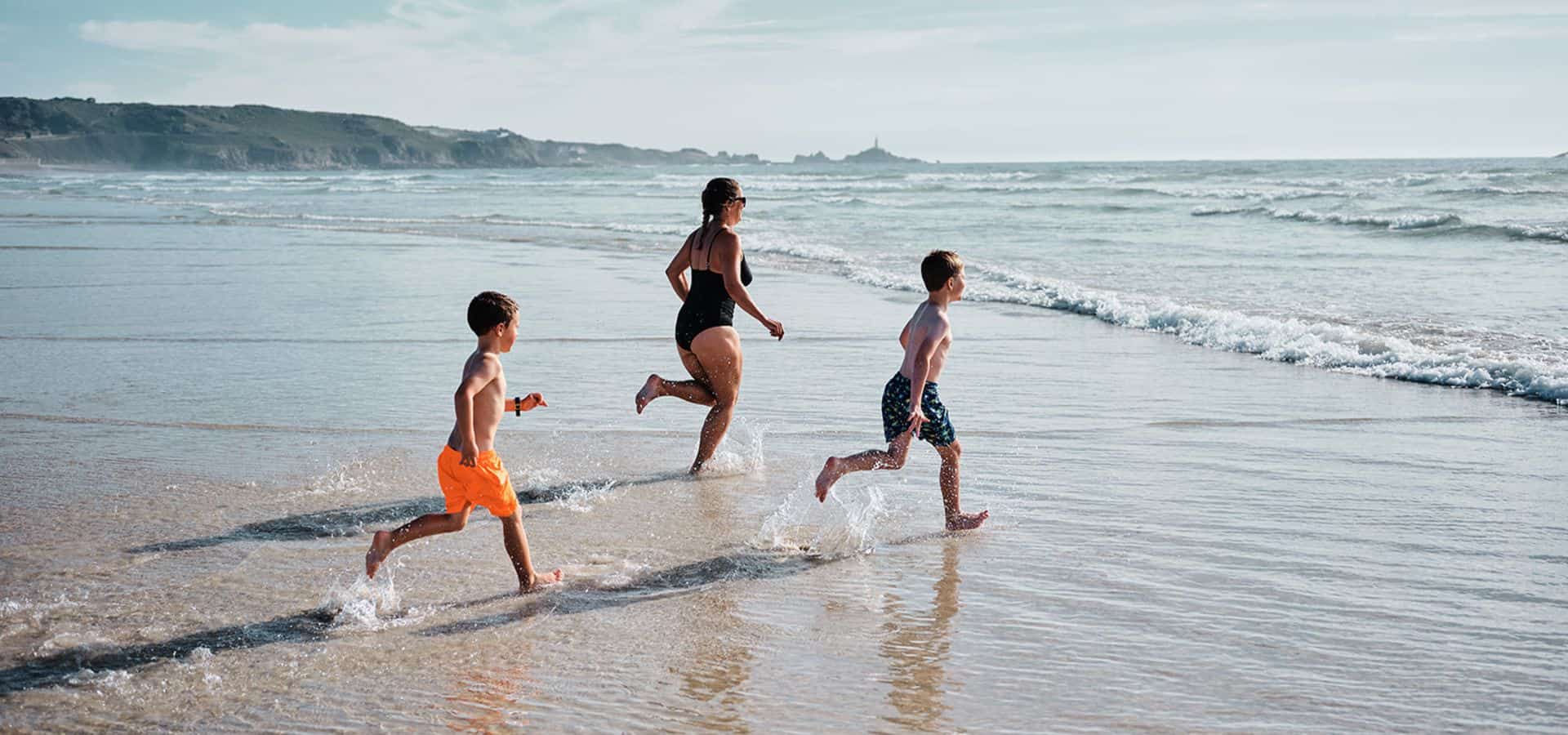 IV. Cruises for Swimming in Halong Bay
Swimming is the activity included in the itineraries of all cruises in Halong Bay, so it is not very difficult for you to find a cruise to swim in Halong Bay. Actually, you can enjoy swimming in Halong without joining cruises, but it is such a pity if you do not take a journey to an offshore area to enjoy the tranquil atmosphere and crystal-clear water there. The professional cruise teams of these vessels will provide you with the most favorable conditions to experience swimming in Halong Bay safe and sound.
Some cruises in Halong Bay for swimming:
1. Paradise Elegance CruiseParadise Elegance Cruise: The Newest & Most Luxurious
3. Era Cruise
8. Renea Cruise
9. Rosy Cruise
10. Peony Cruise
11. Harmony Boutique Cruises
14. Bhaya Legend Cruise
15. Sena Cruise
V. Best Time for Swimming in Halong Bay
Halong has four distinct seasons, which is typical for the climate in North Vietnam. Although the tourism seasons in Halong take place from March to June and from September to December, there are only several summer months that are suitable for swimming. It would be better for you to visit Halong Bay and go swimming on a sunny day from April to June.
Summer in North Vietnam often lasts from April to June, which is considered as the best time to visit Halong and join some outdoor activities. The bright sunshine and hot weather make it the best condition for you to immerse in the cool water of Halong Bay. Besides swimming, you can take part in plenty of interesting outdoor activities such as snorkeling, diving, sunbathing and kayaking.
The weather is also hot from July to September; however, this is the stormy season in the Gulf of Tonkin, and most tourists do not take this period into consideration. The heavy rain might prevent you from all the leisure activities, and it can be dangerous to cruise during these times. Nevertheless, you can still find some sunny days during these rainy seasons, and that is also a good choice for going to the beach in Halong Bay.
Cold winter with the temperature under 20 Celsius degrees will prevent you from swimming in Halong Bay. Rainy or stormy days with rough seas are also unfavorable conditions. If you visit Halong Bay on these days, you can participate in some indoor activities instead.
VI. Extra Tips
To ensure your safety while swimming in Halong Bay, you should notice some tips for this activity in Halong Bay:
Warm-up before swimming. Ease your muscles to get rid of the risks while you are swimming.
Do not drink alcohol or eat too much before swimming.
Wear a life-jacket if you do not swim very well.
Wear a suitable swimsuit and do not carry precious jewelry while swimming.
It would be better for you to go swimming in a group. Do not go swim on your own without the permission of the tour guide.
You should not swim in the early morning, at noon and late at night.
Do not swim far from the shore, in deep water or in strong currents.
In case you see the large waves, you ought to dive down as deep as possible and swim back to shore after there is a break in the waves.
Jellyfish might make you itch, so be careful and get away from them.
Your swimming should last about 15 to 12 minutes. Do not immerse yourself too long in the water since you might get cold.
If you have children in your group, remember to keep an eye on them.
After swimming, you need to rinse to remove the sea water in your body.
Above are all the things you need to know about swimming in Halong Bay. It is such a wonderful experience that no one can ignore when traveling to the majestic Halong. Let the gentle water of the sea sweep away all your sorrow and worriedness in the busy life and share your wealth and woe with the stunning nature of Halong Bay.