The Gulf of Tonkin in North Vietnam has been an attractive landscape for both domestic and foreign tourists who are interested in the stunning beauty of the Vietnam sea. Located in between Halong Bay and Lan Ha Bay, Day and Night Cave is an ideal suggestion to discover a masterpiece of creation in a famous world heritage. Let's explore what is waiting for you in Dark and Light Cave!
I. Overview of Dark and Light Cave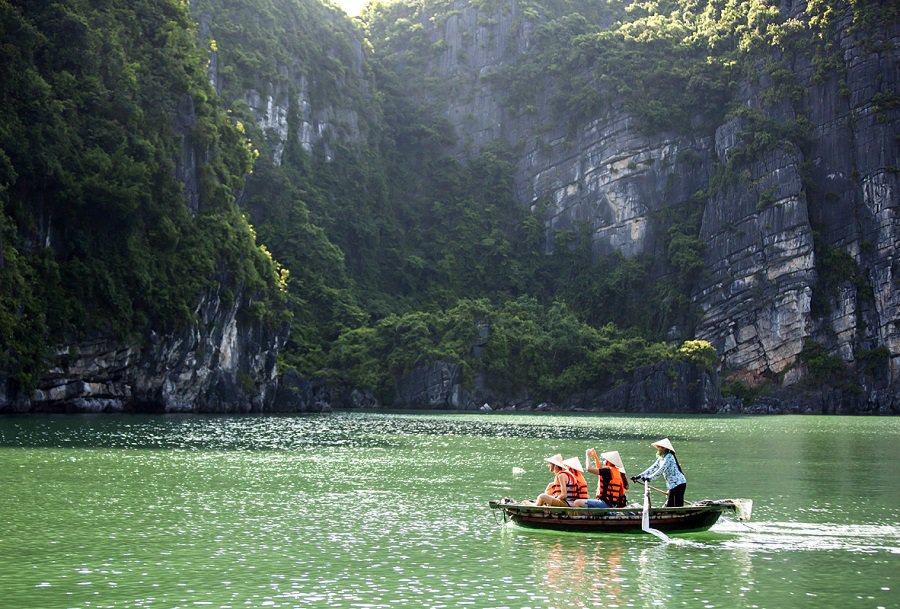 The geologic process in North Vietnam in general and in Halong Bay in particular led to the formation of three major kinds of grotto, which are underground cave, old karst-based cave and frog-jaw-shaped cave. Dark and Light Cave is a typical example of frog-jaw-shaped cave: the floor is under sea water and the ceiling is above the sea level. The special structure of Dark and Light Cave allows tourists to visit the interior on boat or kayak.
Dark and Light Cave consists of two small caves, which are Dark Cave and Light Cave. Dark Cave is quite deep and narrow, and it is often under the sea level, tourists are not allowed to enter the cave. The other cave is Light Cave, which is larger with 3 meters in height, 4 meters in width and 100 meters in length. The height of Light Cave depends on the fluctuating tides. Rarely does the sea water reach the ceiling of this cave, it is opened for visitors to explore.
Dark and Night Cave is also called Day and Night Cave. Many people see the cave as "the underwater Sung Sot Cave" (Sung Sot Cave is also a famous grotto in Halong Bay). As its nickname, tourists for sure will be immediately amazed at the beauty of the cave when they come into Dark and Night Cave.
II. Highlights of Dark and Light Cave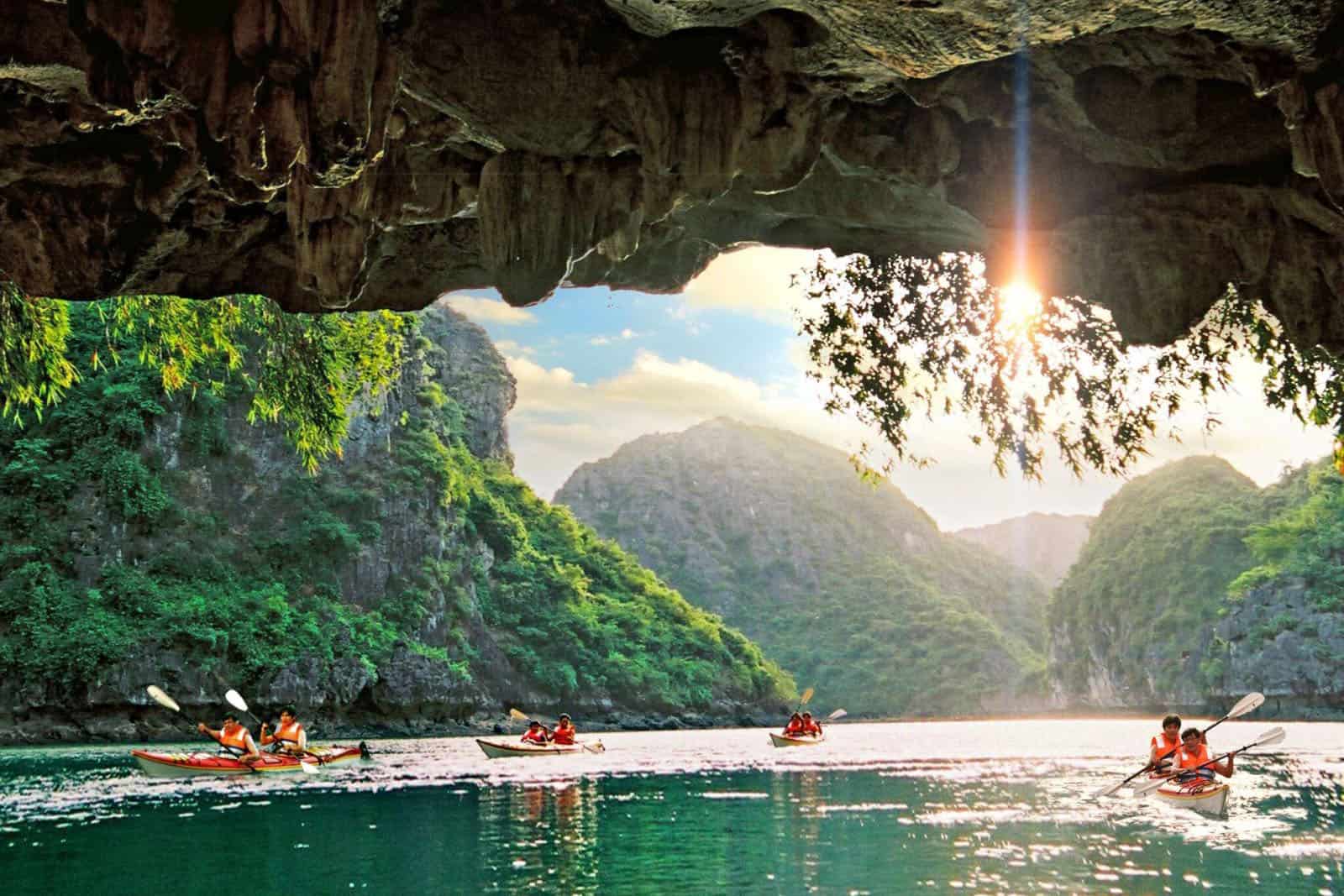 1. Location
Dark and Light Cave is located in the reservation area of Cat Ba Biosphere Reserve, which is in the bordering region of Halong Bay and Lan Ha Bay.
Thanks to the favorable location, Dark and Light Cave and the surrounding area includes all the outstanding traits of two bays: the specific geological characters of Halong Bay and the diversity of the Cat Ba Islands.
In the nearby area of Dark and Light Cave, you can find some famous fishing villages, where the fishermen live in harmony with nature, not only exploit the natural potential but also preserve marine life.
2. Beauty
There is no doubt about the beauty of Dark and Light Cave. Entering the cave, you will be overwhelmed by the sparkling stalactites on the ceiling. The stalactites in many shapes and sizes look like the bamboo sprouts in a mysterious forest. This special form of Dark and Light Cave has been shaped by the condensation of limestone for millions of years.
The ceiling of the cave is arch-shaped and the interior is quite dark, which makes the cave like a tunnel on the water. Passing through 100-meter length of Dark and Light Cave, an absolutely different world will appear in front of you. The cave leads to a peaceful lake surrounded by limestone mountain cliffs. Many luxuriant plants, including orchids, cover the top and the slope of the mountains, which create a huge green wall in this area.
Dark and Light Cave is the way to a wonderland, where tourists can see a blended picture of sea, mountain, sky and plant. The breath-taking view of this place will make you forget all the tiredness after a long journey to enjoy the whole beauty of nature in Dark and Light Cave.
III. What to Do near Dark and Light Cave?
1. Kayaking to discover the cave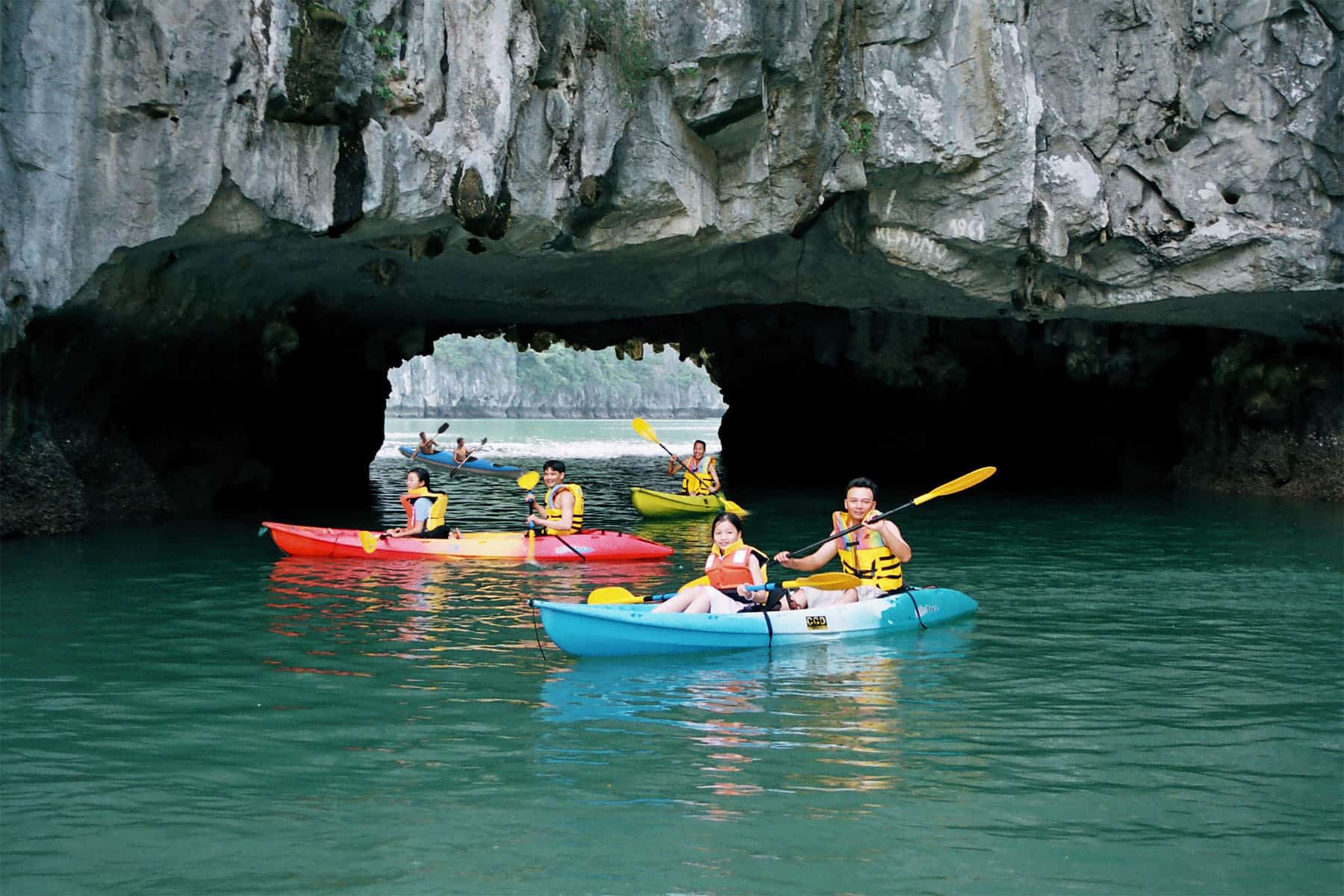 Kayaking is a must-try activity for all tourists who get to Dark and Light Cave. The height of the cave does not allow large ships to pass through, so you will need to hire a kayak or a small boat to visit the cave yourself.
When the cruise trip stops outside the cave, you can hire a kayak or a boat and row into Dark and Light Cave. A kayak boat is used for only 2 people, while a reed boat can seat up from 6 to 8 people.
Sitting on the boat, sometimes you can see small fish under the crystal-clear water, some bats on the cave ceiling, and even birds and monkeys on the islands nearby. It is such an amusing feeling when you can match yourself with nature to forget the bustle life in the outside world.
2. Visiting Cua Van floating village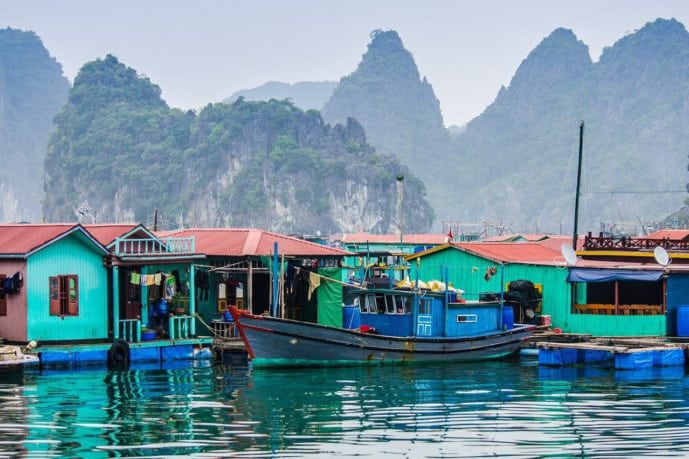 In the area near Dark and Light Cave, there is a fishing village on the list of 16 most beautiful ancient villages in the world named Cua Van Village. Also located between Halong Bay and Lan Ha Bay, Cua Van Village is one of the must-visit destinations for all tourists coming to Dark and Light Cave.
In Cua Van Village, more than 200 families live in the floating rafts on the sea water. Their income is mainly from catching and growing fish. Not only do the residents in Cua Van Village exploit the natural potential to earn for their livings but they are also aware of protecting the environment. Therefore, when coming to Cua Van Village, you will be impressed by the pristine beauty of a small village nestling within the large bay.
IV. How to Get to Dark and Light Cave?
Dark and Light Cave is about 2 kilometers from Sung Sot Cave, a famous cave in Halong Bay. A cruise ship in Halong Bay or Cat Ba Bay is the only way for you to reach Dark and Light Cave.
If you depart from Tuan Chau Wharf in Halong City or Got Wharf in Haiphong City, where you can find some cruise ships to get to the cave. One thing you should note is to contact the travel agency to ensure Dark and Light Cave is on your initial.
A cruise trip to visit Halong Bay often lasts for 4 to 6 hours. If you want to experience more activities, you can go on a night tour in Halong Bay. A lot of interesting things are waiting for you to explore.
V. Extra Tips
If you do not know how to row a kayak, you can go on a boat sailed by the locals to discover the interior of Dark and Light Cave.
Remember to follow the safety instructions like wearing a life-jacket when going on a boat.
Near Dark and Light Cave, there are many other attractions that you should not miss such as Sung Sot Cave, Thien Cung Grotto, Cat Ba Island, Van Boi Village and so on.
The best time to visit Halong Bay is from April to July, which is the tourism season there. The weather is favorable and a lot of carnivals are held to attract visitors.
Dark and Light Cave is a wonderful stopover on the edge of Halong Bay. The Mother of Nature has favored this destination with all the characters to become a precious gem of a world heritage. If you have a chance to get to Dark and Light Cave, don't hesitate to share with us your feelings as well as gorgeous pictures with your friends and family.