Located in the Vietnam's North-East region and in the Gulf of Tonkin, Halong Bay, a UNESCO World Heritage, is a complex of the Halong City, the Cam Pha township along with a part of the island district of Van Don. The bay shares the borders with Cat Ba Island in the southwest, the East Sea in the east, and the mainland, creating a 120 km coastline. Seeing this famous landscape of Vietnam from a seaplane is unique experience that is surely well-worth your time in Vietnam. Not only can you contemplate stunning aerial views over Halong Bay, but you will also be surprised by the experience of landing on the water and save time on reaching out to Halong Bay.
Let's see how seeing Halong bay from a seaplane is!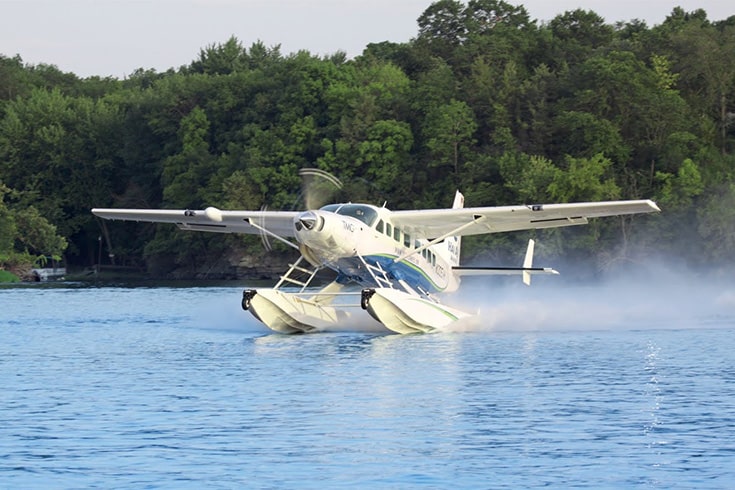 Halong Bay Overview
According to the statistic, Halong Bay comprises 1,969 island of various sizes and shapes, of which 989 have been given names. Islands are categorized in two kinds of limestone and schist, which are allocated in two main zones: the southeast (belonging to Bai Tu Long Bay), and the southwest (belonging to Halong Bay) respectively. The densely concentrated zone of stone islands in Halong Bay is well-known for spectacular scenery of grottoes and caves, forming the central zone of picturesque Halong Bay, a UNESCO World Heritage Site.
Stretching the total area of 43,400 ha with 775 islands, the Halong bay itself draws a triangle with the Dau Go Island to the west, the Ba Ham Lake to the south and the Cong Tay Island to the east.
Visiting the bay, travelers can know more about the history of Vietnam as it still treasures many famous historical and geographical sites such as Van Don (site of an ancient commercial port), Poem Mountain (with engravings of many poems about emperors and other famous historical figures), and Bach Dang River (the location of two fierce naval battles fought against foreign aggressors).
Scientific evidences have showed that Halong was one of the first cradles of human existence in the area at such archeological sites as Dong Mang, Xich Tho, Soi Nhu, and Thoi Gieng. It is also a region of highly concentrated biological diversity with many ecosystems of salt water-flooded forests, coral reefs, and tropical forests featuring thousands of species of animal and plant life.
Seeing Halong Bay from a Seaplane
Seeing Halong Bay from a seaplane is one of the best things to do in Halong Bay. It brings amazing and unusual experiences in Vietnam. It allows you to soar through the sky above clear waters, green rainforests of UNESCO-listed landscape and emerging limestone islands. Depending on the duration of the thrilling but comfortable ride you choose for seeing Halong Bay from a seaplane, you can get different unique experiences.
The coolests part of this activity in Halong Bay is getting a bird's eye view of beautiful islands like Bo Hon island, Cong Do island, and Dau Be island. The activity is really ideal for those people who are seeking thrilling trips to Halong Bay
Pros and Cons of Tours for Seeing Halong Bay from a Seaplane
1. Pros of Tours Seeing Halong Bay from a Seaplane:
Convenient: As usual Halong Bay seaplane tours, the plane will land at Tuan Chau harbour. That makes it convenient for you to enjoy a cruise tour after the flight.
Time saving: You can see the whole view of the best of Halong Bay within 1-4 hours from the seaplane. This is perfectly suitable for those with limited time on discovering and exploring Halong Bay.
Safety: Surely, the aircrew used for Halong Bay seaplane tours are well-trained and tested for possible unexpected situation, warranting for your security.
Amazing views: Rice paddy fieds, rivers and surburb areas of Halong Bay seen from above will surely amaze you.
Water landing: Water take-off may be the coolest part of this activity.
2. Cons of Tours Seeing Halong Bay from a Seaplane
Limited luggage weight: If you join this tour, you are required to limit your weight of luggage for reasonable safety reasons. So you should pack really essential items in your luggage.
High price: The cost ranges from US$175 / one way for tours of Halong Bay seaplane. This price fluctuates depending on occassions and probably increases during holidays.