Home to about 1,600 islands and islets, Halong Bay, a UNESCO World Heritage Site in Quang Ninh Province, Vietnam is also famous for so many unique and beautiful caves. It may make you confused to choose some caves to see. To help you easily determine which one to visit, we reveal 8 famous and magnificent Halong Bay caves and grottoes that are worth visiting at least once in Vietnam.
1. Surprising Cave (Hang Sửng Sốt) – Halong Bay's Largest Cave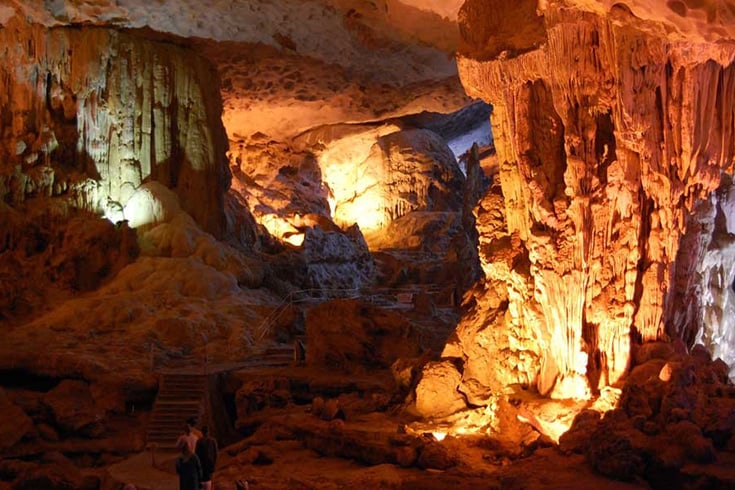 Located in Bo Hon Island, Sung Sot cave is the largest and one of the most beautiful caves in Halong Bay. It is where you can find many rocky islands concentrated in different strange and distinct shapes.
The first thing you may think when setting foot in the cave is that it is just a very small area. However, you will be surprised after passing through the rocky slot and go inside. The area is so huge, stretching about 10.0000 square meters in width. Many tourists are surprised by its majestic beauty and the huge expansion. Maybe that's the reason why it is called "Sung Sot Cave" or "Surprising Cave".
The cave is divided into 2 main areas. The first one gives you an impression of entering an immerse theatre whose ceiling is covered by stalactites and stalagmites. The second one is a different space. Its ceiling is covered by many stalactites and stalagmites, which looks like a silky "velvet carpet" with a myriad of glistering chandeliers.
2. Thien Cung Cave – the Gift of Nature to Halong Bay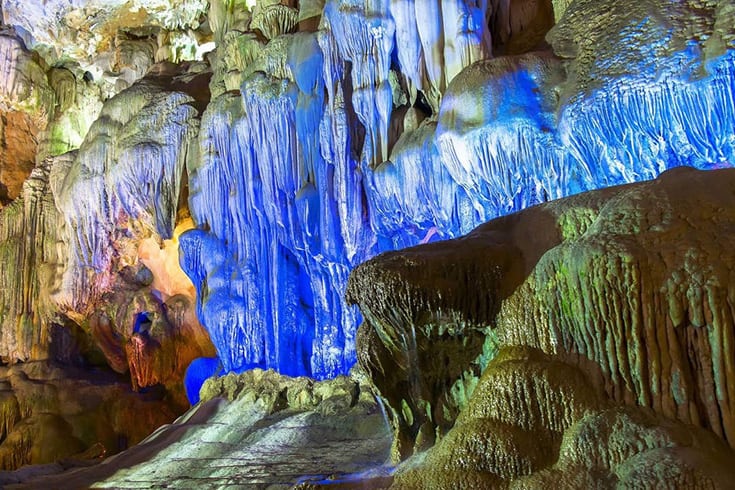 Located just 4 km from the harbor, Thien Cung is the most interesting and legend-filled cave which is considered as a unique winding pathway through the "Heavenly Palace".
27 meters above sea level, visitors must climb 90 rocky steps to the mouth of the cave. The cave is well-known for its complex interior structure, high ceilings, and multi doors. There are three large chambers in the cave, each containing imposing displays of stalactites and stalagmites. They have various sizes with strange shapes such as fishes, birds, and celestial maidens.
Thien Cung cave is also famous for its legend about an ancient Dragon King. He defeated invaders and returned to his cave instead of getting an award. Dragon Prince married to a girl whose name is May. Their wedding was held in the cave with the attendance of many dragons, giant eagles, and huge pythons. Going around the cave, you can see this scene engraved on the wall and stones.
3. Dark and Bright Cave (Hang Sáng Tối) – the Magical Cave made by Mother Nature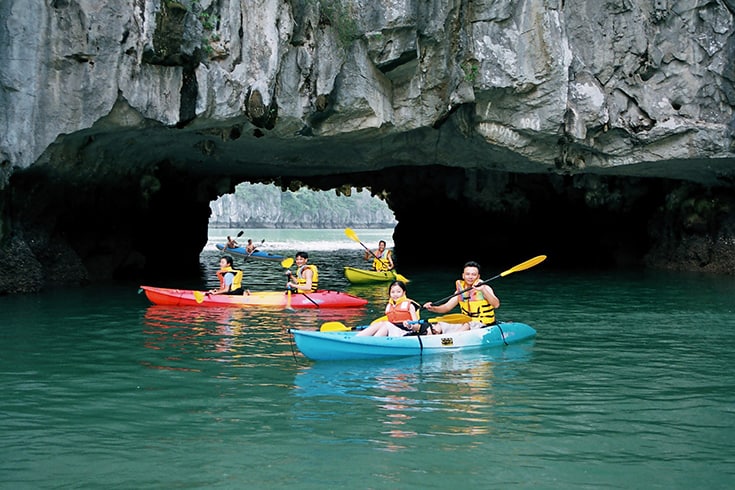 If you are looking for a less populous cave, this is the place to go. Close to the border Lan Ha Bay and just about 1 km away from the Surprise Cave, the Dark and Bright cave is only accessible by rowboating or kayaking.
Compared to other caves in Halong Bay, it is equally beautiful and there is a variety of animals and plants within the ecosystem. Right from the entrance, you can see many fig trees and orchids around. Behind the entrance, there are plenty of huge trees and fragrant flowers. And in the lake are different types of organisms such as crab, shrimp, and corals. As its name suggests, the cave is divided into two parts: the Dark cave and the Bright cave. The Dark cave is huge with little light, which brings a mysterious beauty to the place. In contrast, inside the Bright cave, the sunlight shines through the cave from the entrance till the end, making it one of the best caves in Halong bay.
Coming to Dark and Bright cave, there are plenty of interesting options for you to do. You can take part in many water activities like: sit and bathe on the beach, swim and snorkel to discover the marine life, or go kayaking to explore the beauty of the scenery. Especially, for those who are keen on kayaking and exploring nature, you can go through the Bright cave and come to a valley which is so beautiful with spectacular mountain ranges surrounded.
4. Trinh Nu Grotto (Hang Trinh Nữ) – the Symbol of Love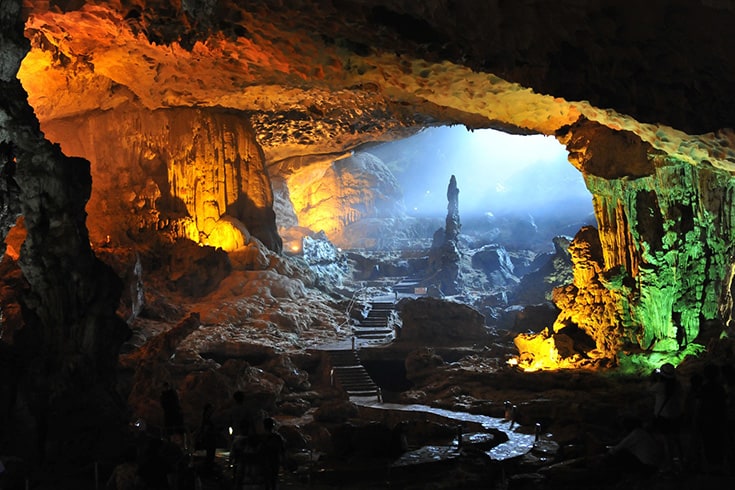 Trinh Nu grotto is situated on the island range of Bo Hon and just about 15 km from Bai Chay Beach. While it is home to some fishermen, it is considered the symbol of true love and a romantic place for taking the path of love for young couples.
Legend has it that there was once a beautiful fisherman's daughter. Her family is so poor that it was in service of the fishing zone's rich administrator. The administrator forced the family to give him the girl as a concubine. However, the daughter refused as she already had a lover. Angered by her refusal, he exiled her to a wild island where she had to suffer from hunger and exhaustion waiting for her lover in vain till death and then turning to stone. Nowadays, when visiting the cave, you still can see the statue of a lying girl with a long hair, and eyes looking towards the mainland.
Trinh Nu Grotto consists of three chambers: one as a house with a flat roof, one is 8 meters long and 5 meters wide, and the other is linked by a narrow window. Inside the grotto, there are many stalagmites and stalactites in many different forms creating beautiful carving pictures on the wall.
5. Dau Go Cave (Wooden Stakes Cave) – the Cave of Wonders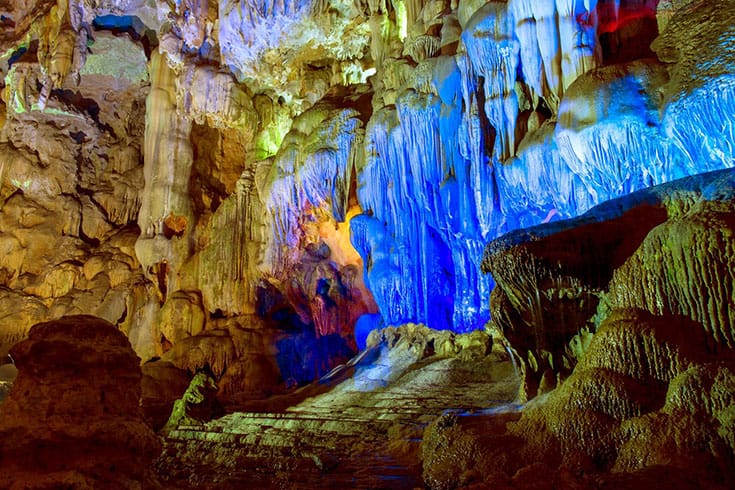 Dau Go Cave (Hang Đầu Gỗ) is one of the most famous caves in Halong Bay due to its volume and sheer size. The French tourists who first explored the cave called it "Grotte des Marveilles" which means "Cave of Wonders". And the cave is truly a beauty that you'll have to go and see it by yourself.
There are many explanations for the name of the cave. The most popular theory is that a long time ago, some fishermen gathered in front of Dau Go Cave to repair their boats. After that, there were many blocks of wood left. The name of Dau Go (Wooden Stakes), hence, was formed from this incident.
Dau Go Cave brings tourists feelings of the ancient, pristine and extremely quiet beauty thanks to many stone pillars, small and high stalagmites. Besides, it is also more unique than other caves with a rich flora and fauna system. Its structure is divided into 3 chambers. The first one has many stalactites of all colors with the image of lions, turtles, and pythons,… Coming to the second one, you will see the image of the rocky islands. And the last one is the image of pretty giant stone pillars.
6. Me Cung Cave (Maze Cave) – the Maze of Beauty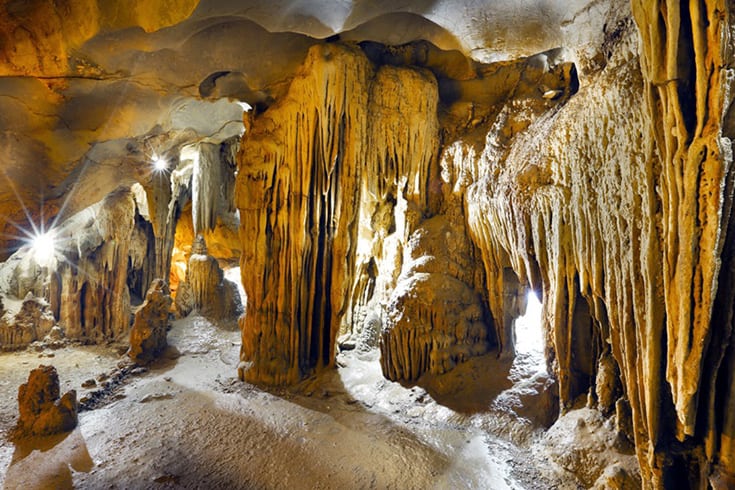 Me Cung Cave (Hang Mê Cung) is one of the most attractive attractions in Halong Bay due to its outstanding historical, cultural and natural values.
The cave looks like a vivid "museum" storing many archaeological evidences. For those who are keen on history, you may know the information about the pre-Halong culture around 7000 to 10000 years. When exploring the cave, you will have a chance to see and even touch fossilized freshwater animal bones remain on the wall of the cave. Also, you will have chances to understand more about the home and earn-living methods of the pre-historic people.
To explore the cave inside the mountain, tourists must pass through the stone steps. The highlight of Me Cung Cave is big stone pillars formed by the development of stalactites, stalagmites with the age of thousands of years. In the cave, there is also a system of spiral sparkling stones which make you feel like entering a palace of an ancient king.
7. Luon Cave (Hang Luồn) – the Paradise of Magnificent Nature Landscapes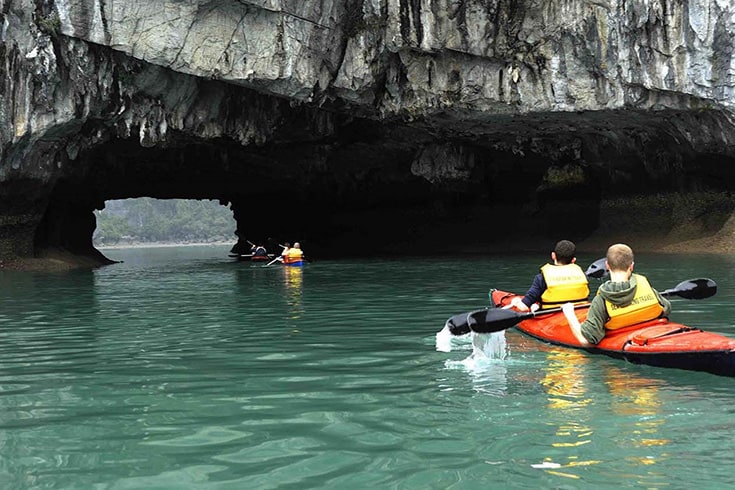 Located 14 km to the south of Bai Chay beach and only 1 km from Sung Sot Cave, Luon Cave is a good destination for Halong Bay wandering tour.
In front of the cave, you can find the Turtle Island and the Heavenly Gates where you get a chance to admire steep seas and clear water. Crossing the Turtle Island, the blue waters become calmer and more peaceful. It's where Luon Cave is. It looks like a circular iron bow with a blue lake in the middle. The lake is encompassed by craggy cliffs, charming blooming orchids, shady ancient trees, and luxuriant vegetation. Under the calm blue water is a colorful life of different marine species like shrimp, crab, squid,…
Luon Cave attracts tourists mostly thanks to its wonderful and astonishing stalactites. When setting foot on this, you may feel lost in the paradise of sparkling and eye-catching stalactites. However, the cruise ships are not allowed entering the cave, but only anchored close to the gate. So, you can discover the cave by a bamboo boat or kayak. In your journey of researching Luon Cave, the most appealing impression to tourists would be natural scenery. It's a wonderful combination of water colors, plants, mountainous contour, paradise and earth. The place is truly worth 1 day exploring.
8. Tien Ong Cave – a New Cave to Be Included in Your Itinerary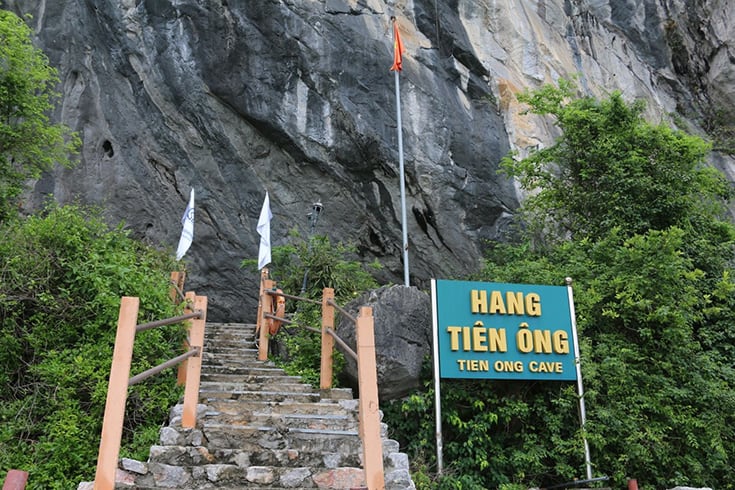 Located about 5 to 7 km from Cat Ba Island, Tien Ong Cave is one more interesting cave to mention in your Halong traveling itinerary. It boasts a system of thousand years old stalactites and stalagmites and a cradle of ancient Vietnamese people.
Tien Ong Cave (so-called Grotle du Vieau by the French) covers an area of almost 1000 square meters. A tall rustic stone pillar divided the cave into 2 chambers. Though most Halong Bay caves have a narrow entrance and a large interior, this cave is totally different. It is exceptional with a big entrance (a 50m wide, 14m high, and short) leading to a massive area inside (about 1000 square meters). Going inside, you can admire a block of stalactites, which looks like an old man with a gentle face, long hair, and beard. The local people call him a miraculous "fairy godfather". That's why the name "Tien Ong" started.
Apart from the purely natural beauty, the cave also has the remnants of prehistoric life such as mountain snails, freshwater snails, or rough stone and bone tools. Many archaeologists explained that ancient residents chose the cave as a shelter because it faces to the southeastern direction and helps them to avoid cold wind.
So, the cave is a good destination to both enjoy the cave and learn about history, culture and geological tectonics.
Let's spend your time exploring the above beautiful caves which used to be Vietnamese ancestors' residence. Your visit is a great chance to learn more about Vietnamese history and admire Nature creation in person.