Overview
Activities & Entertainment
Room Types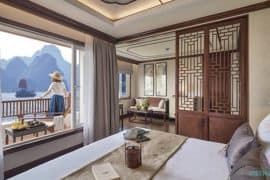 Junior Suite
Room with balcony
Number of cabins: 6
Size: 37 sqm
Bed options: double/twin
Location: upper deck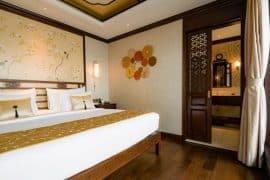 Signature Suite
Room with balcony
Number of cabins: 4
Size: 37 sqm
Bed options: double/twin
Location: upper deck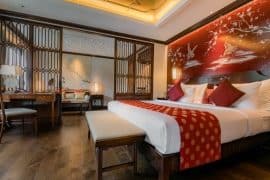 Regent Suite
Room with balcony
Number of cabins: 2
Size: 50 sqm
Bed options: double
Location: upper deck
Amenities & Facilities
Onboard Internet connection
12 well-equipped cabins
Outdoor pool
Shared lounge/area
Steam room and hot tub
Outdoor pool
High-end room service
24-hour security
Tuan Chau – Cat Ba – Lan Ha Bay
At Tuan Chau Marina, tourists show up on time at Heritage Line's lounge, then the transfer boat of Heritage Line Ginger Cruise will take tourists to the deluxe cruise of Heritage Line.
The cruise starts around lunch time and sails towards Lan Ha Bay and Cat Ba Island, one of the most significant seascapes in the Gulf of Tonkin.
Lunch will be served aboard at the panoramic-view restaurant, where tourists can enjoy a tasty meal with local specialties and the appealing beauty of Lan Ha Bay at the same time.
After meal time, passengers will relax on the sundeck or at the cabins, contemplating the enchanting aura of the sea.
In the early afternoon, while the Heritage Line Ginger Cruise is heading to Cat Ba Island, tourists can  experience some high-end services on board, such as immersing in the swimming pool or pampering the bodies with spa treatment.
Viet Hai Fishing Village is the first stopover of the journey on Heritage Line Ginger Cruise. This village nestles in a lagoon area of Cat Ba National Park. There you can opt for riding a bike or sitting in an electric car going around the village. This is an unique and authentic chance for tourists to visit ancient houses of the fishermen, admire the paddy fields and explore the daily life of the local residents.
After the sightseeing and discovering time, tourists will return to Heritage Line Ginger Cruise to relax and take part in the cooking class at the open kitchen. The cooking demonstration will teach you to make some traditional Vietnamese appetizers, then you can enjoy your work at hand.
Sunset in the sea is a sparkling moment, which is the performance of dark and light reflecting on the sky and sea. You should not miss the chance to enjoy this moment, just relax and recap your adventure on the deck while peacefully admiring sunset.
A deluxe dinner will be served at the restaurant. Fresh food with mouth-watering local cuisine are available.
After dinner, tourists can unwind with a cup of cocktail at the bar, watch a movie at the cinema, go squid fishing on the deck or simply relax at the cabins.
To start a new day full of energy, just take part in the Taichi session on the terrace deck, ease your mind and immerse yourself in the magnificent light of the sunrise in Lan Ha Bay.
Your breakfast is prepared with tea, coffee and pastries in the dining room to provide you with enough energy for a day of exploration.
The excursion of the second day is Frog Lake, an ideal spot for kayaking and sightseeing. You can hire a kayak to row yourself or sit on the bamboo boat sailed by the locals, pass through dreamlike sites and feel the exclusive harmony of humans and nature.
A brunch will be served when you get back to the cruise. After that, Heritage Line Ginger Cruise will transfer you back to the off-shore embarkation site, then the tender boat will take you back to Tuan Chau Marina.
Important Notes
The cruise itinerary might change without any prior notice due to the weather or cruising conditions.
The Internet connection on board might be unstable because of the geography of the bay.
About Cruise
As a leading cruise in Lan Ha Bay, Heritage Line Ginger Cruise is a wonderful selection for tourists to explore the landscape of spectacular nature and long-lasting culture. With a total of 12 spacious suites, well-equipped facilities, first-class service and professional cruise team, Heritage Line Ginger Cruise will bring tourists the most satisfying experience when joining a trip to Halong and Lan Ha Bay.
Heritage Line Ginger Cruise is a true excursion to the heritage area, where tourists can admire the stunning nature, explore the unique tradition of locals and find some peaceful moment for the soul. Only on Ginger Cruise can tourists get those off-the-beaten-path experiences and take off all the trouble and botheration to blend into nature.
Following the Heritage Line Ginger Cruise, you will reach unspoiled seascapes, pristine villages and gentle sea areas, take part in exciting activities and learn new things along the way. Also on Ginger Cruise, you can enjoy a deluxe life as if you were in a palace. All the details in design and itinerary of this cruise are paid attention carefully so that passengers can have the most memorable journey to Lan Ha Bay.
If you are looking for a cruise to escape from the bustling life of the city, there is no doubt that Heritage Line Ginger Cruise is the best choice for you. Ginger Cruise will pamper you with the most elegant services and experience.
5 things we love most about Heritage Line Ginger Cruise
Cruise Inclusions & Options
All meals on board (1 lunch, 1 dinner, 1 breakfast)

Luxurious cabins with modern facilities and en-suite bathroom

Sightseeing and entrance fees

Entertainment and activities mentioned in the program

Welcome drinks

Onboard insurance

English speaking tour guide

Onboard Internet

Compliment usage of facilities

Taxes
Flight ticket and visa arrangement

Onboard gratuity

Beverage and tobacco

Medical treatment

Inland transferring services

Personal expenses and tips

Spa treatment

Other services not clearly mentioned in the inclusions
Cancellation by tourists:
More than 45 days prior to check-in: no charge

From 31 to 45 days prior to check-in: 20% charge

From 16 to 30 days prior to check-in: 50% charge

Less than 15 days prior to check-in: 100% charge

No show: 100% charge
Children under 5 years old are not allowed to be on board (except for special permission from Heritage Line).

Children from 5 to 12 years old sharing the same cabin with two adults charge 30% total rate.

Children from 5 to 12 years old sharing the same cabin with one adults charge 75% total rate

Children from 12 years old charge the same rate as adults.

A third adult has to use an extra bed and charge a 70% cruise rate.

Passengers must have travel insurance to cover any risk on board.

Passengers must follow the safety instructions to ensure a safe and sound trip.

No refund would be made for the unused services included in the program.

Personal information of passengers is used for cruise purposes only.
Frequently Asked Questions
Are transportation services in land included in the total rate?
The total rate of Heritage Line Ginger Cruise does not include the transferring service to and from the embarkation point. Guests should arrange the transportation inland, and if you need help, Heritage Line Ginger Cruise will assist you with shuttle bus or private car.
Is it safe to go on the ship of Heritage Line Ginger Cruise? 
Of course yes. Heritage Line Ginger Cruise has a strict requirement to maintain the safety of the cruise. It is essential for tourists to follow the instructions of the cruise team to ensure the safety of everyone on board. 
Are all the food served on cruise safe?
All the food and drink on Heritage Line Ginger Cruise are completely safe to take in, and the cruise team of Ginger Cruise always prepare and serve fresh food to cook the best meals. If you have any special dietary requirement or have food allergies, please inform the cruise team in advance. 
What should I bring for my excursion?
You should bring necessary things for the cruise, including clothes, shoes, popular medicine, smartphone and other accessories. It is advisable that you carry comfortable costumes and shoes for moving around, swimsuit for swimming and camera for taking photos.
Is there any restriction or rule for my luggage? 
Tourists should bring luggage as minimal as possible, and excessive baggage might be refused to store on the cruise. Besides, tourists should not bring along too much cash and valuable accessories. 
Reviews
9.7
EXCELLENT
Based on 743 reviews

Request this tour