Standing out among other charming caves in Halong Bay, Dau Go cave, is the biggest and finest cave that attracts a huge number of tourists each year. It is even said that your journey cannot be complete without passing by this famous cave.
Location: on Dau Go islet, about 8 km south of Bai Chay, next to Thien Cung cave
Best Time to Visit Dau Go Cave
From October to December is the best time to visit Halong bay. During this time, the weather is pleasant and has a low chance of rain. So, you can visit a number of attractions in Halong, including Thien Cung cave and Dau Go cave.
Stories Behind Its Name
Mentioning the name of the cave, Dau Go Cave means Wooden Stakes Cave. It is said that there are 3 explanations around the name. These explanations have been passed down through many generations until now.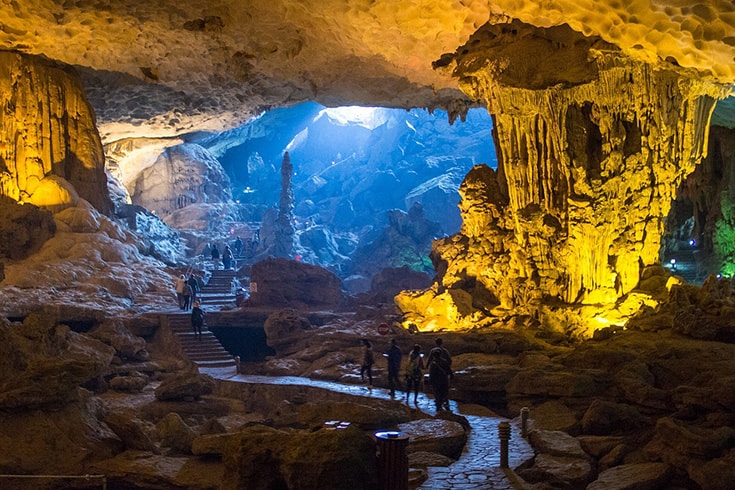 The first one, and also the most popular theory, is that the cave got its name since the 13th century. At that time, Vietnamese people had to fight against the Yan-Mongolian aggressors. To prepare for the final battle, Tran Hung Dao, the commander-in-chief, built many wood stakes to plant on the bottom of Bach Dang River. When the war was over, local people found the remaining pieces inside the grotto and gave it the name Dau Go Cave (Wooden Stakes Cave).
The second explanation says that it used to be a good shelter thanks to its bow shape. In a severe storm, fishermen decided to choose this place to survive and protect them from the bad weather. When living in the cave, they fixed their boat and left plenty of wood pieces here. So that's why people call it Dau Go cave.
The third one explains that the name originated from the unique shape of the cave which looks like a giant timber tree.
No matter where the name started, it is a great place to discover in Halong Bay.
What to Expect in Dau Go Cave?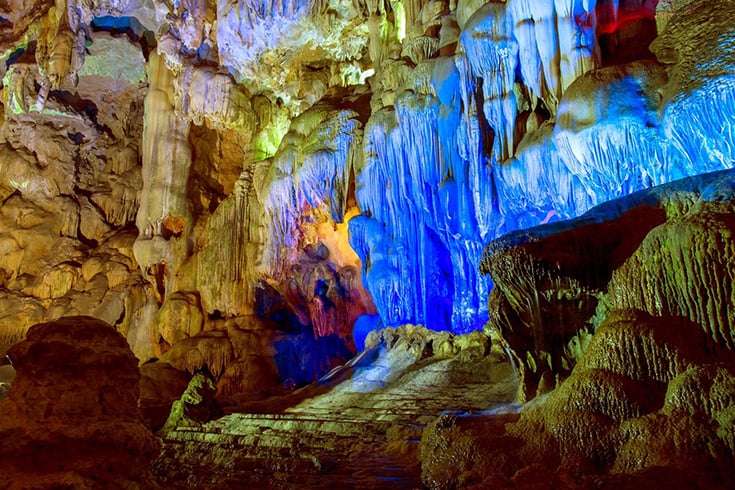 1. Enjoy the Impressive System of Flora and Fauna
Thanks to high humidity, Dau Go cave in Halong Bay has a strong development of the flora and fauna. Visiting the cave, you have opportunities to see different kinds of faunas like fishes, seaweeds, corals, and sandworms,… and diverse plants including timber trees, mosses and ferns. There are some species that are hard to be seen in other places. So, it will be a new experience of Halong bay's ecosystem.
2. Admire the Outstanding Structure of Nature
Seen from afar, the entrance to the cave looks like a jellyfish. After walking on 90 rocky steps, you can get access to the small entrance of this cave. Its interior space is divided into 3 chambers: the outer, the middle, and the inner.
The external is the largest chamber having the most beautiful stalagmites and stalactites in different shapes. Most of them look like the form of human beings and the local people believe that they are the guardians of the whole cave. The others have shapes of lions, chickens, pythons, or turtles,… It ceiling is an enormous oil painting created by nature.
The middle chamber is much darker but impressive with the crystal structure. When the light is turned on, it will turn into a gorgeous kaleidoscope that allures every tourist and evoke your curiosity about these picturesque images. Going through the 1.4 meter-wide path, you can find the third chamber with colorful stalagmites and stalactites. There are also various giant stone pillars created by nature in this area.
A lake with clear freshwater can be found at the end of the cave. This lake is home to many kinds of marine species. Looking up to the ceiling of Dau Go cave, you can see some strange stones. Some assume they look like some animals such as lions, deers, and elephants. So, let's visit the cave and discover it yourself.
3. Read the Praising Poem on the Stele
As one of the most beautiful and largest caves in Halong bay, Dau Go cave attracts thousands of visitors each year since it was discovered.
In 1917, King Khai Dinh and Albert Pierre Saraut, a French Governor, had a trip to Halong Bay where they got a chance to visit this spectacular cave. The King was so surprised at the splendid beauty that Mother Nature has given to this cave. He composed a poem to praise its beauty and made his order to carve it on a stone stele. This stele remained until now and you can find it on the left side of Dau Go cave.
Later on, it was also called as "Grotte des merveilles" (means a site of many marvels) by Rense Kolvaard in the book "Marvels of the world" published in 1938.
4. View the Cave from a Seaplane
A scenic flight is the best way to enjoy the cave and see Halong Bay from above. This may be one of your most expensive experiences in your trip; however, you should try this once-in-a-lifetime experience if you have enough budget. The seaplane offers 25 minutes flying over the bay and enjoying the bay at a height of 300 meters above sea level. Apart from Dau Go cave, you also have a chance to admire Tuan Chau island and some other Halong Bay caves as well.
How to Get to Dau Go Cave?
It is quite easy to get into Dau Go Cave. If you are staying in other islands of Halong Bay, you can think of hiring a boat ride with locals. The price is about VND 60.000/ person, and the entrance fee costs VND 50.000/ person. But if you want to experience more than this cave, you should choose a private cruise on Halong which includes Dau Go Cave in your itinerary.
Tips on Visiting Dau Go Cave
You should spend 2 or 3 days discovering this cave.
Bring your food and drinks because you may not find any stores on the island
Wear sports shoes instead of slides, thongs, or sandals. A pair of shoes will make your trip easier and more comfortable
If you are a solo traveler, you can ask for a tour guide before entering the cave
The 5000-square-meter cave is so amazing that you should not miss. If you have a chance to visit Halong bay, don't forget to spend time admiring the natural beauty of this amazing cave.