The name "Halong Bay" may not be strange for many foreign tourists even for those who have never paid a visit to this destination before. Halong Bay is a complex of thousands of islands with different sizes and shapes, forming a large bay area with extremely-beautiful majestic natural scenery. In order to explore the bay in a complete way, many people have chosen to explore by kayaking to get memorable memories. Why has Halong Bay kayaking become the first choice and highly recommended to explore the bay by such lots of tourists? Let's find out the answer and obtain for yourselves useful knowledge if you have the intention of visiting Halong Bay one day not far away.
I. Overview of Halong Bay Kayaking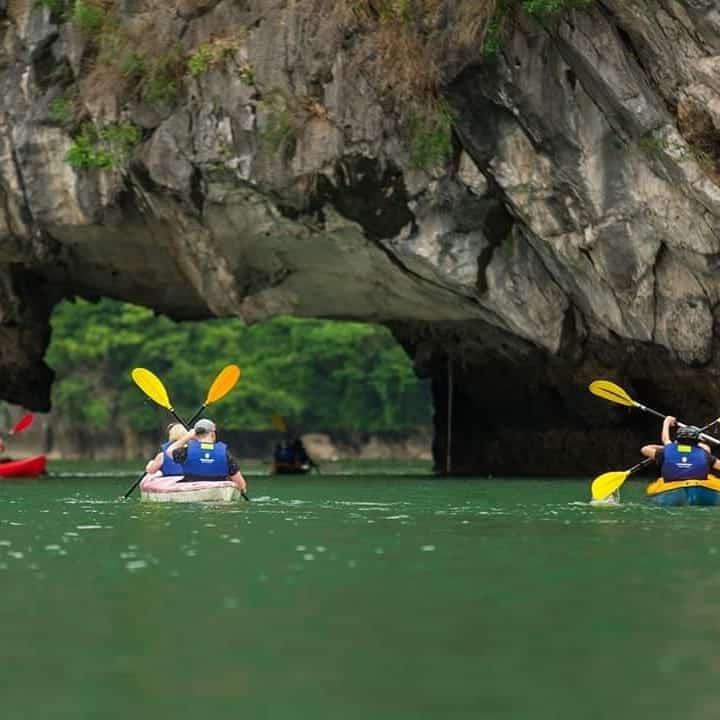 Kayaking has just been introduced to Vietnam for recent years but it quickly becomes a popular sport well-loved by foreign tourists when they come to Halong Bay because of the interesting experience that it brings to players, which they are not able to find in any other sports.
The quiet water in the bay is ideal for kayaking since it allows tourists to smoothly paddle through caves and limestone islets. Moreover, if tourists are interested in the locals living in the bay, they are able to see how all activities happen by dropping in villages along the way. What is more interesting than paddling by myself to slowly see breathtaking surroundings in the bay? Therefore, Halong Bay kayaking is the best choice to feel all the grandeur of Halong Bay's nature.
II. Hot Areas for Halong Bay Kayaking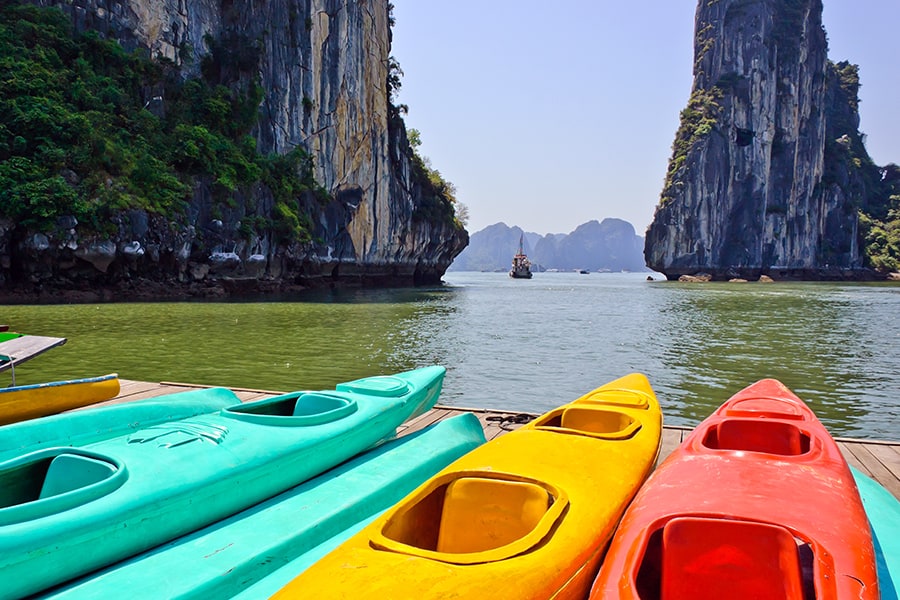 Below are hot areas for Halong Bay Kayaking that are highly suggested by plenty of tourists who tried kayaking in Halong Bay. All of them are attractive destinations with glamorous natural scenery and interesting activities.
1. Luon Cave
Luon Cave is a famous beautiful cave in Halong Bay, lying on Bo Hon Island, which is located about 14 kilometers far to the south of Bai Chay Beach. Luon Cave becomes one of the hottest areas for kayaking owing to its own pristine beauty and surrounding natural scenery. Opposite Luon Cave is Con Rua Islet (a small island has the shape of a turtle) and the right of the cave is the Sky Gate. This area is regarded to be one of the most beautiful corners in Halong Bay.
Luon Cave is the smallest cave in the bay with only 60 meters in length and from 4 meters to 2.5 meters in height depending on the tide. Tourists can not visit the cave by cruise or yacht, only by small boat or kayak. Originally, it was a stream flowing through the mountain and after a thousand years, it became Luon Cave. Now, in the cave, you can see stalactites in the ceiling of the cave. After rowing through the cave, tourists will come into an enclosed water area surrounded by high mountains where monkeys can be seen hanging on the top of trees.
2. Vung Vieng Fishing Village
Vung Vieng Fishing Village is one of the four oldest fishing villages in Quang Ninh province, famous for pearl farming, and also suggested as the hottest area for Halong Bay kayaking. The village lies at the heart of Bai Tu Long Bay, a smaller bay located to the northeast of Halong Bay, and was founded in the nineteenth century.
Coming to Vung Vieng Fishing Village, tourists can row a kayak to visit around the village to talk with the locals to obtain knowledge about pearl farming or to visit other destinations in Bai Tu Long Bay such has Mat Quy Islet, Bay Gieng Cave, or the primary forest in Tra Ban Island.
3. Cua Van Fishing Village
Another famous fishing village that is recommended for one who wants to try Halong Bay kayaking is Cua Van Fishing Village, the biggest one in Halong Bay. Cua Van Fishing Village has its reputation for the pristine beauty of surrounding natural scenery which can attract tourists at first sight.
The reason why tourists are usually advised to consider choosing Cua Van as a suitable place for trying kayaking is that the water here is quiet and the sea wave is calm, which is safe for one who first tries this sport. Moreover, the scenery of this area is also absolutely beautiful and attractive, tourists are able to row their kayak around the village or participate in the daily work of the locals.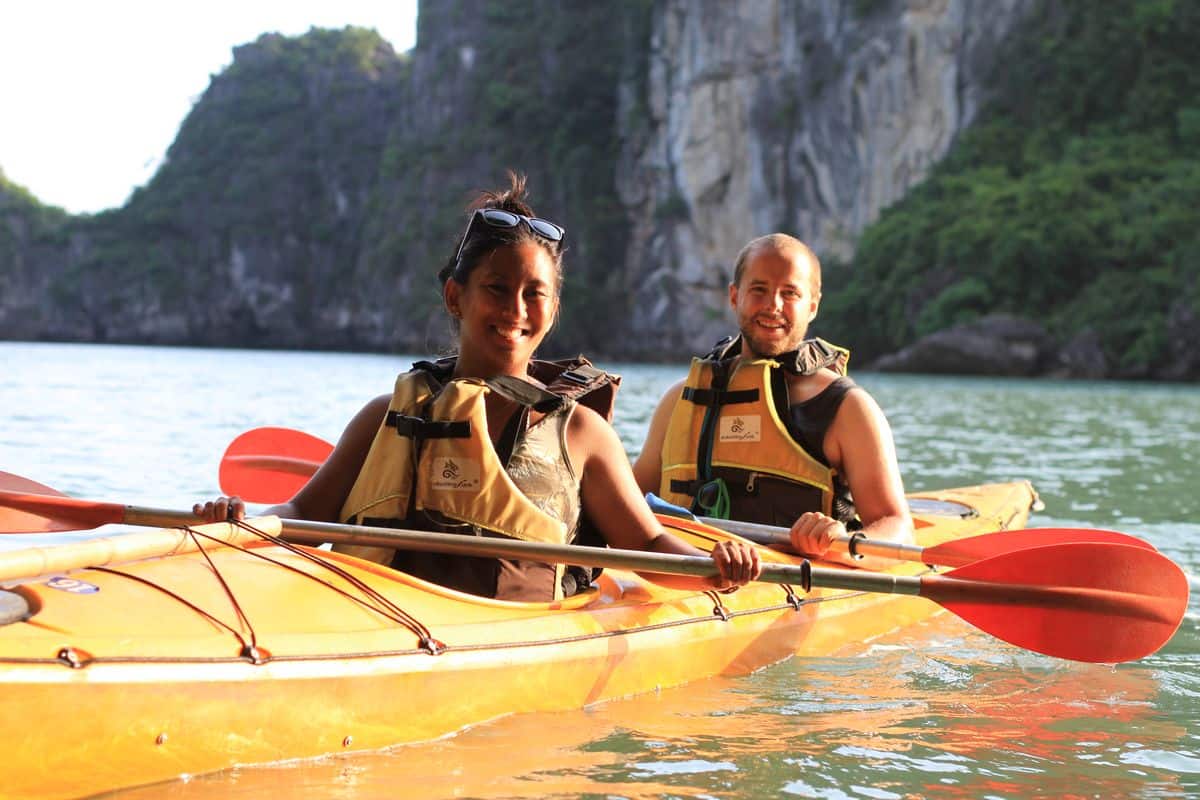 4. Ba Hang Fishing Village
Ba Hang Fishing Village is the smallest fishing village in Halong Bay, located near Thien Cung Cave. After visiting Thien Cung Cave, tourists will come to Ba Hang Fishing Village.
The village holds almost its original beauty with small floating houses leaning back on limestone islets. Tourists are able to have a chance to immerse themselves in majestic nature here when rowing a kayak around the village.
5. Tung Sau Area
Tung Sau Area is an area specializing in pearl farming, located near Cua Van Fishing Village. Normally, after visiting Cua Van, tourists choose Tung Sau Area as an overnight pit stop to relax and play sports such as swimming, going fishing, catching cuttles, or kayaking.
6. Trinh Nu Cave
Trinh Nu Cave is sited in the east of Bo Hon Island, 15 kilometers from Bai Chay Beach and 3 kilometers from Sung Sot Cave. Trinh Nu Cave is usually considered to be the most beautiful caves in Halong Bay by a lot of tourists. In addition, after visiting the cave, tourists can chill out in Trinh Nu beach, a pristine beach with cool clean green water.
7. Cong Do Island
An attractive destination totally suitable for kayaking in Halong Bay that must be mentioned is Cong Do Island. Cong Do Island is only a small island at approximately 24 square kilometers in size, located in a lagoon in Halong Bay. Despite its small size, it has a diverse flora and fauna, especially around the island is a coral reef, roughly 0.7 kilometers long and 0.3 kilometers in width, which is the home of a variety of beautiful tropical fishes, seahorse, underwater vegetation. This coral reef is a not-to-be-missed place for anyone who likes scuba diving. You can rent a kayak to explore the island and the coral reef by themselves. It will leave you unforgettable memories.
6. Hon Co Island
Hon Co Island (Grass Island in English) is sited in the Cong Do area of Bai Tu Long Bay. Its name comes from the abundance of lush thick grass that naturally grows there. The island is not yet renowned among tourists; therefore, it remains and protects its untouched natural beauty from human activities. Besides, Hon Co is also the home to Thien Canh Son Cave, one of the largest dry caves in Halong Bay, which is a must-visit location in tourists' itinerary. After visiting Cong Do Island, tourists can row a kayak to visit Hon Co Island and Thien Son Canh Cave.
III. Cruises for Free Kayaking in Halong Bay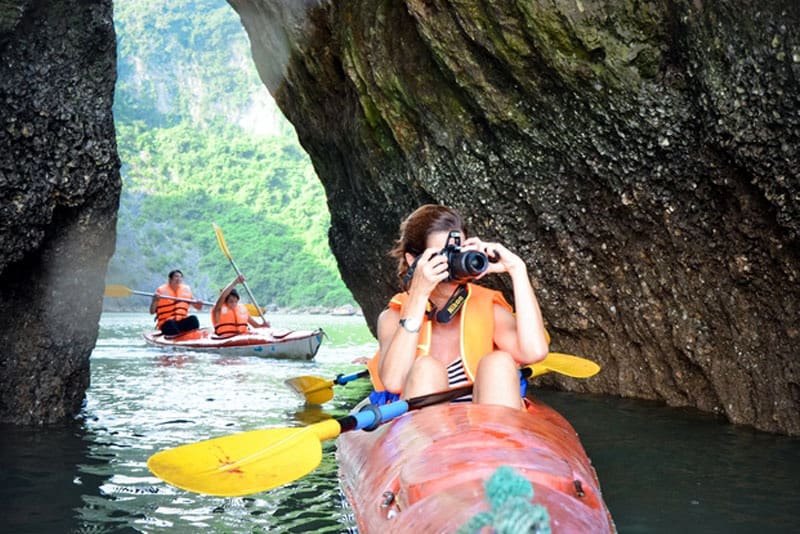 Due to the recent popularity of Halong Bay kayaking to tourists, many tourism companies have added kayaking as one of their indispensable accompanied services. Tour guide and staff on board will nicely introduce you to how to use oars, control a kayak, and so on until you are able to master your kayak in case you are not familiar with the sport.
Below are some cruises for free kayaking in Halong Bay for your reference.
Serenity Cruises
Aclass Stellar Cruises
Maya Cruise
Mon Cheri Cruise
La Paci Cruise
Alisa Premier Cruise
Paradise Luxury Cruise
Oasis Bay Cruise
Paradise Peak Cruise
Glory Legend Cruises
IV. What is Kayaking in Halong Bay?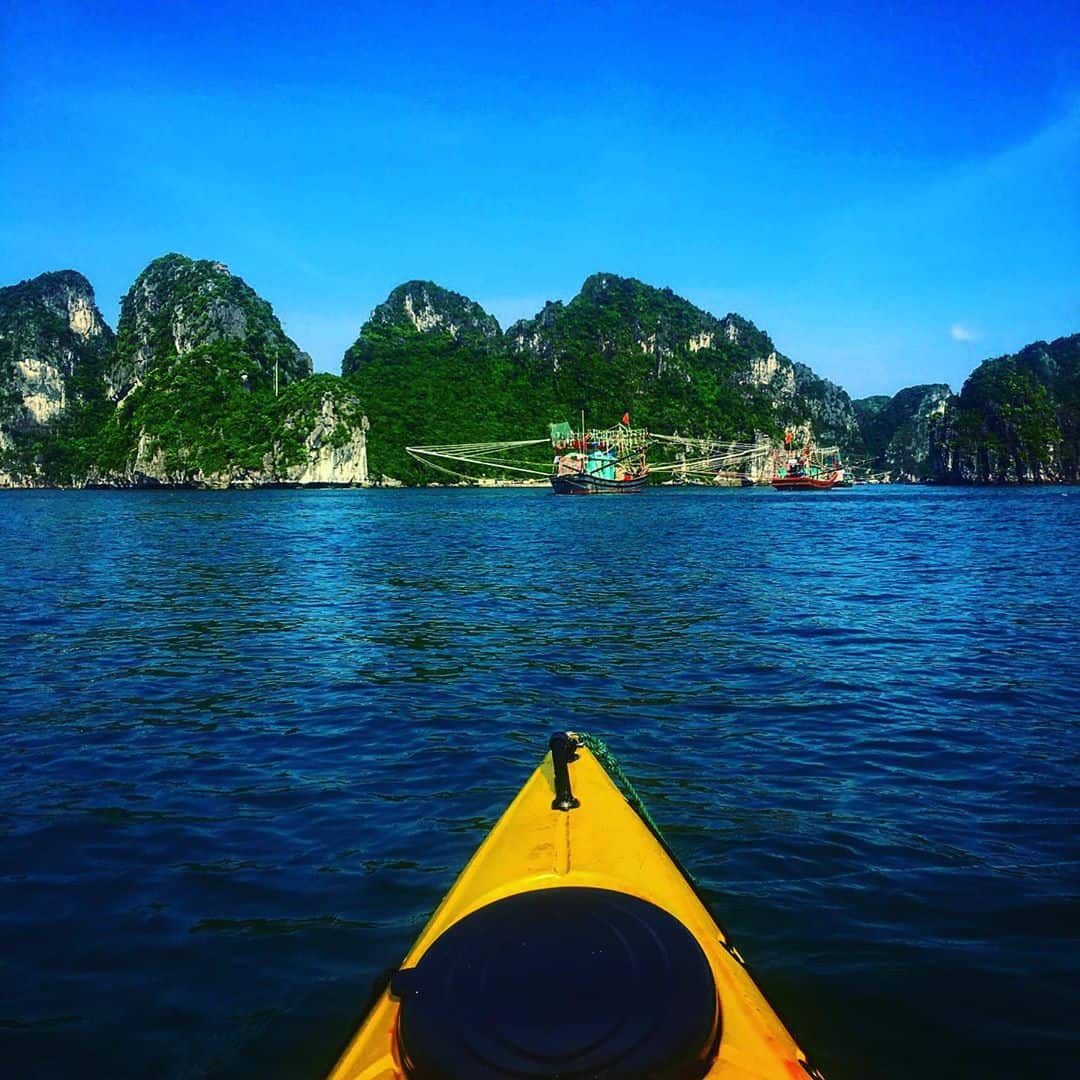 In common, kayaking in Halong Bay is similar to kayaking in other places worldwide.
Currently, kayaks are made of composite plastic, cast rubber or inflatable boats with oars. There will be one or two people sitting in a kayak (a long narrow-body boat) and row by themselves to discover the bay. Since in the bay, the water is quiet and the sea is calm, it is very safe for you to row a kayak around the bay, through caves to see islands. You can choose to row the kayak to see islands in the bay, or to let it drift away to take photos, or also to swim around the bay.
The most attractive point of Halong Bay kayaking lies in the pristine scenery of the area where tourists row inside. Surroundings are high mountains covered by the green of plants, sometimes you can also see the monkeys hanging on the top of trees or big birds flying on the sky blue. The water of the bay almost has the glamorously-green color of emerald which is from moss under the sea and the reflection of islands around. Under the water erosion in thousand years, caves through limestone mountains are created to become a natural gate to connect waters. There are some short caves that are only a bit higher than the head while there are also some long dark caves where bats are living and you also see stalactites in freak shapes on the ceiling of caves.
V. Halong Bay Kayaking Banned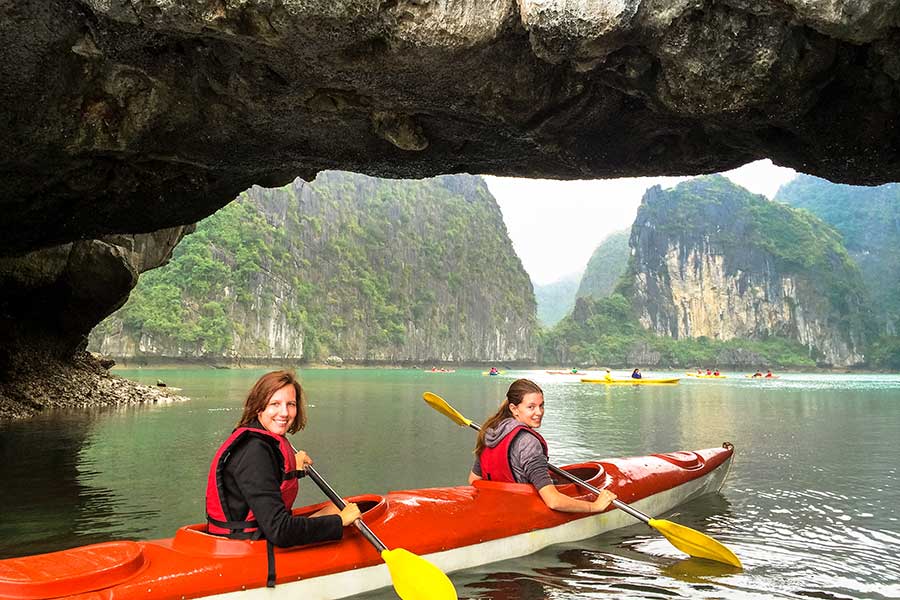 Halong Bay Kayaking was proposed to be banned from April 1st, 2017 due to the fact that there appeared complaints from foreign tourists about that they were ripped off by the locals and not-well management problem of the manager. However, finally, Halong Bay Kayaking is not banned completely. There are still some sites normally operating under the local authority's management until now.
You can ask tourism companies directly for details and they will advise you on where Halong Bay Kayaking is allowed where it is not. In addition, they can also recommend beautiful sites for kayaking.
VI. Best Time to Kayak in Halong Bay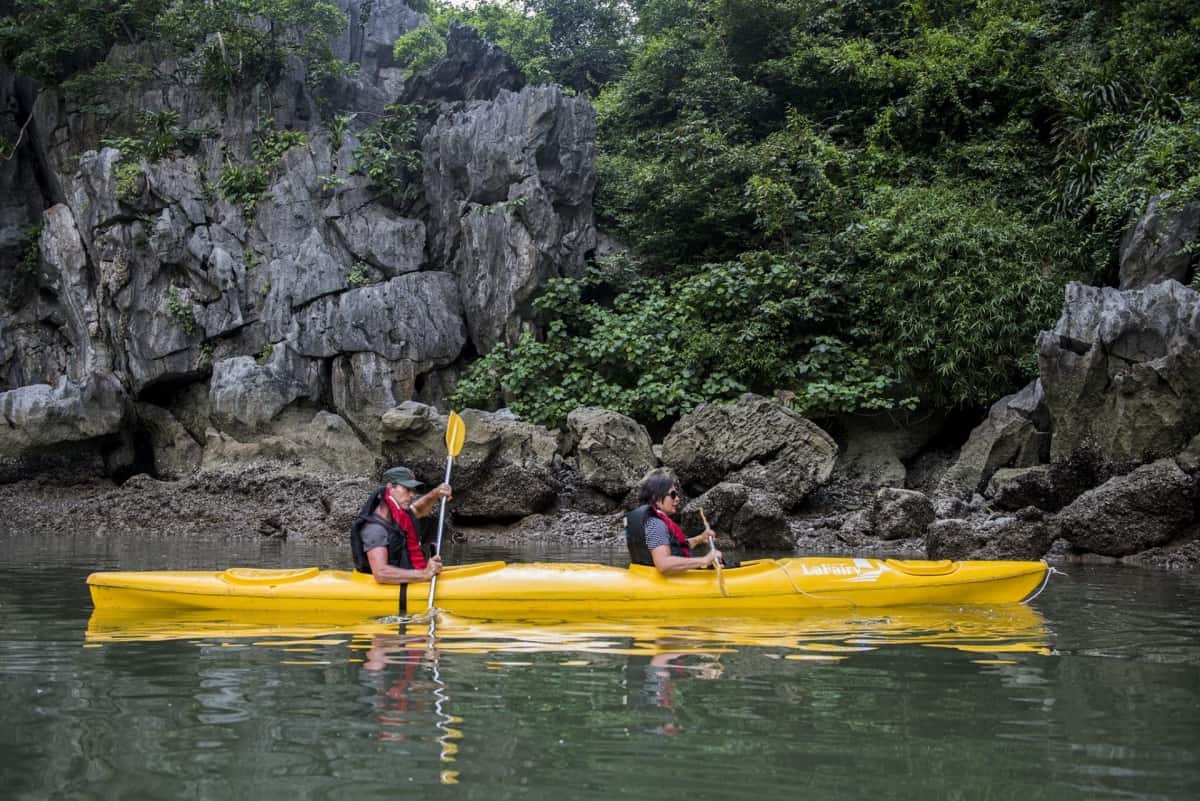 Due to the climate characteristics in the north of Vietnam, there are two ideal periods for Halong Bay kayaking. The first is from March to June and the second is from October to December, especially, tourists are usually advised not to visit Halong Bay in three months including July, August, and September as there are often tropical storms and rough sea at that time.
The first period coincides with summertime in Vietnam; therefore, it is usually crowded with both domestic tourists and foreign ones. Since this time, there has not been much heavy rain, which is suitable for enjoying outdoor activities like kayaking. Moreover, the weather in Halong Bay in summer is not too hot to stay outside for a long time.
The second period from October to December is also a not-to-bad choice to consider, especially if you cannot plan your trip during summertime. The weather is colder than summer, around 10 – 15 degrees on average. However, this does not seem to bother much since kayaking takes lots of effort and your body will be sure to heat up after minutes.
VII. Tips on Halong Bay Kayaking
That safety is always first is the thing you must keep on your mind first when having the intention of trying Halong Bay Kayaking. The following are some safety tips for a safe kayaking trip.
Wear a life vest.
Bring sunglasses, sunscreen.
Listen carefully to your tour guide and remember details of the route, timings, and safety rules.
Before kayaking, warm your body up with some movements in advance – it will help you avoid cramp while in a kayak or swimming.
Ensure you hold the oar with your arms about the same width as your shoulders, with the concave sides of the oar facing behind you.
Be aware of the weather, tides and currents and the wind strength. If there is something unusual, immediately return to cruises.
Stay away from cliffs because they have sharp edges, which can hurt you.
Never, ever go kayaking while intoxicated as it is too dangerous.