Sun World Halong Complex is the leading entertainment complex in the north of Vietnam. It is always the first choice of visitors, especially during the summer, with many interesting attractions and a system of top games that meet the needs of all ages. So, if you have a chance to visit Halong Bay in Vietnam, let's spend one day in this entertainment paradise to enjoy an awesome experience.
Location: Ha Long street, Bai Chay ward, Halong city, Quang Ninh province
Opening Hours:
Monday to Friday: 3:00 pm – 10:30 pm
Saturday, Sunday and holidays: 8:00 am – 12:00 pm, 3:00 pm – 10:30 pm
Entrance fee: VND 350.000 for an adult, VND 250.000 for a child
Best Time to Visit Sun World Halong Complex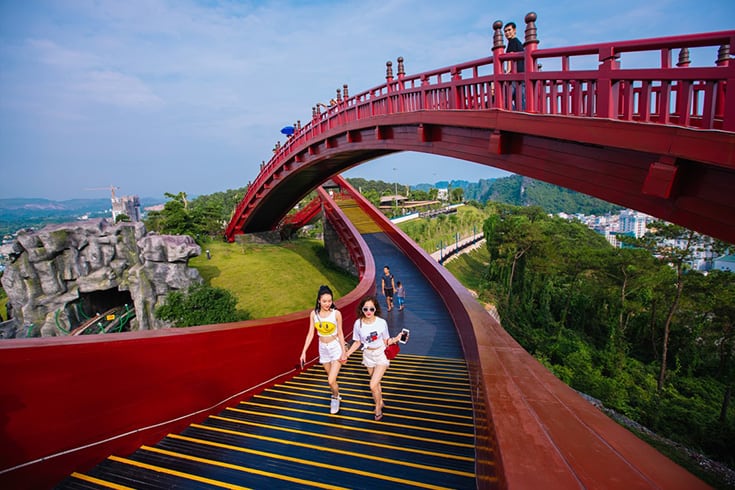 The nice weather without rain is perfect for enjoying all the attractions and taking part in amazing activities in Sun World Halong Park. So, the best time to visit the park is from March to May and from September to November when the weather is not too hot and not too cold.
5 Best Things to Do in Sun World Halong Park
1. Mystic Mountain Complex
From the Beach Amusement Zone, you can get on the highest Ferrari wheels of Queen Cable Car to reach the Mystic Mountain Complex. This is where you can find boundless fun with its different activities and interesting activities.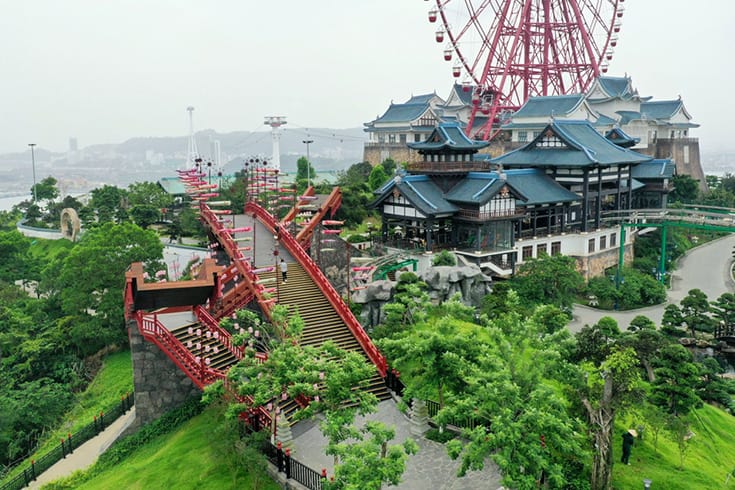 You can find a lot of fun in Mystic Mountain Fun Park. It welcomes all the children to Kidoland with exciting games such as tube slider, ball house, and obstacle course. The Arcade Zone is for friends to conquer the challenges of different games together. You should not miss the chance to visit Fame Hall where you get a chance to see and take pictures with wax statues of celebrities such as Jackie Chan, Brad Pitt, and Angelina Jolie,…
Inspired and built in Japanese style, Zen Garden is a place where you can release all your stress and immerse yourself in nature. Wrapping the Mysterious Castle, it is a sightseeing location that offers one of the most stunning views of this natural heritage city. You also can explore the outstanding architecture with hundreds of black spruces, a koi carp pond, a replica of Fuji Mount, artificial mountains, and Buddhist pines,… Besides, you will get to know a little more about Japanese culture by enjoying tea ceremony at Sakura Café and immense in the space of meditation at Bonsai House.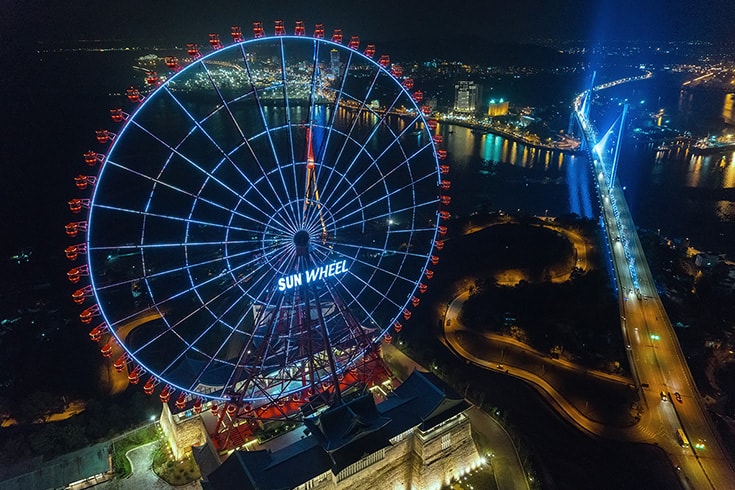 Sitting on the top of Ba Deo Mountain, the Sun Wheel is an iconic landmark of Halong city. The wheel has 64 cabins with a capacity of 6 people in each cabin. It will take you about 20 minutes for a full cycle. The Sun Wheel gives you an unforgettable moment when you can see aerial views of limestone seascape of Halong Bay. With the huge frame and lifted position of 215 meters above sea level, it also offers a lofty view above the city. Being the highest Ferris wheel in the world, it becomes more gorgeous at night when it is lit up.
2. Tropical Park/ Dragon Park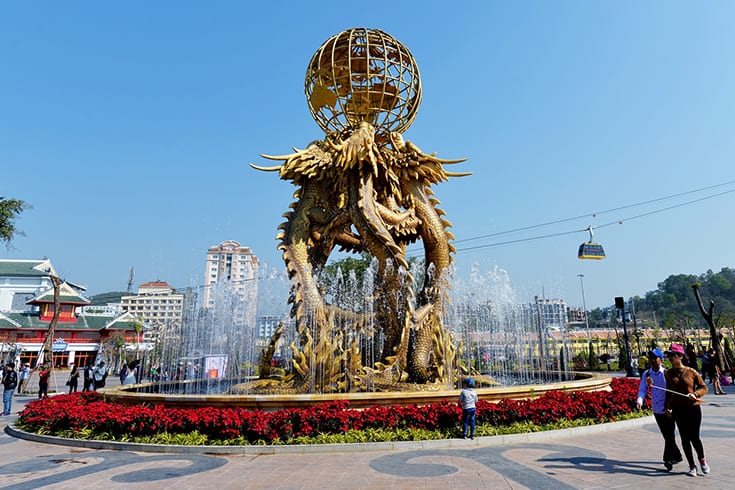 If you are looking for an adventurous and mysterious recreational zone, this is the place to go. the Dragon Park is filled with so many funny ad thrill-seeking games waiting for you. It will bring you unique experiences that you cannot find anywhere else in Vietnam. For adventure seekers, you can join some courses like "Pirate Ship" or "Track the Dragon's Footprint". Families can take part in "Tour de Paris", "Magic Umbrella", "Typhoon Cup", and "Magic Cup". When you are hungry, just head to the Pizza Temple, The Dragon's Food Temple, and Lotus Kiosk,…to enjoy delicious dishes.
3. Typhoon Water Park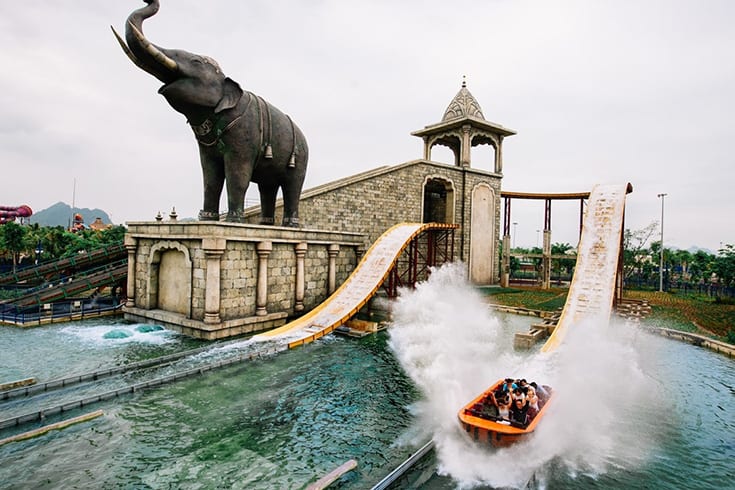 Inspired by the design of the top water parks in the world, Typhoon Water Park is the most modern water park in Southeast Asia. It comprises of 12 varied and attractive underwater games in three separate zones: adventure zone, family zone and children zone. Especially, the children zone is absolutely safe for children with gathering exciting games in a colorful space. The children will surely be surprised and enjoy the impressive sliders and funny creatures' models. The family zone is not far from children zone, offering top-notch action games that require the collaboration of the whole family members. The adventure zone is for those who prefer adventurous games. With these areas, the water park will satisfy the visitors at all ages.
4. Sun World Halong Beach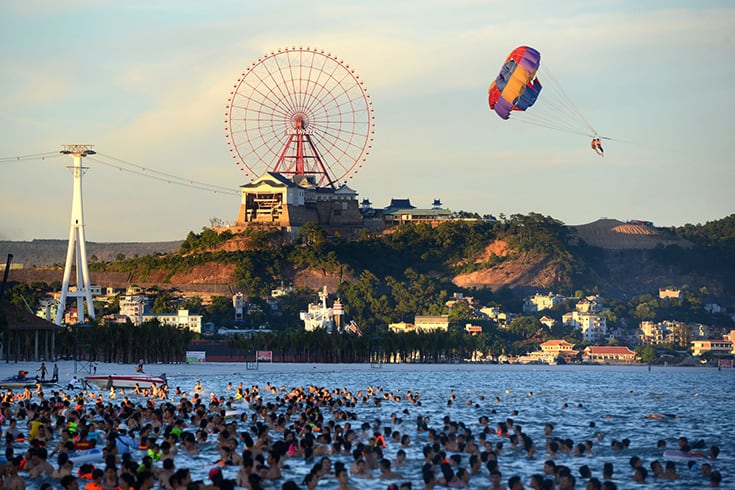 Sun World Halong offers the Sun World Beach, an artificial beach that stretches up to 900 meters. You are free to explore the beach. There is an area of the marine village which is inspired by Hanoi Old Quarter and ancient Hoi An trading port. The village provides an ancient shopping space and elegant cuisine experience. Some visitors even feel like they are staying in Hawaii with the Typhoon Beach Club, a range of bars and cafés. Here, you also got a chance to admire the Sun World Lighthouse at the height of more than 55 meters. The beach offers a lot of water sports for visitors to take part in including kayaking, parasailing, and surfing,…
5. Queen Cable Car System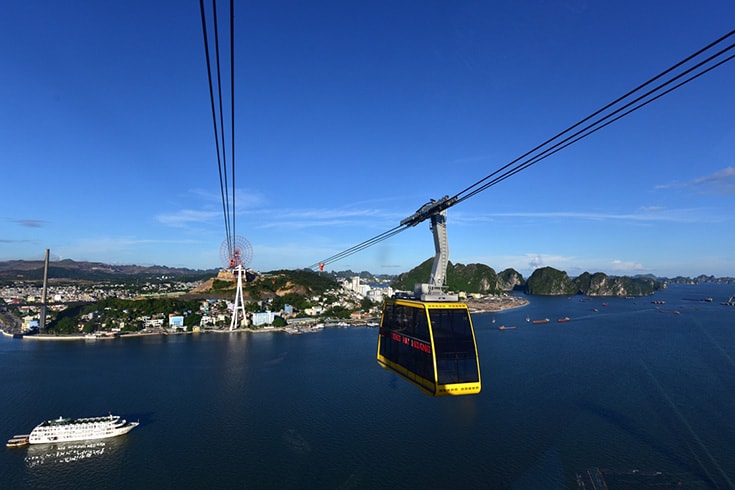 Queen Cable Car is the only way to connect the Beach Amusement Complex and the Mystic Mountain Complex. It has won 2 Guinness World Records for being the tallest cable car tower (188.88 meters) and the highest passenger capacity in a cable car cabin (230 passengers/ cabin). Experiencing the Queen Cable Car is always on top things to do in Halong of many visitors. From a cabin on Queen Cable Car, you can admire the charming beauty of Halong bay with the ships and boats gliding on the blue waters and thousands of green islands and islets rising from the waters far away.
How to Get to Sun World Halong Park?
There are two means of transportation you can use to travel to Sun World Halong Park:
1. By bus:
This is the cheapest and most popular way and to arrive in Halong city. Then, it will take you about 15 more minutes in a taxi to get to Sun World because it is about 6 km away. You can find the bus in Gia Lam Bus Station or My Dinh Bus Station.
Price: VND 140.000/ adult
2. By private car:
Private car is the most convenient and expensive way to get to Sun World Halong Complex. The driver will pick you up at your hotel and deliver you to the complex directly. And, the travel time is shorter thanks to a highway Hanoi – Quang Ninh.
Price: Around VND 1.875.000 for a 4-seat car
Things to Notes for Your Trip
There are many restaurants and drink stalls here, so Sun World Halong Complex doesn't allow customers to bring food and drinks.
The park is so big and there are a lot of areas to discover. So you should enjoy your days with a pair of sports shoes.
If you are traveling by motorbike or private car, you can find the parking lot opposite to Hong Hanh 3 and near the Queen's pillars.
Nhat Anh and Da Cham souvenir shops are the best places to find unique and interesting souvenirs for your loved ones.
Let's take a trip to Sun World Halong Complex to have colorful and unforgettable memories. Hope that our tips are helpful for your trip.