Halong Bay (Ha Long Bay) is undoubtedly one of the most popular destinations for both Vietnamese and international travellers. What's more wonderful, Halong not only boasts great scenery of blue emerald water and beautiful islets looked from a cruise, but also is home to so many stunning and splendid caves. One which must not be missed is definitely Thien Cung cave. Check out this article to know more about this amazing site.
1. Legend of Thien Cung Cave (Heavenly Cave)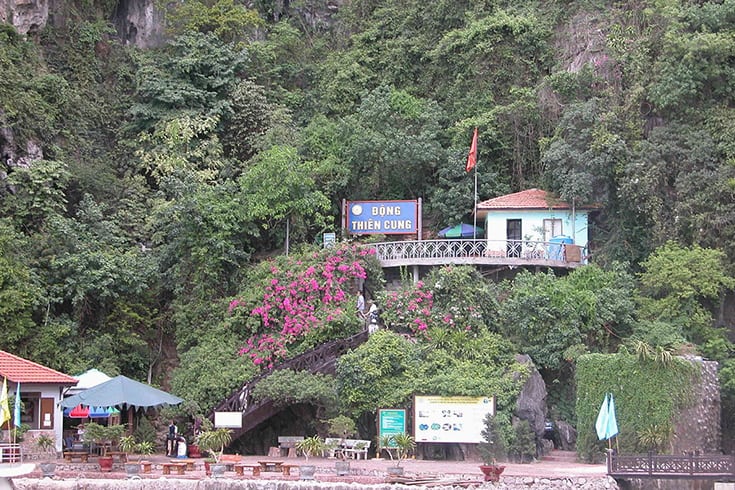 Each of Vietnamese spots with a fancy special name has its own related legend, Thien Cung cave is no exception. The origin of Thien Cung cave derived from Dragon King, who could create rain on the Earth.
One year, there was a severe drought, crops failed to grow and gradually dried up, farmers found it hard to survive and thought of asking Dragon King for help. However, the path to Dragon King's cave was so complicated and dangerous that many people lost their lives before they reached.
In that village, a couple with their daughter, May, were determined to seek Dragon King. May became extremely beautiful and charming when she grew up, which made Dragon Prince fall in love with her from the first sight. They got to the cave, Dragon King not only made rain to save people's crops, but kindly celebrated the most boisterous and lavish wedding for them, which last for 7 days 7 nights with non-stop music and wishes.
In the last area of the cave there are three ponds with clean water. This used to be the bathing area where May's 100 children took shower. When they grew up, May lead 50 children to go out discovering new lands while the rest stayed with their father and contributed to the peace and development of Halong Bay. These children were believed to be Vietnamese ancestors.
2. How Thien Cung Cave Was Found?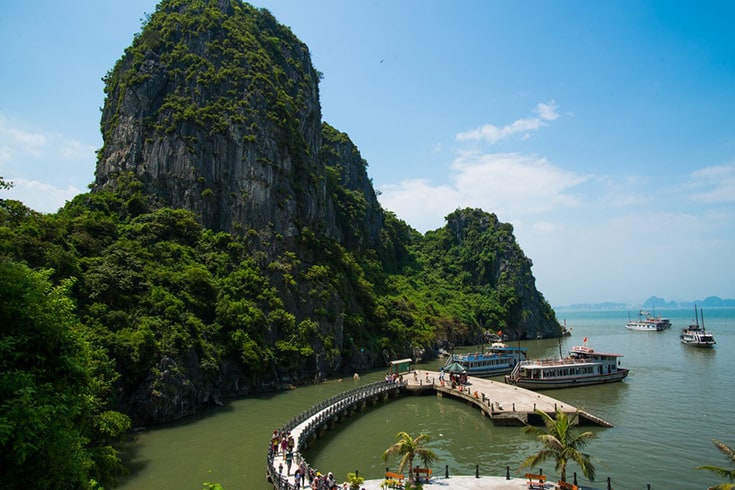 The cave was discovered by accident in 1993. A group of fishermen were rushing and seeking a shelter to avoid the desperate storm when they were completely wet and scared to death. They slowly went inside and out of nowhere, found out the stalactites inside which looked like the shapes of dragon, phoenix, and four tall pillars which reminded them of the imperial palace they read from Persian tales. They had the feeling of getting lost in a heavenly palace, which originated the name of this beautiful cave.
After getting home safe and sound, they forgot about the cave. Year by year, the jungle grew up and quickly hid the entry. However, its magnificence still lived in the locals' memory and adhered to the story about Dragon Family passing from one generation to the next by word of mouth.
Not until recently has the cave been discovered once again, it attracted the curiosity and expectation of travellers who are interested in ancient beauty and systems of caves in Vietnam.
3. Highlights of Thien Cung Cave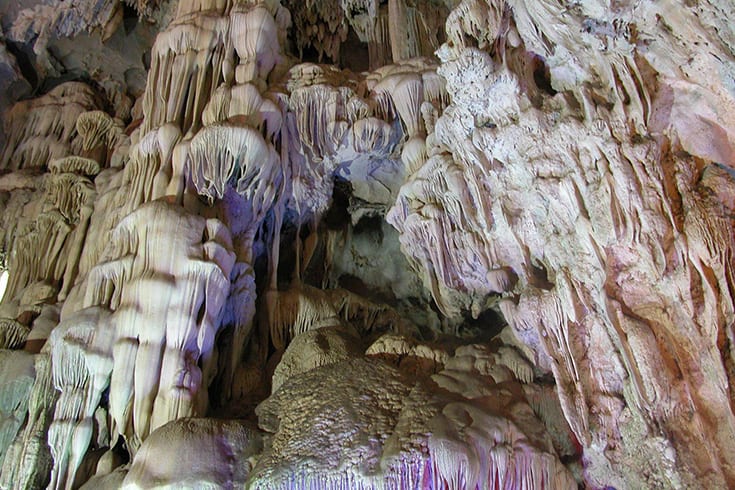 The cave is dry, with super high ceilings and is home to a complex inner structure divided into numerous different levels and sections, each part owns strangely-shaped stalactites and stalagmites. There are four huge pillars, which had relief sculptures of bizarre creatures somehow like fish, birds, trees and human daily life, stand there to lift the whole sky. Moreover, a giant and monumental picture of ancient characters in fairy tales with sleek and meticulous lines is located in the east side of the cliff.
Walking inside the cave, you will hear the sound of drum as if in an old festival which is, actually, the sound of wind blowing through the cavern. Under the arch of Thien Cung Cave, there is a cluster of stalactites hang down looking like a stone curtain. Some parts of the caves are not visibly accessible, together with multicolored lights, it might be a bit scary and mysterious.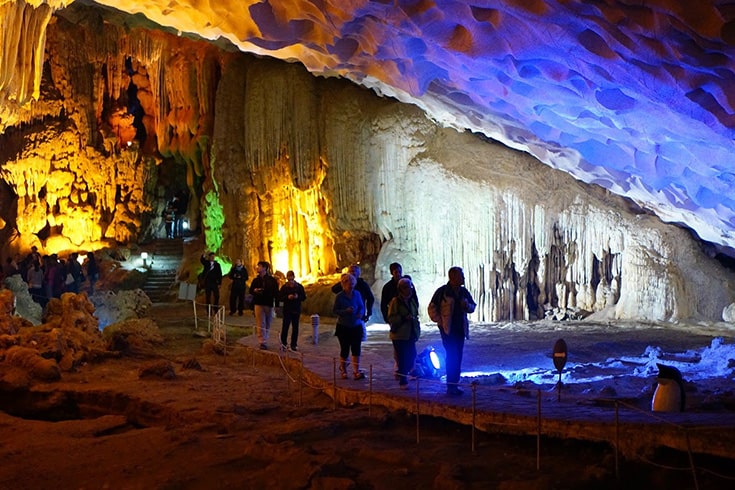 One of the unique things of Thien Cung Cave is the varied shapes of stalactites which can spark the imagination of visitors. As mentioned in the legend, the center of the cave was the wedding hall of Dragon Prince and Miss May. Invited guests were fairies from the Heaven, dragons lively flying in the clouds, cute elephants lying beside, lions dancing, huge pythons slithering around old banyan tree, and giant eagles outstretching their wings. They were lithified, but the rambunctious and ecstatic atmosphere seemed vivid and lively until today.
Leaving the cave, you will be astonished by a spectacular panorama of the whole bay. Then it's time to follow a short trek taking back down a set of stairs and return to your cruise and move out.
4. What to Do Nearby Thien Cung Cave?
If you have not yet enjoyed enough of those grottoes, you still can take your time to nearby Dau Go Cave, Sung Sot Cave, and Thien Canh Son Cave.
Being known as Cave of Wonders, Dau Go cave is the largest and one of the most worth-visiting attractions in Halong Bay apart from Thien Cung because it also exudes the ancient and unspoiled beauty with lots of stone columns and stalagmites shaped like ancient animals.
5. How to Get to Thien Cung Cave
Thien Cung cave is a spot of Sightseeing Route No.1 which takes for 4 hours and also includes Ba Hang Cave (Three palace cave) and Dinh Huong Islet.
Therefore, you need to get to Halong Bay first, by boat or by road, then hire a boat or join in a tour starting your journey of discovering natural stalactite & stalagmite formations & colorful lighting.
Ticket for Sightseeing Route No.1: 290,000 VND/person ($12.50/person)
Ticket for boats: 150,000 VND/person ($6.5/person)
Thanks to the clever hands of Mother Nature, Thien Cung cave gives you the feeling like you just get in a meticulous art museum of thousand-year stone treasures. Let's enjoy Halong Bay tour to the best by giving it a try. Comment below to share with us about your experience!