Can Tho, which has been regarded as the epicenter of the Mekong Delta, is the largest city in the region and feels like a metropolis after a few days exploring the backwaters.
As the political, economic, cultural and transportation centre of the Mekong Delta, it is a buzzing town with a lively waterfront lined with sculpted gardens and an appealing blend of narrow backstreets and wide boulevards. It is also the perfect base for nearby floating markets, the major draw for tourists who come here to boat along the many canals and rivers leading out of town. Visiting Mekong Delta cannot be completed without knowing the best things to do
1. Joining a Sight-seeing Tour around Can Tho City
1.1. Ong Temple:
In a fantastic location facing the Can Tho River and decorated with huge incense coils, this Chinese temple os set inside the Guangzhou Assembly Hall and is the most interesting site in town. It was originally built in the late 19th century to worship Kuang Kung, a deity symbolizing loyalty, justice, reason, intelligence, honor and courage, among other merits.
Approaching the engraved screen, the right side is dedicated to the Goddess of Fortune and the left side is reserved for the worship of General Ma Tien. In the centre of the temple is Kuang Kung flanked by the God of Earth and the God of Finance.
1.2. Can Tho Museum: 
The large, well-presented Can Tho Museum brings local history to life with manikins and life-size reproductions of buildings, including a Chinese pagoda and a house interior. Displays (with ample English translations) focus on the Khmer and Chinese communities, plant and fish specimens, rice production, and inevitably, the American War.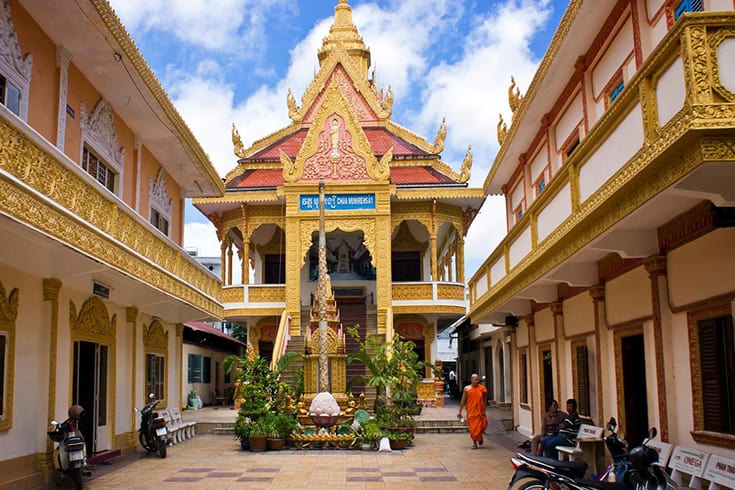 1.3. Munirensay Pagoda:
This pagoda was originally built in 1946 to serve Can Tho's Khmer community. The ornamentation is typical of Khmer Theravada Buddhist pagodas, with none of the multiple Bodhisattvas and Taoist spirits common in Vietnamese Mahayana pagodas.
2. Visiting Floating Markets
Arguably the biggest draw card of the delta is its colorful floating markets, which hug the banks of wide stretches of river. Most market folk set out early to avoid the daytime heat, so try to visit between 6am and 8am and beat the tourist tide. The real tides, however, are also a factor, as bigger boats must often wait until the water is high enough for them to navigate.
Improved roads and public transport mean that some of the smaller, rural floating markets are disappearing, but many of the larger markets near urban areas are still going strong.
Rural areas of Can Tho province, renowned for their durian, mangosteen and orange orchards, can be easily reached from Can Tho by boat or bicycle.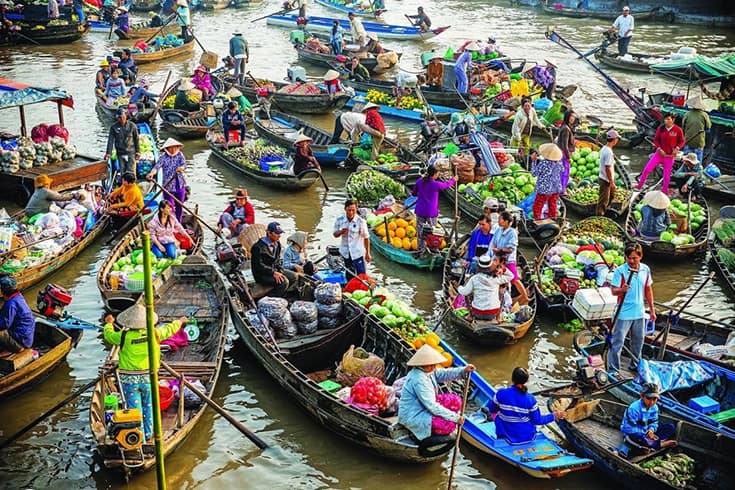 2.1. Cai Rang Floating Market:
Just 6km from Can Tho in the direction of Soc Trang is Cai Rang, the biggest floating market in the Mekong delta. There is a bridge here that serves as a great vantage point for photography. The market is best before 9am, although some vendors hang out until noon.
It is quite an experience to see this in full swing, but it's well worth getting up extra early to beat the tour-group crowds or you may end up seeing almost as many foreigners as market traders.
Cai Rang floating market can be seen from the road, but getting here is far more interesting by boat (US$6). From the market area in Can Tho, it takes about an hour by river, or you can drive to the Cau Dau Sau boat landing (by Dau Sau Bridge), from where it takes only about 10 minutes to reach the market.
2.2. Phong Dien Floating Market:
Perhaps the Mekong Delta's best floating market, Phong Dien has fewer motorized craft and more stand-up rowing boats. Less crowded than Cai Rang, there are also far fewer tourists. It's at its bustling best between 6am and 8am. The market is 20km southwest of Can Tho; most get here by road.
A boat trip here will require a 3.30am start (return 600,000), but you need to arrange it the day before. It is theoretically possible to do a whirlwind boat trip, visiting the small canals on the way and finishing back at the Cai Rang floating market. This journey should take approximately five hours return from Can Tho.
For trips on smaller boats (US$4 per hour), operators can be found along Hai Ba Trung Street by the river, but inspect boat firsts; the faster alternative is to take a xe om or taxi and then hire a boat at the other end.
3. Bird-watching in Bang Lang Stork Sanctuary
On the road between Can Tho and Long Xuyen, Bang Lang (also called Vuon Co) is a magnificent 1.3-hectare bird sanctuary with astonishing views of thousands of resident storks. There is a tall viewing platform to see the storks filling the branches; it's an absolutely incredible sight (the best time of day are around dawn and dusk).
Bang Lang is in the Thot Not district, about 15km southeast of Long Xuyen. Look for the sign in the hamlet of Thoi An saying "Ap Von Hoa". Coming from Can Tho the sign is on the west side of the road, immediately after a small bridge. It is a couple of kilo meters off the main highway – reachable on foot within 30 minutes, or you can hire a motorbike taxi for about 20,000VND.