An Giang, which belongs to the Southwest part of Vietnam, is an abundance of historical and cultural relics. Hence, activities of cultural tourism have always been paid due attention by authorities and local residents. In particular, Oc Eo Remains Site (Oc Eo Relic Area) is a culture relic belonging to Oc Eo – Ba The complex relic area, which stands out as a potential tourist attraction and national relic of Vietnam. If visitors are interested in discovering a centuries-old culture, then this destination will be an indispensable one.
Oc Eo Remains Site is a place name known to many people inside the country and overseas.
The remains site is located in the mountainous region of Sap – Ba The in Thoai Son District, An Giang Province. It is a vast ancient vestige of the Phu Nam Kingdom, a powerful nation in the Southeast Asia about two thousand years ago. In the Middle Ages, the ancient citadel of Oc-Eo used to be a commercial center.
Oc-Eo Remains Site was rediscovered when the soil was dug out to build the Ba The Channel. The site is considered as "the Oc Eo city" with a surface area of 4,500 ha. There are still certain places in the Southwest like: Dong Thap Muoi, Chau Doc, Kien Giang which, until now, still hold many mysteries to researchers and archeologists. Nowadays, the Oc Eo remains site not only receives many reseachers and archeologists who come to study and investigate but also succeeds in attracting many local and foreign tourists who come to visit and study about a booming era of the former An Giang in particular and of the Mekong River Delta in general.
Location: Oc Eo town, Thoai Son, An Giang province
I. Why is Oc Eo Relic Area Special?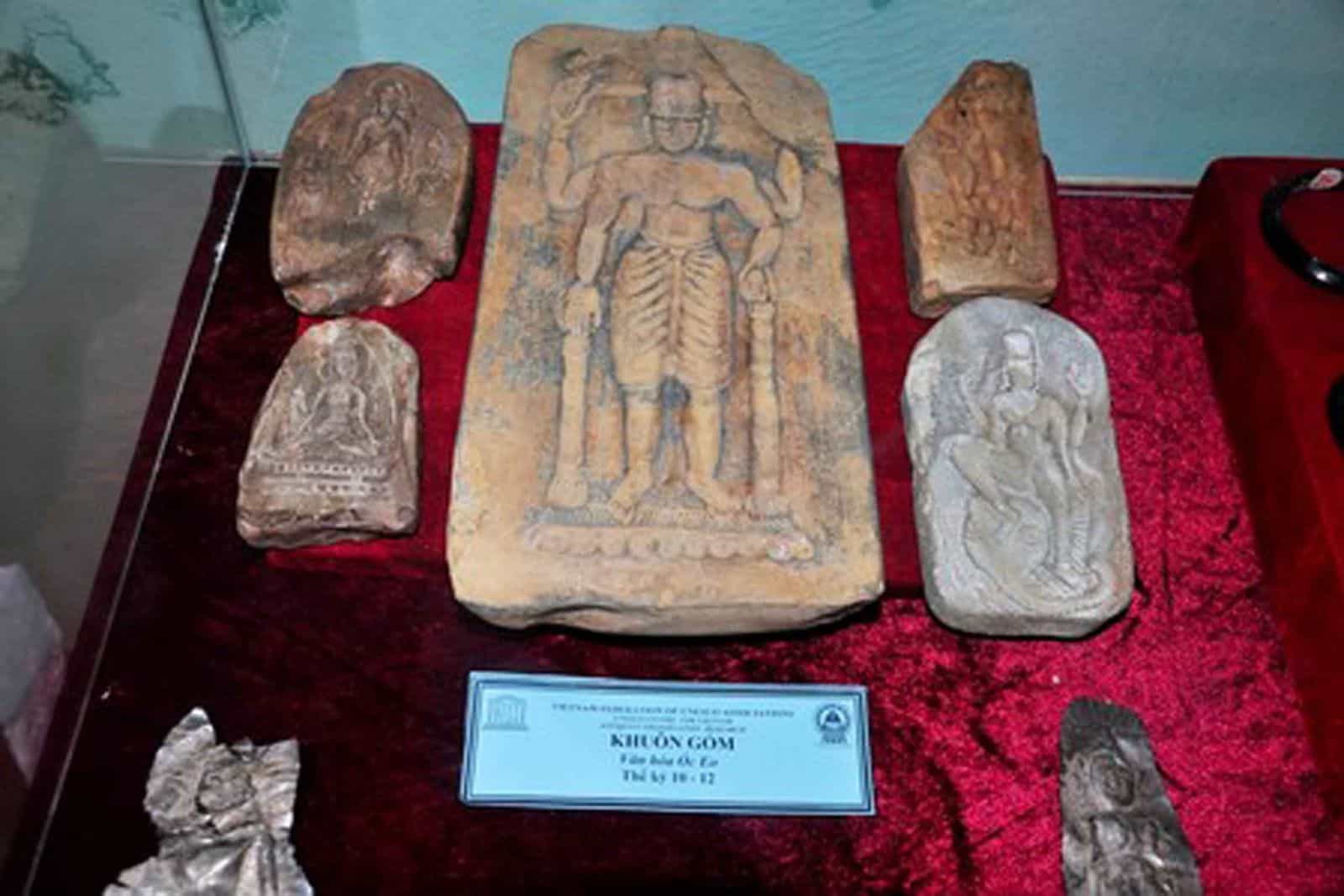 1. The Location
Situated in Oc Eo Town, Thoai Son District, An Giang Province, the tourism destination is 433.1 hectares of total area including both planning and conservation one. It is the time when the Oc Eo Relic Area was recognized as a unique national relics marking an important turning point for tourism development. This is considered a key criterion to boost the economy in the whole area.
The strength of convenient transportation infrastructure as well as the mystery beauty-spot, the destination will give investment opportunities for those who desire to preserve and promote the value of relics. At the same time, it is necessary to introduce these relics to international friends as special features of Vietnam.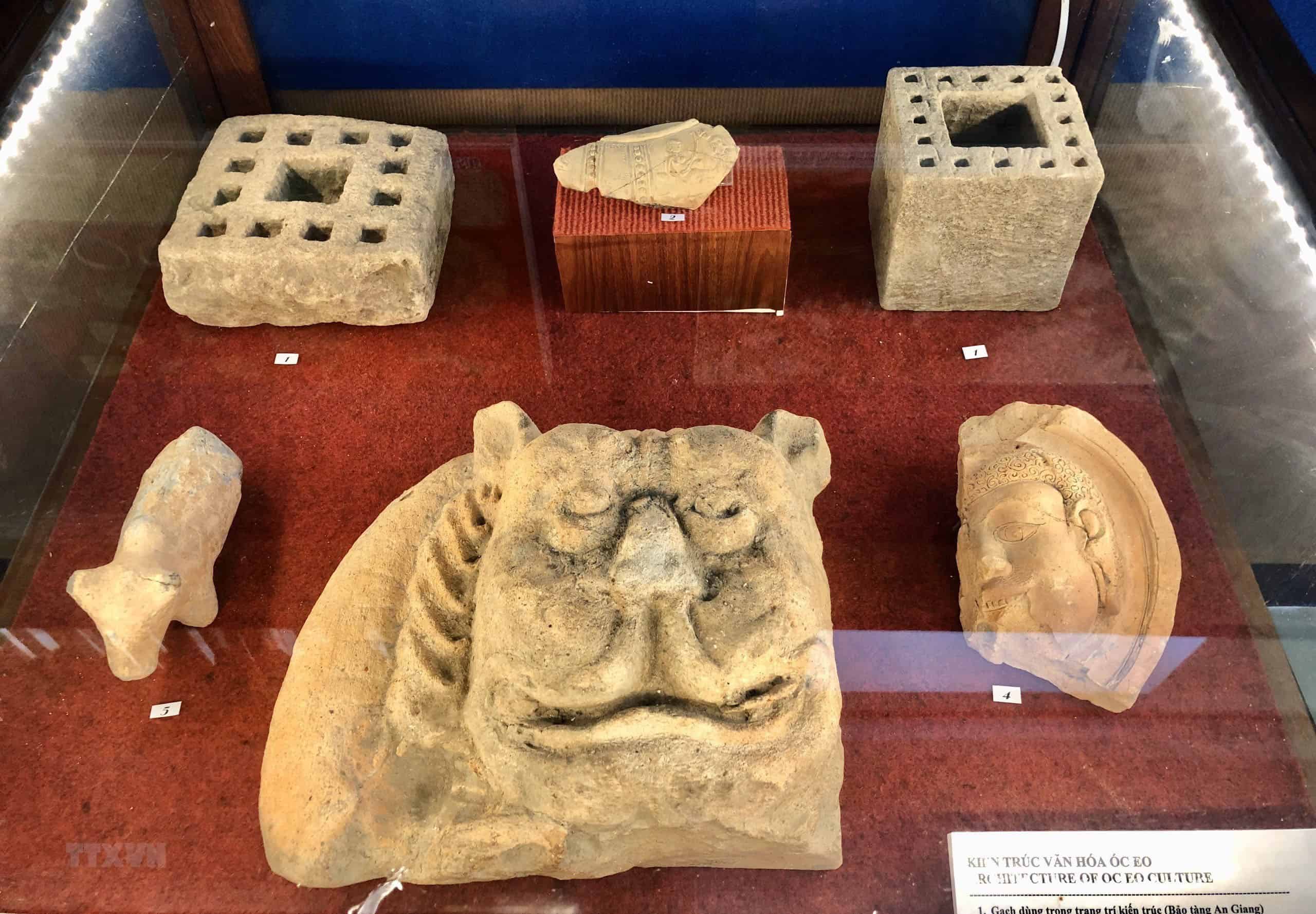 2. The History
Around seventy years ago, archaeologists found out a vestige of an enlightening civilization, along with Dong Son Culture in this site. Undergoing many excavations, Oc Eo Relic Area officially becomes a conclusive proof of an ancient culture that used to exist in the South. In reality, this land is home to a ton of objects such as items, offerings, or even burial objects in some tombs.
Oc Eo Culture is an old culture that was formed and developed in the first ten years A.D in the South. According to researchers, a myriad objects of ancient life are immensely various and abundant in combination with domestic areas, and big centers across the globe at that time such as Persia, China, India, ect. This is a reason why a large number of researchers and scientists identified Oc Eo Relic Area as a potential and attractive destination.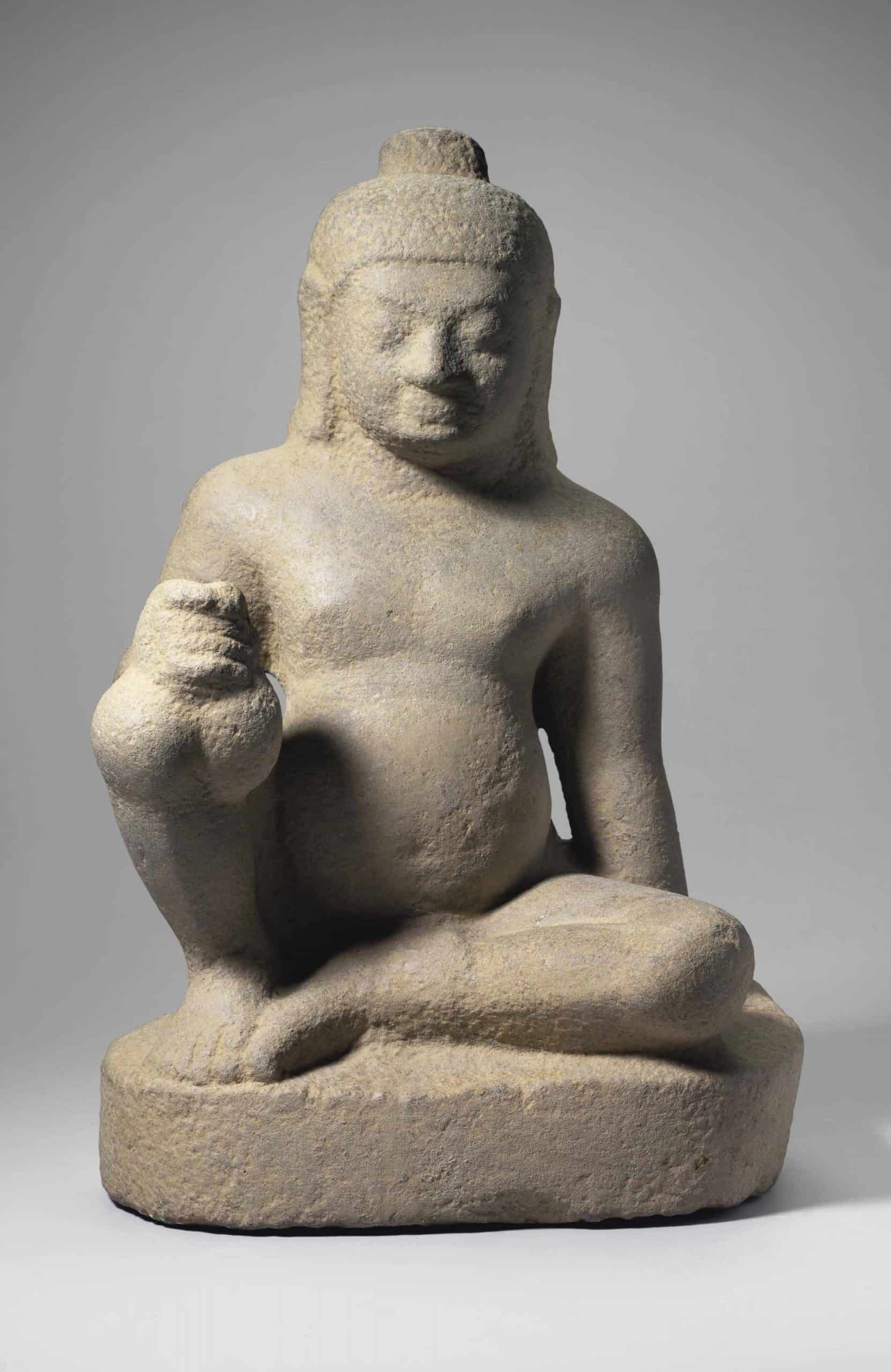 3. The Highlights
Coming to the Oc Eo Relic Area, visitors not only mingle themselves in poetic waterscapes, and imposing mountains but also explore remains of Oc Eo Culture. Setting foot in houses of culture display, tourists are able to adore an impressive exhibition of two hundreds typical objects of Oc Eo Culture. They come with a variety of materials and shapes instead such as glass-ceramic, lead, gold, vase, jar, sculptured reliefs, tiles, and so on. They were living items in daily life or offerings in religious rites.
This huge relic, a center of ancient culture of the Mekong Delta, has become a valuable cultural capital in the form of endogenous and exogenous elements. Therefore, it plays a crucial role in researching historical and cultural issues of the country in specific and Southeast Asian Area in general.
II. What to See and Do in Oc Eo Relics Area?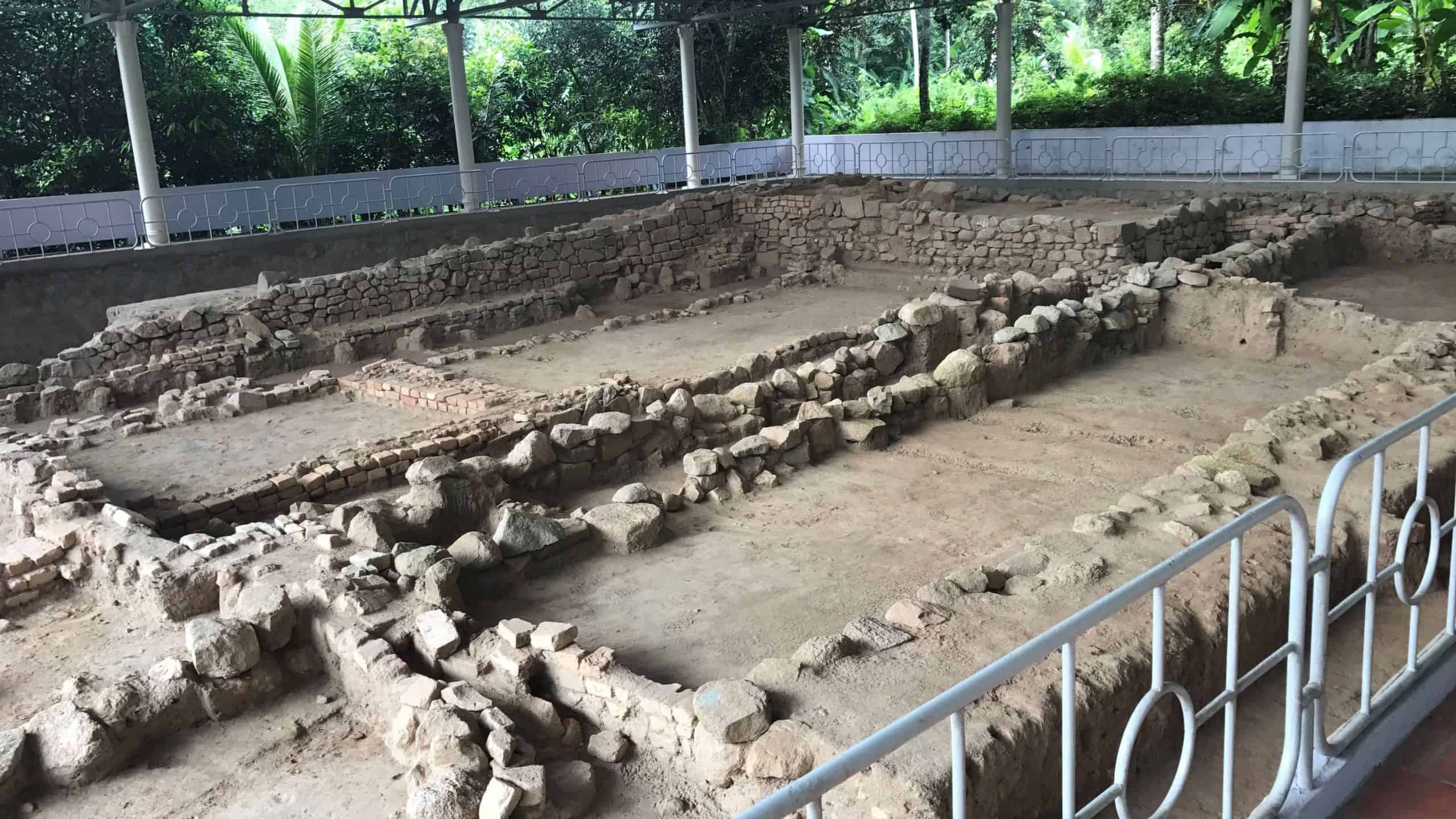 1. Explore a centuries-old culture
Oc Eo Relic Area fascinates countless domestic visitors and foreigners as well because of its fame. This vast area hiding a wide range of valuable cultural-historical relics is two thousands years old. In the past, it was the capital of the Phu Nam Kingdom which was prosperous in the South-east Asia. Oc Eo Ancient Wall, a medieval commercial port, being buried in the ground, was detected when people dug the Ba The Canal.
Remains reflect the lifestyle of forefathers and interaction between human beings and nature. Hence, the destination is always a place to go for mystery and weirdness.Many archaeologists and collectors indulge in doing research on the remaining values of history. While tourists are curious as to historical stories and mysteries related to the Oc Eo Relics Area.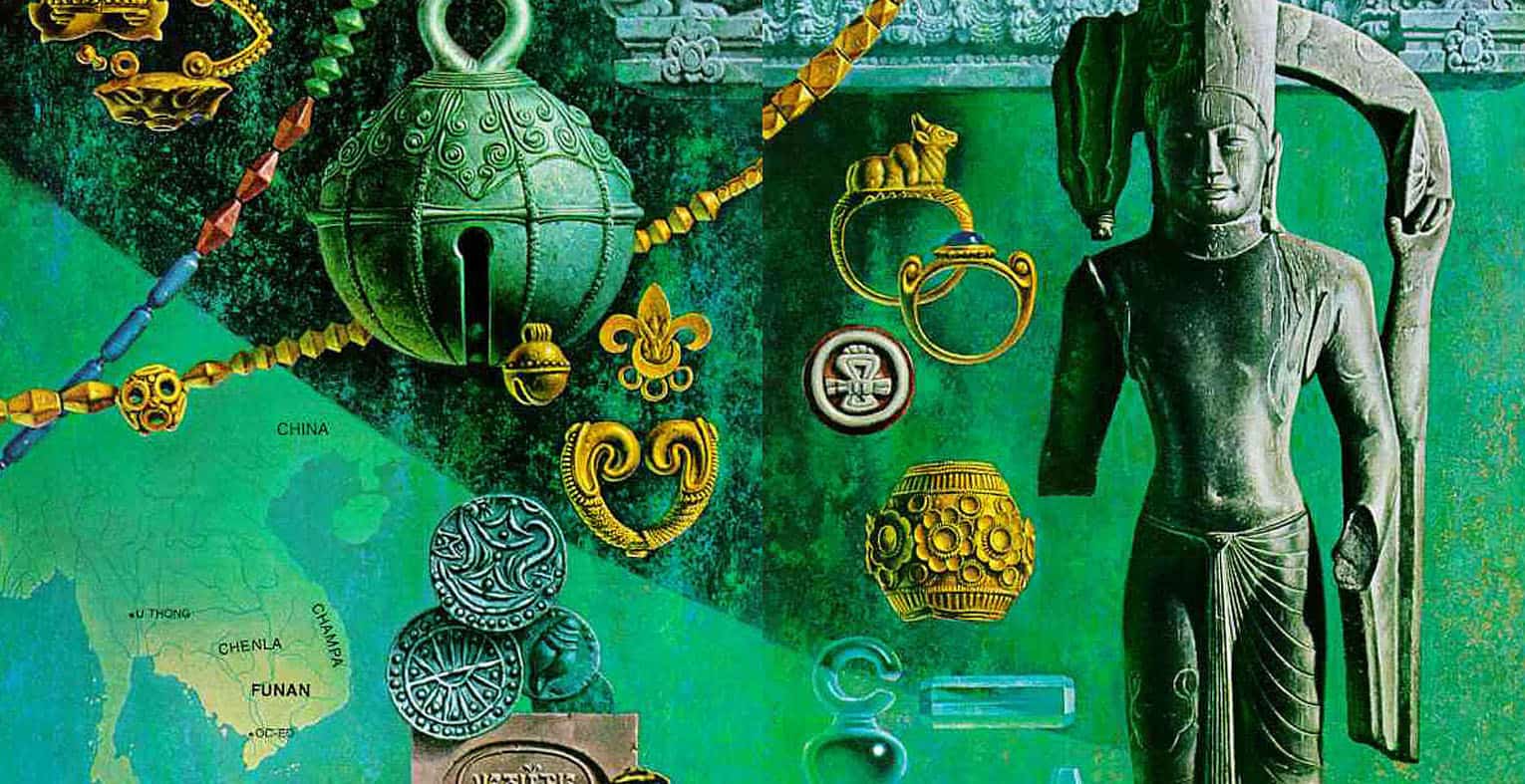 2. Go sightseeing in the Ba The Mountain
Located among far-flung rice paddies, Ba The Mountain is a picture of a splendid scenery for unbelievable experiences on day trips. The road to reach the mountain is paved with cement, and both sides are full of old trees and bushes. This place is also a natural habitat of birds and animals such as blue cuckoo, forest birds, monkeys that coexist.
On the top of the mountain, you will take a panoramic view of a rustic and simple landscape. Especially, lush rice fields and small houses may remind you of your childhood. Seeing from afar, visitors will adore a range of That Son Mountains and Rach Gia Waters. The flowering plants gently sway in the breeze, flocks of birds singing in the trees, which make you be full of joys of spring.
Along the mountainside, you will see display areas saving relics and ancient treasures for succeeding generations to study the source of the country. Those treasures are fully imprinted with cultures of Buddhism and Hinduism such as jewelry made of gold, silver, bronze, fossil bones, mascot and many more. Besides, Ba The Mountain also offers gemstone including amethyst, smoky quartz. All of them create a diverse and glamorous ecosystem.
3. Call at Linh Son Pagoda
Linh Son Pagoda was built in 1913 on the top of a natural grassy mound of Ba The Mountain. Surroundings are old trees with dense green foliage keeping the atmosphere pure and cool all the time. Dropping in the pagoda, tourists will bear a witness to Son Tien ancient temple and an eight-meter statue of the Bodhisattva Buddha.
Moreover, visitors can take a chance to admire Khmer Pagoda with an eye-catching modern structure.You can easily take a nap or enjoy your solitude in the peaceful space which is full of incense smoke. Natural scents of weeds and trees can help you temporarily forget troubles and difficulties in life.
III. What to Eat near Oc Eo Relics Area?
It will give you ample opportunity to try out the cuisine in An Giang Province when you take a trip to Oc Eo Relic Area. This land is famous for fish farms, so it provides a ton of both fresh and dried fish. Above all, you will experience tasting fish sauce in Chau Doc, which is one of the well-known trade villages in An Giang Province.
Furthermore, visitors can enjoy the cross-cultural dishes because the location has a cultural exchange between Vietnam and other countries. This makes all kinds of food here phenomenal and different from the others. Besides savory dishes such as sausage, fried fish, tourists comfortably choose a diversity of snacks such as banh bo, baby rice, fried sticky rice.
IV. How to Get to Oc Eo Relic Area?
The way to reach Oc Eo Relic Area is by coach or by scooter because they are all convenient and comfortable. If you travel by coach, make sure that you are punctual for a perfect trip. Going with a bunch of friends or relatives will be more fabulous than ever to share a sense of joy together. You will be proactive in deciding the schedule of your trip if you pick up a motorbike. However, whatever your means of transport, don't miss bringing with you a map, a camera, and other essentials.
Oc Eo Relic Area deserves to be included in your itinerary in Vietnam. Apart from secret stories, you also experience the life of rustic people here. What is more important, the beautiful landscape as well as special cuisine will bring you feelings that you may have never had before.