Hoi An is well-known for a lot of traditional handicraft villages. Among them, Hoi An Silk Village stands out as one of the oldest ones with 300 years of experience in the silk industry. Well-preserved over many centuries, the village offers visitors a unique experience of learning the silk manufacturing process and enjoying the most delicious local dishes. So, if you wish to learn something new about the culture of this ancient town, don't forget to add this village to your schedule.
Location: 28 Nguyen Tat Thanh street, Tan An ward, Hoi An city
Opening hours: 08:30 am - 05:00 pm
I. Best Time to Visit Hoi An Silk Village
The suitable time to visit Hoi An Silk Village is from January to August when the weather is cool and has a low chance of rain. The best time lasts from March to April. This time is not the peak season for tourism so you don't need to worry about the crowdedness. You should especially avoid traveling in November due to bad weather such as storms and heavy rain.
II. History of Hoi An Silk Village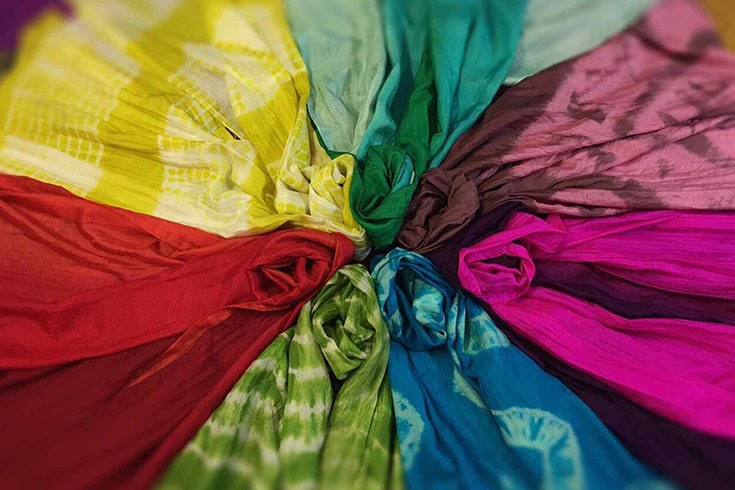 Mentioning Hoi An ancient town, it would be a miss if we don't talk about its silk industry. This industry employed up to thousands of workers and sent its products across the "silk sea road" to countries in Asia and Europe. Hoi An Silk Village was established 300 years ago and it was considered as a hub of silk wares for centuries. It was once home to dozens of craftsmen who worked in every step of making silk products.
100 years ago, it faces difficulties of being unprofitable and customers' declining interest in silk products. After that, the village has tried its best to keep its traditional craft by starting the tourism industry and promoting the traditional silk products of this ancient village.
III. What to Do in Hoi An Silk Village?
Just 1 km from the center of Hoi An ancient town, Hoi An Silk Village becomes an appealing attraction to both locals and foreign visitors. Coming here, tourists will get more opportunities to experience and explore values of costume culture. Let's see what you can try in this village.
1. Visit the Cham Textile House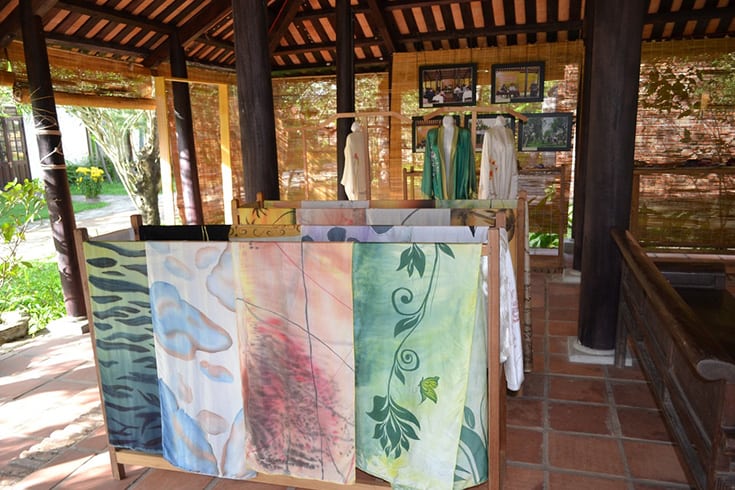 If you want to get a deep understanding about silk, there is nowhere else better than Cham Textile House. You have a chance to meet Champa artisans who have worked their entire life with silk, weaving fabrics, and they can produce more than 3 meters/day.
A Champa woman will guide you how to use an ancient brocade weaving loom which is more than 100 year old. It has up to 5 layers of threads, a complicated pulley system to change the thread layers so local artisans can get the desired pattern. Though it looks simple, you will know that it's much harder than you expected when you try. However, the woman is always willing to help and patiently guide you through the process.
Normally it will take around 10 days to create the brocade fabrics, however, spending a half hour trying to use this type of loom will give you a little sense of the silk making skill.
2. Enjoy the Silk Showroom & Learn How to Identify Fabric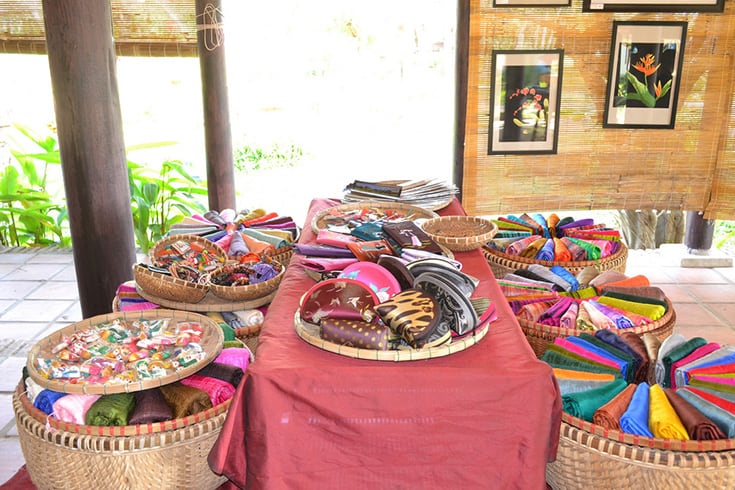 You can find the silk showroom in a spacious Quang Nam-styled building. The showroom displays an extensive range of luxury silk and some other kinds of Vietnamese fabrics.
The artisan in this house will show you how to identify the pure silk with fake silk by simply using a lighter. You can easily realize which one is authentic by their smell through the burning test.
For 100 percent silk, it will smell like hair when it is burned. It is because the pure silk is made from a natural material which has a similar smell to human hair. It burns faster than the fabric made from 50 percent silk and 50 percent cotton.
3. Taste Hoi An Traditional Food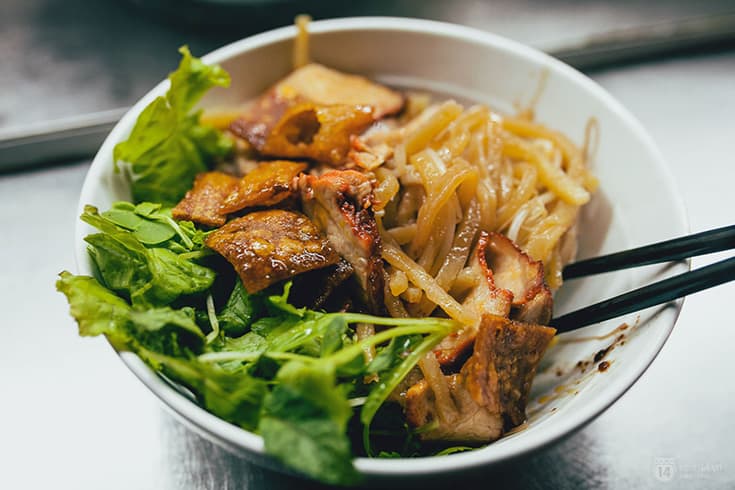 Proudly, Hoi An owns some of the best foods in Vietnam and cuisine is an indispensable part when you visit the traditional Hoi An silk village.
It offers you a great chance to experience local cuisine at Hoi An Silk Village Restaurant. The menu has various local seasonal dishes and there is also a special menu to fit your dietary requirements.
The main local dishes include "cao lau" – a famous Hoi An noodle dish, "cha gio" – a crunchy fried spring roll wrapped in a piece of rice paper, "banh bao banh vac" or so-called "white rose" – a special Hoi An clear rice dumpling.
Your meal ends up with "trai cay", local fresh fruit. A decent-sized meal like this is a nice way to get to know a little about Hoi An cuisine.
4. Learn the Process of Making Silk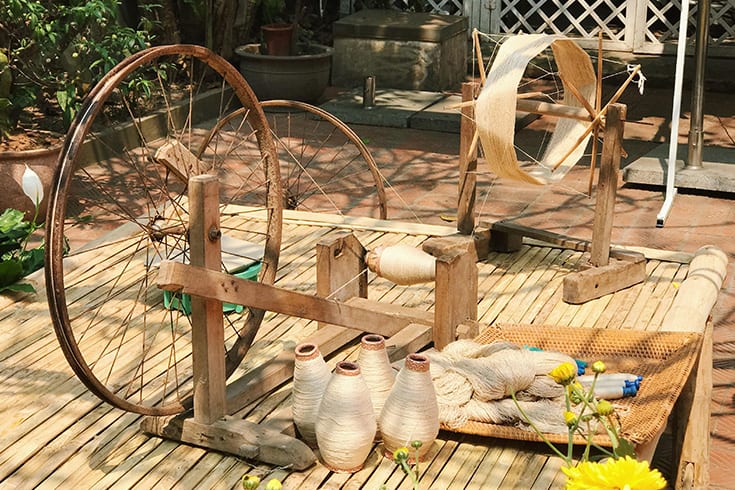 Learning the process of making silk might be most tourists' main purpose when visiting Hoi An Silk Village. Here, the guide will introduce you carefully about each step of making silk.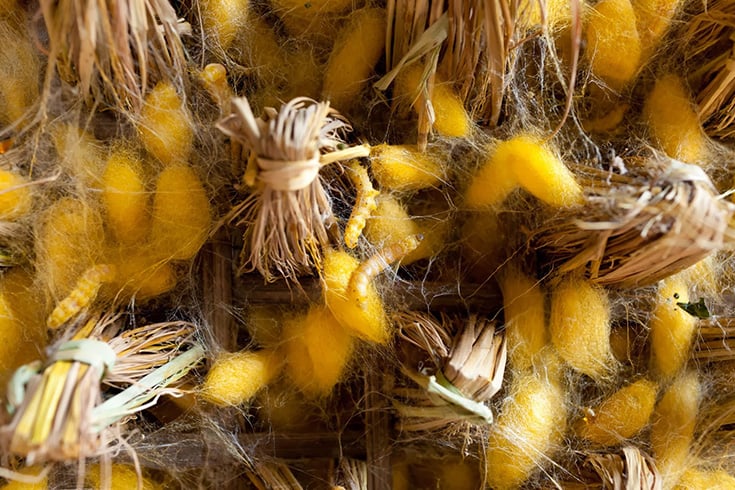 As you may know, silkworm caterpillars are the first steps for making silk thread. In the village you can find small rooms where these caterpillars live. In Hoi An Silk Village, the species they used for silk manufacturer is called "Bombyx mori". These species are used to produce gossamer material. There are two kinds of silkworm: yellow silkworm and white silkworm. Its color will decide the color of the silk cocoons and the silk threads as well.
During your trip in Hoi An Silk Village, you can see caterpillars at different ages, from the youngest ones which are just only one or two days to silkworms when they are around 7 days old, and bigger caterpillars when they are ready for spinning the cocoons. And, these little caterpillars are always hungry that they have to eat a lot to grow, every 3 hours in day time, and every six hours in night time.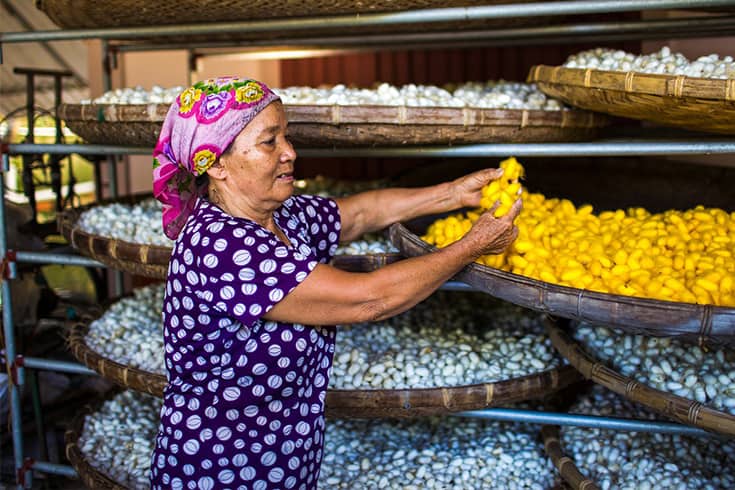 Coming here, you have a chance to take part in preparing the mulberry leaves as their food before feeding them.
Do you know what they eat? It's the mulberry leaves picked from the bushes in the mulberry garden. They are crossbreed plant of traditional mulberry bushes which are grown by Champa people. Over hundreds of years, they have created plants that have larger and healthier leaves. In this garden, you can see even 2 kinds of leaves on one branch.
The local guide will teach you how to pick a suitable leaf size for caterpillars at different ages. Then, you will bring the basket of mulberry leaves to the room where the silkworms are, chop these leaves on for little caterpillars and the whole leaves for the oldest ones. Watching these caterpillars eating, you will be surprised at how fast they enjoy and much the mulberry leaves.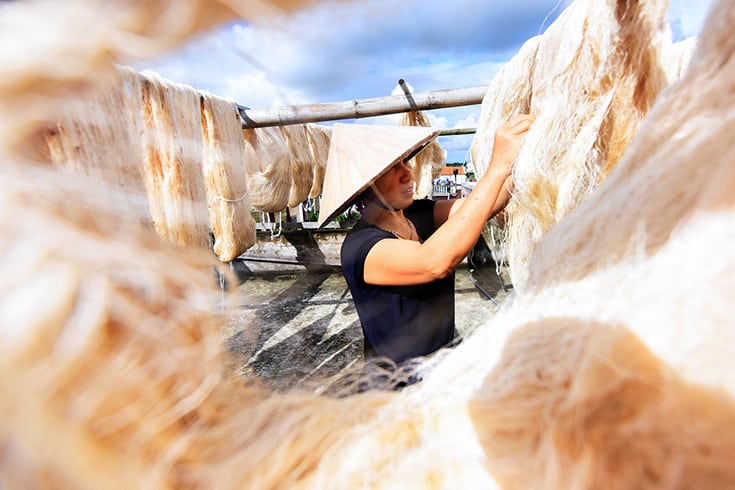 After feeding the caterpillars, you will have a chance to visit the unraveling house. Here you are introduced to the process of extracting silk threads from cocoons. The cocoons are placed in boiling water and after dissolving the glue, the silk strands are extracted into silk thread.
After spinning a thread into a single thread, it must go through the process of boiling before dying. This stage plays a very important role in creating the quality of the final products. The longer the artisans boil the thread, the stretchier and softer silk you will get. After that, it will become silk yarns which are used to weave different kinds of fabric. The material created after all stages of process is light, smooth, and breathable. This is an ideal fabric for those who are living in tropical regions.
The quality of the silk is determined by the quantity of cocoons in one silk thread. Normally, the high quality type uses around 40 cocoons while mid-range uses about 20 cocoons. Lower quality type consists of just 5 cocoons. Along with the quality and processing time, the price is different. High quality yarn costs up to VND 1.800.000/ meter.
5. Buy Souvenirs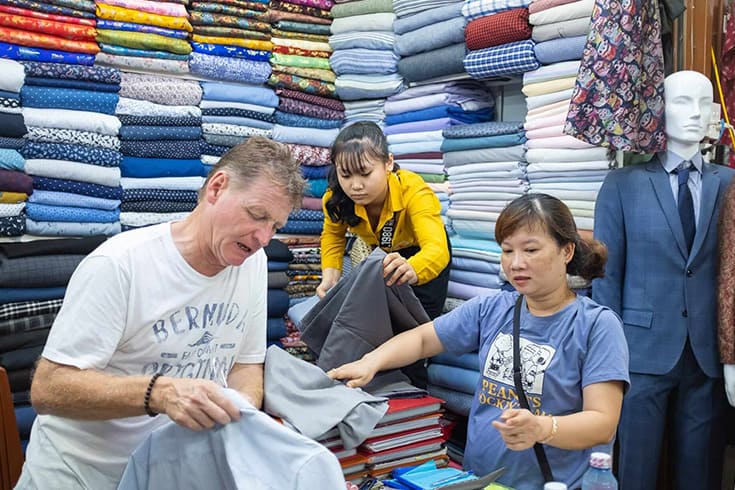 If you want to buy some silk products as souvenirs and also support local artisans, there is a wide range of items for you to choose from. You can buy scarves, dresses, shirts, and tops, or just pieces of fabric. Or, tailor-made clothes in Hoi An are favorite and unique presents to many people, you can choose a desired style by yourself. The price is especially reasonable when you consider the time and efforts that local artisans put into every stage of manufacturing, from the little silkworms to cocoons and thread,…
IV. How to Get to Hoi An Silk Village?
Located about 1.6 km from Hoi An ancient town, it is easy to get to Hoi An Silk Village. You can hire a bicycle for 150.000 VND/ day to get to this village and other nearby destinations. Or to have another interesting experience, call a cyclo. Some visitors walk there too.
If you depart from Danang city, it's better to use motorbikes, buses, or taxis. Renting motorbikes is about 120.000 VND/ day.
V. Tips on Visiting Hoi An Silk Village
You should try the refreshing drink of the silk village which is made from orange juice, lime juice, mulberry juice, and sprite. It costs around USD 2.3.
To make your tour a more enjoyable experience, don't miss out on photo opportunities and interactive experiences.
Vietnam has 54 ethnic minorities and there is a collection of all these ethnic minorities costumes in ancient houses of this village. Ask the villagers and they will show you the way to this village.
Hoi An Silk Village is one of the typical traditional villages which have well maintained their local traditional handicraft. It will offer you a brand new experience that you may not find anywhere else. Let's visit the village and discover! A lot of interesting things and surprises are waiting for you!