Though night markets are not as bright and shiny as supermarkets or malls, they are still favorite destinations with their own unique and outstanding characteristics. Among three night markets in Hoi An, Hoi An Night Market is a popular destination for local and foreign travelers. This guide will give you comprehensive information and tips for shopping in this market.
Locations: Nguyen Hoang street, Hoi An ancient town
Opening Hours: from 5 p.m to 11 p.m
Best Time to Visit Hoi An Night Market
The best time to visit is between 7 p.m to 9:30 p.m when every stall in the market opens.
Selling Points of Hoi An Night Market:
The ordinary and poetic image of brightened lanterns floating on the river in the night
Plenty of products to choose from
Bustling shopping area
An ideal place to visit at night
What to Buy in Hoi An Night Market?
Hoi An Night Market is one of the most famous and crowded destinations in the ancient town of Hoi An when the night falls. There are three night markets in Hoi An but the first one that appears in locals' mind is always the market on Nguyen Hoang street, or Hoi An Night Market.
Shopping may be your top priority when putting the night market in the Hoi An trip itinerary. Selling various items, Hoi An night market is a wonderful shopping paradise for those who want to explore. So what should you buy?
1. Handicraft Products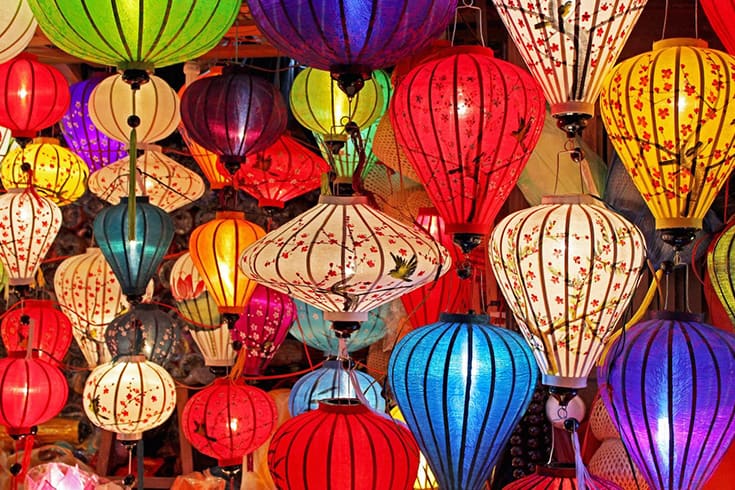 You can easily realize that handicraft products are the most famous products in this market. You can see these products everywhere, making them signature products of Hoi An night market. There are a variety of handicraft products which can be found such as necklaces, rings, bracelets, earrings,… They are made from fabric, stone, bronze, or silk in different colors.  Most of them are made in traditional handicraft villages around the old town such as Thanh Ha pottery, Phuoc Kieu bronze casting, or Hoi An silk villages. You ought to not miss miniature bronze statues and the beautiful lanterns which are all attractive traditional products in Hoi An. They are made from various materials, namely lace, traditional silk and chiffon or hand-painted cotton. 
They are meaningful gifts which will remind you of Hoi An ancient town when you come back to your country.
2. Conical Hats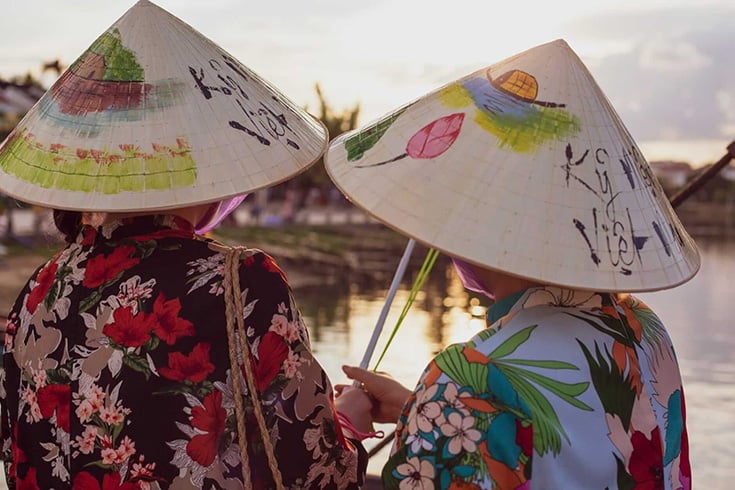 When you read stories or watch some movies about Vietnam, you may realize that most Vietnamese people wear these intriguing conical hats (Nón lá). The conical hat gets its interesting legend that dates back to the origins of Vietnamese' rice growing. There are up to 50 types of conical hats varying from materials, sizes, and colors. Bringing this hat home means taking back home a bit of Vietnamese history.
3. Clothes
In Hoi An Night Market, you can find so many stalls providing tourists with clothes. This scene looks familiar with what you see in Hanoi Night Market, or in Thailand, Malaysia and some other Southeast Asian countries. But, the biggest difference is the unique design of clothes. So it is better to consider the clothing style instead of looking for the pattern.
4. Souvenirs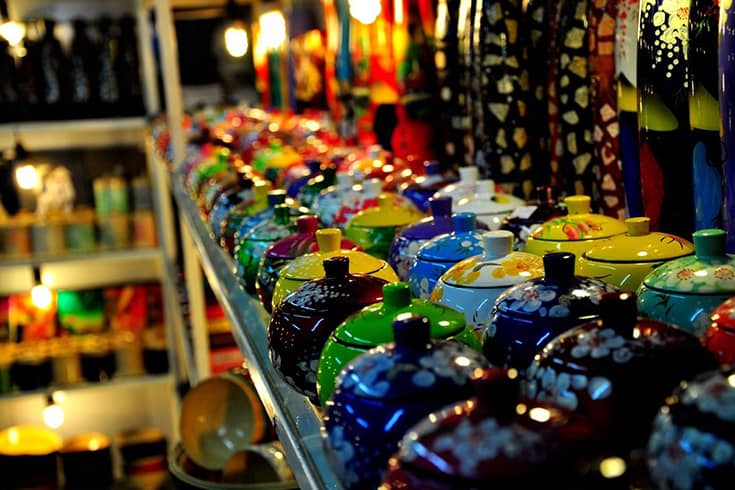 You may come to Hoi An Night Market in the last days of your trips to shop for souvenirs. There are a lot of small and cute things that are suitable for keeping as memories of this ancient town. Most of them have a true theme of Vietnamese culture like statues of a girl wearing Ao Dai and Non La, or Vietnamese cards, notebooks. Moreover, small make-up bags or hand fans with images of Hoi An on them are also good choices for souvenirs. These souvenirs can be bought at very cheap prices.
Besides, it is highly recommended to buy some sewing products in this market such as bags. These products are not sold outdoors but in the shop so they can guarantee the quality from the weather. Most of the sewing items are made from leather and fabric. They are both famous but the leather products are more expensive than fabric ones.
5. Round Straw Bags
A round straw bag will make your summer outfit pairing perfect. These handmade bags are so pretty that you may find it hard to resist their charm. Their uniqueness and the intricate weave work of skillful artisans make them a valuable item to buy when shopping here.
What to Eat in Hoi An Night Market?
Hoi An Night market is not only a shopping paradise but also a paradise of food. Coming here, you will see plenty of small stalls on the street smoking and making the cooking sound. Let's see what you should try in this market
1. Traditional Food
Most of the traditional food is served in the restaurants in the night market. It will be a great experience to spend time in these restaurants, chill with music, and taste delicious traditional food.
Quang noodles: There are several types of Quang noodles for you to choose such as chicken, pork and shrimp, eel, jellyfish, or snakehead fish. It has a rich layer of vegetables, noodles, and a fair amount of broth. You can use Quang noodles with lemons, chili, herbs, or rice crackers.
Cao Lau noodles: Cao Lau is the signature noodle dish of Hoi An. It has a characteristic texture and color which makes it outstanding from other types of Vietnamese noodles. It consists of smoky pork, chewy noodles, crisp greens, refreshing bean sprouts, and crunchy croutons. 
Vietnamese pancake "Banh xeo": It is a type of Vietnamese savory pancakes which is made out of rice flour, water, turmeric powder, stuffed with fatty pork, shrimp, and bean sprouts before pan fried. This dish is served by wrapping in lettuce leaves, mustard leaves, and other herbs and dipped in a prepared sauce called "nuoc cham".
3. Street Food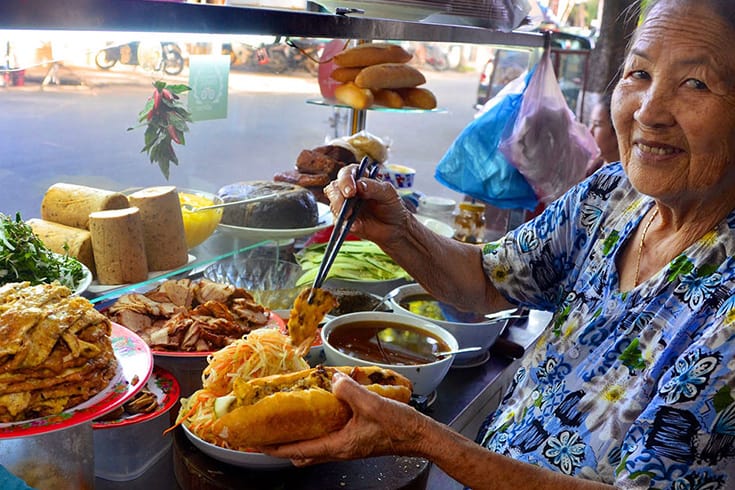 Besides traditional food, Vietnamese street foods are also worth trying. When visiting Hoi An night market, you will find many mouthwatering street foods, but there are 3 dishes that you should not miss.
The first one is sweet soup that has red and green beans, lotus seed, and corn. The second one is ice cream tubes, or so-called "kem ong", which is Hoi An ice cream specialty with a unique taste. Also, there is another type of ice cream rolls that originates from Thailand with great taste as well. Last but not least, don't forget to try the sweet soft tofu soup which is a great combination of tofu and sugar sauce. Just take a walk around, you will find plenty of different dishes to try.
Hotels near Hoi An Night Market
If you are looking for a place near Hoi An Night Market, let's check out recommended hotels below
Address: 72 Hai Ho street, Hai Chau ward, Hoi An
Vinh Hung Riverside Resort & Spa
Address: 111 Ngo Quyen street, Minh An ward, Hoi An
Address: 10 Luu Quy Ky street, Minh An ward, Hoi An
River Suites Hoi An Hotel
Address: 4 Nguyen Du street, Minh An ward, Hoi An
Green Heaven Hoi An Resort and Spa
Address: 21 La Hoi street, Minh An ward, Hoi An
How to Get to Hoi An Night Market?
You can find this market opposite to the Bridge Pagoda, occupying 300 meters of Nguyen Hoang street. Head to Hoi An Old Town towards the direction of Japanese bridge, now, you will see a small bridge, from which leading to over the river. After crossing over the water and turning right, you go straight ahead and turn left right at the first turn. This is where Hoi An night market settles. There are up to 50 stalls in the market selling various products such as clothes, souvenirs, food, and drinks,…
Tips on Shopping Hoi An Night Market
You should visit Hoi An Night Market on Thursdays and Saturdays when the hip hop community of Hoi An comes to perform breakdancing near the river bank, across the entrance to Hoi An Night Market.
Visiting Hoi An Night Market at the 1st and the 15th of Lunar months will give you a chance to see a shimmering Hoi An with the image of lanterns.
It's always a good idea to bargain for a better price.
A pair of comfortable shoes will help you discover the night market easier.
Hoi An Night Market will be one of your unique experiences on your trip to Hoi An ancient town. Let's spend a night here and you will know why it is considered a must-visit place.