For most visitors to Hoi An, they spend their time wandering around the ancient town, rowing a boat on the river, or enjoying the beauty of lantern streets at night. However, Hoi An offers a lot of other interesting activities for tourists, and among them, snorkelling and scuba diving in Hoi An is one of the most favorite experiences recommended by tourists.
I. Highlights of Diving in Hoi An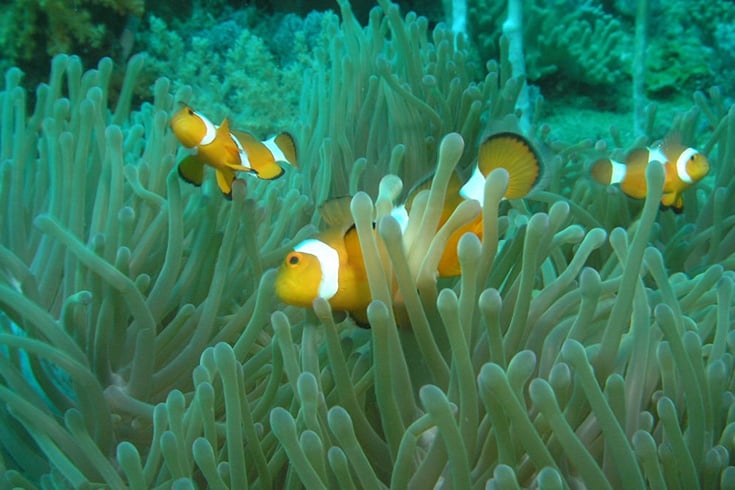 Just take a 40-minute boat ride from the ancient town, you will visit Cham islands – an amazing place with various diving opportunities. Though the island is not large enough for pelagic diving, you will surely be dazzled by a variety of fish species and abundant corals.
Here, you can find an impressive underwater world with the most common species like clown fish, lionfish, seahorses, crabs, and triggerfish.
Besides, Hoi An attracts a lot of divers because it has an underwater cleaning program which is undertaken to keep the biodiversity of marine life. So, diving in Hoi An means you are taking the initiative to urge visitors to protect the underwater environment.
II. Diving Centers in Hoi An
Hoi An offers various diving places which are mostly located around Cham islands. With the coast teeming with a diversity of coral reef and tropical fish, it is promisingly good scuba diving and snorkeling opportunities. In the town, you can find some dive centers. Among them, Cham Island Diving Center and Blue Coral Diving are the most standing out.
1. Cham Island Diving Center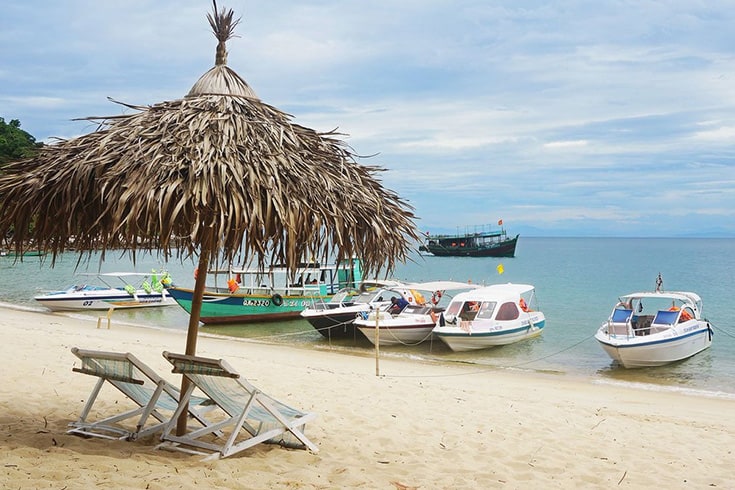 Address: 88 Nguyen Thai Hoc street, Hoi An
Opening hours: 9 am to 9:30 pm
Price: from 80$ (depends on your level and the dive spots)
Opened since 2002, Cham Islands Diving Center offers daily boat and speedboat tours to Cham Island for diving and snorkeling activities. Their international team in the ancient town are always supportive and give you the best advice for diving regardless of your ability and experience.
Their staff can speak different languages such as English, Italian, French, Spanish and Vietnamese, and try to provide the best diving experience in a friendly, safe, and professional way. It offers many dive styles to suit all diving levels, from complete beginners to dive masters. It accesses some dive sites around Cham Islands ranging from underwater pinnacles, coral reefs and gardens, and wild rock formations.
2. Blue Coral Diving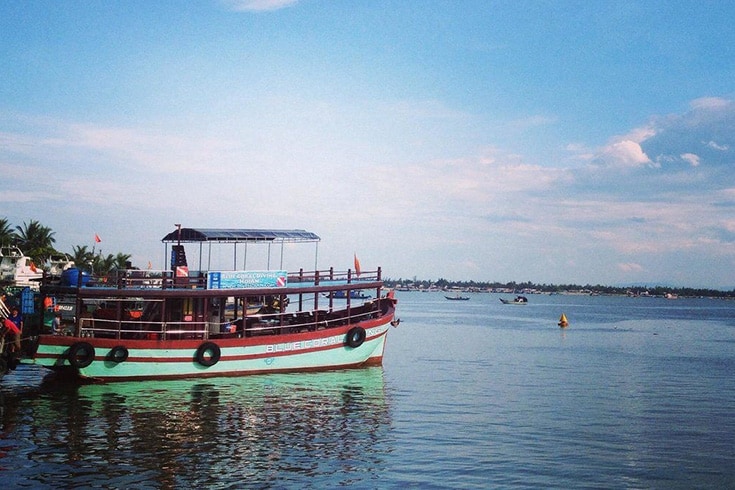 Address: 77 Nguyen Thai Hoc street, Hoi An
Opening hours: 9 am to 9:30 pm
Price: from 90$ (depends on your level and the dive spots)
Well known for its high quality, it attracts a lot of diving fans. Known as Hoi An Diving Center, it is the one and only 5-star diving center in the ancient town that offers diving courses with different levels, from introduction level, dive master, to instructor level. It organises diving and snorkeling excursions to some spots like Hon Giai, Hon Thai, and Hon Mo. If you are looking for dive only trips, they offer the trip to Ranh Manh, which is known as "the sunken island". This
III. 5+ Best Places for Diving in Hoi An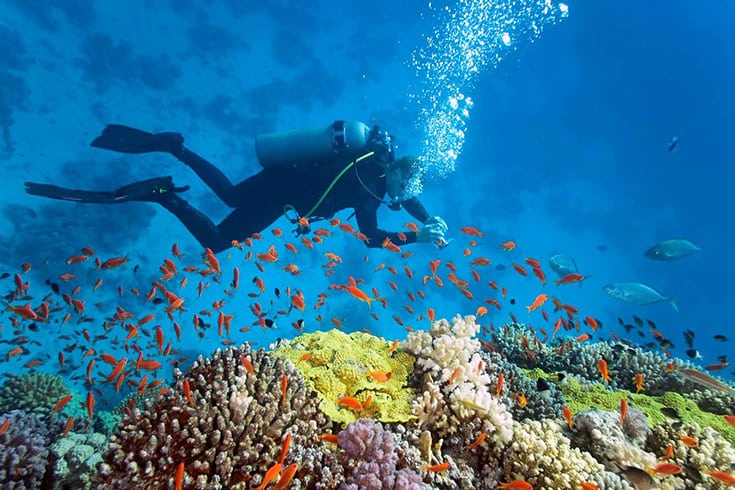 1. Hon Thai North and Hon Thai South
Address: Cham Islands
Hon Thai North and Hon Thai South are the best places for diving in the Cham Islands. Here, you have a chance to see different types of colorful corals that are hard to find. These places also have a diversity of sea animals with numerous fishes, shrimps, crabs, and other creatures. An interesting thing is that you will see sea cucumbers and beautiful lionfish.
The water here is quite nice and warm with an average temperature around 29 degrees. When it is sunny, the visibility is great, up to 15 meters, so you can enjoy the pure beauty of the marine world.
2. Hon Nhan
Address: Cham Islands
For those who are looking for a diving spot at an intermediate level, you should not miss Hon Nhan dive site. Here, you can dive down up to 40 meters and see thousands of nudibranchs which scatter over the seabed. With colorful schools of fish, these create magnificent patterns in the clear water.
This diving spot is also home to plenty of ribbon eels, seahorses, pipefish, triggerfish, and barracudas. Besides, its beauty is also added by the rock formations, mysterious caverns, and the sudden stops.
3. Hon Mo
Address: Cham Islands
Hon Mo diving site is not only an easy place to explore for beginners but also an interesting spot for advanced divers. Divers can start at 4 meters and go your way down to 35 meters to discover the life of different fishes and other underwater residents. And, don't forget to bring your waterproof camera because there are many photograph opportunities with a colorful array of clownfish, seahorses, pipefish, and corals.
Just a short boat ride from the ancient town, Hon Mo is a perfect destination for diving and get acquainted to local waters before you move on to more difficult sites. The beaches here are a great place for relaxing and enjoying a cup of beer when the sun sets.
4. Rang Manh
Address: Cham Islands
Ranh Manh is also a great choice. Though it has less corals than Hon Thai North and Hon Thai South, it offers an opportunity to see the rock formations on the seabed. Here, you will experience diving as shallow as 6 meters to 25 meters. Rang Manh diving site has a lot of schooling fishes, lionfish, barracuda and large rocks. Enjoying the view under the water, you may get an amazing and peaceful feeling of diving.
5. Other Diving Sites
Cham Islands are still relatively uncharted and there are many diving sites still to be found. Apart from above popular sites, we also suggest some other spots for diving:
Depth: 18 meters to 35 meters
Highlights: batfish, nudi's, lionfish,…
Depth: 6 meters to 18 meters
Highlights: hard and soft coral, trigger fish, lionfish, clownfish and shrimps
Depth: shallow
Highlights: angle, clown, nudi's and damsel's
If you have time, don't forget to try diving on these sites.
IV. When to Dive in Hoi An?
The diving season in Hoi An does not last all year round. From March to September is a good time for diving. The best time is between June and August when the weather is perfect and you can see the underwater life most clearly.
Other months have rough weather with seasonal storms, causing unsuitable conditions for diving and snorkeling. That's why most dive shops are closed from October to February.
V. How to Get There?
Da Nang Airport is the closest one which has regular domestic and international flights. From the airport, you can easily catch a taxi to Hoi An and expect to pay around 15 USD.
There is no train station in Hoi An ancient town. So again, you can arrive in Hanoi and consider taking a taxi or a bus to Hoi An.
There are many buses departing from other destinations such as Hue, Nha Trang, and Da Nang to Hoi An. You can easily book one through your hotel.
VI. Tips on Snorkelling and Scuba Diving in Hoi An
You don't need to bring too many things except your swimsuits and a waterproof camera to capture the best moments
Stay close to your diving guide because they have the best knowledge of the area and they will show you where to spot some unique creatures
Most people miss the Rang Manh diving site. If you have enough time, try this 2 square km sunken island which offers an unforgettable moments for advanced divers
Make sure to check the weather forecast in advance and choose the time with the best temperature and visibility
For beginners, you may consider snorkeling which doesn't require any certification and training.
VII. Other Activities
Hoi An is a great town to discover which is rich in history and culture. Apart from diving, you can take part in the following activities:
Join a cooking class
Learn how to make a lantern
Join a bike tour or a river cruise to enjoy the peaceful beauty of the land and friendliness of local people.
Visit the Japanese Covered Bridge which is well known as the symbol of Hoi An
Purchase some tailored-made suits, shirts, and dresses
Overall, Hoi An is a new destination for diving in Hoi An which is relatively undiscovered. It is a great option for those who want to experience diving in a place that is not swamped by too many boats and divers. To sum it up, diving in Hoi An is spectacular! If you can, just plan a trip to the ancient town and its islands. You will not be disappointed!