Getting a tailored-made outfit is a must-do activity when you are staying in Vietnam as the prices are affordable and the quality lives up to international standards. Hoi An, the tailoring capital of the world, is an ideal place where you can find a lot of good tailor shops.
If you are looking to get bespoke suit in Hoi An, also one of must-do things in Hoi An, this tailoring in Hoi An guide will reveal how to find the best Hoi An tailors, cost, timing and tips to avoid scams.
I. Custom Tailoring in Hoi An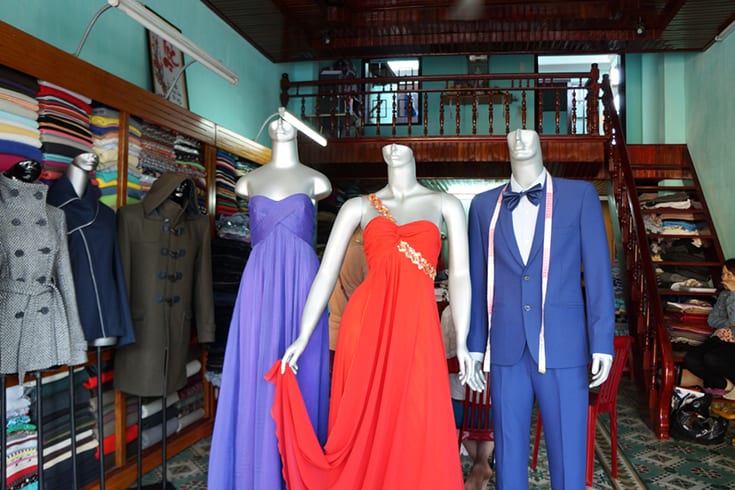 Hoi An tailoring has a long history dating back to the silk route. It's been more than 20 years since the tourists started to discover the culture of the stunning Vietnam scenery. Along with the boom in tourism, custom tailoring also gets more developed. You can find tailor shops on every street corner of this ancient town and most Hoi An tailors make a living by making shirts and suits. These quality products are preferred by many business men and women. Now, many tourists choose to order tailored clothes for themselves and for their friends as souvenirs.
II. How Many Days Does It Take for Tailoring in Hoi An?
You should spend enough time on fittings and the tailors also want to have enough time to make your best clothes. The time for tailoring depends on the piece of clothing.
For suits, it is about four or five days to make one.
For casual and other clothes, it takes three to four days.
For simple clothes, the tailors can finish making them in half of a day.
III. How Much is Tailoring in Hoi An?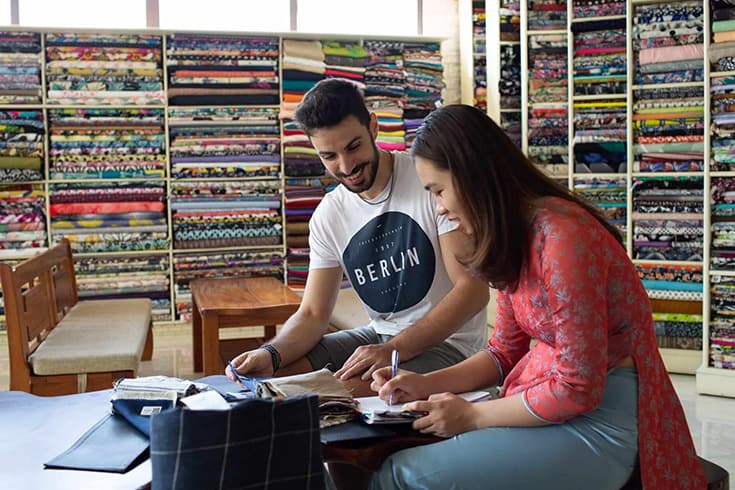 The price depends on the materials, colors, and the style that you want for your suits/dresses. Though tailored-made clothes are more expensive than already-made ones, it is well worth your time and money.
1. How Much Does It Cost to Tailor a Suit?
You can expect to pay USD 90 to USD 280 for a tailored-made suit.
2. Tips on Saving Money at Hoi An Tailors
Ask about the different types of materials for making your items. Then, you can choose the most comfortable material at an affordable price.
You can haggle on the price if you buy more items (even just more than 1 item is OK)
You can save a bit of money by picking good materials instead of paying for the lining.
IV. 10 Tips on Tailoring in Hoi An
1. Ensure Enough Time for 3 Fittings
If you plan to stay in Hoi An just for a couple of days, getting tailored clothes is possible. To get the best clothes, we highly recommend you have several fitting because clothes never come out perfect first time. It's better to try 3 fittings. As soon as you arrive in Hoi An, you should choose a good tailor shop to order the items, making sure that they've got the right measurement. The next day, you can have the first fitting. The second time for fitting is in that evening and the last time you can try the following day. So make sure that you have enough time to get your desired tailored clothes.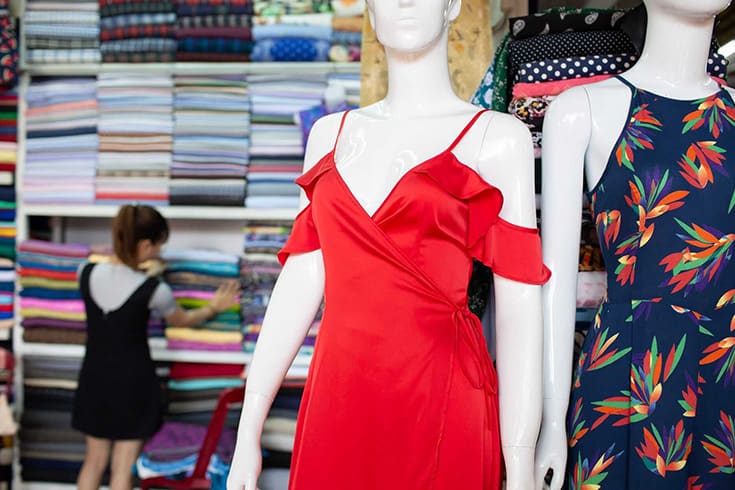 2. Research for Styles & Know What You Want
There are so many styles for suits and dresses in Hoi An that you may be confused to choose one for yourself. So, it would be better to know what exactly you want first, whether it would be single or double-breasted, one-button or two-button suit, the British cut or the Italian cut, maxi dress or normal dress,…And to make everything easier, you can do some research online, look for a picture of your favorite clothes, and show it to the tailor.
3. Do Not Believe 100% and Rely on Images
Remember that from the images to the reality is a long distance. Some customers said that they are disappointed with the result they've got after showing the pictures to tailors. So don't believe 100% on images. Please explain to them about the detailed dress or suit you want to have, from the color of it, to the material, to the buttons,… When you receive your items, you should also check it carefully before you go. If you are not happy with something, you can ask the tailor to fix it.
4. Use the Right Fabrics and Material
Choosing the right fabric is so important in order to get good tailored outfits. When discussing with the tailor, you should ask them to show you the fabric samples. In fact, most customers are easy to get sucked in by patterns that they make the wrong decision. However, the material is the ultimate thing that decides an item to be good or bad. Therefore, you should feel the fabric with your hands and look with your eyes in natural light.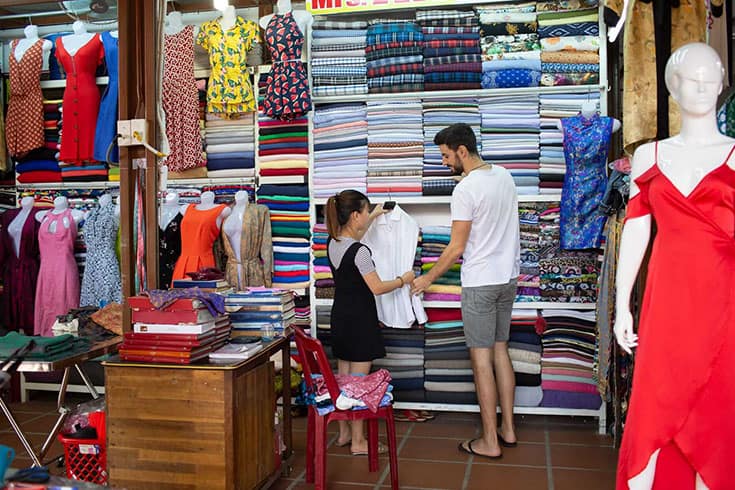 5. Describe Your Wants in Very Clear Details
You will get exactly what you want if the tailor understands your desires for your clothes. So even though it takes a bit more time to explain everything more clearly, if you have time and a clear idea about your tailored piece of clothing, you had better draw it to the last details.
6. Consider an Available Pattern to Copy
You may wish to have unique custom-made clothes, but sometimes it's better to start with available patterns for the best basics of satisfaction. You can consider using the shape of an existing item and mixing with a few new ideas for details. This could lead to a very different item that features your own style. Even with a simple white shirt or dress, you may end up creating an impressive one that you feel comfortable to wear.
7. Be Aware of The Season in Your Hometown
Staying under the sweating heat of the ancient town, you may forget to get some custom clothes to wear in your hometown. So, think about the weather and the season in your hometown before ordering any kind of clothes. If you are living in a colder climate, some tailored winter coats can be great ideas. Especially, it would be meaning gifts to buy for your friends and family when you choose the materials, designs, and style by yourself.
8. Research Shops to Pick the Right One
With hundreds of tailor shops in Hoi An, it would be a difficult task to pick one. So first, you can start with Trip Advisor or Lonely Planet where you can find the information of the majority of Hoi An tailor shops and read online reviews. The tailors with a good set of reviews should be on your top choice. Besides, another advice is checking some stores to compare the price. Most stores also have fashion books so you can look for your favorite one.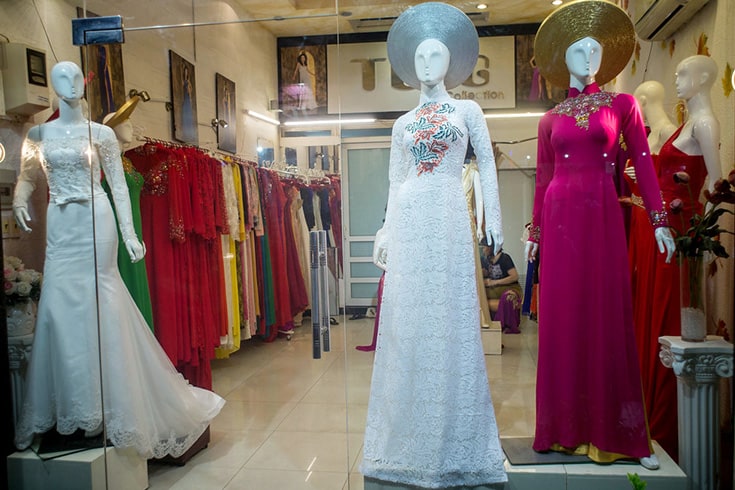 9. You Get What You Pay for
Wandering through the streets of Hoi An ancient town, you can find out that they offer different prices for the same items. You should know that you get what you pay for. Normally, the price is different mainly due to the materials of the item. A high-quality dress can be much more expensive than the dress made from lower-grade materials, but it looks better, gives you a more enjoyable experience and it is more endurable.
10. Fix It If It Is not Right
For the first time of fitting, you may feel disappointed about the item. It is common and you can find out what is not right. After that, you can talk to your tailor and discuss how you want to fix it, whether it is the length, tightness, or the style. Hoi An tailors are always friendly and willing to fix to satisfy their customers.
V. 4 Recommended Shops for Tailoring in Hoi An
1. Bebe Tailor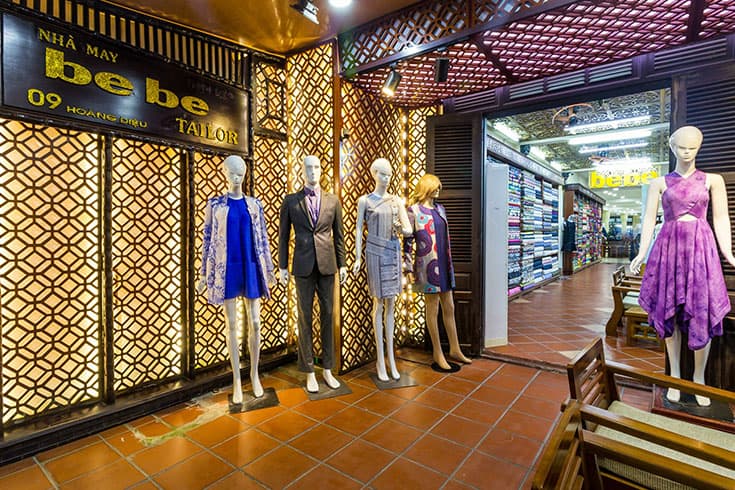 Location: 05-07 Hoang Dieu street, Cam Chau ward, Hoi An
Opening hours: 8 am – 9:45 pm
Highlights:
Bebe Tailor is one of the biggest tailor shops in Hoi An with 15 years of experience. It has 3 branches and all of them are located around Old Town area. As a reliable and quality-driven brand, it receives around 1 thousand orders a week. Bebe Tailor is well-known for its friendly and attentive on-site staff who will be responsible for every step, from selecting the material to delivery. It provides one of the largest range of fabrics spreading over three spacious shops so you will be easier to find your favorite fabrics for making tailored clothes.
Pros & Cons:
Bebe Tailor has an extensive catalogue offering plenty of styles, its customer service is also very good. However, their fabrics at cheaper prices are quite disappointed.
2. Yaly Couture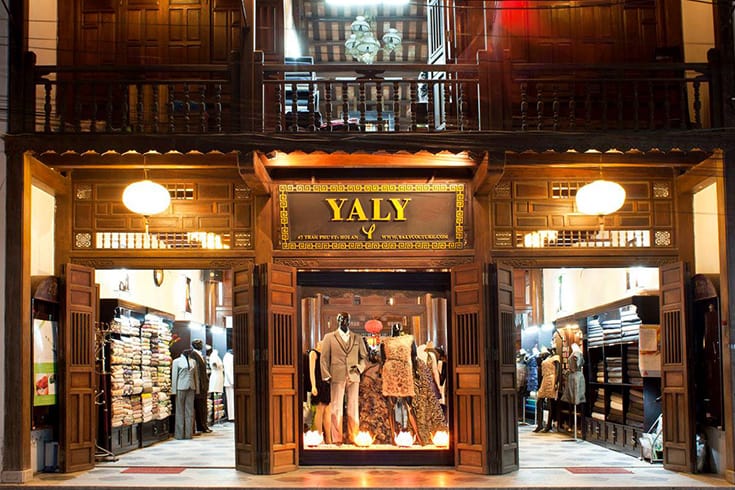 Location: 358 Nguyen Duy Hieu street, Cam Chau ward, Hoi An
Opening hours: 8 am – 9:30 pm
Highlights:
Behind the butterfly wall, Yaly Couture's fashionable tailors are always ready to give you the best design for your clothes. To set it apart from other tailor shops, Yaly Couture also makes unique bespoke shoes. They give you may materials to choose from, even some difficult materials such as top-of-the-line wools and cashmeres. If you are lucky enough, you may get a chance to visit the workshops that Yaly Couture organizes. These workshops are highlights of this tailor shop that help to maintain traditional tailoring techniques.
Pros & Cons:
Yaly has up-to-date devices with 3D body scan for measurements. It offers fashionable clothes for customers. However, the price is very high for certain fabrics and they require several fittings.
3. A Dong Silk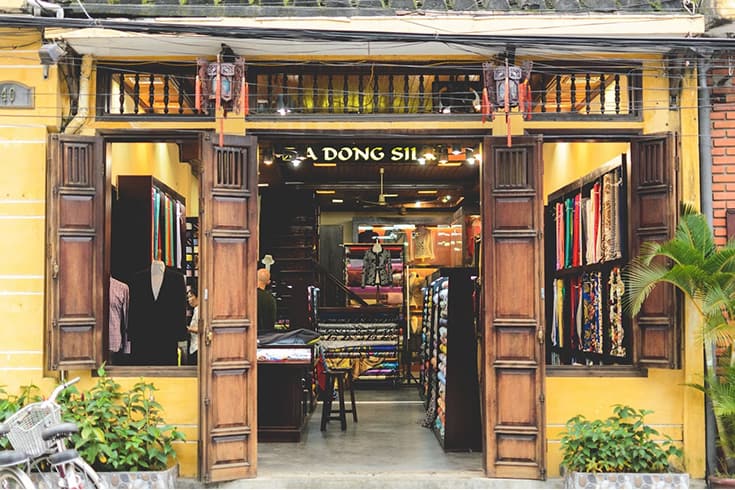 Location: 40 Le Loi street, Minh An ward, Hoi An
Opening hours: 7:30 am – 9:30 pm
Highlights:
With more than 20 years of experience, A Dong Silk is a leader in personal tailoring in Vietnam. Not only famous in Hoi An, it has also gained its international reputation for delivering stylish and fashionable garments that fit all body types. Known as the "nation of needlework", it has the 10-minute measurement process which makes everything easier and more comfortable. All of A Dong Silk staff can speak great English and they are all familiar with making trendy foreign clothes. So, you will surely be happy with your tailored-made clothes.
Pros & Cons:
A Dong Silk has professional tailors who will give you the best advice for your clothes. However, the style is not up-to-date
4. Cloth Shop Su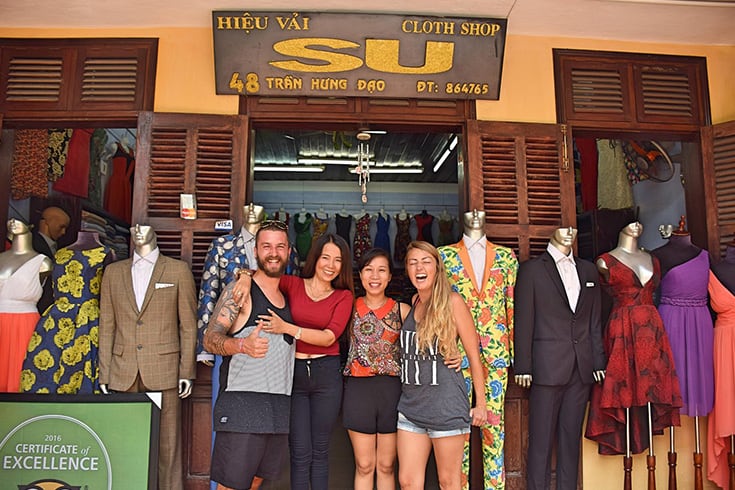 Location: 48 Tran Hung Dao street, Minh An ward, Hoi An
Opening hours: 9 am – 7 pm
Highlights:
Though it is not as big as other shops in Hoi An, Cloth Shop Su receives a lot of positive reviews. The staff will make you feel welcome and comfortable. They are always willing to support you in choosing the right materials, getting the most suitable design, how to match the colors, which will satisfy even picky customers. One of the best things is that you don't have to haggle on the price too much in Cloth Shop Su because the price they offer is already reasonable and affordable: about $40 for an evening dress and $70 for a jacket.
Pros & Cons:
The friendly and enthusiastic staff is a plus point of Cloth Shop Su. The only problem is that sometimes when it is overloaded with too many orders, the sewing is not of good quality. So remember to check carefully before you bring it home.
VI. What to Know Before Visiting a Tailor Shop in Hoi An
Your experience of shopping in Hoi An cannot be completed without getting a tailor-made suit here. But, to get the best ever output, you had better acknowledge the following tips:
If you don't know what you want to have, don't worry, most tailor shops have their own fashion books with different clothing styles and ideas.
You need to spend at least 2 days in Hoi An so the tailors have enough time to make a quality piece of clothing.
The price can only be fixed after you decide what you want and the material you like. The material and different details greatly affect the price.
Good quality products can be found not only in the heart of the ancient town but also outside of the walking streets.