Hoi An is one of the most ancient cities of Vietnam, which will remind people of old houses with mossy tile roofs, streets flooded with red lanterns, elaborate frescoes and unique architecture of great spiritual significance of Hoians. One of which must be mentioned is Ong Pagoda, also known as Quan Cong Temple, a unique tourist attraction in Hoi An captivating thousands of domestic and foreign visitors every year.
Now, let's find out what the temple has and how to travel to this famous place with Vietnam Discovery.
Location: 24 Tran Phu, Cam Chau, Hoi An, Quang Nam
Opening hours: 6:00 am - 05:00 pm
Entrance fee: Free
1. History of Quan Cong Temple
Quan Cong Temple (Quan Thanh Mieu) was constructed in 1653 as a place of worship dedicated to Quan Van Truong. He was the famous general with talent, steadfast spirit, bravery, righteousness and virtues of an honorable man, living in the period of "Three Warring Kingdoms" ruled by Han Dynasty, China.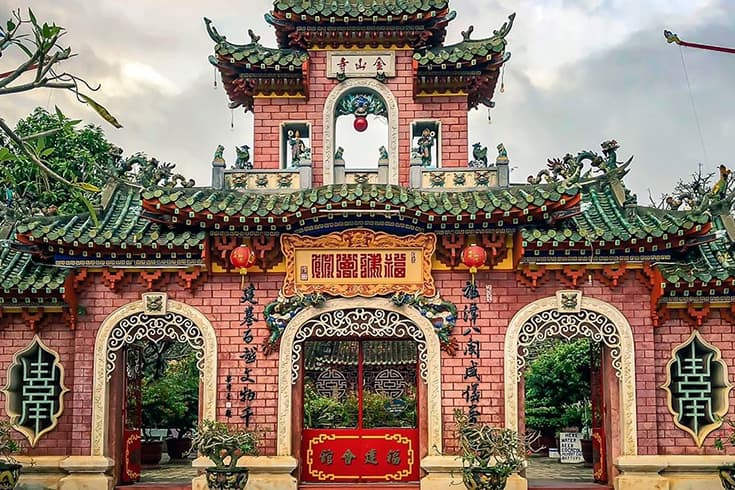 This is also a typical work of Chinese artisans accompanied with Vietnamese locals, hand-making sophisticated statues and decorations in a colorful temple. The temple is dazzling with red, yellow and green color and the decorative motifs still retains splendid until today.
Similar to many other ancient structures in Hoi An, though Quan Cong Temple also experienced many times of restoration, its original architecture features have still been preserved almost the same. The temple has been recognized as a National Historic and Cultural Heritage.
2. Highlights of Quan Cong Temple
Among hundreds of other diverse architectural works in Hoi An, Ong Pagoda attracts tourists by its unique architecture imprinted with classical Chinese features.
The architecture of Quan Cong Temple illustrates the word "Quoc" in Chinese characters (meaning country) and is structured with different rows of houses. The roofs are covered with enamel tubed tiles and the top edges are made curve shape, decorated with holy animals such as dragon, nghe (Vietnamese unicorn) and colored porcelain pieces.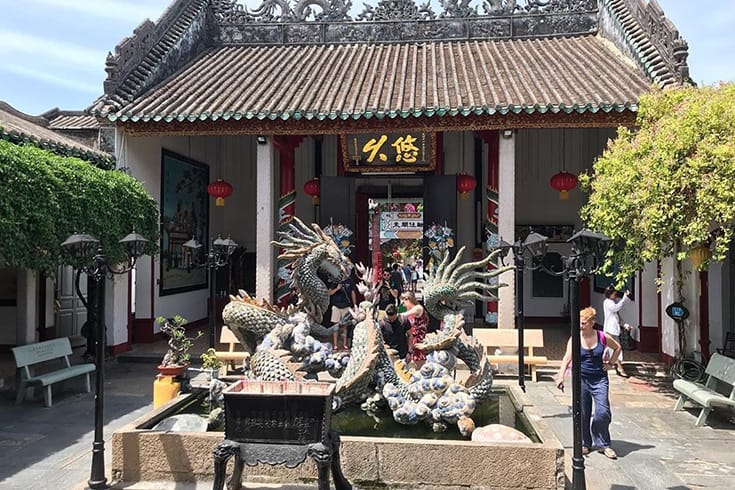 The main gate of the temple is carved with a couple of dragons winding amid blue clouds. Quan Cong is said to be the embodiment of Thanh Long (Blue Dragon) and Bach Ho (White Tiger). The whole construction is composed of four parts: front hall, left and right sections and main sanctuary.
Stepping inside the main sanctuary, visitors will be really impressed by the mighty statue of General Quan Van Truong with a dignified face and bright eyes ahead, dressed in a dragon-embellished costume. Besides, there are two statues of Chau Thuong and Quan Binh – the loyal and sacrificial guardian and servant of Quan Cong General. Two sides of the main altar are worshipped two horses: the white horse on the left Xich Tho horse on the right – which had accompanied Quan Cong General in many life-to-death battles. Standing in front of these statues, visitors could only admire the sacred beauty of the temple, elaborate patterns and praise skillful hands of the artisan from the past.
In addition, the temple also preserves a lot of valuable antiques such as paralleled sentences and horizontal lacquered boards engraved with Chinese characters, conferment paper, stone steles and so on.
3. What to See and Do at Quan Cong Temple?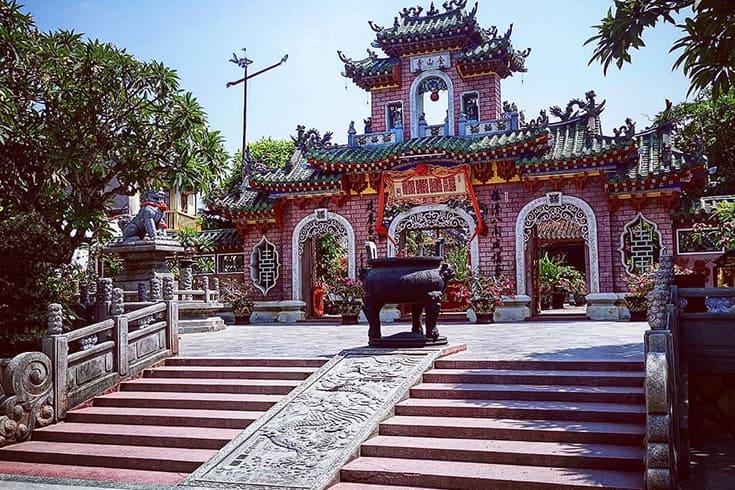 Back to the past, Hoi An was a trading port where merchants made and signed trade contracts regularly. Therefore, in order to show belief for partners, businessmen had to make commitments in sacred places such as Quan Cong Temple because locals worshipped him as the God of "trustworthiness". God not only witnessed the faith in business relations but also punished those who violated promises. For traders on boats, when arriving and leaving the port, they came to light incense and pray for luck during their trip in the sea.
When visitors enter the place, you also should burn incense or donate a little money if you don't mind in order to show respect and be humble in front of Quan Cong General. Tourists will have time spent discovering the architecture and legends, religious rituals of the local here in daily life.
Every year, on June 24 of the lunar calendar, Hoi An also organizes a ceremony for Quan Quan De Quan (Quan Cong). This is one of the most important festivals, a religious activity that attracts many pilgrims, especially merchants from the center and other localities coming to pray and make offerings.
4. How to Get to Quan Cong Temple?
The ancient town of Hoi An is encapsulated in Minh An ward with an area of only about 2 km2 with short and narrow roads, running winding as if embracing the ancient town. 
If you are wandering around the streets and visiting popular destinations of the town, you will definitely see Japanese Covered Bridge (Chua Cau). Standing in front of the bridge, find the street named Tran Phu, which is located on the right of Bach Dang street and opposite Nguyen Thi Minh Khai Street, you go straight ahead and you will see Quan Cong Temple at 24 Tran Phu Street.
5. Tips on Visiting the Temple
If you only take a walk around the ancient town, you don't need to buy the ticket. However, if you want to visit heritage sites, it costs 120.000 VND per person and every tourist are allowed to see 5 places in the town with the ticket.
In Vietnam, people consider pagodas, temples or shrines as holy and peaceful places; therefore, there are some common rules that everyone should notice before entering those places to avoid unexpected situations, especially for tourists during your trip.
Choose long-sleeved shirts and pants to cover your shoulders and knees to visit those places of worship.
Remember to take off your shoes before stepping inside in most worshiping places in Vietnam.
Keep quiet and try to avoid making noise, laughing or speaking too loud.
Avoid smoking, chewing gum and spitting in temples and pagodas, which are considered impolite and disrespectful to others and deities, gods.
Do not touch statues of Gods and deities or pose to pictures in temples or pagodas
Do not walk inside through the middle gate because Vietnamese people consider that gate for the kings and gods to enter, so you should enter through two other side gates.
Quan Cong Temple is an attractive destination for not only locals but also tourists from diverse countries. Especially, it is a popular place of pilgrimage among merchants to pay a visit here and make offerings to wish luck for their business during festivals. The Temple also reflects the beauty in architectural features of Chinese harmonized with Vietnamese traditional designs, shows religious belief and customs, tradition of the people. If you are planning to travel to visit Hoi An, you should definitely mark Quan Cong Temple in your itinerary!