Traveling by train is a great way to discover the beauty of Vietnamese towering mountains, picturesque beaches, majestic passes and buzzing metropolises. However, Vietnamese trains are slightly different from Western trains, and obviously not the most modern mode of transportation available. To travel Vietnam by train, there are two ways you can choose, daytime train and nighttime train (aka sleeper train or overnight train).
For many international travelers who want to cover long distances during their trip, traveling by overnight train in Vietnam seems to be a enjoyable option thanks to its advantages. However, many people may also tell you, taking an overnight train is like an adventure, but in fact, there are something to look forward to. So what to expect when traveling on those sleeper trains in Vietnam? This guide will reveal some things to know about Vietnam overnight trains. Just read on!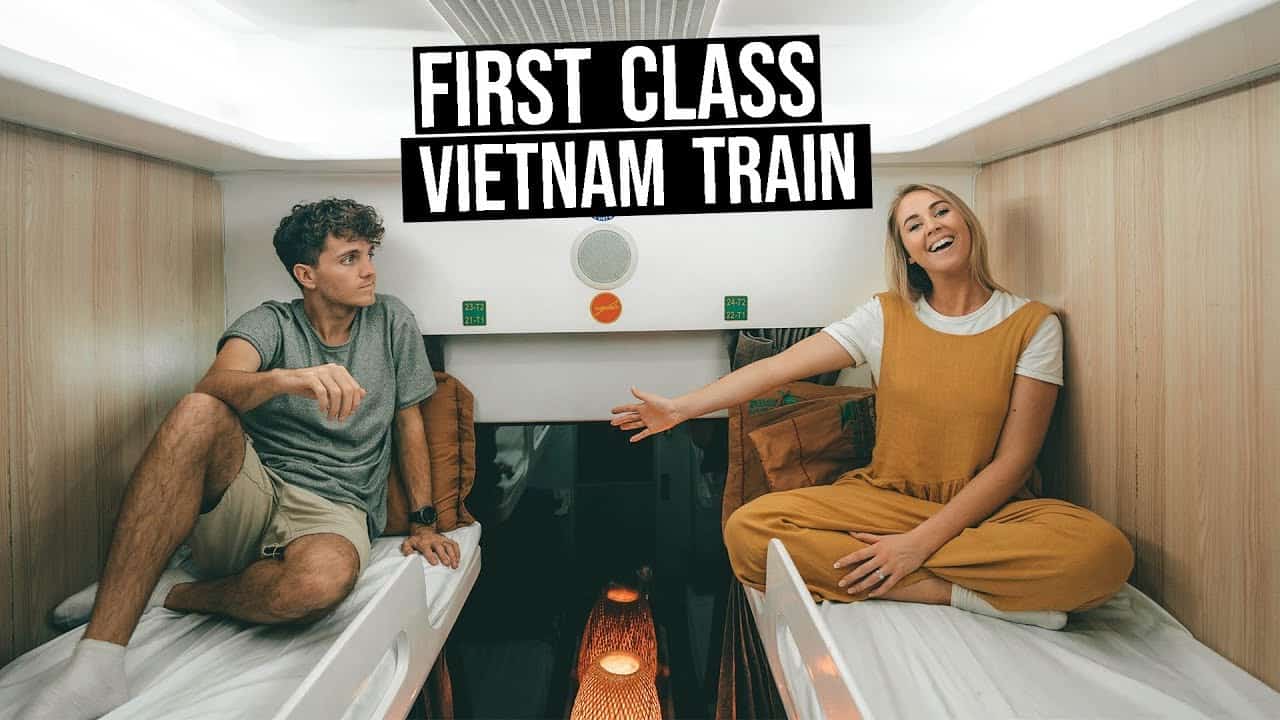 1. Who are Suitable for Vietnam Overnight Trains?
Overnight trains in Vietnam are suitable for those who want to:
Cover long distances
Save the budget with the fare is half of the airplane price
Enjoy high safety
Stretch the legs out and get a good night's sleep
Avoid being irritated by small unexpected events
Have a choice to enjoy beautiful landcapes of Vietnam on the way
Have a close view about Vietnam daily life and make friends
2. Vietnam Overnight Train Seat Options and Comfort Level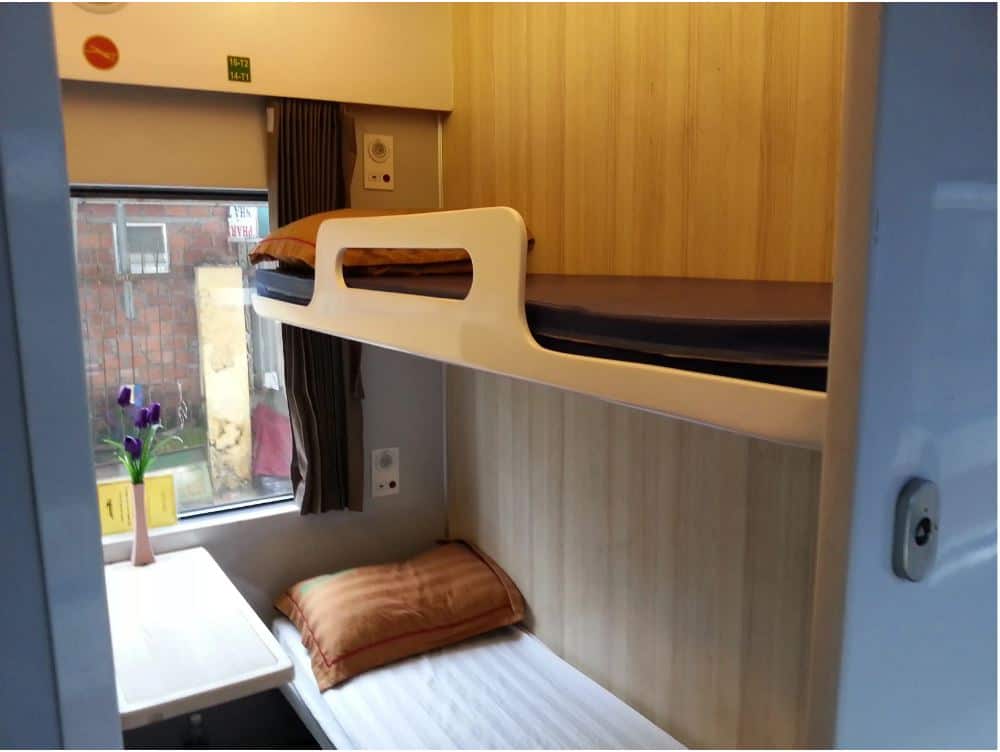 There are 04 options available to choose from. You are advised to make a decision depending on your budget and the length of your journey.
Hard seats: the wooden-seats look like a park bench, arranged with pairs facing each other. For a hard seat ticket, you will only get half of the bench, meaning you will be sharing the bench with someone else. Some hard-seat carriage might be packed with locals and function without appropriate air-conditioning and ventilation. Though being the cheapest option, this is recommended for very short trips only (1-2 hours trip).
Soft seats: the same seats you will find on airplanes. The seats are soft and comfortable and can be reclined. If you hate long flights, you are going to hate spending too much time on this chair too. This is slightly more expensive than hard seats and only recommended to those travelling less than 5-6 hours.
Hard beds: when it comes to sleeper trains, beds are a good choice. Hard beds will be much more expensive than seats, but they offer you a chance to stretch your legs and have a decent sleep. The beds are hard without any mattress. There will be 6 beds in a cabin, 3 on each side, with decreasing space overhead. The lowest berth has the most space and you just need to bend a bit to sit, making it substantially more expensive. On the contrary, the highest, cheapest berth is terribly cramped; you can hardly do anything but lying flat. Hard beds are recommended only if you can get the first or second berth tickets.
Soft beds: the most comfortable option for an overnight train ride. While the beds are stiff, there are mattresses and pillows to assure you a comfortable sleep. There are 4 beds in a cabin, 2 on each side, leaving you enough space to sit comfortably on both berths. The comfortability is well reflected in the price; however, it's still highly recommended for long overnight train rides.
Upper Berth or Lower Berth?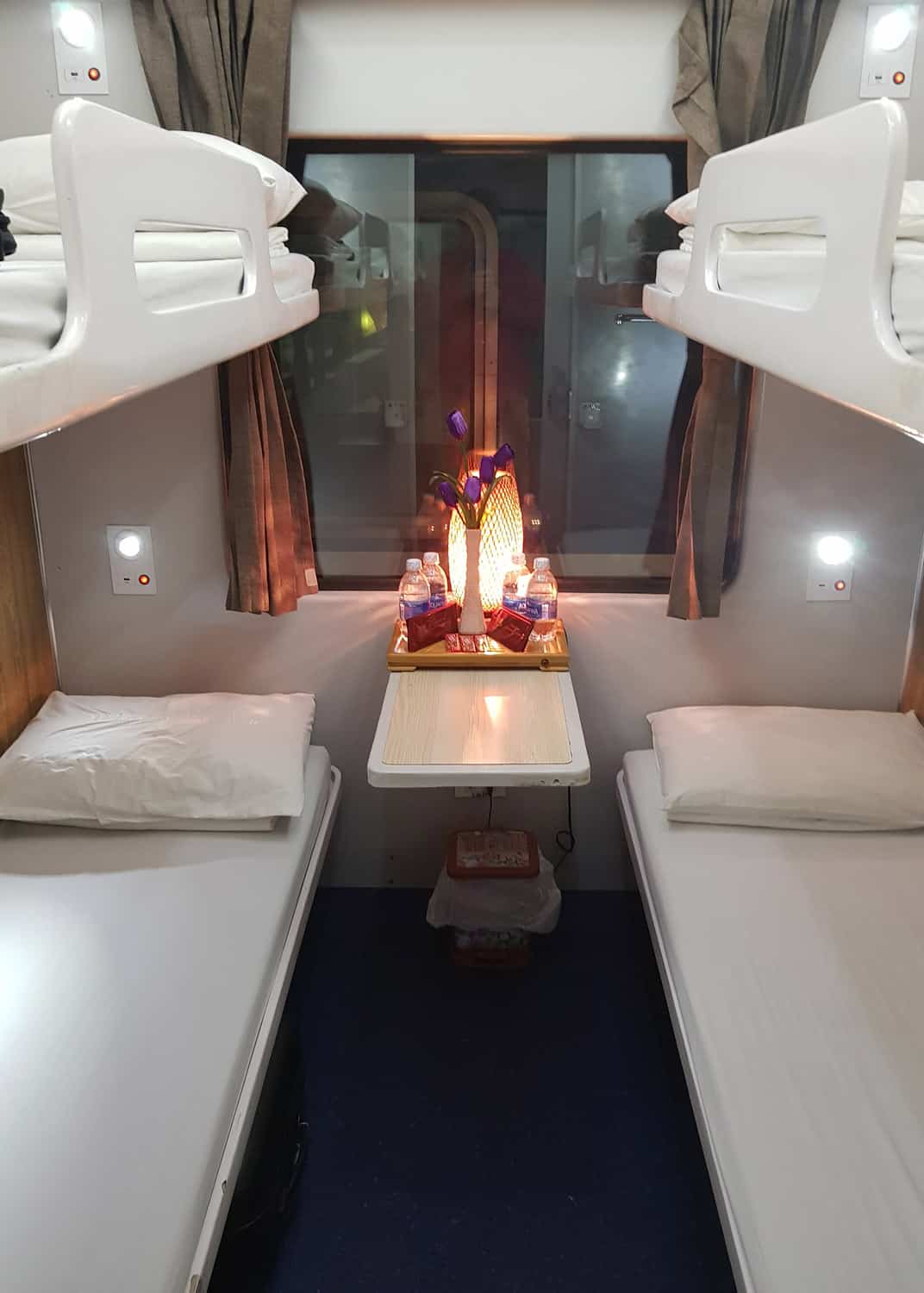 It really depends on you.
The upper berth (or berths in 6-bed cabins) will require some basic climbing skills. If you can pull yourself up and are comfortable with heights, you can choose the upper berth(s). Even though they will provide you some more safety and privacy, they are obviously not as comfortable as the lower berth. You will pay less for them though. It can be freezing at night on the upper berth(s) as they are close to the air-conditioned ceiling.
The lower berth offers more space, making it more comfortable for women and the elderly. No matter which berth you choose, there will be a private reading light and a power outlet for each berth.
3. Luggage Size Allowed on Vietnamese Trains
Unlike traveling by air, there are no specific restrictions on how much your luggage should weigh. However, the corridors in the trains are pretty small, leaving not much space for bulky luggage. You can bring as much luggage as you want, but make sure it can be carried easily and stored neatly under the lower berth.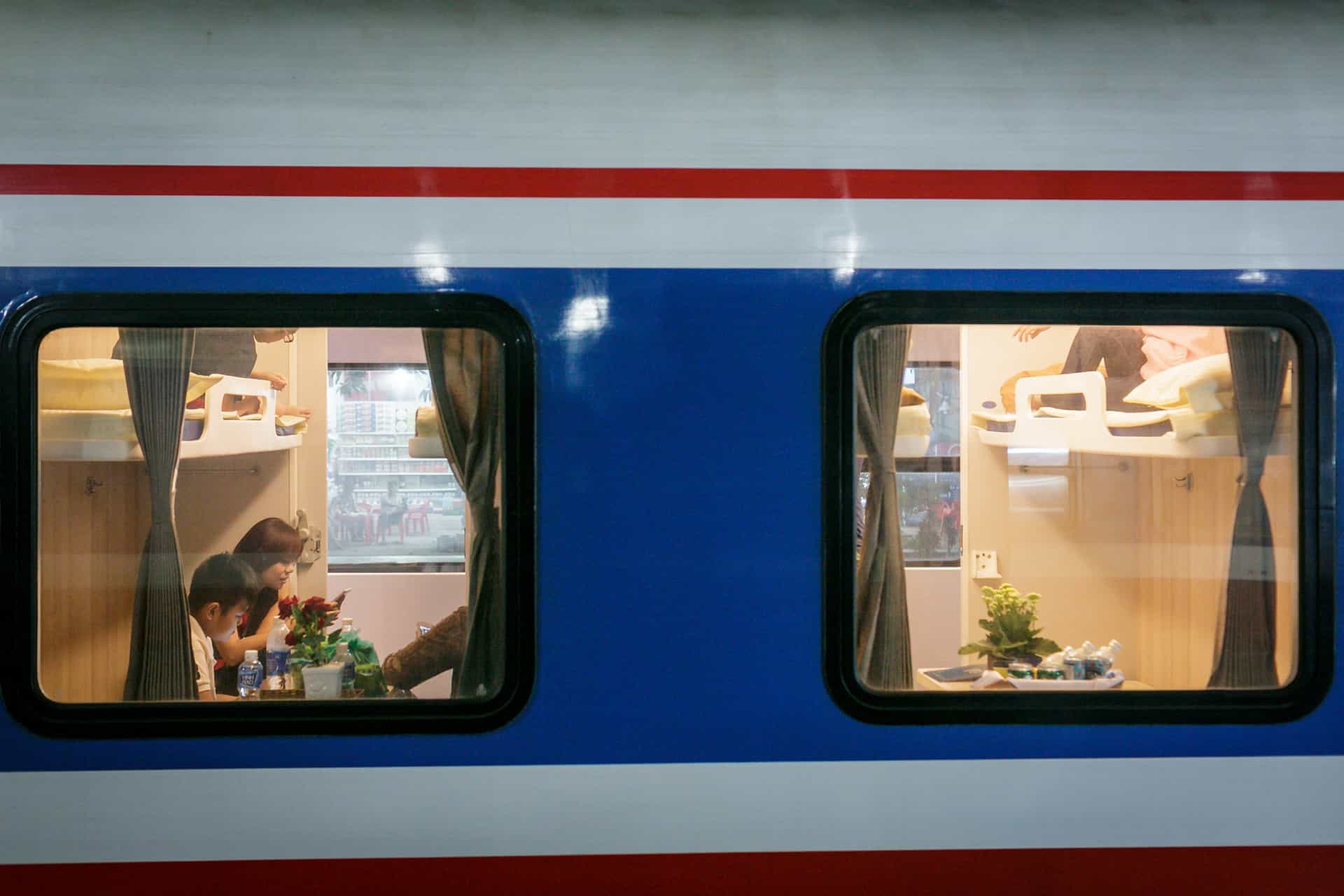 4. Punctuality of the Vietnamese Trains
Trains punctuality has been greatly improved over the years. While most trains arrive on time nowadays, there might be occasions when it's delayed due to unexpected occurrences.
The only piece of advice for you is to always show up on time for the train and allow enough time for delays. Don't plan a tight schedule and pack lightly to move in case you're a bit late for trains.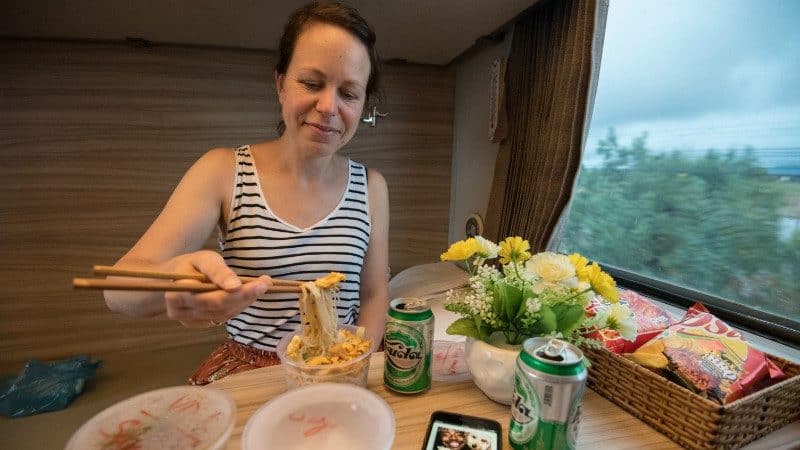 5. Food on Vietnamese Trains
Trains are well-equipped with snacks, drinks and even hearty meals, so don't worry if you're taking a long train ride.
There is a carriage designed like a small canteen on almost any train, offering breakfast, lunch and dinner. A food cart is pushed around by the staff now and then, offering snacks, coffee, soft drinks and water. While food shouldn't be your primary concern when traveling on trains, you might want to collect some snacks before boarding, as the food on the train is slightly overpriced and of uncertain quality.
6. Booking Overnight Train in Vietnam
You can either book the ticket yourself, or contact a tour operator for help. Booking has been made much easier nowadays with the online booking platform of Vietnam Railways, the official operator of Vietnamese railway systems.
On dsvn.vn (the official website of the Vietnam Railways), you will find an option to switch to English language. The departure point and destination point displayed are the names of the train stations. Sometimes they are the same, other times they are not. For example, there are a few train stations in Hanoi, and only one station is named Hanoi Train Station, while the others bear different names. Do your research carefully on Google to check which train station you should be departing from and arriving at to reach your destination.
After logging the departure point and destination point, simply choose your date of departure. You'll be presented with different options regarding time and seat type. The process resembles booking flights. After choosing seats, you will be directed to paying online and issuing online tickets. These tickets can be downloaded to your smartphone and used for checking to get on-board.
You can also go to the train station to book the ticket in person, but chances are you won't be able to book a comfortable seat, or any seat at all. While the long journeys (Hanoi to Saigon for example) are open for booking 60-90 days before departure, the shorter are open only a few weeks in advance. You're strongly advised to book tickets online whether you're travelling on your own or via a tour operator.
7. Tips on Traveling on Overnight Trains in Vietnam:
While trains are a relatively inexpensive option to get around Vietnam, there are a few things you should keep in mind for a better experience:
There will be fresh bedding if you jump on from the primary train stations. However, if you get on partway through a journey, chances are they won't change the bedding. If you're sensitive to cleanliness, you are encouraged to bring your own bedding and pillowcase.
Expect to share the cabin with someone else, if you choose the beds. It's generally safe to travel by trains; however, you might still want to keep your valuables safely hidden.
The train will be loud and a bit shaky. Bring your earplugs or have some music on for a deeper sleep.
The toilet might not be on par with those you have in your hometown. It's best not to drink too much water, as you might not want to go to the toilet every now and then. Bring along tissues and hand sanitizer too.
Set an alarm to get up 30 minutes before your stop. The staff will come and wake you up, but it's good to have some time to prepare your stuff.
Keep your tickets as they might check them once again at night.
8. Vietnam Train Map
While there are many more minor stops along the North-South route, this is a basic demonstration of Vietnamese routes and destinations you can go across Vietnamese trains.