Not only is Ho Chi Minh City well-known as a dynamic and bustling city, but sometimes this city also has romantic and tranquil moments, especially when the night falls. One destination that you should not miss in Ho Chi Minh City is Crescent Lake Park, a unique park near Phu My Hung New Urban Area, one of the most modern residential areas in Ho Chi Minh City.
Location: N-South Street, Tan Phu Ward, District 7, Ho Chi Minh City
Opening hour: 24/24 everyday
Entrance fee: no charge
Best for: couple, solo, group and family
I. Overview of Crescent Lake Park
Crescent Lake Park (aka Hồ Bán Nguyệt in Vietnamese) is one of the most beautiful and attractive parks in Ho Chi Minh City. The park is named after a semicircular-shaped lake in this park, Crescent Lake. Crescent Lake, along with the construction of Phu My Hung New Urban Area, was built at the end of the 20th century. It was not until 2010 that Crescent Lake Park became an attraction for tourists with the presence of Starlight Bridge, a construction taking the inspiration from the harmonious combination of water and light, which was designed by a China investment company.
As an outstanding part of Phu My Hung, the surrounding area of Crescent Lake Park includes many modern buildings along the lake's curve, with the area up to 10 hectares, modeled after Singapore Bay. The Crescent Lake plays an important role in connecting the two parts of this residential area through Starlight Bridge, the first pedestrian bridge in Vietnam. Along the curve of the lake are low-rise buildings arranged in the front, and the high-rise ones are in the back, which helps to exploit the splendid view of this landscape.
The project of Crescent Lake and the neighboring area was designed with the participation of 25 architects from 13 countries and conducted by 6 construction companies. It is judged as "a social heart" for ensuring the coherence and harmony with the entire South Saigon Urban Area. In addition, thanks to the spacious advantages and magnificent scenery, Crescent Lake Park is a venue for holding intriguing events on special occasions.
Unlike most parks in Ho Chi Minh City with a certain opening hour, Crescent lake Park opens to the public the entire day. The best times of the day to visit Crescent Lake Park are early in the morning, late in the afternoon, and in the evening, when you can contemplate the gorgeous look of the sunrise and sunset, as well as the shimmering lights in this park.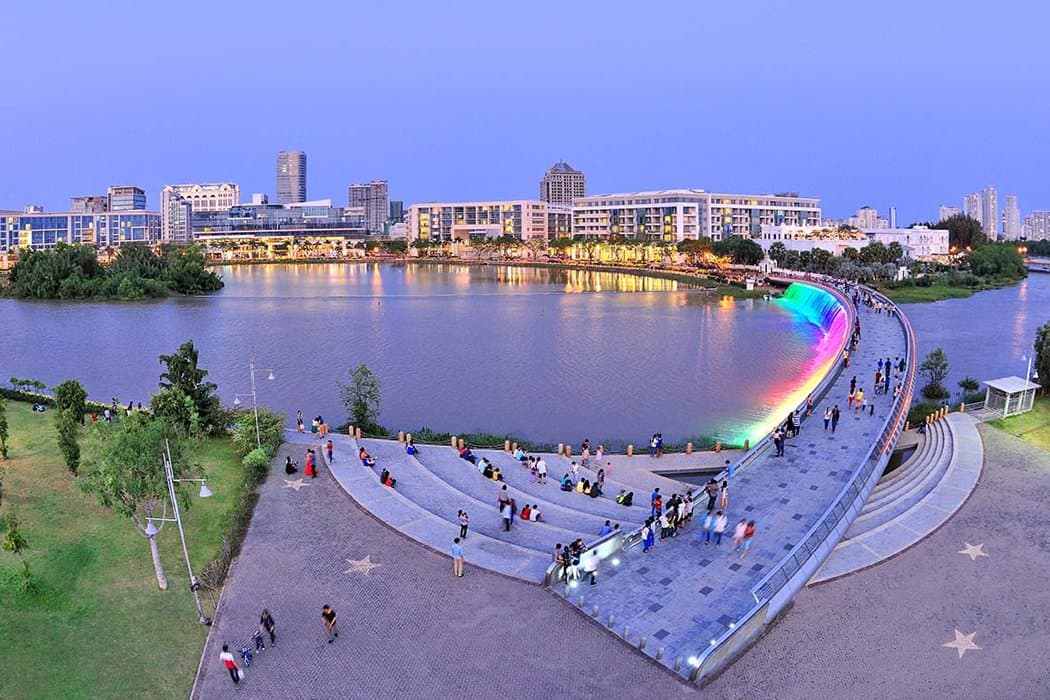 II. Highlights of Crescent Lake Park
1. Crescent Lake
In Ho Chi Minh City, finding a quiet and comfortable place to have a walk after a hard working day is not easy, and Crescent Lake Park seems to be a favorite choice for many people, especially the youngsters. Having a walk around the lake, enjoy the cool breeze at night, sitting on a bench by the lake to find a peaceful moment in your soul and taking out all the worries and sorrows in life are the experiences that you can only have at Crescent Lake Park. Moreover, on the occasion of New Year, Mid-Autumn Festival and Christmas, the ground of Crescent Lake Park is decorated with sparkling lights to welcome the locals and visitors to come and take beautiful photos.
2. Starlight Bridge
Starlight Bridge is the most unique feature of Crescent Lake Park, which is 154 meter long and 3 meters wide. The surface of the bridge is attached with the small light bulbs, which creates a feeling as if you are walking on a starry stunning sky. It is extremely romantic for you to walk with your lover, feel the mild wind blowing through your hair on Starlight Bridge in a beautiful night. Crescent Lake and Starlight Bridge is such a wonderful picture drawn by thousands of multi-colored lights at night. Looking down from the bridge, you can draw into your view all the immense space of Crescent Lake as well as the miraculous scenery of water spraying from the bridge illuminated with colorful lights like rainbow.
3. The two squares
The two bridgeheads of Starlight Bridge are two vast squares, one symbolizes the Sun, and the other is the symbol of the Moon. The squares have green lawns, lush tree lines, benches around lotus ponds for you to stop and relax. The immense area of the two squares make it an ideal place for the local residents to do exercises in the morning and afternoon. Besides, you can go picnic, camp overnight and take part in interesting team building games with your group in Crescent Lake Park. It is such a memorable experience for you at weekend in Ho Chi Minh City.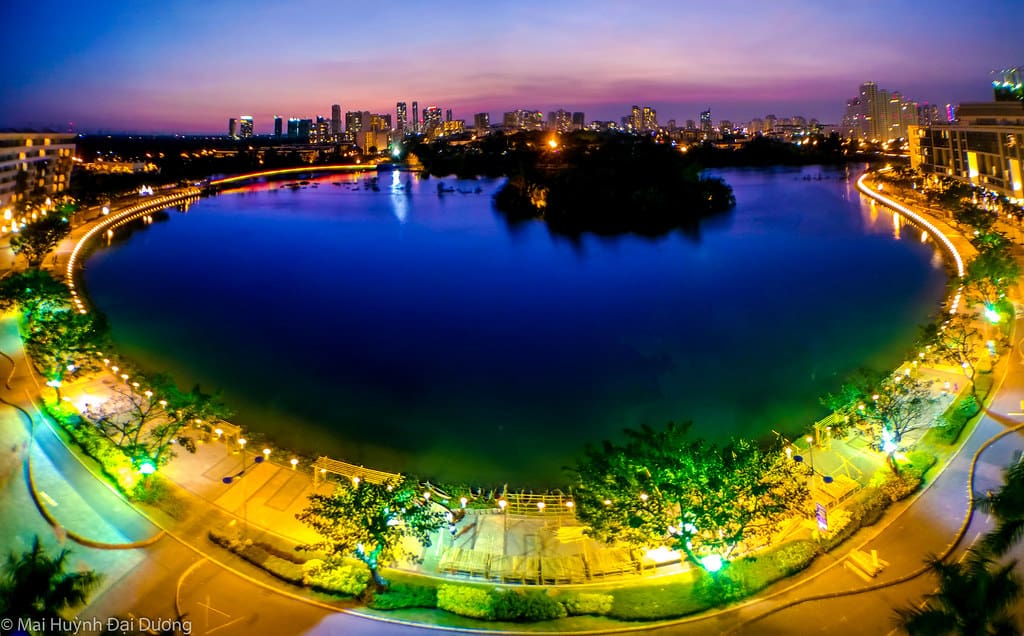 III. Nearby Attractions and Restaurants
Besides Crescent Lake Park, when coming to District 7, there are many other attractive places for you to explore.
1. Attractions
SC Vivocity Shopping Center: an ideal destination for shopaholics food-lovers
Location: 1058 Nguyen Van Linh Street, Tan Phong Ward, District 7, Ho Chi Minh City
Opening hour: 10.00 – 22.00 daily
Crescent Mall: a rendezvous for high-class shopping
Location: 101 Ton Dat Tien Street, Tan Phu Ward, District 7, Ho Chi Minh City
Opening hour: 10.00 – 22.00 daily
Panorama Riverside Park: having great fun with picnicking and teambuilding
Location: Nguyen Duc Canh Street, District 7, Ho Chi Minh City
Opening hour: 07.00 – 22.00 daily
2. Restaurants
Cham Charm Restaurant – a Champa-architecture restaurant
This is a unique restaurant with Champa architecture, the architecture of an ancient kingdom in Central and South Vietnam. The space and atmosphere here is airy and luxurious. In the menu of this restaurant, the dishes are made mainly from seafood with many different variations.
Location: 02 Phan Van Chuong Street, Tan Phu Ward, District 7, Ho Chi Minh City
Opening hour: 10.00 – 14.00 and 18.00 – 21.00 daily
Price: from 700,000 VND for buffet
Yeeboo Di Buu: Chinese food restaurant
This restaurant is located right at the beginning of the road to Crescent Lake Park. There, you will be able to watch the sunset and enjoy the delicious food. It serves Chinese food such as dim sum, hotpot, Peking duck and many other delicious dishes.
Location: 109 Ton Dat Tien Street, Tan Phu Ward, District 7, Ho Chi Minh City
Opening hour: 08.00 – 23.00 daily
Price: from 300,000 VND
Boomarang Bistro Restaurant – a Western-style restaurant
This is a Western-style restaurant, so the food there are mostly baked and grilled dishes. There are a variety of dishes such as beef, seafood, grilled sausage. You can also enjoy Western fast food such as pizza, salad, fried chicken, French fries, which are all so tasty that you cannot resist.
Location: 107 Ton Dat Tien Street, Tan Phu Ward, District 7, Ho Chi Minh City
Opening hour: 07.00 – 23.00 daily
Price: from 150,000 VND
Shabu Kichoo: Japanese food restaurant
If you are a fan of Japanese food, Shabu Kichoo Restaurant will be an ideal stop for you. There are typical and diverse dishes of Japanese cuisine such as sashimi, sushi, Japanese noodles, Japanese hot pot. All the dishes are made from fresh ingredients in order to give you the best experience.
Location: CR-02, 107 Ton Dat Tien Street, Tan Phu Ward, District 7, Ho Chi Minh City
Opening hour: 07.30 – 22.00 daily
Price: from 100,000 VND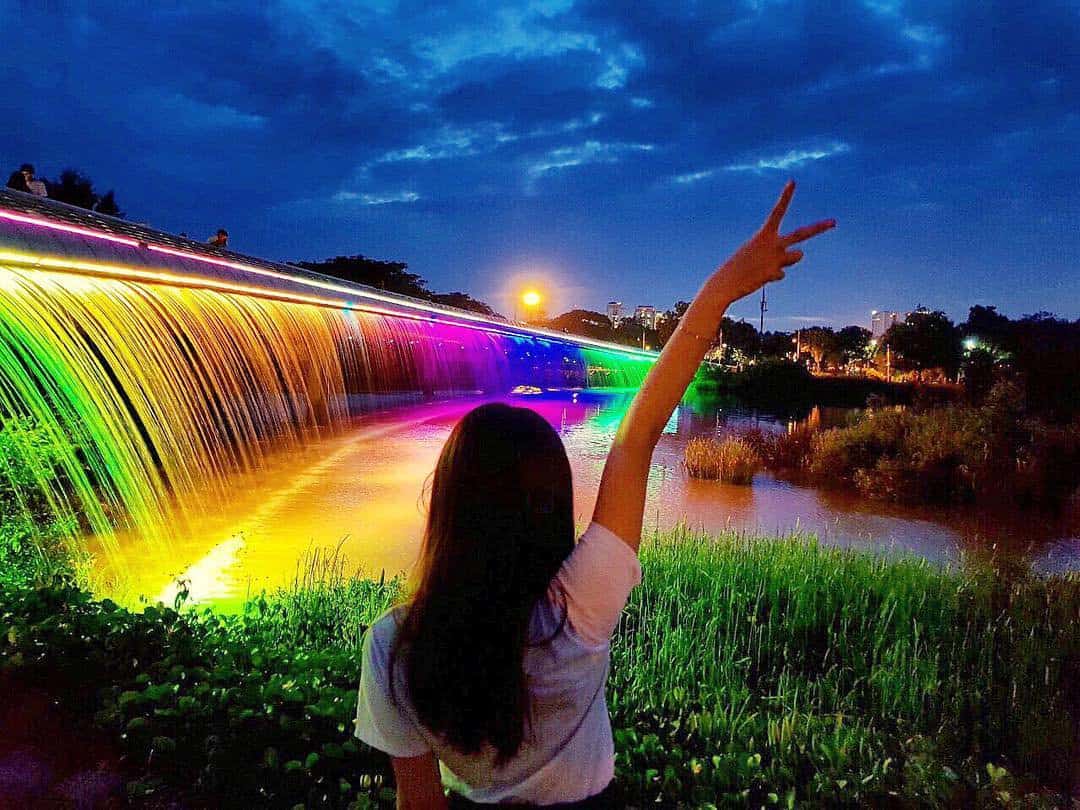 IV. How to Get to Crescent Lake Park?
About 8 kilometers to the southeast of Ho Chi Minh City center, you can reach Crescent Lake Park in a less than an hour drive. You can go there by motorbike, car or even a bus. Within a distance like this, this is the ideal place for you to visit on short weekends.
If you go by bus, you need to have a 10-minute walk to Le Van Tam Park in the city center. Here, you take the bus No.31 to Ong Lanh Bridge, then continue to take the bus No.139, get off on Tan Trao Street and walk about 650 meters to Crescent Lake Park.
Going by motorbike seems to be the most convenient way because you can manage your time better. There are three ways to go by motorbike, and the most popular way is through Nam Ky Khoi Nghia Street. Follow the direct of Nguyen Huu Tho Street to the south, then turn left to Nguyen Van Linh Street, go about 2 more kilometers and you will reach Crescent Lake Park.
V. Some More Tips
The best time to visit Crescent Lake Park is at night, when you can enjoy the whole beauty of this park.
If you want to camp overnight in this park, you need to ask for the permission of the manager and pay some extra fee.
Some kinds of snacks and fast food are allowed in Crescent Lake Park.
Remember to protect the environment of the park. Do not throw your trash on the ground.
Crescent Lake Park is one of the must-visit destinations for you when coming to Ho Chi Minh City. We hope that the above information is of some help to you. If you have any questions, don't hesitate to leave a comment below this post and we will help you soon.