Welcoming to Vietnam, a country which has been visited by a large number of famous international rock climbers for decades. Nonetheless, it has never seen significant development in terms of rock climbing in Vietnam like Thailand. The major reason behind this under-development is due to less favorable weather conditions and other troubles of travel.

However, Vietnam has so much to offer rock climbing enthusiasts. In addition to the plethora of stunning rock climbing crags at different parts of Vietnam, the country is also home to several great indoor bouldering gyms plus with a wide range of outdoor activities.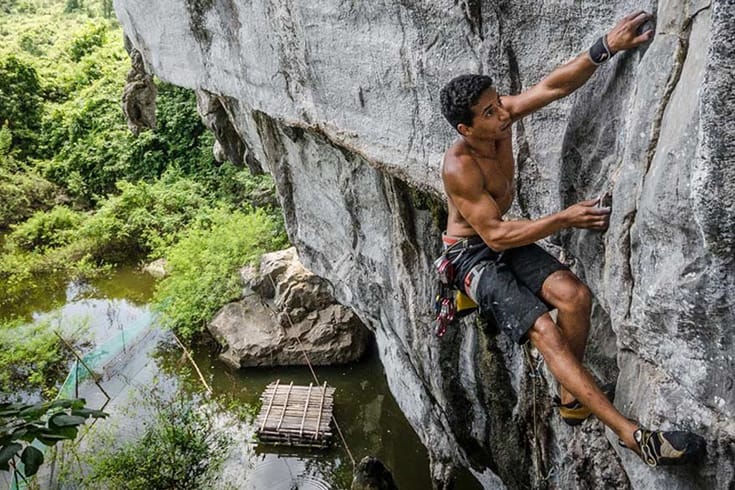 Considered one of the best rock climbing spots in Asia, Vietnam is ideal for rock climbers if they come in the right season, which allows them to avoid touristy crowds.
Nowadays, Vietnam is seeing new developments in rock climbing annually.
There are many places for rock climbing in Vietnam, namely Halong Bay, Cat Ba island, Huu Lung in Hanoi, etc. 
Perhaps, the most well-known and ideal place for rock climbing is Halong Bay. The towering sea cliffs of Halong Bay are popular among adventurous climbers. Here, there is a paradise of adventure climbing which ranges from sport rock climbing to deep water soloing.
Halong Bay, lying in the Gulf of Tonkin off the northern coastline of Vietnam, acts as a jewel in the Vietnamese climbing's crown. There are about 1,600 limestone karst islands featuring with steep walls emerging directly from the sea surface.
Indeed, Halong Bay possesses the largest concentration of sport routes in the country and most of them are located around Cat Ba island. Home to various well-bolted crags accompanying with a good diversity of climbing styles on limestone, Cat Ba island has some major crags like Butterfly Valley, Buddha Cave, Hidden Valley, and Ben Beo Harbour.
You can access these crags using a scooter which is easy and cheap to hire. Besides, there are some sport crags like Tiger Beach, the Amphitheater, Moody Beach out in Halong Bay. You can access these crags by boat.
Other familiar climbing spots in Vietnam are Huu Lung, Mai Chau, Quoc Oai which all near Hanoi.
Huu Lung is located to the north of Hanoi with perfect limestone rock characterizing pockets, crimps, slopers, tufas. There are options for both beginners and advanced rock climbers alike.
Quoc Oai, situated outside Hanoi city center, is a massif of limestone rising from rice paddy fields with about 20 routes that are easily accessible within a day from the city center. Mai Chau's climbing area is located in the southwest of Hanoi, within a valley offering beautiful rice field view, thereby creating an isolated but unique climbing heaven.
Places for rock climbing in Vietnam are suitable for both curious newcomers and experienced climbers. It does not matter what your skill level is, Vietnam always has something to offer.