Cloud Bridge or Cau May is one of the must-visit spots of Sapa – a mountainous town in Lao Cai Province, Vietnam. Sapa is home for plenty of wonderful tourist attractions including beautiful natural landscapes, distinctive cultures of mountainous ethnic minorities and numerous human artworks. Among many interesting things and places to do and see in Sapa, Cloud Bridge stands out as the most romantic destination that tourists not to miss in Sapa.
Cloud Bridge is a sophisticated structure that built mainly by bamboo and rattan. Local people call this bridge Cau May because it is made of all-natural materials meanwhile rattan (or May tree in Vietnamese) is the main factor forming the bridge. In cloudy days, tourists will feel like walking in the clouds while passing the bridge and the name May is also created for that special reason.
1. Cloud Bridge Introduction
The Cloud Bridge lies across the romantic Muong Hoa River and 17 km away from Sapa City. Placed in the South-east of Sapa, the bridge has a peaceful and pristine beauty that casts spell on visitors and leads them here to enjoy the attractiveness of a simple thing in life.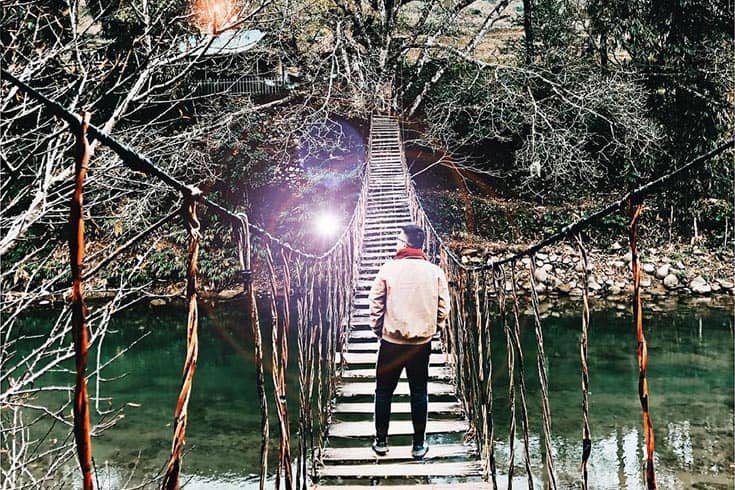 Cloud Bridge is a unique bridge that is at a very high position compared to the ground. The bridge is made of connected rattan wires and solid laminated planks that are all local materials harvesting in this mountain. To build this bridge it takes countless hours of manual work, thus Cloud Bridge is the outcome of intelligence, creativity, and intellection of H'Mong residents in the Northwest of Vietnam.
Thank the dedicated hands of H'Mong people for they have formed an interesting tourist destination – Cau May.
2. Cloud Bridge History
In the past, Cau May was built by H'Mong people to be easy for traveling across Muong Hoa River and this bridge was the only way to get to the center of Sapa City from Ta Van Commune. Because of the erosion process and the huge demand for visiting Sapa, Cloud Bridge was broken. For traveling motivation, local people built another wooden bridge near the old one. On the other hand, they continued to fix the Cloud Bridge and made it be used for only sightseeing purposes.
Today, the Cloud Bridge only serves tourists and local people can travel by the solid wooden bridge nearby. Despite how weak and loosen Cloud Bridge appears to be, it is still a sturdy structure of firm rattan ropes and hard wooden planks. This bridge is truly a masterpiece of advanced skills and unlimited imagination of H'Mong people in Sapa.
Over the years, Cloud Bridge has become a very well-known holiday destination in Vietnam for both domestic and foreign tourists. It is still hard to believe that with the development of tourism, a stumble road of ethnic residents can attract a lot of visitors all over the world.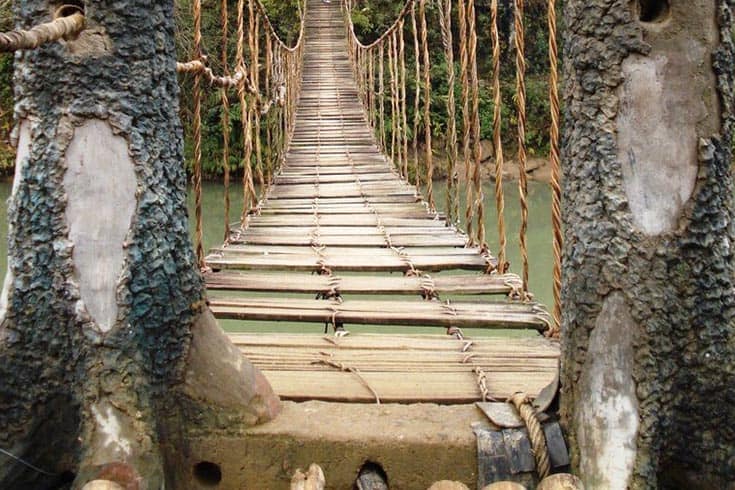 3. Cloud Bridge Highlights
Visiting Sapa Cloud Bridge, tourists have a chance to see many stunning mountainous views. Standing on the bridge and looking down, visitors will be overwhelmed because of the beautiful landscapes of the romantic Muong Hoa Stream, the mighty Northwest mountains and the untouched forests.
Looking up from the Muong Hoa stream, the bridge is like a thread floated in the sky by the magical force. But on the wooden bridge parallel to Cloud Bridge tourists will have an insight understanding about how dedicated and talented the Northwest people are and how much effort they have to put into the process of building this unique bridge.
Visiting Sapa in the ending months of the year, tourists will see the cloud covers this bridge and they may feel like floating on paradise. What a magical feeling!
4. What to Expect when Visiting Cloud Bridge?
Crossing this Cloud Bridge can be a real unforgettable experience for visitors because one step of this bridge is 20 cm away from the other, and due to tourist movement, the bridge can shake slightly. Tourists should be careful with their every step as when they move the bridge can be unstable and looking down from the bridge may give the dazzled feeling.
Tourists who are afraid of heights should think carefully before accepting the challenge of passing this treacherous way. It is nerve-racking when walking on the bridge since visitors have to take step by step and avoid looking down the restless river beneath. In spite of how dangerous it can be, many tourists from all over the world choose to visit Sapa to experience this challenging feeling, making it one of most worthwhile things to do in Sapa.
When visitors pass the bridge and follow the pathway, they will find the fantastic scenery of a stunning waterfall considered as a sweet ending for a tricky and scary road.
5. How to Get to Cloud Bridge
Cloud Bridge is located in Ta Van Commune and 17 km away from the center of Sapa town.
To visit Cloud Bridge tourists need to take the route leading to Muong Hoa valley, this road is around 8 km and it takes about 30 minutes to get to this valley. Then visitors should follow the trail to Lao Chai, after traveling for 3 km they will see the bridge hanging in the sky like a thread above Muong Hoa River.
Cloud Bridge is considered a soulful part of Sapa's picture that visitors can not miss when visiting Sapa. The peaceful beauty of this special bridge is always waiting for you to discover. So what are you waiting for? Pack your package and have some meaningful moments with your loved ones! And don't forget to share your journey with us!